How things change. In 2007 I wrote that Dubai was arguably the fastest growing city, relative to its size, on the planet. Dubai's ambitions were staggering. There was little expectation then of how far Dubai could fall.

Trying to maintain its Middle Eastern identity when only a minority of the population is Emirati is a serious concern. This city state is being built by foreign labourers and its wealth created by foreign workers. This page will bring you some of the more interesting news stores from Dubai and provide links to news, blogs and tourism websites.
Dubai has many admirers; there are also many who find its excesses to be to extreme and many who express concern about the wealth gap and the exploitation of foreign labour.
The articles and links here will represent both views. Of course, the best answer is to go and experience it for yourself.
Three New Year articles on modern Dubai
1 January 2008
Talent, critical mass drive Dubai forward
Afshin Molavi
The ruler of Dubai, Sheikh Mohammed bin Rashid al-Maktoum, likes to spy on his own people. In that, he is upholding a modern Arab autocratic tradition. Dubai's ruler, however, is not looking for conspirators, fifth columnists or political opponents. He's looking for talent.

Sheikh Mohammed's "spies", known as "mystery shoppers", fan out across government offices to observe and grade the efficiency, competence and attentiveness of local officials. Those who receive poor marks are quietly rebuked, while those who impress move into an informal Dubai fast-track, receiving increasingly more challenging tasks, greater responsibility and more scrutiny. If they survive those tests they gradually enter the rarefied air of the Dubai high-flyer executives, the dozen or so movers and shakers who are transforming the Persian Gulf city-state into a major regional and global trade, tourism, transport, technology and financial services hub.

This survival of the fittest produces a top-notch government elite, not one stocked with cronies and family members of the ruler--and might just be the key to Dubai's remarkable rise. While western capitals search for an Arab "democratic model", Dubai is providing an Arab "meritocratic model" that underpins its successful growth and development.

Growing at 15 percent a year, the largely meritocratic Dubai elite will be severely tested as the emirate's ambitions seem to have no limits: by the year 2015 it aims to treble its GDP, create nearly a million new jobs and continue its torrid pace of development and growth. It is currently building what aims to be the busiest and largest airport in the world, it already attracts more tourists than India, it remains the third largest global re-export hub, its real estate developments--from islands in the sea to towering skyscrapers--have grown legendary and its partially state-owned companies are plowing money into investments from Jakarta to Japan, from New York to New Delhi, matched and even outpaced at times by private Dubai-based developers and investors.

A key player in charting the rise of Dubai--some call him the chief operating officer of Dubai, Inc (with Sheikh Mohammed as the CEO)--is Mohammad al-Gergawi, the dynamic and influential minister of state for cabinet affairs, chairman of the state-owned conglomerate Dubai Holding and exhibit A of Dubai's meritocracy. Al-Gergawi was first discovered by a "mystery shopper" in the mid-1990s. He consistently outperformed in his government assignments. When tasked with creating a high-tech zone in the late 1990s he had a small office, a shoe-string staff and limited resources. Today, Dubai Internet City houses leading technology giants and al-Gergawi heads a conglomerate of some 30 companies with 30,000 staff.

In another Arab state, al-Gergawi might have become a frustrated bureaucrat or would have turned away from government to the private sector as do many of the elites in the Gulf Cooperation Council. Had he grown up away from the GCC, he might have become an Arab immigrant in Europe or the United States, joining the millions of Arabs who have left their homeland in search of greener economic pastures.

Yasar Jarrar, a Jordanian management expert who works as an advisor in the Dubai government's main strategy office headed by al-Gergawi, was one such immigrant in the year 2002 before he was scooped up by the Dubai recruiting machine and enticed away from his post as a newly minted professor in Cranfield, England. "Five years later, I'm still here," Jarrar says, recalling how his first visit to Dubai shattered the stereotypical view he had of Gulf Arabs as "unproductive and inefficient".

But it's not only business, management and investment high flyers who seek a piece of the Dubai dream. Indian middle class managers, Iranian techies, European architects, Chinese traders, Central Asian students, American engineers and, increasingly, global members of the media and creative class--film-makers, journalists, artists, production hands--have made their way to Dubai, contributing to what seems to be emerging as a critical mass of talent driving the city-state forward.

The "build it and they will come" model has served Dubai well in the past. From the dredging of the Creek in the late 1950s to allow larger ships to the creation of massive man-made ports and the more modern clustered "city" free trade zones, Dubai officials seem to have taken the motto of their late ruler, Sheikh Rashid, to heart: "What's good for the merchants is good for Dubai."

Of course, with a "local" population (UAE passport holders) that makes up only 10 percent of all Dubai residents, the Persian Gulf city-state is truly sui generic; thus talk of a Dubai "model" enters shaky ground. Egypt cannot suddenly import half a million South Asian workers to construct buildings, Saudi Arabia cannot import thousands of bankers when so many Saudis need jobs, and countries like Syria and Jordan do not have the luxury of being away from the frontlines of Middle East conflict as does Dubai.

While much of the Middle East remains burdened by a steady brain drain, Dubai has managed to cut against the prevailing grain by both nurturing local talent and drawing in leading regional money managers, traders, bankers and consultants in what is amounting to a brain regain. An ambitious young man in Karachi, Cairo, Tehran, Jeddah or Delhi no longer instinctively sets his sights on Europe or the US. The Dubai School of Government, for example, has managed to attract three leading Saudi women PhD professors away from Europe and the US along with an array of top thinkers from the Arab world and a smattering of World Bank executives. Whether or not Dubai might offer a model matters less in this instance than what it is actually doing: keeping Arab talent in the Arab world.

The DSG executive president, Nabil al-Yousuf, is an Emirati national who rose to prominence not through flattery or political intrigue but through his ability to chart government performance indicators. On the back of that success, he recently led the study for the 2015 Dubai Strategic Plan, pulling together a disparate array of advisors and consulting with some 3,000 individuals to produce a substantive document that resembles something that a major multinational company would generate.

Filled with graphs, charts and projections, the strategic plan lays out areas of projected growth and notes how the government intends to maximize those sectors. In the way it was presented--Sheikh Mohammed standing before an audience of some 2,000 people using power point and taking questions--and the detailed projections it offers, the strategic plan offers a level of transparency and expectation rarely seen in autocratic states.

And why not? The last time Sheikh Mohammed unveiled a ten-year strategic plan was in 2000, and Dubai had surpassed most of the targets by 2005. While other GCC states may have more wealth than Dubai, whose oil revenue accounts for less than five percent of GDP, its secret weapon is not so secret or mysterious at all: talent. To achieve its 2015 targets it will need to continue grooming local talent and attracting international and regional talent.

As a critical mass of the world's professional elite increasingly sees Dubai as an attractive destination to live and work, the city-state will benefit from this transient, mobile and knowledgeable pool of workers. "The hardest part about taking a job in Dubai," one former World Bank executive joked, "is the dozens of CVs I get from colleagues asking me to help them find one too."- Published 27/12/2007 © bitterlemons-international.org
Afshin Molavi, a journalist and fellow at the Washington DC-based New America Foundation, was a Dubai-based correspondent with Reuters.
Model unmatched in a volatile region
Riad Kahwaji
If there is a place in the world today that deserves the title "universal capital of globalization" it would be Dubai. The rapid growth of this city-state emirate has exceeded all expectations and continues to challenge those economists and business strategists who talk about a "financial bubble" bursting any minute. Not only has the economy proven to be on solid ground, the political and security situation in Dubai has also remained intact in a highly volatile and unstable region.

A lot has been said about the reasons behind the success of Dubai. Some attribute it to the vision of its leadership from the time of Sheikh Rashid al-Maktoum until the present reign of his son Sheikh Mohammed. It was Sheikh Rashid who initiated the idea of building the Jebel Ali Port that has expanded with time to become a major regional seaport. The free zone business model was utilized by the leadership to the extreme, resulting in the birth of several thematic free zone cities like Dubai Media City, Dubai Internet City, Dubai Healthcare City and many others. Extravagant shopping malls and luxurious hotels have made Dubai a favorite site for millions of tourists. Top professionals from all business fields and domains are either based in Dubai or deal with companies there. Walking anywhere in Dubai is like taking a stroll in a United Nations facility where many foreign languages are heard simultaneously.

The vision was not fully based on "build it and they will come". It was also based on providing incentives to attract foreign direct investments and major multinational companies. These incentives came in various forms and shapes, but the most important were:
* Corruption-free efficient bureaucracy in the public sector, a rare or non-existent phenomenon in the Middle East in general.
* No taxes and low tariffs that proved extremely attractive to western companies and expatriates.
* A hyper-free market economy with low restrictions on movement of funds and transactions. Old fashioned wire-transfer systems, hawala, still exist next to modern banking systems.
* Establishing high-tech state-of-the-art infrastructure to sustain a prosperous electronic-based economic system and e-government.
* Government support, direct or indirect, to all major economic projects to ensure their success at reasonable costs.
* Sharing the wealth with the local Emirati people in order to ensure political stability and wide public support for the government.
* Maintaining a good security record of zero major incidents by investing heavily in the Emirate's security apparatus.
* Easy and quick processes to issue visas to businessmen and visitors.
* Allowing foreigners to own property in free zone areas.

The "Dubai Model" has become a big attraction to neighboring Arab countries, especially in the Gulf region. It offers a way of life that appeals to many people, except power-crazy regimes and rulers who only like to do business in Dubai but without imitating it. Leaders in some neighboring countries are still resisting reforms to their political and economic systems and are waiting to see the long-term results of the Dubai experience before they make their judgment. Still, a few Arab leaders are trying to imitate Dubai, but with little success largely due to lack of incentives, socio-political instability and the continued growth of Dubai itself.

Challenges for Dubai are growing along with its size. The booming real estate business has brought in more Asian workers, and a free press has created more transparency and fame that have placed the city-state in the international spotlight. Hence, Dubai now has an image to preserve that includes high moral values and responsibilities to the international community. Under the new conditions, old tribal traditions of favoritism and special privileges have conceded to the rule of law, especially when having to deal openly with labor issues and sensitive cases like sex crimes. Nevertheless, firmness against troublemakers has remained central and the practice of deporting convicted offenders and criminals has "kept rotten apples out", leaving the city free of misfits.

Dubai has managed to keep a fairly good balance in its relations with the outside world. Major Chinese, Russian and Indian companies share the same ground with their western counterparts. Iran continues to find in Dubai breathing space for its economy despite persistent pressure from Washington to curb the finances of Iranian officials. The ongoing dispute between Tehran and Abu Dhabi has not undermined the strong economic relations between the two countries, especially Dubai.

Al-Qaeda and its affiliated terrorist groups occasionally mention Dubai on their website with concealed threats. Some official sources have spoken of attempts by extremist groups against western targets that were foiled by vigilant security forces, but with no independent confirmation. Yet the threat exists, as does the possibility of war between Iran and the United States.

Dubai leaders watch anxiously as their city-state grows in size and strength unhampered by the troubles of the region. Nobody seems to know how much Dubai would be affected or harmed by a terrorist attack or a regional war. However, most experts seem to agree that an incident in the world's capital of globalization would most likely impact both the world's economy and the city's way of life. Hence it would only be logical to assume that harming Dubai would not be in anybody's interest, including the bad guys.- Published 27/12/2007 © bitterlemons-international.org

Riad Kahwaji is director general of the Institute for Near East and Gulf Military Analysis (INEGMA) in Dubai, and the Middle East Bureau chief for Defense News.
The hidden costs of Dubai's post-oil diversification strategies
Christopher Davidson
By the close of 2007, contributions from non-oil related sectors of the economy will account for an estimated 95 percent of Dubai's GDP. Therefore, the emirate is now very much a "post-oil economy" and, on paper at least, would seem to be succeeding with its diversification strategies.

However, the Dubai development model is now drawing heavy criticism for its replacement of dependency on oil with an equally dangerous dependency on foreign direct investment. Should international confidence in Dubai be shaken by a nearby conflict in Iran, by domestic terrorist attacks, or by a regional economic downswing, then it is likely that tourism would slow and foreign investments in real estate and free zones would be relocated to a safer environment.

Also problematic may be the political costs of the reforms necessitated by the diversification. As a number of studies have demonstrated, many of the world's surviving traditional monarchies rely upon a delicate balance of legitimacy resources that together make up something of a "ruling bargain" with the national population. Dubai is no exception and the al-Maktoum family's survival has rested on a combination of legitimacy resources, backed up with distributions of oil-rent-derived wealth to its citizens. Dubai's diversification does not upset the wealth component of the bargain given that it is still the nationals who own the plots of land that the new residential properties, hotels, and foreign business parks are all built upon. Indeed, although there are a few hidden taxes creeping up on Dubai's nationals, and although they may no longer be receiving blatant handouts from the government, it is important to appreciate that the majority of Dubai nationals are still elevated above the wealth creation process and can still enjoy a rent-based income, albeit a different form of rent.

What Dubai's recent reforms do upset are the cultural and religious resources of the ruling bargain. With accelerating foreign ownership, and with foreigners beginning to make profits out of activities that were formerly the preserve of the indigenous population, many of the nationals feel that Dubai's development is not really to their benefit any longer. Moreover, not only are formerly exclusive privileges being eroded for nationals, but so too is their way of life, as the government continues to bend rules to accommodate the increasing number of non-Arab and non-Muslim expatriates and visitors.

Most obviously, the volume of loudspeakers on mosques has been reduced in many residential areas and previous restrictions normally observed during the month of Ramadan are now rarely monitored in an effort to boost non-Muslim tourism. Similarly shocking to the local population has been the explosion in prostitution. Dubai is now firmly established as a center for sex tourism and the authorities allow thousands of sex workers to flood into the emirate. Also noteworthy is the tolerance of homosexuality (which is officially illegal in the UAE), and the existence of Dubai-based gay bars and nightclubs is widely acknowledged. Perhaps most controversial of all has been Dubai's increasing communication with Israel. With its rising profile in the international banking system, Dubai has hosted meetings that have included Israeli delegations. This is remarkable given that the UAE is supposed to uphold a total boycott on all Israeli relations and trade.

Should a threat develop, it is most likely to come from disaffected and radicalized young Dubai or other UAE nationals that view these reforms and relaxations with distaste. Already, a number of UAE nationals have participated in al-Qaeda operations (including two members of the 9/11 hijack team), and there is a concern that attention may soon be turned to their own country. At present, it is unlikely that expatriates would be involved, as the majority are strictly monitored through the employment and residency visa system and most are simply working in Dubai in order to send remittances back to their families.- Published 27/12/2007 © bitterlemons-international.org
Dr. Christopher Davidson is lecturer at the Institute for Middle Eastern and Islamic Studies at Durham University.
The Orlando of the Gulf
22 June 2007
Widely touted as the Middle East's very own Orlando, Dubailand, a cluster of mega-billion-dollar projects, is gradually emerging across the desert sands of the booming Gulf emirate.
Faced with a dwindling wealth of oil, Dubai has taken on a new challenge of larger-than-life projects in line with its ambition to become the region's main business and leisure hub.
Already primed as a holiday destination, it is fast executing plans to build a host of new hotels, golf courses, malls and leisure facilities in order to more than double the number of tourists to 15 million by 2015.
Initially planned to cover an area of two billion square feet (185 square kilometres), Dubailand, billed as the "world's most ambitious tourism, leisure and entertainment project," is expected to be a sprawling three billion square feet. This would make it larger than the entire city of Orlando, Florida -- home to Walt Disney World, Universal Resort, Sea World and a variety of other attractions and hotels.
"Dubailand is going to be a city within a city," said Mohammed al-Habbai, chief executive officer of Dubailand, a subsidiary of the government-owned Tatweer.
"We are very confident in what we are doing," he told AFP. "I would say that most of our projects are on time."
Western-oriented Dubai's bid to position itself on the world tourism map has propelled it way ahead of its oil-rich conservative Gulf neighbours.
It already prides itself on the sail-shaped Burj Al-Arab hotel and building three palm-tree shaped islands off the coast, where the ambitious island project in the shape of a world map has fast become yet another landmark.
On Monday, Dubai also announced its 100-million-dollar purchase of the Queen Elizabeth 2, one of the world's most majestic cruise liners, which it plans to turn it into a luxury floating hotel berthed at one of the palm islands.
A model version of Dubailand still shows its vast barren surroundings, which in three years time will be awash with even more golf courses, theme parks, mega-malls and residential towers.
"This area will definitely be completely different by 2010," when three million visitors a year are expected to Dubailand alone, said Habbai.
The entire 24-project venture, not scheduled for completion before 2025, is estimated to cost 235 billion dirhams (64 billion dollars, 48 billion euros), 60 percent of which is expected to come from private investors.
This does not even include the mammoth 'Bawadi' project, announced in 2006 as the world's largest hospitality and leisure development consisting of more than 50 themed hotels with 60,000 rooms, almost double the number currently available in Dubai.
In May, the emirate's ruler, Sheikh Mohammed bin Rashid al-Maktoum, seen as the driving force behind Dubai's phenomenal economic growth, announced doubling the value of Bawadi to 54 billion dollars.
One of its hotels, AsiaAsia, tipped to be world's largest with 6,500 rooms, will be developed by Tatweer, with 45 percent of Bawadi already agreed upon with private investors, Habbai said.
Tatweer is part of Dubai Holding, a conglomerate owned by the government of Dubai which oversees mega-projects in the emirate, currently experiencing a burgeoning property boom.
In the throes of constructing the world's highest building, whose ultimate height remains a closely-guarded secret, Dubai also plans to house a Great Wheel, whose size will rival that of the London Eye observation wheel.
Dubailand will also house the world's largest transparent snow dome and a Universal Studio theme park, announced in March by Tatweer.
The latter will be part of a 2.2-billion-dollar Universal City Dubai, comprising 4,000 hotel rooms and some 100 restaurants.
Along with Tiger Woods Dubai -- a 25-million-square-foot golf course and community featuring palaces and mansions by September 2009 -- Universal City will be the only Dubailand projects funded by Tatweer.
Taking it one step further, the Falcon City of Wonders will boast replicas of the Pyramids, the Eiffel Tower and the Hanging Gardens of Babylon.
Aqua Dunya is also expected to be one of the world's largest water parks.
Several stadiums are being constructed in Dubailand's Sports City and a comprehensive Motor City is taking shape around the currently operational Dubai Autodrome.
Despite the frenetic expansion, Habbai dismissed fears of saturation in the market, which currently faces a hotel room shortage in peak periods.
"Dubailand is going to create a new segment in the market for leisure and entertainment," now mainly focused on beach and shopping holidays, he said.
Grandiose shopping malls are also well in the making in Dubai, a member of the seven-strong United Arab Emirates.
Tatweer announced in May a 2.7-billion-dollar deal with Al-Ghurair Investment to develop a four-million-square-foot mall in the Bawadi retail zone.
And the Mall of Arabia, expected to open its first phase in early 2009, aims to extend to become the world's largest at 10 million square feet.
Dubai cosmopolis
Dubai, the capital of the United Arab Emirates, is unique: a city whose decentred multiplicity informs and accommodates everything it touches, from the role of Islam to that of global capitalism in the region. Faisal Devji presents an acute analysis of a place where tradition functions not to forge a non-existent nationality, but to accommodate and naturalise change. In this, he suggests, Dubai is a global city of the post-national future. From openDemocracy.
By Faisal Devji for openDemocracy (20/04/07)

As the images of planes crashing into the twin towers of New York's World Trade Center were relayed across the world on 11 September 2001, throngs of shoppers stopped to watch this spectacle on the television monitors of Dubai's many malls. Surrounded by American fast-food outlets, and clutching just-bought items of American fashion like the baseball caps that are worn with Arab robes, these spectators cheered as if they were American fans watching a sporting event. What did this celebration mean for the prosperous citizens of the United Arab Emirates, a country that is not only an American ally but in love with American commodities and culture? A country where Twin Towers and World Trade Centers continue to be built, looking now like the growing children of a fallen parent?
Whatever the reasons for their unseemly cheering as the events of 9/11 unfolded on television, the shoppers of Dubai were not manifesting anti-American sentiments because of their economic deprivation, nor out of hatred for the west. They were not even motivated by Arab or Islamic politics, since that now familiar entity, the "Arab street", does not in fact exist in Dubai. Like other members of the United Arab Emirates (UAE), this wealthy principality has a resident population that is overwhelmingly non-Arab, also possessing therefore a substantial non-Muslim component. So perhaps what happens in Dubai should be judged by the city's very lack of Arabs and Muslims, which is perhaps why its citizens celebrated 9/11 in the way they did, as the vicarious members of a virtual community. Indians are the real national majority in Dubai, accounting for some 66 percent of its population, and are alone in occupying every rank in its society.
Emiratis themselves only comprise some 10 percent of their country's populace, though by law they dominate all public-sector enterprises there. Yet even the Arab domination of Dubai's public sector is due to an unusual policy of "emiratization" or affirmative action for the ruling minority, whose standards of living have been in relative decline over the last few years. Lacking the educational background and professional qualifications of the foreign experts who manage their country, let alone the skills of the laborers and technicians who make it function, Emiratis are now being reserved positions in private sector enterprises as well. Though they do not possess the numbers to displace foreigners from either public or private sector, Emiratis can no longer afford to live on state subsidies or on fees paid to be the local partners of foreign companies. It has also become clear that the presence of many successful businessmen among the Emiratis is no substitute for a ruling race, one whose dominance must be secured by quotas, and whose purity safeguarded by restrictions on intermarriage.
While the travails of this ruling minority are curious enough, much more interesting is the society they are part of. What does it mean that the most vibrant part of the middle east, in economic terms at least, is not in fact middle eastern? This paradoxical situation, or rather the novel society it brings to light, makes Dubai far more intriguing than its wealth or vulgarity might suggest. For it reveals to us one of the few societies not founded upon nationality. With a small number of locals outnumbered many times over by a large number of outsiders, most of whom are barred from becoming citizens of the UAE, the nation-state remains nothing but a mirage in Dubai's desert. The implications of this astonishing fact are far-reaching, and inform everything from the role of Islam to that of global capitalism in the region.
The spirit of capitalism
Dubai's cosmopolitanism rivals that of New York or London, the difference being that it is the local who's an exception here rather than the foreigner. But the privileges of Emirati citizenship can never become grounds for nationalist hysterics and xenophobia, as they sometimes do in Europe and America. Being itself a minority phenomenon, nationalism here cannot pitch itself against other minorities. Despite its huge numbers of immigrants, therefore, immigration as such is a non-issue in Dubai. However strong local feeling might be against the role that the United Kingdom and United States are playing in Afghanistan and Iraq, for example, the tens of thousands of Englishmen and Americans who live here have never become targets of general hostility. This is because nationality does not provide the basis for society in the UAE (see Faisal Devji, "Welcome to Dubai, the society that capitalism built", Financial Times, 5 February 2007).
Despite the regulations it imposes to give the impression of a national culture, Dubai plays host to what is possibly the most diverse society in the world. This was brought home to me on my frequent visits to Jumeirah Beach, whose clear waters get saltier by the day as desalination plants providing the city with its water continue to dump the salt they extract back into the Gulf - which is also where the fresh water thus produced is held in submarine reservoirs. All day until late afternoon the beach is populated by white-skinned sun-worshippers from places like Europe and North America. From about five in the evening it draws increasing numbers of Indians and Iranians, Pakistanis and Filipinos, Bangladeshis, Sri Lankans and Arabs who're more interested in maintaining a lighter complexion. Women veiled in black from head to foot mingle with those in the skimpiest of bikinis, while Frenchmen in thongs bob alongside Afghans dressed in tunics and baggy trousers. Egyptian youths form human pyramids in the water, as if from some atavistic impulse, and Russians chat to each other while floating in circles. And in all this no language or ethnicity predominates.
The Arab culture that is meant to give national form to a place like Dubai exists mostly in the form of advertising and commodities. It is to be found in the guise of leisure and entertainment, from shisha bars to desert safaris, whose designers, builders and consumers are generally foreigners. Similar is the use of Arabic in public life. From announcements on Emirates Airlines to street signs, Arabic serves as an exotic backdrop to the babble of Urdu, Russian, Persian and Tagalog that are the true languages of Dubai. Though it is possible to make one's way in the city using Hindi alone, there is only one common language here, English, which even local Arabs must use in their daily interactions with Chinese shopkeepers, Indian teachers and Iranian dentists. And rather than being diminished by the foreigner's length of residence in Dubai, this diversity is only compounded there, since even schooling is provided the children of migrant workers and expatriates according to British, Indian, Australian or Pakistani standards.
Given the fragility of national culture, it is Islam that lends moral and legal substance to the UAE. This is manifested in disparate ways like banning alcohol and pork products for Muslims and pornography for everybody, forbidding the missionary activity of religions other than Sunni Islam and legitimating certain legal decisions by reference to the sharia. Rather like the Church of England, Islam is the state religion of the UAE, though professed in its official form by a minority of the country's residents. Unlike the Anglican church, however, Islam replaces rather than defines national history in Dubai. This is evident from the city's religious architecture, with so many of its mosques built to imitate those from other Muslim lands, that I'm inclined to think the emirate's only distinctive religious environment is the shopping-mall. To hear the call to prayer broadcast amidst the glass and marble of upmarket European shops, with American fast-food outlets set alongside prayer rooms, is surely a distinguishing feature of the Gulf.
State-supported Islam functions like an iron mask meant to conceal the lack of a face, which is why not a single refinement in religious thinking, culture or practice has emerged from the UAE. In this respect Dubai is not the successor of medieval Baghdad, Cairo or Cordoba. There are, however, many attempts to make money from Islam in a global market where Dubai competes with countries like Malaysia, which is trying to corner the global market for halal food by patenting its standardization and certification on the model of kosher food. While Malaysia is rushing to become a "halal hub," Dubai is competing with London to become the hub for another moneymaking enterprise called Islamic banking that is estimated to be worth hundreds of billions of dollars. This offshoot of a mythical discipline called Islamic economics emerged during the dictatorship of Zia ul-Haq in Pakistan, as part of his effort to legitimize his rule in Islamic terms while gaining Saudi backing at the same time.
Founded by Pakistanis but now disseminated by big business the world over, Islamic banking is motivated on the one hand by perfectly genuine concerns over ethical investments and market practices, including abstaining from deals involving the manufacture or sale of alcohol and pork products. All this is quite in tune with the kind of ethical investment schemes already available in the West. On the other hand Islamic banking means abstaining from usury, incorrectly but popularly defined as interest. Of course it is impossible to operate in a capitalist market without either taking or giving interest at some level, so a great many euphemisms and often tortuous evasions are required to hide this fact, often to the financial detriment of those purchasing such sharia-compliant services - though of course to the benefit of its vendors.
Islam is in fact as modern as anything else in Dubai. Or rather Islam is more modern than anything else in the emirate, because like other religions it is the first institution to adopt new technologies and make itself at home in them. But of course it will survive long after these novelties have disappeared. One needs look no further than the veil that has fascinated and repulsed the west for so long to see how this happens. Unlike the burqas and chadors worn by poor women in other parts of the Muslim world, it is clear that its various forms, like the abaya, worn in the UAE are statements of fashion as much as anything else. Not only is there a plethora of changing styles for what might appear at first glance to be a standard garment, but veils are also very obviously part of an economy of seduction.
Emphasizing as they do the body's visible extremities, such clothes are often worn by women with heavily made-up eyes, painted lips, bright nail polish, hennaed hands or feet and eye-catching footwear. Veils allow these parts of a woman's body to become fetishes, and indeed there is nothing so overpoweringly feminine as the heavily perfumed, painted and bejeweled Muslim woman to be found strolling the corridors of Dubai's many shopping malls. But then veils have been the garments of seduction for centuries, with a vast literature dedicated to their allure. It is this, rather than any misogynist prescription of modesty or invisibility, that accounts for their enduring popularity in certain quarters.
In any case the habit is a sign of modernity not tradition, because it has put an end to the physical segregation of the sexes by allowing women to move about in relative freedom enveloped in their own cocoons of privacy. Indeed the veil permits its wearer to do things that many unveiled women would find impossible, like holding hands with their husbands in public or mingling with half-naked men at the beach. And of course what lies under the veil is often the most daring of European fashion. Instead of the familiar western distinction between a secular appearance in public and a religious one in private, we find the reverse in Dubai, with tradition signified in public and modernity in private. Instead of being kept at arm's length or reserved for the outside world, the west becomes the most intimate part of a Muslim woman's inner life.
Love's labor lost
Rather than seeing all this as some failure of modernity, the elimination of nationhood as a basis for identity, as well as the capitalization of religion as a replacement for it, might be viewed as the portent of a global future. For Dubai is the closest thing to a society organized by relations of capital. It is the nearest approximation of the urban and island communities that served as models in the early days of capitalism, from Thomas More's Utopia to Daniel Defoe's Robinson Crusoe. Unlike these model communities, however, Dubai exists as a temporary home for most of its residents, who therefore repatriate the money they earn from a country that will rarely grant them citizenship. New laws giving permanent residence to those who buy property have been designed to lure a certain class of person and investment here, but these are the very people who will flee Dubai at the first sign of trouble, and who are unlikely in any case to invest in the public welfare of its residents. The emirate's financial success is built, paradoxically, upon capital flight not capital investment.
Because it is temporary, investment in Dubai is about short-term exploitation without much regard to social or ecological consequences, as so many of the emirate's grandiose building projects illustrate. What has resulted is the façade of a city, the urban version of a Potemkin village, much of which seems to be made out of cardboard. It is only in the older and poorer parts of Dubai that a genuine urban life can be glimpsed, in which pavements exist on which people walk and local businesses rather than international chains operate. Not that there is anything traditional about this, since old Dubai is as temporary as its younger sibling. It's just that the world of the clerk, laborer, petty merchant and shady operator has more autonomy and therefore creativity than that of the professional linked to an increasingly homogeneous corporate culture. The new city is a kind of Disneyland, full of pretend urbanity and even pretend infrastructure like the enormous and expensive system of roads, which are not only choked with traffic and populated by maniacal drivers, but also badly designed despite their beautiful quality.
Befitting a capitalist paradise, the UAE has a reputation for bad labor practices, with maids from the Philippines immured by their employers, and construction workers from Bangladesh laboring under harsh conditions. Recently there have been a number of disruptive protests by laborers who block highways, destroy company property or hold a manager hostage when they are not paid wages or deprived of water and electricity in the stifling desert camps where they are housed. These latter tend to be made up of hundreds of flimsy cabins, each one crowded with three or more workers, which have a tendency to burn down taking the lives and possessions of their inhabitants with them. Conditions at the workplace tend to be just as bad, with many injured and killed in accidents.
In these situations the government steps in promising to check conditions and impose penalties, though what they in fact do is act as mediators between management and labor. Companies are rarely if ever prosecuted even when they forcibly detain and beat their workers - who are rescued by police only to be deported. The UAE's labor regulations are routinely flouted and insufficiently policed. So even when companies do observe the law requiring a three-hour rest period for those working outdoors during the intensely hot summer, they sometimes release their employees onto the streets, where they may be found lying on grassy verges in their hundreds, as if stupefied by temperatures soaring well above a hundred degrees.
While strikes are forbidden the "temporary" workers who form the overwhelming majority of Dubai's labor, they seem to be occurring more and more, and now even among white-collar workers. The days of cheap and unregulated labor may in fact be coming to an end, because of a more assertive workforce as well as rising wages and opportunities in their home countries. But if labor practices in the UAE are still bad enough to drive the International Labour Organisation (ILO) to distraction, this has little to do with any local tradition of exploitation. Indeed most of the companies involved in violations are based in countries with strong workers' rights, and the managers in charge of laborers in Dubai are rarely locals. Even when it is a UAE company in charge of one of the gigantic, some would say megalomaniacal, building projects in the emirate, the actual work is sub-contracted to European or South Korean businesses, so that it is very difficult to determine where responsibility lies. From management to labor, everything here is outsourced.
It remains to be seen if government plans to create some kind of collective organization representing laborers to address the mounting problems that it recognizes in this sector of the economy. But whether they are for labor or for capital, laws and rights in the city are not phrased in the terms of national unity. Freed from cant about the greater good, workers and management here have recourse to a language beyond citizenship. It is not the greater good of the nation, but the good of the individual, as much as of humanity, that is invoked here. The kind of language that characterizes relations of all kinds in Dubai is one that is private instead of public, particular instead of general and religious instead of secular. Even when the state intervenes to affirm the right of one or another of its subjects, it does so not to represent some national will, which indeed it cannot, but as an arbiter possessing its own very particular judgment.
The state's judgment has little to do with neutrality, not because it is biased in some way, but because the emirate is unable to function as a third party at all. It is instead the first among equals as far as the great interests of Dubai are concerned. As owner, partner or large investor in almost all the big private companies that make their home here, the state acts as one owner, partner and investor among others. While this is not a phenomenon unique to Dubai, it has achieved an unprecedented success here, such that it is difficult to tell where the public sector ends and the private begins. This means that the state actually ends up competing with its own subjects - undercutting rival businesses or buying them out, rather than providing a congenial site for their work. It is, therefore, predator as much as protector of its subjects.
As the most powerful private interest in a society of such interests, the state presides over a marketplace rather than a country. It is not surprising, then, that this city should be the capital of other societies without states. Somalia, for instance, which has been without a government for more than a decade, is even more of a marketplace than Dubai, though obviously a much poorer one. Like other African cities, Mogadishu is supplied with goods largely through the emirate. More than this, Dubai actually provides the base for Somalia's airlines and banking, so that we might say Somalia itself has been outsourced to the UAE to become a business like any other.
Dubai functions as a technocracy rather than a democracy. To call it a monarchy is anachronistic despite a powerful ruling family, which exists as the simulacrum of monarchy. Having been granted their titles by imperial Britain, the rulers of the UAE derive their glamour from the vanished world of the Raj, while in fact working like presidents of corporations. Democracy is misplaced in Dubai, since it is only possible in a community of citizens. But if confining democracy to the small minority of Emiratis is nonsensical, offering citizenship to the country's majority is absurd, as it would entail the creation of a national culture and therefore proscribe the very diversity that makes Dubai possible.
In today's international order democracy means citizenship, citizenship means nationality, and nationality means the creation of a majority. But there is no ethnic, linguistic, religious or even political majority in Dubai, and nor can there be one given its lack of political representation. This makes for a bizarre situation in which demographic majorities and minorities do not translate into majority and minority interests or even consciousness. Though they are the largest national group in Dubai, for example, and probably the only one to occupy every rung of Dubai's class ladder, Indians neither think of themselves as a majority nor behave like one even in ways that are strictly non-political. One finds fewer signs in Hindi or Malayalam here than in London.
Tempests in a teapot
If democratic representation does not characterize political life in Dubai, public opinion certainly does, in the form of newspapers, radio and a welter of professional and community associations. The lively debates through which public opinion in the city are registered are not of course regulated by national interest, though they do sometimes include national loyalties from elsewhere - thus the many letters in the local media by well-paid American expatriates complaining about anti-United States bias. But unchained from the politics of citizenship, even these everyday loyalties luxuriate into strange growths. So the terrorist attacks on Mumbai's commuter trains in July 2006 were followed by at least three letters in one of Dubai's English-language newspapers pointing to the remarkable assistance that the city's residents rendered each other - but only to disprove a Reader's Digest poll some weeks previously that had named Mumbai one of the world's rudest cities.
Pakistani and Egyptian taxi-drivers will tell you of the bigotry they have started to experience following the arrival of the most recent group of expatriates: whites from Britain, Australia or South Africa. And highly educated professionals of Indian or Pakistani origin, often themselves British or American citizens, express their shock at the overt racism they face from their new compatriots. But then many of these white expatriates have been imported to Dubai precisely because they are white, and come to hold jobs and enjoy lifestyles here that their class and qualifications would bar them from at home. Their contribution to the city is their color, which fetches a high price in the bazaar, as white slaves always had in the region because of their rarity. They are, in this sense, the most racial group in the UAE.
Even racism, then, has become an effect of advertising and the market, with members of the master race being mere servants at another level. This is also why racism here is not founded upon a code of silence or denial but forms the subject of lively debate. Rather than have liberal and conservative factions of a dominant ethnic group argue over race relations, with a few minority voices thrown in, as is done in Europe and America, there is no racial majority here, or at least not a dominant one, so the newspapers are full of letters from all sides of the racial divide.
Here is a story from summer 2006. Someone writes to a local newspaper wondering why the city's Lebanese populace seems to have adopted the Brazilian colors as a kind of uniform during the soccer world cup. He suggests that these young men are a rather mercenary lot because they support a strong team only so that they can enjoy a vicarious triumph, something that they are obviously unable to do as Lebanese citizens. In response arrive a number of letters pointing out that since more Lebanese live in Brazil than in Lebanon itself, it makes perfect sense for them to support Brazil. The fact that the first writer did not know this fact, he is told, is because he is an arrogant westerner who takes his ignorance for wisdom. In any case, he is reminded, it is common for people whose national teams are not playing in the World Cup to support another.
More common than tales of racial discrimination are the relations of prejudice that structure social life in Dubai. These are often harmless, so the notion that Chinese are hardworking, for instance, is unlikely to effect them negatively in Dubai, just as the perception that Emiratis are lazy is unlikely to disadvantage them either. While everyone everywhere entertains stereotypes about other ethnic groups, these are generally cut across by the language of citizenship - which itself is often racially marked. But without ties of citizenship, only those of contract and prejudice bind as well as separate the disparate groups making up the population of the UAE. Stereotype, in other words, is as much a unifying factor in the city as a divisive one, since in the absence of a common or even a dominant nationality, it provides the only cultural background for social relations there. Prejudices are so highly developed in Dubai that they become signs of intimacy rather than estrangement.
A good illustration is provided by the story of Lebanese fans during the World Cup. Exchanges over their allegedly mercenary practice of supporting the stronger team continued for weeks in the newspapers. Once Italy had won the cup, a writer with an Anglo-Saxon name sent in a letter beginning with this sentence: "Congratulations to Lebanon on securing another remarkable World Cup victory. Particularly amazing after being knocked out at the Quarter, then Semi final stage". In response the next day came a letter wondering at the obsession with Lebanese fan behavior, which was put down to the first writer's shock at no longer being part of a dominant majority: "Maybe because the only place you saw apart from the suburbs of England is Dubai." What struck me about this response was its attribution of English nationality to the first writer. Why not American, Australian or South African? I suspect because his Englishness was derived from his wit.
That prejudice may be the product of knowledge rather than ignorance, and signal intimacy instead of estrangement, is an important point and one repeatedly borne out by the humor and sophistication with which it occurs in Dubai. Witness another exchange of letters: First, a lengthy complaint from "a non-British who is tired of people ruining the name of Asians," about a Pakistani couple boarding a flight to England so that the pregnant wife could give birth there and claim benefits. The letter ends with the words: "I can tell you what lazy, ungrateful spongers some of these immigrants can be." The next day's newspaper carried two responses, one from a British "expat for life" who agreed entirely and vowed never to return, and the other by a Pakistani refuting "the Indian person" and ending with: "I think the person must have been referring to an Indian passenger as I believe the security apparatus in India at airports is very lax and the butt of many a joke."
But intimacy comes in many forms, and among these the sexual one enjoys a high profile in this emirate. In a masculine population swollen to an absolute majority by large numbers of migrant male workers, sexual services are bought and sold as well as being forcibly procured. This city, which bans all material deemed pornographic, is nevertheless home to the most bewildering array of prostitutes. From Russian "Natashas" in the seedier hotels of Bur Dubai, to Filipina streetwalkers whose nocturnal pacing is watched by off-work Keralan men with hands wedged firmly in trouser pockets, sex workers are everywhere. Even shopping malls, whose air-conditioned passages surely provide Dubai with its true public spaces, accommodate prostitutes who advertise and make assignations by mobile-phone.
Yet the smallest sexual infraction with a "respectable" woman of any class or nationality often meets with swift reprisal, from jail terms to deportation. Indeed if labor practices in Dubai are unlikely to give the ILO much cheer, its laws on sexual harassment are as stringent as any a feminist would wish for. There are news items every other day about men in shops who use the cameras in their mobile-phones to look up women's skirts while supposedly bending to glance at products on bottom shelves. A woman squatting on a public toilet only realized she was being filmed by a camera-phone held above her head when it suddenly rang and she looked up to see an arm being quickly withdrawn.
What is interesting about acts of this kind is that they all have to do with the desire for privacy. Rather than purchasing the services of a prostitute or pornography from the black market, these men are interested in gaining access to some very personal image of privacy that would be adjudged as having little or no sexual content in the market. Though occurring for the most part in shopping malls, such acts seem opposed to the market in sex and other commodities that makes Dubai what it is. The mobile phone, which offers a prosthetic intimacy in any case, has simply had its range extended, allowing it to scan a privacy that can never be experienced.
Calling at all ports
Dubai is heir to a long history of free ports, from Zanzibar to Hong Kong. Such places have always provided the junctions along which international capital flowed. The city in fact is only the latest of the many ports that have garnered extraordinary riches in the region's past. It is the successor to Aden, not so long ago a vibrant and cosmopolitan centre that connected India to Britain. These city-states are also essential to the global capital of tomorrow. So Dubai is not only crucial in opening up the ex-Soviet republics of central Asia to business, it is also singularly important to countries already integrated into the global market.
This was brought home to me when I found myself on an Air Tajikistan flight between Delhi and Dushanbe a couple of years ago. The aircraft had originated in Sharjah and was bound for Moscow, so Tajikistan itself was only a pit-stop for its national carrier. What made the connection between these disparate cities possible? Goods from around the world were being re-exported from the UAE to India, central Asia and Russia. Buyers and sellers were moving between countries. And middle-class Indian students shut out from western universities by cost, and from Indian ones by quotas and competition, were traveling in the cheapest way possible from places like the Smolensk Medical Institute to the provincial towns from whence they came.
The importance that a small place like Dubai has for its much larger neighbors is nowhere more evident than in its relations with India. The Persian Gulf provides a huge country like India, Dubai's largest trading partner, with the bulk of its diasporic capital in the form of labor remittances. It also keeps India's national airline financially viable by ferrying these laborers back and forth. More than this the Gulf provides the world's largest film industry, Bollywood, with one of its major markets. And this is not even to mention the fact that many of the sub-continent's crime syndicates operate out of here.
Among other things Dubai serves as the transit point for pirated DVDs and other goods that are not allowed to move legally between India and Pakistan. In this sense it serves to repair the economic links between Mumbai and Karachi, as well as between the Ganges and the Indus, that were severed with the partition of British India in 1947. Indeed given the numbers of Indians, Pakistanis and Bangladeshis who live here, Dubai has even managed to reproduce the Raj by bringing its dispersed inhabitants to live together as they do nowhere else in the world.
Media attention has focused on Dubai as a place full of marvels, indeed as a modern version of the marvelous East. But it is better viewed as a junction for traffic of all kinds. In this age of closed and patrolled borders, Dubai represents a highly monitored but remarkably open invitation to the world, though not of course an invitation to everyone. This is a city that plans to attract visitors who will outnumber its own shifting population by more than ten times. It lives by re-exporting not only automobiles and electronic goods, but also Russian dancers, Philippine lounge singers and British DJ's, who are now fixtures in every Asian city worth its name.
Along with its Gulf neighbors, Dubai even recycles the United States. Thus the fashion of building scaled down versions of the White House, which began in Kuwait after the first Gulf war and was exported throughout the region, as well as to places like Karachi. Here entire neighborhoods are filled with White House knock-offs, their pediments inscribed with gilded phrases from the Qur'an. But Dubai re-exports itself as much as it does the rest of the world, and may now be found in special economic zones all over the world. Yet the most important thing it recycles is a new kind of global society beyond the reach of nationality.
The future of an illusion
There are those who say the excessive publicity Dubai now receives, as well as its transformation into a destination for mass tourism, signal the end of its moment in the sun of global innovation. The energy and undoubted vision of its rulers in transforming this small port in the long-distance dhow trade crossing the Arabian Sea and Indian Ocean must be acknowledged. From a town catering to pirates and pearl divers, Dubai has become one of the world's richest cities. But it is true that scale and vulgarity appear to be the only things that characterize the emirate's latest developments.
There is nothing innovative about the environmentally destructive and financially risky obsession with tourism, conventions and sports tournaments, all of which would dry up at the first sign of trouble in this volatile region. Even without a war or terrorist incident, however, Dubai cannot remain fashionable for long, since unlike a Paris or a London it has nothing to offer visitors sheer novelty apart, and this too is now entering a blowsy phase. Not all the luxury in the world will prevent fashions from changing and taking the celebrities this city woos elsewhere, followed in short order by the package tourists.
More dangerous is the possibility that Dubai's success today may be putting its future in peril. Quite apart from the threat posed by the spiraling costs of housing and commodities that will eventually reach the all-important labor sector, Dubai's latest fixation, property speculation fuelled by a construction boom, threatens to wipe out every attempt to create other forms of value. For instance eminently worthwhile efforts to make the city a hub for international media, medicine or e-commerce seem not to have borne fruit, with much-hyped projects like Dubai's Media City becoming zones for yet more property speculation.
Similarly, prestigious institutions like Harvard's medical school appear to operate here only as businesses, transferring services for cash rather than knowledge for development. Like upmarket European and American shops in the city's malls that send only their second-rate goods to Dubai, these prestigious institutions seem to be interested only in flogging their least successful products here. But how can it be otherwise given the abysmal quality of so much higher education in Dubai, where a number of plush universities function with ranks of indifferent faculty and students?
Yet it is precisely in sectors like higher education, now a huge growth industry as the establishment of profit-based British and American universities in Dubai demonstrates, that the emirate can take a lead. Dubai might easily become a hub for medicine, technology or design serving not only the entire Middle East, but also South Asia and much of Africa. The fact that it has not yet become a center for such enterprises, not even for publishing or music in the Arabic language, is surely a sign of the real failure behind Dubai's apparent success. For like many of the now-vanished cities of hurried riches before it, Dubai is still stuck in the first phase of an economic miracle and has been unable to entrench its gains at the next one.
Property speculation is the biggest business in Dubai today, and not only has the whole city been transformed into a construction site, but artificial islands in fanciful shapes are also being dredged out of the sea to provide more sites for speculation. Such speculation, of course, is not limited to the UAE, with companies like Emaar now taking on gigantic building projects in Turkey and Lebanon (where it rebuilds Beirut after each war) as well as in Pakistan and India. This is already a big jump from old-fashioned investments in prestige properties abroad, which still continue to buy Dubai financial security as much as political influence in London or New York.
Despite all the talk of economic diversification, the city does not produce value but remains a site for the adding of value. And for all its boasts about an economy that is not based on oil, Dubai depends precisely on cheap oil to keep its economy growing. It is still only a junction after all, and so at the mercy of financial speculators, such that the mere rumor of Saudi Arabia opening up its stock exchange is enough to wipe hundreds of millions of dollars off Dubai's market. While it is an extraordinary city by any measure, Dubai is caught in a time warp with nothing to offer but "bigger, better and more of the same". For innovation in the region we need look no further than Qatar, which changed the world with a single product - Al-Jazeera. This is the kind of productivity that should represent the next phase of Dubai's future.
In the everyday lives of its residents Dubai's novelty displays itself as tradition, and it is this taming of the new in habitual acts that gives the city its charm. One would think that such quotidian practices have been going on for centuries, as indeed they have in various forms, even if elsewhere and among other people. One of the most charming moments of Dubai's traditional life comes when dusk falls across the creek. As neon signs and naked bulbs flicker on in the twilight, the drone of motors heralds the return of Keralan clerks and Punjabi shop assistants, seated in rows on the wooden boats ferrying them home. Not far from where they disembark, the cathedral mosque receives Yemeni and Pakistani worshippers, streaming into its ablution hall while the call to prayer sounds out. And just behind the mosque is a Hindu temple, into which proceed Sindhi and Gujarati women clad in saris, some bearing coconuts and others with handkerchiefs fastidiously tucked in at their waists. Devotees of both faiths mingle briefly before disappearing each into their house of worship.
These humdrum practices are familiar to me from my childhood on the east African coast. If I recognize them here it is not only because Dubai and Zanzibar partake of the same history but also because such traditions are themselves mobile and not firmly attached to places - having escaped the clutches of national culture thus far. The fact that communities can migrate with their traditions and reconstitute them in different places and among different peoples makes these histories as modern and as flexible as the latest technological habit. For such traditions can coexist with others and include as many strangers as they exclude. It is the possibility of reconstituting everyday practices in this way that keeps them alive, allowing quotidian acts to naturalize the most novel of phenomena. I suspect it is this history of tradition outside the nation-state, rather than any system of governance, that makes Dubai the stable and peaceable society it is, despite the extraordinary transformations it has undergone.
Unlike the conservative role it plays in nation-states, tradition in the UAE functions not to forge a non-existent nationality, but to accommodate and naturalize change. In this sense it is in fact the most modern thing about a place like Dubai. This is a modernity that the official culture of the emirate tries desperately to colonies. My favorite example of such a colonized tradition is camel-racing, surely one of the great symbols of the UAE's Arab past. After receiving a great deal of criticism for the use of kidnapped or indentured child jockeys in this most traditional of sports, Dubai banned the practice only to replace the Indian or Pakistani boys with remote-controlled robots. And so a supposedly archaic custom was transformed into the most high-tech race in the world, one in which the animal element was combined with robotics to produce a cyborg. The use of remote-controlled robots in camel-racing also transforms this sport into a monstrous video game, becoming therefore the perfect example of Dubai's prosthetic modernity.

Dubai and its gold market … (by Larry Edelson)
Money and Markets (29 March 2007)
Never mind why U.S. oil giant Halliburton is moving to Dubai. That's a whole separate discussion. From what I'm seeing on my four-day visit, this city is going to need more than a single U.S. oil giant to help it fill up all the new construction.
Although it's the largest city in the United Arab Emirates, Dubai would probably need to attract at least ten major corporations with 300,000 employees to occupy all the buildings going up.
I came to Dubai with an open mind, to find out first hand what all the excitement is about. In a moment, I'll tell you what I think about investing here. And I'll tell you what I learned in Dubai's gold market.
But let's start with an overview …
Dubai Is Great for Business and Travel,
And Its Economic Numbers Reflect That
This city of 1.4 million people is a heaven for businesses! There's no corporate tax (except for oil producing companies and branches of foreign banks) … no personal income tax … no capital gains taxes … and no withholding taxes.
Plus, there are no foreign exchange controls, quotas or trade barriers. The UAE's currency, the dirham, is freely tradeable and linked to the U.S. dollar.
So all the right structural forces are in place to make this a booming city. And the numbers coming out of Dubai are certainly enticing:
| | |
| --- | --- |
| | Per-capita GDP is well over $30,000 … the highest in the Middle East and up there with the world's top 25 economies. |
| | GDP growth has been running at 13% annually since 2000. |
| | Over the same period, the industrial and construction sectors have been rising around 30% a year. |
You could say that Dubai has "arrived." Its port is now home to 120 shipping lines and 105 airlines, connecting 136 nations to the region. The Dubai International Airport is the second-fastest growing airport in the world, based on international passenger movement and cargo traffic.
No wonder Emirates Airlines is one of the most successful and profitable airlines in the world. It recently placed the largest order in aviation history for a total of $19 billion of new airplanes from Airbus and Boeing.

Dubai is the world's fastest-growing tourist destination, with nearly six million visitors in 2006, and 15 million expected by 2010. The richest ones stay at the only seven-star hotel in the world, the famous Burj Al Arab, where one night costs more than $1,500.

The city has 14 million square feet of existing commercial space, and 98% of it is occupied. But another twenty-four million square feet of commercial office space is in the works!


The current pace of commercial office construction in Dubai makes it the largest and busiest new construction market in the world, even bigger than Shanghai, China! Dubai has more construction cranes per square mile than any other city in the world, new or old.

Just three of the enormous projects …

The Burj Dubai Tower: This, the most ambitious skyscraper in history, will reach as high as 800 meters (2,624 feet) when complete. That's a whopping 300 meters higher than 101 Taipei, the tallest building in the world right now!

Dubailand: Set to become the most ambitious tourist destination ever created, Dubailand will be more than twice the size of the Walt Disney World Resort in Florida. This mega-project theme park will cover three billion square feet!

The Dubai Mall: When completed, this will be the largest mall in the world, with more than 1,000 stores spread over two million square feet of retail shopping space.

There's also something like $100 billion in residential developments going up, including hundreds of man-made islands in the shape of palm trees and one project called "The World," which is an entire seascape of man-made islands arranged to look like a map of the world.


It all sounds great …

But Here's the Big
Problem I See in Dubai

Dubai's boom is being driven by oil money, and an international gang of the rich and famous who are seeking a Middle Eastern paradise on the Persian Gulf.

None of this is being done by or for the common Arab, or the scores of construction workers and service employees that mostly come from Asia (the Philippines, in particular) looking for work.

In short, there's a big divide between what's happening in Dubai and the needs and desires of the resident masses.

What I'm seeing in Dubai differs dramatically from the events taking place in China, India or almost anywhere else in Asia. In those places, billions of people are just emerging from poverty. Here in Dubai, most people, including the working class, are already relatively well off.

That's a huge distinction, and it's recognized by almost everyone I spoke to here. I asked three separate taxi cab drivers, a half-dozen shopkeepers, and a few hotel employees what they thought of the situation in Dubai. They all said pretty much the same things to me:

"There's way too much construction going on."

"The big money here is in for a fall."

"The elite here are out-of-touch with reality. So are the wealthy international business community, and the tourists."

As I said, most of the money building up Dubai is directly or indirectly oil money. It's as if the ruling party in Dubai (the Maktoum royal family), and other wealthy groups within the UAE, have nothing better to do with their money but spend, spend, spend.

They say they're aiming to diversify their economy away from oil revenues and into other forms of trade and tourism, but I have to wonder about their decisions. To me, it looks like there's a lot of ego going into the projects here. I see wasteful spending, and big bets that a huge future is in the offing.

Mind you, I've enjoyed my stay here in Dubai. The climate is spectacular, the city breathtakingly clean, the people wonderful.

But there seems to be a big gulf between the rich and the not-so-rich in Dubai, and that worries me. They're not on the same page. Contrast that with many parts of Asia, where the masses want to get rich, and the leaders are providing the means to do so.

Of course, there's one thing that both the ultra-wealthy and the masses seem to agree on in Dubai …

Gold: Loads of It Being Bought
By Almost Everyone in Dubai

Dubai's Gold Souk, an open-air market that contains some 500 gold shops, is the largest retail gold market in the world. An estimated 500 metric tonnes of gold, or nearly 18 million ounces, are bought and sold each year.


I got to the market at three in the afternoon, about an hour before the Islamic afternoon prayer session was to end. It was really exciting to watch the shopkeepers pour out of the local mosques and hustle back to their gold shops for the afternoon and evening trading sessions.

As the shops opened, gold buyers started pouring in by the masses. An hour after opening, almost all the shops I visited were packed with buyers.

Gold in Dubai is either 20k or 22k, and can be found in ingots ranging from roughly 1/10th of an ounce all the way up to incredible hand-crafted pieces of Islamic jewelry weighing a pound and costing tens of thousands of dollars.

But here's the most important point: In the gold souks of Dubai, both the ultra-rich and regular citizens are buying gold. I watched wealthy businessmen, construction workers, and imams all snatching up the yellow metal.
When I spoke with two Muslim women covered head-to-toe in their blue burqas, one of them said, "Gold never goes out of style, whether it's jewelry or bars. It's really money."

I couldn't have said it better, nor could I have met a more gracious lady. It's rare for a devout Muslim woman to even acknowledge a strange man trying to talk to her, but she even took that picture of me in front of the gold shop when I asked her to.


I will visit Dubai again, perhaps next year. But if there's one conclusion I arrived at during my visit here, it's that I wouldn't make any big bets on the area. There's no doubt that it's booming, but the funding is coming from the richest of the rich, and the projects are mainly for the rich. They are not backed by demand from billions of people.

I Wouldn't Bet on Dubai,
But I Would Bet On Gold!

Gold's recent performance has been terrific — it hit $673 last week, before falling back to $665. Right now, I expect it to enter a new choppy trading range between $645 and $670, lasting perhaps as long as another week.

But don't let that bother you. In fact, consider buying on the dips! As long as the price of the precious yellow metal holds $610 on a closing basis, then gold's next leg up is still forming. And I fully expect to see it back above $732 an ounce, its highest level in 27 years.

All the ingredients are in place. Record demand for gold continues. Meanwhile, available supplies are dwindling, as are new discoveries. On top of that, central bankers around the world continue to print money freely, depreciating their paper currencies in the process.

And then there's the Iran situation. I'm sitting here in my hotel room, looking at the Persian Gulf, the coastline of Iran just 100 miles away. While I feel safe here in Dubai, I believe the Iran nuclear crisis is far from over. In fact, I expect it to soon go full tilt, especially after the recent Iranian detention of 15 British naval troops.

Bottom line: If you don't own any gold, now looks like a good time to buy some.

Bright Lights, Boom City
The Daily Telegraph, London - 6 March 2007
This Manhattan-on-speed city state in the United Arab Emirates is loved by many investors. Yet others regard it as a housing market on the edge of a crash with an oversupply of flats, a creaking infrastructure and worryingly-close to the Middle East's trouble-spots.
London sales manager Louise Jarvis has no such doubts. She has been wooed by the high rental income and capital appreciation that properties in Dubai have achieved since 2000. In August 2004, she bought a £140,000, two-bedroom apartment off-plan in a new suburb, Dubai Marina, the largest planned waterfront development in the world. With six weeks still to go before the completion of her flat, Louise says it has appreciated by 30 per cent and she expects to make a killing by letting it to corporate tenants. "I foresee a high demand, as it is near the new central business district, " she says.
Louise is already sitting pretty. In October 2004 she bought another flat near Dubai's Internet City, a suburb which is home to the headquarters of many Middle Eastern IT firms. She rented it out within three days and a year later sold it for a 25 per cent profit on the purchase price.
"The properties were of a very high specification and the developers delivered on what they promised. As it's a Middle Eastern culture, it's a safe place to invest your money," claims Louise, who says her experience of business in the region, in property and other investments, has been characterised by greater efficiency and honesty than in most other parts of the world.
Despite its proximity to the world's least stable region, and ongoing concerns about security in the Middle East, it is safety that is billed as Dubai's main allure to investors. "The troubles in Iraq, Kuwait, Lebanon, Iran - they all play into our hands. People displaced or worried in those countries have left and moved here," explains Issam Galadari of Dubai-based Emaar Properties, one of the world's largest residential developers. "This is a safe haven," he claims, "and demand is rising for property as a result." Dubai has 100,000 full-time British residents, a figure rising by about 900 a month. Over 85 per cent of the population consists of ex-pats from Pakistan, India and the Philippines in low-paid construction and service jobs and from Europe and Iran in well-paid executive posts. No one pays income tax.
The al-Maktoum ruling family holds all key government positions and effectively runs the three main house-building firms. This benevolent "dictatorship" seems popular and has transformed Dubai from an oil-dependent desert town with 170,000 people in 1975 to a super-wealthy city of 1·5million today, with 93 per cent of its income derived from property, tourism and trade.
Now the family wants to boost the population to 3·5million by 2010 and 5·5million by 2020. It markets Dubai's low corporation tax regime worldwide to attract companies; 3,000 multi-nationals are already there including Merrill Lynch, Microsoft and Credit Suisse.
All this is music to the ears of many British buy-to-let investors, who in the past two years have been tiring of poor returns in the UK and snapping up homes to let to Dubai's burgeoning population. As a result the property boom is in full swing.
I counted construction cranes from my 14th-floor hotel window in just one suburb of the city, and lost track at 120.
The latest schemes include the world's biggest shopping mall, its biggest airport, its biggest waterfront development, biggest amusement park and biggest reclaimed land project. All this is happening simultaneously, along with countless lesser developments.
The daddy of all these projects is the Burj Dubai, a tower and suburb being built in the Downtown area off Sheikh Zayed Road, the city's main drag. The tower (the world's tallest, naturally) will have 166 floors of apartments, offices and the first-ever Armani boutique hotel. "The tower will have 35,000 people at full capacity. The top will sway by 1·5 metres," explains Greg Sang, its project manager.
The project was conceived in 2003, work started in 2005 and it has already reached 109 storeys. Building is quick in Dubai, where the desert sands and coastal waters are already marked for development.
Planning permission takes weeks, not years. But quality is not compromised by speed. As with most schemes targeting foreign investors, the Burj Dubai apartments (prices will range from £550,000 to £2·5 million) will be expensively finished and offer good views.Surrounding it will be a 3·5 kilometre boulevard, fringed with hotels and 12,000 properties all now under construction.
Kelly Home, a public relations executive from Aberdeen who has worked in Dubai for 11 years, is going to buy in the area. "It'll be the new focus for Dubai, with the biggest cinema and clusters of bars and restaurants. I've rented until now but it seems the right place to commit to. It's a sign that Dubai has matured into a world city," she says.
"When I arrived in Dubai it was almost empty, with not many ex-pats and no major buildings. Now it's change all day, every day. It's a place constantly on the move." More conservative buyers head for the small number of villas and mansion schemes that are being constructed on the outskirts of Dubai city. Emirate Hills is a new, gated community near Dubai's Media and Internet cities. The properties are three- to seven-bedroom detached houses, starting at £450,000, and have private lawns as well as a meticulously-maintained golf course.
"There's a shortage of these houses in Dubai," says James Davies of Hamptons, the British estate agency now owned by Emaar. "They are wanted by executives and ex-pat families who like the space, European-style designs and the security of a gated community. These will give better returns than flats in the long run," he predicts.
So with building continuing apace, a burgeoning population needing places to rent, and plenty of evangelical locals, why would you hesitate over investing in Dubai?
Well firstly, there is an absence of authoritative statistics about the housing market. Despite a sophisticated mortgage industry there is no equivalent to the Halifax or Nationwide price indices to give neutral data on capital appreciation or rental yields.
"Data exists but no one's had time to correlate it," says Robin Teh of Hamptons International. "As long as properties have sold and rented, the industry hasn't seen the need to guide investors. Now the market is maturing and this information will be available by mid-year." Secondly, there is concern about infrastructure. At commuter times it takes an hour to drive five miles because planners massively under-estimated car usage. Families typically have gas-guzzling 4x4s; it costs only £15 to fill the tank.
The Palms, three artificial islands bearing 10,000 homes, have become synonymous with over-dense development and under-investment in infrastructure. Roads there are clogged as most residents leave for work at the same time each morning.
A two-line metro system opens in 2009. It is the first significant public transport project in Dubai, but what impact the 900-seat trains will make on the gridlock remains to be seen.
Thirdly, at a time when the world is going green, Dubai appears distinctly unenthusiastic. Despite 320 days of sun each year and grinding summers hitting 50°C (122°F) daily, the only solar panels are on parking meters and speed cameras. Builders say panels would be damaged by desert dust and in any case the sun could never supply enough energy to meet electricity demand, some 60 per cent of which is for air-conditioning.
Other sceptics concentrate on more traditional issues. The greatest concern is whether there will be enough rental demand for the 160,000 new homes due to be built in 2007 alone.
"I would be cautious," warns Stuart Law of Assetz, a property investment company. "I'm more optimistic about business areas where there's upward pressure on rents, as opposed to holiday lets in tourist areas where there is vast supply," he says.
"Investors should look at rental yields rather than capital growth. If the potential yield is a high proportion of the property price, this indicates the price is reasonable. If not, the property is probably not a good investment." Local property experts remain confident. They say, justifiably, that critics have written off Dubai's housing market as a bursting bubble for five years, yet investors have still enjoyed high returns. Whatever happens this year, there is little doubt that Dubai's love affair with property has already influenced markets in other parts of the Middle East.
In Ras-al Khaimah, one of the six other United Arab Emirates, along with Dubai, is Al Hamra Village, a marina scheme where Louise Jarvis has now bought yet another apartment.
"This is a hidden gem, an area that shows signs of stirring. At the moment the price is a lot lower per square foot than in Dubai," she says.
Nearby countries like Oman and Bahrain are also selling to foreigners, and schemes in Syria and even Libya could soon be available to western investors
Love it or loathe it Dubai is leading the way in opening up the Middle Eastern property market - and for investors it might just pay off.
Foreigners can now buy freehold in many designated zones.
New-build buyers pay a 10 per cent deposit and the rest in phased sums. Land registration fees cost two per cent and you pay service charges a year in advance.
When buying a resale property you pay a two per cent land registry fee plus a two per cent transfer fee.
Estate agents' fees to sellers are two to five per cent. New laws mean agents must be licensed and undergo regular legal and business training.
Although Dubai is tax free, UK residents may have to pay tax on rental income.
UAE average prices per sq ft: Ras-al Khaima: £95; Abu Dhabi: £160; Dubai £170
Fantasy land in Dubai
From The Christian Science Monitor
20 February 2007
The tourist maps here can be confusing. Probably because about three quarters of the landmarks shown on them are nowhere to be found on the actual ground. "Dubailand (u/c)" and "The World (u/c)" are simply not there. "Dubai Waterfront (u/c)"? Nope. "iPod towers (u/c)"? Huh? "Falcon City (u/c)"? Not a trace.
And while on the subject of confusion, what does that (u/c) stand for, anyway, a visitor may start asking herself?
Welcome to Dubai, where many of its landmarks are "under construction." "This place is unreal," says Irishman David Hackett, who, years ago, did a stint as a construction worker in Las Vegas, building a 540-foot Eiffel Tower replica at the Paris Hotel.
"A tower like that, 60 per cent life-size" he shakes his head, "would just not be enough here."
On this recent weekday afternoon, Hackett, a production manager for a multinational construction company, is at the mega Mall of the Emirates, home to the only indoor ski slope in the Middle East. He's not slaloming down the quarter-mile ski run toward T.G.I. Fridays on this 73-degree F (23C) day, but rather standing in line waiting to get his George Foreman Next Generation Interchangeable Plates Grill.
The two-time world heavyweight boxing champion is in town for the weekend to shake customers' hands at the mega hardware store.
"The thing about Dubai," explains Hackett, is "they do it big, big ... bigger than anywhere else."
The Eiffel Tower at the planned Dubailand theme park' a $20 billion project that will be three times the size of Manhattan' is, for example, going to be life-size. So are the planned replicas of the Leaning Tower of Pisa, the Pyramids, and the Taj Mahal.
The Taj Mahal, too? Is that even possible? "Absolutely," says Hackett, inching closer to Big George. "It's on the maps." And this, as they say, was all desert just a few decades ago.
The late Shaikh Rashid bin Saeed Al Maktoum, who ruled Dubai from its independence in 1971 until his death in 1990, and his sons the late Shaikh Maktoum bin Rashid Al Maktoum, and His Highness Shaikh Mohammad bin Rashid Al Maktoum, Vice-President and Prime Minister of UAE and Ruler of Dubai, get much of the credit for the transformation.
They realised early on that oil riches were ephemeral and would one day run dry, and they started liberalising and broadening the economy to attract foreign investors.
Almost as fast as you could say, "outrageously bling-bling-tourism is our future," this little fishing port on a creek had been turned into a wonderland of artificial attractions.
Soon they had a growth rate bigger than that of China, more tourists than India, and' people here like to quip' more than half of the world's building cranes.
Rapid development
In the meantime, Dubai has been addressing the problems that come with rapid development such as labour abuse charges, taken up by the Human Rights Watch.
There has been also blame for looming environmental disasters (man-made islands upset the entire ecology of the western Arabian Gulf).
Tourism now accounts for almost 20 per cent of Dubai's $30 billion GDP' compared with less than 5 per cent for oil revenue.
Last year, close to six million visitors came here' a figure Dubai hopes will rise to 15 million by 2010. Where do they all stay?
Well, there is the Burj Al Arab option. The world's first seven-star hotel, in the shape of a giant billowing sail and covered in Teflon, the Burj features in-room marble staircases, an underwater restaurant reachable by submarine, and white Rolls Royce taxi service to the airport. If you book on TripAdvisor.com, you might get a steal at $2,156 for a simple room.
Or, you can go for the rack rate of $13,900 for a suite. Either way, you get to keep the Hermes goodie bag. Andre Agassi and Roger Federer played an exhibition match on the hotel's helipad rooftop a couple of years ago. Apparently it was very nice.
For those hankering to own a pied-a -terre, you could go the David Beckham route and purchase a second home on a fake island in the shape of a palm tree.
The Palm Jumeirah was created by dredging out sand and repositioning it in the shape of a date palm tree' complete with a trunk and 17 fronds' on the seafloor.
It is almost finished' and filling up with luxury hotels, residential villas and apartments, water theme parks, health spas, and cinemas' and, at $1.2 million a villa, almost sold out.
And what to do while in town? Shopping, maybe?
Shopping just happens to be Dubai's forte, with everyone from veiled local women to tank-topped Germans joining the mad rush' to the strains of Muzak' to get into the Victoria's Secret sales or get a new MP3 player in one of the mega-malls.
The recent Dubai Shopping Festival featured late-night shopping specials, carnival performances, Foreman-esque special appearances, a private island lottery (second prize: a private jet), and a whole range of Guinness World Record events.
Record breaking
In fact, breaking records is a national pursuit here. Among those contested in Dubai this year were the world's largest gathering of people reading at one time, longest line of footprints, and largest buffet; also the world''s biggest wallet, pillow, inflatable balloon, and spoon.
Results were not yet in, but Hisham Nammour, owner of the feng shui stall at the Emirates Mall was hopeful.
"We always win," he said over a mug of hot chocolate at the après-ski bar. "We excel at breaking records."
And indeed, last year, Dubai broke the record for the largest gathering of people sharing a name (2,500 Mohammads showed up)' leaving previous record-holder Spain (375 Marias) in the dust.
Also Dubai put together the largest display of rice dumplings: 23,000, trouncing dumpling doyen Singapore (13,192 in 1992).
And, let's not forget to mention the "Burj Dubai (u/c)" which aims to be the tallest skyscraper in the world.
They had a little celebration here last month when the building hit the 100-floor mark' 67 more are apparently on the way.
Meanwhile, in the realm of faux islands, there is a lot happening as well.
First of all, there is "The World (u/c)"' a "blank canvas in the azure waters of the Arabian Gulf with endless possibilities," as the website puts it.
In normal-speak, this translates into an archipelago of 300 man-made islands, each the size of several city blocks, which, when taken together, make up a map of the world. Fancy owning Italy? It's still up for grabs.
Developers aren't purists when it comes to exact world proportions, and island owners, it is promised, can re-shape the planet by "merely moving the sand," to create unique features such as coves and marinas.
And there is also the new palm tree project, known as "Palm Jebel Ali (u/c)," which is going to be 1-1/2 times bigger than Palm Jumeirah and is to be surrounded by houses on stilts that will take the shape of Arabic letters and spell out a poem by Shaikh Mohammad:
Take wisdom from the wise
Not everyone who rides a horse is a great jockey
It takes a man of great vision to write on water
Great men rise to great challenges.
All of this will be written there, they say, and be visible from space.
Sabir Ali Rehmani owns a small retail business selling simple cloth from Indonesia for the long dishdashs. He has been watching Dubai sprout around him for the past 20 years from his one-room office in the old souq on the creek.
"This is a fantasy land," says Rehmani, sitting down to a quiet morning cup of sweet Arabic tea. "You forget what is real."
Dubai: The Arab city of the future

BY MATEIN KHALID Opininion from the Khaleej Times

19 January 2007
THE skyline of Dubai is a tangible testament to the most spectacular economic transformation in modern Arabia, an emirate whose unique milieu defines the heartbeat of the globalist ethos.
Of course, the Dubai Creek was a hub of trade and finance for centuries, with the silhouette of its moored dhows a symbol of the Arab pearl diving fleets and merchant princes whose networks once extended to Bombay, Kerala's Malabar, Basra, East Africa's Swahili coast, Zanzibar, Aden, Kuwait, Iran's Gulf ports and even the Indonesian archipelago.
Dubai embraced the logic of tree trade, laissez faire capitalism, an absence of xenophobia, an obsessive commitment to infrastructure roll out, a liberal social ethos a generation before it was fashionable. Dubai's entrepreneurial spirit suffuses its traders to move goods, money and cargo in some of the most high risk emerging markets of West, South and East Asia. The gold, electronics, and textile trades, Jebel Ali Free Zone, Port Rashid, the dry docks, DXB, the establishment of Emirates Airlines, the freehold property revolution, DSF, the Monaco/Singapore style branding as a tourism and services hub, the DIFC, DIC and Media City have created a city–state that, like Venice of the Serenessima or Rembrandt's Amsterdam, has become an East–West entrepot of ideas, population exchanges and finance.
Dubai's government is unique in the Arab world, with a ruler whose leadership model is the CEO and whose template for Arab socio economic renaissance is Cordoba, the medieval kingdom in Moorish Spain where Arabs, Jews and Christians created a unique mélange of cultures before the religious fanatics of the Reconquista engaged in one of history's most ruthless examples of ethnic cleansing. In fact, even now, the Spanish word "convivencia" denotes more than tolerance, even pleasure in cross cultural exchanges, a recognition that the human family is a kaleidoscope, that values are relative and bigotry is abhorrent, that celebration of our common humanity is the essence of civilised existence. As the only global metropolis in the Islamic world, Dubai has resurrected the spirit of Cordoba, staked its claim as the Arabian city of the future. In fact, the Dubai model has become the DNA of iconic property projects and economic reinvention policies from Morocco to Oman at opposite ends of the Arab world.
The post 9/11 world of soaring oil prices, regional petrodollar flows, brand new financial markets, exponential wealth creation and capital flows in the emerging markets, cross–border mergers and acquisitions, the bidding war for overseas infrastructure assets, even war in Iraq and Lebanon, repatriation of Arab private wealth from the US and, above all, the real estate El Dorado has transformed the economic landscape of Dubai. Without the huge oil reserves of Abu Dhabi or Qatar, without the population of Saudi Arabia, without the military power of Egypt or Iran, Dubai has carved out a unique role in the global village, become Arabia's daring incubator of the social, urban, even financial avante–garde. Bahrain was the offshore capital market of the Gulf ever since Beirut's descent into the Stone Age in Lebanon's civil war in the 1970's but Dubai's DIFC has positioned its financial free zone as the hot new destination of international banking and fund management in a mere four years. Economic change that was measured in decades in conventional Arab economies is now telescoped by the decision makers of Dubai Inc in virtually Internet time. The bureaucratic inertia that defines societies East of Suez has simply been leapfrogged into oblivion in Dubai.
Unlike Abu Dhabi and Kuwait, Dubai was not a major player in the international financial markets. No longer. Dubai Holding's DIC, in takeover mode with Liverpool FC, was established as recently as 2004 as a conduit for the investment of surplus state funds into trophy franchises all over the world. DIC, whose portfolio includes Daimler Chrysler and Doncaster, is only the latest example of Dubai's diversification and global brand strategy. With a mere seven per cent GDP in oil and gas, Dubai is not the traditional Arabian Gulf petrocurrency emirate but nothing less than the cosmopolitan portal to the Middle East whose existence in mission critical in a region where the collision between global capitalism and East–West geopolitics has been traumatic.
When Israel bombed Hezbollah last summer, the best and brightest of Lebanon considered Dubai in the same league as a haven destination as London and Paris. When Iranian political risk escalated after the election of President Ahmedinijad and the uranium enrichment dispute with the West, Tehran's merchant elite often bought properties in New Dubai, an alternative to squirreling funds in Swiss banks, the traditional mode of Persian capital flight since the reign of the Shah.
Dubai hosts the Gulf's benchmark conferences for hedge find managers, Islamic financiers, even for travel agents and software engineers. From Australian pilots at Emirates to Gujarati gold traders, Sindhi textile millionaires, Lebanese advertising yuppies and Bohra hardware merchants, Dubai has its own ethnic clusters and professional networks that create value for the entire society and contribute to its role as the magnet for the young, the rich, the restless in societies elsewhere in the region wounded by war, terror and economic sclerosis. In an age of hyperkinetic offshore capital, a mass communications revolution and digital culture, Dubai is a compelling model and catalyst for change in Arabia, the ideal place to live for those of us who define our identify not by our passport, tribe or ancestry but our determination to live lives of excitement and intellectual self discovery, to evolve into quintessential citizens of the world in the new millennium.
Matein Khalid is a Dubai based investment banker
Dubai skyscraper climbing 1 story every 3 days
DUBAI, United Arab Emirates — The Burj Dubai skyscraper under construction here reached its 100th story on Tuesday, nearly two-thirds of the way in its relentless climb to become the world's tallest building.
With 3,000 laborers adding a new floor nearly every three days, the $1 billion spire is days away from surpassing a neighboring skyscraper that is currently the tallest in the Middle East, Dubai-based developer Emaar Properties said.
"The tower is a symbol of the city's pride and a statement of our arrival on the global scene as one of the world-class cities," Emaar chairman Mohammed Ali Alabbar said.
When finished in two years, the silvery steel-and-glass building is expected to rise beyond 2,300 feet and more than 160 floors — dozens of stories taller than the world's current tallest building, the Taipei 101 tower in Taiwan, which measures 1,671 feet and 101 floors.
It will also top the world's tallest freestanding structure, Toronto's CN Tower, which stands 1,815 feet.
The tallest building in the United States, the Sears Tower in Chicago, comes in at 1,451 feet, while the Empire State Building measures 1,250 feet. Before they were destroyed in the Sept. 11 attacks, the World Trade Center towers both topped 1,360 feet. The Freedom Tower being planned for the site will measure 1,776 feet when it's completed in 2011.
Emaar isn't releasing its plans for the final height of the Burj Dubai so it can add more stories if a competing developer mounts a challenge. Predictions on skyscraper Web sites say the cylindrical Burj, which was designed by American architect Adrian Smith, will eventually loom over the city from a height of 2,600 feet or more.
Until the 1960s, the United Arab Emirates was an impoverished desert country whose residents survived through subsistence fishing, farming and small-time trade.
After it became rich from oil, Dubai began building skyscrapers to gain international prestige, not, like Hong Kong and New York, because of a shortage of land. But Dubai's skyscraper binge has jacked up land prices so much that tall buildings are now the only feasible use of coveted building lots in the city's central district.
Dubai has staked its fame on bold engineering, building attention-grabbing projects including manmade resort islands shaped like palm trees, a mall with indoor skiing, and a vast Disney World-style amusement complex that includes plans for an apartment building that rotates on its axis.
Exhibiting a flair for the luxurious that is typical of Dubai, one of the skyscraper's high-profile tenants will be the Armani Hotel, developed in conjunction with Italian fashion designer Giorgio Armani. The spire will also contain private apartments and offices.
Surrounding the dramatic concrete and steel tower is a $20 billion development project that includes several smaller towers set amid winding canals and a gargantuan shopping mall.
All of this development has angered many environmentalists, who say the Emirates is one of the biggest energy consumers and carbon dioxide emitters per capita on the planet. The World Wildlife Fund has asked the country to move toward renewable energy, especially solar power viable in one of the world's sunniest climates.
Although the government says it is making improvements, construction hasn't slowed on projects like the Burj Dubai. Motorists on the adjacent highway get dramatic daily views of the tower's progress, with 10 cranes and the world's fastest construction hoists zipping concrete slabs and giant bundles of steel rods to dizzying heights.
The construction division of South Korean conglomerate Samsung is building the tower, using a three-day-per-story construction technique pioneered on skyscrapers in South Korea.
"We're not breaking any speed records, just the height record," said Beejay Kim, Samsung's Dubai-based business manager.
Only one building in the Middle East currently remains taller: the nearby Emirates Office Tower, a skyscraper resembling a razor blade that rises to 1,165 feet. The Burj Dubai is approaching that height now — it stands at 1,140 feet — and should surpass it within days.
Asked how long the Burj Dubai would hold the world record when it's finished, Kim said he was unsure. "If anyone is looking for an even taller building, we are happy to build it," he said.
The Middle East previously held the record of the earth's tallest structure for about 43 centuries. Built around 2500 B.C., Egypt's Great Pyramid of Giza dwarfed the competition at about 481 feet until 1889 when the Eiffel Tower was completed in Paris at a height of 1,023 feet, including the flag pole.
Is Dubai still a good deal?
14 January 2006
From 7 Days
For those of you who think that Dubai's property market has turned into a bubble waiting to burst, here's a thought: it might not. Certainly, property prices have soared in recent years and many people think it is time for the market to fall - sharply. But increasingly, more experts are starting to believe that there isn't enough evidence to elevate property prices in the emirate to bubble status just yet. So is buying property in Dubai still a good deal?
The answer is yes, if you go by what the 'sunny-side' market experts have to say. "Ten years from now, in 2017, property in Dubai will be much more expensive that it is now," is the prediction from Danial Husain, vice-president, Dubai Lagoon. "Conservatively speaking, I believe property prices in 2017 should be at least 50 per cent higher from where they are today." Dubai Lagoon is one of the emirate's largest private sector real-estate projects under development. Located in Dubai Investment Park, the three-billion-dirham project comprises 53 residential buildings spread across 40 acres - equivalent to the size of about 40 football fields. Divided into two phases, the whole project is set to be completed by June 2008. With such a large project on his hands, it is possible to dismiss Husain's optimism simply as a way of talking up the market. But he's quick to reject the idea, pointing to the buyer response to the Lagoon project as proof that developers are not in chase of a dwindling catch: "We've already sold about 80 per cent of our project," he says.
However, he does admit that the developers have had some moments of doubt. When the project w as first launched, industry consultants warned Husain not to expect to sell more than three apartments a day. As it turned out, the project sold all its Phase I apartments - 1,752 of them - in 52 days - making it an average of 31 apartments sold every day. That experience seems to have convinced Husain that Dubai's property market is not bursting at the seams - not yet anyway. "This market still has a real need for affordable housing," he argues. "About 80 per cent of projects currently under development are intended for upmarket buyers and investors looking to park their money." But with the average salary of the Dubai income-earner ranging between dhs8,000 and dhs10,000, there is still strong demand for 'real homes for real people', says Husain, adding that that will keep prices buoyant. "Going ahead, I see property prices increasing by ten to 15 per cent a year." Not s urprisingly, he's also upbeat about Dubai Lagoon's prospects: "I believe, on a conservative estimate, that on completion, its prices will go 30-35 per cent higher from where they are today."
The prospect of easing mortgage rates is another reason why Husain believes demand is not in danger of collapsing any time soon. "Mortgage rates are extremely high," says Husain. "As more competition comes into the market and the mortgage market matures, these rates will drop substantially and it will be easier to get mortgages. This will increase demand and prices." Nevertheless, rising prices bring their own set of problems to developers, acknowledges Husain. "Contractors in Dubai are facing huge demand from all ends. Resources are extremely tied up." According to a report by industry consultants EC Harris, constructions costs in Dubai jumped by 28 per cent in the first eight months of 2006. Copper prices rose by a hefty 66 per cent during the same period while cement prices gained ten per cent. Labour costs also experienced a 20 per cent leap. Indeed, Dubai Lagoon opted to bring in construction experts from Thailand and Myanmar to ease the financial pressures of constructing. "Because of the huge demand in Dubai, using foreign contractors ends up being more financially viable," explains Husain. "They also have more experience than local contractors. They even source their supplies of steel, cement and other materials from the global market and that allows better rates and quality."
Yet the pain of rising prices - for developers and buyers - is unlikely to curb the passion for investing in Dubai's property market, says Husain, who continues to be optimistic about the city. There really is no mystery to Dubai's appeal, he says: the emirate offers tax-free status for companies and individuals; good investment returns; is relatively crime-free; and promises a good standard of living. All this will continue to attract foreign workers to come and live here. "Over the next two years, 180,000 to 200,000 new housing units will come into the market. Still, demand will stay extremely strong due to an influx of new expatriates," adds Husain. Besides, obsessing about high prices misses half the story. "In any real estate market in the world, the key criteria for investing is the rental yield. And Dubai still offers very good rental yields," says Husain. Rental yields refer to what a landlord can expect to receive in rent, usually in a year, expressed as a percentage of the purchase price of the property.
"Dubai still offers rental yields of eight to 15 per cent, tax-free. This is much higher than anywhere in the world. In developed countries, average rental yields range between two and three per cent, after tax," points out Husain. "Dubai is still a great place to invest in." And that's why Dubai still remains the 'happening' city for real-estate investors and second-home buyers. It's crazy, yes, but it's the kind of crazy we may have to live with, it seems.
Dubai's Skyline to get an Arab Man
12 January 2006
Passengers flying into Dubai's planned Jebel Ali airport should not be alarmed when greeted by the imposing figure of a 140-metre tall human figure.
The structure will in fact be a 35-storey tower designed to resemble a man dressed in traditional Gulf Arab dress. The Dh500 million Burj Al Arabi development will be built in Jumeirah Village and is set for hand over in 2009. When complete it is expected to be featured in the Guinness Book World of Records as the biggest concrete and glass human-shaped building in the world.

The building will join an iPOd, world-shaped islands, the elusive underwater Hydropolis hotel and the world's next tallest building - the Burj Dubai - on the emirate's rapidly expanding and occasionally bizarre skyline.
The latest design concept has left many wondering, 'What next?' for a city where anything seems possible. Speaking about the endless possibilities open to architects in Dubai, James Turford, assistant architect at Aedas, said : "There is the potential to create a truly incredible city, with the vast amount of money and space available here. "It's really a playground of ideas, where anything - within reason - goes."
The Burj Al Arabi building is the brainchild of AAA Group chairman Mohammed Al Syoufi, who wanted to create a concept representing national culture and identity.
The kandura will be made from a special fabric that allows light to permeate through and at the very top will be a boardroom for meetings - in the 'brain' of the building. Construction is expected to start in the first quarter of this year but it has not been launched for sale yet. Burj Al Arabi is not intended to be the statute of a person, but to symbolise a particular style of dress. It intends to honour the religion, culture and language of the Arab people from a real estate perspective.
Imagine a building in London dressed as a London policeman or a Toronto building in the form of a Mountie, or a Brazilian building designed as a footballer and you get the idea!
Dubai Sports City showcased in London
3 January 2007
Dubai Sports City in the United Arab Emirates is set to showcase the world's first ever fully-integrated purpose built sports city at the Dubai Property Show at the Novotel London West, Hammersmith on the 20th and 21st January 2007.

The gigantic 50 million square foot City will be approximately twice the size of the City of London (Europe's largest business district)! This mind-blowing concept will offer homebuyers an entirely new lifestyle model, specifically designed to support an outstanding quality of life.

The mouth-watering scheme will incorporate world class sports facilities, four magnificent stadiums, global brand sports academies, leisure facilities, hotels, cinemas, entertainment outlets, internationally renowned schools, healthcare and a sports themed shopping mall to name a few.

As part of this staggering project, Dubai Sports City will be showcasing one of many magnificent residential elements called Canal Residence West, an elegant collection of five buildings comprising studio, one, two and three bedroom penthouse apartments.

These, the schemes only waterfront homes, will boast unrivalled access to the worlds top sporting events and facilities all incorporated within the scheme. The 18-hole Ernie Els signature golf course, world class academies such as Manchester United Soccer School, the David Lloyd Tennis Academy, the International Cricket Council's first ever ICC Global Cricket Academy, the worlds first 'WorldHockey' Academy, a Butch Harmon School of Golf and a world renowned health club will all be on the door step.

As for those other great passions; food, drink and other day-to-day social therapy – Canal Residence West will feature a vibrant waterside promenade where residents will find an exciting and eclectic mix of stylish restaurants and chic cafes to satisfy even the most demanding devotee of cosmopolitan urban living.

U.Balasubramaniam, CEO of Dubai Sports City comments: "Our vision and masterplan for Dubai Sports City will set new lifestyle standards across the world. Sports and leisure facilities will enable people to live life to the full by exercising every positive human emotion. Based on the scientific principle that a healthy life is a happier life, the scheme will cater for every aspect of well-being: physical, mental and emotional."

Private resident facilities will include a state-of-the-art health club, beauty salons, elevated swimming pools and sundecks, children's play areas, communal gardens and barbeque areas, 24 hour security and concierge and dedicated and secure private parking facilities.

Other essential amenities within a stones throw from the front door will include community centres, supermarkets, parks and open spaces.

Every element of human requirement is located either within Canal Residence West or is a short walk away making this a truly sustainable, self-contained development. What's more, if you're not in the mood to walk, or drive for that matter, an Arabian style pleasure boat will transport you down the canal to more sports or leisure venues, further accentuating the therapeutic nature of Canal Residence West.

The buildings at Canal Residence West will be designed in Arabic, Mediterranean, Classic European, Venetian and Spanish Andalusia architectural styles. Each apartment will benefit from balconies and terraces bringing natural light and space into the home and making the most of stunning views across Dubai Sports City.

Dubai Sports City has released apartments in three of the five buildings for sale – the Mediterranean, the Classic European and the Venetian buildings with apartments ranging from 488 sq ft to a sizeable 3,227 sq ft. Prices will start from approx. £55,000 for a studio apartment.
The Dubai Shopping Festival
16 December 2006
Shortened from the Khaleej Times
It's celebration time in Dubai. The combined special edition of the 11th and 12th Dubai Shopping Festival (DSF) 2006 – 2007, (the shopping extravaganza) — will run from December 20, 2006 to February 2, 2007. With a whopping budget of Dh90 million, the festival promises 45 days of fun and entertainment, bargains and sales, raffles and promotions.
Since its inception in 1996, the DSF concept has been growing each year. DSF 2005 had 3.3 million visitors registering a six per cent increase while spending crossed Dh6.67 billion registering a 15 per cent increase over the previous year.40 shopping malls and over 3,000 outlets get ready to welcome shoppers.
Living the core theme, 'One World. One Family. One Festival,' DSF has 100 events supported by 27 key sponsors and $25 million up for grabs. However, the overall theme revolves around 'A World of Festivals' a mix of over a dozen festivals," adds Laila Suhail, Chief Marketing Officer, DSF.
They are World Cultures Festival, Family Entertainment Festival, Art and Culture Festival, Musical Festival, Dubai Fashion Festival, the Sports Festival, Food Festival, Records Breaking Festival, Heritage Festival, Shopping Malls Festival and the Raffles and Winnings Festival.
Laila notes, "Once again we have set high standards for DSF, with a new approach and a diversified calendar of events that has several events to meet the requirements of different nationalities and age groups. We are expecting 3.6 million visitors this year. We have opened the way for a new era of organising festivals emphasising on Dubai's leading role as a regional hub for tourism and family shopping with its state-of-the-art infrastructure facilities."
This year's DSF will focus on 'New Dubai', as the festival in its new reinvented form widens its horizons and extends to magnificent venues like the Mall of the Emirates and Ibn Battuta Mall which have become shopping resorts and to Dubai Festival City which opened on December 14.
The opening ceremony will be on the evening of December 20 when sixty hot-air balloons will illuminate the night sky at Dubailand.
All activities will culminate in a dazzling display of fireworks from Global Village, the Dubai Creek and the Dubai World Trade Centre (DWTC) setting Dubai skies aglow in a scintillating interplay of light and colour.
The cultural events lined up are the Bazaars of the World at Al Seef Street that will recreate the aura and magic of world-renowned traditional souqs of the Middle East. They will include Khan Al Khalili of Egypt, El Madina Souq (Syria), Samsara Souk (Sana) Samareen Souq (Yemen and Morocco) and Shah Souq (Iran) showcasing developments of Islamic culture through different periods in history with workshops on crafts, painting, carpet weaving, copper engraving and many more.
The Family Entertainment Festival includes the renowned circus Cirque du Soleil that will run from January 4 until February 18. This Montreal-based live entertainment company, is all set to perform with Quidam, an intense and imaginative journey that transforms an alienated world into a place of hope and connection. Quidam will be held in a 2,500 seat air-conditioned Grand Chapiteau (big top), which will be located on the grounds of Ibn Battuta Mall. The two-and-a-half hour show will feature world-class lighting, live music and an amazing array of costumes and special production effects.
The Family Entertainment Festival has much more to offer and will include fireworks, carnivals and GCC traditional celebrations. There will be a magnificent display of fireworks daily throughout DSF at 9pm. Another new attraction to this colourful bouquet is the Dubai Mela, a unique funfair at Zabeel Park which will be held every day from 4 to I0pm.
Then there is the Sports Festival for those who love the outdoors. It offers a host of traditional and modern sports to attract sports lovers. Events under this category are Race Zone Units, Urban Ultra on January 19 and Dubai Marathon on January 12 adjacent to DWTC.
A unique event titled Food-e-tainment takes place from January 13 to 19 at Zabeel Park. Also apart of the Food Festival will be the third Cyber Food Festival at Dubai Internet City from noon to 3pm daily.
Since its inception, DSF has been setting records and the Records Breaking Festival this DSF is no exception. The event will take place from January 30 to February 1 at Al Safa Park inviting all those who would like to witness history in the making. These entail the largest reading gathering/marathon, longest game of Chinese Whisper, longest line of footprints, world's largest house key, largest buffet of the world comprising 505 dishes, largest gathering of General Motors cars, biggest mattress, biggest gold coin, largest photo exhibition, and many more.
The Heritage Festival will have several cultural and heritage events showcasing glimpses of the past and chapters from the history of UAE at the Dubai Heritage and Diving Village in Shindagah. Souvenir hunters can look for some unique collectibles at the traditional souq held there.
Dubai's magnificent shopping malls, which form an intrinsic part of the DSF, have a Shopping Malls Festival and Fringe Festival with world-class performers entertaining the crowds. The main participating malls are Mall of the Emirates, Deira City Centre, BurJuman, Mercato, Al Ghurair City, Ibn Battuta Mall, Dubai Festival City and Dubai Outlet City.
Global Village
The Global Village recreated on 17.2 million square feet area in Dubailand along the Emirates Road by the Arabian Ranches has many attractions. It opened on December 13 and will run until February 9 (10am to 10pm) for 59 days.
New attractions this year are the Global Sales Office, a 3,000 capacity amphitheatre and an entrance canopy. Major events are the multicultural mock weddings, Al Kaheel Horseshow, AquaFantasia and fireworks and the RTA cabin replica.
For those who have not experienced Aqua Fantasia, this is a must see attraction more resplendent than ever complete with laser lights, dancing musical fountains and a multimedia image projection of screens of water.stival.
With 40 pavilions from all over the world and an array of family attractions, the Global Village best represents the DSF popular theme of "One World. One Family. One Festival." Over 75 kiosks bring alive the unique skills of artistes from around the world, offering an immeasurable choice of cultural artefacts. When hunger pangs bite, over 50 diverse restaurants cater to aficionados of fine exotic cuisine, while the 'Fun Area,' with its giant wheels, thrill rides and instant prizes, will ensure a true adrenaline rush. Above all, at the Global Village amphitheatre, winners of all the major DSF raffles will be chosen at 9pm.
Put a Tiger in your oil tank
5 December 2006
Not content with being the greatest golfer to ever draw breath Tiger Woods popped into Dubai yesterday to set himself yet another tough challenge.
The World No.1 dropped in to announce plans for 'The Tiger Woods – Dubai' – which, in typical marketing speak, will be an "exclusive golf community that will include 'Al Ruwaya', a Tiger Woods designed golf course, professionally-staffed golf academy; a 60,000-square-foot clubhouse with the latest amenities and comforts; an 80-suite boutique hotel for VIP guests; 300 luxury villas; 20 mansions and a community retail area."
All sounds rather impressive doesn't it? But I cannot help feeling that maybe he has bitten off more than he can chew. Don't get me wrong, the idea of being able to play on a Tiger Woods' designed course here in Dubai is an exciting one. When he says: "I am excited about the challenge of transforming a desert terrain into a world-class golf course," and "I have a vision of creating something that is uniquely mine", which golfer, be they hacker like me or low-handicapper wouldn't get a buzz standing on the first tee in Tiger's vision of a perfect golf course?
And aren't we privileged that the current Dubai Desert Classic champion has chosen to begin his designing here?
But, Tiger, not averse to a challenge, really has set himself a tough one here. While the 7,700 yards, par 72 'Al Ruwaya' course with its dramatic elevation changes, lush landscaping, stunning water features, sounds impressive there is no getting away from the fact that in Dubai alone the competition for the 'best course tag' is stiff. And, with a host of new developments, such as Ernie Els' 'The Dunes' and the earth, fire, water and wind courses due to be located just off the Emirates Road, coming up, it is only going to get stiffer.
Mr Woods won't settle for being second-best though.
But does he really need the hassle? Surely he can settle for just being the best golfer, leaving the locker room chinwag over who's designed the best course (not the most interesting chat I admit) to the likes of Greg Norman, Vijay Singh and Nick Faldo.
While those boys need course designs in order keep them in their learjets and marriage payoffs Tiger has already made enough cash to live the life of a legend forever. Why put himself through the extra workload?
Well, the answer to that little conundrum is illuminating and may well depress the likes of Jim Furyk, Phil Mickelson.
I know a plethora of people who like nothing more than escaping the daily grind of their jobs by doing something completely different.
Some lawyer chums escape days of pouring over dull documents by playing rugby or going sailing.
That Tiger has decided to get away from the golf course by, err, designing one, highlights the focus of the man and suggests his stay at the top could be an extremely long one. If I was being harsh I would say it shows him to be rather dull. But if being dull means you are head and shoulders above anyone in your field then good luck to him. What is not in doubt is that Tiger rarely prowls far away from the game he has revolutionised.
Even The Tiger Woods Foundation, the charity he and his father set up, has a strong focus on golf - getting under-privileged kids off the streets and on to a fairway. There is little doubt that Furyk et al would prefer him to escape the rigours of play by taking up something like bungee jumping or shark-diving - anything to take his mind off the game, winning yet more Majors, and showing he is more than a fairway ahead of the rest in world golf.

RACE IS ON TO BE THE MAIN COURSE IN DUBAI
With Tiger Woods announcing that his first course is to be built in Dubai the question as to which player will have designed the Emirate's best course will be a tough one.
Here 7DAYS gives Tiger an insight into what he has to beat.
The Montgomerie - Unsurprisingly, given its name, designed by Ryder Cup star Colin 'Monty' Montgomerie, this course, with the 'largest green in the world', has already established itself as one of the best here.
The Wadi by Faldo - Located at Emirates Golf Club, this course has just recently opened for play having been redesigned by British golfing legend Nick Faldo. He has challenged the Dubai golfer by creating many well-protected greens.
Arabian Ranches – Designed by former British Open winner Ian Baker Finch, the concept for this course was to build a true desert style course similar to those found in Palm Springs, California and Scottsdale, Arizona. It has its own unique character.
And there are more on the way over the next few years. Ernie Els' The Dunes course will be in Dubai Sports City, while Greg Norman and Vijay Singh are adding their visions for Nakheel's Jumeirah Golf Estates.
Bursting the property bubble
3 December 2006
Those that bought early in the Dubai property market made a very good investment, and the doom merchants missed the opportunity of a lifetime. But that does not mean that later comers will enjoy the same success, or that early winners who are now loading up on property again will be a winner for a second time.
For property moves in cycles and anyone who ignores this fact of life is going to get burned as truly as if they stuck their hand into a fire. Some people say it never rains in the UAE but it did so yesterday.

Readers of this column will recall its bullish comment which lasted until a couple of months ago. Those who took this advice and bought property have generally had a good experience. But nothing lasts forever, and more and more players have entered the Dubai property market creating what can only be described as an investment bubble.

In such circumstances there are two choices for individual investors: sell out before others decide to do so; or take a long term view of the cost of renting as an alternative to owning and stick it out.

Error of optimism
What you should not be doing at or near the top of a real estate cycle is borrowing a lot of money and buying more property, especially if you are doing so by putting down a small deposit thinking that you will always be able to sell out at a profit.

The investors who are going to get really caught out by a reversal of this market - and all history suggests that what goes up just has to come down - are those buying off-plan units on a five per cent or even zero deposit basis from a developer without a good track record.

For in a downturn they will find themselves liable for 100 per cent of a property and at best owning units bought at the highest prices with few potential buyers; and at worse without property at all because the developer has vanished, or has announced an indefinite construction delay.

So any real estate buyer should now be very cautious about how far they stretch their finances, as well as being exceedingly careful with whom they are doing business. Beware of novel ideas from new developers and projects that are self-financing because no bank will touch them.

Bubble, what bubble?
Last week at the 'Leaders in Dubai' the world-respected forecaster Harry S. Dent thought the Dubai property bubble was obvious from even a casual inspection of the skyline.

But such is the enthusiasm of the moment that few people care to acknowledge this simple reflection. They find comfort in the rush of money into this sector, and think that so many investors can not be wrong.

In the real world those that have done well should concentrate on paying down debts and consolidating their holdings into a long term portfolio strategy. And those considering entering the market should recall the recent losses experienced by local stock market investors, also a bullish crowd who argued that this time was different.
Dubai police keeping an eye on oglers at the beach
By Hassan M. Fattah
The New York Times, 13 November 2006
DUBAI, United Arab Emirates — Temperatures have dropped from blazing hot to balmy, the turquoise waters now have a refreshing chill and the sand is just about bearable to walk on.
As winter arrives in this Persian Gulf city, the masses are thronging by the tens of thousands to its white sandy beaches, wearing, in an unlikely exercise in maritime co-existence, everything from black flowing abayas to slinky bikinis.
Thronging right alongside them are Dubai's "beach pests," the gangs of men who trudge through the sand, fully dressed, to ogle the women.
Mostly laborers at the front lines of Dubai's building boom — toiling on man-made islands, innumerable high-rises, even a dome in the desert for the world's largest indoor snow park — they flood the beaches every weekend to leer at women, photograph them and occasionally try to grope them in the water.
"They pretend to take pictures of their friends, but they are really taking pictures of you," said Anika Graichen, 23, a German hotel receptionist who has lived here for three years. She lay on the beach last week trying to ignore various groups of men who passed by with their eyes locked on her.
She is almost used to them now, she said. "I think I can understand it," she said. "It's the only place they can have a look at women."
Hard lives
Indeed, for the estimated 500,000 foreign workers here, most from the Indian subcontinent, the chance to see a woman in a bikini may be hard to pass up.
They typically live in a Dickensian world of squalor, working 12-hour shifts six days a week, often denied their wages of about $150 per month for months at a time. Most of them secure work by taking out loans from recruiting agencies at home to get here, forcing most to stay on for years without seeing their families and loved ones. The workmen have become prevalent in Dubai's public parks and beaches as their numbers have swelled, and they are especially noticeable at this time of year.
They tend to beachcomb in groups, their camera-equipped cellphones always at the ready. Many do not know how to swim; some enter the water wearing their traditional robes, made of thin white cloth that becomes transparent when wet — and reveals far more of their anatomy than most beachgoers want to see. Incidents of physical harm to women are rare, though the police have arrested nude flashers and men committing lewd acts in public.
On Friday, Saifi, a metalworker who would give only his first name, walked along a beach with four friends, pausing from time to time to look around and chat. All in their mid-20s, the men were dressed in jeans and slacks. Saifi's bright orange shirt made him impossible to miss.
"I come here almost every weekend," he said. "This beach has no problems, but the others have become more problematic for men."
He said he was stopped at another beach two weeks earlier.
"The police said to me, 'Why are you here, why aren't you wearing a bathing suit?' " he said. "Then they told me to leave."
With a giggle, he admitted that the cause for his eviction was that he had been staring at women. "Every man looks at a woman in a bathing suit when he sees her," he said. "What can I do? I'm a normal man."
Pressure on police
At a ladies-only day at a local beach earlier last week, Nisrine Ben-Stitou, 28, a Moroccan citizen who moved here and works in a clothing store, said the harassment was such that she no longer went to the park or the beach on the weekend.
"Some people take pictures, which makes me crazy, or they stay and they watch you," Ben-Stitou said. "I went one time, and I said I will never go back. I feel so free in this country and I feel safe, but what happens on the beach — I don't know why the authorities don't do something about it."
Dubai officials, keen to attract tourists to the beaches, say they are trying. They have vowed to crack down with a security plan that includes plainclothes officers and a "three-strikes policy" aimed at keeping out the worst of the offenders.
"The goal is to get people to use the beaches for what they're meant to be used for," said Brig. Khamis al-Mazeina, director of Dubai's Criminal Investigation Department, which polices the harbors and beaches. "There are naturally people who create problems and who are ignorant, but we intend to deal with them."
Mazeina said his department had built new watchtowers to scan the beaches and added 35 undercover policemen to patrol as beach bums, looking for the first signs of trouble. Though many workmen fear being barred outright, Mazeina insists he intends to protect their rights, too, by ensuring that they are treated with courtesy and respect.
"When they see people hanging around for no reason other than to harass women or to try to speak with them, police are authorized to take action," he said. "We want people to feel secure on our beaches, and we can easily spot people who are not there for the beach. We'll be watching, and if we see anything, we will be getting involved."
On a recent day, plainclothes officers stood atop a watchtower as several officers approached a man who had been photographing a group of women. The man and several of his friends were quickly brought up to the air-conditioned watchtower.
"If we see someone taking pictures like that, we are going to demand to see the photos," said one officer, who identified himself only as Abdullah because he was not authorized to speak to reporters. He took the man's camera phone and began flipping through the photos. "We would then delete the suspect photos and give him a warning."
If the men are seen taking photos again, Abdullah said, the police will make a formal notice; on a third episode, they will be barred from the beach.
The police say they have arrested more than 500 people under the new policy, the vast majority of them on immigration violations, and several more for outstanding warrants. But 15 were detained, according to Police Department records, for "a breakdown in public behavior."
"You try to scare them a bit just to get them to stop," Abdullah said. "Ask him, 'What are you going to do with this picture? Would you like it if someone was photographing your sister?' That's usually enough to get the point across."
We all want the bomb
11 November 2006
India has it; Israel has it; Iran is working on it; Pakistan has it. God help us, North Korea has it. And now, so it seems will the Middle East.
In a region where conflicts over land, ideology and religion have raged for centuries, we have plenty of reason to be alarmed.
Apparently Algeria, Egypt, Morocco, Saudi Arabia and smaller states such as Tunisia and the UAE want to acquire nuclear technology.
Most Arab leaders have traditionally supported a nuclear-free zone to force Israel to give up its nuclear arsenal and to discourage Iran, which is pursuing a controversial atomic programme many suspect will give the regime a nuclear weapons capability.
But Iran, under the leadership of President Ahmadinejad, has snubbed the international community and began uranium enrichment work.
The North Koreans have shown that a country with limited resources can build an atomic weapon and use its nuclear status to blackmail the international community.
In the Middle East it is widely accepted that an Iran armed with nuclear weapons would fundamentally alter the balance of power in the region. Beyond that is a greater concern for Iran's brand of Islam and the impact it is having on Shia brethren in countries such as Iraq, Lebanon, Saudi Arabia and the Gulf states.
An Iran that is a member of the nuclear club would have far more clout in the region.
Nuclear power has never been an issue in the oil rich Middle East. So the interest in nuclear technology is more about weaponry that fuel. The first country to signal an interest in nuclear power was Turkey. In June Recep Tayyip Erdogan, the Prime Minister, announced the country planned to build three power stations by 2015, the first near the Black Sea coast town of Sinop by 2014.
Next came Egypt. President Mubarak told members of his ruling National Democratic Party (NDP) in late September that the time had come "for a serious debate" about a nuclear programme, which Egypt abandoned 20 years ago.
This week it became clear that the debate was over. During a visit to Moscow his Russian hosts were delighted to learn that he had decided to build up to four nuclear power stations and would consider bids from Moscow.
The first Egyptian nuclear power plant is due to be completed at Dabaa by 2015.
Algeria is expected to be next in line. It already explored the possibility of nuclear power in the 1980s and is ready to pick up where it left off.
Most interest will be focused on Saudi Arabia, traditionally Iran's main rival for control of the Gulf.
Are we now seeing the first evidence of a nuclear race beginning in the region.
Taking F1 to Dubai
10 November 2006
Dubai's Union Properties has won the rights to develop Formula One theme parks around the world, the official Formula1.com Web site reported on Thursday.
The property development company signed an agreement last year to build a $360-million theme park, due to open to the public in 2009, in the Gulf emirate.
The Web site said Union Properties CEO Simon Azzam and Formula One's commercial supremo Bernie Ecclestone had signed an agreement in London on Thursday allowing the concept to become global.
"We are starting in Dubai with the first ever F1 theme park, but this will only be one of many that eventually will be developed around the world," said Azzam.
Construction on the Dubai project, at the emirate's existing MotorCity facility, will start next month and will include a hotel and conference centres.
"Formula One is a worldwide brand and it is logical that if we do something it will be for the whole world at large," said Ecclestone.
Dates for 2007 Dubai jazz festival
1 November 2006
Chillout Productions, winner of the Award for the Best Festival in the UAE has announced the dates for the 5th edition of the Dubai International Jazz Festival 2007, which will run for nine days instead of three. The festival will take place between March 1, and 9, at Dubai Media City and at Madinat Jumeirah Outdoor Amphitheater.

This year, the festival will showcase an incredibly diverse array of more than 24 internationally recognized recording artists. Featured genres include everything with a jazzy flavor: singer-songwriter, rocket-fueled funk and bluegrass, pop, blues, rock, reggae, and afro-centric music.

The Dubai International Jazz Festival 2007 is the only mutli-day music event of its caliber in the UAE and the region where music-loving souls meet. This year the 1st six nights "March 1-6" will take place at Madinat Jumeirah outdoor amphitheater and will feature 12 mainstream jazz bands and artists from different parts of the world whereby the admission is free for all.

The last three nights, "March 7-9" will remain at the Dubai Media City outdoor amphitheater park and will host 12 world-recognized, legends and pop acts.
The web site with details of artists and tickets is here.
Dubai's coastal expansion and a retirement gift for Schumacher
25 October 2006
NASA has released new images showing artificial islands being constructed in Dubai, a city-state in the United Arab Emirates.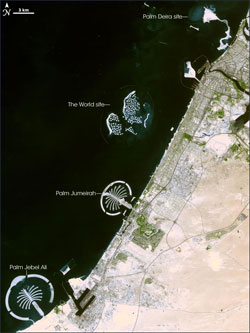 The sand islands, which are the largest human-made islands in the world, are being built at an incredible cost in both monetary -- "The World" alone will cost more than $14 billion -- and environmental terms.
Two of the islands -- Palm Jebel Ali and Palm Jumeirah -- resemble encircled palm trees, while "The World" island will resemble a world map once completed, though this will only be apparent from aerial photos.

Palm Jumeirah when complete will have 17 huge fronds framed by a 12-kilometer protective barrier. When completed, the resort will sport 2,000 villas, 40 luxury hotels, shopping centers, cinemas, and other facilities. When completed, the resort is expected to support a population of approximately 500,000 people.
Dubai's crown prince, Sheikh Mohammed bin Rashid Al Maktoum, has given Michael Schumacher a piece of the man-made island paradise The World. located off the coast of the United Arab Emirates, as a parting gift after his last grand prix in Brazil. Schumacher's island, apparently part of "Antarctica" on the artificial globe, is worth about $7 million.
From south to north the artificial island sites in this image are Palm Jebel Ali, Palm Jumeirah, The World, and Palm Deira. Palm Jebel Ali and Palm Jumeirah appear largely complete in this image, looking like giant palm trees enclosed in huge arcs. Palm Deira, intended to be an even bigger palm tree when complete, is in the earliest stages of construction. In between Palm Jumeirah and the site for Palm Deira is the site for The World, which, when complete, will resemble a world map. NASA images courtesy of the NASA/GSFC/MITI/ERSDAC/JAROS, and U.S./Japan ASTER Science Team.

More pictures of Dubai from the sky can be seen here.
Trying to balance growth and identity in Dubai
20 October 2006
From the New York Times
UBAI, United Arab Emirates South Asians call it "the best-run Indian city," Arabs celebrate it as a model of Arab accomplishment, and Westerners have embraced it for its endless sunshine and luxury lifestyle.
With more than 150 nationalities and almost as many expressions of culture, Dubai is one of the most diverse cities in the Middle East. But after decades of selling dreams to foreigners, this Gulf emirate has begun debating the limits of multiculturalism.
Tensions burst into the open in early October when an English-language newspaper published an article decrying the growing disrespect for Muslim customs here during the holy month of Ramadan, setting off a rare public debate about Dubai's cultural identity.
"Too much flesh on show is wrong in a Muslim country at any time - but offense is being felt especially during Ramadan," said the front-page editorial in 7Days, a free daily tabloid.
The article included photographs of women walking in sleeveless tops and shorts at a shopping mall under the headline "Show Some Respect." 7Days, which is run and edited largely by Westerners, advised its readers to "please remember that this is a Muslim country and many of us are guests here."
Within hours, the newspaper was flooded with e-mails and phone calls, many praising the paper for acknowledging the sensitivities of Muslims but many others lambasting it for seeming to toe an official line.
Soon the entire emirate was talking.
"We fear that the expatriate is going to impose his culture on us," said Maya Rashid Ghadeer, a columnist with the daily Al Bayan in Dubai, who writes about the local community. "Most locals are afraid that they are losing their basic identity forever."
For decades the emirate, part of the federation of seven principalities that make up the United Arab Emirates, sought to broaden its economy by welcoming foreigners and their investment dollars, turning itself into a shipping hub, a regional business hub and, more recently, a tourist hub with luxury hotels and resorts.
The city's openness has helped produce dramatic economic growth and development, with wide swaths under construction and more projects in the works. The boom has brought big-city problems like inflation, rising crime, higher divorce rates and traffic.
But beyond that, it has taken a toll on local culture as many young Emaratis have begun looking abroad, abandoning many traditions and even marrying foreigners. With only about 200,000 local citizens, the demographics are daunting, said Abdulkhaliq Abdallah, a professor of political science at United Arab Emirates University.
"Usually minorities assimilate into the majority," Abdallah said. "But we don't want to assimilate into the majority. We want to preserve the localness, the Emaratiness of this city."
At the same time, Dubai is famous for offering a kind of Disneyland fantasy to its tourists. In December, luxury resort hotels have large Christmas trees, and it can be hard to orient oneself. Many outsiders say that is what makes Dubai stand out in the region, and that the reaction to the article on Muslim modesty involved some pushing back.
"Hello, this is 2006, not 1666," wrote one critical reader, who demanded to know what was wrong with the clothing styles. "Does Dubai want to move forward in time where women are no longer regarded as second-class citizens?"
Dubai has implemented strict rules about public behavior - a man and woman kissing in public can be arrested; it is an offense to dress inappropriately during Ramadan; and altercations with locals can land expatriates in detention.
But with millions of tourists passing through here, few of the laws are actually implemented. Ramadan, which ends this weekend, is a month when Muslims fast during daylight as part of what is supposed to be an intense focus on spirituality, then eat at night. This Ramadan, however, stores stayed open throughout the day, rather than closing during the afternoon, and many restaurants continued to serve during fasting hours. Locals and expatriate Muslims have continued to complain of a lack of Ramadan spirit compared with previous years.
"This is still a salad platter with a tomato and cucumber that don't mix," Abdallah said, stressing that Dubai could never be a melting pot because foreigners are ineligible for citizenship. "It is a massive experiment in social tolerance, and it should be promoted as such. But being tolerant should not come at the expense of the local and national identity."
At least part of the tensions stem from the deep cultural divide here. For the most part, locals tend to live apart from expatriates and rarely interact socially with them.
As in many Gulf states, Dubai's ethnic groups also exist in clearly defined socioeconomic stratifications - locals are typically owners, Westerners earn the top salaries, and south Asians generally do the menial labor.
"Here you don't taste the cultural food and you don't have a chance to wear the clothes, because there is no mandate to do so," said Rima Sabban, a sociologist at Emirates University. "There is nothing for you to do; there is no one culture for you to learn. The model that nationals have provided is that it's OK to stay close to your community."
Seizing on that division, the Sheikh Muhammed Center for Cultural Understanding, financed by Dubai's ruler, Sheik Muhammed Al Maktoum, has invited expatriates to locals' homes for dinner and organized tours and meals throughout the city. Inside a local shopping mall this month, Khulood al Atiyat and several other college students have manned a booth inviting shoppers to meet and speak with an Emarati.
"This is a place where they can come and talk to us and ask questions," Atiyat said.
"We are proud of who we are, and we intend to stick to who we are."
FEAR AND MONEY IN DUBAI
On the rim of the war zone, a new Mecca of conspicuous consumption and economic crime, under the iron rule of Sheikh al-Maktoum. Skyscrapers half a mile high, artificial archipelagoes, fantasy theme parks—and the indentured Asian labour force that sustains them.
'As your jet starts its descent, you are glued to your window. The scene below is astonishing: a 24-square-mile archipelago of coral-coloured islands in the shape of an almost-finished puzzle of the world. In the shallow green waters between continents, the sunken shapes of the Pyramids of Giza and the Roman Colosseum are clearly visible. In the distance, three other large island groups are configured as palms within crescents and planted with high-rise resorts, amusement parks and a thousand mansions built on stilts over the water. The 'Palms' are connected by causeways to a Miami-like beachfront crammed with mega-hotels, apartment skyscrapers and yachting marinas.
'As the plane slowly banks toward the desert mainland, you gasp at the even more improbable vision ahead. Out of a chrome forest of skyscrapers soars a new Tower of Babel. It is an impossible half-mile high: taller than the Empire State Building stacked on top of itself. You are still rubbing your eyes with wonderment as the plane lands and you are welcomed into an airport shopping emporium where seductive goods entice: Gucci bags, Cartier watches and one-kilogram bars of solid gold. The hotel driver is waiting for you in a Rolls Royce Silver Seraph. Friends had recommended the Armani Inn in the 170-storey tower, or the 7-star hotel with an atrium so huge that the Statue of Liberty would fit inside it, and service so exclusive that the rooms come with personal butlers; but instead you have opted to fulfill a childhood fantasy. You always have wanted to play Captain Nemo in Twenty Thousand Leagues Under the Sea.
'Your jellyfish-shaped hotel, the Hydropolis, is, in fact, exactly 66 feet below the surface of the sea. Each of its 220 luxury suites has clear plexiglass walls that provide spectacular views of passing mermaids and of the famed 'underwater fireworks': a hallucinatory exhibition of 'water bubbles, swirled sand and carefully deployed lighting'. Any initial anxiety about the safety of your sea-bottom resort is dispelled by the smiling concierge. The structure has a multi-level fail-safe security system which includes protection against terrorist submarines as well as missiles and aircraft.
'Although you have an important business meeting at Internet City with clients from Hyderabad and Taipei, you have arrived a day early to treat yourself to one of the famed adventures at the 'Restless Planet' themepark. After a soothing night's sleep under the sea, you board a monorail for this Jurassic jungle. Your first encounter is with some peacefully grazing brontosaurs. Next you are attacked by a flock of velociraptors, the animatronic beasts—designed by experts from the British Natural History Museum—so flawlessly lifelike that you shriek in fear and delight. With your adrenaline pumped up by this close call, you round off the afternoon with some snowboarding on the local indoor snow mountain (outdoors, the temperature is 105°). Nearby is the world's largest mall—the altar of the city's famed Shopping Festival, which attracts millions of frenetic consumers each January—but you postpone the temptation. Instead, you indulge in some expensive Thai fusion cuisine. The gorgeous Russian blonde at the restaurant bar stares at you with vampirish hunger, and you wonder whether the local sin is as extravagant as the shopping . . . '
Fantasy levitated
Welcome to a strange paradise. But where are you? Is this a new Margaret Atwood novel, Philip K. Dick's unpublished sequel to Blade Runner or Donald Trump on acid? No. It is the Persian Gulf city-state of Dubai in 2010. After Shanghai (current population 15 million), Dubai (current population 1.5 million) is the planet's biggest building site: an emerging dreamworld of conspicuous consumption and what the locals boast as 'supreme lifestyles'. Despite its blast-furnace climate (on typical 120° summer days, the swankier hotels refrigerate their swimming pools) and edge-of-the-war-zone location, Dubai confidently predicts that its enchanted forest of 600 skyscrapers and malls will attract 15 million overseas visitors a year by 2010, three times as many as New York City. Emirates Airlines has placed a staggering $37-billion order for new Boeings and Airbuses to fly these tourists in and out of Dubai's new global air hub, the vast Jebel Ali airport. Indeed, thanks to a dying planet's terminal addiction to Arabian oil, this former fishing village and smugglers' cove proposes to become one of the world capitals of the 21st century. Favouring diamonds over rhinestones, Dubai has already surpassed that other desert arcade of capitalist desire, Las Vegas, both in sheer scale of spectacle and the profligate consumption of water and power.
Dozens of outlandish mega-projects—including the artificial 'island world' (where Rod Stewart has reportedly spent $33 million to buy 'Britain'), the earth's tallest building (Burj Dubai, designed by Skidmore, Owings & Merrill), the underwater luxury hotel, the carnivorous dinosaurs, the domed ski resort and the hyper-mall—are already under construction or about to leave the drawing board. The 7-star hotel, the spinnaker-shaped Burj Al-Arab—looking much like the set of a James Bond film—is already world-famous for its $5,000 per-night rooms with 100-mile views and an exclusive clientele of Arab royalty, English rock stars and Russian billionaires. And the dinosaurs, according to the finance director of the Natural History Museum, 'will have the full stamp of authority of the Museum in London, and will demonstrate that education and science can be fun'; and profitable, since the 'only way into the dinosaur park will be through the shopping mall'.
The biggest project, Dubailand, represents a vertiginous new stage in fantasy environments. Literally a 'themepark of themeparks', it will be more than twice the size of Disney World and employ 300,000 workers who, in turn, will entertain 15 million visitors per year (each spending a minimum of $100 per day, not including accommodation). Like a surrealist encyclopaedia, its 45 major 'world class' projects include replicas of the Hanging Gardens of Babylon, the Taj Mahal and the Pyramids, as well as a snow mountain with ski lifts and polar bears, a centre for 'extreme sports', a Nubian village, 'Eco-Tourism World', a vast Andalusian spa and wellness complex, golf courses, autodromes, race tracks, 'Giants' World', 'Fantasia', the largest zoo in the Middle East, several new 5-star hotels, a modern art gallery and the Mall of Arabia.
Gigantism
Under the enlightened despotism of its Emir and ceo, 58-year-old Sheikh Mohammed al-Maktoum, Dubai has become the new global icon of imagineered urbanism. Multi-billionaire Sheikh Mo—as he is known to Dubai's expats—has a straightforward if immodest goal: 'I want to be Number One in the world'. Although he is an ardent collector of thoroughbreds (the world's largest stable) and super-yachts (the 525-foot-long 'Project Platinum', which has its own submarine and flight deck), his consuming passion is over-the-top, monumental architecture. Indeed, he seems to have imprinted Scott and Venturi's bible of hyper-reality, Learning From Las Vegas, in the same way that pious Muslims memorize the Qur'an. One of his proudest achievements, he often tells visitors, is to have introduced gated communities to Arabia, the land of nomads and tents.
Thanks to his boundless enthusiasm for concrete and steel, the coastal desert has become a huge circuit board upon which the elite of transnational engineering firms and retail developers are invited to plug in high-tech clusters, entertainment zones, artificial islands, glass-domed 'snow mountains', Truman Show suburbs, cities within cities—whatever is big enough to be seen from space and bursting with architectural steroids. The result is not a hybrid but an eerie chimera: a promiscuous coupling of all the cyclopean fantasies of Barnum, Eiffel, Disney, Spielberg, Jon Jerde, Steve Wynn and Skidmore, Owings & Merrill. Although compared variously to Las Vegas, Manhattan, Orlando, Monaco and Singapore, the sheikhdom is more like their collective summation and mythologization: a hallucinatory pastiche of the big, the bad and the ugly.
The same phantasmagoric but generic Lego blocks, of course, can be found in dozens of aspiring cities these days (including Dubai's envious neighbours, the wealthy oil oases of Doha and Bahrain), but al-Maktoum has a distinctive and inviolable criterion: everything must be 'world class', by which he means Number One in the Guinness Book of Records. Thus Dubai is building the world's largest theme park, the biggest mall (and within it, the largest aquarium), the tallest building, the largest international airport, the biggest artificial island, the first sunken hotel and so on (see below). Although such architectural megalomania is eerily reminiscent of Albert Speer and his patron's vision of imperial Berlin, it is not irrational. Having 'learned from Las Vegas', al-Maktoum understands that if Dubai wants to become the luxury-consumer paradise of the Middle East and South Asia (its officially defined 'home market' of 1.6 billion), it must ceaselessly strive for visual and environmental excess. If, as Rowan Moore has suggested, immense, psychotic assemblages of fantasy kitsch inspire vertigo, then al-Maktoum wants us to swoon.

From a booster's viewpoint, the city's monstrous caricature of futurism is simply shrewd branding for the world market. As one developer told the Financial Times, 'If there was no Burj Dubai, no Palm, no World, would anyone be speaking of Dubai today? You shouldn't look at projects as crazy stand-alones. It's part of building the brand'. And its owners love it when architects and urbanists, like George Katodrytis, anoint it as the cutting edge:
Dubai is a prototype of the new post-global city, which creates appetites rather than solves problems . . . If Rome was the 'Eternal City' and New York's Manhattan the apotheosis of twentieth-century congested urbanism, then Dubai may be considered the emerging prototype for the 21st century: prosthetic and nomadic oases presented as isolated cities that extend out over the land and sea.
In its exponential quest to conquer the architectural record-books, moreover, Dubai has only one real rival: China—a country that now has 300,000 millionaires and is predicted to become the world's largest market for luxury goods (from Gucci to Mercedes) in a few years. Starting from feudalism and peasant Maoism, respectively, both have arrived at the stage of hyper-capitalism through what Trotsky called the 'dialectic of uneven and combined development'. As Baruch Knei-Paz writes in his admirable précis of Trotsky's thought:
In appending new forms the backward society takes not their beginnings, nor the stages of their evolution, but the finished product itself. In fact it goes even further; it copies not the product as it exists in its countries of origin but its 'ideal type', and it is able to do so for the very reason that it is in a position to append instead of going through the process of development. This explains why the new forms, in a backward society, appear more perfected than in an advanced society where they are approximations only to the 'ideal' for having been arrived at piecemeal and with the framework of historical possibilities.
In the cases of Dubai and China, all the arduous intermediate stages of commercial evolution have been telescoped or short-circuited to embrace the 'perfected' synthesis of shopping, entertainment and architectural spectacle, on the most pharaonic scale.
As a sweepstake in national pride—Arabs versus Chinese—this frantic quest for hyperbole is not of course, unprecedented; recall the famed competition between Britain and imperial Germany to build dreadnoughts in the early 1900s. But is it an economically sustainable strategy of development? The textbook answer is probably not. Architectural gigantism has always been a perverse symptom of economies in speculative overdrive, and each modern boom has left behind overweening skyscrapers, the Empire State Building or the former World Trade Center, as its tombstones. Cynics rightly point out that the hypertrophic real-estate markets in Dubai and urban China are the sinks for global excess profits—of oil and manufacturing exports, respectively—currently being pyramided by rich countries' inability to reduce oil consumption and, in the case of the United States, to balance current accounts. If past business cycles are any guide, the end could be nigh and very messy. Yet, like the king of the enigmatic floating island of Laputa in Gulliver's Travels, al-Maktoum believes that he has discovered the secret of eternal levitation.
The lodestone of Dubai, of course, is 'peak oil' and each time you spend $50 to fill your tank, you are helping to irrigate al-Maktoum's oasis. Fuel prices are currently inflated by industrial China's soaring demand as well as growing fears of war and terrorism in the global oil patch. According to the Wall Street Journal, 'consumers will [have paid] $1.2 trillion more in 2004 and 2005 together for oil products than they did in 2003' As in the 1970s, a huge and disruptive transfer of wealth is taking place between oil-consuming and oil-producing nations. Already visible on the horizon, moreover, is Hubbert's Peak, the tipping point when new petroleum reserves will no longer offset global demand, and thereafter oil prices will become truly stratospheric. In some utopian economic model, perhaps, this windfall would become an investment fund for shifting the global economy to renewable energy while reducing greenhouse gas output and raising the environmental efficiency of urban systems. In the real world of capitalism, however, it has become a subsidy for the apocalyptic luxuries that Dubai is coming to epitomize.
Miami of the Persian Gulf
According to his hagiographers, Dubai has arrived at its blessed state thanks largely to the entrepreneurial vision that al-Maktoum inherited from his father, Sheikh Rashid, who 'committed himself and his resources to turning his emirate into a modern world-class entrepôt where free enterprise flourished'. In fact, Dubai's irresistible rise, like that of its parent, the United Arab Emirates, owes as much to a sequence of fortuitous geopolitical accidents. Dubai's chief regional advantage, paradoxically, has been its modest endowment, now rapidly being exhausted, of offshore oil. With a tiny hinterland lacking the geological wealth of Kuwait or Abu Dhabi, Dubai has escaped poverty by a Singaporean strategy of becoming the key commercial, financial and recreational hub of the Gulf. It is a postmodern 'city of nets'—as Brecht called 'Mahagonny'—where the super-profits of the international oil trade are intercepted and then reinvested in Arabia's one truly inexhaustible natural resource: sand. (Indeed, mega-projects in Dubai are typically measured by volumes of sand moved: one billion cubic feet in the case of the 'island world'.) If the current mega-project blitzkrieg, exemplified by Dubailand, succeeds as planned, Dubai will derive all of its gdp from non-oil activities like tourism and finance by 2010.
The platform for Dubai's extraordinary ambitions has been its long history as a haven for smugglers, gold dealers and pirates. A late-Victorian treaty gave London control over Dubai's foreign affairs, keeping the Ottomans and their tax collectors out of the region, but otherwise allowing the al-Maktoum dynasty to exploit their ownership of the only natural deepwater port along 400 miles of what was then known as the 'Pirates' Coast'. Pearl fishing and smuggling were the mainstays until oil wealth began to generate increased demand for Dubai's commercial savvy and port services. Up to 1956, when the first concrete building was constructed, the entire population lived in traditional 'barastri' homes made from palm fronds, drawing water from communal wells and tethering their goats in the narrow streets.
After the British withdrawal from East of Suez in 1968, Sheikh Rashid joined with the ruler of Abu Dhabi, Sheikh Zayed, to create the United Arab Emirates in 1971, a feudal federation bound together by the common threat of the Marxists in Oman and, later, the Islamists in Iran. Abu Dhabi possessed the greater share of the uae's oil wealth (almost one-twelfth of the world's proven hydrocarbon reserves) but Dubai was the more logical port and commercial centre. When the city's original deep-water 'creek' proved too small to handle burgeoning trade, the uae's leadership used some of their earnings from the first 'oil shock' to help Dubai finance construction of the world's largest man-made port, completed in 1976.
Following Khomeini's revolution in 1979, it also became the Persian Gulf's Miami, providing refuge to a large community of Iranian exiles, many of whom specialized in smuggling gold, untaxed cigarettes and liquor to their puritanical homeland, and to India. More recently, Dubai under the tolerant gaze of Tehran has attracted large numbers of wealthy Iranians who use the city—more like Hong Kong than Miami —as a base for trade and bi-national life-styles. They are estimated to control as much as 30 per cent of Dubai's current real-estate development. Building on such clandestine connections, Dubai in the 1980s and early 1990s became the Gulf's principal dirty-money laundry as well as a bolthole for some of the region's most notorious gangsters and terrorists. As the Wall Street Journal recently described the city's underside:
Its gold and diamond souks, houses of barter and informal cash-transfer storefronts have long formed an opaque business world based on connections and clan allegiances. Black-market operators, arms dealers, terrorist financiers and money launderers have taken advantage of the freewheeling environment, even if the vast bulk of business is legitimate.
In early 2006 the us Congress erupted in a furore over Dubai Port World's imminent takeover of the London-based Peninsular and Oriental Steam Navigation Company, which operates docks from New York to Miami. Despite support from the Bush Administration, Dubai was forced to withdraw from the deal after a firestorm of accusations on cable news programmes and radio talk-shows about the supposed dangers of ceding control of American commercial ports to a Middle Eastern government. Much of the controversy was unquestionably fuelled by anti-Arab bigotry pure and simple (us port operations are already largely under management of foreign-owned firms), but Dubai's 'terrorist connection', an outgrowth of its role as the Switzerland of the Gulf, has been well documented.
Indeed, since 9/11 a huge investigative literature has explored Dubai's role as 'the financial hub for Islamic militant groups', especially al-Qaeda and the Taliban: 'all roads lead to Dubai when it comes to [terrorist] money', claims a former high-ranking us Treasury official. Bin Laden reportedly transferred large sums through the government-owned Dubai Islamic Bank, while the Taliban used the city's unregulated gold markets to transform their opium taxes, paid in gold bullion, into laundered dollars.In his best-selling Ghost Wars, Steve Coll claims that after the catastrophic al-Qaeda bombings of the us embassies in Nairobi and Dar es Salaam, a cia scheme to target bin Laden with cruise missiles while he was falcon hunting in southern Afghanistan had to be aborted because he was in the company of unnamed Emirati royalty. Coll adds that the cia 'also suspected that C-130s flying out of Dubai carried weapons to the Taliban'.
In addition, al-Maktoum for almost a decade provided luxurious sanctuary for Bombay's Al Capone, the legendary gangster Dawood Ibrahim. His presence in the sheikhdom in the late 1980s was hardly low-key. 'Dubai', writes Suketu Mehta, 'suited Dawood; he re-created Bombay in lavish parties, flying in scores of the city's top film stars and cricketers as guests, and took a film starlet, Mandakini, as his mistress'. In early 1993, according to the Indian government, Dawood, working with Pakistani intelligence officials, used Dubai as a base for organizing the infamous 'Black Friday' bombings in Bombay that killed 257 people. Although India immediately requested Dubai to arrest Dawood, he was allowed to flee to Karachi, where he is still sheltered by the Pakistani government; his criminal organization, 'D-Company', meanwhile, has reportedly continued to be active in the sheikhdom.
War zone
Dubai now enjoys high marks from Washington as a partner in the War on Terror and, in particular, as a base for spying on Iran; but it is probable that al-Maktoum, like the other Emirati rulers, still keeps a channel open to radical Islamists. If al-Qaeda so desired, for example, it could presumably turn the Burj Al-Arab and Dubai's other soaring landmarks into so many towering infernos. Yet so far Dubai is one of the few cities in the region to have entirely avoided car-bombings and attacks on Western tourists: eloquent testament, one might suppose, to the city-state's continuing role as a money laundry and upscale hideout, like Tangiers in the 1940s or Macao in the 1960s. Dubai's burgeoning black economy is its insurance policy against the car-bombers and airplane hijackers.
In many complex and surprising ways, Dubai actually earns its living from fear. Its huge port complex at Jebel Ali, for example, has profited immeasurably from the trade generated by the us invasion of Iraq, while Terminal Two at the Dubai airport, always crowded with Halliburton employees, private mercenaries and American soldiers en route to Baghdad or Kabul, has been described as 'the busiest commercial terminal in the world' for America's Middle East wars. Post-9/11 developments have also shifted global investment patterns to Dubai's benefit. Thus after al-Qaeda's attacks on America, the Muslim oil states, traumatized by the angry Christians in Washington and lawsuits by wtc survivors, no longer considered the United States the safest harbour for their petrodollars. Panicky Saudis alone are estimated to have repatriated at least one-third of their trillion-dollar overseas portfolio. Although nerves are now calmer, Dubai has benefited enormously from the continuing inclination of the oil sheikhs to invest within, rather than outside, the region. As Edward Chancellor has emphasized, 'unlike the last oil boom of the late 1970s, relatively little of the current Arab oil surplus has been directly invested in us assets or even deposited in the international banking system. This time much of the oil money has remained at home where a classic speculative mania is now being played out.'
In 2004, the Saudis (500,000 of whom are estimated to visit Dubai at least once a year) were believed to have ploughed at least $7 billion into al-Maktoum's major properties. Saudis, together with investors from Abu Dhabi, Kuwait, Iran and even emulous Qatar, bankroll the hubris of Dubailand (officially developed by Dubai's billionaire Galadari brothers) and other colossal fantasy projects. Although economists stress the driving role of equity investment in the current Gulf boom, the region is also awash with cheap bank credit thanks to a 60 per cent increase in the local deposit base and the slipstreaming of the us Federal Reserve's easy money policies (the currencies of the Gulf emirates are all linked to the dollar).
Much of this money, of course, dances to an old tune. 'A majority of new Dubai properties', explains Business Week, 'are being acquired for speculative purposes, with only small deposits put down. They are being flipped in the contemporary Miami manner.' But what is too often 'flipped', some economists predict, may ultimately flop. Will Dubai someday fall from the sky when this real-estate balloon bursts, or will peak oil keep this desert Laputa floating above the contradictions of the world economy? Al-Maktoum remains a mountain of self-confidence: 'I would like to tell capitalists that Dubai does not need investors; investors need Dubai. And I tell you that the risk lies not in using your money, but in letting it pile up.'
Dubai's philosopher-king (one of the huge offshore island projects will actually spell out an epigram of his in Arabic script) is well aware that fear is also the most dynamic component of the oil revenues that turn his sand dunes into malls and skyscrapers. Every time insurgents blow up a pipeline in the Niger Delta, a martyr drives his truck bomb into a Riyadh housing complex, or Washington and Tel Aviv rattle their sabres at Tehran, the price of oil (and thus Dubai's ultimate income) increases by some increment of anxiety in the all-important futures market. The Gulf economies, in other words, are now capitalized not just on oil production, but also on the fear of its disruption. According to a recent survey of experts by Business Week, 'the world paid the Persian Gulf oil states an extra $120 billion or so last year because of the premium in prices due to fear of unexpected supply disruptions. Some cynics argue that oil producers welcome the fear of disruption because it boosts their revenues'. 'Fear', according to one of the senior energy analysts that the magazine consulted, 'is a gift to oil producers'.
But it is a gift that the oil rich would rather spend in a tranquil oasis surrounded by very high walls. With its sovereignty ultimately guaranteed by the American nuclear super-carriers usually berthed at Jebel Ali, as well as by whatever secret protocols (negotiated during falcon hunting trips in Afghanistan?) govern the Emiratis' relationship to Islamic terrorism, Dubai is a paradise of personal security, from the Swiss-style laws governing financial secrecy to the armies of concierges, watchmen and bodyguards who protect its sanctums of luxury. Tourists are customarily ordered away by the security guards if they attempt to sneak a peek at Burj Al-Arab on its private island. Hotel guests, of course, arrive in Rolls Royces.
Milton Friedman's beach club
Dubai, in other words, is a vast gated community, the ultimate Green Zone. But even more than Singapore or Texas, it is also the apotheosis of the neo-liberal values of contemporary capitalism: a society that might have been designed by the Economics Department of the University of Chicago. Dubai, indeed, has achieved what American reactionaries only dream of—an oasis of free enterprise without income taxes, trade unions or opposition parties (there are no elections). As befits a paradise of consumption, its unofficial national holiday, as well as its global logo, is the celebrated Shopping Festival, a month-long extravaganza sponsored by the city's 25 malls that begins on 12 January and attracts 4 million upscale shoppers, primarily from the Middle East and South Asia.
Feudal absolutism—the Maktoum dynasty owns the land area of Dubai —meanwhile has been spruced up as the last word in enlightened corporate administration, and the political sphere has been officially collapsed into the managerial. 'People refer to our crown prince as the chief executive officer of Dubai. It's because, genuinely, he runs government as a private business for the sake of the private sector, not for the sake of the state', says Saeed al-Muntafiq, head of the Dubai Development and Investment Authority. Moreover, if the country is a single business, as al-Maktoum maintains, then 'representative government' is besides the point: after all, General Electric and Exxon are not democracies and no one—except for raving socialists—expects either to be so.
The state, accordingly, is almost indistinguishable from private enterprise. Dubai's top managers—all commoners, hired meritocratically—simultaneously hold strategic government portfolios and manage a major Maktoum-controlled real-estate development company. 'Government', indeed, is really an equities management team led by three top players who compete with one another to earn the highest returns for al-Maktoum (see Table 2). 'In such a system', writes William Wallis, 'the concept of a conflict of interest is barely recognized'. Because the country has one ultimate landlord, and myriad streams of rent and lease payments all flow to a single beneficiary, Dubai is able to dispense with most of the sales, customs and income taxes essential to governments elsewhere. The minimal tax burden, in turn, leverages the sale or lease of Dubai's golden sands. Oil-rich Abu Dhabi, meanwhile, subsidizes the residual state functions, including foreign relations and defence, entrusted to the Emirates' federal administration—itself a condominium of the interests of the ruling sheikhs and their relatives.
In a similar spirit, personal liberty in Dubai derives strictly from the business plan, not from a constitution, much less 'inalienable rights'. Al-Maktoum and his executives have to arbitrate between lineage-based power and Islamic law, on the one hand, and Western business culture and recreational decadence on the other. Their ingenious solution is a regime of what might be called 'modular liberties' based on the rigorous spatial segregation of economic functions and ethnically circumscribed social classes. To understand how this works in practice, it is necessary briefly to survey Dubai's overall development strategy.
Although tourist development and its excesses generate most of the 'buzz' about Dubai, the city-state has extraordinary ambitions to capture as much value-added as possible through a series of specialized free-trade zones and high-tech clusters. 'One of the ways that this trading town along a creek has reformulated itself into a megalopolis', writes an abc News commentator, 'is by throwing in everything and the kitchen sink as incentives for companies to invest in and relocate to Dubai. There are free-trade zones where 100 per cent foreign ownership is allowed, with no individual or corporate taxes or import/export duties whatsoever.' The original free-trade zone in the port district of Jebel Ali now has several thousand resident trading and industrial firms, and is the major base for American corporations selling to the Saudi and Gulf markets.
Most future growth, however, is expected to be generated within an archipelago of specialized 'clusters'. The largest of these cities-within-the-city are Internet City, already the Arab world's principal information technology hub, with local subsidiaries of Dell, Hewlett-Packard, Microsoft, and others; Media City, home to the Al Arabiya satellite network and various international news organizations; and the Dubai International Financial Centre, whose dfix al-Maktoum hopes will grow into the largest stock exchange between Europe and East Asia as foreign investors rush to tap the Gulf's vast reservoir of oil earnings. In addition to these mega-enclaves, each with tens of thousands of employees, Dubai also hosts or is planning to build a Humanitarian Aid City, as a base for disaster relief; a free-trade zone dedicated to the sale of used cars; a Dubai Metals and Commodities Centre; a 'Chess City' headquartering the International Chess Association and designed as a vast chess board with two 'King' towers, each 64 storeys high; and a $6 billion Healthcare Village, in collaboration with the Harvard Medical School, that will offer the wealthy classes of the Gulf region state-of-the-art American medical technology.
Other cities in the region, of course, have free-trade zones and high-tech clusters, but only Dubai has allowed each enclave to operate under regulatory and legal bubble-domes tailored to the specific needs of foreign capital and expat professionals. 'Carving out lucrative niches with their own special rules', claims the Financial Times, 'has been at the heart of Dubai's development strategy'.Thus press censorship (flagrant in the rest of Dubai) is largely suspended inside Media City, while internet access (regulated for content elsewhere) is absolutely unfettered inside Internet City. The uae has permitted Dubai to set up 'an entirely separate, Western-based commercial system for its financial district that would do business in dollars, and in English'. Although not without ensuing controversy, Dubai even imported British financial regulators and retired judges to bolster confidence that dfix plays by the same rules as Zurich, London and New York. Meanwhile, to promote the sell-off of Palm Jumeirah mansions and the private islands that make up the 'island world', al-Maktoum in May 2002 announced a 'freehold revolution', unique in the region, that allows foreigners to buy luxury property outright and not just as a 99-year lease.
In addition to these enclaved regimes of greater media and business freedom, Dubai is also famously tolerant of Western vices, with the exception of recreational drugs. In contrast to Saudi Arabia or even Kuwait City, booze flows freely in the city's hotels and expat bars, and no one looks askance at halter tops or even string bikinis on the beach. Dubai—any of the hipper guidebooks will advise—is also the 'Bangkok of the Middle East', with thousands of Russian, Armenian, Indian and Iranian prostitutes controlled by various transnational gangs and mafias. The Russian girls at the bar are the glamorous façade of a sinister sex trade built on kidnapping, slavery and sadistic violence. Al-Maktoum and his thoroughly modern regime, of course, disavow any collusion with this burgeoning red-light industry, although insiders know that the whores are essential to keeping the 5-star hotels full of European and Arab businessmen. When expats extol Dubai's unique 'openness', it is this freedom to carouse and debauch—not to organize unions or publish critical opinions—that they are usually praising.
An indentured, invisible majority
Dubai, together with its emirate neighbors, has achieved the state of the art in the disenfranchisement of labour. In a country that only abolished slavery in 1963, trade unions, most strikes and all agitators are illegal, and 99 per cent of the private-sector workforce are immediately deportable non-citizens. Indeed, the deep thinkers at the American Enterprise and Cato Institutes must salivate when they contemplate the system of classes and entitlements in Dubai.
At the top of the social pyramid, of course, are the al-Maktoums and their cousins who own every lucrative grain of sand in the sheikhdom. Next, the native 15 per cent of the population (many of them originally Arab-speakers from southern Iran) constitutes a leisure class whose uniform of privilege is the traditional white dishdash. Their obedience to the dynasty is rewarded by income transfers, free education, subsidized homes and government jobs. A step below are the pampered mercenaries: more than 100,000 British expatriates (another 100,000 uk citizens own second homes or condos in Dubai), along with other European, Lebanese, Iranian and Indian managers and professionals, who take full advantage of their air-conditioned affluence and two months of overseas leave every summer. The Brits, led by David Beckham (who owns a beach) and Rod Stewart (who owns an island), are probably the biggest cheerleaders for al-Maktoum's paradise, and many of them luxuriate in a social world that recalls the lost splendour of gin-and-tonics at Raffles and white mischief in Simla's bungalows. Dubai is expert at catering to colonial nostalgia.
The city-state is also a miniature Raj in a more important and notorious aspect. The great mass of the population are South Asian contract labourers, legally bound to a single employer and subject to totalitarian social controls. Dubai's luxury lifestyles are attended by vast numbers of Filipina, Sri Lankan and Indian maids, while the building boom (which employs fully one-quarter of the workforce) is carried on the shoulders of an army of poorly paid Pakistanis and Indians, the largest contingent from Kerala, working twelve-hour shifts, six and a half days a week, in the asphalt-melting desert heat.
Dubai, like its neighbours, flouts ilo labour regulations and refuses to adopt the international Migrant Workers Convention. Human Rights Watch in 2003 accused the Emirates of building prosperity on 'forced labour'. Indeed, as the Independent recently emphasized, 'the labour market closely resembles the old indentured labour system brought to Dubai by its former colonial master, the British.' 'Like their impoverished forefathers', the London paper continued, 'today's Asian workers are forced to sign themselves into virtual slavery for years when they arrive in the United Arab Emirates. Their rights disappear at the airport where recruitment agents confiscate their passports and visas to control them.'
In addition to being super-exploited, Dubai's helots—like the proletariat in Fritz Lang's Metropolis—are also expected to be generally invisible. The local press (the uae ranks a dismal 137th on the global Press Freedom Index) is restrained from reporting on migrant workers, exploitative working conditions, and prostitution. Likewise, 'Asian labourers are banned from the glitzy shopping malls, new golf courses and smart restaurants.' Nor are the bleak work camps on the city's outskirts—where labourers are crowded six, eight, even twelve to a room, often without air-conditioning or functioning toilets—part of the official tourist image of a city of luxury, without poverty or slums.In a recent visit, even the uae Minister of Labour was reported to be shocked by the squalid, almost unbearable conditions in a remote work camp maintained by a large construction contractor. Yet when the labourers attempted to form a union to win back pay and improve living conditions, they were promptly arrested.
Dubai's police may turn a blind eye to illicit diamond and gold imports, prostitution rings, and shady characters who buy 25 villas at a time in cash, but they are diligent in deporting Pakistani workers who complain about being cheated out of their wages by unscrupulous contractors, or jailing Filipina maids for 'adultery' when they report being raped by their employers. To avoid the simmering volcano of Shiite unrest that so worries Bahrain and Saudi Arabia, Dubai and its uae neighbours have favoured a non-Arab workforce drawn from western India, Pakistan, Sri Lanka, Bangladesh, Nepal and the Philippines. But as Asian workers have become an increasingly restive majority, the uae has reversed course and adopted a 'cultural diversity policy'—'we have been asked not to recruit any more Asians', explained one contractor—to reinforce control over the workforce by diluting the existing national concentrations with more Arab workers.
Discrimination against Asians, however, has failed to recruit enough Arabs willing to work at the lowly wages ($100 to $150 per month) paid to construction labourers to meet the insatiable demands of the exploding skyline and half-built mega-projects. Indeed the building boom, with its appalling safety record and negligence of workers' most basic needs, has incubated Dubai's first labour rebellion. In 2004 alone, Human Rights Watch estimated that as many as 880 construction workers were killed on the job, with most of the fatal accidents unreported by employers or covered up by the government. At the same time, the giant construction companies and their subcontractors have failed to guarantee minimum facilities for sanitation or adequate supplies of potable water at remote desert labour camps. Workers also have been exasperated by longer commutes to worksites, the petty tyranny (often with a racial or religious bias) of their supervisors, the spies and company guards in their camps, the debt-bondage of their labour contracts, and the government's failure to prosecute fly-by-night contractors who leave Dubai or declare bankruptcy without paying back wages. As one embittered labourer from Kerala told the New York Times, 'I wish the rich people would realize who is building these towers. I wish they could come and see how sad this life is.'
The first tremor of unrest came in fall 2004 when several thousand Asian workers courageously marched down the eight-lane Sheikh Zayed Highway toward the Ministry of Labour, only to be met by riot police and officials threatening mass deportations. Smaller demonstrations and strikes, protesting unpaid wages or unsafe working conditions, continued through 2005, drawing inspiration from a large uprising of Bangladeshi workers in Kuwait during the spring. In September, an estimated 7,000 workers demonstrated for three hours, the largest protest in Dubai history. Then, on 22 March 2006, bullying security men ignited a riot at the vast Burj Dubai tower site.
Some 2,500 exhausted workers were waiting after the end of their shift for long overdue buses to take them back to their dormitories in the desert, when the guards began to harass them. The enraged labourers, many of them Indian Muslims, overwhelmed and beat the guards, then attacked the construction headquarters: burning company cars, ransacking offices, destroying computers and smashing files. The following morning, the army of labourers defied police to return to the site, where they refused to work until Dubai-based Al Naboodah Laing O'Rourke raised wages and improved working conditions. Thousands of construction workers at a new airport terminal also joined the wildcat strike. Although some minor concessions along with draconian threats forced most of the labourers back to work at the Burj Dubai and the airport, the underlying grievances continue to fester. In July, hundreds of labourers at the Arabian Ranches project on Emirates Road rioted to protest the chronic shortage of water for cooking and bathing at their camp. Other workers have held clandestine union meetings and reportedly threatened to picket hotels and malls.
The unruly voice of labour echoes louder in the deserts of the uae than it might elsewhere. At the end of the day, Dubai is capitalized just as much on cheap labour as it is on expensive oil, and the Maktoums, like their cousins in the other emirates, are exquisitely aware that they reign over a kingdom built on the backs of a South Asian workforce. So much has been invested in Dubai's image as an imperturbable paradise of capital that even small disturbances can have exaggerated impacts on investors' confidence. Dubai Inc. is thus currently considering a variety of responses to worker unrest, ranging from expulsions and mass arrests to some limited franchising of collective bargaining. But any tolerance of protest risks future demands not just for unions, but for citizenship, and thereby threatens the absolutist foundations of Maktoum rule. None of the shareholders in Dubai—whether the American Navy, the Saudi billionaires, or the frolicking expats—want to see the emergence of a Solidarnosc in the desert.
Al-Maktoum, who fancies himself the Gulf's prophet of modernization, likes to impress visitors with clever proverbs and heavy aphorisms. A favourite: 'Anyone who does not attempt to change the future will stay a captive of the past.' Yet the future that he is building in Dubai—to the applause of billionaires and transnational corporations everywhere—looks like nothing so much as a nightmare of the past: Speer meets Disney on the shores of Araby.