End distracted driving now!
29 September 2009
This is especially relevant to the clown who tried to kill me in Abu Dhabi this evening while chatting on his mobile phone and suddenly deciding that he wanted to swing across me from the nearside lane because he suddenly wanted to turn left . Mirror, signal, manouver. No chance. He was too busy looking at his phone.
There is a new campaign in the USA against distracted driving.
Folks, it's simple: a driver operating a cell phone or texting while driving is SIX times more likely to be involved in an accident. SIX times.

If you're driving down the road, trying to dial a number or text, you cannot pay appropriate attention to the car in front of you or the car behind you or the traffic and pedestrians around you.

How do we know this? Because over 80% of car accidents occur while drivers are distracted in some way.

In the USA everyone--automakers, safety advocates, motorists' associations, insurance companies, school officials, trucking industry groups, parents of victims, children of victims, law enforcement agencies; newspapers, websites, bloggers, editors, television networks--is saying the same thing: distracted driving needs to stop.
But here in the UAE you see it all the time.
That and the wacky races known as the Dubai to Abu Dhabi highway. It is hard to tell who is the greater liability. The guys who do 60 or 70kmh but sit in a middle lane unwilling to move. Or the 4 by 4s or sports jockies racing along at closer to 200kmh.
There is no need to take anyone's technology away; but people need to drive safely. And it's not just texting and cell phones and navigation systems; driving with your attention anywhere but on the road--for any reason--is just too dangerous.

Fly Emirates, meet Dubai!
28 September 2009
Emirates has launched a new TV and online campaign; and it is unusual. It really is not a campaign for the airline. It is a campaign for Dubai; which suggest that Dubai needs some good press rather more than Emirates.

The campaign highlights some of Dubai's people; Etienne Haro directs one of the finest restaurants; Paul Hamilton swims with sharks; Yousef Ali Bin Zayed helped spark a vibrant rebirth of the arts and cultural heritage; Waheed Abdul Hameed is a master of the fiery flavors that define authentic indigenous cuisine. They are all among the (allegedly) unscripted, "non-actor" stars of the airline's new advertising campaign.

The campaign - 'Meet Dubai' - is designed to capture the unique and varied experience of living in Dubai from the perspectives of real people from many parts of the world who now call it home. Kevin Sacre, from the British soap opera "Hollyoaks" and a former member of the Royal Shakespeare Company, is the only professional actor in the series of ads, serving as the tour guide as he explores the city.

There are fourteen 120-, 60- and 30- second spots, directed by four-time Emmy winner Michael Noval and filmed in documentary style.
The ads explore the souks and textile markets, trendy art galleries and fashion, restaurants, resorts and one-of-a-kind attractions like the Dubai Mall's fabulous aquarium and the only indoor ski area in the Middle East. The ads will air on television outlets including CNN, CNBC, BBC World, Discovery Channel, Travel Channel, Google, Yahoo, ESPN and others, starting 27th September.

Online audiences around the globe also have an "exclusive" to view these ad spots on www.emirates.com/meet-dubai and www.youtube.com/EmiratesExperience now.
The other strange part about these ads is that at least 80% of Emirates passengers must be transit passengers passing through Dubai. And it is Dubai that the adertisements are selling more than Dubai - indeed you will not see an Emirates staff or airplane in any of the adverts.
The adverts of course focus on working people in old and new Dubai; and they dont show the building sites, cranes and labourers that remain the most common view of the city.
A voice of reason
28 September 2009
One of the most frightening ordeals for any woman must be confronting an unwanted or unplanned pregnancy. In the USA this is the most emotional and political of subjects. My position has always been simple; a woman has the right to choose. And the January 22nd 1973 Roe vs Wade decision where the Supreme Court decision overturned a Texas interpretation of abortion law and made abortion legal in the United States remains a landmark case. The Roe v. Wade decision held that a woman, with her doctor, could choose abortion in earlier months of pregnancy without restriction, and with restrictions in later months, based on the right to privacy.
The decision to abort is one that no woman would ever take lightly; emotionally it must be traumatic. There is also the fear of any form of surgery. And in the USA there is the fear of attending clinics which have been bomber or attacked by anti-abortionists who regularly picket, intimidate and terrify patients.
This is the story of a clinic escort; a role that should not even be necessary. But this anonymous writer and pro-choice activist is making the unbearable bearable. She speaks for hundreds like her that are helping scared people.
This piece originally appeared on 23 September 2009 in ClinicEscort's Blog, At the Clinic.

"Last Saturday, I spent my morning in the company of nearly two dozen lurkers, skulkers, stalkers, harassers, and creeps... and I can't wait to do it again.

I am a volunteer abortion clinic escort.

This means I am there to walk with women coming into the abortion clinic. It's usually no more than a minute's walk from their cars to the front door of the clinic.

Under normal circumstances, my help would hardly be needed. Except the circumstances outside an abortion clinic are rarely "normal." Every day that our doors are open to women seeking abortions, the sidewalk in front of our clinic is occupied by people who do anything they think they can get away with to try to keep those women from going inside. These protesters are, by and large, a sideshow of the crazy and the scary and the totally lacking in people skills.

The highlight of my most recent Saturday morning was the offense taken by one of the regular protesters at the sight of me and a client talking and laughing together as we walked. This protester lifted her bullhorn and screeched into it, over all the other shouting from her compadres: "These ladies are not your friends! They're your enemies! They want to sell your baby for parts AND MAKE THEM INTO SHAMPOO!"

Yes, she did. While wearing a sign reading "PRO-LIFE IS PRO-WOMEN: WE CARE," no less.

Along with the bullhorning and the screeching and the embryo shampoo conspiracy, our protesters carry some really big, really ugly signs. You know the ones. They're not designed to appeal to one's conscience or to offer support in one's time of need; they're designed to shock and traumatize via the instinctive human revulsion to gore. So far, they haven't taken me up on my suggestion to blow up photos of fresh roadkill as an alternative. Same revulsion factor, 100% more respect for the "human lives" they say their photos represent.

For some women, then, those sixty seconds are a nightmare. Well before they arrive in their cars, they're afraid of that walk. They've been worrying about it, steeling themselves. They don't know what they're walking into, but they're imagining a worst-case scenario. You can tell by how they'll busily step from their cars, shuffling keys and bags or talking very loudly to their companions so as to plausibly ignore you, or pop up from behind the wheel with the words "You need to leave us alone right now" already out of their mouths, before they see you quietly standing and pointing to the word "ESCORT" emblazoned across your neon orange vest. You can tell from the plain relief that floods their eyes when they realize who you are and why you're there. You can tell from the haste with which they apologize for their perfectly understandable mistake, and from the emphatic way they say "thank you" as you open the door for them at the end of that long, long walk.

We do have a very few regulars who come to our clinic to stand in quiet prayer with some brochures to be gently offered, not angrily brandished. And we think of these folks as no threat: if it happens that they are the only protesters on site, we're happy to leave them to it without any supervision from us.

That's pretty rare, however. These rather more Christlike Christians are vastly outnumbered by those who call bullying "counseling" and intimidation "outreach." I'm able to laugh at things like the zygote curling mousse plot because it's just so dumb. But for our clients who don't hang out with these people every weekend, who aren't used to getting screamed at on the street by strangers, who are just trying to go to the doctor's office for Pete's sake (and does it matter if a client is just getting a Pap smear or is gray-haired or is the mailman? no, no it does not), it's not funny at all. It's just scary.

For a nation that claims to cherish its freedoms, America is pretty damned complacent about the harassment that goes on outside abortion clinics. Imagine this circus outside of dentist's offices instead. Imagine what it would feel like, having to endure being called a whore and a killer on your way in to have a bad tooth pulled. Maybe they'd throw little plastic teeth at you; maybe they'd even take your photograph on the way in. People wouldn't stand for it: I have the right to choose my own dental care, they'd say. Who do these people think they are? And even if I were the smallest bit unsure about the choice I'd made, even if some part of me wanted to be talked into a filling and not an extraction--why in god's name would some hostile, red-faced, screaming stranger get a vote?

Maybe there's an element of trolling to that analogy. I could write the outraged top-text for an email forward of this blog myself. "Can you believe it! A LIVING, ALMOST-BREATHING CHILD who will PROBABLY CURE CANCER SOMDAY is nothing more than a ROTTED MOLAR to this BARREN GODLESS WHORE!!!"

Feel free to copy/paste--but if you do, you're missing the point. Bullying never won any hearts or minds, and harassment or intimidation of private citizens going about their private lives is never, never, never a tool for good. There is no place for such tactics of fear in civil discourse, and no one who employs them can be truly called a warrior for good, no matter what they tell themselves while they're packing their bullhorn and their gore posters into the car every morning.

I can't make the protesters who camp out in front of my clinic in the mornings go away. I can't even make them behave like rational, responsible citizens. But I can make sure that the women (and men, and children) who walk into my clinic don't have to run that obstacle course alone, and I believe I can assuage some of their fear. I can shield them physically from shouts and eyes and cameras. I can assure by my presence as a witness that the protesters don't "forget" where the property line is. And I can be one voice of supportive reason, quiet but strong, in opposition to the shouting about the blastocyst deep conditioning cabal:

"I'm a volunteer with the clinic. We have some protesters out front who will try to shout at you. They don't know why you're here, but they're going to shout at you anyway. You don't have to listen to them. I can just walk alongside and keep myself between them and you. I'm sorry you have to deal with this today."

Their fear is why I escort. Their gratitude is why I keep coming back."
M
an in the Middle
25 September 2009
Time Magazine - Hannah Beech - Bangkok

"His mates back in Newcastle, where he was born, and at Eton, where he was schooled, knew him as Mark, a soccer fanatic who later scored first-class honors at Oxford. Today, Thailand's urbane Prime Minister, Abhisit Vejjajiva, says he dreamed of leading his Southeast Asian nation ever since he was a little boy, but he still seems more comfortable roaming the corridors of international diplomacy than engaging in the rough-and-tumble politics of his homeland. Just days ago, the 45-year-old economist headed to New York City to hobnob with world leaders at the U.N. General Assembly. In his inaugural speech to the international body on Sept. 26, Abhisit is expected to reference everything from sustainable development and foreign-investment incentives to the wisdom of Alfred Lord Tennyson. No doubt he will be warmly received.

Yet even as the international community fetes the fresh-faced Prime Minister, Abhisit is being accused back home of an increasing disconnect with Thais living outside the air-conditioned comfort of Bangkok. Despite a brightening economic outlook that his technocrat-filled administration is quick to take credit for, there's no doubt Thailand is fraying at the edges. On Sept. 19, two days before the PM jetted off to the U.N., more than 20,000 antigovernment demonstrators bedecked in their signature red shirts flooded the Thai capital from rural areas to mark the third anniversary of a military coup against their spiritual leader, exiled former Prime Minister Thaksin Shinawatra. The same day, nationalist yellow-clad protesters, who had helped pave Abhisit's path to power, clashed violently with villagers near the Cambodian border, where a border dispute simmers near an ancient temple complex. In the country's largely Muslim south, a campaign of separatist violence claimed more than a dozen victims in September; this year's death toll in the restive region has already reached around 350 and, if the pace of killings continues, the 2009 count will top last year's figure. Little wonder, then, that the country's revered 81-year-old King Bhumibol Adulyadej — whose hospitalization on Sept. 19 for fever and fatigue only added to Thailand's overall sense of unease — cautioned in August that if national unity is not restored, the kingdom could "collapse."

Abhisit is not to blame for the deep national divides he inherited when he took office nine months ago. During his short tenure, he has diligently applied himself to the slow rebuilding of democratic institutions that have been eroded by nearly four years of political turbulence. But so far good intentions have not yielded many concrete results. "Abhisit is the first elected Prime Minister who said he would put human rights and justice at the forefront of his administration in order to promote national unity," says Sunai Phasuk, Thailand researcher for Human Rights Watch. "But he lacks the power to mobilize his coalition government to translate [that] into real action." Abhisit sees it differently. "Things continue to move forward," Abhisit told TIME recently, sitting in Government House, the country's seat of power that twice over the past year was besieged by yellow- and red-shirted protesters, forcing three successive administrations to abandon their offices. "We just have to make sure that only a small minority of people who are bent on violence or making chaos will not be able to cause trouble." Yet by Sept. 20, with dissent bubbling up across the nation, the mild-mannered Prime Minister was reduced to pleading with various political factions to display a little gentlemanliness: "We can express different opinions," he said in a televised address. "But we are all Thais. Please don't hurt each other."

Thailand's political deadlock is often posited as a battle between urban and rural, rich and poor. Certainly elements of these divisions infect the body politic. But the strife is also the result of a clash between two sets of political élites that have failed to find common ground. Pitched against Abhisit, the scion of an old Thai-Chinese family with connections to the country's royalty, is Thaksin, who is everything the current PM is not: a brash, populist, new-money billionaire who was sentenced in absentia to two years in jail on a conflict-of-interest conviction. Both camps have amassed vocal — and occasionally violent — supporters among a general populace that is ever more politically disillusioned. Results of a recently released nationwide poll by the nonprofit Asia Foundation found that less than one-third of Thais feel the country is moving in the right direction. In fact, the U.S. is so worried about the state of the nation that it recently committed funds through its Agency for International Development for democracy-building in Thailand, something it has not done for nearly 15 years.

As Prime Minister, it falls to Abhisit to try to bridge the country's political gulf and restore confidence in Thailand's wobbly democracy. Just by projecting a clean image, the PM may be able to woo more of the foreign investment Thailand needs to continue its economic recovery and to placate northeastern farmers who pine for the days of Thaksin's populist microfinancing initiatives. But first Abhisit will have to control the fractious six-party coalition that propelled him to power in the first place. A seemingly minor scuffle over who should be the next national police chief has riven the alliance. Abhisit's bid to avoid potential demonstration violence by invoking the country's Internal Security Act, sending thousands of soldiers onto the capital's streets on Sept. 19, drew barbs from some coalition members. The PM freely admits the difficulties the nation and his administration are facing — but it's not as if Thailand is teeming with potential leaders who could do a better job than Abhisit has. "We're feeling growing pains," he acknowledged to TIME. "We have to make sure that what to me are very fundamental pillars of democracy can be put into place without being seen as contravening the idea that democracy is about the rule of majority. We have to strike the right balance."

During his interview with TIME, Abhisit enumerated what his administration has been doing to find that equilibrium: more than $1 billion in development aid for the restive south, a hearts-and-minds campaign that contrasts with Thaksin's far more iron-fisted approach; enhanced relations with the U.S., China and Japan, the often contentious trio that are key trading partners for Thailand's export-led economy; and even a gracious acknowledgment that political foe Thaksin did acquire considerable popularity because of his "policy innovations" in rural areas.

But other unity-building efforts have fallen flat, like a project announced by the PM's office on Sept. 15 to induce all Thais to sing the national anthem every evening for a month and a half. The initiative faced ridicule in the national media, but it was presumably designed to placate the nationalist army faction to whom Abhisit's administration is beholden. Thailand also continues to court international criticism for the strict application of lèse-majesté laws that dissuade open discussion of the royal family and succession issues. Under Abhisit's tenure, the number of high-profile lèse-majesté cases working their way through Thai courts has increased. Shortly after Abhisit told TIME that "there has been an improvement [although] there may have been one or two cases which somehow went off the radar," a Thai political activist named Daranee Charnchoengsilpakul was sentenced to 18 years' imprisonment for insulting Thailand's King and Queen during a series of public speeches.

To be sure, it wasn't Abhisit who signed off on the sentencing. But royalists are among his greatest supporters, and publicly criticizing such punishments might be political suicide for Abhisit. A chap named Mark would have had a hard time explaining to his friends back in Oxford how all this fits into the modern Thai democracy he says he's trying to build."
Can Prime Minister Abhisit Mend Thailand?

25 September 2009
Time Magazine - Hannah Beech / Bangkok

"Thailand's Democrat Party hasn't won a popular national election in more than a decade. But on Dec. 15, Abhisit Vejjajiva, the 44-year-old leader of the oldest Thai political party, was chosen in a slender majority by the country's parliament as the nation's fifth Prime Minister in a year. Beleaguered Thais hope that his leadership will put an end to a turbulent few years during which one PM was deposed in an army coup and a sustained anti-government protest movement ended in the removal of three others, as well as the takeover and closure of Bangkok's two airports for more than a week.

But as internationally respected as the incoming, Oxford-educated Prime Minister is, Abhisit helms a coalition that is shaky at best. In order to form a government, the Democrat Party aligned with one of its most vocal critics, Newin Chidchob. An erstwhile ally of ousted Prime Minister Thaksin Shinawatra, who now lives in exile after being convicted in absentia on abuse of power charges, Newin has made his reputation as a hard-nosed pork-barrel specialist. His brand of politics hardly hews to the more urban-centered intellectualism of the Democrats. Indeed, Thailand may be returning to the days of weak coalitions that dry up as quickly as rain puddles in the tropical sun. Even the anti-Thaksin Nation newspaper has questioned Abhisit's "ability to lead veteran politicians in a coalition government." (See pictures of the Thai protests.)

The uneasy alignment of Abhisit and Newin reflects a fundamental rift in Thai society between disaffected rural voters and a disgusted urban elite that cannot fathom the string of populist — and sometimes iron-fisted — leaders whom the masses have been choosing to represent them. Bangkok may gleam with malls and high-rises, but most of Thailand is still a poor country of rice farmers. The Democrats, with the exception of a support base in the Muslim-dominated south, have yet to convince rural voters that their party has the best interests of most Thais in mind. Abhisit has had a hard time gaining some farmers' support because he was born and educated in privilege in England; by virtue of his family background, he is simply not a man of the people. Although Thaksin is a wealthy telecoms tycoon and his cohorts have been linked with various abuses of power including vote-buying, his party's micro-financing and health-care initiatives resonated with the poor, who felt like these politicians were finally addressing their concerns.

Nevertheless, after a dispiriting few months in which Thais have seen their country's near-term economic prognosis go from ailing to moribund — in large part because of the anti-government protests that convulsed Bangkok and scared away tourists and foreign investors since August — the prospect of a Prime Minister who will not cause hundreds of thousands of yellow-shirted protesters to flood the streets must be a relief. True, Thaksin's supporters, who wore red clothes during their rallies to contrast with the opposition's yellow shirts, are hardly pleased. But in a sign that there may be a brief respite from divisive politics, Thaksin told his supporters in a pre-recorded message played to a rally of supporters on Saturday night that "all sides [should] take one step back and respect [the results of the P.M. parliamentary election]."

Thais can only hope that Abhisit's own vow to promote national unity will hold. Otherwise, in a time of global economic peril, Thailand will suffer just as badly as it did back when the Democrats were last in power. That was during the wake of the 1997 Asian financial crisis when the party's inability to discipline unwieldy coalition members led to political paralysis and financial mayhem. Instead of taking decisive action to gird the economy, politicians seemed to spend more of their time squabbling with each other and cooking up corrupt deals that alienated the public. Now that Thailand will be governed by yet another unlikely coalition, no one wants a repeat of that painful period in Thai history."
Visa-free Travel for Thais
25 September 2009
Thai citizens are allowed visa-free access to approximately 53 countries and territories for short-term tourism visits and visa on arrival to 33 countries.
The countries or regions that grant visa-free or visa-on-arrival to ordinary Thai passport holders are:

90 days or more
Armenia (120 day visa issued on arrival for 15,000 AMD)
Argentina
Bermuda (Maximum stay of 6 months)
Brazil
Chile
Ecuador
Ethiopia (on arrival for a maximum stay of 3 months)
Fiji (Maximum stay 4 months)
Georgia (360 days)
Kenya (Visa on arrival maximum stay of 3 months)
Haiti
Panama (Visa on arrival at 5 USD maximum stay of 90 days)
Peru
Madagascar (Visa on arrival at 140,000 MGA)
Nepal (Visa on arrival)
South Korea
Solomon Islands (3 months)
Tanzania (3 month visa on arrival for $50)
60 days
Papua New Guinea (Visa on arrival cost 100 PGK)
Samoa (Visa on arrival)
30 days or less
Azerbaijan (Visa on arrival - $100)
Brunei (14 days)
Burundi (on arrival)
Cape Verde (on arrival)
Cambodia (Visa on arrival - $20)
Cook Islands (31 days)
Comoros
Dominica (21 days)
Dominican Republic - $10 tourist card required
Djibouti (on arrival)
East Timor (Visa on arrival - $30)
Hong Kong
Jordan (1 month visa on arrival - 10 JOD)
Indonesia
Iran (14 day visa on arrival)
Laos
Macau
Malaysia
Maldives
Micronesia
Mongolia
Mozambique (on arrival)
Myanmar (border pass - max. 2 days, Only for Thachilek & Kyiangtong)
Niue
Oman (Visa on arrival - 6 Omani rial)
Palau
Philippines
Russia
Saint Vincent and the Grenadines
Seychelles
Singapore
South Africa
Sri Lanka
Syria (15 day visa on arrival)
Togo on arrival for max. 7
Vietnam
Vanuatu (Extension of stay up to 4 months in any 1 year period possible)
Tuvalu
Uganda (on arrival)
Zambia (on arrival)
Visa requirements for British passport holders are here.
Visa requirements for Canadian passport holders are here.

60 years of modern China
25 September 2009



The 60th anniversary of the founding of modern China will see a massive military parade in Beijing. But it is not all bad news. Here are the ladies of the People's Liberation Army in their crisp powder blue uniforms and kickin' white high heeled boots.
And in the darker blue are the Chinese air force cadets.
Tiananmen Square will see 180,000 people participating in a Grand March Parade and a Gala Night peppered with cultural dances and fireworks to mark the 60th anniversary celebration of the founding of new China. The parade will include nuclear, conventional and cruise missiles, as well as fighter jets, radar systems and surface-to-air missiles.
China at age 60: from pariah to world power

25 September 2009 - from AFP

"Sixty years ago, as Mao Zedong declared the founding of a new communist nation, China was backward and isolated.

Today, it is a world power with sweeping influence -- it is financing America's debt, snapping up access to natural resources in Africa and Latin America, and making its voice heard on major diplomatic issues.

This remarkable transformation -- to be celebrated on October 1, communist China's 60th birthday -- occurred thanks to a radical change in tactics at the midway point in the PRC's history, after three turbulent decades of Maoism.

"A big part of the first 30-year period can be regarded as lost decades for China," explained Ren Xianfang, an analyst at IHS Global Insight in Beijing.

But then as the rest of the world was in "great transition", moving towards market-based economies and privatisation, Beijing embraced a "policy shift to economic and political pragmatism", Ren said -- and everything changed.

A country that was once seen as a pariah, stuck between the United States and the Soviet Union during the Cold War, and which barely gained United Nations membership in 1971, slowly emerged from its isolation.

In 1978, Beijing agreed to establish diplomatic relations with Washington. Then, under paramount leader Deng Xiaoping, it launched a programme of economic reforms that opened up the country to foreign investment.

Francoise Lemoine, a China expert at the Research Centre for International Economics (CEPII) in Paris, says the country's authorities quickly understood how to reap the benefits of the new world order.

"China is opening up at a time when other countries are ready to move their intensive manual labour activities offshore," the French economist told AFP.

"China knows how to take advantage of this new globalisation, of the worldwide movement of capital and goods, and is claiming its rightful place in this new global division of labour."

When Mao and his communists took power in October 1949, China was emerging from the ravages of civil war with the Nationalists, who fled to Taiwan, and Japanese occupation.

The country's gross domestic product had sunk to levels not seen since 1890 -- its 500 million people were largely poor, illiterate and working the land to survive.

Lemoine said the first 30 years in the history of communist China -- typified by the devastating fallout of the Great Leap Forward and the Cultural Revolution -- were nevertheless not a total waste.

The country made "progress in terms of hygiene, health and education -- most young people now have access to a basic education," she said.

Today, China is the world's third-largest economy, the biggest exporter on the planet and has the world's largest foreign exchange reserves, at a whopping 2.13 trillion dollars, 800 billion of which is held in US Treasury bonds.

Beijing is one of five veto-wielding permanent members of the UN Security Council, participates in key international negotiations on Iran's disputed nuclear programme, and hosts the six-party talks on North Korea's atomic drive.

The country is seen as key to resolving the deadly conflict in the western Darfur region of Sudan, where China has major oil interests, and its stance on climate change is considered an essential piece of the global warming puzzle.

Its military is catching up with the West in leaps and bounds, and China is only one of three countries, along with the United States and the former Soviet Union, to have ever put a man in space.

The so-called "workshop of the world" is a global leader in research and development -- China, Japan and the United States accounted for nearly 60 percent of all patent requests filed in 2007.

It is the world's most populous nation, at 1.3 billion people, but barely eight percent remain illiterate. While the rich-poor divide is still of great concern, far fewer people are considered destitute.

Some experts say China has, 60 years on, finally acquired power and influence commensurate with its size, but others caution that it has not yet achieved "superpower" status, in part due to the Communists' iron grip.

"The country is just an emerging power that is still facing lots of uncertainties in its ascent," Ren noted.

"One major obstacle... is that China has yet to be accepted by the world as a leadership charting world values and ideology, which will require drastic political reforms in the country -- and that is unlikely to come to pass soon."

Hu Xingdou, a professor at the Beijing Institute of Technology, agreed, saying such reforms were needed to eliminate any fears about a "China threat".

"The doubts about China will only fade with the development of a democratic, constitutional political system, and once it adopts the values of mainstream civilisation," Hu said."
BA confirms that it is low cost and low service
25 September 2009
British Airways has confirmed that its business model is based on the Ryanair model of low cost and lowest service.
Desperate for new revenue BA is in danger of losing most of its economy business with a brazen and artless money grabbing initiative that means that from October 7th British Airways passengers will have to pay to choose their seats before they travel.
Here's how British Airways described the new fees in their e-mail to agents: "Effective Oct. 7, 2009, your British Airways customers will have more control over their seating, with our new paid seating option."
That is offensive. Tawdry. Insults the intelligence.

From October 7 the following charges will apply for preselecting seats:

£10 per person per sector in Euro Traveller and on domestic routes
£20 per person per sector in Club Europe, World Traveller and World Traveller Plus
£60 per person per sector in Club World
Customers in World Traveller and World Traveller Plus will also have the option to pay £50 to secure exit row seats, from ten days pior to departure.

Those who choose not to avail of the new service will be left to fight over the remaining middle seats of next to the toilet or galley seats. Clearly BA is expecting that most passengers will pay the fee; so this is basically a disguised price increase!
Charging a business class passenger an extra gbp60 on top of the high business class fares sounds like extortion!

So a family of four who want to avoid being in middle seats scattered around the plane are going to have to pay and additional gbp 160 (usd 300) for their round trip airfare.
Low cost carriers have for some time added extra charges to reserve popular exit-row seats and aisle seats. But low cost flight are generally short haul. Imagine separating families for the 8 hour transatlantic flight of for 13 hours to the far east.
A BA spokesman said that "it's a service that benefits the customer and at the same time generates revenue for British Airways."
How about making the booking the EK way - and simply allowing people to reserve a seat when they make a booking?
The answer - time for people to boycott BA. I imagine Branson's Virgin Atlantic will have a field day with this,
Shareholder value or give us the money?
25 September 2009
From the Guardian
"The increasingly bitter takeover battle for Cadbury was reignited tonight as its embattled chief executive, Todd Stitzer, launched a withering criticism of "unbridled" capitalism, which he argued destroys shareholder value. Stitzer's incendiary speech will be seen as an emotional appeal to shareholders to keep Cadbury independent in the face of the US food conglomerate Kraft's £10.2bn bid for the British-based chocolate manufacturer.

Speaking at a fair trade retail conference in London today, Stitzer defended his firm's "principled capitalism". Without it, he said, "you risk destroying what makes Cadbury a great company."

"We see this principled capitalism, which has been woven into the very fabric of Cadbury over the course of almost two centuries, as fundamental to our ways of working and part of our identity and success. Take it away or dilute it and you risk destroying what makes Cadbury a great company," he told delegates at the Fairtrade Foundation conference.

Though Stitzer did not mention Kraft, he went on to attack overleveraged deals, warning shareholders that such bids risked destroying long term value. His words appear to play to fears expressed by Warren Buffett, a big Kraft shareholder, who last week warned the US firm that it must be wary of overpaying for Cadbury.

Stitzer said: "Painted with a broad brush, it [capitalism] is characterised as a one-way relationship in thrall to profit margins and shareholder returns. But I have always believed there is more than one type of capitalism. It is true that unbridled capitalism can be a destructive beast, not just to those it does business with but to the company itself. History shows that those who operate in this way inevitably come undone. They over-leverage and under-invest to the detriment of the whole enterprise. The recent past has presented numerous examples, which all business leaders and shareholders would do well to learn from."

Stitzer was thrown on to the defensive this week for reportedly telling City bankers that a combination of Cadbury and its US suitor "made some strategic sense". But his aides today strongly reiterated that he was intent on doing everything in his power to keep Cadbury independent and out of the clutches of Kraft.

The Cadbury boss made a robust defence of the firm's performance under his stewardship. "Over the last five years we've delivered on average over 6% growth in revenues. Gained around 20 basis points of market share each year. Added 40 basis points of margins a year and delivered 10% total shareholder return, notwithstanding the [2008] decline in global equities."

Kraft approached Cadbury with an indicative offer valued at £10.2bn or 745p a share. At 13 times earnings, Cadbury argues the bid dramatically undervalues it. Kraft has been characterised as a profitable but dull firm desperate to break into emerging markets, where Cadbury is well positioned. Kraft says taking Cadbury under its umbrella would create a snacks and confectionery "powerhouse" with sales of more than £30bn. It would add famous British brands such as Dairy Milk, Green & Blacks and Creme Egg to Kraft's household brands that range from Maxwell House coffee to Oreo biscuits, Ritz crackers and Philadelphia cheese.

But Stitzer, in a tribute to the firm's heritage, outlined the historic role Cadbury had in the wider world, building housing and leisure facilities and being among the first firms to introduce pensions and paid leave. "The Cadbury family were Quakers who started selling drinking chocolate as an alternative to alcohol in 1824. They wanted to be a 'force for good in a troubled world' [and] 'an asset to the neighbourhood' … This performance-driven, values-led way of doing business has built a unique corporate brand," he said.

Kraft has sales of £25.7bn to Cadbury's £5.4bn. Irene Rosenfeld, chief executive, is "confident" it will carry off one of Britain's crown jewels to Kraft's Illinois home.

Cadbury insiders maintain Stitzer's "blood runs purple" – the firm's corporate colour. There are fears that a winning offer to shareholders by Kraft – thought to be above 850p – would see the reversal of Cadbury's recent commitment to the fair trade movement. The firm's Fairtrade accreditation for Dairy Milk is seen as a huge fillip to a growing movement that achieved £750m sales last year in the UK."
Emirates fleet planning
24 September 2009
The Dubai AirShow is only two months away and the airplane manufacturers and home-based Emirates airline would badly like to announce something substantial at the showcase event.
It may be that the announcement is a reworking of last year's Airbus announcement but any comfirmation of the order would be welcome.
EK signed a letter of intent for 30 A330s in July, 2008 when it took delivery of its first A380, but the order was never confirmed and has apparently lapsed as fuel prices soared and the economic downturn took hold.

Emirates is looking at the market for off-peak service from Dubai to new secondary cities, where connection times through DXB are not as critical as the peak hour services and where connections may be 3 or 4 hours rather than less than two. For instance this would see a bank of arrivals at 10pm for the 2am departures rather than after 11pm.

Tim Clark at Emirates has commented that now is a great time to buy aircraft. A 747-8I order is unlikely as Clark says the A380 is generating such high loads that the Boeing offering is "no longer an option."
Emirates 2008 order also included 30 A350 XWBs.

Emirates continues to forge ahead with new widebody deliveries - it is taking 22 A380s and 777s during its current financial year, which began on 1 April 2009 - and Clark says the passenger fleet will number about 145 aircraft by next summer.

However, from September next year, the airline will start phasing out up to 58 of its older aircraft, including 29 A330-200s, eight A340-300s and 21 777-200ER/300s.

There are already 70 firmly ordered A350s (50 -900s and 20 -1000s) due to arrive in 2014; in addition to the stalled 30 in the 2008 letter of intent.

Clark says Emirates' future fleet composition plan is being driven by the fact there has been a major rethink on the expansion strategy for Dubai's current international airport, following the decision to push back development of the all-new hub at Jebel Ali. "We're looking at what one can do here to maximise Dubai International," he adds. "One thing is to make the aircraft bigger."
Living up to the stereotype!
24 September 2009
A new reality show based on the lives of flight attendants will debut mid season on US television. The show, called "Fly Girls", will follow the lives of five "beautiful Virgin America flight attendants jet from one glamorous location to the next … while pursuing good times, great parties, adventures and love".
Of course, given that this is a US show, the glamourous locations and LAX and JFK. Not so glamourous.

Kristen Vadas, who oversees reality programming at the CW, the television station which will be broadcasting the show, says the program reflects the real lives of the flight attendants.

"This show is about real, down-to-earth young women who happen to have landed in an exceptionally glamorous, high-flying career filled with exotic locations and handsome strangers," she said.
Not so exotic and not so handsome. Budget travelers flying red-eyes!

She said their personal lives are filled with "romance, family, friendships and more than a few roommate conflicts".

The program will also deal with their work lives including demanding and fascinating passengers, long hours in the air and layovers.

"We're thrilled to be working with Virgin America for this unique peek into a whirlwind lifestyle that shows how tough it is to be grounded when you work 35,000 feet in the air," Porter Gale, Vice President of Marketing at Virgin America, said.

The show will be filmed at various US locations including Las Vegas, South Beach, Las Angeles and New York City.

Fly Girls is due to premiere early next year. Now how about a reality show based upon EK's multinational crew; their new homes in Dubai with a 1am curfew and exotic turnarounds to Dhaka and Male!
Sydney sees Red
23 September 2009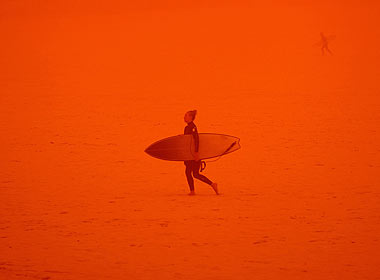 A storm which blew in from the Australian outback blanketed Sydney in a layer of orange dust today. Flights into the airport were diverted and harbout and public transport disrupted.
There are some great photographs online. But this one seemed to sum up the day perfectly.
Did PM know of military budget increase?
23 September 2009
It does seem more than a little unusual that the Thai cabinet decided to allocate an additional 10 billion baht (US$297 million) for the Thai navy, army, SCHQ, and police, while the PM was away in New York for the UN General Assembly meeting.
The proposal was spearheaded by the defense ministry, under Gen. Prawit Wongsuwan, as part of a "tie-over budget".
Did the PM know ahead of time about the decision or did the cabinet, led by acting PM Suthep, decide to go behind the PM's back and approve the new budget?
It does look as though this is a case of giving the military what they want without thought for the current economic recession or the much touted stimulus spending. Most of the new purchases will be imports from foreign weapons manufacturers.
If the approval was without Abhisit's certain agreement then Acting PM Suthep and the Newin BJT party are emphasizing their power and influence. It would also show just how divided the BJT and Democrats are.
The timing is strange - surely the country expects the PM to take the lead on such a major decision and cost.
Getting high in Dubai

23 September 2009

There will be an observation deck on the 818-metre Burj Dubai, on the 124th floor of the 160-floor building, officials have announced.

In addition to a 360-degree glass observation deck, an open-air balcony will also be available for those who have no fear of heights.

It is not clear whether the observation deck on the Burj Dubai will be the highest in the world.

Currently, the highest is on the 100th floor of the Shanghai World Financial Centre, at 474 metres on the 492-metre building. The second highest is on the 147th floor of Toronto's CN Tower, at 446 metres on the 553 metre building.

Those who seek to ascend to the observation deck of the Burj Dubai will first go through a 10-part exhibition that will show how the building was made.

Visitor will travel 65 metres along a travelator from Dubai Mall to the Burj Dubai, in which they will learn about the history of the city and of the project.

Following that, guests will board a super-fast, double-level elevator from the lobby area, and will reach the 124th floor in just 60 seconds.

The exact opening date of the Burj Dubai has remained a closely guarded secret since the project was delayed from opening this month. However, many have speculated that the opening could coincide with UAE National Day on December 2.

A statement from developer Emaar on Tuesday said that the building would open "this year". Which basically means they are not sure if they can meet the 2 December date!
Flydubai's indian pickle
22 September 2009
Flydubai is in a pickle over its Indian routes.
With some 50 Boeing 737NGs on order Flydubai was relying on the opening up of routes to South Asia to fill its airplanes. Instead the launch of its service connecting smaller Indian cities with the Middle East has been delayed dues to strong lobbying by Indian carriers and opposition by India's political parties.

Just three days ahead of its inaugural flight from Lucknow to Dubai, the low-cost carrier had to announce a 'delay' in its operations back on 10 July. Flydubai's plans sawh many members of the Indian Parliament raising questions over the access accorded to foreign airlines under Bilateral Air Services Agreements. The airline was originally given permission by India's Ministry of Civil Aviation to fly from six destinations in India. This appears to have been withdrawn.

Flights to the UAE are lucrative for airlines flying from India. Indian airlines such as Jet Airways, Air India and Kingfisher Airlines have a significant part of the market share in this segment. Competition, especially during times when the industry is going through a downturn, would have directly hit their income and profitability. They too put up stiff resistance to Flydubai's plans according to quoted government officials.

Flydubai was seeking to fly to Chandigarh, Coimbatore, Jaipur and Lucknow. But on 10 July, Flyddubai cited operational reasons for 'delaying' its India launch. It is uncertain when operations will commence.

Flydubai had booked full flights for its inaugural service from the three cities of Lucknow, Coimbatore and Chandigarh. The one-way fare to Dubai was attractively priced at around Rs 4,500 (US$94) on an Airbus 737-800, with a maximum capacity of 189 in an all-economy class configuration.

The bilateral air services agreement between India and the UAE of May 2007 allowed each side a weekly seating capacity of 29,100 in each direction. According to the agreement, UAE's carriers had nine points of calls in the country which are Delhi, Mumbai, Chennai, Kolkata, Kochi, Hyderabad, Thiruvananthapuram, Bangalore and Hyderabad. With sanction of Flydubai's four smaller cities, the total number of points of call in India had risen to 13.

Earlier, the Ministry had turned down the UAE government's request for additional capacity from Mumbai, Bangalore, Hyderabad, Amritsar, Trichy and Mangalore.
Meanwhile the Indian carriers have problems of their own. Jet Airways is still recovering from a pilot strike and Kingfisher has dramatically scaled back its international ambitions. For Indians and NRIs Emirates, and to a lesser extent Eithad, are their airlines of choice for international travel.

Coup induced happiness
22 September 2009
Happiness is - a good coup !
In one of the more entertaining statements of the last week the leader of the September 19 2006 coup, Gen Sonthi Boonyaratkalin, insisted on Tuesday that the military takeover in 2006 had made Thai people happy.
That makes sense. Removing an elected government. Implementing martial law. Tanks on the streets. A year of army rule.
I am sure a few of the Bangkok elite were happy. I am sure many were mightily relieved that the coup passed without bloodshed.
But the coup has led to three years of political uncertainty; of street riots and airport occupations. Happy - no. Concerned - yes.

Gen Sonthi was army commander-in-chief when he led commanders of the armed forces in the military coup which toppled prime minister Thaksin Shinawatra from power and then set up the Council for National Security.

He admitted that political problems had escalated since the coup and said it was up to the leader of the government to settle political conflicts.

The coup-leader said the 2007 constitution was not the cause of the current political dispute, as claimed by many politicians. he forgets that the Army prescribed 2007 constitution rolled back many of the freedoms of the 19997 constitution.

The retired general said it was correct he was invited by the Puea Thai Party to attend a seminar to mark the third anniversary of the Sept 19 coup, but he had turned down the invitation as he had other commitments.

Bangkok airport's superficial makeover
21 September 2009
Bangkok Airport is under makeover instructions. But it is superficial. And sadly it is likely to be temporary.
The problem is that the AoT and its officials need to clean up their act. If not then the peddlers and touts will never go away. But no one seems to want to tackle the AoT.
Even in the baggage hall you will be accosted by the AoT's uniformed touts telling you that you need "their" taxi and asking "where you go?"
These people are not a taxi service - they are an airport controlled limousine service. Sure it will be a comfortable ride. But it could also be many times more expensive than a public taxi.
As you walk out of the customs area there is another gauntlet of AoT touts - taxi mister. They are not taxis.
But the public taxis and buses are hidden away in remote parts of the terminal. Why. To boost the AoT's own limo service.
When the new rail network opens after 5 December this should improve access to the city. But at Baht150 a ticket if there are two adults then it may still be cheaper to take a taxi.
Among the cosmetic changes baggage handlers at Thailand's main airport now wear uniforms with pockets sewn shut to prevent pilfering. I wonder how many of those pockets are still sewn shut. They are not new uniforms. They just sewed up the pockets on the old ones!
One piece of good news - cushions are being added to metal seats at departure gates derided as a "pain in the rear."
But no one is dealing with airport prices. Baht100 for a small bottle of water that is 10 baht at 7-11; but which you cannot take through security; even if the bottle is sealed.
King Power still have their duty free monopoly. And little appears to have been done to address despite highly publicized claims by European tourists that they were falsely accused of shoplifting at duty-free stores and then taken to seedy motels and extorted by a police interpreter.

Even airport officials suggest that part of the problem appears to be that senior AOT officials were sanctioning the touts in exchange for kickbacks.

The crackdown has been a regular topic of letters to the editor and editorials that urge authorities not to relent, predicting touts will return once arrests stop.
Thai military threatens to use noise weapon
19 September 2009
Thais do like noise. The first thing they will do on entering a room is turn on the television at full volume.
Then there are the pick up trucks mounted with speakers blaring out Thai karaoke twenty-four hours a day.
The police have gone a step further. They have a noise weapon.
The LRAD or the long range acoustic device that has been developed by American Technology Corporation is capable of emitting a maximum of 151Db sound within 30 degrees of where the device is pointing. This device can be used as a combatant deterrent weapon or crowd-control device by emitting sounds that are painful to the ears.
The trouble is that it needs proper training before use and it can cause lasting damage.

The range of the LRAD is 300 to 500 meters and, at maximum volume, it can emit sound 50 times greater than the human threshold for pain.

The loud sounds the LRAD emits may cause permanent hearing damage to those within its range.
Carl Gruenler, (former) vice president of military and government operations for American Technology Corp. (and who now runs a company making a competing device), says that being within 90 metres (98 yd) of the device is extremely painful, but its use should be limited to 270 metres (300 yd) to be effectively used. He concedes that the device is powerful enough to cause permanent auditory damage, but that it is only meant to be used for a few seconds at a time.

Countermeasures may include the use of passive hearing protection (earplugs, headsets), which may bring the sound down to ineffective levels. In addition, sound could be reflected from a solid surface, and redirected back to the originator.
So sales of red coloured ear plugs should do well at today's Bangkok rally.
Three Years On
18 September 2009
The last coup in Thailand was three years ago - Thai politics has been on a three year hiatus. An unelected puppet government serves at the behest of the army.
The following pages are links to events three years ago:
New reports from September 2006.
A who is who of the coup leaders.
Government finds solution to Thai problems
18 September 2009
Forget infrastructure investments or campaigning against corruption.
Thailand has its own unique way to make things better. Firstly set up a government committee called the Committee to Promote the Confidence and Image of Thailand.
And then let the Committee propose that Thai people in all provinces come out to sing the National Anthem at 6 pm every day until 5 Dec to promote unity and patriotism. The events will be broadcast live from each province, starting with Krabi.
Does this mean stopping traffic at 6pm every day for a sing song?

PM's Office Minister Sathit Wongnongtoey says that the Cabinet had approved the "United and Strong Thai Project" to urge the Thai people to love the country and act in the best interests of the nation, not of certain individuals. So at least the people will behave differently from most of the politicians!

He wants the people to show their patriotism every day by singing the National Anthem, and ask themselves when was the last time they sang the song.
The activities will be held in each province, starting on 20 Sept in Krabi, as the first province alphabetically in Thai, to the last province on 4 Dec.

The project was proposed by Sathit as Chair of the Committee to Promote the Confidence and Image of Thailand, citing current political conflicts as the reason to implement this project.

Later today, the Prime Minister will preside over the launch of the activity, and sing the National Anthem with Cabinet members, troops and others at Government House. And then all 76 provinces will take turn to hold the activity each day, with provincial governors leading the singing.

And on 5 Dec, the PM will host the closing ceremony and sing with representatives from all provinces at Sanam Luang, Bangkok, to celebrate the King's birthday.

The activities will be broadcast live from each of the provinces through all TV and radio stations every day. Before each day's broadcast, a 2-minute documentary will be shown featuring the patriotic feats of people in that particular province.

Sathit thinks that having people "show their patriotism every day by singing the National Anthem" is meaningful. He proposed it "as Chair of the Committee to Promote the Confidence and Image of Thailand, citing current political conflicts as the reason to implement this project."

I cant help but feel that this is more like a facsist state - it sounds more like Mussolini's Italy than a modern democracy.
Will there be a roll call? What happens to officials who do not take part?

Shoot the messenger
17 September 2009
The Thai media is reporting that a Thai video production company involved in the filming of alleged extortion of foreigners by a Phuket jet ski operator is to be prosecuted for sending the recordings abroad for broadcasting without permission.

Wanasiri Morakul, director of the Thailand Film Office which comes under the Tourism and Sports Ministry, yesterday said police had traced the tapes to a company called Black Sheep Productions.
The website of the Thailand Film Office is here.

She said the managers of the company, which had produced the Big Trouble In Thailand series for Bravo All News station in England, admitted to holding the copyright for the recordings.

Ms Wanasiri said normal videos made by Thais do not require prior approval from the ministry's Office of Tourism Development.

But the people responsible for the Big Trouble In Thailand series, which has been a big hit on YouTube, had violated Article 34 of the motion picture law by not having the contents examined by a Tourism and Sports Ministry film committee before they were broadcast abroad.

The company's managers could face 12 months in jail and/or a fine of up to a million baht.

Seksan Nakawong, director-general of the Office of Tourism Development, said the film-makers also violated Article 23 of the same law for making a film tarnishing the reputation of Thailand.

The first two episodes feature Phuket jet ski operator Vinai Naiman, also known as "JJ", demanding compensation from a British client, a marine on rest and recreation leave.

In the footage of the British marine, Mr Vinai was seen going to a storeroom and returning with a gun which he dangled by his side.

Sasisupa Sungvaribud, president of the Film Production Services Association, said the recordings took the form of a reality show and the events depicted were obviously staged and scripts written for the film.

Meanwhile Tourist Police chief Adis Ngamjitsuksri has conceded the extortion of tourists was a problem which the police alone could not stamp out. Remember the show was made with the co-operation of the Tourism police.
Where power lies
17 September 2009
The Economist - seeking to get yet another edition banned in Thailand - but a useful summary of the role of the Thai army in national politics; and of the three years since the September 2006 coup. The controversial note is in the last line.
The reality is that the army is unlikely to remove Abhisit now. Army leaders now control all the key positions and benefit from a military budget that has significantly increased - this is a very different scenario from Sept 2006 when Thaksin was asserting his own control over the army.

People still talk of September 2006 as a "good" coup. As I wrote at the time there is no such thing. The army has reasserted itself and Thailand is only a democracy to the extent that the army will permit.
"Coups are such an old-fashioned way of running things
Autumn in Thailand is coup season. Three years ago the prime minister at the time, Thaksin Shinawatra, flew to New York for the United Nations General Assembly as rumours circulated in Bangkok of a plot against him. His army chief denied them. On September 19th 2006 he seized power. As he sets off for this year's UN meetings, the current prime minister, Abhisit Vejjajiva, will be hoping that history does not repeat itself. Since Mr Thaksin's ousting, Thailand has been convulsed by political fighting. The army has played a decisive role, even after it donned a figleaf of civilian rule. Few expect the generals to go back to their barracks soon.

To mark the third anniversary of the coup, Mr Thaksin's red-shirted supporters plan to rally in Bangkok. A big show of force is likely. A controversial security law allows troops to restore order if the police cannot manage—and a political row over the appointment of a new police chief has already rattled the force.

Mr Abhisit has tried to reassure nervous Thais that his squabbling, nine-month-old coalition government is on good terms with the army. The top brass have given their usual no-coup pledges. This time, they are probably sincere. It would seem rash to unseat Mr Abhisit, whom they helped to install after the courts dissolved a pro-Thaksin government, and who remains beholden to them.

Army officers like to grumble that politics in Thailand, unlike soldiering, is a dirty game. But it is a game that they have rigged to their advantage. After the coup, the liberal 1997 constitution was replaced by a less democratic one. They have secured a bigger budget allocation allowing them to give friendly politicians a hand. And a tough new internal-security act was passed with minimal oversight.

This proved handy after Mr Thaksin's allies won an election in December 2007 and an inept military government was disbanded. Within months, yellow-shirted royalist protesters were back on the streets in Bangkok, refusing to leave until the government did. In the ensuing chaos, it was the army that arguably emerged on top. Urged by yellow-shirts to stage another coup, General Anupong Paochinda, the army chief, demurred. But when he refused to disperse the crowds at Bangkok's two airports last November, and instead urged the prime minister, Somchai Wongsawat, to resign, the effect was the same.

After the mess it made in power, the army is much happier pulling the strings, says Paul Chambers of Heidelberg University in Germany. It has all the legal tools it needs to keep civilians like Mr Abhisit in line, without the bother of having actually to run the country.

Of course, General Anupong's reluctance to seize power need not preclude others from trying. Many of the 18 coups since 1932 have turned on factional rivalry within the top military ranks during the autumn shuffle of commands. But General Anupong has promoted his followers and penalised officers suspected of Thaksinite loyalties. He is due to retire next year as head of the army, the most important branch of the armed forces. His anointed successor is his deputy, General Prayuth Chan-ocha, who is young enough to serve until 2014. He is reckoned to be even more conservative than his mentor, and even readier to crack heads to defend national security and the revered monarchy. General Prayuth is likely to play a crucial role during the much-feared succession to the king, Bhumibol Adulyadej, who is 81.

Among Thais, the army commands both respect and suspicion. A recent survey by the Asia Foundation ranked it second behind the judiciary as institutions with integrity (the monarchy was not an option). But only 37% of respondents said it was neutral. Its reputation has improved since May 1992, when troops massacred scores of demonstrators in Bangkok. Never again, came the refrain. Soldiers were spat on in public. But successive civilian governments failed to overhaul the 300,000-strong armed forces. They still have several hundred active generals, many without even a desk. The tally of 36 four-star officers is just behind America's 41. But America's army is four times larger—and at war.

Mr Thaksin, who came to power in 2001, crossed the army in two ways. Firstly, he kept a lid on spending, meaning fewer fat commissions on the procurement of expensive weapons. Second, he interfered in annual promotions. Within two years he had installed his cousin as army chief. That put him at loggerheads with Prem Tinsulanonda, a retired general and former prime minister, who is the chief adviser to King Bhumibol. Assigning the most senior ranks had been the purview of Mr Prem, who chairs the Privy Council. Upstart politicians were not supposed to meddle. The resulting Prem-Thaksin feud and the 2006 coup pulled the army firmly back into politics, if indeed it had ever really left.

Asian democracies like Indonesia and South Korea have put military rule behind them, yet Thailand is swimming the other way. A civilian government with an electoral mandate might start to turn it around. But the elite in Bangkok would not tolerate another pro-Thaksin government. On September 19th the red-shirts are determined to march on the house of General Prem, the alleged mastermind of the 2006 coup. Thailand's army sees itself as the defender of the crown and suspects a republican agenda among reds. For that reason, the generals will be loathe to let go until the succession is over. But repressing a mass movement in the name of a charismatic king is one thing. As Nepal's army found in 2006, doing the same for an unpopular monarch, as Thailand's crown prince would be, is a recipe for defeat."

Anything can happen
17 September 2009
Saturday marks the third anniversary of the coup that removed ex Prime Minister Thaksin Shinawatra from office. His red shirted supporters (under their UDD umbrella) will rally in Bangkok and insist the rally will be peaceful.
But after a year of airport occupations, Songkran riots and political intrigue anything could happen - and this is Reuters analysis of the possible outcomes:
"Thailand's government enacted a tough security law on Tuesday giving the military broad powers to control a planned rally this weekend by supporters of exiled former premier Thaksin Shinawatra.

The Internal Security Act (ISA) allows the military to restrict the movement of "red shirt" protesters and act fast in the event of clashes during the rally, which marks the third anniversary of Thaksin's overthrow by the army.

Critics of the "red shirts" say they will try to provoke violence to bring down Prime Minister Abhisit Vejjajiva's fragile government while it is at its weakest point. The pro-Thaksin camp maintains the protest will be non-violent.

The following are possible scenarios linked to Saturday's rally, based on interviews with risk analysts and academics.

PROTEST TAKES PLACE, PASSES WITHOUT INCIDENT

With rifts in Abhisit's wobbly coalition deepening by the day, the "red shirts" or United Front for Democracy against Dictatorship (UDD) as they are formally known, will have little to gain by provoking violence, especially after riots in April that seriously discredited the movement.

With or without UDD pressure, Abhisit's government looks to be unravelling. Cracks are appearing, not only between coalition partners but in Abhisit's ruling Democrat party. Constant squabbles coupled with a clear lack of consensus have dented public confidence in the 9-month-old government.

Thaksin's supporters know a big show of support, without violence, would be sufficient to chip away at Abhisit's credibility. Most analysts say a peaceful rally is the most likely scenario, one that would have little impact on markets.

PROTEST TURNS VIOLENT, MILITARY STEPS IN

Critics of Thaksin, including the "yellow shirts" movement, say time is running out for the fugitive billionaire and believe he will try to orchestrate a disturbance at the rally to provoke violence and bring down the government.

The military may also need to take control given the current resentment of Abhisit by the some senior police officers after he relegated the country's influential top cop, General Patcharawat Wongsuwan, to an inactive post when he was on the verge of retirement.

The Thaksin-backed Puea Thai Party, the UDD's parliamentary arm, had warned against the use of the Internal Security Act, saying some hard-core supporters, or thugs hired to discredit the UDD, will stir-up violence to provoke a crackdown or even a coup.

Under this scenario, Thailand's stock, currency and debt markets could face aggressive selling. However, most analysts believe violence is unlikely because clashes would be unfavourable to all parties involved.

"Currently, none of the major political forces in the country have the ability -- or even willingness -- to upset the uneasy situation we have today," said Roberto Herrera-Lim, an analyst at Eurasia Group. "Our view is that this is simply a waiting game."

CLASHES TAKE PLACE, ABHISIT DISSOLVES PARLIAMENT

Pressure has been piling on Abhisit from the UDD, coalition partners and even his close aides, prompting speculation about house dissolution and new elections. However, snap polls would only favour the pro-Thaksin camp and are therefore unlikely.

Public dissatisfaction with the government's handling of the economy, the political crisis, the H1N1 virus and the insurgency in the deep south means the two dominant coalition parties -- the Democrats and the Bhumjai Thai Party -- would probably not fare well in a public vote and would therefore seek to avoid this.

House dissolution would not be a market-friendly scenario and would heighten the prospect of more political strife, with a negative impact on Thailand's $260 billion economy, the second-biggest in Southeast Asia.

VIOLENT CLASHES OCCUR, ARMY LAUNCHES COUP

Rumours are swirling about a military power grab, but in a country that has undergone 18 actual or attempted coups in 77 years of on-off democracy, this is nothing new.

Abhisit still toes the military's line and the army has sent no signal to indicate it is ready to launch another putsch.

Although the threat will always loom when there is trouble in Thailand, it is unlikely the army will risk further destabilising the country.

Should this happen, it would be the least market-friendly scenario given the abysmal performance of the last post-coup government, which employed botched economic revival measures and failed to deliver its pledge to strengthen the democratic system and root out corruption."

TV show causes big trouble in Thailand
17 September 2009
The truth hurts ! And maybe a better headline for the Bangkok Post would be - Tourists finally fed up with decades of scams. But no - the Bangkok Post puts its head in the sand and opines - "Police furious over 'staged' video nasties."
As I have mentioned in my blog "Big Trouble in Thailand" is the latest production from British producer/director Gavin Hill and comedian Rory Bremner's Vera Productions for Bravo Channel and filmed with the cooperation of the Thailand Tourist Police.
The first episode aired two weeks ago. The series is being shown on Mondays as it is edited in the UK. With two episodes gone there are six more to follow.

The program tracks the travails of British tourists in both Phuket, Samui and Pattaya, with holidaymakers getting in trouble mostly with drink and drugs, but of course some sex, guns and rock-and-roll thrown in. Episode 1 spotlighted a skint young woman at a Koh Phangan Full Moon Party, who got caught with her boyfriend's ganja and gets locked up; some British Royal Marines who ignore good advice and rent a jet ski in Phuket only to get ripped off, and the work of a squad of Pattaya foreign police tourist assistants.
Is it sensationalised. Probably not. The jetski rental guys are crooks. Dumb tourists take drugs in Thailand despite the ample warnings everywhere. Idiot drunks get themselves in trouble and get the crap kicked out of them by locals. And ladyboys happily pick the pockets of gullible foreign men.

But the Thai response has the authorities loudly protesting that the incidents shown have been made up to damage Thailand's tourism reputation. Yet the show was made with the support of the Thai police !
Anyone who has spent time in Phuket or Pattaya would know that there is not only the JetSki Mafia but the Beach Chair Mafia, Tuk Tuk, Mafia, Baht Bus Mafia etc that will do what they can to scam people including the locals that live there.

Pol Lt Gen Santhan Chayanont, chief of Provincial Police Region 8 which covers the upper South, yesterday said efforts to tarnish Thailand's image might be coordinated. Next thing we know is that they will be blaming Thaksin !

Pol Lt Gen Santhan said the arrest of the British woman was real. She was found with marijuana in her possession. In her testimony through a translator, she confessed.

Pol Lt Gen Santhan said the way clips had been made suggested a set up. They had been edited to tarnish the image of both Thai tourism and the police force and presented only the negative side of the story through narrators, he said.

Pol Lt Gen Santhan ordered police investigators to find out if any Thai individuals were involved in the making of the footage. They could face criminal charges.

He also ordered his subordinates to run a check on the production of the clips and report the findings to him as soon as possible.

The producer of the video clips, Gavin Hill, and some of those involved have told British freelance journalist Andrew Drummond and noted on other web sites that the footage was not faked or stage-managed and there was no intention to damage Thailand.

Phuket governor Wichai Praisa-ngob yesterday said the clips might have been produced by someone who stood to benefit from Thailand tourism losing its competitive edge. Thailand really has done a good job of that over the last year without any foreign help. Or were the airport closures staged by foreigners as well?

The local fixers for Big Trouble must now be wishing that they had been working on Amazing Race or a mushy Tourism Authority video.
The reality is that the viewing figures for Episode 1 were 113,000 in the UK – out of a country of 60-odd million. The show is on a small cable network targeting an audience primarily of 18-35 year old males. Exactly the people that the show follows in Thailand. The reaction of the authorities and with the help of You Tube/internet etc have greatly boosted awareness of the show.
The authorities are suggesting that the people involved in the making of the programme will now be called in for questioning so that appropriate action can be taken against them. They will be looking to see if they applied for all the correction permission forms and that all taxes were paid. If not they are threatening criminal action. I suspect the Amazing Race producers had local fixers; but that was a different show.
Meanwhile on YouTube it does appear that there are people posting remarks to discredit the authenticity of the videos.

The Thailand Film Office has apparently also sent a letter asking the British broadcaster not to screen any more episodes. Episode Three, being edited in Britain, is being completed for broadcasting on Monday.
The trouble with the Thai response is this need to shoot the messenger. Thai tourism has been thumped by airport closures, riots, H1N1, and other episodes of poor publicity. The right response would be to clean up the tourism industry. But we are talking about a country where the Asia Foundation survey 94% say corruption in government is at least fairly common, with 65% thinking it very common. Scams are common place. There is a web site devoted to them - www.bangkokscams.com
As for the show; it really says nothing new about Thailand; and is more of a health warning to British travelers or anyone who comes into contact with them.
Whither Istithmar?
15 September 2009 - from Bloomberg
"Dubai investment firm Istithmar World may be the first sovereign wealth fund to liquidate after a $27 billion spending spree financed largely with borrowed money, people briefed on the matter said.

Unlike government-controlled funds in Kuwait and Abu Dhabi, flush with cash from oil production, or in China, backed by export earnings, Istithmar fueled purchases such as the takeover of Barneys New York by borrowing as much as 90 percent of the money, the people said. Istithmar's parent, Dubai World, tapped Middle Eastern and European banks including Barclays Plc, Royal Bank of Scotland Group Plc and Deutsche Bank AG, leaving those three with combined debt holdings of at least $1.5 billion, the people said.

"Dubai sovereign wealth funds are leveraged like private equity funds," said Rachel Ziemba, a senior analyst covering sovereign wealth funds at Roubini Global Economics, a New York- based economic research firm. "Istithmar belongs to a parent company with a significant amount of debt coming due."

Istithmar contributed about $2.5 billion of its own cash to back $27 billion of purchases since 2003, the people said, speaking anonymously because the strategy was private. It used so-called non-recourse bank loans, backed by specific assets, to finance about 75 percent of its acquisitions, one of the people said. The rest was funded with a mixture of its own cash and money borrowed from banks on a term-loan basis that was backed by Istithmar or Dubai World, the person said.

W, Mandarin Oriental

Istithmar's deals were part of Dubai ruler Sheikh Mohammed bin Rashid Al Maktoum's attempt to raise the Arabian Peninsula emirate's profile as he tried to vault it into the top ranks of the world's financial centers.

Under Chief Executive Officer David Jackson, the former Lehman Brothers Holdings Inc. executive who has led the fund since 2006, and his predecessor, Muneef Tarmoom, Istithmar roamed the world to target high-end businesses. The fund bought a stake in Perella Weinberg Partners, the boutique advisory firm run by Joseph Perella, and two of Manhattan's most exclusive hotels, the W Union Square and the Mandarin Oriental at the Time Warner Center. It acquired the Queen Elizabeth 2, the Cunard Line flagship for more than three decades, with plans to convert it into a hotel to be moored beside the emirate's Palm Island.

Istithmar also bought stakes in Cirque du Soleil, the Montreal-based company known for staging extravagantly acrobatic circus-like performances around the world, and Yacht Haven Grande, a marina complex in the Caribbean catering to so-called mega- yachts.

Some Soured Deals

"The government wanted to put Dubai in the same league as London and New York," said Victoria Barbary, a senior analyst in London at Monitor Group, a consulting firm based in Cambridge, Mass. "When times were good, the government was happy to have Jackson and his team making headlines around the world."

Many of the deals have soured.

Barneys is in talks with creditors about a restructuring or bankruptcy. Loehmann's Holdings Inc., a discount retailer with more than 60 stores that was acquired by Istithmar in 2006, had its junk- rated debt rating cut three notches last week by Standard & Poor's, based on "poor" operating performance.

Shares of GLG Partners Inc., a hedge fund with offices in New York and London in which Istithmar bought a 3 percent stake, have lost more than 61 percent of their value since the deal was announced in June 2007.

In November of 2007, Istithmar sold an office tower at 280 Park Avenue, home to the headquarters of the National Football League, for $1.28 billion. It had bought the tower for $1.18 billion 17 months earlier, public records show.

'Top of Market'

"They realized they had defined the top of the market," said Peter Slatin, editorial director at Real Capital Analytics Inc., a New York research firm that tracks commercial property sales.

The deals have forced Istithmar to halt investments and threaten to unseat Jackson, the CEO, people familiar with the situation said last week. Co-Chief Investment Officers John Amato and Felix Herlihy are leaving, according to Istithmar.

Now, Dubai World is in talks with its creditor banks to restructure at least $12 billion in debt, a person close to the talks said, speaking anonymously because the negotiations are private. Istithmar or its assets will probably be sold to help its parent repay the debt, the person said. Nakheel PJSC, the Dubai World unit behind a series of palm-shaped, man-made islands on the emirate's coast, has a $3.52 billion Islamic bond due in December. Islamic bonds adhere to a prohibition against receiving or paying interest.

Istithmar is 'Key'

Dubai World last week said Jackson had its "full support," adding that Istithmar "will continue to be a key subsidiary into the future." Sheikh Mohammed also said last week that he wasn't concerned about the emirate's ability to repay at least $4.52 billion of debt this year.

"I assure you we are all right, the U.A.E. is all right, and we are not worried," Sheikh Mohammed said to reporters at his Zabeel palace in Dubai. The government must repay a $1 billion Islamic bond maturing in November in addition to the Nakheel bond due in December.

George Dalton, general counsel at Dubai World, referred requests for comment to spokespeople for the group, who didn't reply yesterday.

Besides Istithmar and Dubai World debt held by Deutsche Bank, Barclays and RBS, much of what remains is held by lenders based in the Middle East, the people said. Spokespeople for the three banks declined to comment yesterday.

MGM Mirage Investment

The investment strategy of the funds was flawed, according to Chris Turner, the 45-year-old British risk manager who was hired in 2007 as director of risk management at Istithmar's real estate unit.

"At least half the $10 billion I was involved with at Istithmar was poorly invested and completely un-hedged," Turner said in an interview yesterday. Turner, who now lives in Europe, says he left Istithmar last year and was accused of embezzlement. He denies those claims and said he is prepared to fight the charges in court.

One example of risky investing, according to Turner, came in 2007, when Dubai World bought about $5.5 billion of MGM Mirage stock at between $82 and $95 without any hedge. The stock now trades at about $12.

"The attitude there was: We're a private equity firm and as such we don't need to hedge our investments because we understand the inherent risks and believe in our decisions," Turner said.

'More Careful Now'

Refinancing Dubai's debt became more difficult with the onset of the global credit crisis as lending froze. It has about $80 billion of outstanding corporate and government debt, according a report by Moody's in February. That almost matches the emirate's $82 billion gross domestic product in 2008, the report said.

"We'll be more careful now," Sheikh Mohammed told reporters in Dubai on Sept. 9. "The crisis came for everyone, not just Dubai. People had to fight."

Abu Dhabi, the wealthiest member of the U.A.E. with more than 85 percent of the federation's total oil output capacity, helped provide Dubai with a $10 billion bailout in February. Dubai home prices plummeted 47 percent in the second quarter from a year earlier, the steepest drop of any market, according to Knight Frank LLC.

"Abu Dhabi is now and will continue calling the shots in Dubai," said Rochdi Younsi, head of Middle East research at Eurasia Group, a New York-based political-risk consulting firm, who expects additional bailouts from Abu Dhabi. "They're making serious demands that Dubai keep only its viable arms and consolidate or shut down overleveraged ones like Istithmar."

Istithmar and Dubai World are being advised on their debt restructuring proposals by at least one outside consulting firm, people familiar with the matter said.

"It's critical that Dubai downplay any restructuring of Istithmar as business-as-usual," Younsi said. "They've put way too much money and resources to let their reputation collapse." "
Does the FCPA disadvantage Americans?
15 September 2009
I am not rushing to condone the use of bribery to further business objectives.
But when government representatives have their hands out and demand payment you can either agree, or walk away from an opportunity that you know someone else will then come along and take.
Last week a federal jury in Los Angeles found film producer Gerald Green and his wife Patricia Green guilty of conspiracy to violate the FCPA and money laundering laws in relation to a complicated foreign bribery scheme. This was the latest victory in the Justice Department's increasingly aggressive efforts to enforce the Foreign Corrupt Practices Act.
The Greens were charged in January 2008. The couple paid $1.8 million in bribes to the former governor of the Tourism Authority of Thailand, in part so they could manage the Bangkok film festival. In return for the bribes made between 2002 and 2007, Gerald and Patricia Green obtained Thai government contracts for the festival and other dealings that funneled more than $13.5 million to their companies, U.S. prosecutors said.
It is illegal under the FCPA for Americans to offer money or anything of value to foreign government officials to secure business.
That is irrespective of what is custom and practice in the foreign country and irrespective of what might be offered by competing none American bidders.
The statute also requires companies to adopt compliance and accounting standards as safeguards against improper payments. The crack down on U.S. corporations' acts of foreign bribery has forced companies to shell out large sums of money to defend themselves.

There's has been a dramatic rise in FCPA prosecutions.

The Greens face up to five years in prison for each FCPA charge, and up to 20 years for each of the money laundering counts.

The case could open an investigation and possible charges against Juthamas Siriwan, governor of the Tourism Authority of Thailand at the time the Greens bribed and connived their way into control of the BIFF.

Mrs Juthamas has denied any involvement. But it may be difficult now for the National Anti-Corruption Commission to ignore the conviction of the Greens for sending her bribes of $1.8 million, or about 72 million baht at the time. US authorities say Mrs. Juthamas received the bribes through her daughter and a friend.
If is no defence; but if this had not been the Greens then someone else would have come along and done the same thing and made the same payments until the Thai officials had their fill or their slice of the cake.

Kai Tak today
14 September 2009
From airliners.net - click the picture for full size. It is now just over 11 years since the airport closed.
Uncertainty is the sum of all fears among Thai elite
Writer: PAVIN CHACHAVALPONGPUN - Bangkok Post
14 September 2009

In psychology, fear of uncertainty can be considered a positive feeling. It makes people aware of unpredictability which compels them to find a way to cope with it.

In politics, however, such fear has a potential to worsen an already fragile situation. It shapes and legitimises certain behaviour among the political actors. It also brings out selfishness in them, thwarting their ability to look at an issue in a broader context and seek compromise.

In the past, the fear of uncertainty did not necessarily lead to the making of a fragmented society. This was because the political actors were able to reach a consensus among themselves in regards to what posed a challenge or the cause of crises. But Thai society has changed tremendously over the past decades. Members of society no longer see things from the same perspective. They are competing intensely to have their personal opinions dominate the public agenda.

The question, however, is whether this opinion competition is a sign of a more mature, more democratic society.

The protracted political turmoil is evidence that the fear of uncertainty has continued to pervade. It reflects the political actors' fierce protection of their self-interest, which is not essentially analogous to that of the country. This fear has given them old and new excuses to act in certain ways. And they have expected the Thai public to understand the reasons behind their actions and policies.

The military, as an example, has proclaimed itself to be the ultimate moral authority in politics. In this way it has justified its countless coups as a way to cleanse Thai politics and wipe out corrupt politicians.

Prof Suchit Bunbongkan, chairman of the Political Development Council, recently said the military was not the problem but that civilians were. I think it depends on where are you standing and from which point you are looking at the issue.

What does the military fear? Top generals would say that they fear political instability, the persistently bad and selfish politicians and external enemies who have sought to further weaken the nation as domestic conflicts continue. More importantly, they fear that the much-revered monarchy would be subject to attack by bad elements, often translated as phu mai hwang dee (people with ill intentions).

But this angelic image of the military seems to have recently lost its powerful spell. The rising pro-democracy movement, spearheaded by some factions within the red shirts, has highlighted another side of the military. Just like bad politicians, the military is hungry for power. Therefore, its fear of uncertainty is related to its fear of losing political domination.

That is why the military is standing right in the middle of the current political conflict, adopting a hostile approach toward the pro-democracy movement, as well as exploiting the monarchy to justify its existence in politics. The military has all along tied the notion of national security so tightly to the protection of the monarchical institution. The lese-majeste law was thus celebrated. The military simply fears that a more democratised Thailand would jeopardise its position of power. This uncertainty has driven it to become ruthless in the political arena. Thus, a military coup should never be ruled out.

The Bangkok elite are afraid of uncertainties too. In fact, the early campaign to get rid of former prime minister Thaksin Shinawatra was a perfect reflection of their fear. Thaksin's incessantly growing power, from 2001-2006, intensely provoked their fear. They were afraid that Thaksin would take away the political power they once exclusively enjoyed. As Thaksin came to colonise Thai politics, they conspired to remove him, with the backing of the military.

The coup of 2006 quickly brought them joy, which did not last. They underestimated Thaksin. More essentially, they underestimated the power of the grassroots who were fed up with Bangkok politics, which has over the decades isolated the far-flung provinces. Their fear of uncertainty obscured the fact that Thailand is a democratic country, regardless of how imperfect it is. They must let go of their narrow interest for the overall political development of the Thai nation.

Of course, they have refused to do so. The Bangkok elite continue to look down on the intelligence of the poor. The reason seems simple: they believe the poor do not really understand democracy and therefore allow themselves to be manipulated by greedy politicians, the likes of Thaksin perhaps. But the elite also followed in the footsteps of the military in exploiting the monarchy to boost their own position while battling with Thaksin and his supporters. The elite's fear of uncertainty has actually caused great damage to the Establishment which they claim to defend.

This does not mean Thaksin and some of his supporters are exempt from shortfallings.

They are also guilty of expressing their fear of uncertainty in a way that has proved unhealthy for democracy. While in power, Thaksin was fearless in abusing democratic institutions and tilting his administration toward authoritarianism. He showcased how a democratic leader might be transformed into a despot.

Now as a fugitive, Thaksin probably fears the empire he had built over six years will come crashing to the ground. That explains why he endorsed street protests carried out by his red shirt United Front of Democracy Against Dictatorship, which turned violent in April this year. His critics see his anti-military stance as merely a plot to regain power, or at least get his money back (frozen since the military coup of 2006), rather than as any genuine effort to revive democracy.

If we analyse the political situation through this lens, it will become clear that the behaviour of most Thai political actors has been dominated by their fear of uncertainty.

The feeling of insecurity, the fear of losing political power and the financial benefits that come with it are the sum of all fears. It's the factor that has instigated the unending domestic conflict since 2006.

The problem is as these political actors look into the future, they see more uncertainties lurking over Thailand's political landscape.

As they keep on fighting in their own unique ways with the growing uncertainties, few have ever stepped back and noted how much damage they have caused so far to their motherland.

Dr Pavin Chachavalpongpun is a Visiting Research Fellow at the Institute of Southeast Asian Studies, Singapore.

Is gambling recession proof?
13 September 2009
The answer to the question appears to be yes and that will not surprise anyone. And in Asia gambling is quickly becoming big business.
With Macau prospering even the conservative city state of Singapore wants a slice of the gamblers' pie.
And its not just on the gaming tables that money is being made. The casino businesses are also reviving quiet Asian IPO markets. Las Vegas-based casino operator Wynn Resorts Ltd. has won regulatory approval to list its Macau casino operations in Hong Kong in a $1 billion initial public offering.
Genting Singapore PLC said it will raise up to 1.63 billion Singapore dollars (US$1.14 billion) in a rights issue to boost its capital position and further expand its businesses.
Shares in Genting Singapore have more than doubled in price since the start of the year as the operator's S$6.59 billion resort-casino project on Sentosa island comes closer to a soft launch in early 2010. The project includes a casino, four hotels and a Universal Studios theme park.

Wynn Resorts, run by Steve Wynn, whose namesake luxury casinos operate in Las Vegas and Macau, plans to sell a 20% stake in the Macau operations in the IPO, according to market commentary in Hong Kong.

The roadshow for the share sale will start Sept. 21, with listing slated for Oct. 9, the person said.

Part of the proceeds from the IPO will be used to fund the $650 million expansion of Wynn Macau by adding a second casino, Encore, in Macau, the person said.

Staggeringly, Wynn has now generated more than half of its $723.3 million second-quarter revenue from its Macau operations. However, the Macau revenue in the quarter was down 25% at $410.4 million, as China's tightening of visa arrangements for mainland Chinese entering Macau affected overall turnover and winnings from its high-margin VIP segment.

The progress on Wynn's Hong Kong IPO came as Galaxy Entertainment Group Ltd., another Macau casino operator, said Friday it will pay 2.84 billion Hong Kong dollars (US$366 million) for a parcel of land in Macau's Cotai area where the company is building a casino and resort hotel.

Galaxy is building a property called the Galaxy Macau on the parcel, which sits next door to Las Vegas Sands Corp.'s massive Venetian Macao resort-hotel. But there is plenty of space to develop future projects on the 4.7 million-square foot parcel, which sits in a promising area of growth in the Chinese gambling center.

Galaxy said Friday it plans to develop hotels, hotel-apartments and gaming and leisure facilities on the plot of land. The Galaxy Macau, meanwhile, could open as soon as late next year, featuring two 1,500-room hotel towers.

Even with a first quarter downturn government data show August gambling revenue in Macau as a whole rising 18% year-to-year to 11.27 billion patacas (US$1.41 billion) -- an all-time high.

Las Vegas Sands, which runs Venetian Macao, Sands Macao and Four Seasons Macao, is also set to launch a US$1 billion IPO later this year for its Macau operations, with its listing hearing scheduled in about two weeks' time, another person familiar with the situation said.

Is the world dead?
13 September 2009
From The Independent in Ireland - and perhaps the first article to address the current status of the world development in Dubai. There must be some bery angry high prolfile investors out there who are wondering if they will ever have title to anything more than a sand bank.
"The Galwayman who bought Ireland is dead, England is deserted, while Australia and New Zealand have merged.

They were designed to make Dubai the envy of the world: a series of paradise islands inhabited by celebrities and the super-rich reclaimed from the azure waters of the Arabian Gulf and shaped like a map of the Earth. It was called The World.

As millions of tonnes of rock were dumped into the sea for the foundations, timely leaks suggested that Brad Pitt and Angelina Jolie were to buy Ethiopia, Richard Branson was tipped to occupy England, while Rod Stewart would border him in Scotland.

Instead it has become the world's most expensive shipping hazard, guarded by private security in fast boats and ringed by warning buoys to keep the curious away.

A development that was meant to send Dubai's star into the firmament of First World cities has been left to the mercy of the waves and the baking winds.

Mile after mile of breakwater built from boulders brought hundreds of miles by ship has been laid, but inside its man-made lagoon, work has completely stopped.

The expected map of the world of 300 islands is instead a disjointed and desolate collection of sandy blots -- a monumental folly just out of sight of Dubai's shore.

Those who bought into what was the world's most ambitious building project were not celebrities.

Many were more ordinary investors who put down 70pc deposits, some of them Anglo-Indians.

Galway auctioneer turned developer, John O'Dolan (51) fronted a consortium under his O'Dolan International banner and bought Ireland for Euro28m in 2007 and last year snapped up England from under the noses of several UK interests for Euro23.5m.

But the property crash brought tragedy in its wake as the Galwayman committed suicide in February of this year.

As well as his foreign investments, the popular family man had extensive business interests in Ireland. He owned a bar and a hostel in Galway as well as other properties in Dublin and Limerick.

A couple of weeks before his tragic death, a receiver was appointed to his Galway hostel and a property company. His body was discovered in a shed on his Barna Road property.

His fellow investors in the Dubai development now have little prospect of seeing a return. The World has stopped, but they can't get off.

"The World has been cancelled. It doesn't even look like the world. Basically there is one island that is maintained that is said to be owned by the Sheikh [Dubai's ruler] and the rest looks like a pile of muck," said one local property agent.

It is the starkest example of a financing crunch that faces the emirate but many other projects are also in jeopardy.

In the United Arab Emirates (UAE), of which Dubai is a part, about $300bn (Euro205bn) of building is on hold after prices began tumbling.

Abu Dhabi, Dubai's oil-rich neighbour, is helping to support it through the crisis, so far to the tune of about $10bn. Another $10bn is likely to follow soon, and more may follow.

Property is not the only dark spot in the UAE. In the nearby emirate of Sharjah the credit crunch caused massive power outages, leaving businesses and houses without electricity.

This week, Sheikh Mohammed Bin Rashid Al Maktoum, Dubai's ruler and the UAE's Prime Minister, vowed to steer the emirate through its troubles and pledged to further rein in extravagant developments.

Officially, however, not a single project has been cancelled -- just delayed.

"I don't blame anybody. Some papers try to write this but they are forgetting their problems [in their own countries] ... But people only throw stones when a tree has fruit," he said."

The devil is in the data
September 12, 2009 - The Australian
"A small error can have horrendous consequences in aviation. Now the story of Australia's worst near miss can be told

AT 10.31pm, on Friday, March 20 this year, those on duty in the control tower at Melbourne airport witnessed one of the most frightening moments in the history of Australian aviation.

An Emirates Airlines Airbus A340-500 bound for Dubai was roaring down the floodlit runway for take-off when it became clear that something was wrong.

"My members told me the aircraft was not accelerating normally," says Rob Mason, president of the air traffic controller's union, Civil Air. "Then they saw sparks coming from the back of the aircraft as its tail struck the ground as it tried to become airborne."

Those in the tower watched in horror as the struggling Airbus ate up the entire runway and limped into the air, narrowly clearing the airport's perimeter fence. Even after leaving the airport it struggled to gain altitude quickly, flying so low that the control tower could no longer see it.

"The aircraft was lost to sight against the lights of the industrial estate to the south, it was not high enough to be seen," Mason says. Because the jet was flying too low, it also did not initially show up on the tower's radars.

For these few terrifying moments, Emirates Airlines flight 407, carrying 257 passengers and 18 crew, simply vanished from official record, leaving those in the tower to pray that they would not hear an explosion in the suburbs to the south.

"This would have been the worst civil air disaster in Australia's history by a very large margin," aviation expert Ben Sandilands says. "There would have been no survivors from that plane and it would have gone down in (the Melbourne suburb of) Keilor Park, so there would have been deaths on the ground also."

"It was an incredibly serious incident," says Dick Smith, a former head of the Civil Aviation Safety Authority. "They were very lucky that they did not end up in a major accident with a lot of people losing their lives."

SO how did Australia so nearly suffer such a disaster on this clear, mild autumn night? Until then it had been a typical Friday night in Melbourne, with bars and restaurants in full swing. The city's newsrooms were largely empty, with hundreds of journalists and editors partying at the annual media awards night, the Quills, at Crown Casino, oblivious to the huge news story about to unfold on their doorstep.

At Melbourne airport, a 42-year-old Danish pilot was sitting in the cockpit of his Emirates Airbus with his Canadian co-pilot running through their preflight checklist in preparation for their 14 1/2-hour flight to Dubai.

The captain had been flying for 22 years, including almost five years with Emirates and was familiar with Melbourne airport, having flown there at least four times in the previous six months.

He was also familiar with the Airbus, having clocked up 1372 hours on it. But he was tired. He had flown 98.9 hours in the past month, more than Qantas pilots are allowed to fly and barely short of Emirate's monthly limit of 100 hours. The pilot would later claim to have had only 3 1/2 hours sleep in the previous 24 hours because he was "out of whack" despite spending the previous 24 hours resting in Melbourne.

His Canadian first officer was less experienced, having spent 425 hours on the A340-500, but he would be responsible for take-off.

In the cockpit with them were two other Emirates pilots, who would take the second half of the long-haul flight. Behind them the wide-bodied jet was beginning to fill up with passengers. It was the usual assortment of holiday-makers, businesspeople and those for whom Dubai was a transit to other parts of the globe.

One of these was Roman Korobitson, who was travelling with his wife Irena and their two-year-old son to a family reunion in Russia.

At 10.18pm the Airbus pushed back from the gate and taxied to runway 16 for a take-off to the south. The weather was clear and calm for the take-off, which would take the plane over the heavily populated suburb of Keilor and a defence explosives factory in Maribyrnong before turning to the northwest.

The plane was making a reduced-power take-off, which means it was not taking off at full thrust, a common practice among airlines to save fuel, wear and tear and to reduce noise.

At 49 seconds past 10.30pm the Emirates plane began its roll to the south down the illuminated 3657m runway. In the tower, air traffic controllers became alarmed by the plane's slow speed as it neared the take-off point, but cockpit recordings suggest the pilots did not notice anything wrong.

Yet the crew's actions in the next 11 seconds would save the lives of all those on board.

As the plane roared towards the end of the runway the first officer moved his sidestick to rotate, or lift, the plane's front wheel.

When it did not respond, the captain yelled "rotate" again, and the first officer pulled it at a steeper angle.

Three seconds later the front wheel lifted, but the rest of the plane remained glued to the tarmac. At the same time there was a thump as the plane's tail hit the runway, sending showers of sparks into the night.

For six terrifying seconds the Airbus hung suspended, half up, half down, as it gobbled up what remained of the runway. "I knew we couldn't stop," the captain said later. "At that point I knew we just had to go. I thought I was going to die, it was that close."

The tail of the Airbus hit the tarmac twice more and had reached the end of the sealed runway when the captain took over the controls and threw the engines into full thrust using a rapid acceleration procedure known as TOGA (take-off go-around). For another four seconds the plane still refused to fly. It had now run out of sealed runway and was roaring across the grass leading to the airport perimeter fence, hitting its tail twice more on the grass.

At the last possible moment, the whole plane left the ground, clipping a strobe light and flattening a navigation antenna, before clearing the 2.4m airport perimeter fence and thundering low over the roofs of suburban houses.

Inside the cabin, there was confusion but no panic. Some passengers towards the rear of the plane claim to have seen sparks and heard several bumps, but others were oblivious to the near disaster.

"I didn't feel any bump during take-off,' the Russian passenger Korobitson says. "But I was under the impression that it took too long (to take off)."

In the cockpit, having now gained full control of the aircraft, the crew frantically tried to work out what had gone wrong. They slowly climbed to 2100m before they noticed a message saying the plane's tail had been damaged during take-off.

In fact, the strike had caused significant structural damage to the rear bulkhead, which would cause pressurisation problems as the plane gained altitude.

The crew told the Melbourne tower that they would be returning to the airport, and flew out across Port Phillip Bay to dump fuel in order to lighten the plane for an emergency landing.

As they dumped fuel, the pilots reviewed their notes to solve the mystery of the take-off. To their horror, they noticed that the calculations they had used to set the parameters for take-off had inadvertently used a take-off weight that was 100 tonnes below the weight of the aircraft.

The Emirates Airbus contained a laptop that calculated take-off speeds based on the manual input from the pilots of various parameters including take-off weight, temperature, air pressure and wind. The pilot's calculations are then checked by the captain as part of what Emirates says is a four-part process of cross-checks.

Somehow, during the preflight calculations, one of the Emirates pilots -- it's unclear who -- entered the aircraft's weight as being 262 tonnes when in fact it was 362 tonnes.

But a colleague, whose identity is also unclear, failed to pick up the mistake during the cross-checks.

This 100-tonne difference was the equivalent to the aircraft having an extra 20 African elephants on board, or a fully grown adult blue whale.

It meant that the preset take-off speed would never have lifted the plane off the ground had the captain not intervened at the last second to order full thrust.

As the ramifications of their mistake began to sink in, the Emirates crew faced another drama when passengers reported smoke in the cabin. Whether it was smoke or just dust from the substantial damage to the plane's tail is unclear, but the first officer requested an immediate emergency landing despite the fact that the fuel dump was not yet completed.

Six minutes later, with eight emergency vehicles waiting for it, flight 407 touched down with a heavy but safe landing.

After being checked by fire and rescue services, it taxied to the terminal where the passengers emerged, still oblivious to just how close they came to death.

The next day investigators from the Australian Safety Transport Bureau questioned the Emirates pilots at their Melbourne Hotel. The captain said in a later interview that he was on the verge of a breakdown after the incident. "One of my friends almost admitted me to hospital I was so stressed," he said. "If you have a near-death experience your body reacts in a particular way."

After the pilots were interviewed by Australian authorities, they were flown back to Dubai, where they say Emirates handed them prepared letters of resignation. The captain and the first officer have resigned, but not the reserve pilots.

Although the accident received modest media coverage at the time, it was not until three weeks after the accident, that a report in Melbourne's Sunday Herald Sun revealed how serious it was.

In late April the ATSB released its preliminary report, which confirmed the wrong data entry was the likely cause of the accident.

Fearful that its brand would be tarnished, Emirates has responded robustly, placing additional checklist safeguards including using two computers to calculate take-off settings. "The EK407 Melbourne event continues to be treated very seriously with the highest priority at the most senior level in the company," an Emirates spokesman tells Inquirer.

Smith says the key lesson from the Emirates near miss is for pilots not to over-rely on computers. "It is a warning for all pilots to be very careful when they put something in a computer and we have to be careful not to overly rely on computers for calculations in aviation. Emirates is a very good airline with very high standards but it employs human beings and all humans can make errors from time to time."

Sandilands, author of the blog Plane Talking, believes that Emirates, one of the most successful and fastest growing global airlines, has responded well to the incident.

"Did they learn lessons from Melbourne? You bet they have, they realised they could have completely trashed the value of their brand in Australia (if they crashed)."

The ATSB is continuing its investigation into the incident, but says there is no proof that pilot fatigue played a part in the accident. The ATSB says it will release its interim report on the accident at the end of next month.

"It is useless to blame any one airline or flight crew," Smiths says. "Human beings can make errors so double-checks and triple-checks must be done. Unfortunately, it was not done on this occasion.""

Eight years on
11 September 2009
The impact of 11/9/2001 (9/11 to my US readers) on the USA and the world are still felt today, eight years on. Almost 3,000 days have passed - but no passage of time dulls the meaning of this day.
The twin towers of the world trade center were turned to ashes and dust in attacks that killed people of every colour and creed.
It is the 8th anniversary of the 9-11 terrorist attacks in New York and Washington D.C. Two hijacked jetliners crashed into the World Trade Center towers, another smashed into the Pentagon and one plane never made it to its intended target.
That day shaped the geopolitics of the modern world; since that day over 2 million Americans have been enlisted to serve in Iraq and Afghanistan; 4,000 American soldiers have been killed, and hundreds of thousands of civilians have been killed. America's allies have joined a campaign that appears to have no end.
That day shaped an ill-fated presidency that went on to change the perception of America and its role throughout the world.
That day changed the way we fly and travel; that day changed all our awareness of security and for many it changed the way people look at their neighbours.
Osama bin Laden is still at large; that matters to Americans. Americans want him captured to fulfill their sense of justice. He is most likely still in Pakistan. America cannot launch ground attacks there although they have increased their drone attacks into that country.
Today it is wet and miserable in New York. Eight years ago it was a wonderfully sunny late summer's day. A morning that was suddenly shattered by events that were almost beyond comprehension.
Thai journalist's statement on Thaksin interview
11 September 2009 - source "The Nation's State"

The following is the English language statement from Jom Petpradab who conducted the controversial interview with former Prime Minister Thaksin on his radio program on Sunday. I am trying to find a link to the audio file now.

Statement - From: Jom Petpradab - Regarding: Thai media, freedom of speech, and freedom to information are under threat in Thailand by a government that is robbing the people of their rights and freedoms. There is an audio file of the interview here - http://www.todayfact.net/?p=305
My name is Jom Petpradab and I have been a working journalist in Thailand for more than 20 years in newspaper, radio, and television media. On Sunday morning, September 6th, 2009 while I was hosting my radio program, "Exclusive with Jom Petpradab", I received a live call from former Prime Minister Thaksin Shinawatra who was in Dubai. He was interested in giving me an interview because the month previous I had contacted his personal lawyer requesting an interview. Before the interview started, I informed my audience that Thaksin was on the phone, that I was conducting the interview as an unbiased journalist. I reminded the audience that I am not a supporter of the former Prime Minister, was not interested in being used as an outlet for propaganda, and simply wanted my audience to be able to hear his opinion on the many accusations revolving around him. Ultimately, my motivation is to help my audience and the Thai nation better understand the political crisis that our country is embroiled in. Essentially, I was doing my job as a journalist.

My interview with Thaksin lasted for 40 minutes and I conducted it ethically, without favoritism or prejudice, and exercised proper journalistic integrity. For example, I asked him why he does not resign from politics to help ease the political crisis, whether he is loyal or wants to harm the monarchy, why he doesn't come back to Thailand to accept the criminal convictions against him, whether he smuggled funds from the country, and how he was funding his business and political interests while abroad. The interview, in Thai, can be found at the Prachatai website here .

A key question asked, and indeed a fundamental question for our country, is how we can negotiate our current political crisis and reconcile the conflict. While I am a journalist and have conducted my interview with proper journalistic ethics, I am still a citizen and hope that we can find a solution to political conflict without bloodshed. Thaksin, love him or hate him, is at the center of this crisis. He is not only a legitimate news maker but he is a central figure to the crisis and therefore his opinion on how to negotiate this conflict is essential. To this end, I asked Thaksin "The whole country, even red and yellow, wants peace, why don't you call the Prime Minister or talk to the government to find a way to reconcile this conflict?"

While I was conducting my interview with Thaksin, Sathit Wongnongpoey a Minister attached to the Prime Minister's Office, called the president of MCOT radio to demand to know why he would allow Thaksin on a government radio station. He claimed Thaksin should not be allowed on government radio because his is a fugitive, has tried to attack the Privy Council, and has challenged the authority of the judicial system. He ordered the MCOT president to report to him within 24 hours to explain why MCOT was not following government policy for media not to incite political unrest. Reporters at MCOT are now in fear of doing their jobs and feel that they must present favorable, unquestioning coverage of the government or face punishment.

While press freedom, including government controlled media, is protected by Article 46 of the Thai constitution it is clear that the Thai media is unable to exercise its constitutionally guaranteed rights. In short, Thai media is not free and is subject to considerable governmental control. This is not simply a problem under the Premiership of Abhisit, but is part of a long history of restrictions on media freedom in Thailand. While Thaksin was Prime Minister he tried to intimidate the press though costly lawsuits or through direct ownership of media outlets. I had trouble with him while trying to interview his political opponents at the time. After the 2006 coup, the junta first threatened to have me fired for airing an interview with a taxi driver who was protesting the loss of democracy and I was finally fired after trying to air an interview with Thaksin immediately after the 2007 election. My difficulties trying exercise free and fair reporting are not unique but are representative of the whole profession which has suffered from a lack of freedom and persistent government interference.

What has happened to me is simply an illustration of the lack of media freedom and trouble with government controlled media. Thai media, freedom of speech, and freedom to information are under threat in Thailand. The government is robbing the Thai people of their rights and freedoms and are prosecuting journalist who are trying to do their jobs.

Since my interview, I have had to resign from my position at MCOT because the government has placed substantial pressure on my coworkers and I do not want them to continue to work in fear of government reprisal.

Sincerely,
Jom Petpradab

EK A380 in Birmingham
10 September 2009
Emirates took their A380 to Birmingham yesterday as a one off flight for the airport's 70th anniversary celebration.
It would not be an easy place to take the A380 to on a regular basis; with a short runway and limited turning circle at the end of the runway.
But the crowds were out in force. The publicity was good news for the airline and the airport.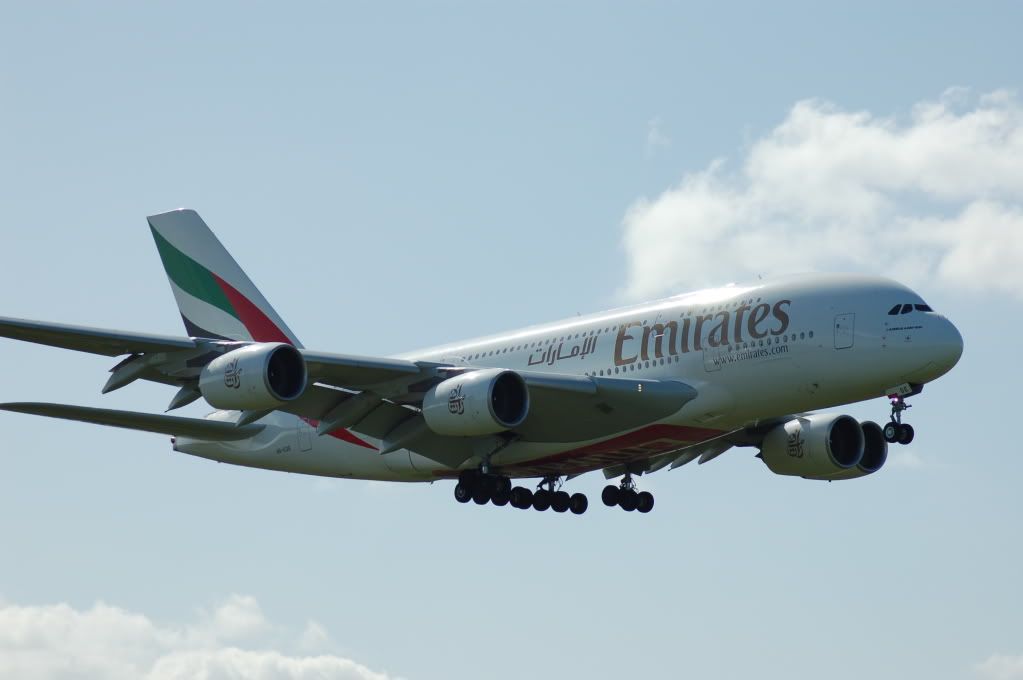 Reuters leaves London
9 September 2009

A quarter century after Reuters listed its shares on the London stock market (1984) to raise capital for acquisitions, an historic milestone has been reached.

The company's shares have ceased to be traded in the city in which Reuters was founded 158 years ago. In the final session of trading they closed at £18.92, a 1.32 per cent rise on the day. On the first day of trading, 17 April 2008, the closing price was £15.60.

Investors can now buy shares in Thomson Reuters only on the stock exchanges of New York and Toronto. The simpler, more efficient and less costly unified capital structure will save the company £10 million a year in accounting, legal and other costs. It also eliminates the problem of the persistent discount – sometimes as high as 20 per cent – at which the London shares have traded to Thomson Reuters' North American listings since the merger.

"Importantly, the unification will have no impact on the company's operations, strategy, financial position or employees, and London will remain a key center for Thomson Reuters," says Tom Glocer, CEO. But it is now clearly a North American company.
Reuters is now part of a large North American corporation with headquarters in New York where its chief executive, an American, sits. It retains a large presence in London which is where the editor-in-chief, also American, is based. American English rather than British English is now the preferred language for Reuters news. Moreover, the majority of the group's shareholding and voting power is held in North America. The focus is firmly on the United States as the main market for the company's growth in the immediate future.

Reuters was founded by Paul Julius Reuter, an impecunious German emigré, in two small dark rooms in the heart of London's financial district on 14 October 1851. It became a public limited company on 20 February 1865, was reconstructed as a private company on 11 December 1916, and became a public company again on 4 June 1984 with shares listed on the London Stock Exchange and the National Association of Securities Dealers Automated Quotations (NASDAQ) in New York.

On that day the three executive directors of the business – managing director and chief executive Glen Renfrew, deputy managing director and general manager Michael Nelson, and finance director and company secretary Nigel Judah – together with the non-executive chairman Sir Denis Hamilton witnessed the start of trading in Reuters PLC.

Four days after the flotation Sir Denis declared at the company's annual luncheon that the Trustees of Reuters Founders Share Company, guardians of the Reuter Trust Principles protecting Reuters' integrity, independence and freedom from bias and armed with a single all-powerful golden share to deter predators, "will forcefully guarantee that no marauder will get control".

In the event, the Trust Principles' injunction that "Reuters shall at no time pass into the hands of any one interest, group or faction" proved to be an ultimately surmountable barrier to takeover and on completion of the acquisition on 17 April 2008 the Principles were adopted as fundamental to the entire business of Thomson Reuters.
Cadbury bid is a global reality
9 September 2009

It is sad but inevitable. Cadbury, a British institution is on the blocks. The bidders will be a who is who of the global food industry.
Without Cadbury, Kraft is just a big American food company — profitable but dull, processed cheese and frankfurters. But more than two thirds of Kraft's turnover is North American and, for the foreseeable future, blue-collar America will be a dead end for sales.

The Kraft bid is about Mumbai, about Johannesburg, about Mexico City and about São Paulo. For Kraft these are the high-growth geographies. They are places full of poor people who are getting richer and might, for the first time, buy a bar of chocolate, and then another.

Cadbury is already the biggest chocolate brand in India, a country where sales increased by a fifth last year. Chocolate is still an alien taste for many Indians, but its appeal is widening rapidly.
In Africa and Latin America, sales are increasing at double-digit rates and these emerging markets contributed two thirds of the increase in Cadbury's sales in the first half of this year. Cadbury Nigeria was big back in the 1970s when my Dad was working there.

Cadbury is, at last, doing well again, having rid itself of the distraction of several US soft drinks brands with no international appeal.

There are a number of old imperial British companies that are the heart of the London stock exchange. There were Burmah Castrol, Lever Brothers, Beecham Pharmaceuticals, Hong Kong Bank, Grindlays Bank, Broken Hill Proprietary and Imperial Tobacco. These businesses still exist. Some have merged or been renamed, but the businesses they built overseas a century ago underpin the London stock market.
Others like Reuters are already foreign owned.

Cadbury is a substantial company worth £10.2 billion (according to Kraft Foods initial bid) and probably a lot more before this battle ends.

In the City of London, you could almost hear the sighs of relief as Kraft made its move. Great news for the banks and lawyers. There will be big fees and commissions.

This is easy for Kraft, a company that is a creature of Wall Street, an assemblage of businesses, including General Foods and Nabisco, that were stitched together by Philip Morris, the tobacco company, during the merger mayhem of the 1980s and 90s.

Cadbury is a bit more than that, but the question is how much more. Is there a desire to be a global foods brand. Or will Roger Carr, the chairman, and Todd Stitzer, the chief executive, (note no Cadbury family leaders now) go through the motions, hire the PRs and pocket the profits?

Another great name will become just a brand; Britain may now be little more than a nation of bankers and lawyers. This may be a lot of fuss over a Creme Egg but it is all about what role British companies can play in a global world.
Fly like an Egyptian
9 September 2009
United Arab Emirates low-cost carrier Air Arabia (AIRA.DU) is launching a new budget airline with an Egyptian partner, enabling it to open its third hub and diversify away from increased pressure in its home market.

The Arab world's largest listed airline by market value said on Wednesday it had set up the joint venture firm with Egypt's Travco Group, driving shares almost 4 percent higher on the news.

"The new carrier will serve Europe, Middle East and African markets and will represent Air Arabia's third hub after UAE and Morocco," Air Arabia said in a statement.

The airline is facing growing competition from local rivals including Kuwait's Jazeera Airways (JAZK.KW) and Dubai-owned flydubai, as well as from fully-fledged carriers such as Emirates [EMAIR.UL], struggling to cope with a sharp drop in international passenger travel.

Air Arabia already operates in Morocco, flying from its Casablanca hub earlier this year, and said in August it planned to set up a new hub between its base at Sharjah, United Arab Emirates and North Africa to diversify its revenues and boost its catchment area.

Formed in 2003, it has a fleet of 20 Airbus A320 aircraft and has placed an order for 44 more A320s.
Egyptian operations are expected to begin within six months from a Cairo base.
Only in Thailand
9 September 2009
There can be few other places where being a fax operator at a law firm requires a batchelor's degree!
"Tilleke & Gibbins is the largest independent multi-service law firm in Thailand - too accommodate rapid growth, the firm invites qualified candidates for the following position(s):
URGENTLY REQUIRED !!!
Fax Operator Post Date: 9 Sep 2009

Job Summary: To handle all incoming and outgoing fax processing - To receive incoming fax documents, process fax documents and route the original incoming fax documents to the proper recipient - To send outgoing fax documents, process fax documents and route the original outgoing fax documents to person requested - To scan incoming fax documents; maintain fax request form and other materials for required period of time - To send incoming fax by email to recipients in timely manner -
To enter incoming and outgoing fax records into fax program - To maintain in good working condition all firm fax machines, computers, scanners, and printers in the fax room - To handle and verify accuracy for the firm's phone expenses in both local and overseas in fax program on monthly basis, send personal fax expense report for payroll deduction processing

Qualifications: Bachelor's Degree in any field; 2 years' experience would be advantageous; Computer literacy in Microsoft Office; Ability to work under pressure....Service-oriented person; Ability to work after office hours.
Mind you at Asia Pacific we used to have some wonderfully qualified document scanners.
The trouble with Bangkok is that there is massive over employment; many people doing the work of a few. The real level of unemployment in a well functioning economy would be significantly higher.

A Dubai Metro reality check
9 September 2009
I sometimes wonder if the Khaleej Times editors and I live in the same city. The newspaper describes the Metro - opening later today - as a Revolution on wheels.
A few quotes from a fantasy article:
"no change in the emirate's — and region's — history has been as phenomenal as the Dubai Metro."
"what makes Dubai Metro truly unique in many ways is its futuristic nature and operations. It is the world's longest, fully automated, driverless rail system, totally integrated with the city's existing public transport system."

"If Metro's revolutionary design and nature leave one totally awed and spellbound"
"The Dubai Metro is set to change not just our travel habits and choice of transport but the way we have lived and worked all these years in this amazing city. And in the long run, it could very well change our lifestyle."

"Spared of the daily grind of driving our way to work and spending hours stuck in the city's impossible traffic maze"
"the Metro is nothing short of a revolution on the wheels for much of Dubai — and the UAE."
A few observations:
A soft opening of 10 stations and ten minute intervals between trains is not going to get people out of their cars - not yet.
There is such a limited existing bus network that to describe the system as totally integrated is wishful thinking.
The impossible traffic maze has eased dramatically in the last year with unemployment and people leaving.
Biggest problem for me is that it is a Dubai metro. The biggest need is for a rail line that brings in people from the cheaper accommodation of Sharjah into Dubai. My taxi driver told me this morning that 50,000 cars come each day from Sharjah to Dubai; people live in Sharjah - they work in Dubai. There is parking at the Rashadiya terminus (in Dubai) for just 3,000 cars.
In true Dubai style, the Metro will offer a VIP section for higher-paying customers who don't want to mix with the rest of the public using the public transport line. I can think of no other major metro system that has class segregation; indeed one of the attractions of global metros has been that they are classless; the captain of industry gets to stand next to the hotel porter. But the unsaid part of this is that the locals will be in the VIP car and the labourers in second class. In reality the locals will not be leaving their airconditioned 200km an hour SUVs.
Will the metro make a difference. Definately? Will people really use it in 45C of heat? Not sure. Some companies will need to lead by example to get the rest of us onto the system. There is an Emirates station at the airlines headquarters. Lets see all their staff using the metro; including crew; and take their buses off the streets.
Is it a complete solution yet? No. But it is a big step in the right direction for this city.

Why the security changes at BKK?
9 September 2009
I do not like the new security cahnages at BKK's international airport; I believe they will slow the screening process at busy times and that they will reduce overall safety levels.
The old system saw passengers pass through immigrationl; them wander through the duty free shopping mall and food concessions. Then the passenger woul dpass secucuirity at the entarnce to each airport pier where the boarding gates are. There were some 8 different peirs for international flights; ecah with security checks and scanners before you went to the gate for your flight. This meant that secuurity was at the final stage before boarding the flight; that all tarsnit passengers were re-scanned and that all duty free purchaseres were scanned. It also reduced the possibility of a passengare being handed something to carry while in the departure area.
All of those saftety checks have been removed as the security scanning is now completed immediately after immigration before duty free. The Airports Authority of Thailand says taht passing through security screening at Suvarnabhumi Airport will become speedier and more convenient while overall safety will improve under a new system.
This looks more like a cost saving measure and one that might also have been encouraged by the duty free operators. I would be very surprised it is is welcomed by teh airlines.
It is a process that is consistent with other airports such as Hong Kong; though I suspect the Bangkok has greater transit traffic.

The centralised security screening (CSS) system was introduced on Monday and the Aot says it is expected to expedite the passenger flow by four to five times compared with the previous arrangement. I dont see how this will happen. Net there are fewer security gates.

The CSS concept creates a single point for X-ray machines, metal detectors and bomb-detection equipment right after the passport control.

The CSS has halved the number of passenger security screening points to six - three at departure halls, two at international transit areas and one at the domestic-international transit point. It replaces the old system of checkpoints located at 12 concourses that were situated after the duty-free areas and near the boarding gates.

The airport's two busiest CSS stations on the departure halls on the fourth floor of the terminal - west and east - each have six X-ray machines and metal detector arches. Each X-ray machine is manned by six inspectors.

One indication that this may not really work is that passengers of some airlines are still subject to secondary screening before entering the boarding gates in compliance with the carriers' own security standards. They include El Al Israel Airlines, United Airlines, Northwest Airlines, Qantas Airways, British Airways, Kuwait Airways and Indian carriers.

Minister fires before he aims
Bangkok Post Editorial - 9 September 2009
Given the current tone of the Bangkok media to support anything anti Thaksin this is a surprisingly strong editorial. The Bangkok Post is clearly alarmed by the blunt instrument sued by the PN's office minister to encourage a loyal, orint only waht we want you to, media:

Editorial: "The government's response to the rather bland interview with fugitive ex-premier Thaksin Shinawatra is disappointing. In a classic case of "shooting the messenger", PM's Office Minister Sathit Wongnongtoey clearly put pressure on the interviewer who worked with state-run MCOT. This is a terrible example to the country, and yet another poor message to all friends of Thailand overseas.

Chom Phetpradab, host of the Sunday afternoon programme on FM 100.5, has already offered to resign, in order to spare co-workers the wrath of the government's press tsar, and a bureaucratic bloodbath at MCOT. Mr Sathit should reconsider, and refocus his criticism on the issues instead of on the interviewer.

The minister's attack on the programme reveals a two-faced policy on freedom of the press by this government, and most previous ones. Mr Sathit only has direct influence over broadcast stations, radio and TV. It is really immaterial whether a Thaksin interview originates on the radio, in a newspaper or in a book. Sunday's conversation with the ex-premier has been widely disseminated, and there is nothing that Mr Sathit can do about that. By applying his political powers against the radio programme host, he only appears petty in most eyes.

His claim that the interview endangers peace is closer to home. Unfortunately for him, it does not hold water. Sunday's interview dealt mostly with Thaksin's claim that he is open to "peace talks" with the Democrats. It was not inflammatory. But if it was, that would be because of the follow-up storm of publicity on TV interview programmes (with Mr Chom) and the heavy-typeface headlines of several Thai-language newspapers, centring on the minister's threats.

The crux of the matter is that Mr Sathit the politician and faithful Democrat Party member does not want to see Thaksin getting publicity. But Mr Sathit the minister in charge of state media has awesome power to change lives and snuff out careers with little more than a penstroke or - in the minister's case - an ill-advised Twitter message alerting the world that MCOT "has to have an explanation" about the Thaksin interview. These two duties - fealty to a political party and management of state-controlled media - have clashed yet again. Mr Chom deserves better than losing his job to a vindictive politician answering his party instead of his public accountability. The Thaksin interview contained mildly interesting information directly from one of the country's most talked-about personalities. It is possible to make an argument that he should not be allowed time on state-run media, but it is not a credible claim. MCOT is a company accountable to the public, not an arm of the government propaganda machine. Its TV and radio stations should present news and information based on the interest of the public.

Mr Chom may have broken station rules in airing the interview. Having once had a Thaksin interview cancelled, he apparently did not inform his superiors of his subject for Sunday. But that is an internal matter, and not for Mr Sathit to get involved in.

Thaksin's interview contained statements that are arguable, to say the least. Mr Sathit and other government spokesmen could, and probably should, address those issues. Thaksin is a self-serving politician unable to understand the deep wounds he has inflicted on his country. But his happy-face defence or avoidance of past issues deserves to be pointed out. Mr Sathit would serve the government and Thailand better to place criticism and censure on the actual interview, rather than seek to punish one interviewer.

Silencing Mr. T
8 September 2009
The Prime Minister's Office Minister Satit Wongnongtaey has told MCOT that comments from ex Prime Minister Thaksin will not be allowed on air again, saying they were a threat to peace.

He said a recent interview by Thaksin on a radio programme had a "direct impact" on the country and could worsen the current political situation as the ex-leader made negative comments against Thailand, the Privy Council and the justice system. I think he might have been listening to a different interview from the one widely commented upon !
Once again the local papers resorted to republishing Thaksin's twitter comments. I wonder if the next law will be a ban on republishing tweets.
"After my interview with Khun Jom (Chom), I hear the government ordered investigation and an embargo. How free they said the media are! The government should not fear the truth," read a Thai message on Thaksin's Twitter social-networking account.

During the interview, Thaksin tried to clear his name against allegations and rumours, including speculation he had cancer.
In a mess again
8 September 2009
The Bangkok Post reports that the airing of an interview with Thaksin Shinawatra on the MCOT's FM 100.5 radio station on Sunday has seriously embarrassed PM's Office Minister Sathit Wongnongtoey.
Predictably the Democrats over reacted and gave Thaksin all the publicity that he craves when it would have been so much easier to ignore him completely.
Mr Sathit is fuming. He is responsible for overseeing the Thai state broadcasting media; and his clear intent is to control the message. Mr Sathit questioned how Thaksin's interview was allowed to go to air on a state radio station.

He said he had instructed the agency to hand him the Thaksin interview for examination.

On Sunday, radio station FM100.5 operated by the Mass Communications Organisation of Thailand, broadcast a live interview with former prime minister Thaksin who was at his home in Dubai.
The interview took the front-page lead story in the Matichon and Thai Rath newspapers yesterday.

Mr. Sathit's view was that MCOT should not have allowed Thaksin the freedom to speak on air.
The programme was moderated by Chom Petpradab, who is not an MCOT staff member. He is a former employee of iTV, Thailand's first independent TV station which was taken over by Thaksin.
Chom has now resigned from his work with MCOT. He said he doesn't want staff or management to face any recriminations so he will take responsibility. He says that he had no hidden agenda. He wanted to create a greater understanding by asking Thaksin about his views on reconciliation. He said he is very disappointed as to what has happened.
Yet the fact is that Thaksin is the political figure who most people likely want to hear interviewed. He is a recent former PM and if an election was held today, he would be the main reason why his Puea Thai would win.
The Democrat reaction shows that Thaksin is still a highly influential political figure now.
Bizarrely the state media repeats everthing that Thaksin sends on Twitter - thereby giving him a far larger audience than just his Twitter followers. But an interview with Thaksin has brought political wrath on MCOT and Mr. Chom in particular.

The main issue of the interview was Thaksin's offer to hold peace talks with the Democrats and all his other opponents. He said he was ready to talk with all parties at any time to settle their conflicts.

In the live interview, Thaksin rejected the allegation that he smuggled a huge amount of cash and valuables out of the country in 30 boxes and said the money from his sale of Manchester City football club was funding his new investment in diamond mining. He also denied he owns a private jet plane. I am sure he does not own the plane. But he certainly has a leasing arrangement that allows him access to a plane. The last time he was pictured onboard it looked like a NetJets Citation.

Thaksin's interview was nothing new. It did not represent any threat to national security or to the government.
And surely Mr Chom's role as a journalist is to cover the big political news stories. And the reaction to the interview shows just how big a story Thaksin remains.

Even if the Democrats resent Thaksin being given airtime by state-run media, they simply cannot order that someone be held sacked by MCOT for doing their job.
As usual the Democrats over reacted to Thaksin and gave him more than he wanted.
Kraft will need to sweeten Cadbury deal
7 September 2009
Sept. 7 (Bloomberg) -- Kraft Foods Inc., the second-largest food company, said it will pursue a takeover of Cadbury Plc after the British chocolate and gum maker rejected a 10.2 billion-pound ($16.7 billion) bid.

A merger would create a "global powerhouse in snacks, confectionery and quick meals," Northfield, Illinois-based Kraft said today. The offer of 300 pence in cash and 0.2589 new Kraft share per Cadbury share values the confectioner at 745 pence a share, 31 percent above last week's close. Cadbury said the bid "fundamentally undervalues" the company.

Cadbury shares soared as much as 40 percent, pushing its market value above the bid price. Analysts said Kraft's proposal may trigger rival offers from Nestle SA and Hershey Co. for Cadbury's Trident gum and Dairy Milk chocolate. Kraft, the maker of Oreo cookies and Kool-Aid drinks, said its announcement aimed to "encourage and further" dialogue with Cadbury after its approach was rebuffed.

"It's clearly hostile," Andy Smith, an analyst at Icap Plc in London, said by phone. The deal is a "near perfect geographical fit. It's unlikely Kraft will just walk away." Smith said Kraft may need to raise its bid's cash component to get Cadbury to agree to a sale.

Cadbury shares jumped 214.5 pence, or 38 percent, to 782.5 pence at 8:49 a.m. in London, reversing their decline for the year. Kraft's shares fell about 2 percent to the equivalent of $27.54 in German trading, and have added about 3 percent this year. U.S. markets are closed for Labor Day.

Market Share

Kraft is "very weak" in the U.K. and strong in markets such as Brazil and Scandinavia, where Cadbury is "not a player," Smith said. Kraft also lacks expertise in gum, which Smith called the candy market's "most attractive space."

Cadbury Chief Executive Officer Todd Stitzer "has always said that Cadbury wanted to be the consolidator of the global confectionery industry, not the consolidatee," Evolution Securities analyst Warren Ackerman said in a note. "There is a reasonable chance that Nestle/Hershey could counterbid, with Nestle taking gum and Hershey taking chocolate."

Evolution's Ackerman, who rates Cadbury "buy," estimated the chances of a counterbid at 30 to 40 percent. He said it was "inevitable" Cadbury would be bought after Mars Inc. acquired chewing-gum maker Wm Wrigley Jr. Co.

Kraft would equal Mars' 15 percent share of the global candy market if its deal is successful, Ackerman also said, with Cadbury's strengths in gum in Latin America and Europe complementing Kraft's chocolate business in those regions.

Bid Financing

"We do not anticipate any issues with financing the transaction," Kraft Chief Executive Officer Irene Rosenfeld said on a conference call. "We have good access to debt. We don't currently plan to tap the market for equity."

Kraft said a combined company would have revenue of about $50 billion and have potential to realize annual pretax savings of $625 million at a cost of $1.2 billion over three years.

The bid "is competitively priced, but I think they will have to go higher," Martin Deboo, an analyst at Investec Securities, said of Kraft. He rates Cadbury "hold."

Shares of Nestle, the world's biggest food company, were little changed in Zurich trading.

Nestle, Nelson Peltz

Chief Executive Officer Paul Bulcke, speaking at a Swiss press conference today, declined to comment on Kraft's bid, though he said Nestle is open to takeover opportunities. He said the company's previous guidance of a takeover budget of 1.5 billion to 2 billion Swiss francs for this year stands.

JPMorgan analyst Pablo Zuanic has said Nestle should acquire Cadbury to become a stronger competitor to Mars.

Cadbury has been mentioned as a potential bid target by analysts since it became a pure confectionery company after spinning off its Dr Pepper drinks unit in May 2008, prodded by U.S. activist investor Nelson Peltz. Peltz retains a stake in Cadbury and also holds Kraft shares.

Kraft's last acquisitions worth more than $1 billion occurred in 2007, according to Bloomberg data, including the $7.8 billion purchase of Groupe Danone SA's biscuit unit.

Bids like Kraft's show "confidence in the corporate sector has risen off the floor," said Lucy Macdonald, London-based chief investment officer of global equities at RCM UK Ltd., which oversees about $100 billion. "Corporate balance sheets have recovered quite significantly."

Kraft's lead adviser is Lazard. Centerview Partners, Citigroup Inc. and Deutsche Bank AG are also advising Kraft, with Citigroup and Deutsche Bank acting as corporate brokers.

Growth Targets

A deal would be "accretive" to earnings in the second year after completion, the U.S. company also said. Kraft would expect to raise its long-term revenue growth target to more than 5 percent from over 4 percent should the transaction occur.

Its goal for per-share earnings growth would increase to between 9 percent and 11 percent from 7 percent to 9 percent.

"We hope to engage with the board of Cadbury on a constructive basis with the goal of consummating a recommended transaction," Kraft's Rosenfeld said in the statement. "Cadbury's brands, which are highly complementary to our portfolio, would benefit from Kraft Foods' global scope and scale and array of proprietary technologies and processes."


Discussing the unspoken
Thai Takes - By PHILIP GOLINGAI; The Star, Malaysia - This is a good summary of modern Thai politics and the current role of the military.
6 September 2009

On Tuesday, in a packed conference hall at Bangkok's prestigious Chulalongkorn University, a panel of academics spoke about Thailand's unspoken.

"We're going to discuss what is unspoken in Thailand – the sensitive topic of the role of Thai military in politics," said Chulalongkorn University's Institute of Security and International Studies (ISIS) director Thitinan Pongsudhirak in his opening remarks before the start of a public forum entitled The Military in Thai Politics: What's Next?

Since the 1932 coup which ended absolute monarchy, the military has been a major player in Thai politics, noted Paul Chambers, a senior research fellow in political science at Germany's University of Heidelberg.

"There have, however, been but three brief respites from dominant military clout: 1944-47; 1973-76; 1992-95," wrote the academic, who presented a 101-page paper, U-Turn to the Past? The Resurgence of the Military in Contemporary Thai Politics.

According to Chambers, in 1992, following the bloody Black May massacre, the military was at its lowest point in terms of support from the public and palace.

"Fallout from Black May 1992 represented a massive discrediting of the armed forces in Thai society," he said, referring to street protests in Bangkok from May 17 to 20, 1992, against the government of General Suchinda Kraprayoon that climaxed in a bloody military crackdown.

Then came Thaksin Shinawatra's Thai Rak Thai (TRT) landslide victory in the 2001 general election.

Prime Minister Thaksin cemented his political grip in the 2005 general election when TRT became the only party to win an outright majority in Thai political history.

"Given the implementation of the 1997 constitution and the 2001-06 dominance of civilian strongman Thaksin across Thailand, civilian control of the military perhaps grew to its highest levels in Thai history," noted Chambers.

On Sept 19, 2006, the military reversed its loss of political power.

Army Commander Gen Sonthi Boonyaratkalin launched a coup against Thaksin and established a military government (the first in 15 years).

"The takeover immediately enhanced the role of soldiers in domestic politics," noted Chambers.

However, the result of the December 2007 general election put a spanner in the military's plan to dominate politics.

The People's Power Party (PPP) was voted into power.

"The post-2006 coup military leadership was clearly unhappy with the electoral results – which brought a pro-Thaksin government back to office," observed the academic.

But the military could not stage a conventional coup d'etat.

"The coup and military government that followed it had been mostly unpopular both domestically and internationally. At the same time, damaging events which occurred under the (military) regime (which failed to solve any political or economic problems) caused the armed forces to be seen in an increasingly negative light," explained Chambers.

Instead of an outright takeover, the military took a back seat to those opposed to Prime Minister Samak Sundaravej's government and indirectly influenced the dismantling of PPP.

According to Chambers, this was done in three moves.

First, the armed forces put little [for little read - no] effort into protecting Samak's government (and later that of Prime Minister Somchai Wongsawat) from unruly yellow-shirted crowds which occupied the prime minister's office, besieged parliament and seized two international airports in Bangkok.

Second, the military at least twice called on Prime Minister Somchai to resign. (In an episode dubbed the TV Coup, army chief Gen Anupong Paochinda – flanked by the navy chief, the air force chief and the police chief – appeared on television to demand Somchai's resignation.)

Third, in mid-December 2008, the military indirectly engineered the formation of the anti-Thaksin coalition government of Democrat Abhisit Vejjajiva.

Currently, according to Chambers, the military has found a perfect niche.

"Counselled by (General) Prem (Tinsulanonda, who is a chief adviser to the Thai King and a former prime minister and army commander), working behind the scenes with the generally compliant Abhisit government, and strengthened by the (military-drafted) 2007 constitution, the military has made a U-turn back to 1991 to become Thailand's crucial clandestine political player," he wrote.

But the armed forces have an even better deal than the soldiers of 30 years ago.

"They have learned from experience that direct governance will only create negative perceptions of them from society," the academic explained.

"Instead, indirect domination of civilian governments allows them to augment their autonomy from civilian authority."

Unity and Dissent
Nirmal Ghosh - Straits Times - 5 September 2009
"At his office in Bangkok's Thammasat University, overlooking the rolling Chao Phraya – the River of Kings – historian Dr Charnvit Kasetsiri points to the mobile phone on his desk and says: "Things like this are partly responsible."

He is talking of the new Thailand, moulded by the Indochina wars of the 1960s and 1970s, the boom and crash of the 1980s, the Black May violence of 1992 – and the last four years of political turmoil.

Thailand's current political conflict, he says, signals a much more seismic shift in the political culture of the nation than may be apparent on the surface.

In recent months, as the divisions in Thai society have shown no sign of healing, the calls for "unity" and "reconciliation" have grown, mostly from members of the Thai elite.

As often happens in times of crises in Thailand, such calls are accompanied by accusations that those expressing violent dissent are not behaving like Thais.

In his birthday speech of December 2007, King Bhumibol Adulyadej – then 80 – said: "Without unity, the country will face disaster."

And about two weeks ago, when speaking to civil servants, he warned that the country would be ruined if different sectors in society did not work together.

The idea of unity – and with it the concept of "Thai-ness" – is clearly uppermost in the minds of the Thai establishment. This is a time of transition – of violent transition – with many believing the worst is yet to come.

And as the political situation becomes steadily more fraught, with no sign of a possible compromise, there is almost what amounts to a paranoia about "unity".

But some academics and historians believe the old concept of unity is out of sync with the reality of today.

Dr Charnvit notes that the ideal of unity in Thailand is a top-down affair, defined and driven by the ruling elite. But this ideal may be out of date.

"I think the kind of very obedient submissive population is gone," he says. "No more will the general public accept what people at the top say."

Dr Thongchai Winichakul, a Thai historian who lectures at the University of Wisconsin-Madison, agrees. An insistence on unity, he points out, leaves little room for dissent.

In an e-mail, he explained: "Every political culture deals with the tension between unity and harmony versus diversity and dissent. But the difference is in how they understand and deal with this tension and how they reduce or solve the tension."

The "ultimate articulations of unity and harmony" in Thailand, he argued, consist of "loyalty to the monarchy and the rigid notion of a single territorial state".

Dr Thongchai makes the additional point that "whatever the notion of unity ... the 'show' or public display of unity and reconciliation is as important as its essence."

Hence, in the current political conflict, the accusation of a lack of "sincerity" (khwam jing jai) is thrown about almost every day. Former premier Thaksin Shinawatra, for instance, is often dismissed by his enemies as lacking in sincerity.

In the Thai context, sincerity is the key to bridging the gap between the reality of friction and dissent, and the ideal of unity and harmony, Dr Thongchai explains.

The pessimism among analysts tracking Thailand's political conflict can be traced to the absence of any glimmer of a compromise that will bridge the gap between Thailand's traditional three pillars – nation, religion and King – and what political scientist Panitan Wattanayagorn calls an emerging "fourth pillar: a new democratic society, a new kind of politics – in a way, a fourth pillar leaning towards liberalism."

"The emerging fourth pole – democratic and liberal society – is a very powerful one, and ... seems like it is challenging the existing three poles," says Dr Panitan, currently on leave from Chulalongkorn University to serve as Prime Minister Abhisit Vejjajiva's spokesman.

"Core values are being re-organised, and sometimes there are conflicting values. That's quite normal. When a less democratic society is going through a transitional period to a more democratic one – from a closed to a more open one, from a traditional to a modern one – then you have conflicting views."

Dr Charnvit shares the pessimism of many Thai intellectuals on whether the political conflict can be brought to a peaceful end.

The professor tends to believe Thailand is in the last stages of Kali Yuga. In Hindu thought, Kali Yuga refers to an age of conflict, spiritual degeneration, vice and violence which will have to end in large-scale destruction before a new world order can be born.

"Right now, it looks like a new group has (arrived on the scene), from outside the Bangkok elite, from the business sector; people who have become wealthy outside the bureaucracy. This new group is bargaining, negotiating to share power. And this upsets the old elites.

"It might be quite bloody if they (the elites) don't compromise, if they can't make a deal at the top," Dr Charnvit predicts.

"I don't blame the general public. We in the elite always say the general population is under-educated, ignorant and can be bribed easily, but I don't think so. I think the problem is with people like us, up here – in Bangkok."

The elites may be forced to accept that they have to compromise. But if they fail to do so, he says, "there will have to be a big fight and bloodshed. I think there will be one or two more coups d'etat. The military is still very crucial.

"This is the politics (surrounding the) closing of the reign," he says, finally."
The slow death of legacy airlines
4 September 2009
It takes just a quick look at pictures of older airliners parked at Victorville, in the USA desert, to realise that the legacy airlines are dieing. The planes in the desert are not those of Easyjet or Jet Blue. They are from the big US carriers and from Singapore Air and Cathay Pacific and others.
It is sad to see great airliners such as ex-Singapore Airlines, 9V-SPM, a relatively new B747-400, which was the 1241th B747, delivered in 2000. In airline terms this plane is still a baby.
Some of these planes will fly again. Most will not.
The global economic downturn and health pandemic has severely dented the revenues of airlines whose margins are brittle in the best of times. Premium travel has collapsed and there are now fundamental questions being asked about the timing and extent of a recovery in this crucial sector.

The current Northern Summer travel peak is also coming to an end. Load factors have probably been OK - but yields are suffering; and the only full cabins are in Economy. There are now deep structural flaws besetting the industry. In the absence of a miracle economic recovery, the airline industry is in for its coldest ever Winter. There could be numerous casualties.

The International Air Transport Association (IATA) recently observed that "structural declines" in premium traffic are now occurring, particularly in Europe. IATA stated the deterioration in premium travel is occurring, despite the better economic news declared by Germany and France. IATA noted that passengers who had previously paid premium fares to travel on short-medium haul European routes "and have now moved to the back of the aircraft, or onto low fare airlines, may not return". This is a vital ingredient in full service airlines' subsistence diets.
Just listen to/read what some of the airlines have been saying.

Aer Lingus - "we must now take difficult, but necessary steps to address our business model and cost base".
Cathay Pacific - "now we need to take a long hard look at how to make our business succeed if things don't improve on the revenue side. We simply cannot afford to see our cash levels continue to be depleted even as our debt levels rise, and if the current collapse in premium revenues and cargo turns out to be structural rather than cyclical, we may need a fundamental change in the way we do things".
British Airways - "there is evidence that business customers no longer place the same value on the levels of flexibility offered in the highest fare categories. Corporate travel budgets have been cut back severely and consumers are determined to reduce their debt".

SAS - "SAS must compete on the same basis as its competitors, which ultimately is a matter of survival".
Lufthansa - "the proportion of passengers travelling at the normal price has been shrinking drastically for a while, especially on European routes. Also within the business or economy class we are seeing a massive slide from higher-priced booking classes to cheaper tickets."
Finnair - "a clear change of course is required", but noted "some personnel organizations have shown no willingness to adapt." Mr Hienonen stated, "many structures, as well as the company's culture, have been formed in totally different conditions. With these we cannot do well in the present competitive environment, but changing has proved to be extremely difficult".
JAL - "persevere in the drastic adjustments to our network, down-sizing our aircraft, and implementing 'nothing-off-limits' cost-cutting measures to improve profitability".
American - "It seems that intra-alliance competition and building a global network with partners is the long-term way in which airlines will succeed, and this [BA-AA-Iberia deal] represents a very big step in that process and an important one".
Meanwhile Ryanair CEO, Michael O'Leary, stated that the winners in a deep recession "will always be those companies, such as Aldi, Lidl, McDonald's and Ryanair, who offer lowest prices." He predicts that his airline would be alone among Europe's large carriers "to deliver passenger and profit growth in the current year".
AirAsia CEO, Tony Fernandes stated this month, "while major legacy carriers are cutting flights, grounding planes, retrenching staff and reporting massive losses, AirAsia is seeing rising demand, adding more routes, increasing frequency and securing higher profits".

As for the Middle East; the summary is simple. Load factors are solid; Cargo is still suffering.
And the problem is in the future: too many big new planes on order; too much capacity coming? With yields down and only limited premium class traffic than the outlook is one of profitless expansion.
It is almost no longer a case of low cost airlines being the carriers that shake up the industry. The middle east carriers have many of the benefits of the low costs model; as start ups (relatively) they have none of the legacy costs, staffing and unions of the older national flag carrying airlines. For every one staff that Qatar or Emirates loses there are probably another dozen ready to take on the job. These carriers can keep staff costs down.
Maybe we will see the elimination of the business class product. It was an invention of the 1970s and intended for more prosperous times. As our executives get used to low frills flying and more teleconferencing business class starts to lose it's relevance.
Standing room only?
1 September 2009
For as long as I have been flying airplane seats have been set in rows facing forward. But every few years a news story breaks that suggests a particular airline or airframer is ready to make a bold change.
These ideas are then written off as "pie in the sky" fantasies.
In recent months, things have become more serious. Spring Airlines' admitted that the Chinese low-cost carrier has held initial talks with Airbus to add standing-seats on its A320 narrowbodies to increase by 40% the number of passengers it can carry.
Then Ryanair's outspoken boss Michael O'Leary announced that the Irish low-cost carrier was looking at vertical seating (standing!) for its Boeing 737s.
Ryanair also launched a poll to gauge demand for the solution, which it says would allow passengers to travel - for free - in "a secure upright position on short flights of approximately 1h".
While Airbus and Boeing say they are not contemplating standing-seat configurations many interior designers are now coming forward to suggest standing-seats - and their horizontal brothers, stacked sleepers.
STAND BY FOR TAKE-OFF
Concepts for stand-up seating have been presented at aviation conferences for years. The computerised graphic most recently used by Ryanair to depict vertical seating showed passengers leaning against a padded backboard and held in place with a sort of harness. Spring is said to be looking at barstool-like seating with safety straps.
This is an area where Asia may take the lead. Perhaps from China. From a cultural standpoint, Asia may also be more accepting of such designs. Customers are more accustomed to seated close to one another or to standing in a confined subway or bus.
Spring Airlines, for one, appears ready to embrace the concept. Zhang Wuan, an official at the Shanghai carrier who works closely with the chief executive, says: "We are planning to have standing seats." He says that initial discussions "with the Airbus side" have taken place to see if "the safety question" can be addressed. "We want to have it so more people can afford to fly," he adds.
MEETING IN THE MIDDLE
Standing-seats have grabbed headlines. However, a premium design consultancy has struck upon a concept that may attract operators interested in high-density configurations but not the hoopla surrounding vertical seats.
UK-based Design Q, which was instrumental in the design of Virgin Atlantic's "Upper Class" seats, envisages a solution that entails a row of inward facing seats on each side of the aircraft plus two back-to-back rows down the middle resulting in a configuration whereby passengers are facing each other. Imagine a subway train style configuration. Everyone has access to an aisle. It is a clever concept.
The seats would automatically lift like a cinema seat. This too considerably helping flow through. This probably will reduce boarding times, which has a value. It would also save costs on each seat and significantly save weight."
Asian carriers, which are known for being more at the vanguard when it comes to innovation in aircraft interiors, are also "key candidates to be the first to explore" stacked sleeper seats, says Carlos Martinez, the brains behind the Airborne Hotel (Abh) bi-level cabin concept and design, which he says provides sleeper cabin comfort without losing passenger density in the aircraft.
LIE-FLAT EXPERIENCE
A competing product from engineering company MmillenniumM Group, called the Air Sleeper, is designed for all markets but, like the Abh concept, is particularly focused on a premium economy configuration, which can support a 1.9m (6ft 3in) lie-flat and horizontal experience.
Malaysian low-cost, long-haul carrier Air Asia X says it is open to exploring stacked sleeper seats for its newly ordered Airbus A350s. "The timing of the requirements and specifications [that we will] have to lay down for those deliveries I think is going to coincide with further developments in the interiors market and give us the opportunity with that aircraft to explore some of these new options," says Tim Claydon, a director and consultant for the carrier.
AND THE TOILETS AS WELL
Standing room only could also apply to the onboard toilets with airlines looking at installing urinals on passenger aircraft to cut queues for the lavatory.

The units will be set up in cubicles alongside the conventional lavatories and could even lead to separate ladies' and gents' facilities.

A favored design is from German manufacturers Dassel interiors and could be seen on many major commercial aircraft, including the A380 airbus and Boeing 747.

With men being the majority of airline passengers in economy class, the introduction of urinals is seen as having a number of advantages. They are smaller and take up less room than conventional toilets. The urinals would also save water, because they would not need to be flushed after every visit.
Links - Airborne Hotel
Design Q
Jacob Innovations
Thompson Solutions

"There She Was: Daranee Charnchoengsilpakul on The New York Times"

Pravit Rojanaphruk - prachatai.com - 1 September 2009
Pravit used to work for the Nation newspaper. Being cautious he has self censored his own article in prachatai.com due to the all embracing reach of the lese majeste laws. His article is not in line with the Nation's current editorial direction.

"There she was, in a tiny undated black and white photo, slightly over an inch in height and less than an inch in width, still smiling. Daranee Charnchoengsilpakul, aka Da Torpedo, a former journalist and a supporter of ousted and convicted former premier Thaksin Shinwatra. Daranee's posture is slightly Mona Lisa-like – which is rather bizarre, given the kind of news she found herself in.

The small news article on page A5 of The New York Times (August 29, 2009) seemed to be more bizarre to non-Thai readers, however.

"Thailand: 18 Years for Insulting King" was the headline on the two-paragraph article written by Thomas Fuller, the Times' correspondent to Thailand.

The article is worth reading in full – or nearly, at least. [See online version here]

"A political activist was sentenced to 18 years in prison on Friday for damaging the "reputation and honor" of the king and queen of Thailand, the latest in a string of convictions for insulting the country's monarchy. A three-judge panel said the activist, a former journalist named Daranee Charnchoengsilpakul, [pictured] left, insinuated in a speech last year that King Bhumibol Adulyadej and Queen Sirikit had -----(the writer's censored ONE word from Fuller's article due to lese majeste law) a coup that unseated former Prime Minister Thaksin Shinawatra. She said she would appeal.

"Thailand has long maintained some of the world's strictest laws against insulting the royalty, but only in recent years – amid political turmoil and concerns about the 81-year-old king's health – have they been put to use with such regularity."

Well, so what do you think, dear readers?

One friend, an Ivy-league educated white female American said the article reminded her of some news from North Korea.

"It's the sort of absurd… I mean it's horrendous. She cannot be sentenced to 18 years for insulting the king today [in the 21st century, that is, or the 26th Buddhist century as it is in Thailand]."

"Small minded" was her next two words, as she compared the situation to Cuba.

"It's silly, it's provincial… it's not necessary… That's the last way to do it."

"Medieval" was her next word by this colleague who asked not to be name (so her possible future vacation in Thailand will not be jeopardized), followed by: "It teaches the sort of child-like mentality. It's crippling to the developing of democracy."

Next: a New Zealand female colleague:

"It's making a mountain out of a molehill," she told me. "I just think it's ridiculous. [It] really paints Thailand in a really bad light. If [the law existed] in the U.K., half country would be in jail. I wonder if by having this law… it's like they [again, I censored three words due to lese majeste law] hide. If they're good monarchy and great people then it shouldn't matter what people say. It's like [censored four words again] hide."

Then a Mexican: "I mean it's a shame in general. I guess from a modern Western viewpoint it's a shame that people cannot speak out at a perceived [censored one keyword again]. It's the system which brand those statements in stone. They do undermine themselves by doing that. You're actually giving power to the words. It becomes a form of social control."

Ah, social control, the 'control' word…

Again, if Daranee, eventually requested and received a royal pardon, then it would be okay, right? Well, she would still have been in jail for a year if not more.

Daranee's "defamation act" aside, one must think how the law is hampering free speech, equality under law and democracy. One must ask how it is affecting Thai people's ability to think, speak and write.

As to what part of the brain lese majeste law is affecting Thai people, it may be up to neuro-scientists to conclude. But to the hearts of Thais who value free speech and equality, it hurts. Some of what Daranee spoke may be rude and crude, and could even be misleading, but what does the future hold for a society with such repressive law?

Lese majeste law perpetuates the culture of fear and nurture excessive and un-checked flattery and portrayal of the monarchy institution. Thais must ask themselves if this is something they can or should be proud of – and what to do about it.

Tell me, how can anyone be proud of such law. Tell me, how such a law with its harsh punishment will advance the cause of liberty, democracy and equality. And tell me what lese majeste law do to your critical mind.

P.S. This writer recently met a well-known Thai scholar who has been teaching at a quality American university. He's known as a strong opponent of the law and lamented to me the details about how even a former US President was allegedly lobbied by some in Thailand to prevent Paul Handley's book "The King Never Smile" from being published by Yale University Press a few years back, and how he was subsequently pressured, both by the Thai Embassy in Washington DC and by two former US Ambossadors to Thailand, as he was one of the academic referees of the book – which is, of course, banned in Thailand but available in repressive neighbouring societies like Singapore.

If a worst-case scenario shall arise while this professor was in Thailand, he told me he would simply "run to the US Embassy".

Imitator be warned: you may need to obtain a US citizenship first."

Pravit Rojanaphruk is currently a Katherine Fanning Fellow at Kettering Foundation in Dayton, Ohio. The article is written, pro bono, for prachatai.com news.

Paranoia in Thai government
1 September 2009
The paranoia continues. The current Thai government and its pet media seem to spend more time worrying about Thaksin than about the state of the nation.
The government's latest announcement is that it has set up a team (yes a team!!!) to monitor the new radio show featuring ousted premier Thaksin Shinawatra, which is expected to debut on the internet tonight, Prime Minister's Office Minister Sathit Wongnongtoey said today.

Mr Sathit said legal action would be taken against those involved in the broadcast if there was anything illegal about the show.

He also said the government would release more information in the next day or two about the source of the doctored audio clip of Prime Minister Abhisit Vejjajiva apparently ordering the use of violence against demonstrators in April....see my previous comments on TapeGate.

He believed the audio was edited from a recording of comments made by Mr Abhisit during his weekly programme "Confidence in Thailand with Prime Minister Abhisit".

Mr Satit also said the government was not worried about the sound clip.

Police on Sunday arrested two employees of SC Asset, a giant property development company run by Thaksin's sister, and laid charges against them under the Computer Crimes Act.

Blue Rodeo highlights from Toronto
1 September 2009
Blue Rodeo played their annual Toronto summer concert last week - on 27 August in the Molson Amphitheatre at Ontario Place.
Blue Rodeo's debut album was Outskirts in 1987.
A short highlights real is now on YouTube:
Twin villages celebrate reopening of post office

Ivybridge and South Brent Gazette - originally published - 24 August 2009

Newton Ferrers residents have celebrated the reopening of the village store and post office that is 'the heart of the village'.

Over 100 residents attended the opening, enjoying a range of canapés and a drink after listening to speeches given by Sue Mumford, chairman, and Roger Hallett, treasurer of the Revelstoke Trust.

The sun shone as everyone enjoyed the afternoon together, entertained by some members of the Newton and Noss Ukulele Band.

Four years ago the communities of Newton Ferrers and Noss Mayo, faced with the potential closure of their post office, set about raising money to buy the premises.

The Post Office in Noss Mayo had closed three years previously and both villages were keen to maintain one in the area. The action group who raised the money approached the Revelstoke Trust for help in achieving their goal and trustees were keen to support the project.

The Trust were successful and now own the post office premises which they rent to Carolyn and Nigel Dixon who now run the post office and store.

The Revelstoke Trust improved the building by firstly extending it and creating an outside space and then extending it again to double the retail space for the village store. As well as this the Trust have also provided the store with disabled access which was funded, in part, by the Post Office.

Treasurer of the Revelstoke Trust, Roger Hallett said: 'The opening went really well and the post office and store is very well used with the recent extension boosting trade. 'The Post Office alone would not work but with the store it is viable.' He explained that the Trust will continue to support Mr and Mrs Dixon and will not increase the rent adding that 'the community would continue to support the business'.

As well as the post office and village stores Newton Ferrers and Noss Mayo also share a Co-op which is also hoping to expand, a pharmacy and a butcher.
Subpostmistress Carolyn Dixon said since she and her husband had taken on the running of the store it has undergone several upgrades, survived the round of post office closures and even been a finalist in the Best Post Office of the Year Competition.

She said the latest change had enabled the fruit and vegetables to have a permanent indoor display and revitalised the layout creating a user-friendly environment.
She also said the introduction of the ramp and widened doorway 'will benefit both young and old as buggies and mobility scooters can now access the store.'
Newton Ferrers Village Post Office and Stores stock a vast range of items and aspire to stock any product needed by the village.

'This is very much a community store, saved by the community and run for it. In this present economic situation this is a positive story of expansion and community support for a store that loves to be at the heart of the villages' said Mrs Dixon.

Financial crisis hits conference business
1 September 2009
There can only be one possible explanation. The financial crisis must be hitting the conference business. And is hitting the speaker budgets!
Former Alaska Governor Sarah Palin will travel to Hong Kong for her first commercial speaking engagement, a keynote address at the CLSA Investors' Forum on September 23. The question is why would a group of savvy investors and fund managers want to hear an incoherent, rambling presentation from someone who has zero international experience, who has not set foot in Asia and whose financial credentials are very questionable.

Maybe CLSA is not budget strapped; maybe they just want to get a glimpse of how some Americans could have picked someone like Palin to be a heart beat away from the presidency.
Maybe they seriously think she will be the Republican candidate lining up to be thrashed by President Obama in 2012.

Previous presenters included Bill Clinton, Al Gore, Alan Greenspan, Archbishop Demond Tutu and other renowned world leaders. So it must be financial. She is all they could afford!
Making it up on the Metro
31 August 2009
Yesterday's RTA press conference did sound rather like executives who are making up the story as they go along. Although in the long term they have a good story to sell.
The Metro will be very welcome and in the long term may have a significant impact on travel and demographics in Dubai.
The first non surprise was that the Metro is now costing about 75% more than its original 15.5bn dirham ($4.2bn) budgeted price tag. The revised cost is around AED28 billion.

Mattar Al Tayer, executive director of Dubai's Roads and Transport Authority (RTA) said that the cost increase was because more than 50% of the project had changed in terms of its design and facilities since its inception to cope with the growing needs of the city.

Tayer said delays and cost escalation are normal in a project of such scale. He said the cost escalations had caused disputes with contractors, but that the RTA is working to resolve the disputes amicably. I imagine there are some significant disputes as with most Dubai construction projects.

The the authorities are fixated on a 9 September opening date. 9/9/09. But it really is now planned as a very soft opening.
There will only be 10 stations (of 29) open on the the Red Line, these are: Rashidiya, Terminal 3 (Dubai International Airport), City Center, Al Rigga, Union, Khalid bin Al Waleed, Jafliah, Financial Center, Mall of the Emirates, and Nakheel Harbour & Tower.
Notable absentees include - the World Trade Center; anything between the DIFC and the Mall of the Emirates and only one station open after the Mall. The remaining stations on the Red Line will be opened in phases over the next few months. But no date has been given for their opening.
The remaining stations are apparently largely complete but road access and local infrastructure do not support their opening. Note though that the RTA is in control of the local roads and traffic access.Mattar al-Tayer also says that some stations will not operate as "despite being fully ready long ago, as the property projects to be served by such stations have yet to be completed; which obviously means no passenger demand is foreseen for the time being."
This hardly explains why the Dubai Mall station, IBN Battuta, Al Quoz and even Business Bay will not be opening.
On opening, as it is the holy month of Ramadan, Dubai Metro service will run from Saturday to Thursday from 06.00 am up to 12.00 am (midnight), while on Friday the metro service will start from 02.00 pm to 12.00 am (midnight).
After Ramadan the Metro service will run from Saturday to Thursday from 06.00 am up to 11.00 pm, while on Friday the metro service will start from 02.00 pm to 12.00 am (midnight).

Initially the Metro service is set to run at 10 minute intervals. Miss a train and you have a significant wait. This gives the metro a capacity of 3,858 passengers per hour per direction. Conveniently the RTA forecasts a demand on the Red Line services of 3,500 passengers per hour per direction.
Teething problems continue to hurt the opening plans.
The RTA has had to clarify reports from last week suggesting passengers would only be able to carry hand luggage on the trains and not be allowed to take larger items on-board. It said there would be space for passengers traveling to the airport to store items such as suitcases
The building trade newspapers report that one reason for the delay is that glitches revealed in recent tests have to be ironed out. These are said to include train and platform doors being out of synch. Remember the trains are fully automated with no on board driver.
Last Minute, one of the largest retailers in the Dubai Metro, has pulled out of the project despite losing a Dh500,000 deposit, citing uncertainty over when the Metro's stations would open, according to a report.

The convenience store decided to forfeit its deposit and withdraw from the project weeks before the opening after claiming the Roads and Transport Authority (RTA) refused to provide any written guarantees on when the stations would open, said a report in Arabian Business.

And rival retailer 24 Seven said it had pulled out of a bid for 20 outlets in July. It may be that on opening the retail outlets in the stations are very limited indeed.

"They don't know exact dates when the stations will open, or when all the stations are going to be active ... So in this condition, we cannot work," a Last Minute official was quoted as saying by the National.
The main central control room in Rashidiya won't be fully ready on September 9 and the back-up control room in Jebel Ali will be used to run the trains on the inauguration day, sources said.
Names of at least two stations on the Red Line of the Dubai Metro have been changed just a couple of weeks before the launching of the operation after companies withdrew from paying for the branding rights.

A senior official at the Dubai Roads and Transport Authority (RTA) confirmed that the name of the earlier known BurJuman Station has been changed to Khalid Bin Waleed Station. It is also the name of the road on which the station is located in Bur Dubai. I suspect all the passengers will still know the station as Burjurman.

The Dubal Metro station located between Ibn Battuta Station and the Jebel Ali Industrial Station on Shaikh Zayed Road has also been renamed as 'Energy Station'. The station was earlier named after the Dubai Aluminum Company Ltd (DUBAL).

The Green Line was scheduled to open in March next year. This is now estimated as June 2010.


BKK's masked taxi drivers
31 August 2009
This is funny. Sadly it is also true.
The Thai Public Health Ministry has instructed some 201,800 taxi drivers in Bangkok to wear facemasks as a measure to prevent the spread of type-A (H1N1) influenza to passengers.

Presumably the reason for picking on taxi drivers is that they are for the most part red-shirted Thaksin supporters.
So when something goes wrong and a report is made to the police the conversation runs like this - can you describe the driver - sure, he was wearing a mask !
Taxi drivers were also asked to check body's temperature and clean their taxi cab, steering wheel, and door handle by using disinfectant.

Facemasks and hand-wash gel will be available in taxi cab. The ministry said 4 paper face masks will cost Bt 10 and one fabric face mask will cost Bt 10. Hand wash gel will cost Bt25 per 50 grammes.

Tape-gate in Bangkok
31 August 2009
Democrat MPs and the Thai establishment are calling foul over an audio recording in which Prime Minister Abhisit Vejjajiva allegedly orders generals and Interior Ministry officials to use force to provoke red shirt protesters in April.

The timing of this April tape was interesting, just before the (now postponed) Sunday rally by supporters of former premier Thaksin Shinawatra, who was ousted in a coup in 2006.

The Straits Times was told by a source in a security agency that the recording was almost certainly faked, and that: 'It is a classic 'third hand' action meant to spark violence.'

The recording has found its way onto the Internet. One website that posted it has been closed down by the Ministry of Communications and Information Technology, as the authorities tried to trace the tape's origin.

In the recording, Mr Abhisit speaks for just over 3-1/2 minutes, purportedly instructing unknown people to create a situation that would plunge Bangkok into chaos and provide an excuse to crack down on the 'red shirts', on the grounds that they wanted to overthrow the monarchy.

Apparently speaking shortly after the red shirts had disrupted the Asean summit in Pattaya in April, and a mob attack on his car in Bangkok the day after, the Prime Minister supposedly said the bodies of red shirts killed by security forces should be quickly taken away and the news suppressed.

The contents are hugely inflammatory and, in the context of Thailand's tense political conflict, could if proven spark a return to bloodshed on the streets, and possibly the resignation of the Premier. But only if they were genuine.
However, the tape apparently contains some unnatural pauses, jumps and odd sentence constructions.

Asked for his opinion late on Wednesday night, government spokesman Panitan Wattanayagorn did not deny it was the Prime Minister's voice - but said Mr Abhisit had never spoken in that manner, and, for a range of reasons, the content was both out of character and illogical.

Separately, an expert linguist and translator who asked not to be named, checked the recording with Adobe Soundbooth software, and declared it a fake. 'The background hiss is not constant. Speech rhythms are not normal,' he told The Straits Times. 'When you look at it as a voice print, you can see clearly that it is a patchwork stuck together; there are literally hundreds of edits.'

Mr Abhisit has dismissed the tape as a 'dirty trick' that could be 'used to stir political unrest', and said police were investigating who was involved in producing and distributing it.
Two employees of SC Asset, a Shinawatra family property developer, were arrested on Sunday. It is alleged that the taps can be traced to an SCAsset email.
So now Crime Suppression Division police have executed a search warrant at the office SC Asset to examine the computers of the two employees.

Armed with a warrant issued by the Criminal Court, four plain-clothes CSD policemen, led by Pol Lt-Col Withaya Sriprasertparp, deputy superindent of the CSD Division 1, went to the Shinawatra 3 building, where SC Asset is located.

Accompanied by the company's lawyer, Pichit Chuenban, they examined computers used by the two suspects.

The police were not allowed to take the computers out of the office, but received permission to download data from five computers used by the two SC Asset employees for further examination.

Police want to confirm if they were involved in doctoring the clip that contained the prime minister's voice.
Mr Pichit as CS Asset says that the two employees received a forwarded audio clip and they in turn forwarded it to other employees of the company. They had not sent the email out of the company or tampered with it, the lawyer said.

The two suspects were arrested on Sunday at their homes. Somsak sae Ueng, 38, and Kanthima Taemkhru, 29, were charged under the computer crimes law with loading the edited clip from a disk into computers and forwarding it to others.

The two were later freed on bail of 100,000 baht each.

Crime Suppression Division deputy chief Supisarn Pakdinaruenart has said thta posting the altered clip on the internet was a violation of the Computer Crimes Act. The maximum penalty is five years in jail and/or a fine of 100,000 baht.

Former prime minister Thaksink Shinawatra's sister Yingluck is chairwoman of the executive committee at SC Asset.

Surely the answer to this is for the Democrats to release a recording of any statement that PM Abhisit did make in April to allow that to be compared to the so called doctored tape.
At the moment both sides have much to lose over Tape-gate as each group uses all means possible to discredit and embarrass the other.
Elegy:Reflections on Angkor
30 August 2009
"The Ansel Adams of Angkor. . . . His pictures are not just beautiful but iconic. . . . dreamlike photos, which look as though they were taken in an ancient, forgotten world."
— The New York Times
Announcing the pre-release of Elegy: Reflections on Angkor, the long-awaited book of John McDermott's images of Angkor
John McDermott is happy to announce that his new book Elegy: Reflections on Angkor is now available to order in advance of its release. Printed in Italy by a distinguished art house printer, this definitive collection of his work includes over 100 images created over 14 years.

There is a special discount on all pre-release book orders received before September 15th. All orders will be shipped in September. The book will not be available in bookstores in the US, Europe or in the Middle East and so must be purchased online (it is being distributed in bookstores in Asia only).
To see a quick preview of the book, view details of the offer, and order a copy, please follow the links on this page.
Please feel free to forward this offer to friends who might be interested.