31 December 2009
Curiosity. The Blue Moon has risen over Dubai in clear skies. Two full moons in a month, 2nd one called blue; this can only occur 19 months apart.
30 December 2009
Not sure why but Tai and I have had a tough day today. Not on the same wavelength.
And now she has been called from standby to go to Beijing – so her off day on 1 January is now a work day. And that means she wont be here for New Year's Eve. So just Alex and me for the next two days. And Tai wont see Alex again before he leaves to go back to HKG.
I hope this is not an omen for the new year.
29 December 2009
Now I know why there are so many strands of hair littering my bathroom: This just in from topnews.ae –
"According to experts, desalinated water is the factor responsible for the frequent complaints of hair loss, dry skin, rashes and allergies, reported largely by people who reside in big Middle Eastern cities like Doha, Dubai, Abu Dhabi and the like.
Experts opine that while the hardness of desalinated water is good for use and even potable, it becomes problematic after its PPM (particles per million) increases manifold when it is channeled for distribution through the pipelines.
PPM refers to Total Dissolved Solids (TDS) – including various kinds of minerals like calcium, magnesium, nitrate, potassium, and sodium – which are present in water.
It is the over-presence of TDS in the water that results in the common complaints about hair loss and skin allergies.
As per the experts, the PPM of desalinated water in the GCC region falls in the range of between 100 and 150, vis-à-vis the 40 to 50 PPM-range of the normal treated water in other countries."
********************************
Jumeirah Beach Hotel is advertising its New Year's Eve party on dubaisavers.com – though is an event not for savers –
"Enjoy a stunning selection of exquisite cuisine and live entertainment from our fabulous marquee located directly on the beach offering stunning views of Burj Al Arab and the dazzling fireworks display. The New Year's Eve festive buffet includes one bottle of bubbly per couple and full open bar on selected beverages.
Timings: from 8.00pm "
Guess the price – AED2,750 per person. Ouch.
27 December 2009
Alex arrived in Dubai this morning; I was up at 5am after less than four hours sleep and with a mild hangover.
After a late night and our annual 2906 Millennium Christmas Dinner – a day late – but worth waiting for. That is four years now. It will be sad when we are not all together to continue something that is almost an annual (and fun) ritual.
24 December 2009
And while I am on a flying theme – this tribute to NW 188 (remember the A320 lost over the USA) is clever !
********************************
This is the second Boeing 787 to fly – and here it is making its first landing: from airliners.net. It is in the colours of ANA – the launch customer.
23 December 2009
Emirates, the biggest Arab airline, will start daily flights to the Czech capital Prague beginning July 1 from its hub in Dubai.
EK 139 will leave Dubai at 1030hrs and arrive in Prague at 1450hrs with a flight time of around six hours. The return flight, EK 140, departs Prague at 1620hrs and gets into Dubai at 0015hrs the following day. A 278-seat Airbus A330, offering 27 seats in Business Class and 251 in Economy will serve the route.
21 December 2009
Politically correct greeting card in the northern hemisphere – winter greetings……who cares! Winter exists to be endured not enjoyed. Silly card!
19 December 2009
The website of the Daily Star (a UK newspaper) is blocked in the UAE. But you can still access The Sun's website – is there really any difference between the two? Both are trashy !
18 December 2009
The Eurostar was a casualty of the winter weather today – but bizarrely four trains got stuck in the channel tunnel because they did not like the transition from the freezing air of northern france to the warm air of the tunnel.
And a 2 hour journey became a 15 hour nightmare with power and light failures and without water, food or decent washroom facilities.
***************************
Back in Dubai – and early golf at Al Hamra this morning – and it was so wet !!
Just drizzle for the first seven holes and then the rains came – as wet as I have ever seen it in the UAE.
Pity – as I was playing well from tee to green – still cant really putt or chip but my irons for a while were good enough to avoid having to chip!
17 December 2009
Coming to a dvd near you (except in Dubai) in January – a movie of Tiger Wood's X-rated escapades will be released in January, heaping yet more embarrassment on the golf superstar….introducing Tiger's Wood!
Now a month ago that was never going to happen !
***********************************
It is so cold in Birmingham – bitter and with a wind that just cuts straight through.
Was up at 6am – to leave Newton Ferrers at 7am and drive via Tescos – open 24 hours a day – to Birmingham Airport.
Why Tesco? I hear you ask.
Well – imagine you have a cake recipe and need 500 grams of glace cherries. Now imagine that you can only find packets that are 200gr in size. So how many do you need. 3 is a good answer.
The the rental car runs out of windscreen cleaning fluid on the motorway. And the spray and dirt are getting worse. So I have to stop at the services and fill the washer tank.
Then I cannot find a gas station at Birmingham Airport and have to drive around until I find one.
Then I need to stand in the cold and do a quick bit of repacking.
Then I forget to search for a VAT Tax office to reclaim the VAt on the one expensive item that I bought this week. Growl.
It has been a very frustrating week.
16 December 2009
About 80% today – I am mending. And will head back to Dubai from Birmingham tomorrow.
A bit sad at changes to our Christmas plans. Alex will now arrive in Dubai after Christmas. But he will have a good time in Macau before heading to the UAE.
15 December 2009
Tai has been called out to London – would be fun to go and see her there except it is a four hour drive each way – and I am tired after 30 minutes. I went into Plymouth today – was so tired even after a short walk! I guess that's how you feel after three days of some evil bug!
14 December 2009
If 20 million people were watching X factor last night how many people were watching the BBC sports personality of the year – about three people and a poodle !
******************************
The joys of English village life in mid winter- dark by about 2.30pm – (ok – a bit later but it feels dark by then). And a visit to the local co-op – knock before you enter!
13 December 2009
Accenture has dropped their Tiger Woods advertising – "We know what it takes to be a Tiger" was the slogan. Guess it is not so appropriate now!
Still I think there are other promotional opportunities: Viagra probably needs a spokesman. And it would look good written on his golf bag – Viagra helps you go further; Viagra – brings out the Tiger in you.
********************************
36 hours of the runs is not something to be wished on anyone – my mother's spare bathroom will need to be closed down as a public health hazard…..you really do not need any more details….
12 December 2009
Flew to Gatwick in the early hours of the morning – a 3am departure. ridiculous time to fly !
And drove down to Devon.
But feel as sick as a dog. Cannot eat – stomach pains; temperature; aching body; shivering. Was in bed for the afternoon and it will be an early night.
10 December 2009
The Nation is quietly posing this of the wall theory:
"It's too far-fetched, of course, to assume that Sivarak Chotipong was in fact a red-shirted agent who was "planted" as a Thai government spy so that he could be arrested on charges of espionage in order to embarrass Bangkok and allow Thaksin Shinawatra to play a heroic saviour."
9 December 2009
Michelle Wie was three under par after day 1. In joint 5th place. Two bogies and five birdies on her scorecard. Including a birdie on the par 5 18th which I assume she reaches easily in two.
*********************************
Tiger Woods has been with some very scary women!
**********************************
On my way back to Dubai. About time too. Although will only be there for two days and will then go to the UK and visit my mother on Saturday.
BKK has been OK – although the city is not as exotic as I once thought. Honestly, much of it is dirty, squalid in places and rather depressing. Traffic is horrible. The fumes are foul. The sidewalks are not made for walking; they are crumbling, dug up or impassable due to the collection of debris, carts and vendors; and sadly the number of beggars on the streets, especially Sukhumvit. It is sad to see.
The gap in Thailand between the rich minority and the impoverished majority seems so much wider; that cannot be good.
Sure the hotel was nice; very comfortable; but it makes it hard to leave the room.
7 December 2009
***************************************
Am in Bangkok for a few days – had a nice visit to Hong Kong.
4 December 2009
World Cup watch:
And here is the draw for the initial groups of the 2010 World Cup-
Group A: South Africa, Mexico, Uruguay, France
Group B: Argentina, South Korea, Nigeria, Greece
Group C: England, USA, Algeria, Slovenia
Group D: Germany, Australia, Ghana, Serbia
Group E: Holland, Japan, Cameroon, Denmark
Group F: Italy, New Zealand, Paraguay, Slovakia
Group G: Brazil, North Korea, Ivory Coast, Portugal
Group H: Spain, Honduras, Chile, Switzerland
The opening match of the tournament will be between Mexico and South Africa on June 11
3 December 2009
I am on the way to Hong Kong for a couple of days and then onto Bangkok.
Tai is on standby – a 6am airport standby this morning so we were up at 4.45am. And then she did not get called out. That is painful – to get up that early and not go anywhere.
1 December 2009
It is all a plot – the Dubai debt deferal is a wonderful way to improve the yield on Emirates flights and to improve hotel occupancy in the pre Christmas lull – the Guardian is reporting that "hordes of bankers, lawyers and accountants are arriving in Dubai mostly from London and the US, as the parties involved start complex negotiations that are likely to "take time.""
************************
Tiger Woods has been fined US$164 for careless driving with a 4 point penalty – that should not hurt him too much !!!
**************************
Life as an Etihad pilot – from CNN.
***************************
The planned Emirates' 2nd Daily Dubai – London Heathrow A380 service on EK003/004, has been postponed.
Original planned date for A380 service on EK003/004 was 15DEC09. The service remains as a 777 through December.
******************************
Tiger Woods' former Ryder Cup colleague Chris DiMarco will be not be on the family Christmas card list after these comments yesterday. "Everybody thinks about what would get them out of their house at 2.30 in the morning. Obviously, 2.30 in the morning, nothing good is going to happen. So I can only speculate," he said. "I don't think I've ever left my driveway at 2.30 in the morning. Even if it's a fight or whatever, there's always the couch."
George Lopez on late night TV in the USA – "Let me put it in terms that golfers would understand. He played the wrong hole, had an errant drive and now he's got to get out of a bad lie."
30 November 2009
Was feeling so bad yesterday – just a nasty flu bug – and had a bad night. Have quarantined myself at home for two days. Tai is back from Seoul but is in Millennium. It feels strange. Almost as though she was still on a layover somewhere. But better that than catching a flu bug off me.
****************************
CNBC yesterday had a news alert on the screen that EK will start 4 new destinations in South East Asia and Australia in early 2010.
Anyone want to speculate?
Hanoi.
Kunming.
Adelaide.
Denpasar.
29 November 2009
Crew fatigue – Emirates now flies to Seoul with only two cockpit crew – 8 hours to get there and 10 hours to get back. Even the cabin crew get to rest in the bunks for an hour outbound and maybe a couple of hours on the return flight.
******************************
I wonder if the reason I feel so horrible today is all the grim Dubai related news. I have some sort of bug and it is quite unpleasant.
The local newspapers are in denial. One of the foreign newspapers has already been banned.
When the markets open tomorrow it will be very interesting to see what happens and hear the authorities proposed next steps.
27 November 2009
Tai is off to Seoul tonight so here is a picture of five reasons why a trip to Seoul could be fun ! Wondergirls!
******************************
Dubai is in the news for all the wrong reasons. See the today page and the dubai crisis news. It will be very interesting to follow what happens after the Eid and national day holiday.
******************************
Another call from a recruiter – and another position in Abu Dhabi. I want to work in Dubai.
24 November 2009
An Emirates A380 will now fly to Paris from December 29 – one month earlier than planned, the airline announced on Tuesday.
The Dubai carrier had previously announced that the A380 would head to Paris Charles de Gaulle from February 1 next year, but there has been another change of plan.
The A380 will initially fly three times weekly on the morning departure from Dubai, becoming daily from January 17, the company said in a statement.
****************************
Meanwhile flydubai said that it will launch flights to Nepal next month – its eleventh route.
flydubai's first flight to Kathmandu on Tuesday December 15, will ensure this increasingly popular destination in the foothills of the Himalayas will be more accessible to a greater number of people in the UAE, the company said in a statement.
flydubai's growing network also includes Beirut-Lebanon, Amman-Jordan, Damascus and Aleppo-Syria, Alexandria-Egypt, Djibouti-Africa, Doha-Qatar, Khartoum – Sudan, Baku-Azerbaijan and soon to launch flights to Bahrain.
23 November 2009
I am bored – I really should have gone away this week.
*****************************
In London Lenny Henry has just won Best Newcomer at the London Standard Theatre Awards for his performance in Othello.
One of Britain's best lived comedians he is an unlikely tragic actor – but by all accounts he is very good indeed.
22 November 2009
The final of the FIFA Beach soccer world cup takes place in Dubai tonite between Switzerland and Brazil. One country that is completely land locked and has no ocean beaches against one country that is legend for its beaches. Strange.
*******************************
It was billed as a Thai business forum in Dubai last night – but it was a red shirt rally. But without Thaksin,
The event was held at the Radisson Blu hotel in Deira. The ticket for entrane was AED 200, not cheap – about US$60.
However my source was knew other thai guys who offered to discount the fee to 100 dhs, and with some persuasive talking she was able to attend for free. Being female and attractive surely helped in a room of dour Thai business folks.
Thaksin did not attend. He was apparently concerned at the reaction of the UAE authorities if he was seen to be holding a political rally in Dubai.
However to quote my source "most of big leader of Thai red shirt were there." She met "so many interesting people and lots of businessmen."
There were between 400-500 people at the event includiing some arabic and western foreigners.
The fee included a "wonderful Thai buffet."
It sounds like there was a lot of planning for the 28 November rally.
*****************************
Rostering joys at EK – a pilot with a Muscat turn at 2am followed by India turnaround on the same day at 2300. Fatigue has to be an issue.
************************************
There is a new BA pilot blog that is a good read. You can find it here.
20 November 2009
An early morning trip to the golf today – to follow Ernie Els at 8.10am. Only a small crowd following him so it was good to see one of the greats close up. He does make the game look so easy.
But he is not going to win this tournament and to be honest he looks like he would like a weekend off to go and do something fun. He really does not need the US20,000 that he will win if he does not improve upon his last place which is where he is after two rounds.
************************************
The joys of life in Dubai. It is a 200 yard drive through the mud and sand from Millennium to Falcon Tower – it is a dirt track that runs past the new Empower cooling plant.
The view as we drove last night was of one of the Empower labourers with his dick hanging out pissing in the sand. At least find a wall or be a bit discreet – but do you really need to piss in open view?
And thanks for adding to the sewage stench that we so enjoy.
19 November 2009
Sorry I have been ignoring the blog. Plenty of updates on the today page and pictures in Picasa.
Three days at the airshow and no a day at the world golf (well european golf) championships here in Dubai.
Followed Thongchai Jaidee for all 18 holes today and it was a pleasure to watch him. He was striking the ball beautifully from tee to green – a few missed putts – but still a very solid two under.
The course is an oasis of green – stuck in the middle of a massive building site. But the course is in decent condition – maybe a bit too easy for a major title – there is no rough to speak of. But the finish of 16/17/18 is a good series of closing holes.
This is the 17th – an island green par 3.
********************************
Singapore's football team returned to a hero's welcome on Thursday after defeating Thailand 1-0 in Bangkok on Wednesday night.
Singapore had not won in Bangkok for 34 years.
And who scored the goal – Aleksander Duric – sounds very Singaporean.
The Asian Cup tournament will be held in Doha, Qatar in 2011.
Presumably there will be some sort of inquest in Thailand – there must be a conspiracy. Is Thaksin to blame?
**************************************
How successful was the Dubai Air Show – the order books tell a sad story compared to the last show:  Dubai 2007 – 2009, a comparison : Boeing orders : 155 (2007) 11 (2009). Airbus orders : 297 (2007) 33 (2009)
15 November 2009
I do wish that Dubai could just be a little more honest and less prone to hyperbole – take the Dubai World Championship – the golf tournament at the end of this week – the pr people say that "The Race to Dubai showcases the best golfers from around the world."
No it does not. It is the year ending event for the European Tour.
The best golfers in the world are not all here. The Americans are not here. No Woods. No Mickelson. No Cink – the British Open champion.
The only American who did qualify was Anthony Kim – and he showed what he thinks of the tournament. He is off home for a rest!
************************************
Long day at the opening day of the Dubai airshow today.
Plenty to see and a three hour flying display – bookended by displays by first the French and finally the Italian display teams. The Italians have ten planes flying – and it is a spectacular display.
The US airforce was there in large numbers – and were making lots of friends.
My hat is off to the very impressive lady captain of a B1 bomber out of Ellsworth in South Dakota – the B1 is a supersonic bomber that can carry a nuclear warhead.
14 November 2009
True or not I dont know – but I like the logic:
Barbara Walters, of 20/20, did a story on gender roles in Kabul, Afghanistan, several years before the Afghan conflict. She noted that women customarily walked five paces behind their husbands.
She recently returned to Kabul and observed that women still walk behind their husbands. Despite the overthrow of the oppressive Taliban regime, the women now seem to, and are happy to, maintain the old custom.
Ms. Walters approached one of the Afghani women and asked, 'Why do you now seem happy with an old custom that you once tried so desperately to change?'
The woman looked Ms. Walters straight in the eyes, and without hesitation said, "Land Mines."
*********************************
England are playing football down the road in Qatar. A friendly against Brazil. And this is the England team:
England: Foster, Brown, Upson, Lescott, Bridge, Wright-Phillips, Barry, Jenas, Milner, Rooney, Bent. Subs: Green, Cahill, Warnock, Huddlestone, Crouch, Defoe, Young, Hart.
Most of this lot cannot get into the first teams at their Premier League clubs. I doubt this team would even survive in the Premiership – which just shows how strong the foreign influence is.
****************************
Was back in a real bed last night – but had the strangest of dreams ! Including trying to find a pair of my Dad's old shoes that could actually fit me – but my feet were always bigger than his.
I miss him.
13 November 2009
Airliner World this month:
12 November 2009
There is something very life affirming about Thailand's Panda TV – such simple, straightforward, uncomplicated love between mother and baby.
*****************************
This is too funny – where do they come up with such nonsense?
According to Arabian Business, Dubai World Central, a multi-phase development which will include the world's biggest airport, was "almost complete" and on track to be operational next year, the project's chairman confirmed on Wednesday.
He must be joking; barely started is more accurate that nearly complete.
Khalifa Suhail Jumaa Al Zaffin, executive chairman and managing director of Dubai World Central (DWC), said the development "is nearly almost complete" and planned to be operational by the summer of 2010.
DWC is a 140 square kilometre development which will be twice the size of Hong Kong Island and is expected to accommodate up to 945,000 residents.
Why do they say these things; who are they trying to impress. The airport for instance may over next year with one of its five runways and primarily for cargo traffic connecting to the Jebel Ali docks.
11 November 2009
Emirates is talking about ordering additional airplanes: they appear to want airplanes now rather than at a future date. The A350 for instance has not even flown yet.
Current fleet:
29 A330-200
8 A340-300
10 A340-500
5 A388
19 777-200
56 777-300
to be delivered:
50 A350-900
20 A350-1000
53 A380-800
27 777-300
10 747-800Freighter
How about some A321s or 739ERs for the regional lo-density stuff, and to open the thinner regional routes like Kabul, Sharm, Aqaba, Izmir, Tabriz, Tblisi, Baghdad, Dushanbe. Better than giving these routes to flyDubai as the latter uses terminal 2 and does not provide baggage connections.
10 November 2009
Today is the official release of Blue Rodeo's new double cd – The Things we Left Behind.
And this is a good interview with Greg Keelor, co front man of the band.
*******************************
Some thoughts on the fall out from the Thaksin interview :
Why is everyone so exercised by the interview – well Thaksin speaks of the monarchy – always a difficult issue for most Thais to dicuss openly – but the problem is that there is so little constructive debate within Thai society.
There are simply polarised views, distrust and hatred.
That hatred causes members of the government to say that parts of the interview warrant seven generations of beheading.
There are also Thais flooding the website of The Times with anti Thaksin vitriol. I did not know there were that many Times readers in Bangkok – though it is likely that comment has been encouraged by ASTV.
Yet for many people there is a candid description of Thailand's inner workings.
The interview has been translated into Thai and will be read all over the kingdom and discussed oncommunity radio stations.
That discussion is now more open perhaps than it has ever been. Attempts to ban access to the interview will just encourage more people to read it. Better an open engagement than a fear of discussion.
************************************
But why is Thaksin upping the stakes at this time. His visit to Cambodia. His interview. His use of Chavalit and cronies at Puea Thai. This cannot be a coincidence.
Is he; just maybe; running out of money – and running out of time and patience.
It does remind me of Anwar Ibrahim's flawed and failed attempts to out Prime Minister Mahathir in Malaysia. All Ibrahim had to do was be patient. But he pushed too early and too hard and spent too many years imprisoned as a result.
******************************
Etihad was anointed as the world's top airline at the World Travel Awards presented in London yesterday; it is the first Middle East carrier to win the award.
A new service style in Economy Class is also being rolled out on all Etihad routes.
Etihad's new economy class service will offer extra support for families at the airport and during boarding, entertainment packs for children, new menus, including hot desserts and a hot and cold café service.
9 November 2009
The Thai authorities have found a good solution to the airport's problems – Airports of Thailand will move giant sculptures from Suvarnabhumit Airport's international arrival lounge to airline international check-in areas next month. Many believe the moving will make the airport have better feng shui.
******************************
I imagine that Richard Lloyd Parry of the Times may be the latest journalist to face potential charges after his interview with Thaksin published by Times OnLine.
*******************************
It is 20 years ago today since the Berlin Wall came down and East Germans could cross to the West. A wonderfully significant day.
8 November 2009
Am back in Dubai. Came back early this morning determined to be positive.
But by lunchtime felt I was back here on my own.
6 November 2009
Eating street food in BKK is not glamourous. Too many cockroaches clambering over the tables. Especially at 2am.
*****************************
Was lucky to get on the Thai Airways flight tonite from HKG to Bangkok:
But did my neighbour really need to take his shoes off and try and rest his bare foot on my knee. Yuck.
No IFE on Thai; but nice to be back on a big solid 747-400. They give such a feeling of space and strength.
The Christmas decorations are up at the Airport Express station in Hong Kong – too early by a month!
5 November 2009
It is nice to be back in Hong Kong. The weather is good. And I seem to have been busy !
Alex and I took an afternoon to visit Ocean Park yesterday. While Disneyland struggles in HKG Ocean Park continues to expand.
Maybe too many loud mainland tourists. They do all shout at eachother! And they still spit. Although one of them hopefully wont do it again after I yelled at her as she spat on the path in front of us.
3 November 2009
"First they came for the communists, and I did not speak out—because I was not a communist;
Then they came for the socialists, and I did not speak out—because I was not a socialist;
Then they came for the trade unionists, and I did not speak out—because I was not a trade unionist;
Then they came for the Jews, and I did not speak out—because I was not a Jew;
Then they came for me—and there was no one left to speak out for me."
Pastor Martin Niemöller (1892–1984)
*************************************
BlueRodeo.com is excited to announce a cross-Canada 2010 tour that will take Blue Rodeo to over 30 cities. After kicking things off in Calgary on January 5, the band will hit the prairies, Northern Ontario, Quebec, Atlantic Canada, return to Southern Ontario and then wind up in Sault Ste Marie on April 10.
2 November 2009
I am very fond of Hong Kong – but the first impressions at the airport really are rather strange.
As you leave the airbridge from the plane to the terminal each flight is met by at least half a dozen jeans wearing immigration officers. They all look 20 something; are dressed as street kids except for the immigration vest; and they appear to be checking the passport of anyone who might be from Africa or South Asia.
There is also one guy holding up his video camera to film us all leaving the airplane. Who watches these videos. And why dont they just use security cameras in the airport.
I really do think that the image of these people – and the inage they give for your first view of Hong Kong – would be improved by having them look a little more official and a little less like the local branch of the triads.
***************************************
And the good hygiene video that they show on the airline before arriving in Hong Kong remains irritatingly offensive.
This is a city where street spitting is still common. It is one of the most polluted cities in the world with shocking levels of street pollution. It is a city where public washroom facilities remain largely in the stone ages. And yet this video is telling me to wash my hands after sneezing.
*****************************************
How come they are allowed champagne on the winner's podium at the Abu Dhabi grand prix. I thought the rule was no alcohol in public places?
*********************************
Cathay Pacific overnight to Hong Kong. Quite unpleasant. An uncomfortable broken seat; an oversized neighbour and unpleasant food.
31 October 2009
Lots of speculation continues on the Northwest Nap – and the crew who slept or got distracted over MXP.
But the most sensible article on the subject comes from Patrick Smith's Ask the Pilot column for salon.com. His summary is exactly right :
"There was no catastrophe. There was no near catastrophe. The plane was temporarily off-course during high-altitude cruise flight, under ATC watch above non-mountainous terrain. The crew made an embarrassing mistake, and will be punished accordingly, while the rest of us who fly for a living will draw important if obvious lessons. It was a comparatively minor event that has received far more attention than it deserves."
******************************
Happy Halloween.
Tai is on her broomstick powered 777 heading back from Osaka.
I have not moved from the apartment all day.
31 October 2009
Lots of speculation continues on the Northwest Nap – and the crew who slept or got distracted over MXP.
But the most sensible article on the subject comes from Patrick Smith's Ask the Pilot column for salon.com. His summary is exactly right :
"There was no catastrophe. There was no near catastrophe. The plane was temporarily off-course during high-altitude cruise flight, under ATC watch above non-mountainous terrain. The crew made an embarrassing mistake, and will be punished accordingly, while the rest of us who fly for a living will draw important if obvious lessons. It was a comparatively minor event that has received far more attention than it deserves."
******************************
Happy Halloween.
Tai is on her broomstick powered 777 heading back from Osaka.
I have not moved from the apartment all day.
29 October 2009
Great picture of DXB from 29,000 feet – taken in September 2009. Thanks to airliners.net.
28 October 2009
How exciting is my day? As I dropped Tai off this morning she said – don't forget to do the laundry !
I said no to a job yesterday. It was Abu Dhabi based and that would have been a big decision for Tai and I. Either 3 hours driving each day or me staying in Abu Dhabi a few nights a week. Manageable if I believed that it was a great opportunity but there were too many doubts…..
25 October 2009
I wish Ferguson would stop complaining about the referees. The referee was ok today. Carragher's challenge on Owen was not a sending off offence – Owen was heading for the corner flag. Simply Liverpool were far the better team today.
Fergie is getting old, boring and predictable. Such a shame.
*******************************
Thai tourism woes from Al Jazeera.
*******************************
Off course and out of touch for 88 minutes; what exactly were the Northwest A320 pilots doing. Flight 188 from San Diego to Minneapolis last Wednesday flew some 150 miles past its destination before ATC or the airline could contact the crew.
The pilots initially said they were in a heated discussion on company policy and were distracted by that. They have now said that was not the case.
The CVR will not be helpful; it only records the last 30 minutes of the flight; effectively from the time the crew were back in contact until they reached the gate.
Were they both sleeping? It was the first flight of the day for both men; so fatique should not have been an issue. Why did the cabin crew not alert the pilots that they were well past the top of descent?
Very strange. And potentially very dangerous. Air force planes were on alert. Surprisingly they were not sent up to check the plane despite its long silence.
24 October 2009
First game of golf today for 8 months – up to the Al Hamra course in RAK. They are getting the Marina ready for the America's Cup – and Alinghi – the huge Swiss catarmaran is already moored there.
The giant catamaran Alinghi 5 arrived in the Emirates from Europe on 30 September after a 12 day, 4,400nm voyage and since then the team has relocated, reassembled the boat and prepared it for the four-month training session ahead of the first race of the 33rd America's Cup in February 2010.
Alinghi's opposition is still using the courts to fight the use of RAK as the venue for the 2010 contest.
As for the golf – it was good to be playing again – but a bit rusty !
21 October 2009
Tonight's Bond Film – For Your Eyes Only – I always liked the song – actually I quite liked Sheena Easton – nice Scottish Girl – even if she is not Clair Grogan. Wonder what happened to her.
Showtime is showing the Bond films in order – no adverts and no cuts. Every night at 10.00pm. I know I have seen them all hundreds of times!
The trouble with Bond movies is why don't the bad guys simply shoot him!
*********************************
More reading in the foreign press on Thailand's succession concerns – this time from Reuters Asia Political risk correspondent. The conclusion – "The result will be a huge shift in the balance of power – the "red shirts" are likely to be bolder in their rejection of the monarchy's political influence, which could, in turn, provoke a crackdown by elites worried the monarchy is losing influence."
**********************************
Poor old Liverpool – it is already October and their season is already over ! No new stadium, not enough new money, lost without Gerrard and Torres. Simply not good enough. For such a big club, and for such passionate supporters, it must be a very long winter.
***********************************
On a much lighter note here are the highlights of the 2009 Bangkok Magazine sex survey.
One result worth noting: Home porn? 46% say, "Of course, it's what digital cameras are for!" and 38% have had sex with a co-worker while 21.1% would have sex to advance their career
I did not complete the survey but my entries would have been far too dull!!!
***********************************
This would not be safe to re-publish. But is worth a read. From straight.com – based in Vancouver.
http://www.straight.com/article-265069/gwynne-dyer-what-happens-thailand-after-death-king-bhumibol-adulyadej
20 October 2009
There has been an auger construction drill hammering away outside my apartment all day. It starts about 7am. Is there anything louder or more painful. And not a word of consideration for people that live here. Maybe a note saying we will be drilling on the following days at the following times and we apologise of the disturbance that we will cause. Grrrrrrr.
**********************************
Now available in Thai:
Emirates is recruiting cabin crew again – this guide (from a current crew) tells you all you need to know and some questions you should ask yourself before coming to Dubai.
******************************
Given the recent fatal accident in Hua Hin where the driver allegedly fell asleep this announcement from the Bangkok Post today is scary –
"The cabinet on Tuesday approved the Transport Ministry's proposal to amend a ministry regulation to allow students of the railway engineering school and retired staff to be recruited to stand in for train drivers who took leave in protest against the State Railway of Thailand."
***********************************
Hua Hin is under blockade already.
From a local notice requiring everyone wanting to drive in Hua Hin to register:
" according 21-25 Oct. 09, Huahin, Thailand is being a host of the 15th Asian Leaders Meeting. To be honor, tidy, comfort and security reasons to those Leaders who stay in Huahin on those day, all people are asked to register name and vehicle to arrange for sticker for your convenience to use as a passing in and out in Huahin town, to reduce all kind of difficulties of your own daily basis living when the meeting take place on those day.
Army blockades all over town – note not police. Probably a good thing. Less hands out. Only one lane available each way for local traffic on the 6 lane highway. The other lanes are reserved for ASEAN.
18 October 2009
Doctor Who Season 4 – on Showtime Series from 25 October.
********************************
And lets have a quick rant at the Dubai Metro. No suitcases allowed. Carry on bags only. Yet this was a metro designed to take people to and from the airport; the terminal 3 station was one of the first to be opened.
Then in a country that wants to 'GO GREEN', why are disposable tickets being used, when reusable tickets (as in Singapore) would have been a sensible option.
The trouble is that the RTA appears to have only been built for Dubai's white collar workers – not for the labouring masses looking for a cheap way to get to the airport and go home.
By not allowing luggage on board, these passengers are forced to use the buses and taxis (this defies the purpose of a Metro).
The RTA does what it wishes without it seems much logic. The same salik tolls are charged day and night so they are not regulating the traffic flow. Just taxing the road users.
And if you want to go to the airport on a Friday morning (maybe to get away for a weekend break) the metro starts operating at 2pm.
************************************
Sir Anthony Rumbold, the British Ambassador to Thailand for two years until 1967, wrote that "nobody can deny that gambling and golf are the chief pleasures of the rich, and that licentiousness is the main pleasure of them all," he added.
That was 42 years ago. Not much has changed !
The original document is now online and is worth a read.
*************************************
Is a big white elephant being built at Jebel Ali?
Al Maktoum International Airport is still set to open its doors in June 2010, but with an initial annual passenger capacity of only 5 million a year. It will presumably have more cargo than passenger flights initially.
According to the authorities, it will gradually increase in size and eventually be able to handle 140 million passengers per year, most likely by 2020, making it the largest airport in the world.
But no airlines have yet signed up to operate from the new airport and unless there is a forced closure of Dubai's existing and expanding airport will even Emirates want to make the move.
It is unlikely that there will be good infrastructure access at the new airport until 2014 (earliest?) so without rail access to the city it is unlikely that there will be any move of major airlines to the new airport for at least 5 years.
*********************************
Have to like the rollerblading Paris police. Mobile, fast, fit! Hard to imagine Hill Street Blues on rollerblades – or Life on Mars ! What would Gene Hunt make of that !?
17 October 2009
We are just back in Dubai – packed flight from Paris.
Yesterday was our first anniversary – and we celebrated by spending the morning shoe/boot shopping for Tai. Oh joy.
Then walked forever; around Les Halles and the Champs Elysee and to the Eiffel Tower.
And a really nice seafood dinner in the evening. Which ended a good day on a high.
It really does not seem as though a year has passed. Happy Anniversary hon.
*********************************
Interesting feature in the Atlantic on the success of the US tv show – Mad Men.
15 October 2009
Being away with Tai is dangerous – she does like to eat regularly. In Dubai I have some cereal in the morning and one meal later in the day.
On holiday we seem to take brief rests between meals. I feel big!
*******************************
I do like Paris – but it is cold this week; 1C at 9am this morning and I doubt it got above 7C or 8C all day with a wind chill that made it feel much colder.
It is a walking city – lots to do and explore. And it is a city where people enjoy living. The bars and restaurants are full in the evening; their are still many visitors; at the table next to us at dinner were a Brazilian couple.
Dinner last night was at Brasserie Fernand in Montparnasse. We were probably the only none French guests; it was very busy and truly authentic; a chevre tart; magret de canard and a wonderful creme brulee; red wine and a coffee. Food heaven.
And it made up for a lousy arrival into Paris – where Aegean flies into Terminal 1; you have to get the mickey mouse electric train to Terminal 3 for the RER to the city. But the mickey mouse train had stopped working – not that anyone cared in that usual French way. Then a bus was meant to operate instead. But there was never a bus. And eventually they fixed the train.
I have always thought that the second world ward might have finished earlier by letting Germany keep France – now we would have great French food and wine run with German efficiency.
France by the way is scarily expensive. The strong euro really does hurt.
13 October 2009
Nice ass?
******************************
Not sure why this is news – presumably the Thai PM talks to the other coalition leaders on a daily basis – else how does he govern?
But I did think that Newin was serving a 5 year ban from politics ?
Anyway this was in the Nation this morning:
Prime Minister Abhisit Vejjajiva Tuesday held a meeting with leaders of the coalition partners at the Ban Phitsanulok Residence.
The meeting was attended by Pinij Charusombat, the de facto leader of the Puea Pandin Party, Suwit Liptapanlop, the de facto leader of Ruam Jai Thai Chart Pattana Party, Newin Chidchob, the de facto leader of the Bhum Jai Thai Party, and Banharn Silapa-archa, the de facto leader of the Chart Thai Party.
*****************************
Pattaya and Venice in the same new headline !
**************************
I am not sleeping very well – must be too much fresh air…..either than of the fact that Tai has the air conditioning set at sub zero…..or her early morning snoring – for which I probably need to apologise to the neighbours !
12 October 2009
I am badly in need of a Starbucks or similar…..have not seen one in Greece. However, from a quick search there are 40 Starbucks within 5 kms of Athens city centre.
Santorini needs something more to get this visitor's attention.
The views are great. The sunsets stunning – but that is an hour of the day.
The island needs a golf course.
The island needs some decent spas or thai massage shops.
The beaches are volcanic stone and grit.
The restaurants are over-priced and generally serve very average food.
Car hire is good. Exploring the villages is fun.
11 October 2009
Good morning from a cool and very sunny Santorini. This is a remarkably pretty place.
When I was a student the only way here was by ferry – followed by the donkey trail up the 220 metre high cliff to the village. Now there is an airport and a cable car from the village.
But we are off season. The main town feels quiet.
The sunset is as beautiful as the brochures tell you.
The restaurants and bars hang off the cliff face – they must be packed in summer; but now you need a sweater to sit outside.
8 October 2009
Greeting from Athens. A city that really has seen a lasting legacy from the 2004 Olympics.
And here is part of that legacy.
************************
Hotel in Athens is in a great central location. Tai is happy – a noodle bar is around the corner!
7 October 2009
We leave in the morning to visit two of the world's great food nations – Greece and France – and Tai has packed pot noodles – "just in case"……..
And how many handbags do you need for an eight day holiday – that and two changes of clothes minimum per day – but the hotels have laundry service – no cant wear the same clothes…
**************************
Favorite sign on the wacky race track know as a highway from Abu Dhabi – "Beware of Road Surprises" !!! All I know is that if there is a surprise it wont be good !
**************************
If it took them 30 plus years to get Polanski – and it is not as though he was in hiding – what odds on them ever finding Bin Laden?
**************************
Thaksin's new book is hard to find as the bookshops do not know how it should be classified – fiction seems the best choice!
6 October 2009
World's Greatest City: 50 reasons why Bangkok is No. 1
5 October 2009
As the king enters his third week in hospital the Thai people continue to rely on very brief and seemingly conflicting statements from the Royal Household Bureau.
Anywhere else in the world it is likely that the media would have found other sources for information and would have far more detail on the state of the King's health.
But not in Thailand. The media are taking the scraps of information that are offered to them.
**************************
Tai and I need a holiday. Starting Thursday.
***************************
Talking of holidays maybe we should have gone to St. Andrews – the usual problem – Tai does not have a  visa.
But look at this.
***************************
Scottish football referees are sponsored by Specsavers !!! You really could not make it up !
****************************
Succession issues in Thailand are discussed in the UK's Independent newspaper.
4 October 2009
Six of the best from Arsenal today – you don't often see six goals – but six of that quality as well. When they are good – they are every good.
*******************************
On the footy theme I fear Ben Foster may be for the axe at Old Trafford. He did well at Watford but just is not strong enough of confident enough for the Premiership.
********************************
Thaksin has had a book published in Dubai – Tackling Poverty – more on that when I have read it. He is busy trying to reinvent himself! It is just a smokescreen……
2 October 2009
Rio – 2016 Olympic Games
Brazil 2014 World Cup
Seven years of massive rebuilding and infrastructure growth.
1 October 2009
The 2016 Olympic City is to be chosen tomorrow. Forget Madrid – it wont be another European winner not with London in 2012. I would like Rio – which benefits from being in the US time zone. Not Chicago please. LA and Atlanta were both forgettable. Tokyo would be OK as well.
***************************
From Alain de Botton's new book, A Week at the Airport (Profile Books, £8.99), based on his time as writer in residence at Heathrow airport:
It's a good deal more interesting to study how an airline meal is made than to eat one. Every weekday at around 4am, a mile from Terminal 5, in an aluminium shed owned by Gate Gourmet, a woman called Leyla sets to work grilling the hundred lamb cutlets that will, a few hours later, face Emirates business-class passengers on EK008 to Dubai.
***************************
A visit to the Emirates HQ today – and a little plane spotting from the balcony – although it is quiet around lunchtime.
No pictures – you would probably be shot trying to take pictures there!
This little beauty was there today – arriving from Bahrain – maybe to collect the King post wedding celebrations: it is the Bahrain royal flights 747SP – I flew on a Qantas SP from Brisbane to Singapore – loved it !
Not sure what is housed in the dome that has been added to the roof of the airplane? Any clues?
Better still there was an L1011 leaving about 2.30pm from Terminal 2 and then Runway 12R. Probably chartered from ACMI operator – euroAtlantic – based out of Portugal.
This plane CS-TEB was delivered in September 1979 as one of the five original L-1011-500 ordered by TAP Air Portugal.
But my favourite Tristars belonged to Cathay Pacific and I often flew in these around Asia from Hong Kong between 1994-1997.
************************************
Meanwhile the Dubai newspapers have been full of news and pictures of the latest royal wedding.
WAM and the Gulf News reported that the UAE "President H.H. Sheikh Khalifa bin Zayed Al Nahyan and Vice President and Prime Minister of UAE and Ruler of Dubai, H.H. Sheikh Mohammed bin Rashid Al-Maktoum, attended a luncheon (two days ago) held at the Dubai World Trade Centre by the King of Bahrain, Sheikh Hamad bin Isa Al-Khalifa to celebrate the wedding of his son, Sheikh Nasir bin Hamad Al-Khalifa to the daughter of the Dubai Ruler."
It is interesting to see the traditional rituals in a city as multi cultured and as layered as Dubai.
The bride was not present at the lunch.
As you can see above the name of the bride is not even given in the newspaper.
WAM reported that Sheikh Khalifa congratulated the Dubai Ruler and the Bahraini monarch on the happy occasion. He also congratulated the bridegroom and wished him a happy and blessed marriage.
Does anyone congratulate the bride or the couple? I do. Good luck to them.
29 September 2009
Why is the Sukhumvit extension to Bangkok's BTS delayed? Here is why according to the Bangkok Post –
"The senior City Hall official responsible for making the purchase has apparently stalled the scheme over fears of being investigated if something went wrong with the purchase, he said.
The official in question is due to retire and does not want to take risks despite being told the scheme is strictly in line with regulations."
This was reported by the deputy Bangkok governor Teerachon Manomaipibul.
How sad is that !?
************************************
Latest rumour (probably true) out of EK is that there has been 98 pilot resignations since the beginning of August 2009.
Thats 5.5% of pilot body in 7 weeks!
Not good when the airline is taking new planes every month. Although in this economy I would not guarantee that the grass is always greener!
******************************
The UK Daily Telegraph reports on the new instructions for the "Thai army to enforce royal censorship laws." There are very relevant quotes from Dr. Lee Jones from the University of London. But you will have to read the article – republishing his quotes here is not appropriate.
27 September 2009
Now here is a welcome concept for Thailand – the Quiet Bangkok Club – the web site is mainly in Thai.
*******************************
It was the Singapore grand prix today and like most sports – it looks spectacular under lights.
Huge crowds. Great atmosphere. But not on any of the TV channels that I have access to. So just a few highlights in the news.
But good for Singapore. They really have made this into a big big event for the city. And the use of the city roads works well.
After all the road to the airport can be converted into an emergency runway for the air force!
**********************************
Terrible flooding yesterday in Manila. As always it is the less fortunate who suffer the most.
At least 106 people were killed and more than a quarter of a million displaced after tropical storm Ketsana dumped the heaviest rain on The Philippines capital in more than 40 years.
Manila and surrounding areas were lashed with rain for nine hours leading to flash floods that inundated about 80 per cent of the city of 12million inhabitants.
The deluge left some areas under up to 6m of water, stranding families on rooftops and forcing the government to declare a state of disaster.
*****************************
And talking of water the guys at my local gas station have been "told by management" that they may not longer clean car windows while they are refilling the cars!? It was always a good way to ensure a nice tip; it makes no sense.
The car cleaner in my building has also been evicted by the building owner.
So while my car gathers inches of dust each day from the building site there is less and less opportunity to get it cleaned.
Short of doing it myself…..
26 September 2009
I have only played one game of golf this year – it is like the last 9 months have been on hold – waiting for something to happen. The travel has been good – and family stuff important – but I need to be doing something…….both work and play !
*****************************
There appear to be problems with crew numbers at Emirates:
There are rumours of many – perhaps 1,500 out of 3,000 – cabin crew not returning from their unpaid leave.
Now cabin crew have been told that –
Remember it is your responsibility to check EVITA daily by 1800 hours (6PM) irrespective of your rostered duties as there may be changes due to operational reasons. This is in addition to the normal practice of checking EVITA 3 hours before any rostered flight.
This is clear – where ever you are and whatever you are doing, you are now expected to be available to the company every day. Even if you are rostered for a day off or rest day you have to check your roster and you need to be in cell phone or computer contact every day. The airline appears to have little sympathy for anyone who misses a change and does not turn up for rostered duty, however late the change.
The recruiting team has apparently been told to find 500 cabin crew before the end of the year, which requires them to gear up instantly to the maximum recruiting/training they were at last year).
****************************
Thailand's 40 richest. 2009.
Talking of which – Mr T is in Dubai again – this was him yesterday on the Faldo course at the Emirates Golf Club.
Thaksin also described Thailand as a demo-crazy not a democracy and said that –  "I'm not powerful anymore. Even those who use to call me boss are now stabbing in my back one after another."
25 September 2009
I did have a haircut yesterday – it is very short – shorter than it has probably eve been. So short you can hardly see the white….
**************************
Geocities is closing down. That is the Yahoo owned web hosting service. With the end of Geoccities comes teh end of one of the great blogs:
Hemlock, wild American friend Odell, the Big Boss and delectable Administrative Officer Winky Ip have been cast into the wilderness with maximum prejudice aforethought.
The best observer of Hong Kong life since the blog started in 2002 Hemlock will be missed. He will make guest appearances here – www.biglychee.com
23 September 2009
Abhisit at Columbia University yesterday –
"For those who do not see things eye to eye with the Government and feel that their voices can be better heard on the streets, we fully respect their right to assembly and right to freedom of expression."
Then we lock them up for 18 years!!
********************************
Tai has spent the last three days looking for her October roster – as second top bid she should get a lot of what she has asked for – she has found days off – and her first flight to Osaka. But…..nothing else. My bets – Hyderabad and Johannesburg.
22 September 2009
Alex has been baking at home for his Mum's birthday. Place your orders for cookies at Christmas now!!
Political prisoners in Thailand has a very detailed and thoughtful analysis of the current political situation and the struggle for the future of Thailand. Even if you don't agree with all that is written it is worth a read.
The headline is "A country for old men" – but the writer should not ignore the influence of certain very important women.
21 September 2009
After separate red and yellow shirt protests at the weekend – the red shirts in Bangkok and the yellow shirts on the Cambodian border one commentator noted –
"So PAD remain insiders, at least as far as the premier is concerned. They are treated with kid gloves while intimidation is used against perceived opponents. Such a compromised position may seem politically expedient but the government's lack of even-handedness in dealing with the two groups is hardly likely to be identified as anything other than repaying political debts and it does nothing for the rule of law and human rights."
20 September 2009
The biggest question in my life on a daily basis is whether to do the washing up now or later – there always seems to be so much of it; especially after Tai leaves on a morning flight; then there is always the night before and morning washing to be done. That's the extent of my daily excitement.
*******************************
Man Utd beat Man City 4-3. And it was great fun to watch – Man City come back three times and then lose to a 96th minute winner. In truth Man Utd were so far the better team it should never have really been that close.
********************************
Tai has been in Venice for the weekend. Lucky girl. Weather should have been nice there as well. Me – at home. very quiet. Eid al-Fitr today; and the end of the month of fasting for Muslims. Malls and restaurants in Dubai will be busy for two days of holiday.
*********************************
ODI centuries since January 2008 – England have 3; Australia have 10 and India have 17. With the ICC cricket trophy to start later this week in South Africa England are very unlikely to progress beyond the first round.
18 September 2009
Time to celebrate something that the English are world class at – comedy. Monty Python, Blackadder, Douglas Adams, the England cricket team.
*******************************
Tai was in Cairo for the day yesterday – my life is so less interesting. I washed up – there always seems to be a lot of that to do ! Cut my fingernails and half watched England getting thumped again by the Aussies……
And tomorrow she is off to Venice…..we have not been having an easy time recently. Sorry hon. I know my own frustration about being in Dubai with nothing to do does not help.
********************************
Latest on Mr Thaksin – according to the PAD gossip rag – ASTV Manager –
His visitors in Dubai include Yingluck (his sister) as well as Puea Thai MPs and MPs from the government including Bhum Jai Thai.
In total  a group of 30 have apparently been in Dubai to "receive orders from the big boss."
The same article also tells of Thaksin's new love, an air hostess.
So now I know why I have not seen one of Tai's friends for so long – just kidding !!!
17 September 2009
Why are they playing night cricket in England in mid September. The Nottingham crowd is sitting there in woolen hats and overcoats.
And I fear England are about to lose their sixth one day game in a row.
The Ashes win really was a bit of a fluke. The Australians are in almost every department the better team. And in a composite side only Strauss and Anderson look good enough to make a best of team.
********************************
Is it my imagination or has Tape Gate gone very quiet?
********************************
Meanwhile protesters of the People's Alliance for Democracy (PAD) will not be allowed inside the disputed 4.6-square-kilometre area around the Preah Vihear temple since this could affect relations with Cambodia, according to Lt-Gen Wibulsak Neepan.
But it was OK for the PAD to over run the airport in BKK last year and affect relations with the rest of the planet.
Amazing Thailand !
16 September 20009
Here is the list of the world's top airlines by passengers carried in 2008:
1. Southwest Airlines
2. American Airlines
3. Delta Airlines
4. United Airlines
5. China Southern Airlines
6. Ryanair
7. US Airways
8. Lufthansa
9. Air France
10. Northwest Airlines
Interesting list – Delta and Northwest have already merged. The US airlines lead simply by virtue of their domestic business; where in reality there is no room for expansion.
China Southern is beginning to show the likely impact of domestic Chinese travel; which will dwarf the USA domestic travel statistics within the next ten years.
Air France includes the KLM business and Ryanair shows that to make an impact in Europe you have to be a pan European airline with multiple bases and not a national flag carrier.
**************************
Someone who had better remain nameless bit who does have  visit visa for the USA asked me if he/she would need a visa for South America……
**************************
The Asia Foundation just published a survey A nationwide opinion poll in 26 provinces gauging the national mood toward election reform, participation in politics, amending the constitution….one very telling comment – 94% say corruption in government is at least fairly common, with 65% thinking it very common.
Nothing like leading by example.
*************************
The Airbus A380 passed a key milestone at Singapore Airlines with the delivery of its tenth aircraft earlier this month. The size its super-jumbo fleet now surpasses that of its Boeing 747-400 passenger aircraft.
The Singaporean flag carrier has long been synonymous with Boeing's Jumbo, having first introduced the type in 1972 and having taken delivery of a total of 75 new-build passenger models, along with 18 freighters. SIA has a further nine Rolls-Royce Trent 900-powered A380s on order, for delivery through to January 2012, following its recent deferrals.
******************************
All is still far from well in Dubai:
Dubai Group has seen "waves of layoffs" since the global financial crisis hit at the end of last year, a company official has said.
The financial services and investment arm of Dubai Holdings has made more than 70 percent of its staff redundant since November, according to a report in UAE daily National on Wednesday.
Huda Buhumaid, the group's managing director of marketing and communications, told the paper that 60 people were still working at the company, compared to 250 last year.
15 September 2009
57 is too young to die – but cancer does not recognise age, race, good or bad. Patrick Swayze died last night – no one has a bad word to say about one of the best known and most modest of 1980s leading Hollywood actors. Ghost, Point Break, Road House and of course Dirty Dancing.
And a song or two as well:
14 September 2009
Christmas is coming:
Semi-pro photographers rejoice! Canon's EOS 7D is very official, and looks very tasty indeed. With dual DIGIC processors for 8fps shooting, an 18MP sensor, full 1080p video capabilities, all-new 19-point focus system, built-in electronic level (for perfectly framed shots) and 3in LCD screen, its got so many more functions that we've lost count. We did hold onto the price though, and when it hits the region (sometime early November) it'll cost around the US$1,700 mark
******************************
Update on the Emirates story below – the drink driving charge appears to have been correct – but the individual remains employed – one rule for some and one rule for the rest….nothing like leading by example!
*******************************
Here is the solution for my lack of employment.  In Thailand the Ecclesiastical Council has decided to help unemployed men by turning them into monks.
********************************
The US is sinking in racist accusations over Serena-gate. An Asian line judge, a black tennis player, a white referee.
The line judge appears to have got the call wrong. And at a crucial part of the game.
But the language used – both body language and verbal – was clearly threatening and better suited to the WWF.
An apology from Ms Williams might have helped diffuse the situation and the subsequent unpleasant debate. But her memory of the incident is suddenly very vague.
13 September 2009
Adeybayor – should get at least a 3 match ban. And in all honesty his new club – the Etihad one – should be fining him as well. If only for being an idiot.
But that did look like a premeditated stamp on van Persie's head. There is no place for that.
****************************
It really is hard to take Thailand's PAD seriously – their latest : The PAD yesterday warned that former prime minister Thaksin Shinawatra would resort to violence to try to destroy the government.
The PAD only occupied BKK's airports and held the country to ransom – causing billions of baht of losses – no big deal really !!!
Meanwhile the PAD is off to demonstrate on Saturday at Preah Vihear Temple for the eviction of Cambodian troops and villagers occupying a disputed area near the ancient site.
That should stir up the nationalist sentiment on both sides. And may be aimed at embarrassing the Thai puppet – PM.
***********************************
One rumour doing the rounds at Emirates Airline is that a senior member of Emirates management has been done for drink driving. This of course is from the pilots' rumour network – and has been denied by emirates on the cabin crew web site. But I wonder – no smoke without fire.
From one of the pilots this little note should give a view of the mutual management/pilot respect !  "Just hope the company treat them the same way as they do us pilots at the moment." Any crew member would be fired without question.
12 September 2009
Some interesting comments in this article on the 9 September celebrations in Thailand; and on the enforcement on the lese majeste laws…..
Coincidentally my wonderful wife dreamed last night that I was accused of lese majeste and that we were being chased by police officers and were running away….
*****************************
I don't have the energy to dismantle the Nation newspaper's interview with Professor Stephen Young. Frankly it is not worth it. Appalling self serving nonsense.
But if you want a wonderful spoof of this ridiculous excuse for journalism – then the satirical Not the Nation hits the mark. The headline – Patronizing White Man With Degree Reassures Thai Elites With Unexamined Rhetoric – says it all.
Best spoof ever in Not the Nation – it really does hit the mark.
********************************
England really are not very good at one day cricket – losing four games in a row against the Aussies is poor. It is a seven game series so the last three games are completely meaningless – however much the TV people try to make the games sound like they matter. They dont ! 
*********************************
Man City vs Arsenal this afternoon – or Etihad vs Emirates – and refereed by Air Asia. A battle of the sponsors.
Huge win for Manchester City yet for all that money Manchester City are still a side that plays ugly football – with too many ugly footballers. That said, they do work hard on the pitch and for eachother. They just might have a very good season.
*********************************
Emirates is starting Cabin Crew recruitment again – with an Open Day is Spain and assessment days also this month in Australia, the UK and Serbia.
The Spanish open day is interesting as in implies the airline is looking at hiring Spanish speaking crews. Flights to Madrid or Barcelona cannot be far away.
**********************************
YouTube and Facebook are banned in China – confirmed from Guangzhou this morning. But www.rascott.com is available!
11 September 2009
I have been enjoying From the Flight Deck – the blog of Captain Frank Morris, an Air Canada A320/319 captain who also writes for the airline's inflight magazine.
***********************************
Contrary to rumour – Flickr is still blocked in the UAE.
************************************
This show is getting lots of media coverage in the UK – "Big trouble in Thailand" – this is the latest production from British producer/director Gavin Hill (APTV, Al Jazeera & various U.S. television outlets) and comedian Rory Bremner's Vera Productions for Bravo Channel and filmed with the cooperation of the Thailand Tourist Police. The first episode aired last Monday, with seven more weekly episodes to come.
The program follows British tourists in Phuket, Samui and Pattaya, with holidaymakers getting in trouble mostly with drink and drugs, but of course some sex, guns and rock-and-roll thrown in. Episode 1 spotlighted a skint young woman at a Koh Phangan Full Moon Party, who got caught with her boyfriend's ganja and gets locked up; some British Royal Marines who ignore good advice and rent a jet ski in Phuket only to get ripped off, and the squad of Pattaya foreign police tourist assistants.
This is the trailer:
Search YouTube for each episode in full.
If you are in a foreign country – do the decent think; respect the laws and respect the local people; keep off drugs. And maybe avoid Pattaya as well!!!
This was the Guardian's review of the show:
"Big Trouble in Tourist Thailand (Bravo) is about silly Brits who get into trouble in paradise, and end up in prison or paying enormous sums of money to stay out of prison. And all because they smoked a spliff or crashed a jetski, or didn't crash a jetski but the jetski man said they crashed a jetski and now he's got his heavies in. Awful for the people involved, obviously. But quite entertaing for us – so much more so than those Wish You Were Here-style travel shows. Who cares about people having a nice time?"
10 September 2009
I know a few of my readers who will be amused by the following:
9 September 2009
Modern China – tanks and girls – this link has it all.
8 September 2009
Useless piece of airline info.
Air Transat Flight 236 was an Air Transat route between Toronto, Canada and Lisbon, Portugal flown by Captain Robert Piché and First Officer Dirk DeJager. On August 24, 2001, the flight ran out of fuel over the Atlantic Ocean with 306 people (293 passengers and 13 crew) aboard. The flight crew successfully landed the plane in the Azores with no loss of life.
The first officer now works for Emirates – one of a number of ex Air Transat crew.
7 September 2009
Twitter is fun. You can reply directly to fellow twitterers – including Prime Ministers –
PM Abhisit tweets – Things are more stable now and will steadily improve cos my govt adheres to democratic principles and will do what's best for the people.
Two replies:
More stable!!! You cannot really believe that. Coalition falling apart in disarray. Newin wants your job.
– You dont want an election you cannot win. And expect significant demos on 19 Sept. Sorry. Wishful thinking. Not convinced.
*****************************
There is a Translate function on TweetDeck which provides entertaining translations of the tweets of ex PM Thaksin – such as this one:
"Yamagata Prefecture great Gandhi said that every wish will come the end of history think victory has been found that the violence is not sustainable ต้องสู้ truth and love."
What !!!
6 September 2009
Passing of an icon – The last Polaroid camera was made in 2007 and the last films are due to expire next month.
Emirates Airline used these cleverly. With one camera stored on each airplane a crew member would wander around the plane looking for kids and proud parents to take pictures of. They put them in little presentation folders – sometimes signed with a message from the crew. It was a nice touch.
Actually to be honest the crew spent lots of time taking pictures of eachother as well.
Guess there will be no more onboard pics from the crew. But is was something different. And always appreciated.
*******************************
Tai is on her way to New York -lucky girl – and will be there for the Labour Day holiday – though given USA unemployment rates the idea of calling it a Labour Day seems a little unfortunate !
********************************
Panda mania continues in Thailand.
********************************
Cant imagine why anyone would try and open up a smart new restaurant in this economy. La Villa is a smart new Italian on Thonglor Soi 9 – it is not really accessible except by car or taxi; and as it is on a side road it gets no passing traffic. On Saturday night there were two tables taken. Tough business.
*********************************
Just why are the USA, UK and others in Afghanistan. The recent elections had a turn out of less than 25% of the electorate – and there appears to have been widespread cheating. So why bother. What are the foreign troops defending in a very foreign land.
4 September 2009
Had a Thai massage this evening – though it was more like Thai torture – where to start. The lady had hands like a pot scourer. There are parts of me that feel like I have been rubbed down with coarse sand paper.
Then when she was massaging my back I swear she was trying to push me through the mattress. This was before she tried to force her fingers and thumbs through my skull.
It was all quite unpleasant. I think she must have had a bad previous experience with a farang; and I was her revenge.
But I refused to tell her how much it hurt! So I can tell my dear reader instead.
Add to that air conditioning which was blowing a gale.
3 September 2009
Thai cabinet gathering around their only laptop to watch Thaksin Live or to listen to THAT tape !!??
1 September 2009
The last day of the early season transfer window has managed to leave Watford decimated and to look even more like relegation candidates.
Tommy Smith has gone to Portsmouth for a bargain gbp1.5 million. Good player – two footed forward who can play on either wing or through the center and who will always score goals. Compared to some of the Premiership fees he is a bargain.
He is joined there by defender Mike Williamson who was sold for gbp2 million.
Jobi McAnuff has already left for Reading.
Last one out should turn the lights off.
*********************************
The Nation has an opinion piece on Darunee's 18 year jail term.
"The underlying theme to her speeches was the alleged link between the coup and the Royal Palace, with chief royal adviser General Prem Tinsulanonda as the conduit. She seemed,however, more intent on belching out foul words and curses instead of stating her case."
So rather than being sentenced for making her case the sentence is justified on the basis that she used foul words.
Was her language any worse than that of the PAD leaders are speakers at their rallies and when they took over the airport?
********************************
Another month gone. Will go to Dubai tomorrow with Tai for a few days. Or maybe not. Hard to plan anything at the moment.
31 August 2009
Arresting people for forwarding an email is frightening. There is no Thai law that I know of against forwarding emails. But Thailand's heavy handed political policing is getting alarming.
TapeGate is just another Thai drama. All part of local politics.
But 2 SCAsset employees were arrested for allegedly forwarding an email. I might believe this from Burma or North Korea. But this is Thailand.
Every reaction appears to be an over reaction. If youar enot with us you must be against us.
See below for the regular taunt of how would a foreigner understand. But many do. And many foreigners appear to care more about Thailand, her people and her futures than many of the country's own population.
More on the sentencing of Darunee here.
**************************
Tai is away in Sri Lanka for a couple of days. So she will be buying copy dvds from the shop in the lobby of her supposedly (but not very) 5 star Taj hotel. Copy dvds in a smart hotel ! A bit naughty.
****************************
Nick Nostitz recently published "Red vs. Yellow Volume 1: Thailand's Crisis Of Identity" which covers the political turmoil and events that took place in Thailand after the 2006 / 2007 coup period. The first 70-odd pages of the book are text followed by 90 odd pages of photos from the ground, right in the heart of the action.
In a recent interview around the launch of this book he made a number of observations on the differences between yellow and red shirts in Thailand and the state of Thai politics.
"In the PAD I have met a lot of xenophobia on the street. A very typical situation is when we discuss their ideology and I ask some very uncomfortable questions which they cannot answer, quite regularly comes the standard answer "Oh you are the foreigner, you don't understand about Thailand!" In the red shirts, I didn't have that problem at all."
" In every sector of society now, political discussions and debates are now the norm and I think it is a positive development in Thailand for people to speak a lot more freely and to take a lot more interest in the running of their own country."
"Red vs. Yellow Volume 1: Thailand's Crisis Of Identity" is available at Asia Books, Kinokuniya, Bookazine at 995 baht
********************************
Then there is the story of the farang motorbike rider stopped by a Thai policeman. His bike was legal in every way – he had paid his road tax, was in possession of a valid Thai driver's licence, the bike was insured and he had not broken any road rules. The policeman apparently asked for 200 baht for the never before heard infraction that "Farang cannot wear black helmet!"
That's the recession for you.
30 August 2009
25,000 at Old Trafford today for the England vs Australia 20/20 cricket game. Best way to get to the ground. The metro Link train to Old Trafford. So they close the line for the day for repairs. Brilliant!
Looks very cold in Manchester as well. 
***************************
The 2009 list from Parade magazine of the World's worst dictators:
http://www.parade.com/dictators/2009/
29 August 2009
Another death of Dubai story; this time in Fast Company. It is rather old news now. As though it took three months to send a reporter and compile a story. So nothing new. But some interesting pictures.
28 August 2009
It does say a lot for the state of football in Thailand when Peter Reid thinks that assistant manager at Stoke City offers him better opportunities than managing the Thailand national team !
He had not finished a year in Thailand. Back to the drawing board in Bangkok. I'm available!
******************************
Air Asia now has Krispy Kreme onboard. AirAsia is offering four different varieties of Krispy Kreme doughnuts – chocolate iced glazed, glazed chocolate cake, glazed vanilla cake and chocolate peanut butter. You still have to pay for them of course!
27 August 2009
Clever safety video from holiday and charter carrier Thomson Airways:
26 August 2009
Shin Corp – current price on the SET – Baht 23.00 – price paid to the Shinawatra family by Temasek – 49.25 baht in January 2006. Ouch.
*****************************
Now the UAE press is saying that only 9 stations will open out of 29 on the red line metro – due to open in Dubai on 9 September.
And they will only open by making workers work through the daily midday work ban – when workers are not meant to be working from midday to 3pm – due to the heat.
Surely it would be better to postpone the opening until all the stations are ready and without abusing worker rights.
*******************************
BangkokPundit has a thorough summary of the state of Thai politics and of possible outcomes here.
It is the hypocrisy that annoys me. The government invokes the internal security act to provoke/control the red shirts who are rallying in the capital this weekend.
A government that was not elected; invoking the ISA to threaten a rally of the supporters of the government that was elected……
Yet not one person has yet been prosecuted for bringing the country to a closure last year by shutting down the airports for eight days.
25 August 2009
Ricky Ponting gets a very welcome editorial in today's Guardian.
Maybe it is not much of a consolation – but it is fair recognition.
24 August 2009
Not a good day. Did go for a run – running when it is nearly 40C may not be wise but it was good to get out. Frustrated at home….away for a month, back a few days. Badly in need on inspiration.
*****************************
Poor old Thailand – the authorities announce a hub a month and a crackdown every week. The announcement means so much more than actual implementation. Crackdowns last a matter of days. Hubs never get launched.
The latest is real fiction.  The government plans to promote Thailand as the Asian region's education hub by next year.
By next year !!! Wishful thinking on every level. There are countries in Asia that are far ahead of Thailand in terms of quality of education: Singapore, Japan, China, South Korea, Taiwan, India, Malaysia.
The country needs to make a major leap forward in giving its own people a decent education first. And that means far better teacher training just for a start.
Bizarre.
23 August 2009
England win the fifth test and the Ashes – great celebrations – saddest part – I have no one with me to share this with – all I can do is write about it. Tai has no interest; Alex has no interest. Dad would have been happy!
*******************************
On Thursday, Friday and Saturday nights in the UK, 20% of ambulance call-outs are alcohol related. That has to be a shocking cost to the health service.
******************************
Tai is on her way to Johannesburg. Feels like I only just got back and she is away again. This time last week I was watching the village rowing regatta. Now I am hiding in the aircon looking out over construction and sand.
*******************************
Coming back to the apartment after three weeks away was a shock. The amount of dust/sand that gets into the apartment is alarming. Everywhere. Yet the windows were closed. So it must get in through cracks and through the aircon. Very unhealthy.
********************************
Montreal Gazette – "Too much compassion"
"We can't tell which nauseates us more: the hero's welcome afforded to Lockerbie bomber Abdelbaset Ali al-Megrahi when he deplaned in Libya, or the Scottish government's fatuous decision to release him.
Megrahi's bomb, aboard a Pan Am flight in 1988, killed 270 people over the Scottish town of Lockerbie. Convicted of murder in 2001, he served only eight years of a life sentence before Scotland released him from prison on compassionate grounds. He is said to have terminal cancer.
What a travesty. Should a man to whom compassion is a mystery – say, someone who blew an airliner full of innocent people out of the sky – be given compassion? Not in this case, anyway.
An absolute mistake"
Enough on that subject for now!
22 August 2009
A furious anti-Scottish backlash over the decision to free the Lockerbie bomber erupted last night as Americans threatened to cancel trips across the Atlantic and were urged to stop doing business with Scotland.
The campaign is also targeting the British government and British Petroleum for their complicity.
It is entirely appropriate for people to boycott anything and everything Scottish after the disgraceful release of Al-Megrahi.
The boycott is not aimed against the people of Scotland or the United Kingdom, but against the governments of Scotland and of Britain.
The boycott of tourism, banking, and oil industries is necessary in order to force those governments to listen and understand and admit their error.
The influence of British Petroleum in this entire charade has been well known and discussed quite often, most especially in the United Kingdom. But thus far the British and Scottish legislatures have refused to take any action or admit that such commercial interests have taken precedence, rather than such dubious claims of "compassion."
And here are some links to help you start:
http://www.boycottscotland.com/
http://www.thepetitionsite.com/1/boycott-scotland-for-releasing-megrahi-lockerbie-bomberbomer
And to contact the minority Scottish SNP government responsible for this mess:
VOICE YOUR OPPOSITION
Mr. MacAskill may be emailed at kenny.macaskill.msp@scottish.parliament.uk
Mr. Alex Salmond, Leader of the Scottish National Party, has also snubbed the families of the victims of Pan Am Flight 103. He may be emailed at Alex.Salmond.msp@scottish.parliament.uk
21 August 2009
Al-Megrahi – "The remaining days of my life are being lived under the shadow of the wrongness of my conviction. I have been faced with an appalling choice: to risk dying in prison in the hope that my name is cleared posthumously or to return home still carrying the weight of the guilty verdict, which will never now be lifted. The choice which I made is a matter of sorrow, disappointment and anger, which I fear I will never overcome."
He arrived home to a hero's welcome, greeted by Gadaffi's son.
Megrahi was a member of the Libyan Intelligence Services – he was charged with the bombing – allegedly acting with others.
If he was involved, the Libyan government, once a sponsor of worldwide terrorism, including support for the IRA, must have been involved too.
But with Britain and America doing big business with Libya now, perhaps it is in no-one's political interests to have the truth emerge.
Megrahi is now dying, but he may have been a convenient scapegoat for a much bigger conspiracy.
A deal has been done which likely hides forever a significant miscarriage of justice; Megrahi who was effectively sacrificed up by the Libyan state to bring that nation back into international recognition. And the truth of Lockerbie will be hidden forever.
20 August 2009
Thai politics – interesting comments at the FCCT earlier this week:
Pasuk Phongpaichit, Professor, Faculty of Economics Chulalongkorn University, Bangkok: "We're moving towards mass politics, away from what elites can manage, because little people now realize their rights. Thaksin showed them it could happen. People are moving away from unity. The governments counters with mo-so, the moderation campaign, and the I love Thailand campaign. But these campaigns are not going to work. Love Thailand and so what? What do we get from being moderate?"
Other comments from the panel:
The government is very unstable inside.
What happens when there is an election? There is no way that the current government will pass that election.
***********************************
Lockerbie: Interesting comments in the Guardian newspaper.
And here is my problem.
The courts convicted al-Megrahi for the murder of 270 people. Therefore he is guilty and should not be realeased.
If he is innocent and the evidence is as poor against him as it is alleged to be then this case should have gone to appeal/inquiry and his only way of release would be for the conviction to be overthrown.
But I thought this was interesting:
"This will be a day of mixed emotions in Greenock Prison. Both in-mates and prison officers will be happy for Abdul Baset al-Megrahi because to a man they were in no doubt he was innocent. But he will also be sadly missed, especially by the remaining prisoners. One reason for his popularity with other inmates was that he had a very large television with satellite channels (paid for by Libya) which he kindly allowed his fellow prisoners to watch. The other, more poignant, reason was that he helped illiterate local prisoners to read and write letters in English. It is known that almost half the 300 prisoners are functionally illiterate, a devastating comment on the failure of trendy education in Scotland."
Sadly the whole Lockerbie saga smells very bad. Questionable evidence. Dubious conviction. Secret deals. Inappropriate release. Now the truth of who was behind the bombing will never be known. Was it Libya acting alone. Unlikely. Iran and Syria were immediate suspects in December 1981.
19 August 2009
The new moon's orbit around the earth takes 29 and one half days. So the new moon for August will be on 20 August and this will mark the start of the month long period of Ramadan. So expect cafes and restaurants to close during daytime in Dubai and across the middle east from the morning on the 21st. 
*******************************
I am now back in Dubai after flying back yesterday on a very full EK18 from Manchester; with Tai as one of the crew.
After a month away it feels a little strange to be back in the heat and dust. I miss the cool clear air.
We did have a nice night in the Peak District – staying in Causeway House, a little bed and breakfast in Castleton; with a four poster bed and walls that are a bit too thin. And dinner at the Bull's Head in the village.
Tai liked Janet who is the owner of the BandB. Janet asked if Tai worked for Emirates and then described it as the best airline ever. Tai was all proud !
It is pretty and rugged countryside. Great hiking and caving country. And, given that it is only an hour from Manchester, it was remarkably quiet. Mind you it was a Monday night.
18 August 2009
We had great plans for an afternoon in the Peak District yesterday until Tai arrived at Manchester three hours late – after a runway closure an MAN had forced the plane to divert to Birmingham! 3 hours late into Manchester! Here she is at last landing on the re-opened 23R.
Still we had a nice evening in Castleton…see above. And the pictures on Picasa.
16 August 2009
Not much personal news recently – not a lot to tell you about. But I will leave Newton Ferrers tomorrow and head for Dubai via Manchester !
I will have been in the UK for almost four weeks and it is beginning to feel like two long.
*******************************
The Dubai Fountain in Burj Dubai, UAE, is billed as the largest and most technologically advanced fountains in the world. The $218 million fountain was unveiled in May of 2009.
While it's similar to the famed Bellagio Fountain in Las Vegas, it's 25% bigger and boasts water sprays as high as a 50-story building. The lighted night time water show gets big crowds every night and you can watch one of the show here.
15 August 2009
Why sell a computer printer but not the cable to attach it to the computer!?
And why does no one tell you when you check out that you need to buy the cable separately.
So only when you open all the excess packaging can you find in the small print  – USB cable to be purchased separately.
Only in England.
Plug and no play. Useless.
***************************
Good article about Dubai and Abu Dhabi in the Sydney Morning Herald – less vitriolic that many such articles. The author concludes on Dubai –
"For those who fail to see beyond the fancy facade, Dubai is the epitome of gaudy. But scrape beneath the surface and that's where the similarity between Paris Hilton and Dubai begins and ends. It's not as synthetic as it looks."
*****************************
Oops – It has not yet been finalised whether the 15th Asean Summit in October will be moved out of Phuket, Prime Minister Abhisit Vejjajiva said Saturday.
Sounds like the other ASEAN leaders think the drive to Hua Hin and the potential security problems are an issue.
I have a suggestion – Singapore. Humble pie for Thailand – but the best way to avoid trouble.

14 August 2009
Were there really 100,000 red shirt supporters in Roi-Et for Thaksin's 60th birthday celebrations. The BKK Post and Nation missed that ! hardly surprising.
****************************
Interesting:
Did Black Magic Play a Role in Suu Kyi Trial Verdict?

13 August 2009
More on the US interrogation sites that operated globally, including in Thailand form today's New York Times; including this statement:
"Early in the fight against Al Qaeda, agency officials relied heavily on American allies to help detain people suspected of terrorism in makeshift facilities in countries like Thailand. But by the time two C.I.A. officials met with Mr. Foggo in 2003, that arrangement was under threat, according to people briefed on the situation. In Thailand, for example, local officials were said to be growing uneasy about a black site outside Bangkok code-named Cat's Eye. (The agency would eventually change the code name for the Thai prison, fearing it would appear racially insensitive.) The C.I.A. wanted its own, more permanent detention centers."
No one believes the continuing denials from the Thai government and army. Surely it would be better to say – yes we gave our support and yes all the detention centers have now been closed.
*******************************
I don't want golf as an Olympic sport; there are enough golf majors already – and countless other tournaments.
I cannot see the likes of Woods or Mickelson staying in the Olympic village and rooming with their caddies.
And is their any other Olympic sport where a salve is employed to assist the exhalted professional by carrying their bags and telling them what equipment to use?
It seems to me that modern golf runs against all the best principles of the modern olympics.
Which in the end leaves the olympics as just another commercial grubby money run enterprise. Sad.
*****************************
Thai politics continues to be a polarised mystery. For the government – if you are not with us you are against us appears to be the continuing theme. Worse – if you are not with is them you are with Thaksin. There is no sensible middle ground.
It is fuelled by outrageous conspiracy theories from rags (ex newspapers) such as the nation – which is taking a line summarised in another blog as follows:
So if we are to believe the Nation, in the context of the Thaksin petition and the turmoil in politics:
Suthep (Deputy PM) is a traitor.
The army chief, who was a 2006 coup leader and who crushed the Songkhran Uprising, is a traitor.
Surayud is likely to be a traitor.
Sondhi and Abhisit are aligned for the side of good against evil.
The blue shirts, who attacked the red shirts in Pattaya in April, are now allied with the reds.
That must make Newin Chidchob, the man behind the blue shirts, a double traitor because he deserted Thaksin in December but must be going back.
The red shirts have a plan for People's Revolution beginning 17 August.
Read the blog in full here.
*********************************
In a big US recession this offer from JetBlue should prove popular.  fly an unlimited number of times with JetBlue's new All-You-Can-Jet Pass. For $599 including most taxes and fees, hop any of JetBlue's routes from 57 cities and more than 600 daily flights for an unlimited number of times for one month.
For anyone with a month to travel, and who wants to tour the USA, it is a very good deal.
**********************************
For my loyal Aussie reader – this Qantas video celebrates 50 years of jet flying over the Pacific – July 29 1959 was the first Qantas Boeing 707 flight from Sydney to San Francisco.
10 August 20009
Lovely – I always liked the 747SP – special performance not stubby plane!
*****************************
Official statistics – it has been the wettest July in Devon since 1914. Great time to be here.
******************************
This is such a sad picture:
An elephant baby is trapped in a manhole of a drainage ditch in Rayong's Muang district yesterday. Rescuers took 3 hours to free it, using a bulldozer to widen the hole. It was freed safely.
Guess even an elephant has to look where he is walking !
************************
There are times when working for Emirates must be horrible….
If you are the overweight, arrogant, MacDonalds eating UAE national that flew to Hyderabad last night you really should learn some manners.
You were fortunate enough to have a business class seat upgraded from economy. Shouting at cabin crew and throwing food trays, a can and your Macdonalds leftovers at them is offensive.
You stand in the aisle; obstruct the crew in their work, block the carts. Refuse to move when the crew are trying to do their work. And if the plane hit turbulence while you stand in the aisle all flight; then who would you blame?
Worse, you have the audacity to complain that the crew are rude and not helpful and expect the crew to apologise to you and bring you gifts. Pathetic. If you know who you are you are an arrogant, rude and offensive individual.
Airline crew are not there to serve as your personal maid.
Cultural arrogance at its worst. Someone should tell you that your behaviour is not acceptable rather than appeasing you for being a s**t.
******************************
There are two types of Economy Class passenger. There are the sensible ones. They know that while they may be cramped up with screaming babies and no leg-room, they will but for a decent fare get you safe and usually on time to your destination. They bring a book, sit down, shut up, don't bother the crew, don't expect anything, say please and thank you – everyone's happy.
Then there are the mindless minority who think Economy Class can be luxurious and glamorous. They pester the crew all the time, ring the call bell endlessly, demand meals that they have not ordered, treat crew as their personal maids,  keep wanting things from the overhead, can't sit still and recline their seat right back for the whole flight to make the trip miserable for the poor sensible guy or girl behind them.
Among the mindless minority are the ones that think they can drink the bar dry. And then there are the ones that still think they can smoke in the washroom by covering the smoke detector with wet tissues. Idiots.
********************************
One of the most annoying web censorships in the UAE is the blocking of Flickr; the biggest of the photo sharing webistes.
Maybe no one wants you to see this crosswind EK landing at Birmingham!
9 August 2009
You read it here! H1N1 has been solved in Malaysia!!! Where a doctor has said that avoiding masturbation and homosexual activities are among preventive measures people can take to reduce their chances of contracting the virus.
Dr. V. M. Palaniappan, an eminent practitioner of complimentary therapy, said that such activities caused the body to develop friction heat which in turn, produced acid and made the body hyperacidised.
Dr. Palaniappan told Bernama, the Malaysian national news agency, that masturbation and homosexual activity made "the body become an easy target for pandemic A(H1N1) infection," however, the normal sexual union between members of the opposite sex was absolutely safe.
Dr Palaniappan, a former associate professor of ecology at Universiti Malaya, said his 33 years of research had shown that high acidity in the body resulted in loss of immunity, thus making people more susceptible to viral diseases such as pandemic A(H1N1).
The doctor said to prevent acidity, it was essential to consume alkaline food and drinks that could neutralise excess acid in the body.
He recommended people drink coconut water, which is alkaline, and therefore could be used as a herbal medicine for the prevention of pandemic A(H1N1), along with orange, lemon and pomelo which, despite containing citric acid, were very rich in potassium and therefore, would not disturb the body's immunity.
That' it. Case solved. It is a gay disease. Straight Malays wont catch it !!! Bizarre !!!
********************************
This was the first time in 121 years that England's 3, 4 and 5 have been out in single figures in both innings of a Test. How bad is that?
8 August 2009
The usual garbage from the Nation newspaper – don't they use a spell check:
"THAKSIN RETURN
Red shirts are 'withing rights' to petition King"
******************************
Meanwhile in the quality Devon press – the front page story in today's weekly Kingsbridge and Salcombe Gazette – wait for it – its a big story:
"Sheep Savaged"
– in Times New Roman Bold 72 point!! Just an excuse to target the local gypsies.
*******************************
Inspired by my good friend DC – here are the boys on Air Force One checking out Manami Ono on the internet :).
*******************************
You cannot win a test match on the first morning; but you can lose a match on the first morning – that is what happened yesterday. Four days to go – the match is likely to be all over my Sunday night. May as well start to plan for the 5th test now. Barring a miracle.
Why on earth do test cricketers warm up by playing football.
But the aussie batting is so much stronger. Strauss is the only english batsman that could get into the aussie line up. Forget the rest. Border, Clarke, Hussey, North. They can all make runs and look like they want to bat for as long as possible.
7 August 2009
England in South Africa – 2009/19. Four test matches. Interesting place to spend the new year. But…..someone is on standby in December.
16-20 1st Test, Centurion
26-30 2nd Test, Kingsmead, Durban
January
3-7 3rd Test, Newlands, Cape Town
14-18 4th Test, St George's, Port Elizabeth
Would be an interesting place to go to for Christmas.
********************************
The South West England town on Newquay is well known for its surf – Hawaii without the weather! From Getty Images this picture taken on Wednesday is of a surfer making his way across rocks during the Relentless Boardmasters surfing festival.
6 August 2009
Bahrain's national carrier Gulf Air has announced it will start a route to the Iraqi capital Baghdad from September 1. How long before Emirates decides to fly there?
*******************************
Lots of fuss in the newspapers about the TV motor show – Top Gear. And a lot of speculation that it will be taken off the air.
It is misogynist. It is racist. It is boorish. But there are many, many, worse things on TV.
********************************
Stunning full moon. But it is cold tonight – down to 11C or 12C.
*********************************
Paul Abdul reveals on Twitter than she will leave American Idol. Rumours that she will be replaced by Victoria Beckham.
5 August 2009
Interesting guide to 48 hours in Singapore from the Independent newspaper.
*****************************
And here is a rather different way of portraying the political morass of Thailand – and it is funny and far to close to the truth.
4 August 2009
Sad to see the BKK Airways accident at Samui today – sounds like the plane ran off the runway while landing in rain and wind. The plane ran into the old control tower which is now used for emergency services' vehicles.
Details in Thai are here. The pictures tell the story.
Looks like the captain died and a few others badly injured. Difficult little airport that does have wind sheer problems and often has rain and winds during the summer months. Bangkok Airways owns the airport and their pilots have plenty of experience at the airport, Conditions must have been very unpleasant. Flight was arriving from Krabi.
************************************
I like this – Air Asia using Twitter and its web site to allow customers to select the next addition to their inflight menu.
I cant imagine Emirates ever asking its customers what they might enjoy eating in flight.
3 August 2009
This is an interesting pic from the White House press office:
Must be strange for Hillary Clinton to go back to the White House as Obama's guest and Secretary of State given that she used to live there; and it was the scene of some of her husband's less smart moments!
*****************************
Foul, foul weather in the South West. It was like a February day – not a summer's day.
Plymouth is a bit grim at the best of times – in the rain its even worse.
The trouble with opening a new shopping centre next to the town centre is that the old town centre is dieing a slow and painful death.
It was never attractive. A mess of post war blocks surrounded by fields of concrete. Now the stores are closing – but Drake Circus – the new and modernly ugly shopping centre is still busy. Anchored at one end by Marks and Spencer and at the other end by Primark it is a soul less and rather depressing place. There are no places to rest; no decent cafes. No music playing. Nothing that would make you want to stay and look around.
2 August 2009
The weather reports from Dubai are gloomy. Dust has been hanging in the air for days now but today is apparently the worst yet.
Not much cheer from the Met office either, it may clear on Tuesday but it'll be back Wednesday.
The UAE authorities are warning people with respiratory problems to stay indoors but it is so bad that the advice best applies to everyone, asthmatic or not.
Worse – the particle are so fine that they crawl into apartments and buildings through air conditioning systems.
1 August 2009
From another blog:
"The real problem Abhisit has is that he is an illegitimate PM who owes his position to the PAD, the military and the BJT party. He has no democratic mandate. Indeed, he is less popular than Thaksin. If that Frankenstein coalition goes after each other or after Mark, things will fall apart. The people won't be rallying to Mark's side. They know he has no legitimacy in the first place and just a stooge of other power brokers who despise Thaksin"
Hard to argue……
*****************************
Remember the Air Force 1 picture flyby over New York a couple of months ago – where they forgot to tell anyone in New York what they were doing. Major egg on face.
Well the Department of Defence just realeased 130 pictures from that day.
And the pictures are fabulous.
30 July 2009
I now have wireless internet in Newton Ferrers. This is a giant leap forward for my contact with the outside world.
It rained heavily almost all day yesterday. The good news is that the countryside looks so green today – and I did get to walk to the village in the afternoon.
28 July 2009
The patient has been home one day – but my patience is being sorely tested !
Is the ability to fuss over the small things and ignore the big things the prerogative of our seniors?
27 July 2009
Three years today the Olympics opening ceremony will be held in London's East End.
It is good news for East London and for Great Britain. The urban regeneration of the East End is a huge and long overdue project. It will inspire may young people to take up and take an interest in sport.
It creates employment through the recession.
It creates a long term legacy for London. All good news.
**************************
The patient will be released from hospital tomorrow.
26 July 2009
Another long day in the hospital. Mother is doing well. Will be out on Tuesday. Then the hard work starts.
Tai is in HKG; lucky girl.
And it is Mr.Thaksin's 60th birthday. And yes – he is in Dubai!
25 July 2009
Not much to report – mother is being a good patient and is much stronger today and is eating better.
Was at the hospital for about 10 hours yesterday and another 8 hours today. It is a bit quiet sitting there all day.
******************************
It was a busy day for Emirates at Birmingham Airport yesterday with two diversions; making four flights into Birmingham – EK15 Diverted to BHX due to a FlyBe emergency landin incident at LGW and
EK29 diverted to BHX due to extensive holding at London due to ATC delays and thunderstorms in the area.
24 July 2009
Steven Gerrard found not guilt of affray. That's what you can do when you have enough money to afford the best of lawyers.
You get the justice you can afford! Makes the police prosecution look a bit silly !
******************************
Playing politics with the current flu pandemic is nothing new in Thailand – so the latest proclamation from the Public Health Minister Witthaya Kaewparad is no surpirse. He warned red-shirt supporters who plan to attend mass gatherings to mark Thaksin Shinawatra's birthday this Sunday that they should take should take precautions against catching A(H1N1) flu – or even better still, avoid the rallies completely.
23 July 2009
The website of Thailand's splendid samaritan, Sister Joan, has been updated with more photos, charity events and articles. There is also a YouTube video on Sister's mission on the home page.
See – http://www.sisterjoan.info/
Also – Media articles – http://www.sisterjoan.info/media.htm
******************************
Country life – next Wednesday is the annual Yealmpton Village Show – livestock, farm equipment, horses, vegetable, flower show, and a funfair. A day out that all depends on the weather – a fine day it could be fun; a wet day – it is a mudbath.
Then at the weekend is the annual dance for the regatta at the Yealm Yacht Club. And apparently returning to provide the music by popular request is a band called – The Toilet Monsters !!!
Guess they must be coming out of the closet !!!! Or maybe they are flushed with their own success. :):):)
****************************
On hospital watch this evening – mother's operation seemed to go well. Lots of sleep for the moment. Nursing staff are very capable and efficient.
****************************
From the useless facts department and for all fans of Jerry Springer: Now boasting over 3,000 shows – including "I'm Pimpin' My Mom", "Lesbians On A Goat Farm" and "Springer's Gender Bender Blow Out" – the Jerry Springer Show first debuted on American TV in September 1991. Eighteeen years on and still a bellweather for anyone in America who  needs their 15 minutes of fame!
22 July 2009
One night at the ETAP hotel at Birmingham airport is more than enough. Woke at 3am. Small rooms; not even a phone in the room.
But it is in the middle of Birmingham airport; and now before 7am it is time to get my rental car and drive to Devon.
For England's second city Birmingham airport is very quiet. British Airways do not even have a presence here.
***********************************
Dubai's Al Nassma, the world's first brand of chocolate made with camels' milk, plans to expand into new Arab markets, Europe, Japan and the United States. I have not tried camel's milk – I guess it is one thing that must be done before leaving the Middle East!!!
21 July 2009
I am on my way to the UK today; flying on a very quiet EK37 to Birmingham.
My Mum has a knee replacement surgery on Thursday and I will be housesitter and potentially nursemaid and physiotherapist for two or three weeks.
I am sad about being away from Tai for this time. She still has no UK visa so we may be apart for longer than any time in the last three years. But it is good that I have the time to be able to help look after my Mum and I am happy I can do that.
20 July 2009
Lots of space speculation today – what next; who next; where next? The next man or the first woman on the moon – Chinese. What a symbol of pride that would be!
***********************
Meanwhile here are some pics and a report that should put anyone off going to Pattaya. Nasty.
*************************
Rumours of more firings at Emirates. Firstly an American direct entry 777 captain who wrote a blog that EK management took a dislike to. The blog is apparently no longer available.
And their are unconfirmed rumours that the augmenting crew from EK 407 at Melbourne have also been asked to leave. This may have something to do with the CVR record of the pre-take off cockpit conversations.
**************************
40 years to the day since man landed on the Moon. Perhaps the greatest achievement that I have witnessed in my life.
It was 10.56pm in New York; 03.56am in London (on the 21st); 06.56am in Dubai and 09.56am in Bangkok.
I was thinking this morning how I wished that they had planted the United Nations flag on the moon as well as or instead of the USA flag. But it was the USA's achievement; it was there money; their people; their courage and their ingenuity. With a bit of German help from Mr. Von Braun.
******************************
I followed this link from Bangkok Pundit – http://bkkmindscape.blogspot.com/
Only to discover that the site is banned here in Dubai…..anyone want to tell me what is there that would make the site banned?
19 July 2009
More on Golf…and the impact of the financial crisis. Despite denials from European Tour chief executive George O'Grady, whispers continue that this year's Race to Dubai, culminating in the $10million Dubai World Championship, will be the first and last.
Tour sponsor Leisurecorp, who signed a five-year $150m deal in November 2007, suffered so much in the global financial crisis that the Dubai government placed them under the control of state company Nakheel in May. Nakheel has problems of its own. Its much touted purchase of the old QE11 cruise liner looks like a massive floating white elephant. The boat is now rumoured to be heading for Cape Town.
Leisurecorp also own Turnberry but, having spent £40m on refurbishing the venue for  The Open, there are rumours they will sell the hotel.
Already cancelled this year are the British Masters, Canal Plus Open and English Open because of various financial problems.
********************************
It is almost a massive anti-climax. When Watson birdied the 17th all he needed to do was par the 18th. He almost hit his second too well – over the flag all the way it ran over the back of the green and instead of a simple two put Watson took three and ends up in a play off with Stewart Cink. Now Watson looks really tired – and at 59 so he should be.
But the playoff is painful to watch. Stewart Cink will be the least popular Open winner in history.
After playing so well for 72 holes Watson just looks wiped out. Cink never ever led this tournament.
*******************************
Dad would have been 77 today – and he would have enjoyed watching Tom Watson.
********************************
I missed this last week – a very strong anti Dubai article in the Times newspaper. The trouble is the local media almost encourages this. The local media are uncritical to the point of being misleading. This encourages foreign reporters and critics to go to the other extreme.
The Times article really does quote and report the extremes. There are many people here simply trying to eke out a decent living for themselves and their families.
But the article is worth reading – if only to balance the good news focus of the local media.
18 July 2009
Round three leaders in the British Open:
Tom Watson, 206
Mathew Goggin, 207
Ross Fisher, 207
Lee Westwood, 208
Retief Goosen, 208
Jim Furyk, 209
Stewart Cink, 209
Bryce Molder, 210
Thongchai Jaidee, 210
Could Watson win – at 59 years of age. It would be a story for the ages!
Otherwise who? Goosen or Furyk? And Westwood has been playing good steady golf. And happy for Thongchai Jaidee. Could he win? Yes – he can produce a 65 or 66.
***********************************
President Barack Obama will host the Apollo 11 crew on Monday, the 40th anniversary of man's first landing on the moon.
***************************
A writer on my tagboard mentions Thailand's latest bizarre anti-flu scheme – the Health Ministry has launch the campaign so called " The Mask of Hero D.I.Y (Do It Yourself)" which encouraging people make face mask by themselves.
As apart of the campaign, the Health Ministry also invited general people to attend the hand made face mask design competition. The winner will be awarded Bt 10,000.
17 July 2009
Funny old game – 161 not out in one day and out second ball the following day. Still a captain's innings from Strauss.
And then not a great decision to have Ponting caught behind – though he may have been lbw from the same ball. It hit pad not bat. But no love lost here….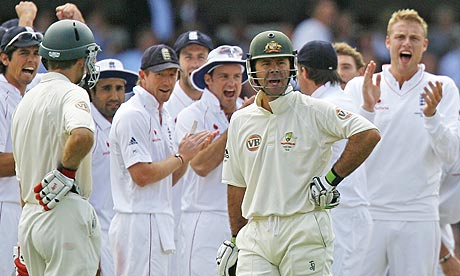 ******************************
Jakarta has been peaceful for some time; but that peace was shattered this morning; when least nine people were killed and 50 injured in two separate explosions at western-owned hotels in the Indonesian capital, Jakarta….the Ritz Carlton and the JW Marriott.
It might be wise to delay any travel to the Indonesian capital.
******************************
Terrific day of cricket yesterday at Lords. Andrew Strauss on 161 not out lead from the front. But the middle order batting against a weak Australian attack was woeful. Bopara has to go.
*******************************
Shane Warne is a great addition to the Sky commentary team; works well with Beefy Botham.
15 July 2009
Advice to airline passengers from Dubai – posted by another frustrated traveler on another web site.
"Just because the plane's wheels have touched the ground, there's no need to jump up, grab your bags, drop your suitcase on someone's head and barge your way to the front of the plane".
"And now it's time to relax. Watch how the passenger gently reclines his seat. If one were to recline it in one quick movement, it might cause discomfort to the passenger behind".
"Remember, the cabin crew are there to assist you. They are not your slaves, so repeatedly pressing your 'assistance button' and demanding another whisky and Seven Up will be seen as rather rude."
"This gentleman wants all his ten family members to sit next to each other. And quite right too. What a clever chap – he mentioned this when booking their tickets and made sure the seating arrangements were confirmed when checking in. That's the way to do it, old fellow – this way, there's no need to delay take off by twenty minutes whilst all the passengers around you are forced to swap seats and play musical chairs."
"Remember, it is a scientific fact that the laws of physics also apply on aeroplane journeys, so trying to squeeze a 6ft by 5ft suitacase into a 3ft by 2ft hat rack, will simply never work, even if you ask the stewardess to do it for you".
"Look at this naughty man – he's berating the cabin crew over some problem that is absolutely nothing to do with them whatsoever and which they themselves are powerless to address. What a silly man".
And for certain routes…
"Here's the aeroplane toilet. Remember, you sit on it. Standing on it will leave dirty foot marks. And the basin's for washing hands, not for…"
14 July 2009
Showtime loses its Premier football rights from the end of the 2009/10 season. And in doing so it would probably lose say 30% of its subscribers.
So it merges with Orbit. So now there is a single monopoly satellite tv subscription service.
More channels. Less to watch. More fees.
What do you get if you merge Showtime and Orbit – its a four letter word?
13 July 2009
Home alone again:
***************************
Flying on empty: While I am thinking about airplanes go and watch this dramatization of Air Transat's A330 flight 236 from Toronto to Lisbon which had a fuel leak, ran out of fuel and glided to a high speed, dead-stick landing in the Azores. This was 24 August 2001 and its importance was rapidly forgotten by the events two weeks later of 9/11.
There are a couple of telling comments about how the computers on the A330 can send messages that cause confusion to the pilots.
This film shows how serious problems can arise when pilots get unusual readings from the computers and begin to distrust them. Maybe very relevant to the recent AF disaster.
The A330 is a good glider. The trouble is the plane really does not want to descend!! Very, very, cool captain !
The investigation revealed that the cause of the accident was a fuel leak in the number two engine, caused by an incorrect part installed in the hydraulics system by Air Transat maintenance staff. The part did not maintain adequate clearance between the hydraulic lines and the fuel line. This allowed vibration in the hydraulic lines to degrade the fuel line and cause the leak. Air Transat accepted responsibility for the incident and was fined CAN$250,000 by the Canadian government, which as of 2009[update] is still the largest fine in Canadian history.
You can read the story of flight 236 here.
*****************************
Memories – Pan Am going around the world in 1970. Warning the video was made on film and is 24 minutes long!
Pan Am was THE airline at the heart of the golden age of flying; the first airline to fly the 747. It flew almost everywhere ! One interesting aspect of Pan Am's global network was putting two flights in the air each day that completely flew around the world. One flew east and one flew west. Currently only one-airline flies completely around the world, Air New Zealand
*****************************
Recession proof industries – interesting report on BBC Business – Japanese love hotels that still have 400% occupancy – yep – each room is sold 4 times a day !
It is estimated that more than 500 million visits to love hotels take place each year, which means around 1.4 million couples, or 2 percent of Japan's population, visit a love hotel each day.
It is only now that the industry is seeing corporatisation and consolidation.
This is a business that could do well in Thailand 🙂
******************************
Well how about that – the only thing missing was Steve McQueen on a motor cycle – England completed the great escape last night. Some of the time wasting was not very subtle – the Aussies have been whinging all day ! They had 100 overs to bowl England out. They  had 69 balls at Anderson and Panesar (of all people!!) and they bowled their part-time spinner. What were they thinking. Get the quickies on and bowl at Panesar's head. Dumb captaincy.
So on to Thursday. The Aussies looked good. England looked awful (except for farmer Collingwood). England need to stop living in 2005.
But miracle of miracle – the first test was a draw !
12 July 2009
England in deep doo-doo against the Aussies. Poor dismissals – all three of them so far today. The sort of shots that should not be played on the 5th day of a test match.
The Aussies seem to move from 20/20 to 5 day cricket so easily. They seem to understand the pace of a test match.
Will their be wholesale changes for the second test at Lords on Thursday. There should be. But the selectors wont do that. Harmison for Panesar. Bell for Bopahra. That may be all.
Pieterson should go back and play some big county innings.  Maybe time for Cook to have a rest as well.
England have not looked like a team that wants to win!
Watch Ponting bat. Straight balls are greeted by a huge straight bat. And he uses his feet so well to get to the pitch of the ball.
England have been out thought and out played. It is very depressing.
*********************************
President Obama in Ghana – while he was talking to Africa the same speech is relevant for Thailand:
"In the 21st century, capable, reliable and transparent institutions are the key to success – strong parliaments; honest police forces; independent judges … an independent press; a vibrant private sector; a civil society. Those are the things that give life to democracy, because that is what matters in people's everyday lives."
********************************
Sad to see the English all praying for rain. Not much confidence in survival.
11 July 2009
What recession? This watch is for sale at Dubai's Atlantis resort for AED584100 – say US$160,000.
I was looking for a copy of The Economist today. Not successfully.
**********************
Dear old Thaksin is always one step ahead – today Thailand  requested the Fijian government to detain convicted, ousted former Thai prime minister Thaksin Shinawatra, on a temporary basis, after learning that the fugitive ex-premier was in that country according to a senior Thai official. He is already back in Dubai. Keep up guys!
12 July 2009
England in deep doo-doo against the Aussies. Poor dismissals – all three of them so far today. The sort of shots that should not be played on the 5th day of a test match.
The Aussies seem to move from 20/20 to 5 day cricket so easily. They seem to understand the pace of a test match.
Will their be wholesale changes for the second test at Lords on Thursday. There should be. But the selectors wont do that. Harmison for Panesar. Bell for Bopahra. That may be all.
Pieterson should go back and play some big county innings.  Maybe time for Cook to have a rest as well.
England have not looked like a team that wants to win!
Watch Ponting bat. Straight balls are greeted by a huge straight bat. And he uses his feet so well to get to the pitch of the ball.
England have been out thought and out played. It is very depressing.
*********************************
President Obama in Ghana – while he was talking to Africa the same speech is relevant for Thailand:
"In the 21st century, capable, reliable and transparent institutions are the key to success – strong parliaments; honest police forces; independent judges … an independent press; a vibrant private sector; a civil society. Those are the things that give life to democracy, because that is what matters in people's everyday lives."
********************************
Sad to see the English all praying for rain. Not much confidence in survival.
11 July 2009
What recession? This watch is for sale at Dubai's Atlantis resort for AED584100 – say US$160,000.
I was looking for a copy of The Economist today. Not successfully.
**********************
Dear old Thaksin is always one step ahead – today Thailand  requested the Fijian government to detain convicted, ousted former Thai prime minister Thaksin Shinawatra, on a temporary basis, after learning that the fugitive ex-premier was in that country according to a senior Thai official. He is already back in Dubai. Keep up guys!
10 July 2009
The combined performance of England's 2 spinners by tea on the third day – 55-12-164-1. No idea when England last played two spinners in a test against the Aussies. It will be a long time before they try that again ! Pity really. It is good for the over rate.
**********************
The Economist has this commentary on Dubai/the UAE. The article is strong. It is all too accurate. But I am not sure that I should reprint it here given local sensitivities.
*********************
The Jackson death and subsequent debate shows just what a drug culture exists in the USA. Alarming.
9 July 2009
It is just a game of cricket. It really does not need a rendition of Jerusalem at the start of the day's cricket.
**********************
The Times reviews airline food: follow the link.
I don't like the weird shaped Emirates food trays. They are meant to recall the monstrous Burj Al Arab hotel. But they are completely impractical. The tray is square or oblong. Use dishes that are the same shape/
8 July 2008
On Emirates 94 heading from Milan to Dubai. Happy to be heading home. Tai and I need some time together and I am sorry that we could not share our summer holiday.
I did not like Milan much. The Duomo is a lovely building. But there really is nothing else worth seeing; I suspect that their are some lovely inner courtyards and hidden places but those are behind the public facades.
6 July 2009
Feel a bit sad tonite after saying goodbye to Alex and leaving him at his Le Rosey summer camp. We have had a good week and the Swiss road trip over the last few days was good fun.
Now for the long haul back to Dubai – via Geneva and Milan.
5 July 2009
Thaksin complained in today's phone in of being lonely and told the crowd not to leave him "dying in the desert."
I know just how he feels.
****************************
Federer wins Wimbledon and Switzerland yawns! The difference between the Swiss and British reaction is amazing.
*****************************
Geneva to Munich is a one hour ten minute flight. Flights for the next three days on either Swiss of Lufthansa are over gbp 700 (chf 740) each! This is duopoly pricing at its worst.
4 July 2009
Emirates A380 watch – goes second daily to London Heathrow in December 2009 – replacing planned Rome route.
Emirates is flying 2nd Daily Airbus A380 service on the Dubai – London Heathrow route starting 02DEC09.
Initially, EK003/004 receives A380 service on Day x245 (Day 245 with 777-300ER). Service increase to Daily from 01JAN10.
But Rome does get five extra flights in August:
Due to heavy booking for the summer peak EK asked and obtained the authorization from ENAC (Italian Civil Aviation Authority) to add 5 extra bilateral flights in August (on every sunday) to Rome.
Flights are now bookable through Emirates.com :
EK 3097 DXB FCO 10.20 14.40 – 77W
EK 3098 FCO DXB 16.55 00.35(+1) – 77W
**************************
An ABAC survey which was conducted on 1,228 household respondents in 17 provinces across the country shows that 84.5 percent of them accept corruption as a normal practice in business and 51.2 percent of them admit they don't mind if a government is corrupt so long as it manages to bring about prosperity to the country and to improve the livelihood of the people.  Amazing Thailand.
**************************
The Economist is once again doing what good international news observers do and commenting on events in Thailand. Not surprisingly the influential magazine is less than complementary on the recent escalation of lèse majesté cases.
Follow the link for the full article. As the article notes "by persecuting Thais who give vent online, these moral guardians may be adding to the anger against Bangkok's elite and, perhaps, fanning the flames of republicanism. Their zeal certainly undercuts Mr Abhisit's feeble efforts to unite a polarised nation."
************************
Just outside Charmey there is a small village called "Les Arses." Charming !
**************************
There is something that sounds really bad about the word Ausfarht!
**************************
USA for Africa, in 1985, was one of Michael Jackson's better moments – the video is fun – Bruce Springsteen singing alongside Stevie Wonder; it does go on a bit – but so many egos in one recording session!!
***************************
Making it even harder for foreigners to settle in Dubai the government has announce that expat residents who want to bring their families into the country must earn a minimum monthly salary of AED10,000 ($2,723), up from AED6,000 under new rules.
***************************
Overnight last night in the lovely village of Charmey about 125km north east of Geneva.
Such a pretty place. And beef fondue for dinner. Sitting outside surrounded by mountains.
****************************
Britain mourns as Andy knocks Andy out of Wimbledon. 3 of the singles finalists are American! Its all over until next year! And then all the fuss will start again and for two weeks the Brits will all become tennis experts again.
****************************
Meanwhile someone is still in BKK and is still grumpy! Back to meditation school !!
3 July 2009
Sitting at Heathrow Airport in Terminal 5 and waiting to catch the flight to Geneva.
Tai has finished her two days of meditation and has been released back in to the real world – where food was probably a first priority – followed by a shower and a proper sleep!
Two days of meditation seem to have also produced two days of grumbling !! Note I did not say complaining. The early start – 3.30am. The mat that was a bed. The 60 people sleeping in the same room while one poor lady had a midnight fit. The food. Not very appealing. The pain from sitting in one position meditating for hours; or worse trying to meditate for an hour standing with eyes closed for an hour. The bathroom (you can imagine!).
I understand that there was no water boarding involved!
She was brave to go. And I am sure a couple of days away from everything must have been good.
*********************************
One thought on Thailand – what happened to the investigation of the Santika nightclub fire that took place on New Year's Eve. Six months on there has been no prosecution or action taken.
2 July 2009
Internet access at the Nuffield Hospital while we wait for mother to be told that she needs a new knee!
*************************
Meanwhile in Bangkok Tai is meditating! And sleeping on the floor in a room with 60 others.
*************************
And there was a working lunch yesterday between Newin Chidchob and Prime Minister Abhisit Vejjajiva. The PM said that there were no political discussions. Of course not. Newin is banned from politics for five years !!
1 July 2009
It is called a heatwave in England – it may be 25C or 26C today in the South West. It is the headline news on TV. The government is talking of health warnings! Yet in Dubai the building sites are busy in almost 50C temperatures.
30 June 2009
What is the point in paying gbp 6 to British Telecom for 90 minutes wireless access in Starbucks when you lose the network connection every 5 minutes – waste of money. BT Hotspot ! BT Cold Spot.
************************
Tai is at home in Thailand and Alex and I flew yesterday to Birmingham and then took the almost four hour drive down the M5 to South Devon.
Not much changes here – no internet access for a start ! The village is quiet and peaceful. The summer evening sun keeps the village lit until nearly 10pm.
It is warm in the UK. The media is warning of a heatwave – just because the temperature crawls above 30C. It is a long way from Dubai heat !
******************************
Andy Murray won his last 16 match at Wimbledon last night after five sets of thundering tennis; the first match played under lights with the roof closed. The game took four hours and did not end until 10.40pm!
28 June 2009
Fascinating – flying into Sharjah on Imperial Airways in the 1930s.
*******************************
F******* hell. Here from the realms of greed and fiction is the latest offering from Dubai Properties.
The completion date for Executive Towers is now confirmed as July 20th 2009. This is 16 months later than the March 2008 completion per the sale and purchase agreement. there has never been any apology for or communication of that delay.
And in their final statement they have the nerve to be charging be a AED3,150 late payment charge for a payment due on 1 July that was banked by DP on 10 June.
This organisation beggars belief in terms of their ability to cause offence.
26 June 2009
Sorry about the lack of updates for a couple of days – seem to have caught some sort of bug. Every bone in my body aches; stomach ache; and feel about 950!
Bad timing as Alex is in Dubai and should be entertained. Instead we have only left the apartment briefly all day.
********************************
On Airliners.net – Emirates 2nd A380 en route from Toronto. Click to enlarge!
*******************************
Pandamania is so bad in Thailand now that elephant owners appear to be taking drastic action: one of the on loan pandas at Chiang Mai zoo gave birth to a baby panda just over one month ago: the baby panda is the subject of a national naming contest – it is unlikely to be named Thaksin!
นายลายทองเหรียญ มีพันธ์ เจ้าของวังช้างอยุธยา แลเพนียด จ.พระนครศรีอยุธยา ผุดไอเดียเก๋ เกาะกระแสแพนด้าฟีเวอร์ จับช้าง 5 เชือก มาทาสีขาวที่ลำตัวและใบหน้าให้มีสีคล้ายคลึงกับแพนด้า เพื่อเรียกร้องให้ประชาชน หันมาสนใจรักช้างบ้าง  เตรียมออกโชว์ตัวบริเวณสี่แยก ปตท. ถนนโรจนะ ใกล้จวน ผวจ.
25 June 2009
Here we go again: In Bangkok Police have applied for arrest warrants for an undisclosed number of red-shirt supporters for lese majeste remarks in their speeches at Sanam Luang two days ago, Metropolitan Police chief Lt-Gen Vorapong Chiewpreecha said on Thursday.
As usual there is no investigation by the Bangkok Post and no assessment of the purpose of the charges. But as a tool to repress opposition voices it is a sledgehammer and it can only encourage further discontent.
*****************************
Quote from Bangkok Pundit in his blog today – "to be honest, it is quite sad that one must rely on the wire agencies (AFP, AP, Reuters, and more recently Bloomberg) and foreign correspondents for political reporting on Thailand, but that is the case."
24 June 2009
Just a thought on David Carrdine's unfortunate death in Bangkok. He was staying at the Nailert Park Hotel – which just happens to be next door to the famous Chao Mae Tuptim Shrine. Coincidence?
*************************
Another month – another roster. Tai's July bid was for Bangkok, Mauritius, Cape Town and New York.
Instead she has two flights to Manchester; one to Hong Kong and a collection of turnarounds. Makes you wonder why they have a bidding system!
**************************
The car was serviced over the last couple of days ar Gargash Motors – they did an OK job. But much to my amusement they seem to have decided to keep the polaroid picture of Tai (taken onboard an EK flight) that I kept in the front of the car. I hope they enjoy the picture!
**************************
Advice from Emirates for all its crew at their new headquarters:
"As a reminder – please use the pedestrian crossings – stand at the edge of the crossing and wait for the traffic to stop. Cross only when the traffic has come to a complete stop."
Pointless – pedestrian crossings in Dubai are mere artwork on the road. No one ever stops at them! In Thailand meanwhile anyone venturing onto a pedestrian crossing becomes a legitimate target !
23 June 2009
For anyone who misses the old Hong Kong airport:
***********************************
In my head today:– Blue Rodeo – 3 hours away:
Can't get used to what you told me
You said better brace yourself
There's changes coming in I wake up to a brand-new story
Stop the clock that's ticking on the shelf
Then let it all begin
Now I know that I'm right here where I was before
Chasing all my ghosts around
Maybe I worry what I will say
Now I'm only 3 hours away
Living in between the pages
Watching the strangers come and go
Just life that's passing by
It all keeps coming down in stages
Only hurts the ones you know No matter what you try
Now I know that I'm right here where I was before
Chasing songs from town to town
Maybe I worry what I will say
Now I'm only 3 hours away
Some things aren't meant to last
Like a day that burns up fast
Turn away and then it's gone
Sun comes the red sky morning
I pray that the trouble all has passed
Just something that I dreamed I must have missed all of your warnings
I guess we played too fast Much closer than it seemed
Now I know that I'm right here where I was before
Making all my plans alone
Maybe I worry what I will say Now I'm only 3 hours away
Maybe I worry what I will say Now I'm only 3 hours away
*****************************
A very tired Tai is back from Perth.
*****************************
Thailand can be a very strange place – and its police and journalists seem to work hand in hand to make it stranger. Take this report from today's Nation newspaper:
"Investigators probing the assassination attempt on Sondhi Limthongkul, a core leader of the People's Alliance for Democracy had been threatened not to work on the case, Deputy National Police chief General Thani Somboonsap said on Tuesday.
Thani who is chief investigator of the case said the reason the police could not make significant progress on the case was because they had been threatened and intimidated in many ways.
He said he did not ask his team how they were threatened."
That's all – that is the report. The Deputy National Police chief has a team that is making no progress because they – yes the police – are being threatened – but he does not ask them how they are being threatened and by who! Feeble. Lame. Inept.
21 June 2009
More Dubai doom and gloom from the UK press. This time in The Times – Dubai's dream is built on sand.
It is a bit rich coming from the UK – which is enduring mass unemployment, public transport strikes, spiraling income tax, street crime, outrageous petrol prices, and politicians taking the taxpayer to the cleaners with their fraudulent and embarrassing expense claims.
******************************
Interesting summary of the twenty stars of the ICC World Twenty/20 in England. Worth a read.
The last world cup in the West Indies was too long and too tedious. The ICC has got this one right – competitive matches and a 2 week tournament. And a few surprises as well.
20 June 2009
Bizarre really. Google is now the third most trusted news source in the world. Yet it produces absolutely no news of its own. Ten years ago it did not exist. It is just an aggregator, a scraper, of other people's news.
Trusted English language news sources would be Reuters, Associated Press, BBC, New York Times.
But not google. Actually not CNN. Sorry !
19 June 2009
Who is Paris Hilton. Why is she in Dubai. Was she conceived in Paris? Bet she is glad it was not Wolverhampton or Thunder Bay !?
There were huge crowds in Festival City today; she is staying in the adjoining Intercontinental hotel. And yes she was walking through the mall surrounded by her minders.
I can safely say that I have no wish to be her new best friend forever!
******************************
I have commented before on the lack of trolley etiquette in Dubai shopping malls. It is at its worst on Fridays in Summer. Everyone is in the malls to escape the heat and the supermarkets become the destination of choice for huge extended families.
But does it really need six people to push one cart?
Does it really need you to leave the cart in the middle of the aisle while you go 100 yards away for an extended conversation with someone you last met at the same place last year?
Do you really need to have four carts heading in the same direction down the same aisle to ensure that no one will pass the other way?
Please try and stop before you run into me.
There is only one solution – trolley etiquette courses. And a certificate of competency before you are allowed to navigate a trolley around the supermarket.
17 June 2009
Want to know what it is like to fly in Economy on an Emirates flight. This is a pretty good trip report.
http://www.airliners.net/aviation-forums/trip_reports/read.main/150347/
Fair summary of the majority of EK flights at the moment!
*****************************
Confirmed by the National newspaper – Mr. Thaksin was in Abu Dhabi yesterday for a meeting at the Intercontinental Hotel; he was then heading back to Dubai.
15 June 2009
Tai is traveling again – back for one night – and a rare gathering with all of her friends – all in Dubai at the same time. She has an afternoon flight to Birmingham today.
One night at home is hardly enough for us to sort out some of the debris of the last week – but we will manage.
******************************
In other EK news – Emirates' planned new 3 weekly Dubai – Luanda service is now showing Boeing 777-300ER operating, instead of A330-200. The new service begins from 02AUG09
*******************************
Meanwhile in BKK Prime Minister Abhisit and Finance Minister Korn are trying to get legislative passage to authorise the government to borrow Bt800 billion. But where does the money go!?
Of the total loans, Bt500 billion will be earmarked for mega projects under the jurisdiction of the Bhum Jai Thai Party. The remaining Bt300 billion will be shared by the Democrat and the Chart Thai Pattana parties.
Does this smell really bad?
*********************************
You cant make up a story like this – A German man sleepy after rounds of beer drinking died Wednesday after swallowing his dentures and choking to death in a room above a Soi 6 ladyboy bar.
**********************************
The EK A340-500 hangared at Melbourne is to be flown to Toulouse at 10,000ft for repair any day now. Routing via Perth and Dubai.
14 June 2009
I usually don't write too much that is very personal here. And for the moment that is wise; my mood is too down to write anything very upbeat.
Not working is beginning to get frustrating. It was good for a few months when I could travel and spend some time with Tai.
But Dubai is a soul destroying place to be out of work. There is little work here. And those companies with jobs are trying to pay as little as possible. Add to that with temperatures at 50C there is little reason to go out.
The apartment that we bought is still incomplete and the government owned developer merrily ignores all of its obligations under the contract. Why did we buy? Because it was part of our commitment to being here. Because it should have been ready 15 months ago. Gulllible. No just badly misled.
Instead I have had to sign up for yet another year in my prison cell of a rented apartment on the building site. There is simply nothing that I can go out and walk to.
We do not live together as family (after 8 months of being married); Tai is very busy again so we have less time together. We cannot holiday together this summer as the UK embassy has changed the visa rules.
I am smart; I am in the prime of life; but I am going nowhere right now. And it is hard to know how best to get out of this slump. Tai has her dream job here; good money and good friends. She is happiest when she is away and working. And I guess I only just realised that whatever we do and wherever we are home for her is Thailand with family.
That is more said than I intended – but what else are blogs for?
Sorry, dear reader, no reason to involve you in my woes. Something will change soon. It has to. We will get through it. But my Dubai adventure is not quite going as expected.
*****************************
Brendan Rogers lasted half a season a Watford. He was a good manager and salvaged Watford from the bottom three to mid table respectability.
Malky Mackay is "90 per cent guaranteed" to become the next manager of Watford, according to an executive at the club. The former Watford and Scotland defender was the Hornets' first-team coach under Brendan Rodgers, who left this month to take over at Reading.
13 June 2009
Watching the Lions rugby from South Africa. South African rugby is such a white sport. Strange how non inclusive it is even after the last 20 years.
*****************************
Nick Faldo was knighted. Sir Nick ! The golfer – for those who did not know.
Though he was probably knighted for contributions to divorce lawyers!
12 June 2009
Rough day today. Tai is in London. It is the first time that she has flown when we are angry with eachother – if something happened…..i don't need to finish that sentence.
Shall spare my reader all the details. But in the words of Blue Rodeo – "I wonder what am I doing here"…..not a great feeling.
******************************
A quick update on the EK jet at Melbourne; apparently the damage to the bulkhead can only be repaired in Toulouse. Repairs in Melbourne are to make the aircraft structurally sound enough to either fly it back to the factory unpressurised (i.e 10000 or below) or to fly it to the scrapyard (can't be scrapped in-situ).
Apparently a final decision is still to be made.
11 June 2009
Budget carrier flydubai could be planning to add Kiev to its destinations as the airline builds its route network after launching this month.
10 June 2009
Emirate latest video – Dubai welcomes the world. Far too catchy. One day I must make the alternative version!
The ultimate in silliness. You cannot look up Virgin Atlantic Airlines on YouTube in the UAE. The word virgin brings up the customary note saying that access to this web site is currently blocked. Oh dear.
****************************
Twenty five years of Virgin Atlantic – I like the anniversary video. I remember flying on Virgin in 1985 to Newark when Virgin just had one 747.
*****************************
Bit of a flying theme today: the latest thinking on AF447 is connected to possible icing up of the pitot tubes leading to misleading speed indication. But short of an explosion the cause of most airline accidents is that there is no single cause – instead an initial problem gets combined with flawed decision making leading to further complications resulting in the crew no longer being able to cope.
In this case it may be that Icing in the pitot tubes was the start of a cascade of problems. But an unknown is why would a crew who could probably see the line of CB storm cells ahead for half an hour before reaching them not take any serious avoiding action and plough straight in ?
An Air Iberia A340 about the same time diverted east around the thundercloud system. Why did AF447's crew not deviate at all ?
When we get on an airplane we renew our bond of trust with the airline pilot's profession.  This may be enhanced by Captain Sullenberger but has been jeopardised by incidents such as Emirates as Melbourne and catastrophic accidents such as Colgan Air 3047 at Buffalo. And now?
******************************
Back in Dubai this morning. Not a great flight back. The plane was freezing; the cabin crew went into hiding. Not a glass of water to be seen. Maybe they don't want to be seem in their new ill-fitting uniforms!
8 June 2009
The UK newspapers are not a great help to Dubai tourism at the moment….the Telegraph is still reporting on the Antia/Hawkins story – Mark Hawkins came to Dubai to meet a girlfriend he met on the internet. This weekend he looked forlorn and bemused as he sat in his prison uniform in the city's central jail, after falling foul of a jealous husband and a legal system of which he knew nothing.
************************************
Two US journalists were given 12 year reform through labour sentences in North Korea today. That sounds ominous.
US/North Korean relations are already stressed. What next?
7 June 2009
Emirates Airline launched its new uniform on all flights across the network from 00.01am this morning.
Trouble is unless you look carefully you may not notice much difference.
5 June 2009
I am sitting on an A330 outbound from Dubai to Hong Kong. It is all too easy to sit here and wonder how it is that one of these big jetliners can simply fall out of the sky.
The Brazilians are no saying that debris that was found in the search area is NOT from the downed Air France jet.
A Comet Air crew reported seeing a white flash in the sky about the time the Air France jet disappeared.
I do have problems with the idea that turbulence or even lightening can bring down a modern airliner.
The French were too quick to blame the weather. The Brazilians have been too quick to say that it cannot be an explosion.
Yesterday the Brazilians cited the fuel slick that was seen as evidence that it could not be an explosion arguing that if it were an explosion the fuel would have burned and would not be on the water surface.
Trouble is the fuel slick appears to have nothing to do with AF447.
5 days on and we don't know where the plane went down, why it went down or where the debris is.
All I know is that an awful lot of people would love to know what happened.
*************************
Why do so many Hong Kong people talk so loudly – even on an airplane? In Hong Kong this always seems to be a need to talk more loudly than all the other people who are all talking at the same time.
On an airplane – it must simply be the need to be heard far across the other side of the airplane.
*************************
As the Thailand Elite card sees a huge reduction in benefits one wag on another website gave this advice about doing business in Thailand:
Guide to business in Thailand :
1.Make a set of rules.
2.Market to people.
3.Charge a one-time fee.
4.Revoke privileges.
5.Blame the customer.
6.Repeat.
4 June 2009
Hemlock writing today on his Hong Kong website –
"Upon setting foot in Macau, we are greeted by smart, smiling, uniformed young men and women who thrust glossy brochures into our hands, inviting us to the newly opened City of Dreams on the Cotai Strip. The project will cost US$2.4 billion. It will have a 420,000-square-foot casino, with more than 500 gambling tables. It will have a shopping mall full of yet more designer labels and brands. It will have 'stylish bars and lounges'. It will have a domed multimedia theatre called The Bubble with a Chinese-themed show about dragons. It will have an electronic aquarium with digital fish. It will have three hotels, including a Hard Rock, displaying a Bob Dylan fedora, a Madonna bustier and a sequined jersey once worn by Jacky Cheung. The investors behind it are the sons of late Australian tycoon Kerry Packer and Macau's gambling king Stanley Ho.
It is only normal for the righteous and noble to be tempted to wish everlasting suffering upon those who profit from sleaze and misery, but if there is any one tacky, tawdry business venture I would dearly love to see collapse under a mountain of hubris, debt, financial losses and investigations by civilized countries' regulatory authorities, this has to be it."
Brilliant!
*****************************
Asia Sentinel has this article by Kevin Hewison on why Prime Minister Abhisit's suggestion that political life is back to normal in Thailand really means a step backwards to the past.
******************************
Obama's speech in Cairo:
"I believe that America holds within her the truth that regardless of race, religion, or station in life, all of us share common aspirations – to live in peace and security; to get an education and to work with dignity; to love our families, our communities, and our God. These things we share. This is the hope of all humanity."
"It is easier to start wars than to end them. It is easier to blame others than to look inward; to see what is different about someone than to find the things we share. But we should choose the right path, not just the easy path. There is also one rule that lies at the heart of every religion – that we do unto others as we would have them do unto us. This truth transcends nations and peoples – a belief that isn't new; that isn't black or white or brown; that isn't Christian, or Muslim or Jew. It's a belief that pulsed in the cradle of civilisation, and that still beats in the heart of billions. It's a faith in other people, and it's what brought me here today."
The difference between Obama and so many before him is that he genuinely believes this and hopes that others share his view of a changed world.
3 June 2009
There are some real issues around property purchases in Dubai. The Dubai government suggests that this is the foreign media slinging bricks at Dubai – simply looking for and creating bad news; I wonder; no smoke without fire is usually a truism.
This story in the Independent is one such example. Always seems to me that being transparent with the facts is better than a ignoring the issue.
****************************
Air France seems to be dragging its heels a little on the search for an answer to their A330 loss over the South Atlantic; they were a little too quick to talk about lightening as a likely cause and they are a little too quick to suggest that the black box and CVR may not be found.
Air France has a duty to the bereaved and to the industry to be tireless in helping find a solution.
As it is the airline has a slightly worrying record with the only complete hull loss of Concorde in commercial service at CDG; the only complete hull loss of A340 in commercial service (YYZ) and the only complete hull loss of A330 in commercial service.
2 June 2009
2 days away from the 20th anniversary of the Tiananmen Square massacre and the Chinese cyber police are doing all they can to stop online discussion – blocked now in China are:
Youtube, Blogspot, Tumblr, Hotmail, Livejournal, Xanga, WordPress, Friendfeed, Flickr, Microsoft's Live.com and Twitter.
Even Microsoft's new Bing.com is also blocked – Google seems to survive – presumably because they filter sensitive searches on google.cn.
1 June 2009
The red shirts will gather again at the end of the month; This from The Nation newspaper: "Somyos Prueksakasemsuk, a leader of the Democratic Alliance Against Dictatorship, said his group will stage the first rally from June 21-24 at Sanam Luang. They will organise a merit-making ceremony for those who died in the fight for democracy. The rally on June 27 will be held to oust the government."
******************************
Poor Tai. 10.00pm standby. And a 3.25 departure and turnaround to Male in the Maldives.
That's tough – maybe a couple of hours sleep and then a 12 hour shift.
There were 3 grade one girls on standby at 10.00pm. One got called for Osaka; one for Singapore/Brisbane and one for a turnaround to Male. Poor Tai. That is the shortest of short straws. It has not been a good month. Hard to stay motivated.
Male airport looks inviting !
Lunch at Shakespeare Cafe in the Old Town souk yesterday. Tai's pasta looked good until she came across what looked like a cremated bug.
The waiter took the plate to the kitchen.
The manager assured us that it really was the husks of the pepper seeds that they used for cooking. Perhaps the least convincing explanation that he could come up with.
To their credit they did not charge for it.
29 May 2009
Flu update – this is from a notice given to all Emirates crew:
"Not-so-effective are measures such as airport thermal scanning and community use of face masks.  Public officials hope that thermal scanners will detect people with flu and prevent import of the virus, and that use of face masks by airport workers will prevent them getting infected.
While these methods enjoy high visibility and public approval, they are of no use in stopping the dissemination of influenza viruses and do not ensure the safety of passengers or workers in airport facilities.
Influenza viruses can be shed from the airways of an infected person for 24 hours prior to the first onset of symptoms – when they are not even aware that they are sick."
Tell that to certain Asian governments who are contributing to the paranoia.
*****************************
A big thank you to Jean-Paul, Bam, Nina, Tu and Tai for dinner last night.
******************************
The Hilton hotel network in the UAE has formed a bizarre alliance with Coca Cola – Moments of Romance – for instance the Hilton Abu Dhabi will you bed and breakfast and a dinner "with free flowing Coca Cola"…..the romance is presumably in between Coca Cola burps !
Romance and Coca Cola dont normally appear in the same sentence!
28 May 2009
So cute!
26 May 2009
Tai was on 8pm standby last night and was called out to Jakarta on the 4.15am departure; and as economy crew. Tough trip. Means she will not be home until midnight on Wednesday so we both miss spending my birthday together again.
I had lunch today with our friends Edward and Sarawan and their one month old baby girl, Penelope!
Penny had a great lunch – she eats and sleeps and is a very content baby! Very cute; and they make a truly special family.
25 May 2009
It is good to be back in Bangkok – though feel a bit strange being here on my own. Wish I had my golf clubs with me.
I did see Alex in a very wet Hong Kong on Saturday. We had a nice lunch and a long visit to Starbucks. I enjoy listening to him!
And it was a quiet flight from HKG down to Bangkok on Saturday night.
22 May 2009
So the Thais arrest a British man accused of fraud in Dubai and wanted by the UAE police. They intend to assist in his extradition to the UAE.
There must be something that the Thai authorities want in return. Mr. Thaksin. And I am sure the arrest and extradition of Mr. T would speed the extradition of Mr. Smith from Bangkok.
**************************
It was bad luck morning for Tai. There were three crew on 5am standby this morning. One was called to fly to Bangkok. But Tai was called for another turnaround – to Delhi. She was not happy.
**************************
Meanwhile I am on a half full, or half empty, Emirates A330 to Hong Kong. Their A330 fleet is now looking very dated inside. And the seats must be some of the most uncomfortable in the sky. The A380 economy product is so much better.
Its not even 11am Dubai time and I have already had a gin and tonic. That is rare. Must be a holiday! Or an airplane!
21 May 2009
Can it really be true that Aussies are even less popular as tourists than the Brits?:
Mr. Bhuritt Maswongssa, vice-president of the Phuket Tourist Association, interviewed in today's Matichon newspaper about the Annice Smoel case, said that "Australian tourists are prone to behave in a rowdy manner when they have been drinking, frequently get into arguments and fights, often destroy belongings in hotels and shops so that the owners of those businesses have been forced to charge for the damage on many occasions."
20 May 2009
The Gulf News is such a shocker of a newspaper – and this headline from today's business section is a fine example of quality sub editing at its best:
'Investors are attracted by returns'
By Paul Stober, Deputy Managing Editor
Yep: statements of the obvious dont exactly make for riveting journalism:
How about the following – some are real from the last week; some are what I imagine the GN can come up with:
– Dubai to push ahead with plans
– Donkeys dont eat mangoes
– UAE experiences hot and humid weather
– Work on track at all three projects
– Temperatures increase as summer approaches
– Restaurants to serve food during opening hours
– Shoppers boost mall revenues
************************
Emirates seems to be singing the official song in its new advertisements for travel to Dubai.
A Dubai-based laborer from the Indian Sub-Continent Sudakhar Golem, a 24-year-old construction worker, is one of the people highlighted in a new advertising campaign for Emirates Airline called "Meet Dubai."
He tells Emirates passengers in the Open Skies magazine that "We have fixed hours, a time for lunch and breaks, and a time to finish work. Working with people from other cultures has taught me a lot."
That's it then; forget the issues raised by the BBC or by Human Rights Watch. This guy has a specific time for lunch and breaks. So he's not exploited.
In its new campaign Emirates says that it is "inviting existing and new visitors to discover an arguably overlooked aspect of Dubai's amazing story – its residents."
Sure – I can see the arriving tourist hordes flooding out of their 5 star hotels in search of Mr. Golem in accommodation that is still officially called a labour camp.
Surely there is more to Dubai's amazing story than the fact that a labourer gets a lunch break? Is life in Dubai now amazing because his company follows the law?
***************************
Translated from one of the Thai newspapers:
"Moreover, Newin Chidchob, the head of the Phum Jai Thai party, has a chance to upgrade himself from being a manager of a shadow government to be a shadow Prime Minister, who has as much power as the real Prime Minister."
Strange how different rules apply to different people – Newin was banned from politics for five years?
19 May 2009
Walk into lounge where Tai is ransacking a very full rubbish bin – filled mainly with old newspapers and magazines – no recycling here.
What are you looking for hon?
Nothing.
Then why are you rummaging through the garbage.
Why does anyone go through the garbage looking for nothing !? Strange.
*****************************
Still have not sorted out my apartment issues for the next year – stay in Falcon or move to Executive Towers?
Or complete the purchase of executive towers and rent it out…..?
I really dont know what is the best solution.
***********************
Slip of the tongue or reality?
flydubai has always been described as being independent of Emirates but in this quote from Gulf News the company Chairman describes Emirates as the "parent company".
Shaikh Ahmad Bin Saeed Al Maktoum, President of Dubai Civil Aviation Authority and Chairman and CEO of Emirates Group, the parent company of flydubai, said during the unveiling of the new aircraft, that since the country relies heavily on air transport, it is important for Dubai to have its own low-cost carrier.
*******************************
And yes Tai did get called out for another overnight turnaround – to Lahore this time. Its a long night. We left for the airport at 7.45pm and she came back at 7.00am this morning.

17 May 2009
Tai is on 4pm standby tomorrow. I wonder if anyone has ever had three Hyderabad turnarounds in a row. It could happen. The standby month really is not much fun. Cannot plan anything.
My previous employer appears to have finally paid my gratuity on severance. I will write about all of this one day. I have always believed in treating people with integrity and decency. Treat people in the manner that you would want to be treated yourself.
Sadly not everyone shares this approach.
15 May 2009
For anyone thinking of travelling in the next two weeks to Hong Kong please do not forget the 4 June candlelit vigil in Victoria Park, Hong Kong.
Candlelight Vigil for the 20th Anniversary of June 4
Theme: The candlelight vigil will commemorate those who were killed in the June 4 Massacre an Tianenmen Square in Beijing.
Date: Thursday, June 4
Time: 8:00 p.m.
Place: The football fields in Victoria Park
*****************************
Hainan Airlines today issued application with the CAAC seeking approval to operate 3 weekly Beijing – Dubai – Khartoum service.
It plans to operate Airbus A330 aircraft as early as August 09.
Just more evidence of Chinese influence in Africa – in particular with some of the more unpleasant African regimes.
14 May 2009
Had dinner by Dubai Mall tonight and saw the new water fountains for the first time. Impressive. But each show is only a few minutes long. With a show every 20 minutes.
The novelty would wear off quickly – but it is fun to see for the first time.
Pictures to follow.
*******************************
This is embarrassing:
Nakheel, the state-owned developer of the emirate's palm-shaped islands, is to offer consultants and contractors just 65 percent of the money it owes them, a magazine said on Wednesday.
Analysts estimate that the developer owes consultants as much as 200 million pounds ($303.4 million), the New Civil Engineer said on its website.
"One of the offers on the table is for firms to get 65 percent of their consultancy fees, with the understanding that in doing so, they waive their legal rights (to further payment)," said Nelson Ogunshakin, chief executive for Association for Consultancy and Engineering.
So a Dubai government owned enterprise contracts in good faith for services; delays and delays payment; and then offers 65%. Why would anyone do business here again?
*********************************
Bigger question. If they are saving 35% on costs how much of that will be passed onto people purchasing Nakeehl properties. I know. Nothing!
**********************************
Do avoid the Italian restaurant, Marzano, in the Al Bahar souk overlooking the Dubai Mall.
Seafood that is not fresh. Pasta that is overcooked and tasteless. Tables that are covered in dust/grime. And way too pricey for average food.
**********************************
If any of Britain's MPs worked for Donald Trump he would have fired them.
That's the answer. Get Trump to sort them out.
Laughable now – as they queue up to repay the taxpayer that they have milked.
**********************************
Tai had an overnight to Hyderabad. She is tired !
13 May 2009
The UK government expenses scandal continues – but it has become so depressing that I dont want to report it!  From Gordon Brown and his Cabinet to backbenchers of all parties – these MPs have exploited the system of parliamentary allowances to subsidise their lifestyles and multiple homes. They have not served the people – they have served themselves.
We should not be surprised at their greed. We should be surprised only that no one has resigned and that no one has been prosecuted.
12 May 2009
For anyone who cares about Thailand the linked opinion piece from the Sydney Morning Herald is a thoughtful read.
It was written by the Herald's international editor.
For obvious reasons it is unwise to republish it or to comment upon it.
Read it yourself here. The writer's concluding line indicates the theme:  "Thailand is turning into just another sad, broken autocracy. The smile has become a grimace."
11 May 2009
Fly Dubai has now added Alexandria and Damascus to its route network starting in June.
*******************************
Was trying to explain to Tai – Karl Marx good – Richard Marx not good. Seems that we don't agree!
********************************
Nice to see that the Hong Kong judiciary still operates independently:
Hong Kong's Court of Appeal condemned as "nothing less than dishonesty" the voting on a $2.1 billion scuttled deal to take private the city's biggest telecom operator, PCCW.
The Court on Monday published a note to explain the reasons for its judgment turning down PCCW's majority shareholders Richard Li and China Unicom, who wanted to take the company private.


9 May 2009
Very home should have one –Mashamaro is a tiny 19g MP3 player with 2GB of storage and light-up ears that act as a five-way controller: maybe the ears vibrate as well.

***************************************
Tai is off again tomorrow – 4 off days since she came back from Brisbane/Singapore.
***************************************
Chang Noi in the Nation on 4 May. Never quite sure why The Nation (Bangkok) prints Chang Noi – his commentary is so different from the usual rhetoric in the paper.
"Thai politics is often criticised for being dominated by small, self-serving cliques of businessmen and generals. Both these movements want to move beyond.
Their main enemy is not each other, but the old, old politics desperate to resist this challenge.
Consider the past week: An ambitious general. An unsavoury, opportunistic political clique. An official mob recruited by the Interior Ministry. A billionaire concession-hunter. Coup rumours. Media controls. Fear-mongering. Intrigue. The desperate grey politics of survival."
*********************************
I was right; heads did have to roll at the White House after the misjudged stunt with Air Force 1 – The AP is reporting that "the White House official who authorized a $328,835 photo-op of an Air Force jet used by the president soaring above New York City resigned under fire Friday as the administration tried to move past the embarrassing incident that sent panicked workers rushing into the streets amid flashbacks of Sept. 11.
As former Army Secretary Louis Caldera took the fall for the flyover, the White House released the findings of an internal investigation that portrayed him as out of the loop in a cycle of missed messages and questionable judgments as plans for the photo shoot proceeded."
8 May 2009
My nightmare – on a recent Emirates flight  a passenger informed the crew that he had seen a snake in the
toilet. Crew confirmed the presence of the snake. The toilet was blocked for further use and the destination station alerted.
7 May 2009
Really bad night last night. Tai was home. That was good. But had a really bad stomach ache and I hardly slept all night. Had to cancel a meeting today. Dont think it is anything serious but not good.
*************************
The West Indies are following on after being bowled out for 152 with newcomer Graham Onions taking five wickets – just for the headline writers!
Onions makes Windies cry
Onions cuts the mustard
Onion peels layers off West Indies
Onions on fire
Onions good for cheesey headlines
Onions tears through Windies (you need to think about that one!)
The trouble with this test match is that after it started on a Wednesday it will be all over before the weekend. Unless it rains on Friday it will be all over.
*************************
Got to feel a bit sorry for Chelsea – there were four Chelsea penalty claims last night. At least two of them; a foul on Drogba and a handball by Pique really should have been given.
But UEFA had appointed an inexperienced referee and he looks a little out of his depth; too scared to give the critical decisions.
That said, Chelsea were playing against 10 men; they needed a second goal to be safe; did not get it; and were there own worst enemy at the end. They gave away the ball and Barcelona scored.
Drogba's reputation does not help. He does fall over far too easily for a big man.
Chelsea's behaviour after the game was appalling. And any sympathy rapidly disappears when you see the abuse hurled by Drogba and Ballack at the referee. Chelsea are talking conspiracy; that UEFA did not want an all English final again. They only had to score a second goal against ten men. They did not. Barcelona were given one shot on goal; and in the 93rd minute. Game over. Chelsea will get a large fine. Drogba a long ban. I would be happy to see UEFA ban Chelsea from next year's UEFA championship. Now that would be a lesson.
6 May 2009
"My friend is my enemy in Thailand"http://www.atimes.com/atimes/Southeast_Asia/KE07Ae02.html— Shawn Crispin in Asia Times. Interesting and complex read.
http://www.atimes.com/atimes/Southeast_Asia/KE07Ae02.html
*******************************
This is what a modern city state does to it's people – "The sorry state of men's sport in Singapore was thrown into sharp focus when organisers failed to honour a Sportsman of the Year for the first time since the nation's annual awards began more than 40 years ago."
Meanwhile a ten pin bowler won Sportswoman of the Year. How on earth is 10 pin bowling a sport. Played indoors usually accompanied by booze and disco music ! A pastime maybe – a sport ????
Something missing in the Singaporean education system?
6 May 2009
Flydubai has revealed that is planning to have from 12-16 routes on its network by the end of the year, according to media reports. The airline will have eight airplanes by year end – a further 8 to be delivered next year.
*****************************
4 May 2009
Star Wars Day – May the Fourth be with you.
I know – I say that every year…..
******************************
Welcome to the bizarre world of electronic phone answering services.
Today's experience went like this.
"Thank you for calling………………..travel services. This call may be recorded for quality control purposes……Thank you for calling………………..travel services. This call may be recorded for quality control purposes…..No selection has been made….Thank you for calling ………………..travel services. Goodbye"
Very x-files – am I supposed to get some sort of subliminal message of the menu……..very weird. Waste of time that was.
3 May 2009
Footie watch: Streuth – Newcastle are such a poor side. They cannot defend; they have no commitment; and they scored once in the last five games. The Kop were telling Alan Shearer that he should have stayed on the telly (as a football pundit). Big city, great support, but the players have given up – Shearer looks less like the saviour and more like the undertaker. Let them go down!
2 May 2009
The big question, gentle reader, is how do people live alone without going mad.
Tai is away. I don't sleep well when she is away. I have not left the apartment all day. I have talked to her twice at her hotel in Singapore and that is my only conversation today, except with myself.
I cooked – something quick and simple. The sink is full of washing up that I don't want to do!
I opened a cheap bottle of wine. Two glasses later I know I should not have any more or I will have a headache in the morning.
Watched football on TV. Stare out of the window at my building site and today's sandstorm.
And that is my day. There must be more to life than this!
*******************************
It is sooooo hot in Dubai now – 42C yesterday. And it is not just that it is hot; there is no wind. So it is very dusty as there is nothing to blow the sand and dust filled air away.
********************************
Swine flu is a cause for concern – but not for panic.
The media seem to want a global crisis. It really is 24/7 coverage on all the TV networks. And it is this coverage that can cause undue fear, even panic.
Even sneezing in public is dangerous now!
1 May 2009
Tai has a Singapore-Brisbane flight on Friday night/Saturday morning. This is the beginning of her standby month so it is probably better to have a rostered flight than a standby.
********************************
The Thai government does not get it. Stop talking about Thaksin and he will go away. Deal with the genuine red shirt grievances instead.
But Thaksin must haunt the corridors of government.
The latest announcement from the Bangkok Post is that "monitoring of former premier Thaksin Shinawatra's phone and video broadcasts to his supporters in Thailand shows he has broken law on 16 occasions, prime minister's spokesman Thepthai Senpong said Wednesday."
"Mr Thepthai accused Thaksin of defaming the government several times and of telling lies, like saying that he was not behind the red-shirt movement."
**********************************
Kieran Daly in his Blog at FlightGlobal.com writes "I don't think there can any longer be any doubt that Emirates is plain wrong in sacking the pilots of the Airbus A340-500 who made the error that led to the near-catastrophe in Melbourne.
Australia's ATSB investigation agency has revealed its initial findings today and they make crystal clear that the whole question of electronic flight bag (EFB) use, at the centre of the incident, is going to be extensively investigated. Rightly so, this is unquestionably an industry-wide issue.
More remarkably, it turns out that Emirates has just introduced the practice of using a second EFB/laptop as a check against the first! So their position now is that the incident crew committed an error grievous enough to merit sacking, but they're worried that another crew might do the same thing.
So logically, if another crew makes the same error, but they catch it with the second laptop, then they should be sacked too for making the same error in the first place. And if they shouldn't be sacked, then neither should the incident crew since they didn't have the benefit of the second laptop."
This investigation has barely started to address the human factors.
30 April 2009
Twitter fatique – A study by Nielsen Online states that more than 60 percent of new Twitter users give up on the service a month after signing up.
No surprise really. Twitter was a short lived craze but it isn't for everyone. Why? Because most people really don't care what you're doing. And you don't care what they're doing, either.
Lots of people will have joined Twitter to see what the fuss is. But the novelty wears off in a hurry.
I signed up a few weeks ago. I've discovered that Twitter is a good way to learn about new things, such as interesting articles and potential story topics. On the down side, I'm getting links to more articles than I could ever read. It's another case of information overload.
********************************
See the story below from 25 April. The Abu Dhabi authorities have now responded with their own investigation:
The national news agency is reporting that:
"The Constitution of the United Arab Emirates guarantees a number of fundamental rights including those set forth in Article 25 providing that all persons are equal before the law, without distinction in regard to race, nationality, religious belief and social status.
The Human Rights Office (HRO) of the Abu Dhabi Judicial Department has viewed the contents of a video containing graphic scenes of physical abuse that has been widely circulated online and reported in international media.
The Government of Abu Dhabi unequivocally condemns the actions depicted on the video.
The HRO of the Abu Dhabi Judicial Department will conduct a comprehensive review of the matter immediately and make its findings public at the earliest opportunity.
Based on the statement made by the UAE Ministry of Interior, the HRO of the Abu Dhabi Judicial Department understands that the matter depicted on the video was resolved between the two parties and that no criminal charges were brought by
either  party.
However, the HRO believes that the events depicted on the video appear to represent a violation of human rights and therefore these events should be fully reviewed in their own right."
Good to know that this matter is not being ignored by the authorities. The video really is unpleasant.
29 April 2009
Emirates will introduce daily nonstop service on routes from Dubai to Los Angeles and San Francisco starting Friday, May 1, 2009. Having operated thrice-weekly service in both markets since late 2008 (Los Angeles commenced Oct. 26; San Francisco, Dec. 15), Emirates has taken additional delivery of the technologically advanced Boeing 777-200LR aircraft and will now operate daily service to both cities from the airline's new Terminal 3 at Dubai International Airport.
28 April 2009
Back in Dubai after an overnight from Toronto. Only 12 hours from Toronto to Dubai. When there are good BKK and SIN connections it will be the fastest way from Toronto to BKK and to Singapore. This will need a number of evening departures from Dubai. A third wave?
**************************
Lots of mini dramas on the flight. Nothing like watching the crew telling eachother off in front of the passengers. Like a good soap opera!
**************************
How bad is Thailand – even the elephants are upset – see this from Reuters:
"Laithonglian Meephan, who runs an elephant park hurting from a lack of tourists and foreign volunteers, is hoping Thailand's revered 81-year-old monarch Bhumibol Adulyadej can intervene to end the four-year stalemate.
"I really don't see an end to these political problems — even my elephants are suffering," he said. "Sadly, I think the only way out is for our King to tell everyone to stop fighting.""

26 April 2009
There is a good backgrounder on Thailand's political crisis here. The article gives a fairly complete analysis of the players and the issues.
***************************
One downside of a short trip to Toronto is that by 7pm we are tired; that is 3am in Dubai. Someone needs her sleep – so we dont go anywhere in the evening. No food either. And a glass of wine would be nice. Instead I am sitting in the dark typing this as quietly as possible!
****************************
Such weird weather. Cold and wet this morning after last night's storms. But a lovely spring afternoon and evening. And it is meant to reach 27C on Monday.
*****************************
We went to Niagara Falls today. It is 15 years since I was last there. Lots of new development around Niagara. Especially a large number or new and expensive looking vineyards.
*****************************
The Maid of the Mist is a great trip. But the water in April is very cold!
*****************************
There are some great aerial pictures of wintry Toronto in this contribution to airliners.net.
****************************
Thaksin also used Manchester City to suit his business and family interests: the Guardian reports – "Few at City doubt that Thaksin used the club to boost his own standing in Thailand. Thai dignitaries were entertained at matches and the City team taken on a tour of the country – for which, the accounts show, £47,912 was paid for PR services to a company owned by Thaksin's son, Panthongtae Shinawatra."
25 April 2009
I am enjoying being back in Toronto. More on that later. The jet lag means I am a bit tired.
******************************
There are some alarming reports coming from the UAE. I don't want to report them myself and will let you read the details at these links and form your own judgment.
The UAE may need to do a better job of managing its international response to the story.
The Guardian
ABC News
Canadian Press
It is not easy for the west to be judgemental here after the endless waterboarding, rendition and Abu Ghraib revelations.
But in any form and in any society this looks pretty bad.
24 April 2009
Outbound on EK201 to New York this morning; about 80 minutes late leaving Dubai after early morning fog – so I am not sure that I will make my connection up to Toronto. It will be very tight – and depends on whether immigration is rapid or not as I have to get from Terminal 4 to Terminal 8.
The flight is fine except for a bad smell.
Actually it may be from the sandwiches that some people have been given mid flight!
********************************
I am officially not a resident of Dubai as of today. My old company decided at their year end that they wanted to cancel any outstanding work visas. After you visa is cancelled you have in theory 30 days to leave the country. Except I was already booked to fly out today; the day after the visa was cancelled.
The company even sends someone to the airport to make sure that I really am catching the flight and leaving the country. I guess they were helping me with what appears to be a bureaucratic process. But it does feel as though they were making sure that I leave.
There are still some amounts due from the company which I hope I do not have to chase for.
**********************************
13 hours and 20 minutes to New York. About the same as the Far East to London flights that I used to do from SIN and HKG. The trouble with this flight is the jet lag from an 8 hour time difference.
***********************************
There is a benefit of flying on the A380. The bathrooms get cleaned regularly. EK employs two crew to keep the showers and washrooms clean. The two girls seem to work hard in perhaps the least enjoyable job on any airplane anywhere!
23 April 2009
Hard to imagine that the UAE is seriously committing to banning Thaksin from re-entering the country. As he has a diplomatic passport I am not sure they can ban him.
*********************************
"The Criminal Court on Thursday ruled to validate the state of emergency on the ground that the government correctly followed prescribed procedures as prescribed by relevant laws."
The usual smoke and mirrors in the Thai press. The PM can call a state of emergency and it gives him huge power; but the constitution clearly requires the cabinet to confirm the state of emergency within three days. Instead they took about 11 days. Careless – or simply an indication of a government that will invoke the law only when it suits them.
************************************
And where is the big red shirt – Liberia apparently – ex-Thai prime minister Thaksin Shinawatra is in Liberia, Africa to explore Thai investment and cooperation, Star Radio of Liberia reported on Tuesday.
21 April 2009
Tai is still at home in Thailand. It is very quiet here in Dubai.
Wish there was more to write about here. I am happy that we are going to Toronto at the weekend. I have not been there since 2006 and it was always a fun city to visit. There is a lot to see and do in 2 and 1/2 days so we will be busy. The jet lag will hurt!
I have to fly via New York as the Toronto flight is full.
*********************************
For anyone reading this in Dubai – go here and enjoy!
19 April 2009
I think the following notes are best in the blog only – rather than in the news section.
This is an update on rumours and speculation on recent events at Emirates.
Apparently the VP Flight Safety has resigned over the 'mis-management' treatment of the Melbourne 407 pilots.
It may be that EK management is suddenly aware of low pilot morale and a significant credibility gap between pilots and management. Apparently the 407 voice recorder revealed some blunt front line feelings about management that have surprised investigators.
There have also been other recent incidents that suggest that the overall image is slipping and needs to be addressed. So a series of meetings are being held by EK management with its cockpit captains. This follows from business briefings held recently for all cabin crew.
EK management will meet all Captains in groups over the next 6 weeks to address the implications of a number of incidents over the past few months. including the MEL tailscrape / recent 777 go around in MAN / Crew behaviour in KUL/ BKK Alcohol test failure.
A draft of the ATSB report on the Melbourne incident has been provided to Emirates and there will be a news conference in Melbourne this weekend.
I suspect these sessions become very interactive. The pilots I have met have all been the most articulate of people and generally have the strongest views on safety and behaviour.
It does look rather like the MEL incident has been something of a wake up call.
******************************
I flew back from BKK on Etihad today using a standby ticket. The BKK to UAE routes are very full at the moment so standby is quite stressful – will I or wont I be on the flight !?
17 April 2009
An assassination attempt on Sondhi Limthongkul this morning in Bangkok could be an alarming change in tactics.
Asia Times Online says that "the fear now is that Friday's assassination attempt could indicate that the UDD and Thaksin's supporters aim to bypass the courts and mete out justice as they see fit on Thailand's increasingly mean streets."
******************************
Sorry I have been quiet – I was banned from internet access yesterday ! And we were driving on the 15th down to Hua Hin. We are back at Worabura – 6 months after our wedding here. The resort is a bit quiet!
*******************************
Web site update problems ! I have used all 10gigabytes of hosting space. I have too many full size pictures on this web site so I need to rethink how to display my photographs!
14 April 2009
We did go out to Sukhumvit 33 last night for pizza. It was quiet on the streets and on soi 33.
Limoncello on soi 11 is closed for renovations.
****************************
Growl – some idiot – security guard at my least favorite car rental at the sathorn/rama iv junction – decided to run across the road – come up behind me and throw stinking klong water over me.
I do hate so much of Songkran. Yes I know I should be in a happy tolerant songkran mood.
So the best way to get my revenge – rent a car somewhere else….
13 April 2009

Worth a read as background to the crisis and thoughts on what might happen next – Philip Bowring in the New York Times.
****************************
Poor old Emirates – there is no business from New York so they pull the A380 to send it to Bangkok from June 1st. And now after another round of protests in Bangkok there will be many cancellations…..
*****************************
So where are we heading in Thailand. Neither an election nor a mediated process of reconciliation is likely to resolve Thailand's present revolutionary situation. A free election will return Thaksinites to power, thus provoking his enemies all over again; an unfree election will only stir the red shirts into more intense opposition to the prevailing order.
****************************
PM Abhisit knows better than anyone else, the royal yellow lesson from 2008 is that thuggery, violence and provocation can reap rich political rewards.
The red shorts have gone to far; but precedent suggests that they think this is worthwhile.
****************************
Honestly, I am getting to a point where I am past caring. The country is a mess. Why should I care when the Thais themselves don't seem to care, or to understand basic concepts like respect, fairness and decency. Next year (and Tai may not agree) we need to go somewhere else.
*****************************
It is a lovely sunny warm day in Bangkok. But no one wants to go out.
We went as far as Emporium which was open; but many shops remain closed and shuttered.
I have never really liked Songkran – it is an excuse for people to behave badly.
Worse hundreds of people are killed – in traffic accidents. What sort of holiday is that?
12 April 2009
As night falls on troubled Bangkok there are reports that back-up from special warfare command in Lopburi are on their way to Bangkok (they are normally involved in coups although not exclusively – they were part of the 1992 crackdown).
I feel that something will happen tonight – one huge push against the red shirts. It will end in violence and death if it happens.
It is just a matter of time before the army tries to end this – unless the UDD – red shirts – back down.
**************************
The most bizarre story of the day was when two armoured carriers came out of the Royal Thai Police head office but were quickly seized by red-shirted protesters in front of the Siam Paragon shopping mall.
Siam Paragon !! This is Bangkok's newest, finest, biggest, shopping centre. And it has APVs being taken over by red shirts right in front of the building. Truly bizarre.
This is after declaring a state of emergency. Excise me officer – we are hijacking your APV, but you can have a red scarf and join us.
**************************
By the way – Emirates, and other airlines, are over-nighting their crews at the Novotel Airport hotel rather than downtown. If there is an escalation of the fighting the crew will board the next plane out and avoid all the problems that the airlines faced last December.
***************************
Sunday afternoon: Thai authorities have declared a state of emergency across the capital Bangkok and surrounding areas, state television announced on Sunday, following political protests that closed a regional summit.
The decree came "because the situation is worsening with a group of people inciting unrest", a television announcer said before Prime Minister Abhisit Vejjajiva began a live speech on local television.
Not clear what this means – it should mean no gathering of more than 5 people. It did not stop a very large number of people having fun at the Chatujak market today !
It is the beginning of Songkran.
This should be a fun festival – but it is also an excuse for too many people to behave badly. This is not helped by the people at BKK Magazine. Their feature this week is on 50 tips and tricks to help you survive Songkran.
Number 22 reads " Fondle white people. Those big breasted Swedish backpackers are in Khoa San. Go get 'em, boys."
Disgraceful. Assault is still assault. And using Songkran as an excuse to legitimise sexual assault is disgraceful. But that is the attitude of so many people in Thailand.
The fact that it is condoned by a decent listing magazine is shocking.
11 April 2009
It was chaos in Pattaya today; all the news is on the today page.
But Bangkok is calm.
9 April 2009
Prime Minister Abhisit Vejjajiva announced that Friday will be an extra holiday to pave way for the authorities to take action against wrongdoers in the Bangkok street blockades.
***************************
There is chaos on the street in Bangkok tonite and this looks likely to escalate rather than fizzle out.
The red shirts in their taxis have blockaded the major intersection at Victory monument. It would not be hard for them to blockade many other major traffic routes including the airport and the road to Pattaya – before the ASEAN meeting to be held this weekend.
****************************
Abhisit looks lost. Of course the lovely irony is that last year, after the PAD started protesting, Abhisit called for a dissolution and kept up this call basically until he became PM. PPP rejected this. Now, the tables are reversed, with UDD calling either for a dissolution or Abhisit to resign which Abhisit rejects as "undemocratic".
8 April 2009
Red shirt variation: from The Nation.
7 April 2009
Did you know that MacDonalds owns a large stake in the UK sandwich chain – Pret a Manger?
***************************
Dubai bashing has become the new Olympic sport. None of this will be good for the property market here which depends upon expat purchasers.
The BBC Panorama piece which can be found on my Today page is a sad story of Dubai's immigrant labour force. You can see it all around you every day.
Some of the other articles and stories are less well researched. Maybe even written by people who have not been here, or who are seeking the worst of everything.
But this is an article that hits hard – so hard I actually don't want to republish it – the Independent is a credible newspaper.
Why the backlash – to be honest Dubai has probably brought it in itself. Excessive over marketing; the lack of real estate and legal transparency; simple greed and too little respect for human rights.
*******************************
Oh dear.
I did not get a second interview with the local media company. No feedback which is a shame.
As always it may be for the best. The business is in trouble. And my suspicion is that I was too expensive. Even the cut price version of me.
*********************************
Sir Michael Parkinson will get abused for his commentary in the Radio Times (UK) today – but his commentary on Jade Goody says everything that many people dared not say:
Jade Goody died on Mother's Day aged 27 after battling cervical cancer.
Parkinson wrote – "Her death is as sad as the death of any young person but it's not the passing of a martyr or a saint or, God help us, Princess Di."
"When we clear the media smokescreen from around her death, what we're left with is a woman who came to represent all that's paltry and wretched about Britain today.
"She was brought up on a sink estate, as a child came to know both drugs and crime, was barely educated, ignorant and puerile.
"Then she was projected to celebrity by "Big Brother" and, from that point on, became a media chattel to be manipulated and exploited till the day she died," he said.
The broadcaster added it was not the fact that Goody became famous in the first place that bothered him: "What bothers me is that the media first of all recommended we hate Jade Goody.
"'A slapper with a face like a pig'; 'the most hated woman in Britain', remember? And shortly thereafter tried to persuade us to celebrate her."
He said Goody was "the perfect victim of our times…brought up in a cesspit of poverty and died to an orchestrated chorus of exploitation".
"All that is to be wished of such a troubled soul is: rest in peace," he concluded.
5 April 2009
Tai and I will be in BKK at the end of the week; how bad is Thai tourism – one site is reporting that Bangkok hotels are running near 30% occupancy, Pattaya around 55-60%, similar for Phuket & Samui. The north and east are more like 30-35%…. and that's now. May will see the numbers drop off dramatically as the low season starts.
The Russians are not coming anymore – so Pattaya has problems – and they were the only buyers of Pattaya properties – a good reason never to buy there.
**********************
Tai has an Istanbul turnaround. I had lunch with one of ex colleagues. Good guy. He looked tired. I feel a bit guilty – I worked hard to persuade him to come to Dubai! Sorry.
**********************
The North Koreans got there rocket up. The Koreans say that it is in orbit and is playing patriotic songs.
The Japanese, South Koreans and Americans say that it never got into orbit and came down in the Pacific.
The North Koreans raised two less than diplomatic fingers to UN resolution 1718 and went ahead and tested the missile.
There will be lots of noise tonight at a meeting of the UN – but the Chinese will veto any useful resolution that reprimands the Koreans.
4 April 2009
Charlie Nicolas is on Showsports – looking old ! me too – I guess!
**********************
I am sorry – but who was Jade Goody?  I seem to have missed out on all the fuss. Her funeral is today – and it is the top story on Sky News.
Meanwhile 15 people died in a shooting rampage in New York state; the Koreans are launching missiles.
A young death is sad. And her cancer will have raised awareness among many young people.
But she is being given Princess Diana status. It really is too much.
3 April 2009
If the North Koreans are going to launch this new missile could they please get on with it…..the brinkmanship is getting tedious.
*****************************
How does a nation go from George W Bush to Barack Obama – one extreme to the other. Obama is a rock star. People want to see him and to listen to him. He sounds interested. He sounds believable. He speaks with thought; and alos authority.
But he needs to deliver on the dog promise.
2 April 2009
Met up with one of my old colleagues yesterday afternoon. A bright and very hard working guy – someone who has lots of ideas and wants to understand how things work and then to make them work better.
Sadly the old company has let him go. He will be fine. Their loss.
On another site someone describes the culture of their own company as follows: "It's a nasty corrosive culture we have here of sycophantic wannabie 'managers' enforcing the policies of control from above." Sounds familiar.
*******************************
A couple of lovely moments from yesterday's G20 preliminaries:
Mr Obama said: "I had breakfast with the Prime Minister, meetings with the Chinese, the Russians, David Cameron…"
Prince Philip replied: "Can you tell the difference between them?"
At 87 – yes he is 87 now. He still has his rather loutish humour!
********************************
Obama was walking back in No10 Downing Street with his pet poodle – sorry I mean the British Prime Minister. Obama reached out to shake the hands of the policeman standing guard at the entrance. How many other country leaders would think to do that and do it in such a genuine way. He is a class act.
********************************
I like the Obama one-liners where he is off script and very human: The Obamas met Mr. and Mrs Brown's children, John, five, and three-year-old James.
Obama quipped: "We talked about dinosaurs a little bit in between discussions about Afghanistan and Iraq."
1 April 2009
Emirate to launch Angola service ! That caught me by surprise!
As per 01APR09 Emirates inventory display, it'll be launching 3 weekly service on the Dubai – Luanda service from 04AUG09. Service to the Angolan capital is operated by A330-200
EK791 DXB1050 – 1550LAD 332 247
EK792 LAD1800 – 0500+1DXB 332 247
Makes more sense as you read more – Angola has significant links to both Houston in the USA and to Brazil. Delta is starting a flight from Houston in the summer.
Since the end of the 1975 to 2002 civil war Angola has been undergoing a massive national reconstruction. It is forecast to be one the world's fastest growing economies.
For crew on a two or three day layover here is what to do:
Drive down the beautiful bay.
Go to the Benfica market, which sells everything from perfume to ivory to animal skins and tourist guidebooks.
Take the boat out to Mussulo, the best beach in town.
Visit the Kissama Game Park, a beautiful and enormous national game park just 2 hours south of Luanda recently restocked.
Contact Eco Tur who run safaris there in specialist game viewing vehicles www.eco-tur.com
Portugese is widely spoken. English is not.
31 March 2009
There is more than a little tension in many companies between management and its labour force – this is a comment from another site about a certain middle east airline – Any meeting of pilots more than the compliment of a ULR flight is considered mutiny.
No smoke without fire.
******************************
Here is a new take on the Nigerian scam letters from my email today:
Good Day Customer,
Your parcel worth the sum of $250,000USD was given to us for delivery.
Contact our west africa regional office via email with your complete details for dispatch.
FedEx Courier Service West Africa
Email:jamesofedex2009@live.com
Phone Number: +234 802 339 6501
Note: You will be responsible for your parcel security keeping fees.
Regards,
FedEx Courier Company
Never, ever reply to one of these notes.
30 March 2009
So much fuss about Madonna adopting another Malawi child. Good luck to her. She is probably a great Mum and it is a great opportunity for the child. The 4 year old girl is an orphan; mother died; father unknown.
AIDS and poverty have created a million orphans in Malawi. Madonna has invested in help projects and charities in the country. If she can give a great life to Mercy James then good luck to her. If fame and money expedites the process then so be it.
************************
Did I mention that we had dinner by candlelight for earth hour on Saturday night and turned all the lights off? It was a nice evening.
************************
It is apparently a bit tense at the red shirt rally outside Bangkok's Government House after police instructed protesters to allow officials to enter and leave Government House.
Police made the announcement through the Government House's public addressing system at 8:30 am.
The announcement prompted leaders of the red-shirted protesters to call on the demonstrators to block all gates and gather in front of the main stage.
The protesters were also advised to cover their nose and eyes with wet cloth if police use teargases to break up the rally.
Could it get bad? There are probably as many pollice and army as there are demonstrators.
**********************************
Poor old Gordon Brown – his big week in the limelight hosting the G20 summit – and instead all the press questions will be about "Blue Labour" following revelations that his home secretary, Jacqui Smith, claimed two porn movies on expenses. They appear to have been watched by her husband – who works as her political assistant – watched the films while she was away.
Of course the Tory press in the UK is expressing moral outrage! Ridiculous really. The mistake is not about watching a porn film; find an adult that has not at some time; but claiming it on expenses was asking for trouble.
I imagine the domestic discussions have been rather strained in the Smith household.
28 March 2009
It is Dubai World Cup day today. After last years' fiasco I have no wish to go anywhere near there today. Let's hope a few lessons have been learned from last year.
Trouble is the place is a building site as the new Meydan race track and community is being built around the existing Nad Al Sheba track.
**************************
I had a nice flight back to Dubai on EK315 from Nagoya. It is a long, long way ! About 11 and 1/2 hours. I always like flying with Tai; mainly because it is just nice to be with her while she works; but her colleagues are very nice to me as well. And this was a friendly crew.
Our captain is ex-Canada 3000 before moving to Dubai. I used to fly Canada 3000 many years ago when I was still in Toronto on their 757s.
Did have a bit of a headache midway through the flight; but a little sleep helped ease that.
*********************************
Susana, one of the SFS on the flight, was kind enough to share some of her pictures from Kyoto. She was lucky enough to see a number of Geisha in Kyoto. Here are a couple of her pictures:
*************************************
Latest schedule plans from Emirates: EK352/353 DXB-SIN-DXB — currently operating 3x weekly will be discontinued effective 30 April. Last departure ex-DXB is 29 April. This is the flight that was to upgrade to an A380 towards the end of the year. So maybe Singapore will not get the A380 this year.
In other Asia reductions both Beijing and Shanghai will reduce to 11 a week by June 2009; one daily flight and the other 4x a week.
The only good news is that some crew will now get 48 hour layovers in China.
*****************************
EK 315 arriving in Dubai today was the penultimate Emirates flight from Nagoya. The last flight arrives on Saturday.
There was a sadness already at the hotel and airport. The crew hotel gave small gifts and thank you notes to the crew and took pictures.
And at Nagoya airport there were more pictures with the crew and ground staff.
The Emirates business will be missed.
************************************
She really did not want me to take her picture !
26 March 2009
Back from a long, fun and cold day out in Kyoto. Pictures to follow soon. There is some cherry blossom out; but it is a bit early. Maybe one to two weeks before it is an its most spectacular.
There are a lot of Japanese visitors in Kyoto.
********************************
The Sunday bomb hoax at Gatwick caused the passengers some discomfort as their stories are now beginning to reveal:
Passengers were interviewed by police for some eight hours; they also had to complete forms, were videoed and and finger printed.
Authorities apparently treated the passengers well, handing out food and water, but the main problem became the toilet facilities, as each passenger was required to be searched and escorted by police to the toilets. Yuck.
There is one other alarming report; the airport was put on full alert and all incoming and outgoing flights were stopped for 15 minutes as the plane came in to land at 7.05am.
But when it did arrive safely, passengers said they were kept on board until almost 8.30am because no stairs were available. So, despite the bomb threat and the police surrounding the airplane passengers were forced to wait in their seats. Strange. If there is a bomb threat wouldn't you want all passengers and crew off the plane as soon as possible?
24 March 2009
Had a nice day in Abu Dhabi on Tuesday – we did plan on having lunch at the Emirates Palace hotel but a quick look at the menu and we had to leave quickly ! How much can you charge for a bowl of pasta or a little bit of salad and mozzarella.
But we took some nice pictures.
The building itself is austere. I am sure that the rooms are fabulous. But the whole atmosphere lacks warmth. There are large cavernous empty spaces.
*******************************
As for the driving on the highway and in Abu Dhabi. Scary. Am I missing something or are some people simply immune from the rules of the road. Some of the speeds on the highway are worthy of the future Abu Dhabi Grand Prix. But are they moving too fast for the speed radar. Or are the speed fines irrelevant to them.
*********************************
Tai and I are both heading from Nagoya tonight – sadly she has to work ! 🙂
20 March 2009
Oops – "It was like the Special Olympics or something." — President Barack Obama to "The Tonight Show" host Jay Leno on his score of 129 in bowling. A presidential spokesman said his offhand remark was not meant to disparage the Special Olympics, only to poke some fun at his bowling skills.
I am surprised that this was not edited out – I though the Tonight show was taped rather than live. They could have saved the President some embarrassment.
****************************
Tai is on her way to Rome. I have a very quiet weekend ahead.
*****************************
Barack Obama was on Jay Leno last night: first time a sitting President has been on the Tonight Show. Leno was suitably in awe. It was a very friendly show.
******************************
I have never banked with Barclays – while I was at university there were many campaigns against the bank due to its continuing business in apartheid South Africa; now as the revelations of its tax avoidance schemes are published daily, it is looking like an extremely unpleasant place to be. The headlines in today's Guardian include:
"Macho poker bets, summary sackings and an 'electric chair.' Whistleblowers describe management excesses and a climate of fear."

19 March 2009
How serious is Emirates withdrawal of the A380 from New York?
Doug McVitie, managing director of Arran Aerospace, an aviation consultancy, said: "This is such a visible failure. You don't pull out of New York unless there is a real problem. The A380 is not a plane for recessions because you are just flying around too many empty seats."
*******************************
If you want to pick a fight – pick one that you have some chance of winning –
NBC Universal Chief Executive Jeff Zucker fired back at comedian Jon Stewart on Wednesday, saying it was "unfair" and "absurd" for the funnyman to criticize CNBC and question its coverage of financial news.
"Everybody wants to find a scapegoat. That's human nature," Zucker said during a keynote address at a media industry conference. "But to suggest that the business media or CNBC was responsible for what is going on now is absurd."
This is one fight that NBC should not be continuing – let it go and Mr. Stewart will move in. Keep battling a lost cause and CNBC and anyone associated with them will look ever more foolish; and potentially ever more culpable.
18 March 2009
Thai politics – succinctly summed up in an opinion piece in today's Bangkok Post by Prof. Dr Likhit Dhiravegin who is a Fellow of the Royal Institute.
"Everybody knows what the political problems are. In a nutshell, the problems which inhibit the development of a sustainable democracy are vote-buying, corruption and abuse of power. The rule of law is constantly violated. The people are plagued with the twin evils of poverty and ignorance while many politicians are sly, crafty, bent only on power and economic gains, devoid of ethics and political etiquette. Political parties are just a gathering of individuals who have come together to set up a legal institution to register as a party in order to fulfil the requirements of office-seeking, as ordained by the Constitution.
Under the situation in which an ideology to serve the country and democratic ethos is an exception, not the rule, elections are but a political ritual in which the people whose votes had been bought, just dropped the ballot card into the ballot box. There is as such no election in the true sense of the word. Political legitimacy claimed by those successful in getting enough votes to qualify as a member of the House of Representatives is nothing but a sham."
**********************************
A380 confirmed on EK372/373 DXB-BKK-DXB on a daily basis effective beginning of June 2009.
Strangely this is the flight that has the lowest load of the three daily Emirates flights – but is the only one that can be flown by a single A380. EK418 goes onto Sydney and Christchurch and EK 384 goes onto HKG. EK384 does not quite work on a daily roster – it leaves at 3.15am and returns at 5.00am.
17 March 2009
Tai's pictures have been updated with her Nagoya flight. Looks like a nice visit; three Thai crew in Biz class!
16 March 2009
As part of their continuing campaign to welcome tourists to Thailand the police have started late night raids on Pattaya nightclubs with both Insomnia and Mixx raided over the weekend. Nothing like giving a urine test to brighten up a vacation.
Of course the police never come alone; TV and media crews are always in attendance to put their cameras in the faces of partygoers who will in some cases be intoxicated. It is a recipe for some very unpleasant scenes!
As the Pattaya Daily News so beautifully states – the police "also checked that the opening and closing times were being adhered to, in accordance with the government stipulations, and to maintain Pattaya's good image."
Pattaya's good image !!!!! Too funny !
******************************
If anyone has missed Jon Stewart's demolition, last week, of CNBC here it is:
The Daily Show With Jon StewartM – Th 11p / 10c
Daily Show Full Episodes
Important Things With Demetri Martin
Political Humor
Joke of the Day
The video is eight minutes long and should be enough to have CNBC tried for criminal negligence!
How did we get into this mess. Incompetence. Self-delusion.
CNBC's Rick Kramer did at least have the courage to make an appearance on "The Daily Show."
"I understand that you want to make finance entertaining, but it's not a [bleeping] game," Stewart told Cramer. Stewart accused the CNBC host and his network of being irresponsible cheerleaders in the lead-up to the stock market meltdown.
And here is Kramer on the Daily Show: this is the unedited version. It is not comedy. It is at times quite painful to watch. There are three parts!
The Daily Show With Jon StewartM – Th 11p / 10c
Jim Cramer Unedited Interview Pt. 1
Daily Show Full Episodes
Important Things w/ Demetri Martin
The Daily Show With Jon StewartM – Th 11p / 10c
Daily Show Full Episodes
Important Things w/ Demetri Martin
The Daily Show With Jon StewartM – Th 11p / 10c
Daily Show Full Episodes
Important Things w/ Demetri Martin
How is it that it takes someone from Comedy Central to provide the most complete and hard hitting criticism of the people behind this mess?
Plenty of people think that Stewart is out of his depth. But all he is really doing is asking the financial market commentators to be responsible. The implied suggestion of collusion between the mainstream networks and Wall Street/big business needs further investigation.
Kramer gets some credit for facing up to this on behalf of CNBC.
Of course this is also a major ratings winner for Stewart.
15 March 2009
Bored today – no one to talk to.
*****************************
Prayad Marksaeng plays today in the final round of the World Golf Championship with Padraig Harrington – the US Open champion.
******************************
The new Star Trek movie is due for release on 8 May 2009. Star Trek – Origins.
My TV still has no sound – and they cannot collect it until tomorrow morning which means I wont have it back until Wednesday. Now I can live without TV but when I am home on my own I like having the news running in the background. Growl. I will never buy Nikai anything again.
14 March 2009
There is a good story in Golfweek magazine about Prayad Marksaeng, the 43year old Thai golfer in contention after two rounds of the World Golf Championship in Florida. Indeed he was joint leader after the first round.
******************************
Tai is on her way to Nagoya with a fun 50 hour stop there.
Me – stuck in Dubai.
We have had a slightly stressful couple of days; coming back to Dubai after almost a month of travelling is a little stressful. A reality check but I don't much like what I see or how I feel.
We did have a Singaporean themed brunch yesterday with some friends at the Traders Hotel in Deira. Bit of a Singapore theme over the last week !
Food was ok; nothing special.
While writing to day about some of the changes in Singapore I forgot to mention the changes at the city state's first condom shop – now not just focusing on condoms but on adult toys of every possible description and size.
The city must have decided that a population boost may be created by putting some fun back into bedtime.
Nothing to be shy about in this shop! Of course there is nothing there that could be safely or legally brought back to Dubai!
12 March 2009
Vacations are good. They feel busy. Plenty to do. Lots to see.
Back in Dubai I seem to be sitting around waiting.
Sandstorms expected today. North-westerly shamal winds are expected to push dust into the atmosphere on Thursday, but the sandstorm will be less severe than the one that affected Saudi Arabia and other GCC countries on Tuesday. Be safe.
11 March 2009
My TV has no sound again – it has been back to the manufacturer twice already – it is under warranty but that appears to be an excuse just to keep it for a couple of days – not to fix the problem. I will never buy Nikai again !
************************
We are married yet live in separate apartments; I hate that; Tai is in Millennium; I am in Falcon; too tired to go over to Millennium for dinner; so we will end up apart for the night by about 200 yards. It is not supposed to be like this.
Our holiday over the last two and a half weeks has been a very good time for us; being back here is depressing me already.
***************************
After two weeks of driving around the USA it is a bit of a shock to come back to Dubai and realise just how awful some of the driving is here – all you can do is drive defensively and be aware that every car around you might do something odd at any time!
It was a short drive today – just to the Madinat Jumeirah – but we had
the guy doing 120kph while holding his phone with both hands as he hammered out a text message;
the guy who missed his exit and started to reverse into traffic so that he could exit from the highway;
the I don't know where I am going guy who simply stops in the middle of the road to make up his mind whether he needs to exit or not;
the I don't know where I am going guy who sits in the middle lane and crawls along til he makes his mind up;
the lane-changers without indicators and the racing locals are not even worth a mention!
10 March 2009
A big thank you this morning to the crew of EK405 for a genuinely enjoyable flight back to Dubai last night.
***************************
Thaksin Shinawatra has a long interview with the Editor of the Far East Economic Review – you can read it here.
He is certainly keeping himslef in the news – Time magazine and now the FEER !
*****************************
YouTube is under threat in the UAE: The Commander in Chief of Dubai Police, Lt Gen. Dhahi Khalfan Tamim, appeared to have launched a campaign on Sunday when he called upon Etisalat to ban YouTube, which uploads more than 200,000 videos each day
9 March 2009
Tai is back in Singapore after a 36 hour stay in Melbourne. I think this is a tough trip for the crew with three overnight trips in five days. It is a lot of night flying.
***************************
An early morning visit to the Hawker Center at Newton Circus; Tai was hungry so we went in search of noodles ! A very Singapore experience.
7 March 2009
It is hard to have any sympathy for groups like Plane Stupid (in this case the so called activist Leila Dean) when they resort to feeble pranks such a throwing green custard over Lord Mandelson, the British Business Minister.
But where was his security; and what if this had been acid and not custard.
I do think this goes beyond the tradition of non-violent protest in Britain. It should not be acceptable. And this woman walks away claiming that it is her democratic right to make this physical attack; which of course was deliberately done in front of TV cameras. She should have been charged for assualt.
********************************
More than 650,000 jobs were lost in the USA in February. Not good.
********************************
The BBC needs to get "The Oracle" off world service tv. It is embarrassingly shallow. A miserable attempt at topical humour. Get rid of it.
********************************
In news from New York the play "Impressionism" has pushed back its opening date
This new Broadway play with Jeremy Irons and Joan Allen, has pushed back its opening night by about two weeks to Tues, March 24. Critics were supposed to start attending the show for review from tonight.
"We did not give Jack O'Brien and our extraordinary creative team and company enough time to fully prepare Michael Jacobs's new play for Broadway," said producer Bill Haber. " 'Impressionism' is a world premiere on Broadway, which has not been work-shopped or played out of town. We are working hard in previews and we need more time to get the show finished for the official opening."
Which presumably is theatre speak for they read the early reviews (see below) and realised that they have a great cast and a crap play and need to do something to fix it !
The play's web site is here – http://www.impressionismtheplay.com/
6 March 2008
Emirates Airline is to launch Airbus A380 flights between Dubai and Singapore in December 2009. The initial schedule will run four times weekly, it will be Emirates' first A380 service to Southeast Asia.
******************************
Air fares are collapsing as quickly as demand has fallen – from the UK some return flights to Dubai with Emirates have fallen to £200.
5 March 2009
For a wired country internet charges in Singapore are criminal. Ludicrous. Laughable. Shameful. How do you encourage a business traveller to work out of Singapore.
At the Novotel the charges are S$15++ for 30 minutes; S$24++ for 1 hour of S$30++ for a whole day.
After free internet access in hotels across the USA the prices here are prohibitive.
******************************
Tai and I are in Singapore now. It is 5am – I went to sleep after midnight and woke at 4am. I really should take something to help me sleep. Trouble is Singapore is 13 hours ahead of New York time; so I still think it is mid afternoon. We can have a sleep later before Tai flies down to Melbourne tonite.
Nice flight over here yesterday; I finished Janice Lee's book – The Piano Teacher – set in Hong Kong during and after World War two. Very enjoyable.
We had a quick late dinner at Clark Quay last night. It is busy there now; lots of new bars and nightclubs. And a good thunderstorm as well.
4 March 2009
With a tailwind of 200kms a hour we are rocketing along; but it also makes the flight very bumpy !
****************************
Did I get bigger or did airline toilets get smaller?
3 March 2009
We are out of freezing (23F was today's high) New York and on our way to Dubai. The flight is 7 hours late after the snow storm. And there are about 65 people on board a 400 seat Boeing 777. People are not flying internationally from New York. This route must be hurting Emirates at the moment.
****************************
There are some pictures on my facebook page that show just how cold it has been !
2 March 2009
More doom and gloom in financial markets today:
Global stocks plumbed new multi-year lows on Monday after AIG's record $61.7 billion quarterly loss and an $18.1 billion capital request by HSBC slammed financial markets, sending the dollar to near three-year highs and government debt up as investors sought safe havens.
Oil prices plunged 10 percent as the deteriorating world economy threatened to cut further into fuel consumption.
Insurer American International Group's quarterly loss, the largest in U.S. corporate history, heightened worries about the health of the global financial system and boosted the appeal of government debt and the dollar as low-risk havens.
*****************************
It is bitterly cold in New York – with wind chill it is down to zero fahrenheit tonite:
*****************************
We did brave the weather to go and see Joan Allen and Jeremy Irons in a new play – Impressionism – a romantic comedy that is short on romance and short on comedy.
Jeremy Irons is such a good actor but seems to be just going through the motions in this rather leaden show.
1 March 2009
American Airlines from SFO to New York; it is a five hour flight without even a bag of peanuts.
Makes you appreciate just how hard working the Asian and Middle East crews are compared to their US counterparts.
In the US they are now mainly clearing the coffee cups and food that everyone brings on board. Sad. Not a glamorous profession any more.
**********************************
Did enjoy three very nice meals while we were in San Francisco; Scala on Powell Street in the city; Poggia in Sausalito and El Dorado in Sonoma. They are fortunate to have such fresh ingredients to cook with; much of which is organic and free of all pesticides and man made fertilisers. And with the mix of nationalities there is a great focus of creative and fusion cooking. Much of it is healthy as well ; lots of salads and quickly cooked foods. Makes me want to cook more!
The wine tour around Napa Valley yesterday was informative; as we were driving north the guide gave a history of San Francisco and its suburbs and that was interesting.
We also learned how to toast eachother properly with wine glasses !! It is not how you think ! And we know how to smell and taste wine; its not the first taste that counts. It is the second!
Your nose needs to get into the glass like this:
28 February 2009
As rain comes to San Francisco this evening it is time to get away – but only as far as freezing cold New York.
***********************
We spent the day on a bus tour of Napa Valley. Three vineyards and a very good lunch in Sonoma. We jumped off the tour bus at Golden Gate bridge and walked on the bridge.
It opened on 27 May 1937 – so it is exactly 20 years older than me.
Depressing statistic – 3,000 people have tried to commit suicide from the bridge – only 18 have survived the jump and the water.
27 February 2009
Midnight  – and someone is playing the star bangled banner on the trumpet outside the hotel!
I dont feel safe in this city – had to go for a walk about 10pm to find some food to bring back to the hotel.
Outside every restaurant, convenience and fast food store there are street people asking for money – some peacefully; some aggressively.
*************************
Had a nice lunch today at the Poggio Trattoria in Sausalito. Highly recommended for the food, service and location.
**************************
It is a bit cool in San Francisco – but the sun is shining and this is a nice city to explore. Some good exercise as well as we hike up and down the hills.
It is good to get away from Vegas. I do not like that city.
The casinos are depressing. They are also the only indoor venues that continue to allow smoking and the smoke gets everywhere – especially into the surrounding bars and restaurants.
The casinos also look old – dark – dreary. They are timeless in the worst possible way.
We stayed at the Signature – by MGM. A non gambling, non smoking three tower block of apartments attached to the MGM by a walkway. Large suites rather than standard rooms and very comfortable. Shame about the daft resort fee that is charged in addition to the room cost.
****************************
It was Tai's birthday yesterday ! Dinner at Mona Lisa in North Beach (San Francisco's Little Italy) in the evening – after her three hour pre dinner sleep !!!
And Dim Sum in Chinatown in the morning.
25 February 2009
Yesterday was a day of Vegas extremes. A morning drive to Red Rock Canyon – on a cool sunny morning this was a back to nature escape from Vegas.
And then the quite depressing Zumanity in the evening – which was a reminder of all that is bad about Vegas – the wish to extract every last dollar from visitors for the minimal of effort, thought or entertainment value.
24 February 2009
We drove and walked around Vegas yesterday – and had planned to go out.
But we were asleep by 6pm. And someone did not set the alarm properly!! It will go off at 8.30am instead! Next thing I knew it was 10.30pm and after that it was 2.15am! So up again at 4.30am ! And no night out and no dinner !
****************************
A few Vegas pics:
23 February 2009
Wish I could sleep. Yesterday I was up at 4am – and got through the day until about 10.30pm – but then woke at 1.30am – and have been awake since !
Am hungry too. Tai fell asleep at 8.00pm while watching the Oscars – saved having to listen to Kate Winslet gushing ! Better than her Golden Globes acceptance speech!
************************
22 February 2009
Two days of grey sky and showers in California. And now we are in Las Vegas….and it is cold and grey here!
**************************
Another very solid blog from Khi Kwai:
http://khikwai.com/blog/2009/02/22/dont-call-me-daughter/
****************************
Tai and I saw Blue Rodeo in concert at the Lobero Theatre in Santa Barbara last night.
Jim Cuddy summed up the place and the audience in one sentence as the band emerged for its encore:
"My! what nice people you all are; if we could afford to, we would move here!"
****************************
Santa Barbara is nice; prosperous; very white; probably quite socially liberal but enjoying the conservatism of the wealthy.
A retirement home for prosperous greying hippies – that's Santa Barbara!
****************************
And it may also be proof that the high street is not dead. State Street downtown is a long walk of restaurants, cafes, major stores, high street and designer names and local stores.
****************************
Not quite sure about the concert. The band as always are technically sound. They have (after 22 years) a great songbook to choose from. But either they chose not to, or found it hard to, engage the audience.
It was mainly a middle aged local audience; many of whom attend a whole series of concerts of which this was a part. So many would not have been familiar with Blue Rodeo.  Bums remained firmly in seats. No one told the audience that they could stand and dance or sing or even clap along!
The concert finished with a strong encore supported by Tim Easton of Lost Together.
Highlights – Cynthia, Bad Timing, 5 Days in May, Trust Yourself, Hasn't Hit me Yet.
The first concert review on the Blue Rodeo web site:
"Whoa, Blue Rodeo, you guys took me way back to your few other shows I've been to: Oakville in the 80s, Jock Hardy area at Queen's in the 90s, Central Park for Canada a few years ago.  This was hands down the tightest, best performance I've seen.  Fitting the locale, you guys have aged like a fine California wine. So much I could say, but one way to summarize is that you guys are consummate pros.  How lucky we were to see you in little Santa Barbara. Hope the dead crowd wont keep you from coming back — we few punchy Canadians were outnumbered by the greying hippies (including the sound sleeper in the front row), but hopefully we overcame them with our sing alongs and calls.  Thank you thank you thank you."
Actually Tai was asleep for a while as well – jet lag !!!! She enjoyed the concert – I think!
21 February 2009
I would have made a dreadful flight attendant. I am not patient enough.
And jet lag kills me. It is 3.20 and I am sitting on the bathroom floor in our Santa Barbara hotel typing this. Have been wide awake since 12.15am ! After about 4 hours deep sleep.
The flight from Dubai to Los Angeles is just under 16 hours!. Only middle seats were available; the flight was about 95% full.
Then we picked up a car in LAX and drive to Venice Beach; then up the Pacific Coastal Highway – slow after a bad accident; and then to Santa Barbara. I had not slept on the plane and with a 12 hour time difference driving was hard !
We arrived at the hotel about 7pm – about 25 hours after leaving home in Dubai!
Emirates new 777-200LR's have the latest widescreen ICE system. This month includes all 13 episodes from the first series of MadMen.
18 February 2009
Strange day.
16 February 2009
There will be a fall-out from the Dubai ban on Israeli tennis player Shahar Peer.
Part of the problem was that it was only at the final hour that the authorities denied her the visa; so all the other players were gathering in Dubai and it would be impossible to alter the tournament arrangements or for other players to take any action of their own.
The New York Times writes today : "Just like that, the glitter and promise of Dubai as an emerging international sports center evaporated into the cool desert night" and concludes that "Tennis should finish its business in the gulf this month, and say bye-bye, Dubai."
15 February 2009
This is just brilliant – from the 20/20 test in between Australia and New Zealand this morning! Watch !
Update – sadly you cant watch it as YouTube had to remove it after a copyright claim by Cricket Australia. Stupid really – it is action like this that can sell people on going to watch cricket!
****************************
There are certain songs that always stay in your mind and that stir memories when you hear them….I was driving to the airport last night to collect Tai and the radio station played Kate Bush's Wuthering Heights. I had not heard that for a long time.
****************************
It was good to go back to HKG. I do miss the city. Some of the new reclamation is damaging the downtown environment. The old Star Ferry terminus is gone for a hue reclamation and development work. Maybe just a little too much of old Hong Kong is gone. One of the lessons of the trip was the importance of recalling the good from the past. But if the past has gone; then it is harder to bring back the memories.
*****************************
Tai made it back in 16 hours from LAX – that is a very, very long flight. She had some sleep in the flight – so my Valentine's Dinner cooking did not go waste – some scallops; some fresh salmon; a bottle of wine and a candlelit dinner. Who needs to go out?
*****************************
By the time I fell asleep I had been awake for about 40 hours. Had not slept on the plane or at home. But then slept well.
*****************************
Is there a family feud in Dubai? – Press TV in Iran certainly seems to think so: http://www.presstv.ir/
Interesting story – doubt that will run in the local papers.
14 February 2009
Virgin Atlantic is 25 years old. I remember flying on their first 747 – Maiden Voyager – as she flew from Gatwick to NewYork – that was in 1985 when I joined Reuters !
And this is one of their celebratory ads. Look out for 25 year old mobile phones and some dodgy haircuts. And the music is a spin off from Frankie goes to Hollywood – relax. Which most people assumed was a song about how to give a b**w job !
********************************
Happy Valentines Day !
Always out to make a buck – the Hong Kong restaurants were doing Valentines Dinner on two nights – both the 13th and the 14th !! Creative?
Alex and I were in Pizza Express at Stanley – and they offered my 11 year old boy and I the special Valentine menu?????
We settled for the Peking Duck pizza. Good.
*****************************
Am now back in Dubai after a long overnight haul from Hong Kong.
12 February 2009
I had forgotten how humid Hong Kong can be – even at midnight.
It is so nice to be able to walk out of the building I am staying in and simply go for a walk – to the 7/11 or over to Victoria Park. I cant do this in Dubai and it is one of the most depressing things about the buildings that Tai and I stay in.
Had a nice dinner at the Peak Cafe with Alex. He is good company and had lots to chat about.
There are some pictures already on my facebook profile.
Hong Kong evolves more than it changes. The basic infrastructure does not change. Stores change. Restaurants change. There is some more reclamation. The old star ferry terminal has been demolished. That is sad.
But there is no change in the buzz, energy, smells, strange fashions, elderly garbage collectors, late night openings, street foods, late night noodles, clanking trams for HK$2 a ride, chattering mobiles, 24hr 7-11s on every street….I still feel like I am at home when I am here.
11 February 2009
Tai and I flew East and West today; I am on the way to Hong Kong and Tai had a 16 hour and 15 minute non stop to Los Angeles. That is a tough flight.
****************************
I wonder just how bad the Dubai economy is. I had a fairly depressing meeting with a recruiter yesterday. Yes there are still some people recruiting; but the overwhelming trend is of further redundancies.
And Emirates is something of a bellweather for the state of the economy. And Emirates has suspended both recruiting and crew upgrade courses and has not said when recruitment will start again. Times are tough.
9 February 2009
A job well done – Capt Sullenberger earlier today: "I needed the wings exactly level at touchdown. I needed to make the rate of descent survivable. I needed to touch down at a nose-up attitude. And I needed to touch down just above our minimum flying speed. And all those needed to occur simultaneously."
*****************************
Tai and I went to explore the Walk at Jumeirah Beach Residences. On a cool evening this is a nice place to stroll. Lots of cafes and restaurants with outside seating.
But I wonder whether the same crowds will be there in mid summer when an air conditioned mall is so much more appealing.
8 February 2009
The Thaksin Parable – this is good stuff!
7 February 2009
A blast from the past ! They dont make them like this anymore !
******************************
Had a nice day out yesterday with Tai and some of her Emirates friends – we drove over to the Sandy Bay hotel at Fujairah.
The aptly named Snoopy Island is just off shore – and the resort has a nice sandy beach. Beware of some washed up garbage and the occasional broken glass – sadly. But it is better than most other UAE beaches.
Food from the restaurant is nothing special. But we sat outside on the terrace looking over the ocean and it was very pleasant.
An easy drive – with the usual stop at the Masafi market. There are some pictures already on Facebook and I will put some onto this site soon.
***************************
How does the England cricket side get bowled out for 51 against the West Indies, one of the weakest test sides. Feeble.
From the Guardian: "England have recorded the third-lowest score in their Test history. It is nothing short of abject humiliation, probably their most embarrassing defeat since they were bowled out twice in double figures in Christchurch in 1983-84."
My theory – bring the whole team home and send out a new squad of cricketers that want to play for England rather than spend their time talking to their agents about their IPL fees.
***************************
Dual pricing is all the rage in Thailand – and even applies to police fines for exactly the same alleged crime.
The today page mentions the group caught in the act this week in a Bangkok hotel. The cosmopolitan 'swingers' from the USA, Australia, France, China, India, Bangladesh, and Sri Lanka, namely 13 foreign men and three foreign women had to pay pay Bt 500-1000 each for the inconvenience while the seven Thai women paid a mere Bt200.
****************************
This is fun:
http://www.saverjet.com/index.html
A spoof from New Zealand on the joys of low cost air travel. Reminds me of trying to get back from Thailand on Thai Air Asia; currently my least favorite airline. No they never did reply to my letter.
But this "tongue-in-cheek" advertising campaign created by Air New Zealand lampooning budget carriers has been labelled a waste of taxpayers' money by opposition airlines.
Air New Zealand has confirmed it is behind the website, www.saverjet.com, a fictitious airline which charges customers to place feedback, has unavailable flights and charges hidden fees.
And if you are really bored today:
http://www.skyhighairlines.com/main.asp
5 February 2009
A friend of ours confessed today to having seen Mr. Thaksin two times in the mall of the Emirates with family members. She is too polite to say hallo. I want her to invite him for dinner….there is a lot to ask him
*****************************
Pakistan and Australia have reportedly agreed to play five one-dayers and a Twenty20 game in the UAE in April and May.
Australia pulled out of their scheduled Test and one-day tour to Pakistan last year due to security concerns but the limited over series will now be played in Abu Dhabi and Dubai, the Pakistan Cricket Board (PCB) chairman Ejaz Butt said in comments published by UAE daily The National on Thursday.
4 February 2009
Facebook is 5 years old today.
******************************
Tai is on her way to Manchester. Brrrr.
******************************
The International Press Institute has produced its 2008 Press Freedom Review. This is the link to the Thailand page. It does not make for good reading…..
1 February 2009
Given the huge sums now at stake the wider use of technology in football is inevitable and necessary. It will slow the game down but it is needed so that bad decisions can be over-ruled by tv review.
********************************
19 year old Northern Ireland golfer Rory McIlroy won the Dubai Desert Classic. A tense finish for his first tournament win. He has great talent – and is already being built up as the new Tiger Woods. He is also sponsored by Jumeirah so it was a bit of a win for the home team.
***********************************
Are EK slowing recruitment? The BKK February recruitment has been cancelled.
ANNOUCEMENT
"The cancellation of EMIRATES open day"
We regret to announce that the EMIRATES open day on February 1st, 2009 was cancelled.
The next campaign will be on April or May 2009.
We will inform you again via website for further information.
************************************
My late night entertainment – film did not start on TCM until 2am ! So much fun to see how we used to fly !
There are so many continuity and plot problems in this film – worse than that – just big mistakes ! My favourite – after going through prolonged labor during which her makeup smears and her hair becomes matted, a woman who has just given birth minutes before during a hijacking leaves the plane flawlessly made up and with her hair perfectly styled. The flight attendant walks off carrying the new borne!
As for the Russian fighters – they are American Sabres!
31 January 2009
Tai is on her way to Nice. That must be nice for her. Somewhere new and by the sea.
I was planning to go but am not quite well enough to sit on another airplane for 7 hours.
So the best I can do is look at the Nice webcam. It is 12C and overcast.
Very very quiet in Dubai. Even went back to be this morning to catch up on some sleep !
30 January 2009
Very foggy in Dubai at 5am so we diverted to Muscat – after a high powered go-around in Dubai. Just over two hours on the plane in Muscat before we could head back to Dubai.
The flight was pretty grim – the large chap next to be should have booked his seat and mine.
It is easy to see why people get upset on an airplane. Cramped and confined to a middle seat with Tai trying to sleep on one side of me and the guy invading my space on the other side. The seat in front reclines and that feeling of claustrophobia is real.
There were problems on this flight – with passengers yelling at eachother about reclining seats. The crew were having a tough time. One (typical isnt it?) English guy vented at the purser while we were on the ground in Muscat. He was upset with everything from the woman in front putting her seat back, to the diversion, to no legroom. But his language and behaviour were those of a thug who drank to much. I would have thrown him off the flight. The purser put up with some appalling language.
My suspicion is that some of the EK pursers are concerned of being reported by the passengers and then not being supported by EK management. I hope I am wrong.
****************************
Miss Bam is the first of Tai's group of friends to graduate as first class crew – only 27 months after joining Emirates. Impressively fast promotion. My forecast – she will go onto SFS and Purser.
29 January 2009
Sad to see that the Japanese have started using capital punishment with enthusiasm. Today's executions bring to six the number of inmates hanged since Prime Minister Taro Aso took office on September 24. Six too many.
****************************
Anyone want to know how my week has been:
Lets start with what I hope is a joke ! A proctologist just finished examining a patient and said "good
bye Mr. Smith, see you next week".  The nurse walks in a few minutes later and has a form for the Proctologist to sign.
The nurse sees that he is trying to write with his rectal thermometer and informs the doctor of his mistake.  He exclaims "darn, some asshole stole my pen!"
Thanks Dennis!
Proctologists I was reminded have been the butt of many jokes.
The week has been a bit of a bummer; lots of standing around; sitting is not good; nor is something that rhymes with sitting come to think of it!
And enough antibiotics to mean no booze; not even a glass of wine!
26 January 2009
Arrived in Bangkok today thanks to Cathay Pacific 750 from Dubai via Mumbai.
There was something nostalgic about flying CX and on this route. I have not flown CX since APR visits to Vancouver ended in 2006.
But I used to fly on 751/750 regularly from HKG to Mumbai back in the mid 1990s.
Cathay is still one of the better airlines; but the signs of cost cutting are there.
*****************************
There is a damning analysis of the Abhisit government here.
A short extract:
"The catastrophic, shameful performance of Mr. Abhisit's cabinet has rendered it clear to anyone paying attention that the cries for a cleaner, more honest government that accompanied his rise to power were a fraud. To be sure, Thaksin Shinawatra's government had an abominable human rights record. But, unlike Mr. Abhisit, Thaksin came to power through legitimate means, not by trampling all over whatever was left of the country's democracy. Unlike Mr. Abhisit, Thaksin's power was grounded in a decisive popular mandate, not the commands of a tiny, unaccountable elite wielding enormous extra-legal power. And, for all his faults, Thaksin never was the groveling, slobbering bootlicker the new Prime Minister has shown himself to be. So what was the point of all this, if not merely to substitute the will of the weak and dispossessed for that of the rich and the powerful?"
The article concludes that : "Now more transparently than ever, Abhisit is nothing more than the handsome face of a loathsome dictatorial regime."
You wont find this sort of analysis in the fawning Thai media but it is good to know that there are still loud voices who recognise right and wrong.
25 January 2009
A rare visit to Terminal 1.  I have not been here since Emirate moved to their new terminal.
Terminal 1 is now used by the rest ! All the planes that would have previously been on a remote stand.
We have a Cathay Pacific 747 taking us to Mumbai and Bangkok tonight. There is a Delta flight heading to Atlanta and United to Chicago. KLM just landed from Amsterdam; a collection of GCC, India and Pakistan flights and some more exotic destinations such as Astana and Almaty.
24 January 2009
Bad day. After a good week and a good trip to the UK there is tension in the air back in Dubai. Tai has now gone to Bangkok; but the distance feels greater than a 6 hour flight.
**************************
Its 1.00am in Dubai – back in Danville California – US Air Captain Sullenberger is being honoured in his hometown. Sky News is showing the ceremony live; CNN is not.
Danville is a small town !! Captain Sullenberger looks like he would be happier in uniform. Guess he is still not flying while the NTSB completes its investigations. They recovered the second of the engines from the Hudson earlier today.
There are a lot of white folks in Danville !! Among the awards – the captain is now an honorary Danville police officer! How about an exemption from all future speeding tickets and parking fines !!
40 minutes of thanks and praise – and our captain is introduced; his very brief statement was a thank you to an experienced crew and that they were simply doing the job that we were trained to do. A couple of sentences and a 30 second speech. The investigation is ongoing so I guess there are some things that he cannot say.
22 January 2009
It is my Mum's birthday today ! Happy birthday !!
***************************
It has been a fun couple of days. Tai and I met at her hotel in Birmingham and went out to visit Bournville and see my old home, and follow my walk to my primary school, and wander past the Cadbury factory.
The folks at the Cadbury visitor office were very welcoming. Everyone who worked with my Dad would have retired by now. But the place really was how I remembered it. Albeit it feels smaller now.
Much of Birmingham has been rebuilt. Huge inner city development. And much of it has been well done. The new Bull Ring Mall is not so new – it is 10 years old now – but feels modern.
And the new Mailbox complex is well done. Old canal side warehouses converted into stores, canal side restaurants, bars and apartments and also the new home of BBC Birmingham. we had a nice dinner at the Spanish restaurant there. The walk home in cold driving rain was bracing and a good reminder of how bleak England can be!
**************************
Nice crew looking after us back to Dubai tonight. Tai is working away in Business Class. And has a special guest to look after. The CEO of the Emirates Group, Tim Clark.
***************************
On the how bad are things picture – Microsoft announced 5,000 job cuts – including 1,400 immediately.
21 January 2009
Something different. A Virgin Train. It has been a very long time since I last took a train from London to Birmingham!
The trains are nicer now. Modern fittings. Power sockets. Quicker than they used to be as well. Train is too hot!
Just heading past the new Wembley stadium. Wow – it is so different! To be honest – it looks out of place – surrounded by all the red-tiled homes of suburbia.
Just stopped at Watford Junction – that's a bit strange when the first stop is supposed to be Coventry!
The sun is shining today. Still very cold! England looks nice under a winter sun.
Just gone through Hemel Hempstead! Redbourn is nearby.
***************************
I had a good long walk around London yesterday. From Gloucester Rd to South Kensington, to the Victoria and Albert and the Science Museums. Across Kensington Gardens to Lancaster Gate. Subway to Bond Street; walk along Oxford Street and Regent Street through Piccadilly to the Trafalgar Square and the National Portrait Gallery. And back on the subway through Knightsbridge.
Nothing really changes much! The store names may change. The infrastructure changes very little.
*****************************
If the earth moved for you last night you can call it "hope sex." This is a wave of excitable shagging apparently triggered by the breathless anticipation of better times ahead.
I guess this makes up for 9/11 – when the increased in sexual activity was armageddon or apocalypse sex.
Hope sex has been in vogue in America since election day last year. Colleagues, exes, even spouses have all been enjoying this near revolution. It is helped by the fact that the Obamas are a good looking couple that are clearly into eachother.  
The UK equivalent at the moment is "no-hope sex." This is recession sex. People cannot afford to go out. So they stay in and make do with what they have. But no fantasising about the Browns will help !
20 January 2009
OBAMA DAY !
*******************************
With all the bad news from Thailand it is good to see that the advertisers have kept their sense of humour!
*******************************
Obama is a smoker!
Guess he will have to keep popping out of the West Wing for a quick smoke.
So much for the sportsman image !
********************************
Tai has been delayed in Calcutta for over 24 hours as their plane developed a hydraulics problem. So she may not be home in time to come to Birmingham tomorrow – which would make my visit here rather useless as we were going to explore Birmingham and Bournville tomorrow afternoon!
19 January 2009
On Saturday, President-elect Barack Obama personally invited the Sullenbergers — and the plane's entire crew — to come to Washington for the inauguration — and to fly aboard Air Force One sometime.
Sully Sullenberger was the US AIrways captain who put his stricken Airbus safely onto the Hudson River.
America loves heroes. And right now – with financial meltdown and massive job losses – Mr. Sullenberger is a real hero.
I hope he accepts the invitation. It will be a massive celebration and what a great reward – to be in the front row of history.
The five crew members are: Chesley "Sully" Sullenberger, first officer and co-pilot Jeff Skiles, and flight attendants Sheila Dail, Doreen Welsh and Donna Dent.
18 January 2009
Tai is in Calcutta for the night – which reminds me of my Dad taking my Mum as a special treat many many years ago to see the stage show Oh Calcutta in London.
My Dad was a great man but knew little about the theatre – he was also rather conservative and had not realised that Oh Calcutta was a naked review managed by the porn impresario Paul Raymond.
They walked out at the interval and headed home. I think my Dad was expecting A Passage to India !
17 January 2009
The Hudson River looked a bit different in 1939: this Canadian Colonial Airways passenger plane is flying over the George Washington Bridge as it flies up the Hudson River on route to Montreal, Canada.
******************************
US Air's share price shot up 13 percent Friday.
*******************************
Useless but entertaining fact from Die Welt in Germany:
Sexual intercourse takes place about 2,778 times around the world every 5 seconds.
They also noted that : human sperm has more than 30 ingredients. These include fructose, ascorbic acid, cholesterol, citric acid, nitrogen, vitamin B12 and a whole lot of salt and enzymes: and that the country where the most oral sex is performed is Austria.
Apparently three out of four men fantasise about their work colleagues (guess they never met my old work colleagues!!!).
In an international survey Germans ranked as the worst lovers in the world becuase they only think about their own pleasure in bed. Also not too popular were Turks (too sweaty), Swedes (too quick), Dutch (too rough), Americans (too dominating), British (too fat) and Russians (too hairy). The winners, again, were the Italians.
Finally and grossly men average 7,200 orgasms in their live (of which 2,000 are self induced) and if one takes into consideration that the average ejaculation produces between one and two teaspoons of sperm, 7,200 ejaculations will give you 53 litres of sperm. Yuck !
And with a nod to my friends at Emirates – 19 percent of Germans think female flight attendants are hot.
And for the new sensitive male – men who help with housework have better sex.
16 January 2009
As a wise friend rightly pointed out there are certain advantages in traveling first class….so before the travel budget gets cut too much consider this pic from today's USAir Hudson River landing !
And if you cant fly first class do at least watch the safety video.
********************************
Michael Palin is right – "Times are hard, but we must resist the temptation to stay at home, pull up the drawbridge and look after number one. The economic crisis, this time around, is global. And to understand it we need, more than ever, to keep in touch with the rest of the world, to see how others are coping and hopefully to learn something along the way." From his latest newsletter ! And the best travelers are curious, they listen, learn, and write about a love of the world clearly and with feeling. Eating helps !
****************************
Next week's plans include a 24 hour trip to Birmingham to show Tai where I lived for the first ten years of my life – and a walk down Beech Road to my old primary school !
And with the joys of the internet you can see it all here – it must have been a lovely summer day when they took the picture as you can see the cricketers gathered on teh Cadbury pitch!
Amazing that the Rowheath playing field has been largely preserved – I thought that would be covered in houses by now!
15 January 2009
Tai and I were out with two of our Emirates friends a couple of nights ago.
The were telling us about their New Year's Eve visit to London where they went to join the festivities in Trafalgar Square.
This should be a happy and fun time.
But for girls traveling together it appears to be threatening and dangerous.
Both reported that groups of men would be walking around trying to molest any girl they could get there hands on – including grabbing their breasts. When they protested and shouted to them to stop – they were told relax, have fun, its the New Year.
I am sorry – but assault is assault whatever time and date it takes place.
I feel bad for our friends; the crowds are too big to be effectively policed.
But New Year's Eve is not an excuse to break all the rules of decency and respectful behaviour.
***************************
Another sad event in Thailand – but bizarre really. Thai trains do not speed. They crawl. So how the driver and the students did not see the train coming is a mystery.
"even students were killed and many others were injured when their vehicle was cut into two by a speeding train Wednesday afternoon.
Police said the accident happened at 4 pm at the train crossing in Ban Nong Saeng village in Tambon Lamplaimas of Buri Ram's Lamplaimas distirct.
Police said the truck, which was modified into a student vehicle, was cut into two parts by the Bangkok-Si Sa Ket train."
13 January 2009
Dubai does have a role model for much that it has done – the role model – and competitor is called Singapore. The city state's population was 1.6 million in 1960 and has grown to 4.8 million, giving it one of the world's highest population densities. Planners project a further 40 percent growth by midcentury, to 6.5 million.
To make more space, neighborhoods are razed, landmarks are sacrificed and cemeteries – an inefficient use of land – are cleared away, the buried remains cremated and placed in vaults.
In its most ambitious development project, Singapore has simply made itself bigger. In 1957 its land area was 581 square kilometers, or 224 square miles. Since then vast amounts of landfill, dumped into the sea, have expanded it by more than one-third, to 775 square kilometers.
11 January 2009
For my Toronto readers or anyone flying there in the next week here is a must attend event:
War Child Canada is excited to announce another exceptional night of music, An Evening with Jim Cuddy and Greg Keelor of Blue Rodeo, which will take place at The Dakota Tavern in Toronto on Tuesday, January 20, 2009. This special night will be the third Dakota Nights for War Child benefit, a unique monthly concert series featuring very intimate performances by celebrated artists, hosted by The Dakota Tavern and War Child Canada. All proceeds from these events will go to support War Child Canada, a registered charity that provides humanitarian assistance to war-affected children in some of the most devastated regions of the world. Tickets for An Evening with Jim Cuddy and Greg Keelor are $50 and can be purchased at the door on the night of the show
Go. You wont be disappointed.
10 January 2009
Tai is off to Munich today – where it is currently -15C. A little bit cool !
Meanwhile the Australia vs South Africa 20-20 cricket match is on TV – and the Australians in yellow with KFC emblazoned on their shirts look like chickens ! David Warner – where did he come from. Great entertainment!
****************************
Wish Ryan Giggs had been born English not Welsh.
****************************
Me – headache all day. Feeling a bit down at the moment. Need inspiration!
9 January 2009
A Friday in the Souk Al Bahar, the new Italian restuarant is busy and should do well, the Dubai Mall and a visit to the beach for the sunset.
Not much happening at the moment. A bit immobilised still from my ski damage !
6 January 2009
Becks made his AC Milan debut tonight in Dubai and Milan and SV Hamburg drew 1-1 with Milan winning 5-4 on penalties. Becks played the first 45 minutes before being substituted by Flamini.
***********************
Not very project in the middle east is on hold – this one could be spectacular: Construction of the world's longest marine causeway, which will link Bahrain and Qatar, is due to start in 2009, the Bahrain Economic Development Board (EDB) said on Sunday.
Considered one the most important infrastructure projects in the region, the $3 billion project will take four years to complete and the bridge will consist of more than 40km of twin carriageway running across 22km of viaducts over the sea and 18km of embankments.
Dubbed as the 'Friendship Causeway', this is expected to reduce the current travelling time from to Qatar to Bahrain from four and half hours to just 30 minutes.
*********************
5 January 2009
A hand-cutting blanket that has been mode in Korea (sic) – sounds like the sort of gift you would not want !
***********************
I don't often give out cooking tips – but this one matters – and is for the aspiring thai food chefs !
After you have chopped up the chillies into really small pieces you really must give your hands a thorough, really thorough, wash. Cos if you don't, and you then touch some of the more sensitive parts of your anatomy, you will be in some discomfort. Not from personal experience this evening, of course !
***********************
The Daily Star newspaper web site is blocked in Dubai – but The Sun's web site is not. Strange. So I cant read the Star's story about Becks and Posh getting an apartment in the Burj Dubai. A bit too close to Executive Towers. There goes the neighbourhood!
************************
There is no sound from my TV. Disaster.
3 January 2009
Funny what you can pick up from other sites: the Singaporean XiaXue blog is fun to read occasionally – and on her recent Dallas trip she was introduced to the splendidly named Twin Peaks restaurant. There are a number of these restaurants franchised in Texas. By all accounts they make Hooters look tame.
I doubt we will get a franchise here in Dubai. Shame. The golf tournament looks fun!
*************************************
Interesting post on the red shirt protests and the efforts taken to ensure these are peaceful and law abiding:
http://rspas.anu.edu.au/rmap/newmandala/2009/01/02/red-shirts-and-civil-disobedience/
******************************
The UAE is a conservative place; and Emirates airline largely reflects this. So the sign on the A380 shower door is a surprise:
2 January 2009
It is so quiet today. Alex went home to HKG this morning and Tai is away for two days in Hamburg.
And I am all alone.
Worse still, I cant go anywhere because i damaged a calf muscle at Ski Dubai with Alex yesterday. I was distracted – and got the skis tangled. And felt the calf muscle stretch. It is very very sore. And just walking into the airport with alex today was very hard.
*************************
EK were a bit of a mess at the airport this morning. It is the first Friday of the new year; it was bound to be busy. So where we were checking in only 5 out of 11 desks were open.
Then we had to wait at the unaccompanied minor lounge for thirty minutes. When the girl did turn up she was sorry she kept us waiting but she kept saying how understaffed they were.
***************************
No one to talk with. Not much to watch on tv. No food to eat. And cant really go out to buy anything. This is the first new year in a while when I have felt uncertain and rather depressed about the future. I should not be. But the reality is Tai likes her work and her friends and can escape Dubai every time she flies. And they are her friends. I am always aware of that when she is away.
I dont have work here. Not now. Not yet. And am struggling with what I really want to do.  
***************************
Felt sorry for my neighbourly building labourers – even through midnight on 31 December they were working away.
1 January 2009
A tragic start to the new year in Thailand and a very low key start to the new year in Dubai means that this is not the most festive on openings to a new AOB in a new year.
Indeed there is too much uncertainty right now to feel positive about anything!
****************************
It was a strange new year. Fireworks and outdorr celebrations were cancelled across Dubai. There was a rolling fog off the arabian gulf around midnight so the fireworks would not have been too visible.
We stayed at home and played silly card games until midnight; cooked some BBQ, some soup and some wontons; shared a nice bottle of wine. It was a fun evening and we laughed a lot.
Maybe the Dubai authorities did us a favour.
*******************************
There were still lots of party people stumbling into the Millennium Tower elevators. Why they felt they need to use the f*** word every other word in front of Alex (who is only 11 and still reasonably innocent) is beyond me.