30 April 2018

The White House correspondents dinner was on Saturday. Trump did not attend. His press secretary did; and some of the abuse that she received from the guest speaker went far beyond fun – it was abusive and uncomfortable.
The press lose all credibility when it sinks to the bottom – feeding at the same level as the people that it seeks to hold to account.
Two wrongs do not make a right – this was abuse. The event was supposed to be a celebration of the first amendment; of the right to freedom of speech. But freedom of speech is not a license to be hateful.
The media wonders why they are no longer trusted by so many; this event did nothing to advance the cause of journalism or journalists.
The attached was sent to WHPA members – it is not an apology – but is a mea culpa. Too late. Damage done.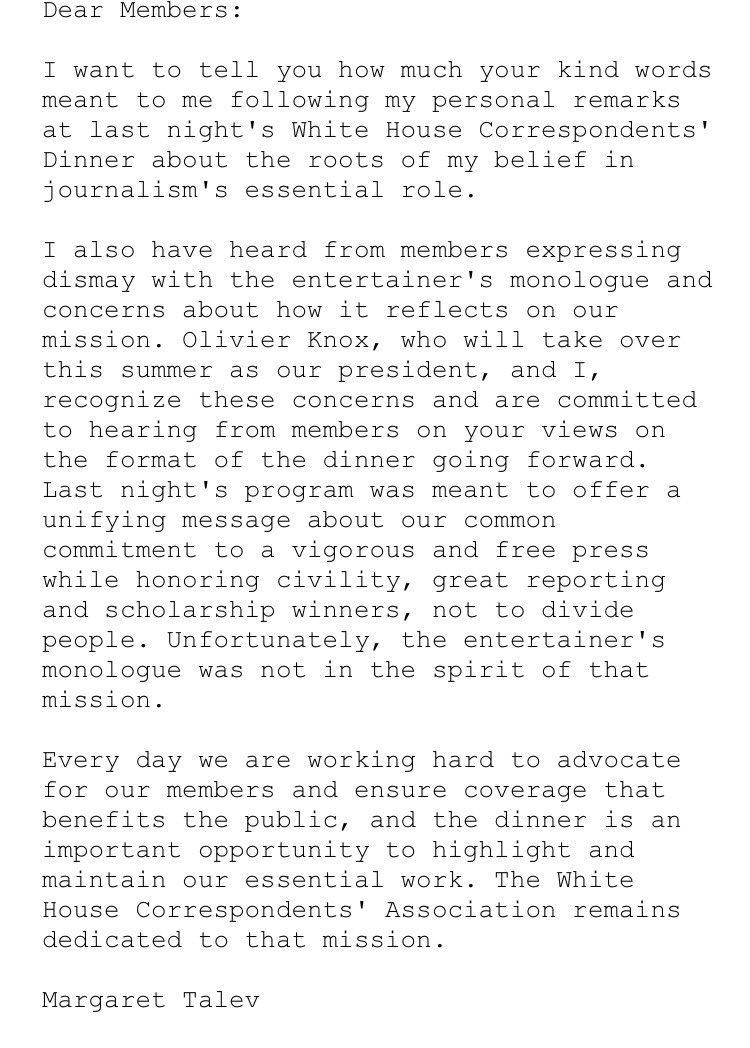 More details and commentary here:
White House press on defensive after Michelle Wolf torches Trump, Sanders
The only winner of last night's debacle was Trump. Wolf's monologue gave Trump supporters a cause to rally around.
From the NYT:
Michelle Wolf's coarseness at the White House Correspondents' Association dinner on Saturday night was disgraceful. It imitated President Trump's own speech. Defenders of Ms. Wolf ask why journalists don't criticize Mr. Trump's coarseness. But they constantly and rightly do. The journalists aren't hypocritical for criticizing Ms. Wolf's speech but instead would be hypocritical for failing to when at the same time they criticize Mr. Trump.
–JAMES ADLER, Letter to the Editor
And that is my issue – two wrongs do not make a right. If Trump has truly brought every political commentator down to his own ugly and base level then the USA is doomed…maybe it already is. It will take a generation to recover from the fallout of the Trump presidency. Worse – the US may now see a chain of monied, celebrity presidents…not in place for their intellect or geopolitical skills but for the fact that they played some character on tv.

25 April 2018
Digest this for a moment from today's New Statesman: everything that is wrong with football:
Leeds Utd are planning a trip to Myanmar – they should not go. But their defence is that everyone else is dealing with the devil so why shouldn't they:
"The next two World Cups are in Russia and Qatar, countries culpable for all sorts; the FA Cup is sponsored by Emirates, owned by the government of Dubai, another human rights blackspot; Manchester City are owned by Abu Dhabi's royal family, which has an appalling human rights record, while the club's manager, Pep Guardiola, once acted as an ambassador for Qatar; Manchester United's owners give money to Donald Trump and the team recently took a break in Dubai; Liverpool are sponsored by Standard Chartered which, in 2014, was fined $300m for lapses in anti-money laundering procedures; and on and on. This is football, this is sport, this is mankind, this is the world."
*******************************
We can only hope:
Today's New York Times – letter to the editor:
"Having lived in and reported on France, I don't believe for a minute that President Emmanuel Macron is "close" to President Trump in the sense of having a personal rapport. Mr. Trump is the epitome of vulgarity, a loathed trait in France, especially in the upper levels of society (note how Nicolas Sarkozy was ridiculed as "le président bling-bling"). At the same time, Mr. Macron surely sees how desperately Mr. Trump wants to be seen as "classy," and France still represents classiness. So he may lay on la bise — the kiss on both cheeks — and other superficial trappings of French culture, while feeling disgust and contempt, to try to achieve his ends. I'm not privy to Mr. Macron's inner thoughts, but it seems naïvely America-centric to assume that he and Mr. Trump are good friends."
JULIA LICHTBLAU, Letter to the Editor
24 April 2018
Thoughts with Toronto after today's senseless attack and tragic deaths:
Picture:  leeandracianci
********************************
Another UK royal was born yesterday: silver lining for Andy….
Due to a rather curious provision of the Succession to the Crown Act 2013, only the first six people in line to the throne have to ask the Queen's permission to get married again. As a result of the new arrival, Prince Andrew slips to seventh in line – and can now elope without telling his mum.
Then there was this from JK Rowling"
"Listening to @CNN talking about #royalbaby3 and the reporter said 'Prince Harry's route to the throne just became more difficult' as though it's an open secret he's planning to systematically slaughter his closest relatives…"
Game of thrones – UK style
21 April 2018
Alex turned 21 yesterday….
How much has changed since my 21st back in 1978 while I was still in my second year at University.
We had a house down the bottom of the hill between the University and the city. It was a warm end of May evening – we had a house party that turned into an all-nighter. Sorry neighbours.
I cannot even remember everyone who was there – Sarah, Ian, Phil, Dee….and sadly I am not in touch with anyone who was there that night.
I don't even have any pictures.
This all changes for the facebook generation. They may not talk every day – they may only now be acquaintances and not friends. But they will always know how to contact eachother and if they want to how their old friends are doing!
18 April 2018
Thai football is just bizarre.
Chiang Mai FC were at Nakhon Pathon tonight – League Cup. Nakhon P play in Division 4 of the Thai League.
Chiang Mai lost on penalties after extra time.
Two bizarre moments.
54th minute. Nakhon's number 10, Diego (another Brazilian) and CM defender Suwannapat are having a tussle by the corner flag. A little pushing. The ball goes out. The referee gives a goal kick. Diego goes down holding his face. The referee comes over – signals the trainer to come on. Diego gets up and waves away the trainer.
The referee walks across to Suwannapat and send him off. Still just a goal kick!
Later: Penalties. Long delay before the first penalty. Verdini takes if for Chiang Mai. Goalkeeper half save it. Ball spins away. He reaches back to grab it. Did it cross the line? Referee is on the 6 yard line on the side of the goal where the save was made. The linesman is standing on the goal line. They have no idea. So the officials make Verdini take the kick again. He scores. That really is making up the rules as they go.
***************************
Our favorite gardeners were back yesterday – they do such a good job:

17 April 2018
I avoided getting soaked over Songkran.
So I go out to play golf today – and on the 5th hole the heavens opened – thunderstorm, strong winds, horizontal rain and hail. Truly drenched.

And there was damage to the clubhouse as well:
13 April 2018
Sawasdee pi mai.
*************************


Thai girls and food…..
10 April 2018
Happy birthday to my baby sister.
5 April 2018
From pprune.org – "One thing I noticed when I left the Middle East, nobody asks you why you left, they ask why on earth did you go over in the first place?"
Indeed.
***************************
Someone is having exactly the same problem as me in picasa/google photos – and they have phrased the question to google far better than I can:
"I understand that Picasa is a legacy toolset that is no longer supported…However, I have continued to use it for basic import, editing AND PUBLISHING to my Google Photos account using the integrated, ongoing 'Upload to Google Photos' option that has been available since cutover to Google Photos.  However, just in the past handful of days, this has changed and I am now getting the following error/feedback when trying to use this: 'Error.  Failed to retrieve URL for upload. Please logout and try again.'  I logged out and back in of both Picasa app and also logged out and back in of Google account via browser.  What is up, as this continues to be just what I need for quick and easy editing and publishing from/to photo areas.  Thanks…JR"
And yes the problem has only arisen in the last few days – the user "JR" uses Picasa exactly as I do – and now we will have to find an extra step. Very irritating.
And here is a note from Google on 27 March:
"Hi everyone,
The Picasa Desktop application will no longer support uploading or downloading photos and videos, creating online albums, or deleting online photos, videos and albums (see our update in the blog post here). If you try to upload or download, you may see something like:
"Failed to download album list"

"Error: Failed to retrieve URL for upload"

"Error: Request failed"

The upload manager staying at 0% progress
If you want to upload photos and videos to Google Photos, you can use Backup and Sync at photos.google.com/apps.
Please note, you'll still be able to access all of your uploaded photos and videos in Google Photos at https://photos.google.com/."
Best, Google Photos Support
And this in reply sums up how many people feel:
"Another dumbass decision made by non-photographers who ignored the owners of the 262,000,000 DSLR's bought in the last 5 years."
Google photos is great for people that want an automatic back up of their mobile phone selfies. Picasa allowed us to edit our slr pictures and to choose and upload from Picasa which pictures we wanted to show in an album and who had access.
Workarounds: alternative ways for uploading at https://sites.google.com/site/picasaresources/Home/Picasa-FAQ/google-photos-1/how-to/how-to-upload-photos
Options 6 & 7 will disappear (including direct syncing to the web).
If you edit your pictures before uploading via the large green Picasa button, your best option now is to export the selected pictures in full size and then use the UPLOAD-button on https://photos.google.com and then select the exported series. Then you will get the opportunity to create a new album on Google Photos.
If you want to add to an existing album, just open that album on https://photos.google.com/albums and then use the UPLOAD-button.
After uploading you should delete the exportfolder to prevent confusion.
Before starting, check your setting on https://photos.google.com/settings for High Quality (free storage).
4 April 2018
And so to April.
And today was the opening day of the Commonwealth Games – 71 nations gathered in the Gold Coast, Australia,
Did not see too much of the opening ceremony – but this looked special:

We are on day 8 or 9 – I have lost count of our vegetarian and no alcohol month. So far so good. Tai thinks not eating meat is giving her wind – just so you are warned should you see her in the next few weeks!
I don't feel like I need a drink – which is surprising! Though a nice glass of red would I guess be welcome – not for another 21 days!