How versatile is your shower cap?
May 31 2008
I have never given the shower cap a great deal of thought until a friend described the critical role that it plays in her life.
Which set me thinking - what else can you do with a shower cap. Some web research is instructive. It is clear that a shower cap has more uses than just keeping your hair dry when showering. One writer suggested that you can use it to wrap bowls and plates. The elastic band of the cap will seal the bowls and dishes. When watering plants, you can also wrap shower caps underneath flower pots to catch any drips. In addition, you can wrap shower caps around your shoes when you need to step in from outside.
They can be used to protect electronics in the rain, when traveling, use them to protect toothbrushes or other small objects, catch water dripping from hanging plants or use them to cover bowls of food in the kitchen. They are commonly used by bikers to keep their heads warm under their helmets during cold weather. When trying to clean a clogged shower head, fill a shower cap with vinegar and water, securing over the shower head with rubber bands. After soaking over night, remove the shower cap and the shower head should be working properly.
A tip for camera users: You don't need to keep your camera inside just because there are a few drizzles outside. A standard hotel shower cap is the perfect rain protector for your compact camera. Just poke a hole in the middle of the cap for the lens to protrude through, then put your hands through the "stretchy" opening and let the elastic close tight around your wrists.

You now have a water resistant cover that enables you to work all of the controls - perfect for those shots of the kids splashing water in the gutter on a rainy day.
Bike users also find that a plastic shower cap is just the thing to keep the saddle dry when your bike has to be out over night.
Bread bakers use a clean plastic shower cap to cover their rising dough. It's easier than plastic wrap, and a large cap will allow enough room for the dough to rise without becoming uncovered. You can keep the cap from sticking to your dough by spraying the inside of it with non-stick cooking spray before putting it over your dough. When you're done, you can wash the cap out and use it again.
Shower caps clearly need a massive rebranding; they undersell themselves. These are not shower caps; these are multi purpose protective accessories; more commonly known as MPPAs. They deserve more respect.
None of this has anything to do with why our friend needs a large supply of MPPAs/shower caps. But there are some things I just cant tell you about!
Dubai's sewage woes
May 31 2008 - "Wall Street Journal"
"This Persian Gulf sheikdom, in the middle of a massive building and tourism boom, has a big sewage problem.

By one estimate, some $300 billion in new projects are going up in Dubai in the next 10 years -- including the world's tallest building and a man-made archipelago of luxury homes on islands shaped like palm trees.

But Dubai's single, 30-year-old sewage-treatment plant isn't keeping up. Sewage output here is rising by 25% a year. That has officials in this city-state, one of seven emirates that make up the UAE, scrambling for innovative places to store the waste, or ways to put it to good use.

In Mirdiff, an area popular with upper- and middle-income expatriates, city officials have installed underground sewage tanks between newly built villas. The tanks are designed to store raw sewage until homes are connected to the city's main sewage system. But the tanks, which are emptied by tanker trucks two to three times a month, sometimes overflow before they are drained, residents say.

The smell is unbearable, says Egyptian Mohamed El Hady Ibrahim Salah, a company car driver. "I hate to think what it will be like in the summer heat."

At International City, a development close to the Dubai sewage plant, sewage recently overflowed into the development's streets, submerging roads and parking areas. The development, which caters to middle- and lower-income expatriates, was built by government-owned Nakheel, the same developer of the emirate's palm-shaped islands. A Nakheel spokesman says that the overflow was the result of a "surge in the sewage system" and that it has cleaned up the spill. Residents still contend with foul odors.

Every day, hundreds of tanker trucks line up for almost two miles at the three approaches to the Dubai treatment plant to dump sewage. The wait can be as long as 10 hours, drivers say.

In order to avoid the wait and processing fees, some truckers have been discharging loads onto streets of desolate areas in the city, Dubai officials say, adding that they have fined several violators.

"We're trying to educate people about the problems of doing this," says Ijaz Ahmed Thir, from the municipality's drainage and irrigation department. "We've got teams of people on the streets to impose heavy fines when they find the culprits."

Aisha al Abdooli, head of operations at Dubai's sewage-treatment department, says the city is doing all it can to cope with the rising amounts of sewage. A big expansion project to boost capacity is under way at Dubai's current plant, and a new $500 million sewage-treatment plant is being built at nearby Jebel Ali. The first phase of the new plant is scheduled to open in April 2009, and a second phase a year later.

In the meantime, Mrs. Abdooli says some of the city's excess "tertiary-treated sewage effluent" is used to water the landscaping and public gardens that now dot much of this desert city. That is shorthand for treated sewage.

"Most of the city's green areas and public parks are irrigated with this water," she says.

The practice is increasingly used in other places, but it still comes as a surprise to many Western visitors and residents, who aren't used to smelly sprinklers. There could also be health concerns if the water isn't treated properly. A Dubai Ministry of Health spokeswoman didn't respond to emailed questions about the safety of the system.

At Dubai's Arabian Ranches, a development of million-dollar homes, parents whisk children inside when the sprinkler systems start working.

"I try to keep them away from grassy areas as much as possible," says one English expatriate. The developer of the project, Emaar Properties PJSC, says it uses some of the water from the Dubai plant for irrigation, as well as treated water from its own, smaller plants.

"We are aware that the authorities have taken measures to reduce odor problems, and such measures have had some success," says an Emaar spokeswoman.

John Robins, managing director of a media group here, quickly closes the top of his convertible when he drives along a Dubai boulevard where sprinklers are watering the landscaped medians.

"It's quite nauseous," he says."
No Silver(jet) lining
May 30 2008
Another airline casualty as British business-class airline Silverjet became the latest victim of soaring fuel costs; the airline ceased operations on Thursday night suspending its flights after failing to secure a crucial funding. Siverjet was the last of the business class airlines; US based EOS and MaxJet have both ceased operations this year.

The airline, which operates from London's Luton Airport to New York and Dubai and is listed on London's Alternative Investment Market, was suspended from trading last week. The company had signed a funding deal with Middle Eastern fund Viceroy Holdings for $100.0 million and had sought an initial installment of $5.0 million, but the funds failed to materialize.

Silverjet says it is in talks with other investors, but with fuel prices continuing to head north the airline is unlikely to fly again.
Silverjet had a good reputation in its niche market. Emirates and British Airways will be happy to pick up the business class traffic.
Thailand's squabbling elites seem intent on ruining the country

May 30 2008 from AFP/The Economist

"When an elected government took office in January, after 16 months of military rule, Thailand looked as if it might be returning to stable democracy. The army chiefs who had removed Thaksin Shinawatra's government in a coup in September 2006 accepted being overruled by the public, who voted into office a coalition led by Mr Thaksin's supporters. But political tension is now rising again. Anti-government protests have returned, raising fears that the army might use street violence, or the supposed threats to the monarchy from Mr Thaksin's allies, as pretexts for another coup.

On May 25th the People's Alliance for Democracy (PAD), an anti-Thaksin group, returned to the streets with a rally in central Bangkok. Only a few thousand people turned up, nothing like the masses who poured onto the streets before the 2006 coup and far fewer than the 30,000 the organisers had predicted. But it was enough to trigger a counter-demonstration from Thaksinites, with each side chucking plastic bottles at the other. More protests are promised. The police can contain such minor disorder easily. In 2006, however, similarly small-scale clashes were among the coup leaders' excuses for deposing the elected government.

The protests' return may mark the end of several months of phoney war between the two main camps in Thai politics. On one side are the Thaksinites, led by Samak Sundaravej, the new prime minister. (Mr Thaksin himself has kept a low profile, busying himself with Manchester City, the English football team he owns.) On the other is a fuzzy coalition of conservative and royalist bureaucrats, academics and soldiers, middle-class Bangkokians and the opposition Democrat Party. The Thaksinites believe the guiding force behind their opponents is General Prem Tinsulanonda, the elderly chief adviser to King Bhumibol, though the general denies this.

What has prompted the PAD's return to the streets is Mr Samak's plan to undo some of the constitutional changes made during the former military-backed government. One of these is a measure making it easier to ban a political party. Under this, the Thaksinites' new political vehicle, the People's Power Party (PPP), and two of its coalition partners face disbandment for alleged vote-fiddling in December's elections. Another constitutional change the Thaksinites want to undo is one that legitimised all the coupmakers' actions—including the creation of a powerful panel to investigate corruption allegations against Mr Thaksin. Removing this clause from the charter could get Mr Thaksin off the hook and open the possibility of putting the coupmakers themselves in the dock.

Mr Samak wants to hold a referendum to ask voters if they wish the constitution changed again. He hopes thereby to demonstrate his party's continuing popularity among the poorer, rural majority of Thais and to undermine the claims of his opponents—a group of mostly elite Bangkokians—to be "defending democracy". This week, despite rising worries about the street clashes, the cabinet backed Mr Samak's plan to hold the referendum.

General Sonthi Boonyaratglin, the former army chief who led the 2006 coup, seems to have gone quietly into retirement. His successor, General Anupong Paojinda, keeps insisting that there is no coup plot—but then so did General Sonthi, right up until the tanks rolled. Mr Samak is said to have built good relations with General Anupong, perhaps as a hedge against being dumped by Mr Thaksin. This might make a coup less likely. However, lower down the army's ranks Mr Thaksin has both supporters and diehard opponents, any of whom might conceivably hatch their own plots.

The anti-Thaksin movement's language, accusing the government of "divisiveness", sounds much as it did in the build-up to the last coup. So do its accusations of lèse-majesté. Mr Thaksin's supposed disrespect for the king was yet another of the coupmakers' excuses, though they failed to produce any evidence of it. Now the same accusations are being made against Jakrapob Penkair, a minister in Mr Samak's government, over a speech he gave to foreign correspondents last year about Thailand's "patronage system" and how it hinders the country's development. The anti-Thaksinites interpret this as criticism of the monarchy, an offence punishable by 15 years in jail.

Mr Jakrapob is correct that the system under which Thais owe loyalty to their patrons, rather than the institutions they are supposed to serve, undermines the rule of law and fosters corruption. That said, Mr Thaksin's government, far from ridding Thailand of this feudal mindset, was busy creating its own patronage system. Whether the patronage mentality derives from the monarchy or not is something Thais surely have a right to discuss. The king has said he would accept criticism. But it suits the conservative establishment to retain the severe lèse-majesté law as a weapon against anyone who threatens their privileges.

After the 2006 coup the army and its allies in the bureaucracy ran the country dismally, and Thailand's economy is now among the region's slowest-growing. Even so, both sides in the conflict are talking up the chances of another coup—which would be the country's 19th since the absolute monarchy came to an end in 1932. Even if it does not go that far, prolonged political strife risks doing further economic damage. Instead of regaining its reputation as an admired, fast-developing tiger, Thailand risks becoming one of those perennially unstable, tragi-comic countries, such as the Philippines, which the outside world overlooks."

Time for another coup?

30 May 2008
Having failed to get rid of Thaksin and his cronies after the 2006 coup; and having failed to get a friendly government installed at the last election their are hints that a bored and frustrated military are thinking of further intervention. If you dont succeed the first time try, try and try again! Yesterday Thailand's most senior military commander refused to rule out a fresh coup, five months after elections restored democracy.
Concern is growing that a mass anti-government demonstration planned for today could spiral out of control and turn deadly, giving the army an excuse to step in, after police failed to quell violence at another rally last weekend. But a police decision last night to formally charge a senior minister, Jakrapob Penkair, with lèse majesté for allegedly insulting Thailand's revered King Bhumibol Adulyadej may calm the tense atmosphere.
What is all the fuss about - this 21 May 208 translation and summary from Phujatkan; Author: Panthep Puapongphan, (source www.2Bangkok.com) may help:
"The actions of our military must come under close scrutiny, as rumors of an impending coup d'état are spreading by the day. We really should have learned some vital lessons from the apparent worthlessness of previous coups, since they have usually done nothing to prevent the return of bad politicians soon after. We should have already learned that coups can inflict great damage on our economy. We should now know that military dictatorships are unacceptable to those other nations with whom we do business.
Military dictatorships frequently violate the constitution, as they attempt to thwart the abuse of power by parliamentary dictatorships. At the same time, parliamentary dictatorships abuse the constitution to absolve themselves of any responsibility for criminal acts carried out by their members during their tenure. Both forms of dictatorship show absolutely no regard for public opinion.
We are currently under the thumb of an extremely powerful parliamentary dictatorship. This government has placed power in the hands of a number of dirty politicians. These politicians have shown that they are willing to abuse their power to protect bad people. These politicians are also willing to support their ministerial colleagues who pose a grave threat to the reputation of our royalty. Crisis now seems to be around every corner. The stability and sovereignty of our nation is clearly affected by these political developments.
Our three southernmost provinces face violence on an almost daily basis, but the government seems to be largely ignoring that problem. Additionally, Cambodia seems intent on invading our territory and stealing our heritage. Religion is also being used as a political football by this government, as part of its current attempt to convince people that constitutional amendments are necessary.
The reputation of our royalty is being defamed on a regular basis. Ordinary people are suffering from galloping inflation, with higher prices for many goods. In the face of so many crises, we might well ask ourselves what exactly the military is doing about all these things. Have they not always promised to protect the nation, its people and the monarchy? That said, we must also remember that it is vital that we do not once again make the big mistake of thinking that a coup is the only solution to all our problems."
One of the demands of demonstrators was that the police take action against Jakrapob, a minister in the office of the prime minister, Samak Sundarvej, for remarks he made last August.
It is remarkable that a nation's political fate appears to dwell on the August 2007 speech of one man. This speech was given at the Foreign Correspondents Club in Bangkok. It was probably meant to be a little controversial for that audience. But is Jakrapob the defiant "freedom fighter" who spoke at the Foreign Correspondents' Club of Thailand (FCCT), or another very typical wealthy Thai politician complaining "conspiracy" and vowing to sue all those who oppose him.At the FCCT he argued that Thailand's dependence on "patronage" was regressive, but on the other hand he desperately clings on to Thaksin Shinawatra, Chavalit Yongchaiyudh and Samak Sundaravej to save his job. The man is clearly confused between patronage and patronage !!
Meanwhile, the protesters are also fighting plans by the coalition government led by the People Power party, a direct descendant of Thaksin's Thai Rak Thai party, to amend the constitution. Critics say the government wants to prevent Thaksin being prosecuted on corruption charges and consolidate its hold on power.
"No soldier wants to stage a coup, but I cannot guarantee there will be no more coups," said the supreme commander, General Boonsang Niempradit, as he urged Jakrapob to resign from his cabinet post. Later he claimed he had been misinterpreted. He said no coup was in the offing, just as the leaders of the 2006 coup had said before their putsch. "I simply said anyone plotting a coup would not tell you in advance," he said. "I believe there will not be any coup."
However, the commander of the army units based in Bangkok was summoned back from a European trip, amid alarm over today's demonstration.

The temperature is clearly rising.
Burj base jumper faces jail
30 May 2008
The unnamed British man who leapt from the Burj Dubai to successfully complete the world's highest BASE jump from a building has now appeared in a Dubai court.
His 25th April feat was achieved after climbing up 150 floors of stairs, hiding for seven hours and then leaping with a parachute just after 5am as dawn broke. He was detained on landing and arrested. He evaded all security checks as he climbed the tower. I hate to say it but being white probably helped. Anyone who saw him probably decided he was a big biss and was supposed to be there.

Our jumper told the local 7DAYS newspaper that "The Burj Dubai is the world's tallest building and is a marvel of the world. I wanted to honour it, Emaar and Dubai by jumping safely from it."
He also had a video camera strapped to his body and the video must at some stage make good youtube viewing.
He was charged with illegally entering a property and could face one year in jail and a fine of dhs5,000.

Defence lawyer Hamdan Al-Harmi, a partner in Al-Sharif Advocates, maintained that his client was not guilty of anything. "Jumping from a building is not a crime because my client is professional and was secured," he said. "He has done many jumps before and he knew what he was doing. It is not a crime to enter an under-construction building and he didn't know that it was forbidden to do so. He had no evil intentions."

The term BASE jumping is derived from the four categories of fixed objects from which a parachute jump can be made - building, antenna, span and earth. Burj Dubai is also seeking compensation of Dh20,500.

Burj Dubai, in the UAE's trade and tourism hub of Dubai, became the tallest building in the world in July, measuring 512.1 metres (1,680 ft), a title previously held by Taipei 101 in Taiwan. Emaar has not revealed how tall the building will be when it is finished later this year.
More bad news on taxes
30 May 2008
The United Arab Emirates is will become the first oil-rich Gulf Arab state to introduce value added tax; probably by early 2009. Consumers are likely to find a VAT of up to five percent slapped on their receipts.

Dubai Customs is in charge of developing the VAT infrastructure which once imposed will aim to gradually replace customs duties that should be slashed due to commitments made in free trade agreements.

The tax will be applied across the seven emirates that make up the UAE federation once the decision is taken.

The UAE has established a reputation of being largely a tax-free country where personal income tax does not exist, while corporate taxation applies only to foreign oil firms and banks, and municipal tax is imposed on house rentals.

In an apparent attempt to ease fears of rising taxation among expatriate workers who represent the bulk of the UAE's manpower, Emirati authorities have implied that VAT will not exceed the five percent currently levied through customs duties on imported goods. However, VAT will go beyond imported goods to include services.
The biggest risk is of VAT leading to further inflation in the UAE where inflation is already a major problem. A semi-official report yesterday announced that 2007 inflation was at 14% in the UAE. Introducing VAT may add a point or two to the inflation rate.

The UAE and other GCC countries have been battling with high inflation over the past few years, combined with a drop in the value of their currencies, all of which except Kuwait's are pegged to the weakened US dollar.

Salik shocker
27 May 2008
My birthday present from the Dubai Road and Transports Authority is a Salik Shocker. The transport authority announced today an expansion to the unpopular Salik road toll scheme.

The RTA said on Tuesday it was adding an extra two toll gates - one on Sheikh Zayed Road at the Al Safa Park Bridge (this will get me at least twice a day) and the other on Al Maktoum Bridge - bringing the total number of toll gates to four.

Currently there are toll gates on Al Garhoud Bridge and on Sheikh Zayed Road opposite Mall of the Emirates.

The new gates will go live from September 9, the RTA said.

The RTA has been dogged by talk of a massive expansion to Salik ever since the scheme was launched in July last year.

Media reports have claimed there are plans to introduction additional toll gates on Emirates Road, Al Khail Road, Al Ittihad Road, Shindagha Tunnel, Business Bay Crossing and Maktoum Bridge by 2009, and on the yet-to-be-built Shindagha Bridge and a fifth bridge spanning Dubai Creek by 2010.

Motorists are charged 4 dirhams ($1.1) each time they pass through the toll gates, paying a maximum of 24 dirhams in any one day.

The RTA said motorists passing through Al Safa and the gate opposite Mall of the Emirates would be charged a toll fee of 4 dirhams once if they pass the two gates in the same journey.

The authority said the gates were being installed to reduce congestion caused by motorists trying to avoid the toll gates opposite Mall of the Emirates and on Al Garhoud Bridge.

In an amazing piece of fiction the RTA said the first phase of Salik had reduced traffic at toll areas by 25%, and lowered journey times on Sheikh Zayed Road by 50% and increased average speeds from 40 to 80 km/h. Anyone who drives this road will simply tell you this makes no sense.
Emirates increases India flights
26 May 2008
EK cabin crew will be rejoicing at this news. More long turnarounds.
Emirates will be increasing its frequencies to key Indian destinations effective July 2008. This is being made possible due to the recent bilateral enhancements allowed for UAE carriers to increase capacity to India from their respective hub airports. The additional operational highlights for EK in India are as follows:

Hyderabad - increased from 11 to 18 times a week. Effective 2 July EK526/527 gets 3 additional weekly frequencies on Monday, Wednesday and Sunday. Operated by A330-200.

Effective 3 July a new service is added on Thursday operated by B777-300 and Saturday by A330-200.

EK528 DEP DXB 1515 ARR HYD 2025
EK529 DEP HYD 2150 ARR DXB 2350

Effective 5 October 2 additional frequencies will be added on EK528/529 on Monday and Sunday operated by B777-200.

Delhi - increased from 14 to 18 times a week. From July, all 4 additional flights will be flown using a B 772. Effective 2 July an additional frequency is added on Wednesday on EK510/511 operated by B777-200.

Effective 4 July three additional fequencies are added on Monday, Friday and Sunday on EK510/511 operated by B777-200.

Bangalore - Effective 1 July two additional frequencies are added on Tuesday and Thursday on a new service EK564/565 operated by B777-200.

EK564 DEP DXB 0330 ARR BLR 0900
EK565 DEP BLR 1025 ARR DXB 1255

Effective 1 October five additional frequencies will be added on EK564/565 on Monday, Wednesday, Friday, Saturday and Sunday, all operated by B777-200.

There are likely to be some additions of capacity to other India destinations in coming weeks.
Dubai searches for identity as it grows worldly
From The Associated Press
26 May 2008

"DUBAI, United Arab Emirates — Along the creek that runs through the heart of old Dubai, hundreds of smartly dressed Indians waited in line barefoot to enter a Hindu temple on a recent weekend. Nearby were joggers, romantic couples, picnicking families — but hardly any of Dubai's Muslim Arab citizens.

Across the waterway in the Deira district, thousands of young Asian workers were out on the streets, drinking tea, shopping or just chatting. Some were calling family back home, shouting into cellphones in Hindi, Urdu, Pashtu and Dari.

The only Arab presence was a pair of policemen cruising through in a patrol car.

Hundreds of thousands of foreign workers — from taxi drivers, cooks and housemaids to doctors, bankers and judges — have been imported to Dubai, mainly from South Asia, to run what is perhaps the world's fastest-growing city.

Amid this flood, Dubai's natives — about 20 percent of the emirate's 1.2 million residents — find their way of life threatened and often react by isolating themselves.

They once lived on or close to the shores of the Persian Gulf, which provided past generations with livelihoods from fishing or pearl diving. Now they mainly dwell in closed communities of luxury villas on the desert fringes of Dubai, bound by an unspoken pact not to sell or rent their homes to foreigners.

Where their old homes once stood are gleaming skyscrapers, shopping malls and fast-food restaurants. The few traditional Arab houses that remain — one-story, flat-roofed structures with interior courtyards — are home these days to poor Asian workers, living six or seven to a room.

Arabic, Dubai's native tongue, is another casualty, with English now the lingua franca for the estimated 200 nationalities living in the emirate.

"We feel like strangers in our own country," said Mohammed al-Roken, a lawyer and human-rights activist whose calls for political reform and views on development have gotten him banned from writing in the press and teaching at his university.

"We cannot safeguard our identity without raising our percentage of the population," said al-Roken. He wants longtime Arab Muslim residents to be naturalized, as well as the children of emirate women married to foreigners.

Al-Roken and other Muslim Arab natives have been the chief beneficiaries of the city-state's rise to global banking and business hub with double-digit economic growth. But they also feel a loss of identity and way of life.

The citizens' grumbling reflects just one downside of success. More dramatically, poorly paid South Asian construction workers are showing signs of unrest, striking and protesting more frequently over pay and living conditions.

Dubai today is the product of its ruler's ambitions.

"We want Dubai to be the world's number one city for commerce, tourism and services," Sheikh Mohammed bin Rashid al-Maktoum wrote in a book titled "My Vision."

That vision has turned the city-state into one of the most contradiction-laden societies in the Middle East: a Gulf state that doesn't produce much oil, a multicultural society with religious and social freedoms unseen elsewhere in the conservative Gulf, yet lagging in political reform.

Despite spectacular growth, many complain Dubai has become a soulless place where everyone seems to be in transit. A skyscraper boom has turned the city into a massive construction site with virtually round-the-clock traffic congestion. Residents say they find the skyline changed each time they return from a month or two away.

Abdul-Khaleq Abdullah, a political-science lecturer and a native of Dubai, says his home city's progress fills him with pride.

"But there is a deeply buried sentiment — it is not alienation, but rather fear — that we may lose everything that we have built," he said. "This feeling comes from the fact that we are a small minority in a city that's full of foreigners. We are very scared."

Citizens — but not foreign residents — get cradle-to-grave welfare that includes free education and health care plus business and housing loans. Now the government has moved to address the fears that Dubai is losing its Muslim and Arab identity.

It has declared 2008 "The Year of Identity." It sponsored a two-day conference on national identity last month and has created an independent body to promote indigenous art and culture, and is celebrating one of the country's traditional products by publishing an illustrated encyclopedia of the date palm.

In other ways, too, Dubai seeks to remind everyone it's a Muslim state.

Stores and restaurants close Friday mornings until after the noontime Muslim weekly prayers. In the Mall of the Emirates — the largest in the Middle East — the music dies down five times a day and the muezzin's call to prayer fills the trendy shops.

Yet permissive ways that are frowned upon by the more conservative six other sheikdoms of the United Arab Emirates appear to prevail.

Prostitution, for example, is so widespread that many suspect that it operates with at least some degree of official consent. In one downtown bar, prostitutes cluster along ethnic lines, with women from former Soviet republics at one end, Chinese in the middle, and east Africans and Arabs on the far end.

Foreigners on the beach in bikinis and on the streets in shorts and tank tops are a source of concern to the native Arabs.

"No kissing or overt displays of affection," advise large stickers recently plastered on the mall's doors."
Wedding studio primer
25 May 2008
What does a wedding studio do? After a difficult weekend in Bangkok that seems a reasonable question to be asking. There is no tradition of wedding studios in western counties. Although wedding planners are increasingly common. In Bangkok there are plenty of weddings studios to choose between and their roles are very similar.

First made popular in Taiwan, wedding studios kicked off in Bangkok over ten years ago and their focus remains on the wedding photos themselves - which are usually taken three to four months before the wedding day.

The busiest months for weddings are May, November and December, so as with venues, it's advisable to book well in advance.

Prior to the day the wedding studios can also arrange invitation cards, thank you cards and personalised giveaway gifts for your guests. On the day itself, they will hire or sell to the bride and groom a dress and outfits for the wedding; these in theory are the same outfits that are worn for the photoshoot though in reality they appear to be very different. They also provide a make-up and hair service. A photographer can also attend the wedding.

Most recently, studios have started to provide CD-ROM or video packages about the couple and how they met and fell in love, which are shown to the guests at the wedding. These are becoming very popular. And no we have not had a video made!

Three main categories of studios have developed in Bangkok: low-priced, mid-range and high-end studios. The low-priced are mostly located in the Banglamphu area, where attention to touching up photos is minimal. Although the quality is lower, the price is lower as well.

Then there are the mid-range and high-end studios, both of which are mostly in the Thong Lor and Ekamai areas, were much more expensive when the market first developed in Bangkok. Apparently couples tend to buy a basic package but once they see the photographs, they will often order more and end up spending double the amount. The studios appear to rely on the fact that most couples don't care about the price because it's a once-in-a-lifetime thing - quality is much more important to them.

You may also wish to consider where the photographs themselves will be taken. The wedding studios have there own rooms to take pictures; some may have a garden; others can recommend venues to suit the happy couple.

Wedding studio blues
25 May 2008
There are wedding studios all over Bangkok; including a large number on Thonglor. They provide packages that include the wedding dress and a pre wedding photo shoot and album. But a word of warning; know what you are getting and not getting. And try to meet as many of the team as you can to see how they will work and maybe to let them know your expectations.
We were signed up with Victoria Wedding Studio; previously known as Picasso. Where do they get these names! We got off to a good start a couple of months ago. Tai tried a selection of wedding dresses and found one that she really likes which will be worn in October.
But it is a case of bait and switch when it comes to taking pictures. The wedding dresses that were available for yesterday's photoshoot were no where near as attractive and in some cases have been well used !
We dutifully turned up at the studio at 10.00am; and it was a long day; we finished at about 8pm. Lets quickly mention the good points - the hairdresser/make up guy did a good job with frequent changes to Tai's hair; even if there was a lot of gel used ! As well as pictures in the studio Tai had found a great venue for a location shoot - the Al Majlis Moroccan tea house; the Arabic theme seemed appropriate.
It was everything else that was strange and left a bad feeling at the end of the day! We did not like the photographer at all. Young, off-hand, humourless in both languages; he looked like he would be happier anywhere else. It is not much use when the sales girl says - don't worry, he is always like that. And the way they tool the photographs was strange. Every picture was posed for. There were no natural or candid pictures; no pictures of us relaxing and being ourselves. In 10 hours they probably only took 100 pictures. It was as though they were photographing on film and not digital. And then Tai made the mistake of asking for to see the pictures. Just a look at the LCD screen on the back of the camera.
A blunt "no" was the reply. They would not let us look at any of the pictures. How about letting us see a contact sheet or thumbnails we asked. No. The message was that the pictures belong to the studio. We will be allowed to see them when they are ready; the pictures will then be printed and included in the album. It is not clear whether we get the jpegs of the pictures that we choose. The contract is entirely in Thai and I should probably have asked Tai to translate it so that I was clear what we were committing to.
Whenever I take pictures with Tai and her friends we are constantly looking at the pictures as we take them. That instant gratification is part of the fun.
I did take my camera there thinking I could take a few pictures of Tai. But we were told very clearly that we could could not take out own pictures. They really do try to make sure that they keep all the value to themselves. And this is after paying then Baht 60,000 - the better part of US$2,000. Our friend, Apple, was there with us for the day (very sweet of her) and she had smuggled in her little Canon camera and she sneaked a couple of pictures for us.
They wanted Baht 100 for the taxi that took the photographer and team to the Al Majlis tea house. They were too lazy to arrange transport for us; so Tai and I are all dressed up and in a taxi to get there. Given we are paying the studio Baht 60,000 they might have made some effort themselves.
Worst of all was that my beautiful bride to be was unhappy at the end of what should have been a fun day and these miserable people really did not seem to care.
The few pictures that we were able to take are here.
The reality of flying Emirates
24 May 2008
My flight from Dubai to Bangkok, EK384, at 3.15am on Thursday morning was not the best. Save by the fact that it was on time.
I was away from my seat when the food trolley went past. But no one then offered me a food tray - I was hungry and the crew were rushing by at such speed that I did not want to stop them and say feed me! The guy next to me was far too large of the narrow EK seats and he was badly in need of a shower and some deodorant.
There was no ICE system and the plane had the old EK seats with no cushion support and the lumbar support that is fixed and digs like a wooden board into my back.
And for an unknown reason EK has removed all the footrests from economy. This may be a weight saving measure. But it adds to the discomfort.
The trouble for EK is that it has undergone such rapid growth in recent years that the product is inconsistent. What is advertised cannot always be delivered. And it is hard to maintain the level of quality and service that earned the carrier its good reputation.

The pricing out of Dubai is also higher than other carriers.
Emirates boasts of the best in-flight entertainment system; but it is not in all the fleet and instead you can get a broken seat, an old small screen and a smelly neighbour who you will be far to close to because of EK's 10 across EY seating!

Emirates has a great marketing organisation. Just like Dubai. But in both cases the hype and the reality can be rather different.
It's raining concrete
19 May 2008
From 7Days - the Dubai daily free newspaper
"At least 40 cars in a car park were left damaged when construction debris consisting of concrete and cement fell on top of them on Saturday night, residents of Falcon Towers on Sheikh Zayed Road in Dubai have said
They said that police came to the scene and noted down the number plates of all the vehicles that were damaged in the incident. "It was like raining stones. People who were parking their cars scrambled for cover after seeing debris fall from a nearby construction site. There could have been casualties if the debris had hit them," said Fadi Abu Hali, a resident living in the building.
"It is not the first time thats happened. There have been similar incidents when the windshield of cars were smashed due to falling debris," said a resident."
That's my building that they are talking about. But there are some problems with this story. Fortunately I parked inside the car park on Saturday night. The cars that were hit cannot have been in the car park. That would have protected them. They were parked in the dirt track between Falcon Tower and the construction site. And this would mainly be used by visitors who cannot get through the gate to the residents car park. There cannot have been forty cars parked there. There is no room for forty. Maybe twenty at most.
There are new signs up at the side of Falcon - construction site - parking is at your own risk. Yet this side road is now the only passable access to and from our building so declaring it a building site that we use at our own risk should be a matter for the RTA, who as usual will do nothing.
Dubai then and now
17 May 2008
Sheikh Zayeed Road in 1990
In 2003
In 2007
Burma's Junta Will Survive the Cyclone
17 May 2008
Asian Wall Street Journal
It is tempting to see the destruction wrought by Cyclone Nargis as a catalyst for democratic change in Burma. After all, other unpopular regimes have been undermined by natural disasters – think Managua in 1972, or Mexico City in 1985. But the key lesson of Nargis's aftermath is that the military junta may be here to stay.
The generals have no other goal. Led by Than Shwe, they manage a vast security apparatus of 400,000 soldiers. Education, health care and infrastructure? Ignored. Democratic legitimacy? Who cares. This week, as if to ram this home, state media announced that the country had approved a new constitution enshrining the military's power through a rigged referendum that reported 99% turnout and a 92% "yes" vote.
Over the past 46 years, the generals have signed peace treaties or cease-fire agreements with most rebel ethnic groups, including the Shan and the Wa. The political opposition is mostly in jail or in exile. The generals fund their lifestyle by selling the country's rich natural resources to Thailand, China and India. That's enough to keep them solvent, even though the United States, European Union and Australia all have strict financial sanctions against the rulers, their businesses, and many Burmese exports.
Meanwhile, the Burmese people live in utter poverty, unable to mount any significant opposition. Most farm for their livelihood and food, surviving on less than $1 a day.
The junta's paranoid reaction to Nargis was utterly predictable. This week the military erected checkpoints along major roads in the Irrawaddy Delta to prevent foreign-aid workers from traveling to affected areas. What foreign aid the government has accepted is channeled first to the military – perhaps so it can be repackaged as Burmese government aid, or squirreled away for the elites.
The junta has also squashed any nascent civic organization. Since Nargis hit, soldiers have ordered homeless refugees in the delta to leave the monasteries in which they were taking shelter, and forbidden some monasteries from distributing aid.
"Many Burmese communities themselves who are organizing relief efforts are being harassed by the authorities," reports Debbie Stothard, the coordinator for Altsean-Burma, an advocacy group. Burmese citizens who try to take aid to affected areas have been forced to turn the supplies over to the army.
The generals, too, have been selective about which foreign nations they'll deal with in the wake of Nargis. Friends like Thailand are welcomed – 30 Thai doctors were granted visas to enter the country, and 130 more foreign-aid workers will be allowed in from India, Bangladesh and China in the coming days. That's more than double the number of aid experts admitted from all other aid organizations, including the United Nations.
Enemies like America are allowed to send aid supplies, such as water, mosquito nets and blankets, but cannot have a physical relief effort on the ground that the Burmese people could see. Four U.S. Navy ships are anchored off the coast, ready to deliver 70,000 gallons of fresh water a day to the delta area – where people are dying from lack of clean water – as soon as the junta gives the green light. That supply will be lucky to see the beach.
All this jibes with how Burma's leaders have approached the international community in the past: shunning outside pressure, while knowing that their friends will continue to trade with them and that their domestic opposition has been defanged. That leaves only one real way for anything to change inside Burma – a military coup.
Before Nargis, this scenario was unlikely at best. After Nargis, it seems possible. Gen. Than Shwe, the head of state who has been calling the shots on how aid is distributed, is old and ill. Mid-ranking officers displeased with the regime's handling of the cyclone crisis have started complaining to exile publications such as Chiang Mai, the Thailand-based Irrawaddy magazine. Civil servants and army officers are reportedly deserting their posts to go home and help their families.
It's unlikely that a successful grass-roots movement for democracy can be born out of all this. Cyclone Nargis, which so far has killed more than 60,000 people and displaced a million more, has certainly changed Burma. Whether it's changed it enough to catalyze a change in government is another question altogether.
Avoid the Krispy Kremes
16 May 2008
A study released on thursday in Hong Kong found that a single doughnut can contain as much as 2.2 grams of trans fats, more than the World Health Organization's recommended intake for a whole day, the Hong Kong Consumer Council found.

A Krispy Kreme doughnut was among 85 food products tested by the consumer watchdog and the Hong Kong government's Centre for Food Safety for trans fats, synthetic fats linked to obesity and heart problems.

The tests found 4.7 grams of trans fats in every 100 grams of Krispy Kreme doughnuts, compared with 0.7 grams in a Cadbury chocolate bar, 0.01 grams in Planters crunchy peanut butter and 0.03 grams in Kettle Chips.

"Eating just one doughnut will boost your trans fats intake to its daily limit," a Consumer Council spokesman warned. "There is growing evidence indicating that trans fats intake is linked to an increased risk of coronary heart disease. Trans fats are now considered to be more harmful to health than saturated fats."

There was no immediate response from Krispy Kreme Doughnuts in Hong Kong to calls for comment on the report.

The good news for doughnut lovers is that other doughnut brands tested by the researchers found significantly lower levels of trans fats. Two other unbranded doughnuts contained 0.25 grams and 0.46 grams of trans fats per 100 grams.

The spokesman urged consumers to choose food with fewer trans fats as well as fewer saturated fats and cholesterol, to maintain a balanced diet, use less hydrogenated vegetable oil or butter fat in cooking, and steam and boil rather than fry.

Trans fats, which have already been banned by some government, are popular with food manufacturers because they enhance flavour and make food last longer.

Hong Kong, where waistlines have expanded rapidly in the past 30 years as more people abandon their traditional rice diet for more Western-style food, is introducing legislation for mandatory nutrition labels on food.

Turning a blind eye
14 May 2008
In Burma today the junta told visiting Thai Prime Minister Samak Sundaravej that it is in control of the relief operations and doesn't need foreign experts.
Worse than this lie, Prime Minister Samak appears to have accepted this statement and to be telling the world that it need not interfere. This is somewhere between incompetence, laziness and idiocy,

Samak visited a government relief center in Yangon and told reporters after returning to Bangkok that the junta has given him the "guarantee" that there are no disease outbreaks and no starvation among the cyclone survivors. Samak did not visit the delta region where the cyclone had the worst impact.

"They have their own team to cope with the situation," Samak said, citing Myanmar Prime Minister Lt. Gen. Thein Sein. "From what I have seen I am impressed with their management."

International agencies say bottlenecks, poor logistics, limited infrastructure and the military government's refusal to allow foreign aid workers have left most of the delta's survivors living in miserable conditions without food or clean water. The government's efforts have been criticized as woefully slow.
Samak's negligence is killing people who need aid now. He and the rest of the ASEAN leaders should be ashamed of their feeble response.
Invade Myanmar now
13 May 2008
Is this the time for a unilateral - and potentially United Nations-approved - US military intervention in Myanmar. For simple humanitarian reasons this is the time to remove that country's bizarre military leaders and move to a genuine democracy committed to nation building.
Myanmar's ruling junta has responded woefully to the cyclone disaster. People are dieing because of their failure to approve a swift international response.
The US can rapidly deliver aid to the worst-hit areas using US Air Force and naval vessels, including the US C-130 military aircraft now in neighboring Thailand, and the USS Kitty Hawk and USS Nimitz naval warships, currently on standby in nearby waters. Instead the Myanmar military restricts US and UN aid; takes away the aid that the junta itself wants to stockpile and rebrands aid containers with the names of the ruling generals. How bizarre.

Washington has long-held economic sanctions against the regime, which were recently enhanced through financial sanctions against individual junta members, their families and business associates. Early last year, the US tried to have Myanmar's abysmal rights record put onto the UN Security Council's agenda, but the motion was later vetoed by Myanmar allies China and Russia.

There has been a massive human tragedy in Myanmar. The Junta does not care. The rest of the world has to. The UN should be taking a strong lead, If it does not then new hard questions will fast arise about the UN's own relevance and ability to manage global calamities.

This week, French Foreign Minister Bernard Koucher suggested that the UN invoke its so-called "responsibility to protect" civilians as legitimate grounds to force aid delivery, regardless of the military government's objections. On Friday, a UN spokesman called the junta's refusal to issue visas to aid workers "unprecedented" in the history of humanitarian work.

How can the UN force aid delivery? Only through the support of US military management and assets. The moral case for a UN-approved, US-led humanitarian intervention exists. There are already fights over food supplies in Yangon, raising the risk that Myanmar troops could soon be called to put down unrest in the midst of a humanitarian crisis. Last September, Myanmar's army opened fire against and killed an unknown number of street demonstrators.

I have to believe that US policymakers in Washington are now weighing the potential pros and cons of a pre-emptive humanitarian mission in a geo-strategically pivotal and suddenly weakened country. It is likely that Myanmar's impoverished population would warmly welcome a US-led humanitarian intervention, considering that its own government is now withholding emergency supplies.

It is along way from a US military intervention in the name of humanitarianism to an armed attempt at regime change and nation-building. Much would depend upon the population's and Myanmar military's response to the first landing of US troops. Some political analysts speculate that Myanmar's woefully under-resourced and widely unpopular troops would defect en masse rather than confront US troops.

While Myanmar ally China would likely oppose a US military intervention, Beijing has so far been telling the junta to work with rather than against international organizations like the UN. In its Olympic year Beijing might decide that it needs to be seen to be supporting a humanitarian initiative to offset the adverse publicity from Tibet and Somalia.
In addition the US could call upon the supporters and leadership of a globally respected and once democratically elected leader in Aung San Suu Kyi to lead a transitional government to full democracy.
It is time for the UN to save lives and if in doing so ensure the overthrow of the generals.
Tremors hit China and Thailand
12 May 2008
A major earthquake shook China's Sichuan province on Monday, the US Geological Survey said.

It was not immediately clear if the 7.8 magnitude earthquake caused any damage or casualties.

Minutes later, another earthquake also shook buildings in the Thai capital of Bangkok.

The tremors were also felt in Hanoi, the capital of Vietnam, and high buildings in Bangkok were continuing to sway seven minutes after the first movements were felt.


Tearing down Burma's bamboo curtain
12 May 208 from The Australian
THERE seems to be no underestimating the brutality of Burma's regime as millions of people struggle to stay alive in the wake of the world's worst natural disaster since the 2004 tsunami. Parts of the Irrawaddy Delta have been turned into a mass graveyard, with bloated bodies strewn across the devastated landscape. Estimates of those killed in the days since Cyclone Nargis slammed into the Burmese coast on the night of May 2 range from the official figure of 22,000 (unchanged for almost a week) to 400,000. Now aid officials are bracing for a second, potentially greater disaster with up to two million people at risk from malnutrition and disease.

Yet 10 days after the cyclone hit, Burma's generals have done their level best to ensure that precious little aid has reached the needy. In what the UN has called an unprecedented situation, hundreds of foreign aid workers are stuck in neighouring Thailand waiting for visas. Thousands of tonnes of food, medicines and tarpaulins are sitting in warehouses just a few hours' flight away. Instead of using its own resources, the regime has insisted on going ahead with a sham referendum on a new constitution. Voting in those areas worst affected by the cyclone has been delayed by two weeks. But if the junta continues to block a massive disaster relief operation, there may be too few survivors to bundle together for even a stage-managed vote.

Senior General Than Shwe, sequestered in the custom-built and isolated capital of Naypyidaw and refusing to take calls from even the UN Secretary-General, Ban Ki-moon, must surely rank as the one of the world's most despotic rulers. He combines the very worst of Robert Mugabe's contempt for the welfare of his own people with Kim Jong-il's paranoia about the outside world. Like Mugabe and Kim, Than Shwe knows that the moment he loosens his grip, his own survival is at stake. But Burma is not Zimbabwe or North Korea. It is a fully fledged member of ASEAN and sits astride the most dynamic region in the world. Yet 46 years of military rule have created one of the world's poorest nations. About 90 per cent of the population lives on less than a dollar a day and the country's health system is considered the second-worst on the globe. Like Mugabe, Burma's rulers have attempted to seek legitimacy through the ballot box. Ostensibly designed to pave the way for elections in 2010, the referendum is in reality designed to extend military rule. The proposed multiparty system is described as a "discipline-flourishing democracy" - crude shorthand for the military retaining key powers. As the UN's chief human rights investigator, Paulo Sergio Pinheiro, said: "If you believe in gnomes, trolls and elves, you can believe in this democratic process in Myanmar (Burma)".

The Orwellian character of the regime has been reflected in its management of the disaster response. As thousands starved, state television aired programs with smiling actors singing about "national unity", and happy army officers handing out international food aid packages with their names embossed to thankful peasants. The state-run media yesterday trumpted a "massive turnout" in the national referendum, but made no mention of the tens of thousands still missing in the cyclone's wake. Behind this bamboo curtain lies a different story - one of starving soldiers pillaging what little food is left from survivors and of bodies being secretly buried by officials hoping to downplay the extent of the tragedy. The few aid workers on the ground say the Government wants total control of the situation, even though it has no experience in relief efforts.

It is little wonder that the international community is growing increasingly impatient with the Burmese regime. French Foreign Minister Bernard Kouchner has proposed a UN resolution compelling Burma to accept outside aid. Mr Kouchner's proposal is based on the notion that the international community has a right and a duty to intervene in another country's affairs if it is not upholding its responsibilities to its own citizens. There have been also calls for the Security Council to suspend or even evict Burma from the UN. That such drastic action is being talked about should be a wake-up call - not only to the Burmese regime but also to its allies - that the world's patience is running out. Short of carrying through with such threats, it is imperative that countries such as China, India and Thailand, which have some influence in Burma, keep reminding the generals that humanitarian obligations must take priority over politics.

A delegation from Thailand was due to meet with Burmese leaders late yesterday, but its bargaining power has been reduced by the silence from Beijing and New Delhi over the crisis. Last week, China blocked a proposal to have the UN humanitarian chief brief the Security Council on Burma, saying governments should not politicise the issue. A meeting between US Secretary of State Condoleezza Rice and Indian Foreign Minister Pranab Mukherjee in which Burma was discussed ended without a strong statement from New Delhi condemning the actions of its eastern neighbour. Of all these countries, China has the most to win and the most to lose. An unequivocal stand in favour of an international humanitarian relief effort would help China regain some of the moral standing it lost over Tibet as it prepares for the Beijing Olympics. Inaction could lead to instability in Burma, which China views as being of immense strategic and economic importance. International pressure led China to urge the Sudanese Government to tone down the worst of its excesses in Darfur. It could work in Burma.

Unfortunately, even if Burma was to relent tomorrow, it may be too late for thousands of survivors. Reaching the needy will be a herculean task. There are no all-weather roads, airstrips or servicable ports in the worst-affected areas. Bridges have been washed away and boats sunk. The impact of the cyclone has already caused a doubling of food prices in the rest of the country. Reconstruction work will take years and require continuing international involvement and support. That is the reality that Burma and its supporters need to understand.

Myanmar places votes before relief

9 May 2008

The Myanmar Junta appears to be blissfully unaware of the disaster that has hit this poor nation and remains bent on holding a(n) (un)constitutional referendum on Saturday that is clearly aimed to enhance the junta's grip over the country.

According to the Myanmar government, over 70,000 people were killed and 30,000 more are missing or presumed dead due to the cyclone last Saturday. Local Myanmar aid officials believe that the death toll could rise to over a quarter of a million. At least 2 million people have been left homeless.

Yet for the government's the referendum is the top priority and the cyclone is an inconvenience. The regime continues to call on the people to endorse the new constitution on Saturday. "To approve the state constitution is a national duty of the entire people, let us all cast a 'Yes' vote in the national interest," state-run newspapers continue to urge.

Yet very few people have actually seen the draft constitution. In Yangon, it sells for at least 1,000 kyat, the equivalent of US$1, in a country where 80% of families live on less than $2 a day.

The cost apparently varies in other parts of the country - from the equivalent of $2 a copy in Mon state, near the border with Thailand, to more than $4 in the predominantly Muslim areas of Arakan and Rakhine states in the west near Bangladesh.

The government is hoping for a unanimous vote. That is inconceivable unless the results are rigged. Inevitable.

In the villages in the Irrawaddy area destroyed by the cyclone, the farmers may no longer have an opportunity to make any sort of vote. The vote has been postponed there - and may never happen.

There is no doubt though that the real vote is not going to be announced - it has been rigged from the start. The junta has carried out a concerted campaign of harassing and intimidating voters. The latest intimidation appears to be simply to enhance the suffering of over a million.
Keeping the foreigners out
The Guardian, Friday May 9 2008
"Six days after the typhoon that devastated southern Burma, bloated corpses are floating in the mangrove in the Irrawaddy delta. Meanwhile, growing numbers of disaster-hardened aid workers are queueing in neighbouring Bangkok for their visas. Only two UN flights have so far been allowed to land in Rangoon, but they are not the main problem for Burma's paranoid junta. It is the army of foreign aid workers who come in with them. The military regime can not reconcile the crying need for a massive international aid programme with the openness needed to direct it.

Cyclone Nargis did not just strike one of the world's poorest delta regions with devastating force. It also came just seven days before a referendum due to be held on a constitution that will institutionalise the junta's grip. Keeping foreigners out of the politically sensitive countryside, where Burma's unfortunate citizens will be frogmarched to the polling booths on Saturday, is more important to the junta than the need to respond to a national emergency. No aid agency can even make a preliminary estimate of the casualties, but it is thought that over 100,000 people could have died and tens of thousands more could be at risk. The aid workers, however, will continue to wait for their visas.

Aid agencies are congenitally cautious in their criticism of rogue regimes because of the access they require for their programmes. But they are privately furious at what is going on, not least because they are impotent to do anything about it. Airdrops have been discussed, but the two most critical needs of the survivors are fresh water and medical attention, neither of which can be delivered from the air.

It gets worse. The three countries with any purchase over the regime in Rangoon are China, India and Thailand. After the uprising of Burma's monks last year, China helped get the UN special envoy Ibrahim Gambari into the country for a largely fruitless round of talks with the junta. After the Tibetan uprising this year, that lever over the Burma regime is now gone. China can hardly demand access for foreign aid workers in Burma when it is denying foreign human rights workers access to Tibet.

Within 72 hours of the tsunami that swept Asia in 2004, an air bridge of military aircraft was opened to Indonesia, saving many lives. Even though Indonesian soldiers were fighting a bitter war in Aceh at the time, the aid got through to the shoreline that took the brunt of the tsunami and a peace deal was eventually declared. Analysts will look in vain today for an Aceh effect in Burma. Not for the first time the junta has shown complete contempt for the fate of its people."

Inflation in Dubai
9 May 2008
Based on its price monitoring from first quarter 2007 to the same period this year, the Dubai Chamber of Commerce and Industry said the prices of staple food items such as bread, flour, milk and rice in Dubai have soared past the UAE's 2006 headline inflation rate of 9.3 per cent.
The Dubai Chamber has studied the average increase in the price of ten different product groups that are considered staple for the consumer's diet. For each product group, between 29 and 68 different products have been analysed on a quarterly basis.
The study found that all ten major food groups have posted significant increases, with flour experiencing the highest average rise of 57.72 per cent over the past year.
The prices of some wheat flour brands surged by as much as 145 per cent, corn flour by 162 per cent and wholemeal by 164 per cent between 2007 and 2008.
The prices of rice, bread, eggs and powdered milk have also increased by 44 per cent, 36 per cent, 49 per cent and 35 per cent respectively.
These are significantly more than the headline inflation and are thus adding to the overall cost of living in the UAE.
Food comprises 14.4 per cent of the total basket, according to the weights in the Ministry of Economy's consumer price index.
The Ministry of Economy has formed alliances with various hypermarkets in the UAE to freeze the prices of certain essential food items at their 2007 levels after inflation rose to a 19-year peak of 9.3 per cent in 2006, the latest available official government figure.
The increasing food costs in the country have been exacerbated by the weakening of the UAE dirham, which remains pegged to the US dollar, against currencies of major food suppliers and have put additional pressure on domestic inflation.


Sanity prevails
9 May 2008
Emirates crew is a bit happier about one flight. From June 1 the non stop sixteen hour plus Houston flight changes from a 24 hour to a 48 hour layover. Mauritius, an exhausting 12 hour stop will have an augment pilot till 1 July; after 1 July it will become a 36 hour layover.
Presumably LAX and SFO will both be launched with 48 hour layovers.
Not so motivational
9 May 2008
For Emirates it is an HR gamble. Offer a high bonus and then next to nothing by way of annual pay review. And then link the two. When in all reality they have nothing to do with eachother. The profit share is a reward to all crew for a hugely successful past year. The salary increase is meant to offset rising costs in the current year and ensure that the Emirates is offering a market competitive salary. A four per cent salary increase is one way of keeping costs low!
I suspect Emirates may see a high level of resignations after receipt of the annual bonus. Given current inflation levels in Dubai (see above) the salary review looks woeful.
But EK gets about 60,000 cabin crew applications a year - and it will continue to do so. It recruits somewhere over 3,000 crew a year. This is not a career for life; it is a short term way of life to travel the world on EK's substantial route network.
Keep recovering!

Emirates gets a nose job
7 May 2008
From Flight International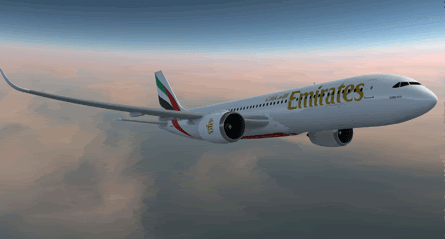 Emirates has become the first A350 customer to release images of the XWB with the revamped nose and cockpit window arrangement adopted by Airbus as it refines the aircraft's design from the original 2006 concept.
The revised nose, which dispenses with the dramatic four-window panel layout illustrated on all artists' impressions released of the A350 to date, was adopted last year when Airbus decided to incorporate the A380's nose structural design.

This installs the nose gear bay at the front of the aircraft. In tandem with this, the refinement incorporates a six-windscreen layout that is less of a design departure from the original XWB concept, bearing more resemblance to the A380's window arrangement.
The A350 is also the first Airbus to do away with opening direct vision cockpit windows for flightcrew emergency evacuation, with an escape hatch incorporated in the flightdeck roof instead.
Airbus will reach the A350's design freeze milestone in the fourth quarter, by which time it is expected to have published images of the aircraft's definitive shape and configuration.

Burma's twin disasters: A cyclone and the generals


Tuesday, May 6, 2008 - International Herald Tribune

By all accounts, Cyclone Nargis has devastated Burma - a 12-foot wall of water swept away entire villages, leaving the coastal plain under water, thousands dead, missing or homeless, and much of the capital city of Rangoon without electricity or water.

It is the sort of disaster that brings the world together in a single-minded and unconditional desire to help, and the reaction of national governments, the United Nations and international humanitarian organizations has been swift and noble. There is no time to waste.

We wish we could also say that this is no time for politics, but that would not be true. Burma - or Myanmar, as its junta wants it called - has been under the dictatorial rule of the military for 46 years, increasingly isolated from the rest of the world and struggling under economic sanctions by the United States and Europe. Last September, the world was forcibly reminded of the junta's brutality when it crushed peaceful protest marches by Buddhist monks.

These repressive policies contributed greatly to the disaster. Crushing poverty left many coastal communities more vulnerable to the storm than they otherwise would have been, and, as Laura Bush correctly observed, the government-controlled media failed to issue timely warnings. The fear now is that the paranoia of the generals may create obstacles to the rescue operation, which will require moving huge volumes of supplies over sea, land and air, as well as large number of aid workers, many from countries hostile to the regime.

Though the junta took the unusual step of actually asking for foreign assistance, the information minister suggested that only "friendly countries" would be allowed to help. It is not clear whether aid workers will require visas. The junta also has so far refused to cancel a referendum scheduled for next Saturday on a constitution that purports to be a step toward democracy. The referendum will not only effectively leave the military in control but will divert attention from the urgent task of recovery.

None of this should dissuade any government or agency from trying to help with the aftermath of the cyclone. President George W. Bush on Tuesday urged the generals to open the country to outside help and said the United States stood ready to "do a lot more."

Burma's fate rests now with the generals, who must summon the decency to assist their countrymen. In time, of course, the world must redouble its effort to free Burma from the greater disaster of the junta itself.

Thailand's next coup - when not if?
6 May 2008
From the Nation newspaper
In Thailand, there is a saying that rumours are factual events that take a bit longer to become reality. Previous rumours of a military coup usually preceded an eventual occurrence, like a self-fulfilling prophesy.

Over the past weeks, there have been talks about a coup in different circumstances. Some people scoffed at such a suggestion as wild and unthinkable in light of the military's retreat from active politics.

Realists or pessimists refused to reject such a possibility outright after experiencing such seizures of power by the military, unhappy with an unstable political situation, blatant corruption by politicians, or by whatever reasons cited for the putsch.

After each coup, and the troops' return to barracks, it was said that such use of force to change a government should be the last. Coups are an outdated mode of political change, condemned by the international community, pundits usually claim.

Each time, they were proven wrong by real events. There was always a new claim, excuse, or provocation for the military to act. Each one left a different scar on the country's political history.

The new rumours came too soon, not even before the Samak government completed its first 100 days in office. They began with idle talk and wishful thinking resulting from frustration over the despicable conduct of wild-eyed politicians, whose arrogance knows no bounds.

They are the same politicians who have had experience of being toppled by military coup, and still refuse to learn the bitter lesson due to the idea that their bold challenge through insolence and audacity would not be answered by extreme measures.

This time, the latest coup rumours were fanned by Prime Minister Samak Sundaravej through his Sunday radio talk show. He even made startling revelations that Cabinet members would be captured and herded onto helicopters to unknown destinations.

Why so? Samak did not elaborate, and he just left it at that, like a cliff hanger thriller, with an untold climax.

His way of telling the coup plot, with traces of sarcasm in his tone, made the audience think that he did not believe one bit of the rumour. He even jeered at the idea of a coup. "Would they have the nerve to do it again, so soon?"

Oddly, there were mixed responses from the generals. Those who were ambiguous just uttered a few non-committal sentences, not rejecting and not admitting anything. They were playing safe, obviously, keeping all options open. These groups are usually going along with their comrades-in-arms when persuaded to join the real action. Not the leaders, just those who do not want to disappoint friends or create an atmosphere of distrust during testing times.

The commanders who shot down the coup rumours too quickly are traditionally the ones who decide on the real action. They are highly suspect and should be watched closely to see whether their devious moves lead to the order for the troops to move. Did Samak and his fellow Cabinet members have sufficient reason to worry about being unceremoniously booted out? If they are honest with themselves, they should admit that there are some grounds for concern.

Whether it was habitual bravado or real courage, Samak made it clear that he would not flinch or be discouraged from the all-out drive to amend the charter, come hell or high water.

The attempt to push through constitutional amendments at any cost by the People Power Party is the prime reason. There are also other factors such as the repeated demeaning of revered institutions, the national flag and other conspiratorial moves.

All combined, it is not easy to pinpoint which one will end up being the last straw. Not that there were just rumours of a coup, there was conjecture over which side will launch a preemptive strike.

Thaksin's homecoming again on Sunday serves as another variable. He is in a hurry to end the ongoing legal process to bring him to criminal trial for several cases of malfeasance and corruption during his premiership. His presence is needed to decide who should be House Speaker and approve new moves.

What comes next is an inevitable political confrontation. Those against the charter amendments will risk facing pro-Thaksin political goons spoiling for violent street clashes. The showdown could be quite messy.

If the crisis gets out of control and the anti-riot police fail to quell any upheaval, then it is not difficult to predict the unfolding consequences of the power play. It does not have to be a coup in the true sense of the word this time around.

Watford squeeze into play-offs
5 May 2008
It was a local boy, Tommy Smith, who took Watford into the playoffs for the last Premiership place. His equalizer against Blackpool sealed 6th place in a league that Watford were at one time top of for 99 days with a nine point gap to second place.
The Hornets came from behind to draw 1-1 at Blackpool to finish the season on 70 points - the same as Wolves but with a superior goal difference of just one goal. The margins between success and failure can be very narrow indeed.

It has been a stuttering second half of the season but don't count the Hornets out. They have always been a good cup team! Watford now play Hull City over two legs while Crystal Place play Bristol City. The winners of both semi finals meet in the final play off match.
With only one win in the last 14 games Watford are hardly the form team. But all the league form is history now. It will be simply who takes their chances and holds their nerve over the last three games. Watford have been here before; two years ago when we on promotion to the Premeirship beating Leeds at the Millennium stadium.
EK announces Durban in time for summer sun
5 May 2008
Emirates announced today that it will start a new daily service to Durban from 1 December 2008. The new service will be Emirates' third direct connection between Dubai and South Africa and is part of the build up of services before the 2010 World Cup of which Emirates is a major sponsor.

Durban lies in the heart of KwaZulu Natal, otherwise known as the Zulu Kingdom, and is a fascinating blend of British, Zulu and Indian history. Located on the east coast of South Africa Durban is a natural hub for trade with the Indian Ocean and Asia Pacific countries, boosting its status as Africa's largest port and the world's ninth busiest.

Durban is Emirates 16th passenger destination in Africa.
Emirates will serve Durban with an Airbus A330-200 aircraft offering 27 Business Class and 251 Economy Class seats. The Dubai-Durban flight will cover a distance of over 6,600 kms in 8 hours 40 minutes. The flight schedule is:

EK774 departs Dubai daily at 04:45 hours and arrives in Durban at 11:25 hours
EK775 departs Durban at 13:15 hours and arrives in Dubai at 23:45 hours

Emirates will move to new Jebel Ali airport
2 May 2008
Emirates Business 24/7 reports that Emirates plans to eventually shift its base to the Al Maktoum International airport coming up in Jebel Ali's Dubai World Central development. This makes sense given the scale of the investment in the new six runway, 125 million passenger airport.
My guess is that the existing Dubai airport would not be used for low cost or business traffic, which can also be housed at the new airport. The existing site is better being returned to commercial developers. However this could all be 5 to 10 years into the future.
Tim Clark, the airline's president. said "clearly, in the future, the whole of Emirates operations would be moved to the new airport in Jebel Ali. Emirates has to go to a hub that it has been heavily involved in the design of. It would not make much sense if we would do that and not go there."

"The government has got consultants working on the airport project at the moment, who are at a very advanced stage of the preparation of the master plan. By the end of the year, they will have a detailed plan of what the airport is going to look like, the final design and so on," he added.

Clark further said the two airports – Dubai International and Al Maktoum International – cannot co-exist.

"Personally, I do not see a place for two airports in Dubai. The new airport has to be built to the scale that Dubai needs. Today, we have real constraints in the current Dubai airport. We have carriers who want to come here and can't and carriers who want to come in at a particular time and they can't," Clark said.

"The Terminal 2 expansion for the regional carriers, on the other hand, is going at such a pace, it is really an airport under pressure," he added. "I am sure the government is taking cognizance of the fact whether there will be one or two airports. If there are two, there will be pros and cons. But I eventually see just one airport in Dubai."

So what about the investment being pumped into the new Terminal 3 and Concourse 2, which are especially being built for Emirates?

"Tough one, isn't it? You have got to look at the big picture. If the government is spending $30bn (Dh1.1trn) on a place such as Jebel Ali, then the reality is what you do with your existing airport structures would have to be faced," said Clark.

Meanwhile, Terminal 2 and Concourse 3 are both scheduled for opening in the fourth quarter of this year. "We should be able to move into Terminal 3 by Q4."