31 December 2018
Christmas week with my Mum in Abingdon. Mild weather. Nice for walking. Christmas Eve diner with brother Tim and family.
Mum is in her own world – not unhappy. Just a different place from the rest of us.



We were in Paris from 18-22 December. Always nice to walk around and for the most part the weather was kind. Paris is a walking city – even if Tai doth protest!
Though the walk from the Champs Elysee to Galerie Lafayette was maybe a bit too far.
A few pictures from the phone.

Of course Paris is also a city of romance – or an excuse to keep your hands warm!

16 December 2018
A day out in Folkestone. Enjoyable. Sunny start to the day. Nice walk and lunch.
Took the high speed train from St Pancras which uses the Eurostar tracks – and gets to Folkestone in an hour.
15 December 2018
The coldest and wettest day ever! And we had tickets for Watford v Cardiff City. SO off we went. Just as we got to the ground the deluge started. For gbp40 there really should be a roof over the seats. But no. We were able to move into a covered high corner for the second half as other people left.
We did score three terrific goals – but the weather was foul.
Dinner in the city afterwards and the train back from Watford High Street.

14 December 2018
Arrived in London last night – it is literally freezing here.
Flights on Qatar from Chiang Mai via Doha – both on 787s. There were just 17 passengers (including the one lonely figure in Business) on the flight from Chiang Mai to Doha. Great for passengers – awful for airline economics.
Qatar really does need to do a better job marketing this flight in Northern Thailand.
As for the 787; the food is ok – the ife is average – the legroom ruined by the huge IFE boxes, the ones in the window seats are especially intrusive and mean that it is very hard to stretch your legs and the 3-3-3 seating means very narrow seats – if you are sitting next to anyone you will be filling eachother's space. The A350 with 3-3-3 is so much more spacious. The 787 is an accountant's airplane – the A350 is a passenger's airplane.

4 December 2018
The new Bangkok apartment is fitted and furnished. It is cosy! Just 30 sq metres. One bedroom, bathroom and a very small living, dining and kitchen area. But there is plenty of storage; a decent bathroom, a view of the large pool, space for a washing machine.
Small but perfectly formed!
And it appears well managed by the Major company.
We took ownership on the Friday morning; then had deliveries and installation of tv, washing machine, fridge and water heater in the afternoon. Saturday was the day for wallpapering and curtain hanging. Sunday was Ikea – and Homepro – and Index Living Mall. Tuesday was deliverday day for carpets and other Ikea bits. And on Wednesday – a holiday – I rested with a migraine the size of Texas and then went back to Chiang Mai.
23 November 2018
Work appears to be getting in the way of updating the website!
***************************
Sukhothai is a long drive.
***************************
Even in November Sukhothai is hot and very humid
***************************
At Loy Krathong and for its sound and light festival it is a nice place to visit.
15 November 2018
UK politics appears to be in turmoil. You can read about it elsewhere. Brexit was always a poor choice for Britain. It was sold on a false prospectus. the 2016 remain campaign was non-existent. But there was a vote. People said leave the EU.
And the UK PM has been trying to find a deal that is the best compromise that she could get from all sides – and the trouble with that is that no one likes the deal that she has agreed with the EU.
Utter mess.
13 November 2018
A Thai 13-yo boy boxer died following a knock-out defeat. He's been boxing since 8, a boxing ring veteran with 160 matches. His uncle and mother say they are "proud" he died "with dignity" of an athlete.
He was 13. He should be at school. Instead he was the family's source of income. This is so wrong. Child boxing is widespread in Thailand. It is not right.
The Thai media praised the boy as a model childboxer who "gives his life" fighting for prize money to support his family. No question about his courage and sacrifice, but aren't we supposed to protect children?
7 November 2018
"When words stop meaning anything, when people can just make stuff up and there's no consequences, democracy can't work. The only guardian of truth is you. You and your vote." — Barack Obama, 2 November 2018
The US midterms are today. Big day for the Trump administration – which will either be mortally damaged or emboldened by the results.
**************************************
Out in 41 today at North Hill with 4 pars, 1 birdie, 2 bogeys and 2 doubles. Then on the 10th the wheels came off. Such a frustrating game.
Why do pro-golfers never appear to sweat?
29 October 2018
Trump's problem is that any media outlet – tv, new media or press, that does not stroke his fragile ego is automatically branded and condemned as fake news. They are not.
*******************************
Early this morning Lion Air flight JT610 crashed after take-off from Jakarta
Here's what we know so far:
Lion Air flight JT610 crashed, 13 minutes after takeoff, in the sea off Jakarta at roughly 6.30am local time.
189 people were on board, including passengers and crew. 20 of the passengers were Indonesian officials, according to the finance department.
The low-cost carrier's flight was travelling from Jakarta to Pangkal Pinang in Indonesia.
There has been no indication of casualties, and a search and rescue operation is still underway.
The plane was a new model – a Boeing 737 MAX 8 – and had only been in use for 2 months.
The pilot requested a return to the airport shortly before the crash.
Lion Air's CEO said the same plane reported a "technical issue" on Sunday night, but had been cleared to fly on Monday. He said he would not ground the other MAX 8 planes in Lion Air's fleet.
The emergency beacon did not emit a distress call, despite it being certified to work until August 2019.
Rescuers have released footage of plane debris and personal items floating in the water at the crash site. They have found handbags, clothing, cellphones, ID cards and drivers licenses.
Indonesian officials say they will not speculate on the cause of the crash until the black box is found.
28 October 2018
Last night in the USA 11 people were shot to death in a synagogue in Pittsburgh.
Trump's reaction – there should have been armed guards inside the synagogue. He missed that three or four of the dead are armed police officers.
The Republicans stand for the loose guns laws; the cause of so much bloodshed. And rather than unite a nation it is Trump who has deepened America's crisis of violence. Worse he has helped incite some of it. There is no recent precedent in front-line politics for Mr Trump's hatefulness. The president has suggested protesters at his rallies should be beaten up. He has praised violent white supremacists. He demeans immigrants as "animals", his political opponents as traitorous, and journalists as the "enemy of the people".
It is truly that bad.
The right says the left is no better but there is no equivalence here.
The list of 14 people a Trump mega-fan, Cesar Sayoc, mailed pipe-bombs to this month reads like a Who's Who of the president's favourite objects of vitriol.
Hillary Clinton, Barack Obama, Representative Maxine Walters (a black congresswoman to whom the president has given the sobriquet "low IQ"), CNN and John Brennan, a former CIA chief, were among them.
The occupant of the presidency is supposed to provide moral as well as political leadership. His job is to provide reassurance in terms of crisis—as George W. Bush did after the 9/11 attacks, and Ronald Reagan during the cold war. Mr Trump's response to one of the worst anti-Semitic attacks in America's modern history shows how incapable he is of this.
Mr Trump did not inspire his abhorrent crime. But he offers no hope that future massacres can be averted. And he represents the starkest rebuke to the necessary fiction that America is sometimes united, especially in grief.
27 October 2018
The clocks go back one hour in the UK tonight. Do remember!
****************************
And in the last few days in the USA, with the midterm elections fast approaching, law-enforcement agents pored over an accumulating pile of crude explosive devices that had been sent to some of the President's most prominent critics: Barack Obama, Hillary Clinton, Joe Biden, Eric Holder, Maxine Waters, George Soros, Robert De Niro, Tom Steyer, Cory Booker, Kamala Harris, and, at the CNN offices in New York, John Brennan and James Clapper.
A tinfoil-hat brigade of reactionaries immediately insisted that the cunning "Democrat Party" had run a "false flag" plot designed to boost its chances on Election Day.
On Friday, near Fort Lauderdale, F.B.I. officials arrested a suspect named Cesar Altieri Sayoc, a man in his mid-fifties with an extensive criminal record. Officials also seized the suspect's van, which was plastered with pro-Trump stickers, as well as one that read "CNN Sucks" and another that had a picture of Hillary Clinton in the crosshairs of a gun.
And that, gentle reader, is the state of the USA today. A MAGAbomber.
And Trump does not see that it is his words that encourage acts of violence against his opponents.
21 October 2018
Another Thai airline start up. Air Lanna, a planned full service Thai airline founded by Bangkok-based CEI Aviation and Logistics Co.,Ltd, plans to offer scheduled and charter flights out of Bangkok to domestic destinations, and to China, Southeast Asia, and Middle East with an initial fleet of two B737-800s.
Both the fleet and the necessary certification – AOC and AOL – have yet to be secured.
The carrier is looking to dry lease two B737-800s for two to three years.
Air Lanna, headed by CEO Poonpat Chomjit, says market factors favor the inauguration of a new airline to meet the demand for additional, higher-quality passenger and cargo service linking Thailand with the rapidly expanding markets of China, and linking Southeast Asia, via Bangkok hubs, to global destinations.
The airline project is also open for investment. Reach out to info@ceiaviation.com if interested.
The trouble is there are so many Thai start-ups that have tried to do the same thing. And now with rising oil prices success is even more elusive.
Chomjit was previously involved with Thai Platinum International Airways. An airline that appears to have never flown a single flight. It does not bode well.
Thai Platinum was seeking to fly scheduled flights from Bangkok to Chiang Rai, Udon Thani and Krabi using A320s. For non-schedule the airline plans to offer direct flight from Suvarnabhumi airport to major city in China and Asia Pacific.
Thai Lanna sounds rather like Platinum mark 2.
18 October 2018
We are in Bangkok after a three day trip to Hua Hin…where we celebrated our tenth anniversary.
We stayed at the Centara Villas – with our own private pool. Very pleasant. The grounds of the old hotel are lovely – wide lawns; large pools, shaped hedges, mature trees. It really is a very nice place to stay – yet is on the beach in the centre of the town….

We had lunch on the 16th – anniversary day at Worabura. It was quiet at the hotel. I had forgotten that the villa we stayed in ten years ago is called Chiang Mai. Fate!
Here is a link to my old website with wedding pictures from 2008.
9 October 2018
It was a long day yesterday. Part of which I will return to in separate notes. Enough to say that it was a long insight into Thailand's Universal Coverage Healthcare program.
Since we were up at the Nakornping hospital in north Chiang Mai we were able to go to City Hall where the players from Chiang Mai FC were meeting the governor before heading off on a tour around the city ad then for a celebration dinner.
Now it was not exactly an open top bus. See picture below. And there was not much of a crowd at City Hall. But it was a great chance to meet a few of the players before we headed back to the hospital – which meant we missed the parade itself.
First up – this is a genuinely nice bunch of people who take time to connect with their fans. Soares, the Brazilian striker, posed happily for pictures. He hopes to be back next year. He should be.
Thossapol was fascinating. Firstly, there really is not much of him; secondly he is a gentleman in all the good uses of the word. He has played the last three years with Chiang Mai. Again I hope he is back next season.
But he did reveal that he just wanted to go home and be with his family. The Khon Kaen game was ten days ago but the players had been asked to stay on for official events to celebrate their promotion. This parade was the last event.
Coach Carlos suggested that there were a few issues still to srt out with his contract. We talked a little about Chiang Mai crowds. He was obviously encouraged by the crowd at the last game and expressed a view, as I have written elsewhere, that people in Chiang Mai love their football but have been let down before and want to see a successful team.
8 October 2018
From January 1, the British Embassy in Bangkok will no longer be providing British nationals with letters confirming their income.
The letter has served as a supporting document for obtaining a Thai retirement or marriage visa. The embassy is stopping the certification of income letters because it is unable to fulfil the Thai authorities' requirements to verify the income of UK nationals, it said in a release on Monday. For a retirement visa, British nationals have to demonstrate that they have at least Bt800,000 in an account in Thailand for no less than three months prior to the visa application, or a monthly income of at least Bt65,000 transferred into an account in Thailand.
For a marriage visa, the amounts are Bt400,000 in an account in Thailand for no less than three months prior to the visa application, or a monthly income of at least Bt40,000 transferred into an account in Thailand. A bank statement should in future be used as the supporting document for obtaining a Thai retirement or marriage visa, the embassy said. All British nationals concerned should note that the last date for income-letter applications is December 12, it added.
Just so you know!
1 October 2018

More flight cutbacks at Emirates:
From 15 November 2018 Dubai – Yinchuan – Zhengzhou 3x weekly service cancelled. One of the more fun trips for crew.

There are also newly announced service reductions to Denpasar and Auckland, Ft Lauderdale, Orlando, Perth, Prague, Rome, Rio and Buenos Aires, Sao Paulo and Edinburgh.
Shortage of pilots? Seasonal reductions; fleet maintenance. Suspect a combination of all three are at play.
*************************************
This is just one brief story of thousands from Palu in Indonesia following the earthquake and tsunami:
"Rescue teams were still working on Monday to pull 15-year-old Nurul out of the ruins of the Balaroa National Housing building in Palu. Most of her body has been trapped in deep mud and concrete for 48 hours, with only her head visible. The body of her mother, Risni, who died in the collapse, is trapped next to her.
Speaking to Tirto, Yusuf, Nurul's father who has sat by her side since he found her alive, said: ""Everything went fast. The land collapsed instantly."
He added: "I found my daughter was buried under the ruins and puddle,"
90 of their neighbours who also lived in the building are still reported missing."
Devastating. The death toll will be in the thousands – there are still areas that rescuers cannot yet reach.
This can be a very cruel world. and it can hurt the poorest and the least able to protect themselves.
30 September 2018
Not sure where the week went.
ChiangMai Fc were promoted to the Thai first division last night with a 2-2 draw at Khon Kaen. Huge congratulations to everyone involved with the club.
Watford lost at a very fortunate Arsenal. Have to make the chances count otherwise it is just a case of so near…
And the Ryder Cup is underway in Paris. Last day today. The crowds are boorish – and huge. But is it really necessary to boo the Americans and to cheer their mistakes. It all feels rather against the spirit of golf.
For the record the Europeans won 17 and 1/2 to 10 and 1/2. The Americans not winning any session after the fourballs on the first morning.
21 September 2018
I want to write my own biography – no one will read it – just something for Alex and Tai so that there can always be a few memories.
Maybe one day I will get started.
17 September 2018
Tai is away with family. I am trying to keep busy. Not always successfully.
Solo at the football last night as Chiang Mai FC beat Thai Honda 2-0.
Two huge final games to end the season and determine which 3 of the top 4 teams are promoted to the Thai premiership.
11 September 2018
Wonderful scenes over the last two days at the Oval. England won the 5th test to take the series 4-1 against India. The Indian side was far better than that scoreline suggests.
But two huge milestones for English players.
Alastair Cook played his last test for England retiring at the tender age of 33. And of course he scored 71 in the first innings and 47 in his final innings. Such determination and concentration. A genuinely nice guy. A genuinely talented guy. A genuinely articulate guy. An ambassador for the game until the end.
From the Guardian's OBO:
The Man of the Match is Alastair Cook
"It's been the most amazing week. I got a text from Beefy last night and he said, 'Can I have my scriptwriter back?' It was a great match as well. The shared moments in the dressing-room will stay with me, both good and bad. I feel very privileged to have worn the England cap as long as I have.
"The reception to the hundred was amazing, and to see Jimmy pass Glenn McGrath's record today was just brilliant. Him and Broady I've played so much cricket with, and the hardest bit is knowing I'll never stand at first slip and drop another catch off those two again.
"Jimmy and I have lived in each others pockets for the last 12 years, and it's a privilege to play with who I think is England's greatest cricketer. His skill to do it time and again… he never misses his length. You take it for granted and it shouldn't be like that.
"I won't miss the amount of hard work which goes into international cricket, the pressure and the strain you play under, but I will miss all the rewards that you get for that hard work.
[Any chance of coming out of retirement] No! This week can't be beaten. I can walk away with my head held high and I've always wanted to do that."
And James Anderson has taken 564 Test wickets – more than any quick bowler in the history of Test cricket – and he did so by taking the final wicket of the test match.
***************************
It is 17 years since I was in the morning sky over Kissimmee as civilian airliners were hijacked and flown into US landmarks. Awful day. Brings back many memories.
9 September 2018
Happy to report that no one has burned down the house yet – though my neighbour's facebook page is still her outlet for a good anti-foreigner rant.
One of my friends checked her facebook page and said that she sounds like a gangster and part of a motorbike gang…
And our developer and property manager………does nothing.
6 September 2018
It is not every day a neighbour threatens to smash my head in with a hammer – not to my face but in a facebook rant!

So good job we have screen captures as evidence.
Let's see – in one year we have i) put up with the endless procession on traffic and motorbikes that arrive to collect or deposit product from a house that is used as a warehouse, ii) listened to their dogs howling through the night – the dogs are left outdoors at night even when the owners are away; had their visitors park in front of and block our drive; listened to the roar of motorbike engines that are started up and then left running – many minutes passing before someone might drive off on them; watched their motobike drivers start up and drive off as though are in a grand prix – there are children on the estate – the developer has after some encouragement installed a number of speed bumps.
So as another bike engine ran yesterday with no sign of anyone thinking of riding it I walked to their gate and suggested, quite nicely, that they turn off the engine.
The woman who wrote this is the mother of the owner.
Late in the evening there were a group of guys outside the house. Tai could hear them talking. They sounded like they had been drinking. They talked about burning down the house. It is pretty clear that they meant ours.
Tai does not want this escalated. I would call in the police. We have advised the development manager and asked that their security is vigilant.
But I do not want to leave the house visibly unoccupied especially overnight..I do not want to return home to a burned property.
The translation of the above is not good – it is clearly quite unpleasant judging from Tai's reaction this morning.
Some people need to understand that living in a community gives you a responsibility to that community. Thai logic is too often it is our house we can do anything that we like.
4 September 2018
At Huay Tueng Thao, there are now two King Kong!
The first was original – the second could have been something different.
**********************************
Goodbye Asia Atlantic Airways – as this bizarrely named Thai airline goes into liquidation. It was only operating one airplane. As always you have to feel sorry for the crew as their dream of flying comes to a, hopefully temporary, roadblock.

And the uniforms were cute!
*************************************
Working the rice fields behind our house….

Oddly – it looks like the guy in the rice fields is wearing Asia Atlantic colours!
3 September 2018
Email from the Chief Pilot Airbus at Emirates to the pilot group – "I am requesting that you give a deeper thought in improving our effeminacy" (sic)
A classic case of read and re-read before your hit send!
Source PPRUNE.
23 August 2018

Back in Chiang Mai and suitably jet-lagged.

Seattle in the smoke and our A321 to CNX
The flight was fine – just longggggggg
As for the rest of our trip – we drove from Florence up Oregon route 101 to Lincoln City and then across the Columbia River into Illaco.
From Illaco up to Seattle – arriving at our hotel at the same time as the fire trucks that arrived to deal with a scrub fire immediately behind the hotel.
Seattle is almost hidden by smoke from wildfires in the state and north in British Columbia. If this is a sign of a future hotter planet then it is ominous.
As for Seattle – it is OK – but downtown is a little run down and has more than its share of street people – which can get somewhere between intimidating and tedious.
Still we had a nice lunch in Pike Market.
But no one should have to fly at 2.10am.
11 hours 40 minutes to Taipei – 2 hours 45mins on the ground and 3 hours 30 minutes to Chiang Mai. EVA is no better or worse than other Asian/Middle East airlines.
3-4-3 on a full 777 is cramped. The IFE is average – a limited selection. The safety video is based on interpretive dance – if you do not speak or read English or Mandarin you would be mystified.
Food ok. Blankets good. Bathrooms clean.
The crew out of Seattle were wooden…devoid of all personality. Did their jobs. Nothing more or less.
The crew into Chiang Mai was much more relaxed. Chiang Mai must be doing well as a destination. This was midweek yet the plane was 100% full.
Guess who was on a poster in a GAP outlet mall south of Seattle. Why can't they spell favourite!?

16 August 2018
So we said goodbye to Alex on 12 August and headed for Walla Walla – then on through Pendleton to The Dalles; from there south to Bend for two nights and now we are in Florence, Oregon on the Pacific coast.
Miss the little guy – I enjoyed spending time with him. These are pictures from the Sandpoint fly-in on Saturday 11th. There was a Kodiak on the ramp and a few of the fold from Quest – Alex had made a good impression.

The drive through the Pacific North West is interesting – such diverse scenery and such a mix of prosperity and struggle.

6 August 2018
Overnight Saudi Arabia escalated a diplomatic row with Canada. The KSA expelled the Canadian ambassador while accusing Canada or meddling in the KSA's internal affairs.
Which really is the pop calling the kettle black: let's start with interference in Qatar, Yemen, Bahrain; mosque funding, lobbying against Qatar WC, govt sanctioned TV cloning….
But most offensive of all was a tweet of an Air Canada jet flying towards Toronto's CN tower: subsequently deleted it was clearly deliberate, provocative and offensive.
4 August 2018
Back in Sandpoint after our trip to Glacier National Park.
A day out today in Spokane and Coeur D'Alene. Lunch by another lake, There are plenty of them!
**************************
Sandpoint sleeping arrangements!
31 July 2018

Signs from little town America: East Glacier Village.

The Izaak Walton hotel in Essex adjoins the Glacier Park. A railway hotel from the 1930s that has changed little. Kind of neat being next to the rail tracks. Nice people. Decent restaurant.
A three day visit to Glacier National Park – about a five hour drive from Sandpoint heading east into Montana.
The scenery is terrific. The summer crowds excessive. The roads are a parking lot. And at 30C and warmer the glaciers are disappearing quickly.

24 July 2018
So we made it to Sandpoint, North Idaho, but I am so jet-lagged that I can hardly think let alone type!

18 July 2018
This from the US President a couple of hours ago:
"Some people HATE the fact that I got along well with President Putin of Russia. They would rather go to war than see this. It's called Trump Derangement Syndrome!"
No we will not be going to war – no we are not expecting war – this is simple – Trump creates a false crisis to try and make him look strong to his already fawning followers.
It is nonsense.
******************************
Just depressed – I have largely stopped writing because I do not know where to start…
Try this from President Trump: "Our relationship with Russia has NEVER been worse thanks to many years of U.S. foolishness and stupidity and now, the Rigged Witch Hunt!"
Err – Cuban Missile Crisis; the partitioning of Berlin; the years of the Cold War….
And more recently:
Russia's invasion of Crimea, it's interference in Ukraine, it's part in shooting down a commercial airliner (MH17) killing 298 people, its support and assistance to Assad's murderous regime, the murder of Russians on British soil and its attack on US democracy?
US foolishness and stupidity? Or Russian aggression? You choose.
16 July 2018
Trump – Putin met in Helsinki yesterday. America just gave up her status as a world leading nation. An example to the world no longer.
13 July 2018
Nick Kristof of the New York Times:
"The headlines are about Trump undermining NATO, or creating a crisis in relations with Britain. That's all real, but the real issue is larger than that: Trump is taking an ax to the entire post-WWII Western order. For seven decades, the U.S. has nurtured a Western alliance based on friendships, norms and institutions that have served American interests. These include our security relationships, our trade relationships, our special friendships with the UK, Canada, Germany, and institutions like EU, WTO, NATO, UN. America's great advantage over China and Russia is that we have friends and institutions working for us in a way that they do not. So when Trump undermines this Western Alliance, he is doing precisely what Putin and Xi hope he will do. Trump's assault on the alliance is a Russian dream come true."
12 July 2018
So England went out in the semi-finals losing after extra time to Croatia, a nation of just 4 million people.
And Croatia deserved the win. England were disappointing. Looking tired and short of ideas.
*****************************
Thailand and the world were gripped the last two weeks by the search and rescue for the 12 boys and their coach of the Wild Boars football team.
There are links to news reports elsewhere. Just an amazing story.
4 July 2018
England won on penalties.
Four words that no one ever expected to say or to read!
1 July 2018
I have started to be rather lazy with this web site – sorry!
Grounded at the moment by bee stings which hurt!
Spain out of the word cup – following Argentina. Portugal and Germany.
France and Belgium look good but are in the same half of the draw.
30 June 2018
That was June – sorry. Am sure something happened.
Did go to Samut Songkhram for a couple of days to see Tai's family – and a couple of days back in Bangkok – back at Siri Sathorn. 15 years from when I first stayed there while working with Asia Pacific Resources.
We had a small Dubai reunion over lunch in Bangkok – with Tim, Apple and Tu. Apple and Tu being the only two brides whose ceremonies I have officiated at. A strange and rather fun bond!
World Cup – England have beaten Tunisia and thrashed Panama. The English nation is going mad with expectation.
They then lost to Belgium and Colombia will not be a pushover.
19 June 2018
World Cup is on.
First teams to be heading home – Saudi Arabia and Egypt. Saudi Arabia have been awful. Egypt not much better. There are some very average teams in this tournament.
12 June 2018
GEMS Education, the Dubai-based school operator backed by Blackstone Group LP, is planning to delay an initial public offering after the local government unexpectedly said it would freeze school fees, according to people with knowledge of the matter.
The closely held company is studying the potential impact on its earnings projections following the authorities' decision to keep private school fees unchanged for a year, the people said, asking not to be identified because the matter is private. GEMS may revisit the share offering later in the year or consider selling a stake to a single buyer, they said.
Representatives for GEMS and Blackstone declined to comment – Bloomberg
****************************
The Trump-Kim summit in Singapore was today. I have covered that elsewhere and on twitter. Some people have clearly lost their moral compass in their near K-Pop attraction to Kim Jung-Un.
****************************
No Azadzoy for the rest of the season at Chiang Mai FC. Bad news. He was one player worth watching. The team looks short of ideas and creativity without him.
The new signing – Lenny. Poor. Slow. Just 13 goals in the last 10 seasons – not much of a return for an expensive forward.
6 June 2018
"The only conclusion it can lead to is a complete withdrawal of the US from its role since 1945 as the guarantor of a global order. It is difficult to persuade an American public steeped in the moral certitudes and swooping narrative of Hollywood movies to sign up for an international role that doesn't involve heroic military interventions. Yet even for a superpower today's changing world offers at best incremental and undramatic foreign policy wins, hardly attractive investments to politicians who feel the need to sell the public something more inspiring. Trump epitomizes this petulant refusal to engage in any global arrangements that don't offer him easy-to-grasp victories. Hence we get withdrawal from complex partnerships like TPP and the Paris climate change agreement, but huge investment in a meeting with Kim Jong-un which will probably deliver very little, aside from a photo-op."  Jonathan Head.
Nailed it in one paragraph.
The article that @pakhead was commenting on is well worth a read:
Washington's Pax Americana Cartel
2 June 2018
Back in lovely green quiet Chiang Mai.
***************************
How bad is the EK pilot crisis – here is what SAA's pilots union says is on offer to some of their flight deck crew:
"Last week we had a meeting with Emirates Airlines to explore possibilities of offering SAA pilots 5 years contracts on unpaid leave. They have agreed to offer SAA pilots 5 year contracts which will enable SAA pilots to return to SAA at the end of the contract. They are looking for Both (Captains & First Officers). They have proposed a date for a roadshow as follows:
· 4 June 2018 – 09:00 -11:00
· 4 June 2018 – 14:00 – 16:00
· 5 June 2018 – 09:00 – 11:00
These information sessions will be held in the Change Hub, which is located on the 1st floor Block G (Opposite Standard Bank branch). Following the assessments on the level of interest Emirates will advise on the next steps.
They are currently looking for over 200 pilots. They are looking for 100 pilots for their B777F (Captains and First Officers) on a 28 days ON and 13 days OFF contract.
They are further looking for First Officers on the A380. I have asked them to consider accelerated command, which they are.
27 May 2018
Happy birthday to me…..
Not one I will remember very fondly….
Nice enough day out in Hakone and on Lake Ashi – but we were fighting a little – not good for a birthday….ad a feast of Ramen for dinner.
**********************************
Emirates have reduced their 3 person crews to just three flights – I guess the noise from both pilots and the media helped. Also I suspect their were a few phone calls from concerned regulators.
From PPRUNE
"From the 1st July the following pairings will be operated with a flight crew complement of 3"
The next email says:
"Last week I shared a list of potential 3 man LRV routes."
The implementation of these decisions is coming from the Senior Vice President – Fleet
at Emirates. New to this role at the start of 2018 he was previously Director of Flight Operations at Easyjet.
Here is my problem. He has not managed a long haul fleet with 3am departures and 15 hour flights – he has not tried to sleep in an EK CRC (crew rest) and he has not had 24 hour layovers after a 14 hour flight and across multiple time zones.
I think you have to do it (and to do it for years to feel the effects of accumulated tiredness) before you tell others to do it.
21 May 2018
What do you do when you go to a friend's house for dinner and people start to smoke: what do you do when there joint of choice is marijuana?
The online medical advice is simple: Secondhand marijuana smoke isn't only harmful, it's more damaging than tobacco smoke. To protect the long-term health of our heart and lungs, we need to avoid exposure.
The good news: Exposure to secondhand marijuana smoke is unlikely to make you "high." This means a person probably won't fail a workplace urine test or driving impairment blood test after breathing someone else's marijuana smoke.
Nauseous maybe; but not high.
20 May 2018
So much nonsense about the royal wedding as a milestone to a more inclusive Britain. It simply underscored privilege and entitlement. This is Brexit Britain – there is nothing inclusive about it.
It was a posh white folks wedding where they felt good (but looked mostly miserable) by inviting a few other people.
The serfs were kept at a safe distance. The homeless were cleared off the Windsor streets.
Above all else it was a London wedding. If they wanted inclusive they should have taken the ceremony to Bradford.
The presence of the black choir was celebrated as a herald of the New Britain and yet everyone ended up singing 'God Save the Queen', as they always must, because the queen, for all this institution's much trumpeted modernisation, is still an instrument of God to lead the British people.
**********************************
There was a British royal wedding yesterday – think about it – this may be the last one of note for some 30 years…..George or Charlotte will likely be the next to be on global tv 0- and the word will look a bit different by then….though much of the pageantry will probably remain.
In the meantime – and rather less cheerful – there will be a few funerals.
Good luck Harry and Meghan – you looked happy.
18 May 2018
Emirates latest: From 1 July – EK will be operating with only three crew to:
Sydney, Melbourne, New York, Boston, Rio and Sao Paulo
Toronto is already a 3 crew operation but with a minimum 48 hour layover.
Sydney, Melbourne, New York and Boston are 24 hour layovers.
Presumably a captain; a co-pilot and someone on the jump seat to whack them over the head when they fall asleep. Just as an aside the Sichuan Airlines flight this week that survived the cockpit window blowing out over the Himalayas had three pilots. It was the jump seat pilot that held the FO inside the airliner while the Captain flew.
16 May 2018
Hugh Fennyman: So what do we do?
Philip Henslowe: Nothing. Strangely enough, it all turns out well.
Hugh Fennyman: How?
Philip Henslowe: I don't know. It's a mystery.
Thus was written in Shakespeare in Love. In Homeland we have the same problem. It will probably all turn out well – but how is a mystery.
Past seasons of Homeland have ended with explosions and even the deaths of major characters, but season seven ends on a surprisingly somber note.
Who are the winners in Season 7. There are none. President Keane gave up her power and Carrie Matheson her sanity. We won, but at what cost?
Overall, this was a solid season of Homeland. You have to admire the show for finding a way to reflect the USA's current political scene so unpredictably. Performances were as solid as ever.
An eighth season is coming. And Brodie is long forgotten.
15 May 2018
Some remarkable flying by a Sichuan Airlines crew this morning.
Sichuan Airlines Airbus A319's was flying from Chongqing to Lhasa as 3U8633 when the right hand windshield burst completely when climbing through FL321, injuring the first officer, damaging the flight control unit and causing a loss of cabin pressure.
The captain initiated an emergency descent to 7100 meters (approx FL235 – minimum safe altitude due to mountains), turned the aircraft around and diverted to Chengdu descending the aircraft to 3000 meters as soon as clear of the mountains. The aircraft landed on Chengdu's runway 02R about 35 minutes after leaving 9800 meters. The first officer and a cabin crew member received injuries.
Great work landing the plane in such circumstances (noise and freezing cold winds in the cockpit, unable to talk with ATC due to the cockpit noise, a broken up FCU, captain hand-flying the airliner, cabin depressurisation over very high terrain…etc).
14 May 2018
After 22 years at Arsenal: over, and finally, respectfully and beautifully, Wenger out.
***********************************
No surprise here: A pilots' organization is warning that soft ground conditions at Bangkok's main international airport can cause its taxiways and aircraft parking positions to buckle or otherwise fail.
These soft spots have been reported since the airport at least 2008. The Airports of Thailand authority blames deficiencies in the asphalt materials used in pavement construction and the height of the water table below the airport. The airport was built on a former swamp.
Permanent repairs are not expected to begin until at least late 2019. A team is on standby around the clock to make stopgap repairs. Bit late if the airliner is already stuck in a hole!
10 May 2018
I am always impressed by the quality of the people at Olin College – in part because they understand things that leave me mystified. The college has announced nine new faculty will join the College over the next two years.
The selected full time and visiting faculty include:
Alessandra Ferzoco Visiting Assistant Professor of Measurement Science. Ferzoco's lab combines mass spectrometry and laser spectroscopy to study molecules. She earned her Ph.D. at the University of North Carolina at Chapel Hill.
Erhardt Graeff Assistant Professor of Social and Computer Science. Graeff studies creative uses of technology for civic and political engagement. He will receive his Ph.D. in June from the Center for Civic Media at the MIT Media Lab.
Kelsey Houston-Edwards Assistant Professor of Mathematics. Houston-Edwards studies probability theory. She has worked as a science journalist and has a YouTube show exploring mathematics. She is a doctoral candidate in math at Cornell University.
Whitney Lohmeyer Assistant Professor of Engineering. Lohmeyer is a systems engineer at OneWeb and received her Ph.D. and M.S. in Aerospace Engineering from MIT.
Steve Matsumoto Assistant Professor of Computer Science and Engineering. Matsumoto's research focuses on computer security, as it interests with economics and game theory. He is a Ph.D. candidate at Carnegie Mellon University.
Carrie Nugent Assistant Professor of Computational Physics and Planetary Science. Nugent discovers and studies asteroids. She is the author of Asteroid Hunters, a popular science book. She earned her Ph.D. in Geophysics and Space Physics from UCLA.
Alice Paul Assistant Professor of Applied Mathematics and Computer Science. Paul's research focuses on the design and analysis of algorithms for optimization problems. Paul earned her Ph.D. in Operations Research from Cornell University.
Emily Tow Assistant Professor of Mechanical Engineering. Tow studies biofilms that form during wastewater recycling. She is also a visual artist. She has a Ph.D. in Mechanical Engineering from MIT.
Linda Vanasupa Visiting Professor of Materials Engineering. Vanasupa is a professor of Materials Engineering and the founding Associate Director of the Center for Sustainability in Engineering at California Polytechnic State University. Vanasupa earned her graduate degrees at Stanford.
Super-smart people.
8 May 2018
Emirates is parking airplanes at DWC. The EK PR people talk of a short term shortage of pilots and adds that all will be solved by the 170 cadets that are currently in the Emirates training college.
No it will not. Some of the cadets will come online at the end of this year. Some will not make it. Many will need extra training. Some will be good. Some will not. And in the meantime pilots will continue to leave. It is not a mass exodus as some of the media commentators day – but it is a consistent flow of leavers.
Here is the best advice they have received for a while:
"Everyone is beyond tired of the excuses. Just get the wallet out, pay a decent salary increase to retain and attract. Then, with sufficient numbers, sort the rostering debacle by having a system that actually works by removing daft restrictions. It's not rocket science!"
*******************************
Emirates has announced it will start a daily service between Scotland's capital city, Edinburgh, and Dubai, from 1 October 2018.
The daily flight to Edinburght will complement EK's current double daily flights between Dubai and Glasgow.
Emirates will also replace Etihad's five weekly flights from AUH to EDI. Part of the closer co-operation between the two airlines.
Flight EK023 will depart Dubai daily at 0955hrs and arrive in Edinburgh at 1450hrs, while the return flight, EK024 will depart Edinburgh at 2015hrs and arrive in Dubai at 0640hrs the next morning.
6 May 2018

Great win in Lampang. 1-0. Goal from the outstanding K. Thossapol.
5 May 2018
Whatever happened to Christoph Mueller, Chief Digital and Innovation Officer at Emirates? He arrived in 2016 as the great hope for the future of the company and appears to have been neutered or silenced.
This is his standard mantra from a recent conference in India – I dont disagree though the timescales might be ambitious:
In his keynote address, Christoph Mueller said that hyper-personalisation would be the new industry requirement.
"Mobile devices will become redundant in around 10 years and will be completely replaced by voice. We will also have a completely new customer segment, with 30% of passengers being active seniors who have retired with good incomes and are travelling the world. Commuter profiles will change, and global migrants and a middle-class with massive purchasing power will drive technology," he added.
4 May 2018
"As Trump holds National Prayer Day after admitting he paid hush money to Stormy Daniels, some suggest he's a porn-again Christian."
Off twitter!
*******************************
"Growing passenger numbers on flights, as a result of a codeshare partnership with Emirates, will soon see Flydubai flights landing at Emirates' Terminal 3 at Dubai International Airport (DXB), the airline's CEO has said.
"The cooperation is growing very strongly, and in the future we'll be moving flights to different parts of the airport, [and] absolutely to Terminal 3," Ghaith al Ghaith said."
As if DXB's T3 was not already busy enough. But the new FZ flight to Helsinki is a good example of a flight that might be more effective operating from T3.
1 May 2018
Stayed up until 4am this morning watching Watford lose 0-2 away at Tottenham (well, at Wembley this season.)
At times we played OK football – and we created the better chances. But our finishing show a woeful lack of confidence in front of goal. And Karnezis gifted Tottenham their opener. Why manager Gracia persists with the Greek goalkeeper is a mystery; he does not inspire confidence and he does not lead the team. Simply not a big or strong enough presence.
30 April 2018

The White House correspondents dinner was on Saturday. Trump did not attend. His press secretary did; and some of the abuse that she received from the guest speaker went far beyond fun – it was abusive and uncomfortable.
The press lose all credibility when it sinks to the bottom – feeding at the same level as the people that it seeks to hold to account.
Two wrongs do not make a right – this was abuse. The event was supposed to be a celebration of the first amendment; of the right to freedom of speech. But freedom of speech is not a license to be hateful.
The media wonders why they are no longer trusted by so many; this event did nothing to advance the cause of journalism or journalists.
The attached was sent to WHPA members – it is not an apology – but is a mea culpa. Too late. Damage done.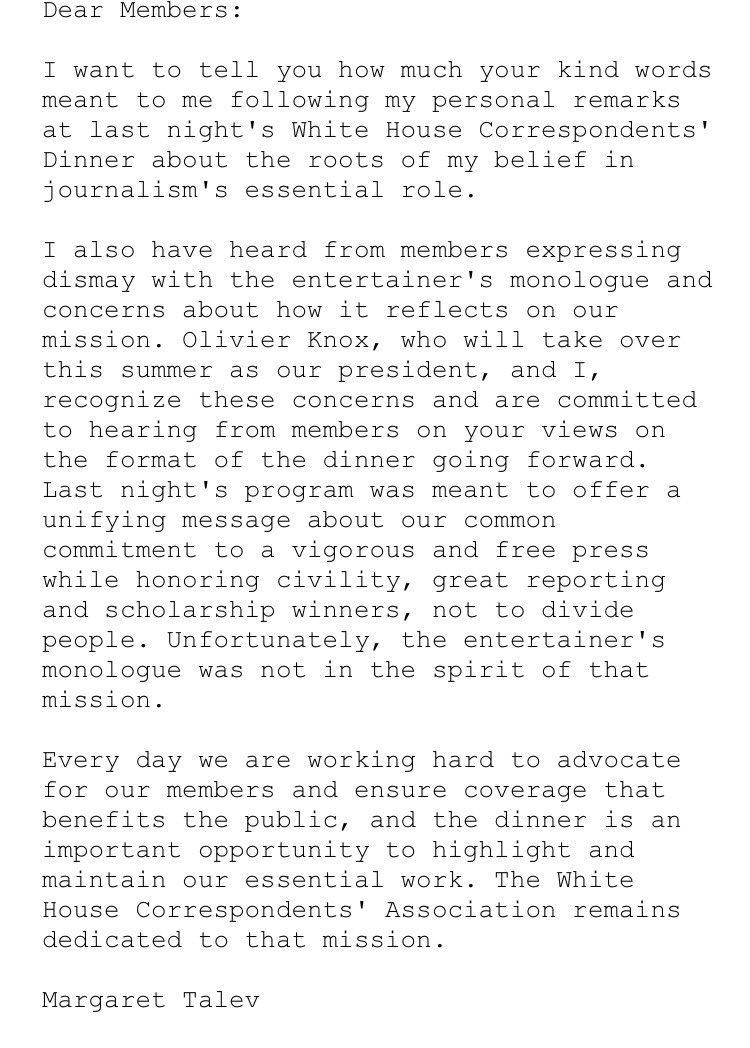 More details and commentary here:
White House press on defensive after Michelle Wolf torches Trump, Sanders
The only winner of last night's debacle was Trump. Wolf's monologue gave Trump supporters a cause to rally around.
From the NYT:
Michelle Wolf's coarseness at the White House Correspondents' Association dinner on Saturday night was disgraceful. It imitated President Trump's own speech. Defenders of Ms. Wolf ask why journalists don't criticize Mr. Trump's coarseness. But they constantly and rightly do. The journalists aren't hypocritical for criticizing Ms. Wolf's speech but instead would be hypocritical for failing to when at the same time they criticize Mr. Trump.
–JAMES ADLER, Letter to the Editor
And that is my issue – two wrongs do not make a right. If Trump has truly brought every political commentator down to his own ugly and base level then the USA is doomed…maybe it already is. It will take a generation to recover from the fallout of the Trump presidency. Worse – the US may now see a chain of monied, celebrity presidents…not in place for their intellect or geopolitical skills but for the fact that they played some character on tv.

25 April 2018
Digest this for a moment from today's New Statesman: everything that is wrong with football:
Leeds Utd are planning a trip to Myanmar – they should not go. But their defence is that everyone else is dealing with the devil so why shouldn't they:
"The next two World Cups are in Russia and Qatar, countries culpable for all sorts; the FA Cup is sponsored by Emirates, owned by the government of Dubai, another human rights blackspot; Manchester City are owned by Abu Dhabi's royal family, which has an appalling human rights record, while the club's manager, Pep Guardiola, once acted as an ambassador for Qatar; Manchester United's owners give money to Donald Trump and the team recently took a break in Dubai; Liverpool are sponsored by Standard Chartered which, in 2014, was fined $300m for lapses in anti-money laundering procedures; and on and on. This is football, this is sport, this is mankind, this is the world."
*******************************
We can only hope:
Today's New York Times – letter to the editor:
"Having lived in and reported on France, I don't believe for a minute that President Emmanuel Macron is "close" to President Trump in the sense of having a personal rapport. Mr. Trump is the epitome of vulgarity, a loathed trait in France, especially in the upper levels of society (note how Nicolas Sarkozy was ridiculed as "le président bling-bling"). At the same time, Mr. Macron surely sees how desperately Mr. Trump wants to be seen as "classy," and France still represents classiness. So he may lay on la bise — the kiss on both cheeks — and other superficial trappings of French culture, while feeling disgust and contempt, to try to achieve his ends. I'm not privy to Mr. Macron's inner thoughts, but it seems naïvely America-centric to assume that he and Mr. Trump are good friends."
JULIA LICHTBLAU, Letter to the Editor
24 April 2018
Thoughts with Toronto after today's senseless attack and tragic deaths:
Picture:  leeandracianci
********************************
Another UK royal was born yesterday: silver lining for Andy….
Due to a rather curious provision of the Succession to the Crown Act 2013, only the first six people in line to the throne have to ask the Queen's permission to get married again. As a result of the new arrival, Prince Andrew slips to seventh in line – and can now elope without telling his mum.
Then there was this from JK Rowling"
"Listening to @CNN talking about #royalbaby3 and the reporter said 'Prince Harry's route to the throne just became more difficult' as though it's an open secret he's planning to systematically slaughter his closest relatives…"
Game of thrones – UK style
21 April 2018
Alex turned 21 yesterday….
How much has changed since my 21st back in 1978 while I was still in my second year at University.
We had a house down the bottom of the hill between the University and the city. It was a warm end of May evening – we had a house party that turned into an all-nighter. Sorry neighbours.
I cannot even remember everyone who was there – Sarah, Ian, Phil, Dee….and sadly I am not in touch with anyone who was there that night.
I don't even have any pictures.
This all changes for the facebook generation. They may not talk every day – they may only now be acquaintances and not friends. But they will always know how to contact eachother and if they want to how their old friends are doing!
18 April 2018
Thai football is just bizarre.
Chiang Mai FC were at Nakhon Pathon tonight – League Cup. Nakhon P play in Division 4 of the Thai League.
Chiang Mai lost on penalties after extra time.
Two bizarre moments.
54th minute. Nakhon's number 10, Diego (another Brazilian) and CM defender Suwannapat are having a tussle by the corner flag. A little pushing. The ball goes out. The referee gives a goal kick. Diego goes down holding his face. The referee comes over – signals the trainer to come on. Diego gets up and waves away the trainer.
The referee walks across to Suwannapat and send him off. Still just a goal kick!
Later: Penalties. Long delay before the first penalty. Verdini takes if for Chiang Mai. Goalkeeper half save it. Ball spins away. He reaches back to grab it. Did it cross the line? Referee is on the 6 yard line on the side of the goal where the save was made. The linesman is standing on the goal line. They have no idea. So the officials make Verdini take the kick again. He scores. That really is making up the rules as they go.
***************************
Our favorite gardeners were back yesterday – they do such a good job:

17 April 2018
I avoided getting soaked over Songkran.
So I go out to play golf today – and on the 5th hole the heavens opened – thunderstorm, strong winds, horizontal rain and hail. Truly drenched.

And there was damage to the clubhouse as well:
13 April 2018
Sawasdee pi mai.
*************************


Thai girls and food…..
10 April 2018
Happy birthday to my baby sister.
5 April 2018
From pprune.org – "One thing I noticed when I left the Middle East, nobody asks you why you left, they ask why on earth did you go over in the first place?"
Indeed.
***************************
Someone is having exactly the same problem as me in picasa/google photos – and they have phrased the question to google far better than I can:
"I understand that Picasa is a legacy toolset that is no longer supported…However, I have continued to use it for basic import, editing AND PUBLISHING to my Google Photos account using the integrated, ongoing 'Upload to Google Photos' option that has been available since cutover to Google Photos.  However, just in the past handful of days, this has changed and I am now getting the following error/feedback when trying to use this: 'Error.  Failed to retrieve URL for upload. Please logout and try again.'  I logged out and back in of both Picasa app and also logged out and back in of Google account via browser.  What is up, as this continues to be just what I need for quick and easy editing and publishing from/to photo areas.  Thanks…JR"
And yes the problem has only arisen in the last few days – the user "JR" uses Picasa exactly as I do – and now we will have to find an extra step. Very irritating.
And here is a note from Google on 27 March:
"Hi everyone,
The Picasa Desktop application will no longer support uploading or downloading photos and videos, creating online albums, or deleting online photos, videos and albums (see our update in the blog post here). If you try to upload or download, you may see something like:
"Failed to download album list"

"Error: Failed to retrieve URL for upload"

"Error: Request failed"

The upload manager staying at 0% progress
If you want to upload photos and videos to Google Photos, you can use Backup and Sync at photos.google.com/apps.
Please note, you'll still be able to access all of your uploaded photos and videos in Google Photos at https://photos.google.com/."
Best, Google Photos Support
And this in reply sums up how many people feel:
"Another dumbass decision made by non-photographers who ignored the owners of the 262,000,000 DSLR's bought in the last 5 years."
Google photos is great for people that want an automatic back up of their mobile phone selfies. Picasa allowed us to edit our slr pictures and to choose and upload from Picasa which pictures we wanted to show in an album and who had access.
Workarounds: alternative ways for uploading at https://sites.google.com/site/picasaresources/Home/Picasa-FAQ/google-photos-1/how-to/how-to-upload-photos
Options 6 & 7 will disappear (including direct syncing to the web).
If you edit your pictures before uploading via the large green Picasa button, your best option now is to export the selected pictures in full size and then use the UPLOAD-button on https://photos.google.com and then select the exported series. Then you will get the opportunity to create a new album on Google Photos.
If you want to add to an existing album, just open that album on https://photos.google.com/albums and then use the UPLOAD-button.
After uploading you should delete the exportfolder to prevent confusion.
Before starting, check your setting on https://photos.google.com/settings for High Quality (free storage).
4 April 2018
And so to April.
And today was the opening day of the Commonwealth Games – 71 nations gathered in the Gold Coast, Australia,
Did not see too much of the opening ceremony – but this looked special:

We are on day 8 or 9 – I have lost count of our vegetarian and no alcohol month. So far so good. Tai thinks not eating meat is giving her wind – just so you are warned should you see her in the next few weeks!
I don't feel like I need a drink – which is surprising! Though a nice glass of red would I guess be welcome – not for another 21 days!
25 March 2018
Back in Chiang Mai – apologies for the silence. It was good to be away from the computer for almost a couple of weeks.
Flying non-stop from Doha into CNX is a real bonus – avoids Bangkok and makes for a fast trip from the UK. 6hrs 45 from London to Doha and 6hrs from Doha to Chiang Mai. The connection was about 1 hour 40 minutes.
The new DOH airport is fabulous. Modern, spacious, accessible and clean.
The train from the south to north nodes is within the terminal structure – just up one flight of stairs rather than down to an underground tunnel.
The airport is however quiet. Maybe we transited at off-peak times. No security check in transit on the way back…that was a surprise and possible a bit naughty.
So where have we been:
Arrived London late on 12th and had three nights in the city – cold but dry – and good walking around in weather.
The usual suspects – Green Park, Oxford Street, Regent Street, Piccadilly, the river, Borough Market, St James' Park, Regents Park, Portobello Road and Camden Town.
Early nights due to the time difference and jetlag. Sleep early and wake up far too early!
Took the train from Euston to Birmingham International on the 15th – picked up a car and drove to Abingdon – it was getting seriously cold. Four nights with my mum in Abingdon. A day outing into Oxford. And catch up with Tim and Caren.
Then we flew from Birmingham to Belfast on Monday 19th – and drove through Maghera, passed the Giant's Causeway and Dunluce Castle into Portrush.
Maghera was the home of the Scott side of the family when they lived in Ireland.
Liked Portrush very much.
On across the non-existent (for now) border to Donegal, Westport and Galway.
Then on Friday 23rd the short flight back from Dublin to Heathrow and on Saturday Qatar from LHR at 9am connecting at Doha for the Chiang Mai flight.
15 March 2018
We flew Qatar Airways from Chiang Mai to London on Monday. Comfortable flight. Easy connection. Loved the A350 from Doha to London.
Two days in London. Nice to be back. Early spring colors.
7 March 2018
Naughty Emirates is telling pork pies again – all in the name of marketing:
Their press release – reprinted in the Gulf News hyped that:
"Emirates has just completed a transatlantic flight operated entirely by an all-women crew, in order to highlight that women are capable of carrying out tasks in a male-dominated field.
The special flight EK 225, operated in time for International Women's Day, flew thousands of miles from Dubai all the way to San Francisco in the United States, and this was all made possible by the more than 75 women from more than 25 nationalities.
Dubbed the "Superwomen flight," the world's largest passenger plane was piloted by Canadian captain Patricia Bischoff and British first officer Rebecca Lougheed."
An all-women crew? Trouble is it was not. SFO is a ULR flight requiring four pilots – the augmenting crew of captain and first officer were from the other sex.
I don't mind Emirates encouraging women in aviation…as long as they pay them the same salaries as their male counterparts.
What is irritating is their dishonesty. If they took the time to plan and actually conduct a flight like this, good on them. But they are just too lazy. Instead they took enough video to manipulate what was filmed to make a normal flight appear to be something else.
Just call it a majority-women crew. It clearly was not an all-women crew.
Typical Emirates and Dubai – the gulf between what is said or promoted and what is in fact reality.
I do not miss it.
1 March 2018
Two months of 2018 gone already. The mornings are still very pleasant in Chiang Mai though by mid afternoon it is now very warm before cooling again in the night.
But it has not rained for a couple of months and some of the countryside looks tinderbox dry.
A few pictures from Tai's birthday on Monday:
27 February 2018
it was Tai's birthday last night – a few friends – dinner on our rooftop. Very enjoyable. Stress free as we prepared well in advance.
Hope you had a good time, hon.
***************************
Let us just park this here for now:
"Donald Trump has renewed his criticism of an armed sheriff's deputy who failed to enter a high school in Parkland, Florida, during a mass shooting this month, saying he would have run into the building even if he did not possess a weapon.
Addressing a gathering of 39 state governors at the White House, Trump said officers who were outside the school at the time of the shooting "weren't exactly medal of honor winners".
"The way they performed was really a disgrace," he added. "I really believe I'd run in there even if I didn't have a weapon.""
Dear Donald – what utter bollocks.
No one believes you.
19 February 2018
Emirates will launch a new daily service from Dubai to Auckland via the island of Bali, Indonesia, from June 14.
The new service will mean that EK has a total of three daily services to New Zealand. The new flight is in addition to the existing non-stop daily service between Dubai and Auckland and its current daily A380 service between Dubai and Christchurch via Sydney, a release said.
Emirates' new Dubai-Bali-Auckland flight will provide the only year-round non-stop daily service between Auckland and Bali.
The airline will operate a 777-300ER on the route.
The southbound flight, EK 450, will depart Dubai at 06:55, arriving at Denpasar (Bali) at 20:20 local time, before flying on to Auckland at 22:00, arriving at 10:00, the following day.
Northbound, the new service will depart Auckland as flight EK 451 at the convenient time of 12:40, arriving in Denpasar at 17:55 local time. It will depart Denpasar at 19:50, arriving in Dubai just after midnight at 00:45.
15 February 2018
Funny how I am even losing the inspiration to write. Well, not funny. Just rather disappointing.
******************************
Another day, another fight….
I am at the point where I wonder what I am doing here – I dont know if I can ever really settle here. Days go by with no one that I can have a real conversation with. Talking with Tai, and she is a wonderful woman, is still like walking on eggshells. This is her home. She knows how it works. She knows what is happening around her. Me – I am mostly clueless. I go where I am told. I ask a question. I might get an answer. I might get ignored.
I am hiding in the study tonight. Maybe I will get out later. I feel like I need permission or at least approval for everything that I do.
Emasculated.
Health concerns are not a great help either. But we don't talk about that beyond the constant – "have you taken your medicine?"
We should talk this through – but we wont – there will be a long period of silence.
Me – I know I am more irritable at times here. In part because I would just like to hear a yes or no or to get a decision. We drove out tonight for dinner – the roads are nuts in the dark – I swear every scooter rider in Chiang Mai has a death wish. But we never got to dinner. I thought we were going to one place. And I thought we had agreed. But she was still looking for alternates until we were a 100 years away…so what is the point of agreeing to go somewhere when it it fairly clear that you do not want to go there other than as a last resort?
I suspect I will be sleeping in one of the spare rooms later – again!
**************************
On a much brighter note Andy Browne – ex Reuters China, Singapore, Taiwan and other places in between, was in Chiang Mai this week. He has been at the WSJ for the last ten plus years and is off to a new role that maybe I will put in a link to when all is done. It is a great opportunity.
We played golf at both NorthHills and at Chiang Mai Highlands – two very good afternoons. CM Highlands is a fabulous course. In the hills to the east of the city.
The pictures are from CM Highlands.
Andy is fascinating to listen to – born in Hong Kong – western educated – fluent Cantonese and Mandarin and who knows what else – his rolodex is I suspect a list of the mighty and powerful. He sees West and East – he is American; he is English; he is Chinese. He understand them all – and understands their conflicts; past, present and future.
Oh – and he has a few stories to tell…..
1 February 2018
Tai is home in Samut Songkhram for a week. I am home alone and bored. It really is too quiet.
Played golf on Tuesday but had a major sense of humour failure at the golf club. stopped after 10 holes before I got any more frustrated. Just clueless. The club has no interest in the well-being of its members – just in getting as many tour groups on the golf course as possible, because they pay the bills and drink in the lounge etc. The trouble is the visitors will all have left by March and for seven or eight months the course will be quiet – which is when the club will need its members to keep the place ticking over.
Caddy thought it was her fault. It was not. She just made a bad day worse by saying and doing the wrong things. I walked all ten holes while she drove along in the cart!
And of course with my awful Thai there is no one at the course who I can explain any of this to.
********************************
Do go and see "The Post" – such a well made movie. Meryl Streep and Tom Hanks – directed by Steven Spielberg. Ane the message (based upon the Pentagon Papers publication in the NYT and The Washington Post in 1971) is all about the importance of a strong and free press. Thailand, the UAE and others take note.
25 January 2018
Bill Kristol – a US journalist on twitter: @BillKristol
"Bannon is gone and the alt-right has receded. But they're winning. A hostility to American government institutions, a disdain for traditional norms, the embrace of conspiracy theories—all are astonishingly pervasive among the conservative commentariat and Republican politicians."
**********************************
Back on the golf course after three weeks away as a tour guide. First nine was so bad that I replayed them instead of following the crowds on the back nine. And played much better second time around…including a rare birdie on the 1st.
Too many Korean tour groups on the course. The club seems to forget about its members in the wish to make money.
But it is the members that will keep the course going in the slow season.
*****************************
Emirates is changing some of its USA flights:

The airline will introduce a new non-stop service between Newark Liberty International Airport (EWR) and Dubai from 1 June 2018, adding to its existing daily flight which operates with a stop in Athens, Greece.
The new non-stop service will be operated with an Emirates Boeing 777-300ER. Flight EK223 will depart Dubai at 0300am and arrive in Newark at 0900am. The return flight EK224 departs Newark at 1150am, arriving in Dubai at 0820am the next day. This new timing is in addition to the existing Emirates service (which operates via Athens), as it provides travellers with a new option of a morning arrival in Newark, and a morning departure.
But from 25 March, Emirates will stop operating flight EK207/208, thereby reducing its services between Dubai and New York JFK to three daily flights. From JFK, Emirates will retain two non-stop flights a day to Dubai, and one flight a day via Milan, Italy.
In addition, from 25 March, Emirates will add two flights a week each to Fort Lauderdale (FLL), and Orlando (MCO), returning to daily services at both airports and reflecting the steady rebound in customer demand.
16 January 2018
"A few years back people would congratulate you for joining emirates. These days they pity you, and congratulate when you resign. What a bizarre place this has become."
from pprune.org
12 January 2018
Oops. Alex arrived for a week on the 3rd – overlapping by one day with my sister, Vanessa, and her daughter.
It has been family time this month. Unusual for me!
Alex was in great form – I learned a lot about CRISPR. More on that another time.
We had a fun two day trip to Pai on 7/8 January. The road to get there is still hazardous.
And Alex has taken up archery – at a competitive level. Impressive.
******************************
This was the day that the US President described a number of other nations as "shitholes." Publicly or privately, as President you do not do that.
1 January 2018
Happy New Year dear reader.
*******************************
Lots of upset people watching a rather embarrassing light show at the Burj Khalifa last night. No fireworks.
*******************************
And today in the UAE is VAT day – 5% – enjoy!