31 December 2007
The end of another year brings with it a sense of sadness and excitement. More in 2008. I hope you all have a happy and peaceful new year and that there is someone close to you at the new year to say I love you. Take care of eachother.
30 December 2007
We drove to Al Ain for the afternoon yesterday. And found most of the city was closed ! It is green, with a number of oases. Lots of roundabouts!
It is an easy drive from Dubai, but why is it that every 4×4 has to drive at 170km plus an hour and with their lights constantly flashing as if they are the only vehicle on the road.
Dinner last night at Shogun, Korean BBQ.
**********************
Tai came back from Zurich  early in the morning and for the most part we had a quiet day; Alex and I had a late afternoon walk around Dubai Marina; parking is not easy there at weekends now. It is getting very busy.
Thai food in the evening and an early night. Everyone was tired.
27 December 2007
Dinner on Christmas Day was a decent success after I cooked turkey with most of the trimmings. Maybe a pic to follow tomorrow when I feel less tired.
Tai left for snowy Zurich on the afternoon of 26th. Cold !! Alex and I were at Festival Walk for a while. The car park is cool. There are lights above each parking space; red if the space is occupied; green if it is vacant.
***********************
Had two hours in Ski Dubai today with Alex. A combination of the cold and exercise and I am tired now.
************************
Strange. Tai and I have a New Year card from Dubai Properties. It is just a greeting card. But it was sent by Aramex courier and has not even been signed. What a waste. Do I have the energy to complain. Maniana !
25 December 2007
Happy Christmas.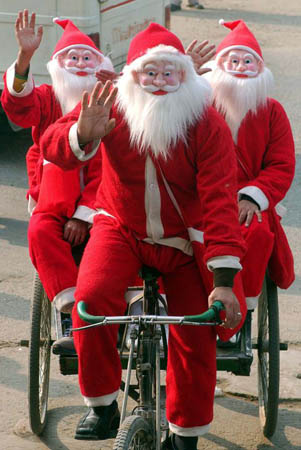 The building sites conveniently ignore Christmas. They were banging away early this morning. Which was not good for a slight early morning hangover!
We had a good dinner at Spice Island last night. Other than the Xmas desserts it was not very festive. No Christmas music. Although we did bump into Santa in the lobby.
Lucky Santa !
And lucky Alex!
24 December 2007
Last week was so quiet at Falcon Tower. It was the three day holiday and then the Friday weekend and construction work was minimal.
Now for Christmas week the construction sites are all up and working by 7am. There is a new site, the fourth, at the back of Falcon. Although it is far from clear what will be constructed there. Peace on earth does not apply here sadly.
23 December 2007
Tai and Alex both arrived early morning yesterday and it is great to have them at home.
Everyone is a bit tired – Tai slept all morning; Alex slept all evening.
And I reminisced over dinner about Watford FC's exploits over 20 years ago! Wembley 1984 for instance!
21 December 2007
Watching American Idol and they have Lulu as a singing coach – she can still sing but really is a bit too old to still be singing "To Sir with Love." that film must be 40 years old now!
************************
One more day to go. It is the weekend here. And it is soooooo quiet. No one to talk to or to see. I could go to the office but feel like I need a day away from there.
These are nicely edited pictures from a friend. Thank you !
20 December 2007
I made my first visit to the (in)famous liquor store at the Barracuda resort – the one place in the UAE where you can buy alcohol without a license.  This place is very popular.
The store sells hard liquor, beers and wine. Decent bottles of Australian wine are AED35 (US$10) and upwards.
There is a resort there as well; but there is also too much garbage surrounding the resort and some very dubious sewage smells. Mainly I guess the result of some very stagnant water.
19 December 2007
The latest on the Thomson acquisition of Reuters: "Ongoing discussions with regulators on both sides of the Atlantic have made both companies increasingly optimistic of completing regulatory reviews within the timeframe previously described," Reuters said in a statement.
***********************
I am finding this week really hard. The time is dragging. This is day five of Tai's trip. It is not easy being on your own in this town. I feel like I want to get away. I have not flown anywhere since October and after the last few weeks some time away from Dubai would be welcome.
It is the second day of the Eid holiday and another day in the office. But am finding it hard to concentrate on work.
***********************
A380 formation flying. Saw this on another web site!
18 December 2007
A very happy birthday to Nina. Forever 21.
*******************
Tai is is Auckland as I write this and about to start the long haul home with a flight back to Sydney.
I like this Emirates ad – from desert to the Canadian frozen north!
*************************
10.30pm and I am falling asleep on the sofa. I am tired.
17 December 2007
Tai and I may be 7,000 miles apart but we are both exhausted this week. She arrived in Sydney this morning. It is a nine hour flight from Bangkok through the night. Meanwhile I have worked all weekend and had a dinner to attend last night.
There is simply too much to do at work right now.
The three day Eid holiday starts tomorrow but I know I will be spending it at work trying to make sure that I get caught up. And i need to do he remaining Christmas shopping. I have not sent any cards yet. Sorry everyone!
Forgot to mention that we spent Friday lunch at Da Shi Dai Chinese restaurant in Upper Mirdiff. And then to Festival Walk. Tai spent the evening cooking me a week's supply of chicken and egg soup. So sweet! I will have feathers by the time that she gets back.
Mirdiff is a nice location to explore except that it is directly under the runway approach to Dubai airport and the planes are low overhead.
A few pictures from Saturday:
15 December 2007
Tai left this morning for Bangkok, Sydney and Auckland. She will be away for a week; the longest that we have been apart in over a year. I feel a bit sad. But I know how happy she will be to see her family and that she will have fun exploring Sydney when they stop there for 48 hours later in the week.
And I am at work today ! I think it is Saturday!
One small item in ArabianBusiness.com gives some idea of the scale of the opportunity in the Middle East is this note from Abraaj Capital who indicate that private equity firms in the Middle East could raise and invest about $50 billion during the next few years as regional governments open their industries to more private investment.
"We have got very strong deal flow in this region, and it continues to get better and better," Arif Naqvi, chief executive of Abraaj, said in Dubai at a private equity conference called Super Return Middle East.
"Governments are beginning to realise that they need to be in the business of governance, rather than in the business of management," Naqvi said on Monday. Firms could raise about $50 billion, he said.
14 December 2007
Elton John will be performing in the open air theatre at the Western Wing of the Emirates Palace on January 22, 2008.
This is the very first time Elton John will be performing in the UAE.
Tickets for the 9pm show go on sale from today (at 2pm) and will be available in three categories priced at AED 295, AED 595 and AED 950. Not cheap ! But it will still sell out today!
*******************
The Gypsy Kings are performing a new year concert at Bab Al Shams resort in the desert. The concert and a five course dinner are priced at US$1,000 a head, presumably ++.
12 December 2007
Emirates may want to take over the aviation world; here is one new destination for them. Wilkins in the Antarctic.
A regular air service shuttling Australian scientists to and from Antarctica is expected to land its first team of expeditioners on a remote blue ice runway within the next week.
A trial touchdown of the Australian Antarctic Division's new Airbus A319 on the Wilkins runway just after midnight on Monday went without a hitch, according to the Antarctic Airlink Project.
Australia and Antarctica are the last two continents on the planet to be linked by air travel.
On Monday's trial landing, the plane pulled up within one kilometre on the four-kilometre-long runway despite the lack of friction to grab the wheels on the slippery ice.
Crews have lived in shipping containers and worked in harsh conditions over the past three frigid summers to carve the runway into 500-metre-thick glacial ice, 25 kilometres in from the continent's coast, and 70 kilometres from Casey research station.
Using laser-levelling technology, they have had to grade and shave the ice to a bowling-green flatness, then keep grooming it to keep it snow-free.
Wilkins runway — named after adventurer and aviator Sir Hubert Wilkins, who made the first flight in Antarctica 79 years ago — is expected to open for business within the next week when the first scientific team touches down.
The blue ice runway has minimal environmental effect, being located 20 kilometres from the nearest wildlife. The Airbus A319 also does not require fuel to be stored at the runway.
11 December 2007
It is a really busy and rather strange week at work.
Tai is about to fly back from New York. It was a hard trip over there on Sunday with a four hour flog delay at Dubai before a 14 and 1/2 hour flight. Long day. But New York before Christmas is always nice.
Tai will be away from Saturday for a whole week to Bangkok, Sydney and Auckland. And it will be the long Eid holiday here on 19th and 20th. I need to find something to keep me busy. Christmas shopping !! It will be her longest time away from Dubai. She will enjoy the week more than I will !!
8 December 2007
Only in Dubai – no cameras allowed on the beach! Signs everywhere.
*******************
One of our friends in Dubai recently asked the question of what becomes of the people who were at one time a big part of your life but who, for whatever reason, you lose contact with over time….
I am sure it is something that may of us think about as we look back over lessons learned and decisions taken.
The answer has to be never to regret the choices that you make.
Moving away from home inevitably means moving away from current friends and meeting new ones.
There are ways to keep in contact now that did not exist 10, 20 or 30 years ago. It is easier to keep in distant contact. It is easier through blogs and websites to tell people about the changes in your life.
Fair to say that I am not in contact with any of my old school or university friends. We did not have email or internet to keep in contact.
8 December 2007 – continued
Yet I do know that my old next door neighbour from Bourneville, when I was about 8 or 9 years old, will be getting married in June next year. So there are ways now of keeping in touch or aware of the changes on our lives.
The best we can do is learn for the people who touch our lives; learn from the changes that we make to our own life; treat the people that we care about as we want to be treated ourselves and if you love someone then tell them.
I am sure we all think about people that we have met and wonder where they are now and how they are. But they, like me, have moved on to new lives and new friends.  Our lives may have crossed, we may have been touched by someone in so many ways, love, kindness, or even bitterness. But that is in the past.  I have learned so much from the people I have met and who have been a part of my life. If we lost contact it is for a reason.
I am embracing the present and celebrating the future. The past is consigned to history. The present is a very special time.
There are many more pictures from a good day yesterday at this link.
7 December 2007
Emirates will end its DXB-HAM-JFK clights from 30 March 2008 and instead will fly a daily round trip from DXB to HAM (Hamburg).
It is likely that a third daily non stop will be added for DXB-JFK.
3 December 2007
It is only a four day work week in the UAE – makes a nice change! Yesterday was UAE national day.
Tai and I went with some of her crew friends to Madinat Jumeirah for lunch and to take some pictures in the December sunshine. It is still about 30C in the day.
A visit to the Mall in the late afternoon revealed where everyone goes to spend their public holiday.
2 December 2007
We spent yesterday exploring places that we had never been to before – the Dubai Outlet Mall on Al Ain Rd and the Dragon Mart.
The Outlet mall is very dull and really has nothing worth buying. Waiting for the winter sales makes much more sense.
And the Dragon Mart is endless small Chinese stores selling everything from machinery to clothing to wooden bathtubs.
Both are in the middle of nowhere and are really not worth the effort of getting there.
1 December 2007
Fantasy time – twins !!!
Quiet day at home yesterday and an evening out on Dubai Creek with colleagues from work.
29 November 2007
Tai has a trip to Istanbul today. A tiring turnaround. But it is the last flight of her first year of flying. It was 52 weeks ago today that she graduated at the EK training college.
I have had three evenings in a row at work related functions which is why this web site is not getting updated this week. But there is a three day weekend ahead so I will write some more in the next few days.
27 November 2007
Tai is back from BKK this morning. It is very good to have her home.
I have had a lot of support and encouragement from some very dear friends the last few days. Tai has been wonderful. And all is well.
Her December roster is out and she will be in Dubai for Christmas and on New Year's Eve. We should be able to have a nice family Christmas and the now annual Christmas day party!
24 November 2007
It is Loy Krathong today in Thailand. A day that will always have a lot of meaning for Tai and I.
She had to fly to BKK last night. We had a tough day yesterday but I have never felt so close to someone.
******************
The following list is doing the rounds of the EK crew and is quite entertaining: these are some of my favourites:
You know you are Flight Attendant when…..
1. You can eat a 4 course meal standing at the kitchen counter
2. You search for a button to flush the toilet
3. All of your pens have different hotel names on them
4. You NEVER unpack
5. You can recognize pilots by the backs of their heads-but not by their faces
6. You can tell from 70 yards away if a piece of luggage will fit in the overhead bin
7. You know at least 25 uses for air sickness bags-none of which pertain to vomit
8. You understand and actually use the 24-hour clock
9. You stand at the front door and politely say 'Buh-bye, thanks, have a nice day' when someone leaves your home
10. You can make a sentence using all of the following phrases: 'At this time,' 'For your safety,' 'Feel free,' and 'As a reminder'
11. You wake up and have to look at the hotel stationery to figure out where you are
12. You refer to cities by their airport codes
13. You are a fire fighter, a nurse, a security officer and a server all in one!
14. Everytime the door bell rings you look up at the ceiling to make sure it's not a call bell.
15. you change into you 'galley shoes' to cook dinner at home
16. You answer the phone ,you start
by saying ur name and position.
Worse still I actually understand every item on this list!!!
23 November 2007
Life can change in a minute and jeopardise all that you want; the life that you live and the love that you share.
Lessons are sometimes learned the hard way. Sorry to be obscure but the details are not appropriate here.
22 November 2007
I feel like I am neglecting this diary. Nightmares last night – very strange. Was really tired but still awake at 4am.
******************
The UAE government yesterday announced a 70% pay increase for all federal employees. Wow! That should set an interesting precedent for the private sector!
With oil prices near US$100 a barrel (and a budget set at US$40) their is plenty of surplus cash. But dutifully the news media has reported the increase without even a blink; let alone questioning what this might do for cost inflation or private sector costs.
********************
Just when will the dirham devalue. There were suggestions this week of a devalutaion of as much as 20%. That would repeg the dirham at under US$3.00. Ouch. It maybe time to convert surplus dollars to dirhams now.
20 November 2007
Tai is back from a very happy trip to Venice. There are lots of pictures in "Tai's travels." The sun was shining although it was cold.
I listened to Kofi Annan speal last night. Interesting but history being written from hindsight.
Am tired this morning. It was a late night.
18 November 2007
Nice day out yesterday in the UAE's most northern Emirate, Ras Al Khaimah. It is so quiet up there.
The Al Hamra Fort hotel was about as welcoming as a fart in an elevator. You cant go into our grounds or eat at our restaurant by teh beach unless you are a guest. You may only eat in our grotty and rather sad looking coffee shop.
So we did not stay and we went and ate at the old Hilton hotel.
There is a quiet mall and promenade by the creek. We took quite a lot of pics as the sun set there. See the pictures section of this web site.
Came back on the Emirates Road -Highway 311. Fast road – crazy drivers.
A day that started less than well turned into a really nice day.
*****************
Today has been hard work. The leaders in Dubai conference is on. Did not see as much of that as I would like. Steve Forbes was dire. Richard Branson was interesting and sincere.
16 November 2007
Basta Arts Cafe by the Creek for lunch today. Always pleasant – except when caterpillars fall out of the tree and land on you!
**********************
Tai had a Karachi turnaround tonight and came back tired. But at least late at night there is little traffic and we were home quickly.
*********************
Here is Falcon Tower taken from the access road to the back of Millennium Tower. Falcon is the one in the middle with the building sites either side.
Today's strangest email – and from someone with an australian email address:
Dear Sir, (Sassenach),
            In 1966 the Engerlish didn't even know what their national flag was. In there own presumptuous way, they used the Union Jack and had to be corrected! 'nuff said.
Best Wishes……aye.
                                 Logan.
                                         Logan Laurie. (Mr.)
I have no idea what that is about – harmless spam!
Foggy again this morning. Colder at night nad high levels of humidity equal fog and drivers behaving even worse than normal.
*********************
Tai finished her annual SEP revision. Clever girl that she is got 100% in her exam !
13 November 2007
I spent most of the day out of the office and it made a really nice change. The morning was at one of our schools and the afternoon at the Dubai Airshow – although that was a fairly short visit.
For all its ambition the air show is not a big event – not on the Farnborough scale. It is a trade show for trade visitors only. There is no public admission. The good news is that means it is not crowded; there is a lot of space and you can watch the flying display from the static display ground in the airport.
The Red Arrows as always was a very good show.
The airshow page on rascott.com is here.
10 November 2007
Tai is on her way home. That always cheers me up
*******************
My sister is in Dubai today – on her way through to Kuala Lumpur. I can confirm that sleeping on my sofa is quite comfortable. But I still woke early.
We have been to the Creek, to the souks, to Dubai Marina and to the beach; and to Basta arts cafe for a pleasant lunch in the courtyard.
Nice weather for walking around – blue skies and about 30C.
**********************
The official Dubai AIrshow web site is here
The far less official
9 November 2007
Emirates has announced record first half profits – up a boggling 99% over last year – what they did not say is how much of that is from currency – one key reason why the company is making money hand over fist is because over half of the revenue is derived from the UK and Europe. This revenue is in Sterling and Euros. But expenditure is mainly in US dollars or dollar pegged currencies. A significant part of the profit growth has to be currency related
*********************
Tai left for BKK yesterday and is heading for HKG and back to BKK today.
It is a lovely, sunny Friday – a little cooler. And I am at work.
Not much else to report. I was so tired last night that I fell asleep in front of the TV.
The Dubai Air show starts on Sunday and the Middle East International Motor Show is in Dubai a week later. I wonder if they have pretties at a motor show in Dubai. It wont be like the Bangkok auto show!
*****************************
Air Show watch. The gala dinner for the Dubai airshow is a dinner for 4,000 people on November 13th at the Dubai International Marine Club – and the guest artist – Diana Ross. I guess spring chicken wont be on the menu.
6 November 2007
I am back – sorry I have been so quiet. Unusual I know
We have had a lot to get through at work the last two days. Interesting – but quite stressful.
*******************
Dubai's new mega airport got a new name – previously the Jebel Ali – Dubai World Central Airport has been renamed Al Maktoum International Airport (AMIA).
********************
Huge traffic jams on SZ Road every evening starting about 4.30pm and ending after 8pm. The tailback is at least as far as the 4th interchange at the mall of the emirates. It should take 10 minutes to drive home, It will take over 30.
*********************
There are signs of growing labour unrest and activism in Dubai: thousands of construction workers in Dubai entered their sixth day of strike action on Tuesday, demanding better salaries and conditions. They are currently building (or not) the Burj Dubai.
3 November 2007
Sometimes it amazes me what sites are blocked by the UAE censors. I was searching in Buddhist wedding traditions and this site is banned in the UAE – it has a section on thai wedding customs.
http://www.bostonbridalshows.com
Am i missing something!?
And Dean Barrett – the author – has had his site blocked as well.
http://www.deanbarrettthailand.com/
Bizarre !
2 November 2007
New movie release in the UK today – which I doubt will make it to Dubai – sadly. "In the Shadow of the Moon."
The Guardian reviewer liked the documentary:
"There is something thrilling and moving in this documentary about the great era of the Nasa moon landings. Using a wealth of footage (some of it unseen until now) of the moon's stark and eerily beautiful landscape, shot by the astronauts themselves, and interviewing the craggy and grey-haired participants themselves – with one conspicuous and enigmatic exception – David Sington's documentary is gripping.
The great moon-shot period was 1968 to 1972, featuring guys with haircuts and attitudes from the early 50s; it was a simple, glorious and idealistic project, which through a quirk of fate co-existed with the worst of America's Indo-Chinese military adventure, and from which Nasa seemed insulated…the interviews with Buzz Aldrin, Gene Cerman, Michael Collins and Jim Lovell of the ill-starred Apollo 13 give a thrillingly real glimpse of what it must have been like to be picked to be on the world-historic crews. It is fascinating to see the prerecorded sorrowing announcement by Richard Nixon, for use in case the Apollo 11 crew never made it back."
I was gripped by the space race; by the sheer impossibility of flying to the moon and back; by the dramas of Apollo 8, 11 and 13. I kept scrapbooks of pictures and new articles. This is one film that I would love to see.
1 November 2007
My mother rather astutely asked me last night – how is the new job? – because you never talk about it.
Interesting insight.
****************************
The multi storey car park being build on the left of my building as I look out has now decide that working 24/7 is a good thing – and that banging metal pipes between 2am and 4am is acceptable. I got very little sleep last night. And as I type this at 1am on Friday morning they are still banging away.
*****************************
Had a nice dinner at Millennium with Tai and her friends – but we both fell asleep on the sofa and I had to leave her sleeping in bed at Millennium and come back to Falcon. I hate being apart on the days that we have together in Dubai.
31 October 2007 – Halloween
Hmmm – some things are best unwritten until there is certainty.
29 October 2007
Another 12 hour day in the office – there are too many. But then no reason to rush home either – laundry is the only thing waiting for me there.
28 October 2007
Tai is in Bangkok and away until Wednesday morning. Seems like she only just came back and she has gone again. She was better last night after congee and Neurofen and a sleep.
But I am tired today and a bit distracted.
*********************
27 October 2007
This is a very quiet weekend. Tai is not so well after her long haul to Singapore and Melbourne. Four long flights in four days – three nights sleep in five nights away. Hopefully a mix of Tylenol and Neurofen should be enough to get her onto tonight's Bangkok flight. It feels like she only just came back.
***********************
We did get as far as Deira City Centre  yesterday afternoon for the usual tour on MNG, Zara, New Look, Forever 21 and even Debenhams! With a short detour to Krispy Kreme.
***********************
The reason the access road was blocked to Falcon is that they have started digging another large hole. There are painted lines that show the scale of the site. Expect it to get noisy.
25 October 2007
Tai is back; and tired! But she is back and we have a weekend together before she flies again – so that is good news.
************************
Emirates is reported to have confirmed daily flights from Dubai to Cape Town, South Africa, for 2008. The start up date is still unclear.
**********************
Want to know more about Dubai – try this:
23 October 2007
Its Christmas in Dubai.
Last weekend our local Spinneys had Christmas chocolates on display including advent calendars that you cannot eat until December!
Now to confirm that the season to be jolly is almost here the local garden center is littered with Christmas trees and jolly Santas.
Too soon ???
***************************
I was watching Shakespeare in Love this evening – "How will it end? – it all ends well – how does it? – I dont know – its a mystery." I feel like that sometimes. It will all end well….
****************************
Tai just landed in Singapore. One more flight on Thursday morning and she will be home. That will cheer me up!
****************************
I was reading another web site (yes there are others) where there was a collective rant about Terminal 1 at Dubai. At peak times it is a terrible place to be.
The summary – at peak times – horribly over-crowded; not enough seating; people sleeping on any available space on the floor; over priced duty free shops; poor, crowded and expensive coffee shops, overwhelmed toilet facilities (allow plenty of time); and crowds of frustrated people.
It is the only weak link in the Emirates big hub business model. This will hopefully all be solved when Terminal 3 is unveiled for Emirates next year.
22 October 2007
I seem to be working too hard – I guess I can while Tai is away. She will have arrived in Melbourne tonight. She is away for five nights for the Singapore, Melbourne, Singapore flight. It feels like a long week. I miss her company…..:(
*************************
England lost the Rugby world cup final; I may be the only person of British birth in Dubai who was not watching the game.
*************************
I was driving home last night about to turn in in darkness to the dirt track to my Falcon Tower apartment when I almost drove into the pile of mud that now blocks off access from the Business Bay sales office road to Falcon Tower. No warning signs. No note from  building management (if we have any building management I would be amazed). Access to the building is therefore by a longer way round from a very poor heavily rutted and deep sand access from Millennium Tower or from the front of the building where a dirt track carries runs by the under construction transit system. Both ideally need a 4×4 otherwise are almost undriveable. Grrrrr.
20 October 2007
It was a quite day yesterday – a little work reading and a little bit of studying and a trip to the supermarket.
We should try and get out on Friday's during the winter months. It was a lovely blue sky yesterday – no construction and no dust. Today the construction sites are all working again and the sky is not as clear.
19 October 2007
Sorry I have been quiet. Bit of a stomach bug last night. I can recommend the bathrooms at the Jumeirah Beach hotel. We had gone there for dinner with friends. I wasn't eating too much!!
**********************
The US$ continues to plummet – where does it end? It makes those of us who are paid in US$ linked currencies truly struggle when we travel to the UK and the Euro countries of Europe and to other favourite places like Australia. Even Singapore is becoming expensive.
***********************
It was one year ago today that Tai left Bangkok for Dubai; a momentous day in very many ways. A brave and exciting opportunity for her and a realisation that day which would change my life.
We had a farewell party for her at Centrepoint a couple of nights earlier.
The year has passed quickly. I used to be at home in BKK waiting for her to come online and tell me about her day's training.
16 October 2007
Tai is on her way to Frankfurt this morning and I am back at work.
EK has a briefing document for all its layovers detailing hotel arrangements, location and crew contact numbers. It also has a section called places of interest. The Frankfurt listing for places of interest is "None." That's a bit harsh !!
Most of what you need to know about Pai is on this site:
http://paitown.com/English/Home/Home.htm
***************************
It is starting to get dark early in Dubai. Sunset is now before 6pm. Winter is around the corner.
15 October 2007
We are back in Dubai. And back to the building site. No sounds of birds here.
13 October 2007
Mid October and there are still heavy rains in Bangkok.
This is the evidence from a very flooded Sukhumvit Soi 39 earlier today.
11 October 2007
Heading back to Chiang Mai and onto Bangkok. As I type this we are probably only on bend 100 of 762! It is a slow ride to Chiang Mai.
A few fun pictures from Pai:
The last picture is the building site opposite our resort. Rather different from the Dubai building site. Here the sound is of a hammer and hand saw. The sound competes with the early morning bird chorus and the sound of the river. Very peaceful.
10 October 2007
It has been raining the last two afternoons – yesterday started at 5pm; today is a bit earlier. And with the rains comes the power failure. This is every afternoon and into the early evening.
There is a rainbow this evening. I can see the end of the rainbow but not the pot of gold.
*********************
I just finished reading "The Time Traveler's Wife' and it has left me with a deep sadness that I can't quite explain.
I reread the first few chapters that make much more sense now that I have finished the book.
I have this deep certainty that I am with someone who has changed my world for the best. But with that certainty always comes the greater risk of potential loss. Clare's four words in the book resonate – don't leave me….
8 October 2007
It is a long way to Pai in North West Thailand but it is worth the effort.
This small town is about half way between Chiang Mai and Mae Hong Son. The journey from Chiang Mai is probably 130 kilometres but it takes a good three hours around a mountain straddling switchback of a road.
Pai is like a cross between Ubud in Bali and Luang Prabang in Laos. It is hard enough to get to still that it is a backpackers destination. There are no name resorts. But there are now banks and scarily, a 7-11. '
The town in on a river surrounded by hills. The town is closed by 10pm and the only sound that I can hear is the crickets and the running water of the river outside our cottage,
To welcome us the whole town was plunged into darkness by a 45 minute power failure as night fell.
It is so green and so lush. Dubai feels like a very long way away.
There is building on the other side of the river but as you can see below it is unlikely to cause a significant disturbance!
************************
Had our usual busy day in Bangkok yesterday. Food and shopping. A walk in Santichaiprakarn Park by the River, near Thammasat, and a very pleasant dinner at Le Lys with this website's regular Bangkok correspondent and his lovely wife!
6 October 2007
Scary subway poster:
****************************
The big news at home in Bangkok is not Myanmar or the upcoming election date, should anyone ever decide when that will be.
It is the new fashion among university girls of "going commando." The Cultural Ministry is distraught. The question is how do they even know. I had better explain – going commando refers to omitting to wear anything under a skirt. A matter of personal choice and hygiene surely and not an issue that that most government departments would want to get involved in.
5 October 2007
So nice to be back in Bangkok. It is relatively cool and there was some lovely rain this evening.
Landed at 12.30pm and met Tai at Siri Sathorn. Yes we are back staying at the first serviced apartment that I stayed in in Bangkok. I was basically here for all of 2003 before moving to Centerpoint.
We have walked to the Silom Complex and been up to Siam. Had a nice Thai dinner.
It is good to be back among the smells, markets, noises, crowds.
4 October 2007
A bit rushed the last couple of days at work and a bit tense. Sometimes that gets into my personal life as well and I was really tired last night.
We were up early so that Tai could get to the airport for her flight to Bangkok this morning. She was able to get onto the earlier flight 418 which them went technical and left about 4 and 1/2 hours late. More haste less speed.
I leave tomorrow at 3.15am. So I wont get much sleep tonight. But I am so looking forward to a week with Tai back in Thailand. It will be very good for us.
3 October 2007
Happy birthday to my baby brother!
***********************
An early start this morning to meet EK385 coming in from Bangkok. There is something very peaceful about being up and about at 4.30am and the roads are nice and quiet.
But it really is only manageable if you have an early night and don't get woken by HSBC sending sms at 1.10am. Grrrr
The drilling of course had started by the time I was back at the apartment just after 6am.
*************************
Went to visit a local school last night. Not one of our company's schools. My little guy probably does not know how luck he is with the facilities and quality of his school in Hong Kong. In private education you really do get what you pay for!
1 October 2007
It is Monday and the first day of a new month – lots of one year celebrations this month surrounding Tai and her anniversary in Dubai.
She is on her way from BKK to HKG and back to BKK tonight.
************************
Not much to say about yesterday – working on a Sunday will always be strange. Was up til quite late reading and the drilling started at 6.10 this morning. I hate that noise. Tai was in Bangkok by lunchtime and was meeting her friends for a Sunday evening feast!
It felt like a long day……
29 September 2007
Had a night at the beach over at the Meridien Hotel Al Aqah; between Dibba and Fujairah on the Indian Ocean.
The resort is always busy as it is one of few on the coast. But to be honest it is a big, rather charmless place. The swimming pool is huge. The beach is not very pleasant and there is nothing outside of the over priced hotel.
But it is a nice drive through the desert and then through the rocky hills around Masafi to Dibba. Less than 2 hours from Dubai. It was nice to wake up and see the sea and not listen to the building site. But take some of your own food – even instant noodles will do. The hotel food is over priced and not very good. There are some pictures on the our pictures page.
28 September 2007
A small victory this morning. It is Friday – the day of prayer; the holy day. The drilling starts at 6am.
I call the project manager to protest. Get up. Walk to the site.
This is the offensive machine working away. I stand there until the driver stops. I call the project manager and tell him to tell the driver to stop working. It is 8am now and still quiet.
A small triumph….
I did not get to sleep until after 1am. It has been a rough week with too many late nights at work.
26 September 2007
It is noticeably cooler in the mornings now. But still 40C+ by the middle of the day.
Was in the office until about 11.30pm last night and here again at 9pm tonight. Outside the window is a wonderful low full moon. The rabbit on the moon is vertical at this angle.
25 September 2007
A bit out of sorts today. Did not get enough sleep. And too much to be done at work.
Tai is on her way to Paris – that's where we were supposed to go for my birthday until the plans were ruined by the French consul here in Dubai. Growl !!
I have always wanted to take her to Paris.
24 September 2007
If you are in Hong Kong – and better have a car – try this
I would love something similar in Dubai but in the hear and dust it simply could not work.
23 September 2007
Out of work at a sensible time for once. And went to watch a movie for the first time since arriving in Dubai. AED30 a ticket makes it double the price of a Bangkok movie.
What s depressing is the heavy handed slicing up of the movie by the local censors. There were moments in the film when a scene would end mid sentence and jump to the next scene – and you had no idea why or what had happened. And this is a comedy if a film starring two male New York firefighters pretending to be in a gay marriage to protect pension benefits is the theme for a comedy.
At the end of the film while in court the movie was originally filmed with the two guys kissing but a gay kiss between the two protagonists would earn them an R rating even in the USA, and probably no distribution at all in the Middle East so the film was made with the second ending they filmed, which is where Dan Akroyd (the fire station captain) interrupts them.
22 September 2007
Here are my two favourite people meeting up in HKG yesterday: wish I had been there.
Picked up a very tired Tai at the airport at 5.15 am this morning. We have always done well if we get her home within an hour of landing.
I am back in the office today – am starting to resent how much time I am spending here. Would be much happier spending the day with Tai – or at least being there when she wakes up later in the day.
Good job she is sleeping at Millennium as the rock breaking drill started at 6am this morning. It is a weekend – a Saturday. It is an obscene noise level for that time of the morning.
21 September 2007 day
No idea when the power came back on – I was sleeping. But at least I know my way around the apartment in the dark.
*************************
Some of my readers might enjoy this  – one of my favourite trip reports and why flying in or out of Singapore is so enjoyable.
21 September 2007 after midnight
My late night entertainment. The 1969 Bond movie, On Her Majesty's Secret Service. The only film with George Lazenby as Bond. He really was better than people gave him credit for.
But the class in the film comes from Diana Rigg. Maybe the best and classiest of all the Bond girls.
The film is a bit long; and now a bit dated.
Well – I would watch the end of the movie – but it is 2am and the power just failed again. This happens rather too often.
It is also the one Bond film with a real sense of romance and vulnerability.
20 September 2007
You can now (at last) pay your Salik road tax online – www.salik.ae
*******************
Sorry to be quiet – back again – it has been a very busy few days.
Tai is on her way to Hong Kong. Lucky girl. Her first Hong Kong layover and she will go and see my little guy tomorrow. Wish I could be with them.
********************
Yesterday was a work trip day-return to Jeddah. An interesting place to visit in Ramadan. No eating or drinking between dawn and dusk.
We flew again on an executive jet – the only way to get to Jeddah and back in a day. A 9 seat Bombardier Challenger. Two pilots and one very hard working flight attendant.
The Challenger is a little cramped compared to the Gulfstream G4.
But I was allowed to sit in the cockpit for approach and landing at Jeddah and Dubai. The crew were very friendly and happy to keep me informed and answer all my questions.
It was a lovely day to fly. Jeddah airport is huge. And we landed in Dubai early evening; it was dark but quiet at the airport at that time of night. We flew past the airport; turned right, in over Mirdiff onto Runway 30L.
16 September 2007
There was a tragic accident at Phuket today as OneTwo-Go's MD82 crashed while landing at 3.35pm. This may be the end for OneTwoGo and its parent Orient Thai. Unlike Nok Air (Thai Airways) and Thai Air Asia it does not have the support of a well respected parent company and there have long been allegations of excessive costs cutting at the low cost OneTwoGo.
My weird dream on Thursday morning – which was so vivid – was of a plane crash.
***********************
Someone very dear to my heart was visiting two great Chinese icons today – The Great Wall and Carrefour! How symbolic. Beijing – a city where the ancient and modern come together on an almost unimaginable scale.
***********************
From an email in respect of a potential business relationship….
"If not, then, well, OK, no, fine, we will fish elsewhere."
Does that make sense to anyone?
************************
The office (in theory) closes at 1.30pm during Ramadan. It is 3pm; the traffic outside is horrible. The early office closures just seem to move the rush hour to earlier in the day.
15 September 2007
My lovely Tai is on her way to Beijing this morning.
Weather in Beijing looks very nice – about 23C to 28C and sunny. They have a day in Beijing on Sunday; nice to be there for the weekend; less traffic and pollution – a good day for some serious sightseeing.
Meanwhile I am in the office…..
Tai has my amulet with her; I had a really weird dream before she went to Istanbul on Thursday and woke up convinced that she should take it with her. It is rare for me to dream so vividly.
**********************
We went to the IDN Battuta mall yesterday in the late afternoon. It is amazing how quite it is for Ramadan. Everyone basically goes out later in the day after sunset.
Dinner at Thai Orchid at Dubai Marina. The Marina development was busy at night time and colourful now that more buildings are complete there.
But AED12 for a small individual bowl of steamed rice is outrageous ! I can buy 5 kilos of jasmine rice for less than AED20. All you have to do is add some water and boil the rice.
************************
The plant buying at the Dubai Garden Centre. Now have a large plant (6 foot plus) in my living room. Something to talk with when Tai is away ! Not cheap !
13 September 2007
This only really works if you know your English chocolate bars:
"A man goes into a sweet shop and asks for a Boost, a Twirl and a Topic.
The shop assistant says: "Nice eyes," spins around, and then says: "Tony Blair: hero or villain?""
************************
Memories of December 2004 must have been at the forefront of many minds last night when an earthquake, measured 8.4 in magnitude on the Richter scale,  struck in the ocean off southern Sumatra.
It was felt 600km away in the capital Jakarta, where thousands fled swaying office blocks and homes, and in Singapore, Malaysia and Thailand. There are remarkably few casualties.
Aftershocks continue to be a concern.
12 September 2007
More Orbit nonsense. In addition to charging my credit card AED349 on August 20th (149 monthly fee and 200 refundable deposit on the decoder) they then charged my credit card a further AED200 on August 27th. Oh this was a mistake Sir.
They take incompetence to new levels.
11 September 2007
Tai came back from Nagoya just after 4.00am. Took her straight to her Millennium apartment to sleep.
Wanted to take her bags up to her apartment for her. But decency and helpfulness count for nothing with building security and the airline's accommodation rules.
I am not allowed in the building until after 7.00am – not even to take her bag into the elevator for her and come straight down again. It is the pettiness and meanness that makes me cross.
*********************
Traffic woes are worse by the day. The tailback from the city in the evening along Sheikh Zayeed road is all the way to the Mall of The Emirates in the evening – and has not cleared until 8.00pm the last two nights. Anyone who says Salik is working has not tried to drive along this road after 5pm. The traffic is no faster than a crawl.
In the morning I have to go to the Defence roundabout at junction 1 and do a u-turn onto Sheikh Zayeed road to head in the direction of Abu Dhabi for our office. This used to be a simple u-turn at the roundabout that was formed by two bridges over the highway.
This roundabout is now controlled by three sets of traffic lights that have to be navigated before I have made the turn onto SZ road. Inevitably the lights are always red!
And as for road access to Falcon Tower…..the building is only 2 and 1/2 years old. A rough dirt track is all we have.
Grrrrrrrrrrrrrrrr.
9 September 2007
Tai was back for a day – and after a slightly rocky start we had a nice day yesterday. She came back fully loaded with goodies from BKK. And a 27kg suitcase. No one is going to starve among her flatmates and me in the next few weeks.
She flew back on Eithad which meant a late night drive to Abu Dhabi airport on Friday night. The plane landed about 00.20am. The drive takes longer than I thought – it must be about 150kms. And it is so badly signposted.
We were home about 3.00am. Parked the car outside Falcon as close to the entrance as possible. By the time we went out on Saturday afternoon the car was splattered in cement from the next door construction site. It is pretty disgraceful. I would not be surprise to see some lasting damage or marking.
7 September 2007
How much is a life worth in Dubai; not much based upon this story in today's local media.
"Dubai – A hit and run driver who fled the scene after knocking over and killing a young student has been jailed for two months. The expat, from Eritrea in Africa, struck 20-year-old Indian Aditya Subramanium in Bur Dubai with his Nissan Pathfinder as the student crossed the road with friends.
He then sped off leaving his victim to die in the road. In court the 34-year-old defendant said: "I was afraid after the accident and I escaped immediately from the area."
He was found by police after they discovered a small piece of his car at the scene and were able to trace his vehicle. The man was also fined dhs10,000 and ordered to pay dhs200,000 blood money to the relatives."
Two months for a hit and run manslaughter?
****************************
Almost 2.00am and I am watching a Bond movie on TV when there is a power failure at Falcon. Computer is on battery. Better go to bed in the dark!
5 September 2007
My UK readers can put my baby brother to work by booking their weddings, corporate events, special celebrations or even dinner at  Shapwick House, an old Tudor Manor House surrounded by 7 acres of informal gardens and grounds amidst the rolling Somerset countryside. http://www.shapwick-house.com/
4 September 2007
At 2am this morning I was outside Falcon Tower in my pyjamas ranting at the cement mixers and their crews who were making a sleep denying wall of noise last night.
Its not just the machines – it is the honking horns and the shouting.
They don't care of course and I am sure they have permits for their work – but I got about two hours of bad sleep and have a headache today.
I must have looked crazy !
Maybe BKK airport has the solution to this – a report today said that "Bangkok's Suvarnabhumi International Airport is distributing sleeping pills to neighbouring residents in an effort to lull growing complaints about noise pollution, news reports said Monday. Residents living near the capital's new airport told the Bangkok Post newspaper that home-deliveries of sleeping pills were the airport's latest remedy for communal insomnia and stress caused by the constant overhead jet traffic."
**********************
BKK airport online: includes arrivals and departure information. http://www.bangkokairportonline.com/
**********************
Tai is on her way home this morning for a few days with the family. She has not seen her family for a couple of months so this is a great chance to get home for a few days.
***********************
The latest on the Thomson bid for Reuters is that Reuters says that paperwork regarding the 8.7 billion pound ($17.6 billion) bid for it by Canadian electronic publisher Thomson Corp has been provided to European regulators. The share price responded positively to about gbp6.40 although there is still a gap between that and the near gbp7 purchase price.
3 September 2007
Busy day yesterday and a company dinner in the evening. Was able to join Tai and her friends for a quick hallo and coffee after dinner. She is on standby today. And she got called out for a long day trip to Bangalore and back.
But that does mean that she can go home and see her family in BKK tomorrow.
I promised some pictures.
Here is the new car – it looks like a display at the Bangkok Motor Show!!
And from our Chinese hotpot dinner at the weekend:
2 September 2007
More Chinese hotpot for dinner last night. Will see if I can borrow some pictures from Tai and Bam.
It was a strange day; and I ended up on my own last night. Seems to happen too often in the last week or two. And I don't sleep well when there is too much in my head. Someone would tell me that I think too much. Probably.
I have headache this morning.
*********************
The Falcon Tower apartment elevators proudly display a sign that says that this elevator is fitted with an Emergency Elevator Landing System. Is that like a very large air bag ??? I don't think I really want to put it to the test and find out what it is but I am curious…..
1 September 2007
There is always quite a lot to do at the end of the month to tidy up this web site and to archive older items!
I have time this morning as Tai is back from an overnight trip to Tehran and is having a well earned sleep. A full load and short of crew it must have been a busy night.
***************************
Meanwhile it is another normal day in Bangkok: A THAI woman is at large with her husband's penis today after discovering the man's unfaithfulness.
Pornbun Sinthusin, 35, came home in Bangkok yesterday and found her 34-year-old husband Ploeng Plaekratoke in bed with another woman, said police Lieutenant Colonel Kornwat Hunpradit.
She later gave him several beers before cutting off his penis with "a sharp object," Lt-Col Kornwat said.
The husband was now in intensive care.
"We suspect she took both her weapon and her husband's penis because we cannot find the penis in their apartment. We even checked a toilet but she did not dump it there," Lt-Col Kornwat said.
**************************
Nice short, simple speech from Prince Harry at his mother's memorial service yesterday. Very much from the heart.
I was surprised to be rather moved by the ceremony. So much has happened to me in the last ten years. On 31 August 1997 I was about to move with my then family to Singapore. It was a move that one way or another was going to lead to separation. But you have to live your life for the present and future. The past give you memories to treasure and events and actions to learn from.
30 August 2007
The drilling started at 6.10am. And it is loud today. Tai was not off duty until 1.15am so it was 2am before we were in bed at Falcon.
But I fear the drilling will wake her and that will hurt after a long, busy flight and and only a few hours sleep.
There are times when I hate living here. Why do I have to wake to so much noise? My big concern is that the noise is unfair to Tai when she is resting between flights. The noise may get so intrusive that she is unable to stay at Falcon. Friday is a holiday so at least we should be able to sleep properly later tonight.
*********************
Tai is still on standby; they have used her a lot this month with over 90 hours flying in three weeks. And they have already given her a Tehran overnight turn on Friday night/Saturday morning. Friday was originally an off day for her. I had such a nice plan for spending the night a Dubai's desert resort at Bab Al Shams…..another time.
29 August 2007
Busy day working. Not a great deal else to write about. Except that Tai is back tonite.
I did make some brownies in case she comes back hungry. Had one; surprisingly good!
28 August 2007
Dina is Alex's domestic helper back in HKG and has been looking after him and his mother since Alex was a few months old.
When you are living on your own you realise just how much work there is to do. Cleaning; shopping; laundry; cooking. And in her case helping to look after the wellbeing of a very active 10 year old. And she does a great job with him.
************************
I get lazy when I am the only one at home; freezer food.
***********************
A few more phone calls later and Orbit is now working – still nothing worth watching – but at least I have a working TV now! And it is good background noise!
*************************
Tough night last night. We ate at Millennium; Tai was on Standby from 11.00pm and got her call at 1.15am for a flight to Johannesburg. But the flight was delayed until 5.10am so we went to the airport at about 3.10am. Back to Falcon for a rest before work.
Hope Tai can get a little rest on the flight. And I should get a proper night's sleep tonight.
27 August 2007
Orbit may be installed – but it is not working. They seem to need a further 24 hours to activate the service. They have had our money for a week and we still have no television service. Calls to Orbit are a waste of breath. Customer service at its most inept.
*************************
The pneumatic drill started at 6.22am this morning. Dutch foundations are rock breaking at the site behind Falcon Tower. It is very intrusive.
Tai does not want to sleep at Falcon because of the noise. I have to get up at 6.30am anyway for work so it really only upsets me  on a Saturday. But Tai is tired from her New York trip and has standby 4 tonight (from 11pm) so needs to sleep well into the morning and se cannot do that at Falcon. And I cannot stay at Millennium.
In theory Dubai's regulations state that noise average should not exceed 55 decibels from 7 a.m. to 8 p.m. and should not exceed 45 decibels in the period from 8 p.m to 7 a.m.
I do not believe that anyone pays attention to this regulation.
According to the municipality, an emergency office is open 24 hours a day for complaints and queries. If you call them at the time that the noise is going on they say that  they will send someone to check.
The Municipal emergency numbers to call or fax are: Tel: 04 – 2232323; Fax: 04 – 2232230.
I must try that in the morning.
26 August 2007
The September schedule is out and EK crew everywhere are pouring over hot computers looking to see where they are going to next. Tai seems to have a lot of flying but it includes Nagoya, Hong Kong and Bangkok so she is smiling.
****************
We have Orbit satellite tv now operating at Falcon Tower. Something to watch at last. It has been a hassle getting it installed. It is not exactly Sky TV. Choices are limited here and each satellite carrier offers different choices of programming.
25 August 2007
Made the scones – had to add a bit more flour to the recipe – the dough was too moist! They smell and look good; maybe they will be a bit too dry and dusty – appropriate for Dubai.
*****************
Took a long time to get to sleep last night and woke at 7am to the noise from the surrounding building sites. It really is too much for a Saturday morning. Strangely as we approach 10.00am here it is quieter now. I guess much of the heavy work is done when it is cooler in the early morning. But it is very intrusive. Not enough sleep.
24 August 2007
In the office on a Saturday waiting for Tai to come back from New York. It is Alex's first day of the new school year today – I hope he had fun and that he has a teacher who will stretch his inquiring mind and bring out the best in him.
*******************
Buying writing paper is almost impossible in Dubai. No one writes letters anymore.
*******************
I subscribed to Orbit on 20 August. They promised installation in one or two days. Four days later they still have not contacted me. I have already phoned them twice to ask what is happening. Is it really possible that Orbits' customer service can be worse than Showtime?
********************
I am going to make scones tomorrow !
22 August 2007
Last night Tai and I had perhaps our worst evening since coming to Dubai. And she is flying to New York this morning. We are Ok. We always will be. Sometimes I am too sensitive.
I don't want to write more here. This is not the place to be too personal.
Last night I felt like I was on the edge of a high cliff. I can be pulled back or I can be pushed take a step forward. But I need and want to be pulled back from the edge.
I am a bit tired and distracted today. And my heart is somewhere on the way to New York.
********************
Love is a complicated thing as this report today from today's Bangkok Post in Thailand shows:
"A 43-year-old Thai man was found dead wearing 15 bras and a mini-skirt belonging to his estranged wife, news reports said Wednesday.
Jaran Khadphano was found dead Tuesday from a suspected heart attack at his home in Roi Et, 400 kilometres north-east of Bangkok, the Thai-language Khao Sod newspaper reported.
Relatives of Jaran, who formerly worked as an optician in Bangkok, told police he had been suffering from depression since his wife left him for another man and had been taking painkillers washed down with coffee several times a day.
Doctor Thanakorn Klangsaeng of Roi Et Hospital said he suspected Jaran had died of a heart attack. There was no immediate explanation as to why the deceased was wearing his wife's clothes, which he had brought back with him from Bangkok after the couple's separation."
Poor guy.
21 August 2007
Dubai's population growth may be explained by the following rather strange story in today's news from Duabi: A one-legged Emirati father of 78 offspring is lining up his next two wives in a bid to reach his target of 100 children by 2015.
Daad Mohammed Murad Abdul Rahman, 60, has already had 15 brides, although he has to divorce them as he goes along to remain within the legal limit of four wives at a time.
"In 2015, I will be 68 years old and will have 100 children," he boasted. "After that I will stop marrying."
20 August 2007
Tai's Bahrain trip was an easy turnaround. But she is happier today. She has been begging crew scheduling for a New York flight; about the longest possible distance to escape from Dubai. And to their credit they have come up with a flight on Wednesday morning for her.
Don't forget those of us who are left behind in the sandpit!
19 August 2007 – Referendum Day in Thailand
Tai had a busy Karachi turnaround on Friday night and was a little late back into Dubai which was a good excuse for a Saturday morning lie in.
I spent part of Friday night in the gym – good for me. I bought a little i-pod shuffle so that I can listen to music when i am on the treadmill. Amazing how less dull the treadmill is when you can sing along at the same time.
Saturday was a nice day and we had a late lunch at a new Chinese restaurant in Upper Mirdif, south of the airport. The shopping complex is newly opened but very quiet. The surrounding homes and apartments are low rise. By Dubai standards it is an attractive looking part of town.
The food was good. But why build a brand new open air shopping mall. It was 45C; no one wants to walk around in that heat. On a winter's evening it will be a nice place to be. But yesterday, despite it being a weekend, the place was empty.
The big (literally) excitement came as we left Mirdif There in the sky on approach to Runway 30 and flying almost above us was the A380 (MSN 007) whihc is on hot weather testing in Dubai. Airbus were flying four flights over the weekend (with Emirates Group employees as passengers) to test the facilities at Dubai airport for the A380. The plane is still in Airbus house colours. We stopped the car at the side of the road to watch its approach DXB. It is so low Tai said. Good job – as it was on final approach!
We went from there to the joys of aircon in the Diera City Centre mall and did our usual walk around Zara, New Look, Forever 21 etc. And of course a very busy Carrefour.  Had some coffee and headed home to make Tom Yum Goong. It was a nice day.
And Tai is back on 10am to 10pm standby today. Where will she be tonight? No one knows.
**************************
Tai was called for the evening rotation to Bahrain. Just over an hour each way and home by 9.30pm.
17 August 2007
Tai and I went out for Japanese food lat night. Dubai. But the question was what to do after dinner.
The temperature is still over 40C. There are no street markets to explore; it is too hot to walk outside anyway.
But the new Lulu hypermarket is open until midnight. They have mangosteens! And that was another exciting summer night out in Dubai.
It is sad how little there really is to do on a mid summer evening in Dubai! It is too hot and dusty to even go for an evening walk. And that is something I miss.
Today has been peaceful. Tai has an evening turnaround to Karachi; returning after midnight. My excuse of some time in the gym in the evening.
A glass of wine would be nice. Maybe tomorrow.
16 August 2007
The Dhaka round trip went well and was on time; but Tai came home to be greeted by the unwelcome message from scheduling that she has another turnaround, this time to Karachi, on Saturday. Something to look forward to. It all led to a rather late night and I have not had a lot of sleep.
15 August 2007
Tai was on home standby today and drew the ultimate short straw – a round trip to Dhaka in Bangladesh. Almost 5 hours flying time each way this is a long turnaround. It is another new destination; her 41st in less than 9 months of flying.
************************
I have been reading about Sunday's constitutional referendum in Thailand; it is hard to know what to recommend people to do.
A yes vote effectively endorses the military coup and allows the country to move on towards a general election; however much that is rigged to ensure a strong role for the military.
A no vote effectively endorses Thaksin – not a great idea. It also sends a message to the coup leaders. But it has little effect as the coup leaders and the military government can simply revert to and amend any previous charter.
Rather like the old witches ducking stool. If you drown you are innocent. If you don't drown you are guilty and will be executed anyway.
The campaign is so one sided it is embarrassing. Police shut down printing of no vote leaflets. The military control TV and radio stations etc.
Which leaves only one alternative – register your total dissatisfaction at the whole process by not voting. The lower the vote the more bizarre the whole process appears.
There is no deserving winner.
14 August 2007
Today's big discovery – rascott.co.uk is a manufacturer of sushi making machinery…splendidly known as Robot Sushi. This is what a sushi robot looks like:
It can make and wrap up to 1500 pieces of Sushi per hour and can be operated by just one person. Wrappings protect from the dust and dryness allowing longer display times. Every home should have one. 🙂
**********************
Tai has a 6am home standby for 12 hours tomorrow – it will be the first time that I have left for work not knowing where she will be or whether I will see her in the evening. How strange this life can be.
**********************
We had a nice evening last night eating Japanese food at the Ascot Hotel; close to Bank Street and the dreaded MidWest Apartments it was interesting to back in older, commercial Dubai.
13 August 2007
The answer to Tai's standby came even before 7pm. A turnaround to Bombay; not exactly the most popular flight for EK crew. A 10.30 pm departure and 5.40am scheduled arrival into Dubai.
On vacation I was sleeping 8 or 9 hours a day. Back in Dubai I seem to be getting about 5 hours of sleep on weekdays. Not enough.
12 August 2007
It must be at least 45C outside today.
Yesterday was not the easiest of days; an early start as Tai had a 6.00am airport standby. She was called out immediately for a 7.25am turnaround to Amman, which, dear reader, is the capital of Jordan.
By the time she was back we were both tired. And there is home standby from 7pm tonight so at some point during the night she come be summoned to  go anywhere.
11 August 2007
Then it was an early start this morning as Tai was on airport standby from 6.00am. A rush to get to the airport. And then she got a very early call up for an Amman turnaround. Tiring. Three hours each way and 90 minutes on the ground in Amman.
************************
Yesterday started as a disaster and turned into a really nice day.
After picking Tai up at the airport at 1.30am on Friday morning we parked the car at my apartment and must have run over nails from the building site as I parked – puncturing both offsied tyres.
The Mercedes emergency service was hopeless – they don't work on a Friday.  I found another recover service who came to pick up the car on the back of their truck and take it and me to a tyre repair shop in Ras Al Kor where the tyre punctures were quickly repaired and I was back in the road.
We ended up having a nice afternoon at home; both still tired and then going out for an authentic Chinese hotpot. It must have been real as there were so many Chinese eating there. It felt very authentic.
There is even a small Chinese mall close by – Chinese supermarket, shoes, clothes etc.
9 August 2007
There are some new pictures from London and Devon under the Our Pictures pages.
*********************
Heathrow was not as ghastly as the English media are writing. It is unpleasant; but not a disaster.
Check in for the EK flight was quick. Mind you we were three hours early.
Then you walk through a gauntlet of staff who want to give you plastic bags for all your 100ml (no bigger please) toiletries.
You are only allowed one carry on per person irrespective of size. That means stuffing your laptop into a carry on bag – and then removing it for the security scans.
There are far too many people who still discover lipstick and toothpaste in their bags as they get to the scanners.
Then take off jackets and all metal items for the scanner. Get your carry on; re-dress yourself. You think its all over; it is not.
There is then a separate scan just for your shoes. So you see people lined up to take off their shoes; put then through the scanner and then putting them on again.
This takes you directly into the shopping mall. There are more and more shops and fewer and fewer places to sit.
There is no free wireless access. One pound ofr ten minutes is extortion.
Emirates has its own dedicated gate (no7) – a short walk from the duty free mall. It is bright and spacious and has a good range of reading material.
But the whole experience makes you pine for Singapore Airport, even for Hong Kong. The difference is remarkable. Singapore is a genuine pleasure to fly from.
*********************
The car is clean again – and driving nicely – it still needs a name….suggestions…..??
8 August 2007
We are one year away from the start of the 2008 Beijing Olympics which will be formally opened at 8 minutes past 8pm on 8 August 2008. Very auspicious timing for the Chinese.
**********************
Tai is on her way to Casablanca; it sounds exotic but if she is as tired as I am it will be a tough flight. A little jet lagged after the UK trip and not a lot of sleep last night.
7 August 2007
Back in Dubai. Updates to the web site over the next few days. Had a great time back in England; my mother was well and in good form. Such a contract between a few days in London and our six days by the Devon coast in Newton Ferrers.
1 August 2007
We are now in Devon; the sun is shining. The British weather forecasters are telling us how hot it is going to be – at least 23C. About one half of the Dubai temperature.
***********************
We went shopping in Harrods yesterday. The Dodi Diana shrine is still there and in remarkably bad taste. Which is a shame as the rest of Harrods is really rather nice and the food court is terrific. We bought a picnic lunch for Stonehenge. But we could not find anyone to sacrifice!
Drove down the A303 to Devon; a road that has hardly changed in the last 30 years. Parts of it are still single carriageway.
31 July 2007
Another note from England – gbp6.50 to enter the precinct and the cathedral in Canterbury. Now you have to pay to go into a church.
And there is no two tier pricing. Locals pay the same as visitors. Which means that what used to be a working church is now effectively a museum. A tourist site. Sad.
************************
We went from Canterbury to Folkestone on the bus – Folkestone used to be such a lively harbour town; with cross channel ferries to France. The beaches used to be busy; there were fun fairs and bingo halls and the old high street had gift shops and even a shop that made sticks of rock candy with Folkestone written through it.
None of that exists anyone. This is a town that has died. There are no ferries. The old high street is empty; stores have all been closed down. The fun fair on the stoney beach has gone. The funicular railway to the Leas cliff was not working. And even the bingo halls have gone.
30 July 2007
Places to avoid in London – Papageno restaurant – near Covent Garden. The interior is fun and suggests a fun place to eat. But it is way to expensive for such average food. And the 12.5% discretionary service charge is automatically added to your bill.
*************************
London Eye – gbp 15 per person.
*************************
Went on the River on Saturday with my brother; Sunday was a visit to the Portobello Road and a long afternoon in Primark, on Oxford Street. This place is packed and the check out queues are frightening.
It is an interesting business model. Sell vast amounts of clothing at the cheapest possible price with an army of staff all earning the minimum wage and a building that is as basic as it can be.
*************************
We were in Canterbury and Folkestone today. I think this was my first visit to my old university since I left sometime back in the dark ages.
29 July 2007
We flew to London on the 27th arriving late in the evening and meeting up with Alex.
A few updates:
The biggest shock arriving in London is the gbp60 tax ride from Heathrow – that is US$120. And is just an early sample of how expensive the UK has become for anyone on a US$ or US$ pegged salary.
***********************
Getting a Salik road tag card in Dubai is still a problem I had to go to five garages on Friday before I could find a tag.
***********************
This is Dubai airport and there is no escape from the dreadful Modesch – the symbol of the Dubai summer sales. He does look a little like a yellow version of the old Michelin man. He is the one on the left of the picture!
Tai is still thrashing me at Reversi. Here is the inflight evidence!
26 July 2007
Here it is – Tai and I with Sam Knight – the Mercedes sales guy.
25 July 2007
Its 3.30am and Tai will be home from Nagoya soon. I am off to the airport as the official welcoming committee. Nice time of day to drive. No traffic!
24 July 2007
How hot is Dubai – well this is the weather news for today:
Weather forecasters have warned that yesterday's hot and uncomfortable conditions are likely to be repeated today. High level of humidity is expected to combine with temperatures of more than 43C to create unpleasant weather.
The maximum temperature in Dubai yesterday was 44.7 C and the minimum was 33.3 C.
Strong north-east and easterly winds blowing at 5 to 10 knots  yesterday resulted in low visibility. Dust everywhere was the result!
Similar 'hot and uncomfortable' conditions are expected to continue for the coming few days.
23 July 2007
I forgot to mention the other big event of the weekend. I have a new hairdresser – or at least a hair dyer! And here we are about to start out on my surgery! Actually it looks very good. A bit darker than I am used to – it was rather darker than the light brown that was promised on the box. But it will probably fade a little.
****************************
Tai is in Nagoya – her first ever visit to Japan. Lucky girl. And a nice easy flight with a light load on both flights.
22 July 2007
Sunday morning – and back to work. Tai and I had a good weekend – even bought our first car! This colour and with the sunroof as well!
But I am tired this morning ! It was a good weekend. And nice for us to be together for the weekend.
***************************
Some retail therapy at Deira City Centre yesterday evening – as though buying the car was not enough!
20 July 2007
I feel like having a rant. Some things in life always seem wrong or profoundly unfair. But this is not the place to rant.
************************
From the novel Bangkok Haunts:
Inspector Sonchai to his female FBI colleague from the USA – "Do women experience extreme passion the way men do?"
She replies: "Total psychic dissolution, identity annihilated, ego shot, not sure if you are one person or two, no sense of security when you're not in bed with them, precious little when you are? Sure."
That just about sums it up !!!
19 July 2007
Two years ago, in that amazing summer of cricket England won the Ashes series with a bowling attack of Steve Harmison, Matthew Hoggard, Andrew Flintoff and Simon Jones. Now all four are out through injury and England play India with a seam attack of James Anderson, Ryan Sidebottom and Chris Tremlett; the only class act being the exuberant spin of Monty Panesar.
*************************
Have not felt so good today – headache and a dodgy stomach….and not a great start to the morning either. I hate anything, however insignificant, that can jeopardise the present and future with Tai.
*************************
Must remember to clean out my ears – yuck !
*************************
And Tai is due to land at DXB at 5.03 am so I had better have an early night!
*************************
Dad would have been 75 today. I wish he was still with us.
18 July 2007
I am tired. But it has been a busy week. Tai and I took her flatmate to Madinat Jumeirah on Sunday night and had a good dinner at the Meat Factory  steaks for everyone.
Then on Monday Tai and I were back at Salmontini at the Mall of the Emirates. I want to go skiing there again. A 2 for 1 voucher made the cost of dinner less painful!
And yesterday was an early evening of sleep before we went to the airport for her flight. Though I did not sleep so well when I came home. Was back in the gym tonight – so should sleep better – subject to the building site noise !
**********************
Work is busy and one day I should write more about that. I am not very productive at 7.30am. I find getting up is not too bad. Getting focused take a while.
***********************
Sorry I have been quiet. Tai is on her way to  Perth – I am always a bit down when she leaves. It is quiet when she is away.
15 July 2007
I thought that maybe I should find a Thai language school in Dubai so thought I would start with the Thai Consul web site in Dubai.
It is 15 July 2007 – here is the web site's list of upcoming events: there are no 2007 events and certainly no upcoming events.
Upcoming Events in Dubai for Thai Community
Friday, 17th November 2006:- Takraw matches
Friday, 24th November 2006:- Bowling matches (13.00 -17.00 hrs) at Dubai Bowling Centre opposite Safa park Badminton matches (15.00-18.00 hrs) at the Royal Thai Consulate-General
Friday, 1 December 2006:- Celebration of Thai National Day in Abu Dhabi, Thai Ambassador residence from 15.00 – 20.00 hrs
Friday, 8th December 2006:- Celebration of Thai National Day in Dubai, Royal Thai Consulate-General office from 12.00 – 18.00 hrs.
*************************
Yesterday was also an anniversary date for Tai's family. There are times when she will say something to me that I do not expect – and it touches my heart. July 14 has taken on a new significance.
There are people that will always be in our thoughts and whose memory remains a powerful force in our lives.
**********************
We had a nice dinner last night with EK's finest crew….and debated many of the rumours that inevitably circulate around an airline the size of EK. Like many big companies it is the lack of transparency in salaries and benefits that can cause the most frustration.
14 July 2007
It is Bastille Day in France – someone should consider storming the French consul in Dubai.
***********************
It is also the birthday of my Bangalore reader. Happy birthday.
***********************
I am a bit out of sorts – it has not been much of a weekend – too much time on my own. Not really in the mood to go back to work yet. Next weekend will be better as Tai and I will have more time together after she gets back from Perth early on Friday.
Did at least get to the gym last night – that felt quite good. It is just too hot outside to run around the building sites.
13 July 2007
Trawling around for videos on the web….thinking about the start of the new football season…and here is John Barnes – a Watford protege who moved to Liverpool and was probably the best footballer of his generation; at Watford he was a raw and special talent; at Liverpool he could be mesmerising. If only he had done the same for England – some of his best moments are her:
http://video.google.com/videoplay?docid=-1034468560910239001
****************
Does anyone miss my golf reports? I have played once in seven months. And I used to be playing or practising a couple of times a week. Strange how priorities change.
*****************
With Tai in Beijing I hope she does not use the hotel toothpaste or eat the pork buns: from the South China Morning Post:
Add this to the list of baby milk formula made of chalk dust; toothpaste containing antifreeze and Thomas the Tank Engines with lead paint. And China has a problem
Embarrassed authorities this week executed the former head of its food and drug watchdog yesterday for approving untested medicine in exchange for cash.
The occasional firing squad is unlikely to stop profitable counterfeits.
***********************
Meanwhile it is a lonely Friday in Dubai. I don't enjoy weekends on my own. Have come to work as there are things that I can usefully do.
12 July 2007
Tai is on her way to Beijing as I write this. She is excited – and so she should be. My first trip to Beijing was in 1994. I was expecting greys and browns and Mao suits…..and it was reds and greens, people flying likes and couples walking in Beijing's lovely Behai park.
Now as the city rushes to build in time for the 2008 Olympics much of the city is changing but it is still one of the world's great cities.
Meanwhile I have another weekend on my own in Dubai. We don't have enough opportunities to spend a whole day together – and a holiday in two weeks will be good for us.
11 July 2007
Going to have to get through today on less than 3 hours sleep and with a headache before the day starts.
A good day yesterday all seemed to go wrong at the end of the day.
No more entries until later tonight. Laptop will stay at Falcon for now.
Tag-board appears to be down today – apologies. It is a third party site so I cannot fix it.
10 July 2007
Tai and I were up late last night watching "The Joy Luck Club." I had not seen this movie for many years.
I still find it a very touching and quite emotional film.
The movie is based on Amy Tan's 1989 best-selling novel and tells the story of four mothers who meet once a week to play mah jong, and compare stories of their families.
All have made harrowing journeys from pre-revolutionary China to the comfortable homes in San Francisco where they meet.
But those old days are not often spoken about, and sometimes the whole truth of them is not known.
The film gradually unravels how they grew up in a time and culture so very different from the one they now inhabit. Theirs are stories of tragedy, sacrifice, humour and survival which contract so strongly to those of their four American born daughters.
It is hard to comprehend just how a mother could abandon her first-born twin girls by the roadside? Suyuan, starving and sick, was sure she should die, and felt her girls would have a better chance of survival if they were not linked to the "bad luck" of a dead mother.
While the film does let us comprehend why, it never lets us forget how the memory haunts the mother for life. At the end we celebrate the survival of the twins and their meeting with their American born half sister.
It is a film that with great dignity celebrates our ability to overcome adversity and how families bond in love and respect through generations.
It is a film that makes me grateful for all that I have. It is a film that says we are stronger if we understand and share the stories of our families and the choices and sacrifices that they made to give us the opportunities that we enjoy now.
09-07-07
Tai made me close my eyes before putting this on my finger when she came back from BKK on Saturday:
It is simple, elegant and every time I look at it I know that I am where I want to be. Thank you hon. I know you are always with me as I am with you.
*************************
Tai had a Tehran turn today – early start – we were on our way to the airport at 5.45am. But it was a pretty sunrise; the traffic is light and the drive is easy. Back to the airport at lunchtime – it was hot ! but the salik toll is keeping traffic off garhoud bridge and it was an easy drive.
07-07-07
Triple seven day. The next set of numbers like this will be 08-08-08 – the opening day of the Beijing Olympics – a very auspicious date for the Chinese.
You can follow the Live Earth concerts here:
http://entimg.msn.com/i/ExperienceData/p1-7/en-us/x.htm?sh=LiveEarthLive&g=fd3116b3-ebc3-439e-a9a0-2bb5dbf305cb
This is the live MSN feed. But the website is sponsored by Chevrolet – who make big gas guzzling SUVs. It is a funny old global warming world !!
Some easy suggestions:
Don't fly in private jets – see 30 June. Enviro-Boy is of course quite right about this !
Bath or shower with a friend. Save water.
Use energy efficient lightbulbs.
Turn off appliances.
Pay your bills online.
Don't print unless you really have to.
Recycle and reuse. Make your workplace green.
6 July 2007
Friday is the weekend in Dubai – and when Tai is not around it makes for a fairly lonely day.
It was a busy day of housekeeping. Cleaning and laundry and some shopping.
I have started car searching. Been to the Mercedes showroom – both new and used – and went to Toyota and Lexus today. Someone to talk to !
Watch this space for car updates !
Tai is a little late out of Bangkok – a 4.00am departure is tough on the body.
There was a nice blue sky today. Made a change from the dust and smog of the rest of the rest of the week.
5 July 2007
Feeling very out of sorts this morning. The building sites at the back of Falcon Tower both seemed to be working flat out through the night. Sawing and hammering. Woke up too often and am tired this morning.
The only restriction on overnight construction is that noise levels may not exceed 45 decibels. That increases to 55 decibels in the day. Trouble is that the restriction relates to each construction site. Take two sites each putting out 45 decibels; and sandwich my Falcon Tower apartment in the middle and the noise level must be higher than the supposed official limit.
****************************
Not sure if you have seen this picture before- this is the Burj Dubai and surrounds of the future. Executive Tower is at the far left of the picture. The Old Town is at the bottom and the Burj Dubai is that big phallic thing in the middle!
4 July 2007
And a happy independence day to my usa reader(s).
**************************
I am so tired this morning. I did not sleep well….work started on the building sites outside my apartment at 5.30 this morning. When you dont get to sleep until nearly 1am this is not a good way to start the day.
**************************
Alex is in Geneva on a four week camp. Although he is there with one of his friends from Hong Kong this is a brave thing for him to be doing. Effectively a four week summer boarding and activity school in a foreign country a long way from family and his friends.
He will adapt to it very well.
3 July 2007
Tai is on her way to Bangkok today – and has an 80 hour layover; a nice time to see family.
**************************
I did my medical for my UAE residents visa this morning. But it was not much of a medical. Firstly the application form has to be typed – AED 10 at any of the local typing shops. It shows where everyone comes from when the automatically typed my nationality as Indian…..
Then a 45 minute queue for the cashier. And another AED 410. Then go to the XRay room where they take one look and decide if they want to do a chet XRay or not. Not. And then join the queue to give a blood sample. They must take over 1,000 samples a day. It is quite a profitable little business!
Large crowds there; mainly Dubai's construction workers. And me, standing out as the only person there in a suit. 98% of applicants are male. Says a lot about Dubai. But nothing that we dont already know I guess. Strange place.
***************************
Honestly – wish i was sitting on EK386 and heading for a few days in BKK. I miss the colour, smell, energy, food, buzz, noise.
1 July 2007
Sunday and back at work after a nice restful and generally sociable weekend.
***************************
Events in London and Glasgow over the weekend are alarming; and security will become ever tighter through the summer months. Expect the UK airports to be even more miserable than usual.
30 June 2007
Life on an executive jet! This is the Dassault Falcon. I preferred the Gulfstream. Bigger windows!
End of the month today – and half way through the year. So much has changed. Mostly for the better but I do miss Bangkok.
It has been a nice weekend – have not done much but it has been a very sociable and relaxed weekend.
Ten years ago I was in HKG watching the British hand back Hong Kong to the Chinese. It was a wet, gloomy and uncertain day. The fireworks all got lost in the clouds and rain that had enveloped the city.
It is a vivid memory. As a child growing up it was one of the few future events that I was curious about – where I would be and how it would be. The Millennium was one, the HKG handover another and my xxth birthday another.
For so long I thought of HKG as somewhere that I would stay. It is a great city and I was fortunate to have been able to live there for as long as I did. My memories of it are now very mixed. But Alex is still there and part of me will always be with him.
But this year was the year that I moved on; that I made a real commitment and made promises that I know I will keep.
Dubai may not be the greatest place to live; but my heart is here and there is no where else I would rather be.
30 June 2007
Life on an executive jet! This is the Dassault Falcon. I preferred the Gulfstream. Bigger windows!
End of the month today – and half way through the year. So much has changed. Mostly for the better but I do miss Bangkok.
It has been a nice weekend – have not done much but it has been a very sociable and relaxed weekend.
Ten years ago I was in HKG watching the British hand back Hong Kong to the Chinese. It was a wet, gloomy and uncertain day. The fireworks all got lost in the clouds and rain that had enveloped the city.
It is a vivid memory. As a child growing up it was one of the few future events that I was curious about – where I would be and how it would be. The Millennium was one, the HKG handover another and my xxth birthday another.
For so long I thought of HKG as somewhere that I would stay. It is a great city and I was fortunate to have been able to live there for as long as I did. My memories of it are now very mixed. But Alex is still there and part of me will always be with him.
But this year was the year that I moved on; that I made a real commitment and made promises that I know I will keep.
Dubai may not be the greatest place to live; but my heart is here and there is no where else I would rather be.
28 June 2007
Anyone looking for their millionaire date might want to try this event:
The second Emirates Millionaire Show (EMS 2007), the exclusive event for the region's super rich, will take place at the Madinat Jumeirah, Dubai at the end of November, it was announced yesterday.
26 June 2007
I am off to Jeddah in Saudi Arabia tonight. For one night. Work. And rather bizarrely we are flying by private jet. Will tell you more about that later. The bad news is that I wont get my Skywards Miles!
25 June 2007
For Tai and others: Thai tongue twisters  – follow this link!
http://www.uebersetzung.at/twister/th.htm
*********************
It was strange to spend the night in Falcon Tower – it is so quiet there – and I have failed to get the TV working which is frustrating.
Did cook some spicy tuna pasta which will serve for lunch today as well.
It is a little strange when Tai is back in BKK – it is our home; somewhere that we share – and I miss being there with her. She went to the Erawan Shrine last night. I must go there when I am back in BKK. There is much to be thankful for.
**********************
Nearly got killed driving to work this morning – some guy decides to swerve across two lanes at speed into my lane and does not see me. Hit the brakes and horn simultaneously. You really do have to have 360 degree vision on Sheik Zayed Rd – it is a twelve lane highway where most people think they are the only car on the road.
24 June 2007
Tai, the lucky girl, is on her way to BKK for four nights – there is an HKG turnaround in the middle of the trip but she has time to go home and shop as well !
We drove to the Crew Briefing Center for the first time this morning – fifteen minutes from Millennium. That is a huge improvement on the school bus!
Meanwhile I have plenty to do….but none of it inspirational.
23 June 2007
It was a good and busy weekend ! Got a lot done and had a bit of a drive as well.
Made the third payment on our Executive Towers property. The beginning of one of the more expensive weekends. Spend Friday in the Deira City Center mall and at Ikea and Festival City. Bought a new rug for the tiled floor at Falcon Tower. It will look good. Lots of colour
And on Sunday we drove out to Hatta, about one hour's drive, for a late lunch at the Hatta Fort Hotel. The one piece of green surrounded by desert and barren mountain.
It was hot. It is hot every day now. At night it is still around 35C.
There is a heritage village at Hatta. It was opened in 2001 to showcase rural life in the UAE. It is already a ghost town. There was no one else there; and the place is derelict. Shame really – nice idea; but the malls of Dubai must be more of an attraction.
Still is was good to get out of town.
There are some pictures from Hatta here.
22 June 2007
Dubai Summer Surprises is the rather optimistic name given to the next two months of hibernation in air conditioned shopping malls.
It is basically one very large summer sale – which started yesterday and continues until the end of August.
I can confirm that the mall of the emirates was busy last night – and doing good business in the women's clothing stores!
20 June 2007
Sorry about the lack of updates this week, We were making presentations to the good bankers of the GCC on Monday and it has been a frenetic few days.
*************************
Tai came back from Tunis – there are some lovely pictures of her sunny visit.
*************************
Driving in Dubai has been fun – if only I had 360 degree vision. There are no useful maps here as they are all immediately out of date with new roads and buildings opening on a daily basis.
16 June 2007
So I go to collect my shirts from the dry cleaner and they are not ready yet.
I go to get my new suit which has been altered for me – and yep, it wont be ready until tomorrow.
Welcome to Dubai.
On the positive side; the maintenance guy in Falcon Tower came by in the afternoon and drilled some holes for me so I can hang paintings and pictures.
I was up until 4am last night making IKEA furniture – I must qualify for the Ikea diploma by now.
Bought a nice cd player – now all my music is here – and as I cant get the tv working it is good to have some music in the background.
Tai is in Tunis. She left on Thursday morning – that was not our greatest moment – all a bit too much of a rush. But EK only flies there 3 days a week so she gets a nice 3 night stopover and some sightseeing – a little bit of a holiday. They were in ancient Carthage today.
13 June 2007
One of the pleasures of this web site is the occasional very unusual request – this is one such example received today:
Hi Robert
I work in the entertainment industry in Australia at night performing in Sydney Clubs with my twin sister and another musician. We are wanting to work in Dubai and are wondering if you can give us a lead to any of the agencies who import acts over there and their Australian agents who work with them.
Many thanks
Kathleen Wightman
Sadly I know no one who can help. But if you do then let me know and I will pass on your message!
*************************
What else to tell you. We went out for dinner at Metzo last night at Wafi City. What is meant to be one of Dubai's nicer and more romantic Italian restaurants served up food that was dull and not fresh. We wont be back.
**************************
Should have picked up a rental car for a month this morning. But the rules appear to be changing about using a UK license for a short term rental (pending residency visa); so tomorrow I have to go to the road traffic authority, fill in forms, get an eye test, and get a 6 month temporary UAE license. All this while I am up to my ears in work.
****************************
My shipment arrived from Bangkok today. In some ways it is rather sad how few possessions I have after xx years (you know how many) on the planet. As I was living in a serviced apartment in Bangkok for years there are no big items like beds or sofas. There was not even a cutlery set. Lots of books, cds, pictures and my golf clubs. There are of course some bits (more books?) still in Hong Kong; but after over 4 years in storage they may not be in great condition.
****************************
Tai is away in Tunis for the weekend. Leave tomorrow and back on Sunday night. I hope she knows how much she will be missed. By me !
10 June 2007
Rough day in the office – I guess 8 days work in a row is starting to take its toll!
Tai is coming home tonight – yippee. She does keep me sane. She has been shopping in Bangkok…good job I am leaving some space in the wardrobe !
And this is what happens to the web sites of old potash companies:
Rather sad. We put a lot of work into that.
9 June 2007
Back from a 2 day management retreat (always a strange word – sounds like we are running away from trouble) in Abu Dhabi. I can confirm I am working with talented and hugely articulate people; with talented educators who are committed to giving the next generation of leaders the skills and knowledge to succeed in a complex world.
The potential for this organisation is huge. The vision is dramatic. Here is our group's artistic interpretation of the past, present and future !
However, I can also confirm that there is a great deal of work to do.
One thing I would not do its stay at the Beach Rotana in Abu Dhabi again; firstly there is no evidence of a beach, secondly the chair and carpet in the bedroom had more stains that your average Bangkok beer bar and thirdly there was a late night school discotheque underneath my room which was loud! Apparently there were many complains. Sadly they did nothing about it.
Though they did tell me I could pack and move to another room. The classic solution. Inconvenience and irritate those who are already irritated. Don't deal with the problem.
Tai meanwhile is on her BKK-HKG turnaround today and has a shopping day tomorrow !
Hopefully I can have a little time off next weekend. It will have been 12 days then without a break. Though Tai will be in Tunis then. Wish I could go.
7 June 2007
Five days at work finished. Tiring, interesting, challenging. There is a lot to do.
Tai is on her way to BKK for the weekend. She will have a fun time seeing her friends and can spend Sunday trawling the markets without me!
I have a company weekend retreat in Abu Dhabi to attend. It should be fun and quite hard work as well.
It has been good having Tai at home this week. I like telling he about my day and some of the people that I am meeting. And at the end of the day when I am tired there is no better place to be.
6 June 2007
Sorry to be quiet. It is amazing how much time work consumes and how little time is left for other things – like blog writing !
If you want to know where I am follow this link. I am now CFO at this company.
Did not finish until 8pm last night – then a mad rush to the mall to buy a new TV for Falcon Tower – our first flat screen TV – and then back to Millennium for a nice dinner with some of Tai's colleagues. And a late night!
3 June 2007
10 hours is a long time to spend in an office each day – with a short break for lunch. I have always worked long hours but I have always preferred working late into the evenings when I have needed to work. Everyone tells me I will get used to the 7.30 starts…….it may take a while!
Meanwhile Tai sounds like she had a fun night in Rome and got to fly the first leg today deadheading to Nice in Business Class – she has a long trip back through Rome again and onto Dubai.
This is the start of the next stage of our time in Dubai – where we are both working – and the adjustments could be quite challenging. My weekends will not always coincide with her days off and she will often have to leave or arrive in the middle of the night; and then I will be getting up at 6.30am and trying not to cause too much disturbance. Still this is more a far more real situation than me not working and being able to spend so much more time together when she is in Dubai. We will just have to make sure that we make the best of the evenings and days that we do have together !
Work looks full of challenges! And some interesting people as well. Wont write more than that for now. Lets see how things develop over the next week or so.
2 June 2007
So tomorrow is the big day when I start a real job in Dubai! I went in toady to check out the IT system and make sure I am up and running. My office is huge. But it may be less fun than Chateau Potash. There I had Edward for company and I liked sharing the office. There was always someone to share ideas with or get a quick agreement on something. Then there was the big boss or someone always coming by just to chat. I suspect this office is all much more formal – and that  appointments are made through secretaries, coffee is delivered by the pantry boy etc etc ! No more walks to Au Bon Pain to clear the brain.
But then who would want to walk to an Au Bon Pain when the temperature is in the 40c (celcius!).
***********************
Still a bit jet lagged after getting back from New York….trouble getting to sleep; this was not good for Tai who had to get up at 4.30am for her morning flight to Rome, lucky girl. Wish I could go with her. A night out in Rome would be very pleasant.
Back in Ikea yesterday shopping for the Falcon Tower apartment. By next weekend when things get delivered and assembled the place will start to look like a real home. It needs a tv, telephone and internet. It also needs Tai and I to feel at home there. Then it will be ready!
30 May 2007
Good old Thailand – first they ban Youtube for carrying inappropriate videos of the Thai King. And then an almost replica Thai site is launched called SiamTube. This cannot be a coincidence. It really is just another example of IP piracy.
*********************
Back in Dubai – a 12 hour haul from NYC and my superstar fiancee then had 4 hours sleep and went to do a turnaround to Beirut. She will be tired.
*********************
I have am offer letter to start work on 3 June. A real job; hard; challenging and so much to do. I need to start thinking about what to do first and how to make an early and useful impact.
*********************
We had a great holiday in the USA. It was not the leisurely romantic trip to Provence and Paris that I had hoped for; but New York is a fun city to visit. So much to see and do. The jet lag took its toll in the evenings but we saw plenty of the city; explores; shopped; had some nice lunches; went to the theatre and took a weekend side trip to sleepy Washington.
I am already looking forward to our next trip; it is good to spend time together away from work and schedules and distractions. Just us.
28 May 2007
On the way back to New York city. For some reason the Acela express trains are a ar bumpier ride than the regional Amtrak trains. Maybe because they are faster. Maybe the carriages are lighter- but they take every bump along the way.
Overturned our coffee as well – fortunately it was a) cold and b) missed the laptop. Fortunately Tai is my neighbour – and is used to clumsy me ! A stranger would have been unimpressed. Mind you – it was hard to balance the laptop and drinks on the same table.
************************
I would tell my gentle reader about my birthday….if there was anything to tell. It was just another day on vacation. And another night without enough sleep !
We spent most of the day in gentrified Georgetown; very pleasant.  And had a good late lunch at Bangkok Joe's at Washington Harbour. Yes, we were speaking Thai and eating Thai food for my birthday !
*************************
Did not want a big dinner – so went to the Sky Lounge at the Washington Hotel. This is a terrace that looks out over the White House and the Mall – so you can see Washington lit up at night. It could be a much nicer place than the plastic tables and chairs allow it to be.
And that was about it. A few nice messages from people. Thank you!
27 May 1957 (oops – I meant 2007!)
This day 50 years ago I arrived on this planet; delivered at Marston Green Maternity Hospital; the first child of Brian and Brenda Scott.
50 is a big day; I am not sure quite what to expect. I had big parties for the other notable birthdays. At 21 I was still at University and we had a party that ended after dawn. My 30th was at my home in West Acton, London, with a big weekend BBQ on a lovely sunny day. My 40th was at TOTS restaurant in Hong Kong; shortly after Alex was born. Not a late night but Peter Trengrove (whatever happened to him?) drank enough wine to keep us all entertained.
I don't feel 50; I don't think I look like 50 (or how I imagine 50 to look !).
But I am 50. And by this age I should really be comfortably settled, have a loving family around me; financially secure; a car or two in the garage; and friends and neighbours that are part of my day to day life.
But…..I do not fit into that mould. All I do know is that I am with the person that I want to be with and that the love I have for her is strong and deep.
I want to be happy with myself; happy with Tai; happy with family and happy with work.
26 May 2007
We arrived in Washington DC at about 2.45pm today. It is hot and muggy here. Must be all the political hot air.
Had a lunch lunch at Dupont Circle; the to the Lincoln Memorial and past the Vietnam War Memorial up to the Washington Monument and onto the White House.
I like Washington; there is a lot to see and do here; it is the political capital of the world; if something happens anywhere on the planet it will be talked about and analysed here; yet it always feels like a very easy city to live in.
***********************
Oops – sorry about the lack of updates from NYC. The most important news of the morning is that I have run out of clean socks and have to wear the same pair that I wore yesterday. Given that it was over 35C yesterday I feel that as a public service I should be warning the people of New York about potentially smelly socks.
****************************
We were at Southside Seaport yesterday; a few shops, bars and restaurants. Busy. Great views of Brooklyn Bridge.
Went to East Village and Greenwich Village. Lunch, washed down by Sangria in a really nice little restaurant in East Village, Paella.
Then back to the hotel by 5pm; someone neeeded to sleep.
****************************
On Thursday we were at Century 21 – avoid this dump of a store if you can. Bloomingdales is at the other extreme but was similarly disappointing; Siam Paragon is more enjoyable to shop in.
Walked into Central Park on a lovely sunny warm afternoon and to the boating lake. The boathouse restaurant was busy – too busy – there was a one hour queue. So we had a light lunch (expensive) at the bar next door and went for a paddle on the pond!
Saw Chicago in the evening – the theatre is right opposite our hotel. Great energy and enthusiasm. Well choreographed. But really only one memorable song. Nice evening out.
23 May 2007
We spent today at the site of the World Trade Centre – ground zero from 1 Spetember 2001. Then to the Statue of Liberty. And back to Little Italy, Chinatown and Soho.
Tai was asleep by 6.30pm so I guess we are not going anywhere tonight. It is hard being in the hotel when she is sleeping. I cannot watch TV or have the lights up high. I dont want to go to sleep too early – I would like to try and sleep through the night if I can.
*********************
Earlier in the day – after being out of the hotel at 6am ! Breakfast in America: No not Supertramp!
I had forgotten how bad jet lag can be. We arrived in Manhattan about 8.30 am yesterday but could not check in to the hotel until 3pm.
So we walked around – went to the viewing tower on the Rockefeller Center and then back to the hotel to rest in the lobby until a room was available – and then both fell asleep until 8pm.
Dinner – I had also forgotten how much food the locals eat – it is truly a land of giants….back to the hotel – and a short sleep until 2.15am and I have been awake since.
22 May 2007
It is about 13 hours flying time from Dubai to New York – leaving the baking dessert we head NorthWest over the Ukraine and Scandinavia and as I type this are somewhere over Greenland.
Tai has a large pillow (generously provided from the crew rest area) and 2 seats and has slept most of the flight. I wish I could do that – though I do feel tired now.
Emirates seems to have cornered the market for the India – USA run – routing from Indian connections through Dubai. Honestly – if we weren't heading West I would think we were heading to Dubai.
We have been in this overcrowded cramped tin tube for 8 hours already – and still have 4 and 1/2 to go. It is a long haul. How the crew can do this sort of trip regularly (Sydney to DXB was a full 15 hours) beats me. I guess a crew rest area and a few hours flat out in a real bed must help…..
***********************
I have the draft of an offer letter for a great job in Dubai. More on that when I have the real thing and the ink is dry.
It will be hard work. It will be challenging. It is also 6 days a week. It worries me a little that I will have less chance to be with Tai and that our days off may not always co-incide. We will need to work on that and work on making sure that we make the best of the time that we do have together. It is hard to even get away for weekends with only one ay off a week.
**************************
There will be quite a lot of admin and paperwork to do for my work visa and residence permit. There is also a medical to do.
21 May 2007
We left BKK on the 3.15am EK 387 for Dubai. The flight was full but a quiet flight -most people eat and then sleep.
Tried to sleep for a few hours before the flight. But that did not work. Tai was crew on the flight – it is a pleasure to watch her enjoy her work and too see how at ease she is with her duties and her passengers.
****************************
Not the greatest of last days in Bangkok. Not feeling well did not help.
Although my nurse was right. Take some medicine she said. Trouble is you have to go out and but the medicine first. Two immodium tablets did the trick.
****************************
I checked out of Centrepoint Saladaeng. I was their first even tenant at its soft opening almost 3 and 1/2 years ago and I have been there ever since. I must have spent some Baht 4.0 million with them (US$1115,000) with them in that time. So at least a goodbye from the management would have been a nice gesture. Or even a come back and see us again. Or a voucher for a few free nights on a return visit.
Nothing, nada.
****************************
I may have a job……should know for sure later today.
Fingers are still crossed.
19 May 2007
Not feeling good today – really upset stomach! May have started yesterday when I felt really faint walking around a very crowded, hot Saladaeng market.
*********************
The movers were in today. Clearing me out of Centrepoint Saladaeng after over three years here. I was the first tenant in the building. I bet they don't even mention it when I check out tomorrow.
The movers cleared up my belongings in less than an hour. It is an easy move.
***********************
Interviewer: How are you going to beat Manchester United today?
Jose Mourinho: By scoring one more goal than them !
Great response.
Pity about the football – first 45 minutes were dreadful.
************************
I do need more sleep; Tai came back at 3am last night after her HKG turnaround and then I had to be up at 8am so that I could meet the moving team.
17 May 2007
Just arrived in Bangkok – the trouble with an early morning arrival is that you go straight into rush hour traffic and I am typing this in the taxi – I think I will be here a long time.
Flew over on Etihad from Abu Dhabi – all of 70 people in Economy on a 777-300. Even with three seats to lie on I did not sleep. Tired now.
*********************
Tai and I will spend my birthday and a week's holiday in the USA. The French have made getting a visa (necessary for Thai citizens) almost impossible.
So, a round of applause for the Turkish consul in Dubai who made getting a visa almost a pleasure. They certainly made it easy and were very efficient. Apparently the Egyptian consulate in Dubai is fast as well.
The French frankly could not care – their promise to return my call came predictably to nothing.
**********************
Was interviewing again on the 15th. It was a full morning and a lunch as well. I hope it went well. I certainly enjoyed the meetings and am impressed at the business that they have built. Cross your fingers for me.
I came home from the interview to find Tai watching Snakes on a Plane. Predictably I dreamed of snakes that night – slithering all over our bed….
**********************
Will be busy this weekend in BKK – the main activity being to pack up my Centrepoint apartment and move the few belongings that I have to Dubai….I was their first tenant when Centrepoint Saladaeng opened at the start of 2004.I have outlasted almost all (maybe all !!) of the original staff. They should really have some sort of going away party for me….I have been a good contributor to their profitablity.
13 May 2007
An early birthday present for myself – I bought my first ever Nikon – the D80 with a 18-135mm lens. Early indications are that this is leaps and bounds ahead of my old Canon 300D. We will be very happy together.
Expect even more pictures of my favourite model.
***************************
Latest on Reuters – other than Mr. Glocer's egregious wealth (see Today) is that The Independent on Sunday reports that the Reuters Founders Share Company, the trust that acts as guardian to the editorial independence of Reuters Group Plc, is set to back a proposed takeover of the media group by Canada's Thomson Corp.
"It looks like this deal is now almost certain to go ahead," the newspaper quoted an unidentified banker close to the trust as saying.
It added that a formal announcement by Thomson and Reuters could be made as early as this week.
*****************************
I don't dislike Glocer although his blog is very very dull and far from original ok – if you must  www.tomglocer.com – I just think that after people have sweated 16 years at a senior level and put company before personal well being someone might have said thank you – as well as writing a large cheque!!
12 May 2007
A bomb in Izmir today that injured 15 people at a market in Bornova. SO much for that friendly, tranquil, welcoming city that we went to last week.
Though to be fair we never went into the city centre. And it is Turkey's third largest city with 4 million people.
There is a big demonstration expected there tomorrow – part of the ongoing political soul searching in Turkey right now between secularists and pro Islam groups.
Maybe there will now be fewer people at the demonstration.
****************************
11 May 2007
A strange day today – but we had a nice evening – Korean food – I do like kimchi soup and a good few hours of sleep before the 00.30 wake up call for Tai's Johannesberg flight. This is the last of the late night long hauls. Most of the Asia and Europe flights leave before 3am – this is a tough time of night to be flying. Especially after a Delhi turnaround last night.
The new apartment that I am renting in Falcon Tower is slowly being furnished. Actually the bedroom looks OK. The living room is spartan. The apartment is only one bedroom but it is large, new, comfortable and about 300 yards from Millennium Tower.
9 May 2007
This should have been a good day – a step forward on our lives in Dubai. We have signed the lease on an apartment for me; we now have electricity and water; and have started to buy some furnishing and necessities for the apartment.
But…..
****************************
The latest on the Thomson bid for Reuters:
Reuters shares closed at 630p, up 2.3 per cent but below the day's peak of 660p, as analysts said they expected competition and tax issues, as well as the need to secure approval from shareholders and the Reuters Founders Share Company, could delay completion of a deal until early next year.
Tom Glocer, Reuters CEO and CEO elect of the merged company, is also in for a hefty windfall if the deal with Thomson goes through. According to an SEC filing on April 3, Glocer owns some 721,802 shares in Reuters, meaning that he stands to make just over £5 million ($9.9 million) from the sale, while his 7.2 million share options could be worth tens of millions more. No comment. He has never been my favorite person – never will be.
Paul Richards, an analyst at Numis Securities, said: "From a Reuters perspective it looks a very attractive deal. Shareholders get a stake in an enlarged group which also has Thomson's excellent legal business. It is a more attractive investment than a stand-alone Reuters."
8 May 2007
We had a fun time in Izmir and Istanbul and are now back in the grim realities of setting up an apartment and job hunting in Dubai.
Izmir was all about colours – from the markets to the rose bushes to the fruit to the ocean to the colour of the sky. Such vibrant colours. It feels very Mediterranean.
To be honest I am a bit down to be back in Dubai. Will have to move into my solitary apartment; still no work and still not mobile. And not a lot in the pipeline.
Izmir was great because for three days I forgot about everything except relaxing, being with family, being with Tai, and simply enjoying life.
*****************************
The big news today is the proposed bid by Thomson for the "evil empire" – also known as Reuters – the bid price is gbp 7.05. Reuters' share price is still 10 per cent below the implied offer price, having rallied a mere 2.4 per cent on Tuesday morning when the latest details emerged. That followed a 25 per cent jump on Friday. The companies duly warned that there could be "no assurance" of an agreement.
But the companies have agreed the name, structure and management of the new company. There is a generous 43 per cent premium to Thursday's close on offer. It appears that any stumbling blocks are more likely to be external than internal. Beware the US competition regulator.
Hedge fund ValueAct Capital, the second largest shareholder in Reuters Group Plc, said on Tuesday that the price Canadian publisher Thomson Corp. appears ready to pay to buy Reuters seems "fair."
"The price mentioned in this morning's press release seems fair," ValueAct partner Todd Bourell said after Thomson said it would offer about 8.8 billion pounds or $17.6 billion. "We're happy with the contemplated mix of cash and stock consideration," Bourell added.
ValueAct owns 83.5 million Reuters shares, ranking it as the company's second biggest shareholder after Schroder Investment Management.

4 May 2007
We are now in Izmir. It has taken me some 20 years to get here. But I am glad I am here now, and it feels right to be here with Tai.
We had a good flight here on EK; and connected to THY to Izmir.
More over the next few days; with some pictures as well.
3 May 2007
Tai and I are flying to Izmir today where we will stay with my sister and her family – my first visit in the twenty or so years that she has lived there. My mother is there on holiday as well so it should be a happy family reunion.
********************
The big news from yesterday's Gatwick flight is that Tai was given her first business card by a passenger – I am surprised that it took over five months ! Pushy Texans !!!
*********************
Then again – maybe we are not flying until tomorrow. Tai was on a standby ticket – there were plenty of seats left on the airplane but for some reason the flight was payload restricted….ie it could not take a full load of passengers.
Yet even this morning the flight was showing as having standby seats available.
So instead the afternoon was spent at Deira City Centre – not quite as exotic as being by the Mediterranean….
We will fly tomorrow – Tai has a confirmed ticket. But this was the day that I wanted to get away from Dubai for a few days. Some family time and some quiet time together with Tai. The trip is now going to be a bit of a rush.
Lesson learned. Standby tickets are a bad idea when there is something important to do.
********************
And to add to a very average day there are no elevators today in Tai's building so I had to carry two suitcases down 29 flights of stairs at lunchtime so that we could get our taxi to the airport for the flight that never was…..
One of those days.
*********************
And if that was not bad enough I left a small suitcase in the back of the taxi that we took back from Deira to Tai's apartment. Our main bag was left at the airport for tomorrow's flight. The second bag we had stored at Deira City Centre while we ate and shopped. Then we took a limousine taxi from the Sofitel back home. The bag went in the trunk. We were too busy thinking about defective elevators and what was for dinner and forgot the case.
The driver did not open the trunk; and it was two hours later that we thought about it.
Everything is replaceable- but it includes my camera and accessories and both washbags. So there will not be many pictures from Izmir.
One of those really bad days.
1 May 2007
I just finished William Boyd's novel,"Restless" – an intelligent historical spy thriller set in and after the second world. Believable characters and a moral reckoning at the end. Very enjoyable.
*********************
The UK press are reporting that April's hot weather gave Britain's retailers their best month for almost three years – I thought it was the result of Tai's two visits to London Gatwick – and Primark !
*********************
I hate automated telephone answering systems. They never do what they are supposed to do and make a company sound utterly impersonal.
HSBC in Hong Kong are the worst by some distance.
Press 2 for English. To assist us further please enter your account number followed by the has sign.
You do that – and the message then says – you have entered an invalid phone banking number three times. Do this once more and your phone banking will be suspended. But they had not asked for my phone banking number; only for my account number. Of course you cannot do anything about this so just have to end the call.
It is also the perfect excuse for no one at HSBC ever to answer their telephone.
It annoys me sooooooooo much. I only try to call them if I have something important that needs to be done. And I cannot contact anyone there for help. Grrrrrrrrrrrrrrrrrrrr.
************************
Mind you – as I eat large amounts of humble pie !! It is a public holiday in Hong Kong – so all I will get is an automated voice !! Oops – did not realise that !
30 April 2007
Another step forward in our commitment to Dubai; we have signed a one year apartment lease which will tide us over until the purchased Business Bay apartment is available. It is in Falcon Tower – the closest residential building to Millennium Tower, which will allow Tai and I to move back and forwards between the two buildings.
Strangely it will be my first real home since the end of 2002. Effectively I have been living in serviced apartments/hotels for four years. So at last I have a sense of settling somewhere; being committed to someone is a great motivator.
***********************
Tai leaves for London tonight; back late on the 2nd May. We will be going to Izmir on Thursday to see my sister and her family. My first visit to Izmir; and something of a family reunion as my mother is on vacation there. This trip really is inspired by Tai and should be great fun and very interesting.
***********************
It will also be good for Tai and I to get away from Dubai for a few days.
28 April 2007
Mon chéri vole à Dubaï. Nous aurons une semaine occupée. Les doigts ont croisé que nous avons à de bonnes nouvelles cette semaine. Je l'aime beaucoup.
***********************
It has been a very quiet weekend. Too quiet. The occasional write off day is OK. But too many of them are bad for the soul. I have plenty of knowledge and intelligence. And plenty to talk about. But I have hardly had a conversation all weekend. Not my best.
************************
The cricket world cup final is underway – but the whole tournament has gone on far too long – 7 weeks. And the only real issue out of the tournament is who the Pakistan coach was murdered by and how, and why the tournament was not immediately cancelled.
27 April 2007
Tai est sur son vol vers Paris. Paris est au printemps un endroit si romantique à être. Mais elle sera là sans moi. Je suis toujours à Dubaï. C'est le week-end. Il fait trop chaud pour sortir. Et je n'ai aucune idée quoi faire à aujourd'hui.
Tai rencontrera son ami d'université à Paris. Ils ont beaucoup pour parler. Il est grand qu'elle ait un ami en tant que son guide d'excursion sur sa première visite de Paris.
C'est aujourd'hui très tranquille à Dubaï. Vendredi est le week-end ici. La plupart des personnes passent le jour à la maison ou vont au mall plus tard en jour. Il faisait trop chaud par la piscine d'hôtel. Personne n'était là.
She was up at 4.30am to get the crew bus. This was the first time that I have been in Dubai and not able to stay with her to wake her and send her on her way. The EK visiting rules are stricter than my old boarding school. I feel like I am 15, rather than….well lets not get into that!
26 April 2007
It is roster day and Millennium is buzzing with excitement as everyone checks their rosters for May. It is easy to get caught up in the excitement – tempered by the fact that everytime I see the roster it means that Tai will be away from me !
25 April 2007
Tai is back from London Gatwick; after one of those flights that all your training cannot prepare you for. A British passenger, too loud, and with too much booze inside him, took a strong enough dislike to a female passenger that he went to the washroom, walked back down the aisle and literally threw his own faeces at her. He was detained on arrival in Dubai.
I imagine he will have a very uncomfortable day. The good news is that it was a light load and an overnight flight so most passengers were sleeping.
***********************
My interviews continue but Monday's interview was postponed until Tuesday and then some of the people that I have to see were then not available until Thursday. My fingers remain crossed.
23 April 2007
I flew back from Bangkok to Dubai on Etihad through Abu Dhabi (with a coach connection to Dubai). Given how much I have seen of Dubai recently it was interesting to compare the 3 year old Etihad.
Both airlines fly 777-300s from Bangkok.
Major pluses to Etihad:
Price: Etihad is cheaper.
9 abreast seating rather than a very cramped 10 on Emirates.
Good sized washrooms.
Good quality, noise reducing headsets.
Choice of 3 hot meals, rather than 2 on EK.
A nice heavy pillow.
Major pluses to Emirates:
Far better IFE. Etihad has a large screen, and vdo; but less choice and very temperamental.
Can book online even on the day of the flight. Etihad requires online bookings at least 5 days before the flight.
Far more extensive flight schedule and therefore better onward connections through DXB.
Similarities:
International crews.
Water on Etihad before take off; hot towel on Etihad.
Cabin temperature temperamental.
***********************
It is getting hotter by the day in Dubai – now 36C – 38C in the middle of the day.
************************
Am staying at the Qamadeen hotel. It is about a 10 minute walk from Tai's accommodation. I have now outstayed the EK visiting allowance. It does feel a little on when consenting adults cannot live as they wish to live. I feel as though we are being subjected to college dorm rules. I'm a bit too old for college rules.
But we will get by as best we can until our apartment is complete.
20 April 2007
My sweetheart left for Dubai six months ago today – at 1.30am on EK385. Today she left on Etihad at 8.40am for Abu Dhabi and Dubai.
It has been an amazing six months. So much has changed in our lives. All for the better. She has done so well in Dubai and I am very proud of her. Her probation period with EK has finished and she is now an experienced and extremely capable crew member.
************************
We were out last night – listening to the band in Spasso – it was a fun night – but we probably had a glass of wine too many and a late night. And we were both a bit weary and hungover this morning when we got up to take Tai to the airport for her flight.
*************************
One huge new headache is that I can no longer stay with Tai in the EK staff accommodation. I can visit in the day – but no overnight visits. But I am the one who gets her out of bed for her morning flights; makes breakfast; helps her to get packed ! And when she comes home late at night I meet the bus and make sure she gets to bed and rested. I am going to miss that. And I will miss the assorted cuddly toys – Zam Zam, Lulu, Tata and the rest.
19 April 2007
We were in Koi restaurant last night. Japan meets California in Bangkok. All I can say is that it is horribly over-priced and with very average service. An extravagant night out but really there are many better places to go for the same sized bill. Avoid.
17 April 2007
Baht 280 for a small glass of very poor house plonk in the food court at Bangkok's new airport. It is not the cracks in the runways that are criminal – it is the pricing in many of the food and duty free (buy downtown – so much cheaper) outlets.
But SGA's little Cessna to Hua Hin was a fun way to get to the resort town. But with only five passengers on board we were heavily outnumbered by security and airline staff.
We stayed south of Hua Hin at the Dolphin Bay resort at Pranburi. Very quiet, very pretty bay. Wish someone would clean the garbage off the beach.
Did not see any dolphins – but there were monkeys on Monkey Island so at least that is well named.
Spent one evening in the Hua Hin night market – what would a trip to BKK be without an extended tour of at least one market. Hua Hin was busy for Songkran.
14 April 2007
Bunnies in JJ market at Songkran: and a good soaking for all. Fun day. And a good excuse for a little more shopping!
The first day of Songkran. The malls are busy. No real sign of increased security.
Lots of water and baby powder being sprayed all over Silom.
12 April 2007
Sports fans will be delighted to know that I was back on the golf course today for the first time in over three months.
However, the same sports fans would be less than impressed at the quality of my golf – which was genuinely horrible….a few happy reminders of past glories….but some of it was horrible.
11 April 2007
Back in Bangkok – but not with Tai until Saturday….the 3.15am flight out of Dubai is always full and it is a gruesome time to be flying – but at 5 and 1/2 hours it is a mercifully quick flight.
I did watch the first two episodes of the BBC TV drama Life on Mars – sort of a science fiction Starsky and Hutch but set in down town urban Manchester. Good show. The second and final series just finished in the UK. WIll EK show the rest on future flights ?
***************
Manchester United 7 FC Roma 1…..what could they do to Watford on Saturday in the FA Cup semi final….I dare not think !
***************
It is strange to be back in BKK while Tai was heading off to Zurich – I missed being there to say goodbye. I hope she is not too tired still. My body is in BKK; my heart has gone to Switzerland. I am looking forward to Saturday morning and to a nice weekend.
9 April 2007
Two interviews tomorrow – one is really interesting and I am excited by it.
**********************
I would tell Tai all about it but she is sleeping again – total sleep of 17 hours yesterday and asleep again at 5pm this evening – whoever said flying is glamorous – shattering more like.
***********************
Lots more that I want to write but it all feels a bit personal. Sorry – not for hear. More after tomorrow's interviews. Tomorrow night I am off to BKK and in the afternoon Tai goes to the lovely city of Zurich. Apart for five nights; back for two sleepy nights and apart for four nights. It is a strange lifestyle when you keep having to say goodbye to the person that you most want to be with.
8 April 2007
Happy Easter. Not much sign of Easter around me. A few hot cross buns and some over wrapped Easter Eggs in Spinneys supermarket are about all that there is to show.
I did find a cute Happy Easter card for Tai !
She came back from Sydney at 5.50 this morning – a mere 14hrs and 40 minute flight. That is a long haul. There are crew rest bunks on board but that is still only four hours sleep in a long night. So guess who has been sleeping almost all day with short breaks for food!
Not much else to report today…..still grinning at Bangladesh beating South Africa in the cricket.
Watford have all but thrown in the towel for their season with a poor 1-4 defeat at Middlesborough. Just goes to show that breaking the club record fee to buy a player called Shittu is not the greatest decision.
7 April 2007
My bunny is coming home for Easter Sunday. How appropriate. It feels like she has been gone forever.
**********************
Purely as a public service announcement for anyone who cannot get to the Bangkok motor show this year the following website may be of interest:
http://www.thaicar.com/motor.htm
6 April 2007
It is another quiet weekend in Dubai. Easter Friday in the Christian world. Another weekend here. Faith is an amazing thing. All our gods basically say the same thing; that we should not kill or sin; that we should respect and love our fellow human beings. Yet we fight in the name of religion and often regard one religion as superior to the next.
I am not sure that I believe in a single almighty presence. I do know that I sometimes pray for the people that I love to be well, safe and happy.
I pray that my dreams and hopes are realised. But I also know that making my dreams come true is also dependent on my commitment and my hard work and the love and support of the people I care about.
So Happy Easter. And yes, I will say a short prayer tonight.
4 April 2007
The Bangkok motor show is on this week; my Bangkok correspondent has already been to check out the new models and a few pretties. One alarming trend noted was the arrival of Russian promotion girls; apparently they were the less-than-pretties.
*****************
Apparently Youtube is now blocked in Thailand – anyone like to confirm…..?
******************
Job search continues – I am trying not to let it get to me – it is slow and I am not sure where to turn to next…..
******************
Tai moves onto Christchurch tomorrow – it would be interesting to know how much of the trans-Tasman air business Emirates has. They are flying from Brisbane, Melbourne and Sydney to Auckland and Christchurch and have a very nice niche business between the two countries. She will be back in Sydney for Friday night and most of Saturday – it is a city that has plenty to offer and lots to see. Me – I am just a little bit green in case no one noticed !!!! I have not been to Sydney since a short visit in 2002. It would be good to go back soon.
3 April 2007
My favorite jetsetter is on her way to Sydney. It is almost a 14 hour flight and when you have to get up four hours before departure it makes for a very long day. There are crew bunks on the A340-500 and it is a comfortable airplane so hopefully it was a good flight.
It is currently Emirates longest non stop flight although Houston will obviously be longer when that comes online in December. It is Tai's first trip to Sydney. Mine was (shall I tell you!?) in 1985. Sydney was the 7th stop on a Garuda Indonesia flight that started in Gatwick.
It is a beautiful city; and a fun place to explore. Rather more to do there than back here in Dubai.
Tai is away for five nights – about 118 hours -only another 104 to go !!
***************************
Did have another headhunter interview this morning. We shall see what comes of that.
***************************
And dinner was the remains of the Khao Pad Bacon that I cooked for breakfast!
1 April 2007
Actually it was more like 10 hours sleep, with a short break to eat !
Tai is busy bringing my family closer together and we are trying to get to Turkey at the end of April to see my sister; my mother will be staying there at the same time.
My sister has been in Turkey for some twenty years and I still have not been to see her there. No excuse really. So maybe we will all be making up for lost time.
31 March 2007
The end of the month – Tai is home – tired, tired, tired. She came back; showered and fell into bed for over six hours!
29 March 2007
Tai leaves for Dusseldorf today….she has all her energy back after Bangkok and I am sure will have a nice time…
As always my world is a bit emptier when she has gone….will I ever get used to her coming and going? Maybe I am not supposed to get used to it, so that I appreciate her all the more when she is with me.
Had a very interesting email about a position yesterday; replied in detail. And then heard nothing today. Too many promises made that are not backed up with action. Seems to be a bit of a epidemic here.
***************************
Some mild humour – from the old jokes home! And appropriate for the Dubai Gold Cup race weekend !
Ted was sitting quietly reading his paper when his wife walked up behind him and whacked him on the head with a rolled up magazine. "Ouch!! What was that for?" he asked. "That was for the piece of paper in your pants pocket with the name Mary Lou written on it," she replied. "Two weeks ago when I went to the races, Mary Lou was the name of one of the horses I bet on," he explained. "Oh honey, I'm so sorry," she said. "I should have known there was a good explanation."
Three days later he was watching a ball game on TV when she walked up and hit him in the head again, this time with an iron skillet, which knocked him out cold. When he came too, he asked, "Now what was that for?" She replied, "Your horse called."
26 March 2007
Back in Dubai after a fairly hectic weekend in Bangkok. Tai had to fly a BKK-HKG turnaround on Friday and spent Saturday night with her family.
She also managed to visit Suan Lum night bazaar, Saladaeng and Silom markets, the floating market, the clothing market near Victory Monument and Big C. We also went to the Erawan Shrine – let's hope that what we both wished for happens for us.
Sausage Shopping in Big C.
22 March 2007
We watched the last episode of the Thai soap opera last night. At some stage in the last two episodes the three women were all pregnant at the same time. The crazy mother was about to become a mother and a grandmother as the same time.
But a fight, miscarriage and death in a car crash sorted all of that out and suddenly they all stopped slapping eachother; and better still the two girls ended up with the father of their child and the person that they really loved and the meddlesome mother accepted that maybe that was all for the best.
After trying every alternative reason eventually prevailed and they all lived happily ever after. It was a very Thai solution and it all wrapped up very quickly and tidily.
" There's no reason to become alarmed, and we hope you'll enjoy the rest of your flight. By the way, is there anyone on board who knows how to fly a plane?"
Airplane (1980)
On board EK 372 outbound to Bangkok. Tai is crew today – and I am feeling rather guilty as I sit here watching her work.

She is the only Thai crew onboard so gets to make the Thai language inflight announcements; which she does rather well; nice volume; nice pace and her lovely well pitched voice !
She is good at what she does – as always she works with a happy smile; I find that incredibly attractive. It is good to watch people who enjoy what they are doing!
It will be a rushed weekend. Tai goes onto HKG on a turnaround tomorrow and then we head back to Dubai at 3.15 am on Monday morning. It is nice to be going home for the weekend – and I am happy now to be thinking of Thailand as home. I have the best reason to do so.
The flight is very quiet – only about 70 pax in economy. We are bumping along at 37,000 feet with the seatbelt sign on. It is unusual to be bumping over the Arabian Sea – you normally expect more bumps over the Indian Ocean.
19 March 2007
Dubai's nightly average hotel room price is now US$249 with 83.1 per cent occupancy rate, the world's highest figures in each category. A great time to own a Dubai hotel!
************
Nothing new on the job search. Watch this space.
************
Tai was in London last night; and although very tired had dinner with my brother, his wife and one of the other crew and her boyfriend. Reports are of a very nice evening (thanks Tim). That's the first time that first time Tai has met one of my siblings. Hope it was not too scary.
Tim has been through a lot, and to his great credit emerged smiling.
18 March 2007
And in addition to the Irish win Bangladesh beat the Indians. And did so in some style.
We can assume that Bangladesh will beat Bermuda. So the match between India and Sri Lanka on 23 March is a must win for India if they are to stay in the tournament.
********************
Meanwhile it is a sad day for English and Pakistan cricket with news of the death in his hotel room of Bob Woolmer, the Pakistan coach, found unconscious the night after Pakistan's shocking loss to Ireland.
*********************
Perhaps it is only right that Sir Bob is flying on a Sunday – very wise if he still does not like Mondays!
*********************
It was a St Patrick's Day to remember at Sabina Park in Jamaica as Ireland amazingly beat Pakistan in the cricket world cup…..Pakistan go out of the tournament – the best team ever to go out at such an early stage – and Ireland are left to play in the Super 8s where it is quite possible that they will play England.
A great win which must be a huge boost for Irish cricket.
*************************
And talking of all things Irish – guess who is on Tai's flight to London this morning – Sir Bob Geldof….I hope they get to meet and chat
17 March 2007
The big news in Dubai for the weekend was neither Bob Geldof or the international boat show – but was the arrival of Krispy Kreme – the US based Donut chain. Dubai's first store opened at the entrance to the food court in Deira City Centre at 5pm yesterday. At 9.30pm it was still packing in the crowds.
Sweet, sickly, calorie packed no doubt we will be back for more. The Caramel Kreme Crunch was demolished in seconds this morning. The Original Glazed was not bad either.
Dunkin Donuts is already big in Dubai with some fifty stores around the city. Expect more KK to come soon to a mall near you.
16 March 2007
I found the perfect cure for a sick patient – shopping!
There is no better remedy than a tour of HandM (both stores) and Zara – followed by a battle through the rugby scrum better known as Carrefour!!!
I haven't seen my patient this happy for two weeks 🙂
Retail therapy.
15 March 2007
All quiet on the job hunt front – waiting on this week's interviews; the MD appeared interested in someone with specific contacting experience…yet I have moved in the past from media to mining; a finance background is readily transferable to new industries.
Meanwhile my patient is doing a turnaround flight to Riyadh. Although not 100% it may be that the flight helps her recovery by getting her out of the apartment and getting the adrenaline flowing. And it is good to do a short flight before a long and busy daytime flight to London on Sunday.
14 March 2007
Got out this evening for the first time in eight days – a walk around the local park and dinner at Wagamamas noodle bar at the Crowne Plaza hotel. Even a glass of wine for the first time in two weeks! The change of scenery was good for us both and it was good to hear and see Tai laughing for the first time in a few days. I think she will be well tomorrow.
************************
Day five of the great fever of 2007. And at last today seems to be rather better. We were back at the EK clinic yesterday where the doctor at last gave Tai some hard hitting anti-biotics – Zithromax kills just about all known germs…..and seems to have helped.
Yesterday saw breakfast rejected for the second time – go away and do it again ! I guess when people are sick they have the right to be picky !!
**************************
I did interview again on Monday; that was rather quick and a bit different from Saturday. Another case where it is hard to know exactly what is wanted. But surely they want something a bit different from the status quo.
The recruiter who is managing the assignment for this position was more positive later and that was encouraging.
****************************
Watford beat Plymouth 1-0 and now get Man U in the semi finals.
10 March 2007
My lovely Tai is home but not feeling well. I am going to be the best nurse she has ever had.
This morning's interview went well albeit not quite as expected….lets see what happens next.
************************
Watford play in the 1/4 finals of the FA Cup tomorrow away at Plymouth Argyle.
The last time these teams met in the FA Cup George Reilly scored the only goal as Watford beat Plymouth 1-0 in the 1984 FA Cup semi-finals at Villa Park. I was there. In fact I saw every round as Watford went to Wembley and lost 2-0 to Everton. Though Andy Grey's header should have been disallowed for the first goal. 🙂
In 2003, while working on a building site, a part of the former forward's ear was bitten off by a Plymouth supporter with a long memory.
"I can't believe someone held a grudge for that long," Reilly said at the time. "I know people have strong loyalties, but this is taking it a bit far."
A lot has changed since 1984. Watford had finished second in the top flight under Graham Taylor in 1983 and Elton John, their former chairman, was married — to a woman.
8 March 2007
Started the laundry!
*************************
I am sure I have posted this before but it still makes me smile; this is how my 9 year old would run the world. Hard to disagree with much of it!
*******************
Interview postponed until Saturday. What shall I do today. Laundry !? Supermarket ? Vacuuming should be tomorrow…change the bedding….
7 March 2007
Interviewing tomorrow. Hope it goes well.
***********************
Wanted to watch the final episode of the Thai soap opera – then I will know the ending ! And that could save having to listen to the boy's screeching and manipulative mother. But Tai has not downloaded the last episode yet…..
************************
The United Arab Emirates has initialed 'open Sky' Air Services Agreement (ASA) and Memorandum of Understanding (MoU) with Senegal in Dubai on 6th March 2007. Flights to Dakar at some point. Could be a stopover en route to South America or added onto another West Coast Africa destination.
*************************
Emirates signed a leasing contract with GECAS for five Boeing B777-300ER to be delivered in the second half of 2008 and configured in three classes. Emirates' fleet currently includes 23 Boeing B777-300ER with firm orders for 36 more, including this order. These will be for new long range flights into the US market and additional capacity to Australia. More work for my favourite EK crew.
5 March 2007
A late night of Thai soap opera – a reminder of home – although it could put you off ever marrying into a Thai family – until you imagine what anyone would think when they watch a UK soap opera – it is quite mild compared to Eastenders – but too many screechy voices and cat fights !!
And the boys – such wimps – quite nice to see the strong roles are taken by actresses….the boys are there for decoration only.
The lead actress is "Khem" – Rujira Chuaykue – tall enough to be a ladyboy but Tai assures me she is all woman! She towers over her male actors. And out acts every one of them. She also has a mean right hook.
In the soap opera she has a daughter from when she was an university but the daughter lives with Khem's sister and does not know about her real mother. Then she has a relationship with a guy who forgot to tell her he was already married. The guy eventually tries to divorce his Mrs but cant do it (in Dubai he could do it by sms!). The son knows his parents are getting divorced and befriends Khem – the attraction of the older woman without knowing that his Dad was bonking her before.
And then there is the boy that she will probably marry who has this strange Oedipus like relationship with his mother who is quite the most awful woman. The mother has a girl hanging around her day and night that she wants to pair off with the son. This girl seriously needs to go and see her real family.
That was only episode 6 of 17 – another 11 hours to go. How will it end…..happily ever after – this is Thailand!
I promise I will let you know how it ends…..
All this is downloadable from www.veoh.com  – and best of all no adverts!
4 March 2007
Over the last three days Tai has been to Perth and back; her first ever trip to Australia.
I meanwhile have walked twice across the building sites to the local Almaya supermarket and been for one run around the same building sites.
I know whose weekend I would prefer to have. I think I need to get away from the building site for a couple of days !
*************************
Tai's first meal in Oz – a large t-bone steak…which takes me back to the summer (Oz winter) of 1984 when Pannell Kerr Forster seconded three of us from the London office to go and work in the Sydney office.
One of the guys – Peter Taylor – and I traveled on Garuda. Sydney was the 7th stop. We were met at our Bondi apartment by my friends Noel and Jane who took us to the Watson's Bay Hotel. It was a lovely warm autumn day. We sat outside on the lawn, looking down across Sydney harbour to the bridge in the distance. We ate t-bones and drak beer. Nice to know that 20 plus years later the Australian welcome is still much the same !
3 March 2007
The weekend has come and gone and I have hardly moved out of the apartment. But I have got quite a lot of paperwork completed so that feels like progress.
Tai is in Perth and will head home overnight tonight. It is a long haul. But Perth is as nice a destination as you can visit and I think she will have had a great time there.
Otherwise there is sadly very little to report! As I said – a quiet weekend.
1 March 2007
Woke up in a strange mood. Wondering what am I doing. I know why I am here; I understand the big picture; I have my dreams for the future; I am with the one person that I want to be with.
So I should be happy? Right?
The job hunting is taking its toll; if it was just work that I wanted I would not be looking here.
But I need work for the future dreams to come true. And while I am not working I have too much time to myself in a city where I basically know no one and have too little to do.
I have always traveled and enjoyed it – but now I am the one who is staying at home while Tai travels. Tomorrow she is off to Perth and later in the week to Bangkok. Perth will be great fun as she has a crew friend as tour guide and BKK is a trip home. It makes all the hard work worthwhile. Maybe I am a little green ! But I am happy for her.
Getting myself sorted out here has to be the priority for my sanity and our well-being.
**************************
The Grand Mosque in Dubai has a helicopter pad on the roof. Now that is a good way to beat the Dubai traffic.
***************************
Almost the start of a new month; have I made any progress in the last 4 weeks? For every two steps forward it feels like two or more backwards.
***************************
The pictures taken today at Dubai Creek include the 8,000th picture with my Canon 300D. It was a great purchase; one of the earliest of the Digital SLRs and still a very good camera.
This was the 8,000th picture – not the best pic but at least it was of Tai and I!

28 February 2007
Must have been a busy day yesterday – I did not write anything. I did have a good meeting with one of the executive recruiters in Dubai and I hope something positive comes from that.
Tai's birthday lunch was at Zhang He at the Madinat Jumeirah; we had a really nice lunch sitting out on the terrace; looking out to the Arabian Gulf and the Burj al Arab.
A few of Tai's crew friends came over in the evening for her birthday; many were flying this week; a few drinks, some food, birthday cake and a very sociable evening. And lots of complaints that there was still no roster for March!
It was a nice day; there are some pictures here.
26 February 2007
It was Tai's birthday today; I hope it was a good day – I enjoyed trying to make it one she will remember. Will write a bit more later tomorrow. I have an interview to be awake for in the morning.
22 February 2007
As a public service here are links to some pictures of K. Chotiros and her little black dress…
http://www.schoolmall.ca/chotiros-suriyawong.html
http://chotirossuriyawong.blogspot.com/
21 February 2007
Tai leaves for Shanghai at 3.25am; not a great time of day to be flying – she will be away three nights but effectively working for two and sleeping for one. It means leaving home at 12.40am…..
*************************
Now this is entertaining……http://www.dubai-online.com/attractions/video-bastakia-dubailand.htm
Since they took my video from YouTube they might at least have included a link to this website !! Still – I am flattered by the attention!!
***************************
Lovely sunny day today….and nice to spend it quietly with Tai….
19 February 2007
The Nation newspaper describes it as Utter Mayhem in the south of Thailand. Sunday night's attacks saw six dead and more than 60 injured in the bombings of "soft targets" such as hotels, karaoke lounges, entertainment venues, rubber plants and government offices.
Authorities claimed to have the situation under control by 10pm on Sunday but this is clearly not the case with today's killing of an Army major and a series of attacks throughout the region.
The alarming part is that whoever is responsible for these attacks has already shown at the new year that they can now launch co-ordinated attacks in Bangkok. First it was the New Year; then the Chinese New Year. The Songkran festival may be a very subdued event this year.
*****************************
While on Thailand isn't it just a little ironic that the former leader of the People Alliance for Democracy is now a mouthpiece for an unelected government appointed by the junta…
18 February 2007
Tai is on her way to Munich and it is very quiet today. My morning meeting was canceled as the recruiter was sick. More frustration.
The secret must be to stay positive and remember why I am doing this. There cannot be a better reason:

15 February 2007
Tennis crisis in Dubai – Australian Open finalists Maria Sharapova and Serena Williams both withdrew on Thursday from next week's Dubai Tennis Championships due to injury.
**************************
The confusion over what to do with Bangkok's airports continues:

Na Ban Bangkae by Buncha/Kamin, Manager, February 14, 2006
Panel 1: Control tower? Two guys on the runway are making me confused. Should I land or not? Answer me urgently!
Panel 2: The man on the left holds a flag reading: Close Suwannapoom. The other flag reads: Keep Suwannapoom open.
***************************
Forgot to mention the ironing !No time to update my web site! Too many chores to do!
***************************
The job search in Dubai is slow. People are busy this week but I have two appointments on Sunday the first day of the new week. I just have to believe that there will be something here and that a door will open for me. But it is not easy in a city which seems to depend upon who you know…
****************************
Some highlights from last week in Bangkok with Tai:
We went and saw Tai's old primary school as well as her University. I enjoy learning about her life 🙂
The Let Us Sea resort in Hua Hin www.letussea.com is a very attractive small resort with a spa and with rooftop decks above half of the rooms where you can lie back and star gaze. The restaurant is good; it has beach access and the staff pay great attention to the small details. They could make the aircon quieter ! There are only 40 rooms built either side of a 100 metre long pool.
We ate on Sunday night at Breeze restuarant. This is the newest addition to the restaurants at State Tower (the Lebua hotel). It is in the open air on the 52nd floor. Mainly a seafood menu  the food is excellent and is very nicely presented. A very romantic place to eat. The location and the views, and the company, unbeatable.
Tai had a haircut; not just a cut but a complete restyling. And the new short style is very classy indeed; she looks fabulous. After over three years of seeing her with long hair this will take some getting used to and will mean a huge new collection of pictures.
And we shopped! There are markets in BKK that I never knew existed ! We toured Pratunam; the markets around Silom and Saladaeng; the textile market; the market at Thammarsat University and at Saphan Taksin; Central; TOPS.
Too short a trip; not enough time with friends; not enough time at the beach; and not enough time to just kick back and relax.
14 February 2007
A Happy Valentines Day to my sweetheart. She will be in Vienna. So romantic; I hope she will be thinking of me – as I clean, vacuum, do the laundry and change the bedding!

13 February 2007
We are back in Dubai. It was a hectic few days in Bangkok but it was a good change of scenery – great to see friends and for Tai to see her family.
8 February 2007
I don't much enjoy visits to the hospital. Too many people looking for something wrong with you.
Bangkok's Bumrungrad hospital has taken the business of health into a near artform. It is a very successful business. But in becoming a business it has lost the personal touch.
I had a full medical exam; but part of the role of the doctor appears to be upselling additional consultant services.
There were questions I asked that  GP should answer with ease but which he kept suggesting that I needed to see a consultant.
And when I did agree to see one consultant I was put on a standby list; waited for 90 minutes; was making no progress and gave up. The place was packed. A processing factory. It is profit over people. That really is not how healthcare should be.
7 February 2007
Instructions on maintaining good culture in a shopping mall ! This was in Siam Paragon today. It is beginning to sound like Singapore!
I did not sit down in case I was accused of not sitting properly!
6 February 2007
We had a fun flight to Bangkok yesterday. Only five hours flying time from Dubai with a strong tailwind. And we spend most of the time playing Tetrus (I am terrible and Tai won every game) and Reversi, which I am better at !
Tai was so excited to be home!
Looking great after four hours sleep. Before the flight at DXB and on landing in BKK.
4 February 2007
A couple of pictures from the desert; Bam and Tai jumping like a pair of synchronised swimmers and then a less glamorous effort from me! Proof indeed that white men cant jump !

I have rather been ignoring this blog while writing more on msn spaces and adding pictures to the site there. (msn spaces is long since dead – Dec 2019)
Tai was in Athens last night – one of the great historical cities of the world; lucky girl !!
The job hunting progressed with a second interview at an IT company; but progress remains slow…..
In the meantime we have been to the desert on one of the safari tours, had a night out in the Irish Village and been back to the Creek and the gold souk….always good to have a few gifts to take home!
I have a busy day today of maid duties – cleaning and washing and packing…we will leave for Bangkok at 9am tomorrow. It will be Tai's first flight out of Dubai as a passenger…..
28 January 2007
It is getting warmer in the day in Dubai – about 25C today but still pleasantly cool at night.
I still have trouble getting used to Sundays as a work day – there is so little contact with the rest of the world.
Tai is in Nairobi – she was called there of home standby yesterday and comes back early tomorrow morning. That is six nights away in the last eight – which takes some getting used to for both of us.
Whenever she comes back after an overnight flight the first things she needs is sleep and some time at home. After a day we are back to normal. I just hope we have a little more time this time!
There really is not much to write about here. The job hunting is moving – but slowly.
Back on 13th Jan I wrote that HSBC were helpful. I was optimistic. Not that helpful. HSBC – Hope Some Body Cares…..Hope Some Bank Can….who knows. But initiative appears in short supply.
26 January 2007
The highlight of the day – from a 777 or A330 galley to the kitchen at home.! Arroy maaih krup?

Friday and the weekend in Dubai – a lovely sunny day – not that I have been outside yet. Have not been out much the last few days – the maid is being held captive !
I have started jogging around the local building sites; this feels good when I am running – but less that good when I swallow vast amounts of dust blown up from the local building sites. But it is remarkable to see the construction around the so called Old Town (not so old) and Burj Dubai, the Dubai Mall and The Residences. There is always something new to see.
*************************
Tai has her schedule for February. After a month on standby it is quite exciting to have a real schedule and to be able to plan a little. She has leave in early February back to Bangkok and we will travel back and spend some time there together.
But there are also flights to Athens, Munich, Vienna and Shanghai. All the flights are layovers with no turnarounds. Tai is excited and I am happy for her. As always her enthusiasm is infectious.
23 January 2007
A productive day today – and a thank you to Terry Neill at Deloitte in Vancouver for a very useful introduction to his colleagues in Dubai.
***********************
There are a few more pictures from last weekend.
Tai is back in Accra after a short turnaround to Abidjan; it is strange being the one staying at home. It always used to be me who was traveling! I miss her company…..
22 January 2007
A quick happy birthday to my mother !
*************************
Had my first full interview in Dubai today….wont write all the details here. The interview was an interesting conversation and lasted 90 minutes.
*************************
Am missing Tai – tonight is only the second night of her trip – and it is so hard to keep in touch….she cannot call or sms off her mobile as it has no roaming capability. She can only receive sms. So she gets all my messages but it is a bit like talking to myself !!!
And the apartment is quiet as everyone is flying!Still there are always the maid duties to do!!
21 January 2007
Tai is on reserve this month – and this was the third overnight standby this month. The wake up call came at about 4.10am this morning; the 11pm to 11am standby shift is hard. It is best to go to sleep early if possible and then hope that there is no 11.00pm wake up call.
The only trouble with today's call is that Tai is gone for four nights – she left on Sunday morning and returns on Thursday morning with three nights in Accra.
A quick geography lesson – Accra is the capital of Ghana on the West Coast of Africa; the flight goes on from Accra to Abidjan in the Ivory Coast which she will fly as a turnaround on Tuesday.
It was the first black African country to obtain independence from colonial rule. Upon achieving independence from the United Kingdom in 1957, the name Ghana was chosen for the new nation as a reference to its ancient roots in the Empire of Ghana.
In reality we have been lucky this week ; it is a week since Tai flew to Moscow and she has not been called up at either an airport or home standby since.
Accra is a long haul on an A330; today's flight will take almost 10 hours; and with a 90 minute delay on departure it is a long day.
This is the first long layover – it is only four nights – but will seem like a long time.
When I was a teenager my parents lived in Nigeria; often the flights to or from Lagos would fly via Accra. Of course this is a great experience for anyone; it is unlikely that Ghana wil be high on a list of holiday destinations or even business travel destinations; but with Emirates Tai gets to see and experience first hand one of the major cities of Africa while staying in reasonable comfort and with the companionship of her crew colleagues.
Meanwhile, the maid, (me !!!) can clean, do laundry and also some serious job hunting !
20 January 2007
Oops – not sure where the last few days went. NIce day yesterday down by the Creek again. It is busy there on a Friday. But it is nice to see such a busy part of the city – and we had a good outing to Bastakia, around the market and across to the Gold Souk by abra.
The previous night we went to the opening night of the Dubai horse racing season at Nab-al-Sheba. It is a fun evening; although the lack of betting facilities makes the racing less interesting.
The only irritant was the Indian families who insist on setting up camp in the public areas next to the track railing and barricading their area with benches so that no one can get to stand at the railing during the race. I had a very interesting discussion with one gentleman who said that his rather large area was reserved for his family and I had no right to stand there.
My friend, it is a public area; you have no claim on any part of it and if I ever see you again I will make sure to come and stand with your "family" and watch the races.
17 January 2007
Went for a long run yesterday – I needed the exercise – and it was a good excuse to run around the building sites at the back of Millennium Tower and around Burj Dubai. There is an area called "The Old Town" which looks like it will be very nice; low rise buildings and old style wind towers; hotels and apartments.
Behind Burj Dubai is the shell of the Dubai Mall – this will be huge. It was a long run and there are a few too many construction trucks…and far too much dust !
************************
And it rained last night; that was rather unexpected.
************************
A quick note for "Mr. BKK" – no elephants and no buck's day, night or week in Pattaya; I have a good mentor for that ! And we need to confirm dates to find something suitably auspicious.
*************************
Tai and I were back in Spice Island yesterday; first time we had been there since her graduation – ate too much food! But is was a nice night.
*************************
Too much time on standby this month being on reserve is hard as we never know where Tai will be going and for how long; it can get a little stressful. All her friends are making their first trips home on leave – so I hope she gets a BKK flight soon; it is hard to be away from home for the first time and not see family for so long.
15 January 2007
Job hunting progresses more slowly than I would like. I need to be patient. But it is a waiting game.
I do have a first interview next Monday with an IT company. Could be interesting; wish me luck.
I think we may be close to having a wedding date – at least we seem to know about when we want it to be. We also have a reasonable idea of what we want; a beach; a sunny day; and our families and friends.
The ceremony may well become a hybrid of the best of Thai and Western traditions. And that will take some working out. The actual formal marriage is a registration. The ceremony is our own personal event and should be memorable.
13 January 2007
Well Moscow wont be in our travel plans for a long time after Tai had her purse stolen from her bag last night. Even worse she could see the guy that did it holding her purse and then handing it on to his side-kick.
Despite her protests did anyone try to intervene; of course not; and were the police helpful. About as helpful as a bad fart in an elevator.
HSBC were helpful; cards cancelled etc.
I know it could happen anywhere; but it really is no surprise that it was Moscow.
Meanwhile I have done the laundry; vacuumed the apartment; been shopping; cooked dinner; and tried to find out why the satellite tv is not working. Never subscribe to Showtime, one of Dubai's three satellite tv services; they belong in the above mentioned elevator.
Much warmer in Dubai today; up to 26C in the day.
12 January 2007
Well I am now in Dubai and it has been a busy two days.
Arrived early morning on the 10th with a terrible migraine after the flight. My nurse was gentle; and a little tlc helped hugely.
We went to Dubai Creek in the afternoon. Had lunch at the Basta Arts Cafe and walked along the creek to the Abra station and across to the old town on Deira side and then to the Gold and Spice Souks.
The abra is always fun; especially on a nice sunny day and after a hot sweet marsala tee. AED1 a cup; very good.
The old part of Dubai is in many ways the most interesting; lively and colourful and full of traders selling just about everything. It is so different from the modern Dubai or air conditioned malls and international brands. It was a really nice afternoon. A small purchase in the gold souk was fun ! Something we had not seen anywhere else and really attractive.
Dinner at home; and fell asleep on the sofa in front of the TV.
The yesterday was a huge day. We committed to our first home together. In Executive Towers at Business Bay; just behind the Millennium Building from where I am writing this. It is a large two bedroom apartment; which will be available in Q1 2008.
The view will be out over the new Burj Dubai tower; the vendor is Dubai Properties who have a good reputation for quality work and as the first major development of the Business Bay complex this should be an ideal place for our first home. I was excited….
And this is our new building! Definately work in progress!

9 January 2007
I am having a laser teeth whitening session later – it is not cheap – but I will be interested to see the results.

There is the answer – sorry the pics are off my mobile phone; apparently the laser continues to work its magic for about another 12 hours – and my teeth will stay sensitive for that long.
The sad news – no more coffee today.
Sure – it is vanity; but as I sit here looking in the mirror behind the pc it is a significant improvement. I have never smoked but age and coffee give the teeth a yellowing. This is better. I will never match Tai's smile; but at least I can grin happily when we are in the same picture.
****************************
Our favourite flying bunny left for Hyderabad in India this morning; the good news is that it is a turnaround. The big story this morning in Hyderabad, from my old friends at ANI is "Coming close on the heels of the gruesome sexual abuse and murder of dozens children in Nithari, the police in Hyderabad on Monday also stumbled on another serial killing case….The murders have rattled residents of the city, which has offices for a number of the top names in information technology, including Microsoft, IBM, Dell, Oracle and Google. (ANI)
The story has also made the BBC World Service news…..
A good day to be flying a turnaround !
8 January 2007
Heading back to Dubai in two days and honestly am ready to move there as soon as I can.
****************************
Given GPS, modern communications and satellite technology why has it taken a week to find the crashed Adam Air 737 that fell out of the sky over Indonesia? Must be incredibly hard for families and friends.
6 January 2007
Played golf today early morning at Bangsai with the Wanderers. Was playing with two of my favourite fellow golfers, Peter and David, but that did little to improve my golf. I think I am a little distracted these days.
Tai was in London last night. Her first ever trip to London; I wish I could have been there as her tour guide. It sounds like she had a great time exploring, despite the cold. And her smile must have brightened up the London Eye.
Meanwhile while she was serving out two full services to a plane load of hungry Brits I was moving to a smaller apartment in Centrepoint. Reducing from a two bedroom to one bedroom necessitates a massive throw out of things that are no longer needed or useful. I have almost exactly one half of the space that I used to have. I am not planning to be in BKK much in January so there is some saving to be made by moving. But the smaller space is a little claustrophobic and the lack of storage space is frustrating.
Moving is hard work!
A big shopping spree last night at Big C with Tai's EK flatmate who was on a very short one night stopover in BKK. I can confirm that I will not be starving when I get back to Dubai !
Bangkok is quiet. Apparently the home food and pizza delivery businesses are booming. The malls and cinemas are quiet. Business down maybe some 10-20% while people assess the impact of the New Year's Eve bombings on their lifestyles and habits. Expect to see a small increase in new borns in nine months time. A September baby boom.
This is the search for million year old eggs !?
And here is a very full shopping trolley.

2 January 2007
Flew back to Bangkok today on everyone's favourite airline – Emirates – actually it was not a great flight – 3.15am is a tough time to fly ! For crew or for passengers!
And again it is strange to be back in BKK. I will be heading back to Dubai for some serious job hunting on 10 January. The week is going to pass too slowly.
Did not feel great after the flight today. So it has been a very quiet day. But a long distance chat – and a few encouraging words always make me feel at ease.
Bangkok seems quiet. The government seems determined to blame Thaksin loyalists for the New Year's Eve bombings. That seems to be a little too convenient.