30 December 2008
Media announcement today – The government of Dubai has transferred ownership of Emirates airline and air travel services firm Dnata, to state-owned Investment Corporation of Dubai (ICD).
I dont think this means much – they are still government controlled. Maybe it makes the organisations a little more transparent and positions then for a partial flotation?
29 December 2008
I have been watching Tim Marshall reporting from Gaza on Sky News and am impressed by his articulate, rationale and reasoned commentary.
In fact I am now watching Sky News more that BBC World.
***********************
Watching the test match from Melbourne – Australia vs South Africa. They are offering A$2,000 and a year's supply of KFC if you get select the winning classic catch (there are 3 AB De Villiers catches – the first is technically the hardest; the second is stunning for the speed of reaction and athleticism).
But what is a year's supply of KFC !!!! Scary! Nothing like promoting a healthy balanced diet !
28 December 2008
Rumours from the new Thai government of a depreciation of the Baht – one way to fix to the economy.
The bit I like is that they don't want to do this quite yet – at least not until the rich people have time to move their Baht out first.
Why devalue. Helps the export market, encourages tourism and boosts the loan packages for the coming infrastructure projects.
But Thailand like other Asian nations is essentially a manufacturer. Sure exports get cheaper – but the western countries are not buying at any price.
The devaluation would have to be large to have a long term impact – say 20%. It wont happen.
************************
Just how tall is the Burj Dubai tower: look at it compared to the surrounding buildings and it is very very tall.
************************
Another UK newspaper's website has access banned in the UAE. The Daily Star is banned here – their headline about potential terror attacks on David Beckham when he is in Dubai this week probably do not help!
But you can still access The Sun for its usual super, soaraway tabloid lines.
************************
There may be huge sales on the UK high streets. But dont rush to Dubai for any special sales. A few of the stores have sales – not all. And the discounts are nothing to get excited about.
27 December 2008
Oman Air will start its new daily non-stop service from Muscat to London's Heathrow Airport from January 15. Flight WY911 will depart Muscat International Airport at 12.55pm and arrive at London Heathrow's Terminal 3 at 5.40pm local time. Return flight WY912 will depart London Heathrow's Terminal 3 at 9.30pm and arrive at Muscat International Airport at 9am the following morning
26 December 2008
A very good Xmas Day with our friends and Alex at Millennium. Ten of us eating turkey with everything, Xmas pudding, mince pies, cheese, Xmas crackers and a little too much wine.
We had one pass out; another eating dinner off her lap after the plate mysteriously left the table; jet lag sufferers finished early; early departures as well for people with flights today.
*********************
Tai is in Guangzhou; Alex and I went to Nad-al-Sheba for the races today. Nice sunny day – just stayed for the first four races but Alex did pick the winner (by a neck from my horse) in the days big race – as Fryvolous won the Mazrat Al Ruwayah race for pure bred Arabians. It was a great race. But won by one of only two horses from Abu Dhabi. As the winner came into the enclosure the silence was deafening. Eight of the other 9 entries were owned by members of Dubai's Al Maktoum ruling family. It would be hard to be a less popular winner !
Here is a vote of confidence from a Deputy Prime Minister in Thailand –
Deputy Prime Minister Sanan Kachornprasart Thursday expressed confidence that the government would last longer than three months.
Nice to see stability !!
*********************
Meanwhile all is not well in Dubai where – the AFP reports that @up to 45 percent of the construction workforce in the United Arab Emirates could be laid off, with thousands already having lost their jobs due to the global financial crisis, a report said Wednesday."
24 December 2008
The first foggy morning in Dubai for the winter.
Tai did an early hours of the morning turn to Bahrain. Maybe there was no fog at the airport. It is always very localized.
*************************
I cannot be bothered to write a long piece on the Thai cabinet line – up. My favourite appointment is the lady now in charge of the Commerce Ministry. Her previous commercial experience appears to be in running the Posiedon brothel – sorry – entertainment center (as the Nation so loyally describes it!!). By all accounts a very successful business with a loyal largely asian client base.
But very very hard to take her seriously as a government minister.
23 December 2008
A lovely sunny day for a day out in Abu Dhabi. It is a nice city at this time of year. Green. And the new beach and corniche waterfront is attractive. Though it costs AED5 per person to walk on the beach.
****************************
As for the guy driving at 150km plus is the fast lane flashing his lights at everyone. Maybe (given that is was night time) putting your lights on would help you be seem. Dopey b*****r.
****************************
We were at Global Village last night. It feels like Global Village for recessionary times. They have doubled the admission price and there is less there.
And the biggest rip of all:
The ferris wheel. AED 20 per person for the grand total of two circles. There were four of us in one capsule. AED80 for a 3 minute ride. Criminal!
21 December 2008
Official video on the Volvo Masters web site from two of the EK crew at the Thai Country Club:
Interviewed by Mile Wilson of Volvo Event Management.
And another pic as well:
*********************
South Africa win by six wickets and with ease. I enjoyed that!
**********************
South Africa are on course to a remarkable 414 to win the first test against Australia in Perth.
The only sad note is how small the crowd is. It is a weekend in Perth. The fifth day of a great test match. Which looks like it will go into the final session. Guess Aussie crowds dont like last day drama or the simple thought that their team might lose !
Where is everyone.
Yesterday the odds on a SA win were remote; now they need 65 more with six wickets left.
The second highest fourth innings run chase of all time and the highest ever in Australia – and they are making it look easy!
20 December 2008
Thailand's new Prime Minister was interviewed on CNN. The Nation (such a rag!) describes the outcome as follows : "The new prime minister came out of the considerably hostile session relatively unscathed."
Hilarious – Dan Rivers – hostile. He was as meek as a lamb. You want hostile – try Hard Talk on the BBC.
Rivers did not even flinch as Abhisit lied in the way that Thai politicians have long mastered: if he says it often enough he may even believe himself that it is true ! He really does say that he is not aware of any meeting between army command and the democrats!
   "RIVERS:  How did you persuade Newin Chidchob's faction — a politician who was loyal — not just loyal to Thaskin, he was one of his right hand men, for goodness sakes.    How did you persuade his group of MPs to come over to your side?
VEJJAJIVA:  Basically, they felt that Thaskin had raised the various political contracts to levels that were no longer acceptable to them.
RIVERS:  And so they were honestly doing this for the good of the nation?
VEJJAJIVA:  If people were to speculate about the various deals, let me tell you outright that there are no deals made concerning the interests of groups of people.  Rather, what we talked about was that this was a real chance for the country to achieve stability and to move the country out of the crisis.  Let's do it together.
RIVERS:  Why then did senior democrats and other politicians go and visit the army commander General Anupong?     What has he got to do with this political situation?
VEJJAJIVA:  I'm not aware of that kind of meeting.  But, the army chief has said, that he has expressed views on how the country should move forward.  And he wasn't partisan.
RIVERS:  But, did you consult with General Anupong?
VEJJAJIVA:  I have never consulted.
RIVERS:  Never?  You've never consulted with him in the last few weeks about the situation?
VEJJAJIVA:  No.  No."

The full interview is on Talk Asia on CNN on 24 December.
******************
Alex arrived in Dubai this morning from HKG. I dont think he is a great fan of Emirates. Check in was a mess. And the flight was an old A330 – no ICE system. And the old style wooden benches that masquerade as first generation EK seats.
*******************
If you want to know just how bad Bangkok's English language media really is then you should read the blog at "Thailand jumped the Shark."
I dont need to repeat any of the writer's complaints about the BKK media – in particular the Nation which is a pro PAD rag.
*********************
More of the political situation in Thailand:
http://www.epw.in/uploads/articles/12971.pdf
17 December 2008
Having such trouble shaking off my cold.
*******************
Dubai does not seem to have completely discovered the global crisis yet: the new year celebrations continue to be lavish and outrageously expensive: a few for you (not me) to choose from:
Atlantis the Palm at Ossiano by Santi Santamaria
Price: AED 3750
Reservation: 04-426 2626
Burj Al Arab New Year's Eve Party
Price: AED 9900
Reservation: 04-301 7600
Beach Gala Dinner at Madinat Jumeirah
Price: AED 3800
Reservation: 04-366 6730
Shakira at VIP Emirates Palace
Price: AED 1500
Reservation: 04-343 4353
14 December 2008
Moonrise by Burj Dubai!
******************
Sorry about the few quiet days. I have invested in a new laptop (Dell XPS 1530- 4GB RAM and 320GB hard drive) for those who care about such things.
But the task of moving everything off the old laptop to the new is substantial!
*****************
There is a great test match going on in Chennai. At the end of day 4 it is anyone's game. Credit to England for looking like a decent cricket team. India is something of a fortress to play in.
******************
Some great friends from my previous company leave Dubai today for new adventures and careers. I learned a great deal from both of them and hope they are happy and successful in their new ventures.
******************
Have been fighting a cold all week. Blame the yellow shirts. This is all due to being stuck in BKK and having to bus to Phuket.
******************
Emirates flights to Bangkok are back to normal – and teh through flights to HKG and Sydney have good loads.
The one flight that terminates in BKK is still showing a very light load.
*******************
Thailand elects a new Prime Minister tomorrow. The army backed political coup looks to have succeeded in giving the Democrats the numbers they need to form a government.
9 December 2008
Q: Why does it take a Virgin Atlantic stewardess 5 minutes to pour an orange juice?
A: Because it says "concentrate" on the carton!
******************
This all sounds well and good – but how is it to be claimed; how is it to be pair; good luck to anyone trying to get their hands upon a baht !
"The caretaker Cabinet Tuesday approved a budget of Bt1.9 billion to pay compensations to Thai and foreign tourists stranded because of the seizures of the Bangkok airports.
Deputy Government Spokeswoman Suparat Nakboonnam said each tourist would receive Bt2,000 a day for being unable to fly home from November 25 to December 9."
8 December 2008
So much talk about re-educating the poor people: but as one writer said – education is not correlated with political knowledge. In my experience, most taxi drivers and food vendors are way more politically aware than self-absorbed Chula students, or hi-so Thais whose foremost concern is when the next sale at Siam Paragon.
******************
Some years ago – when Thaksin was at his autocratic worst – I would have welcomed Abhisit as prime minister. But now his name is ingloriously linked to the anarchy of the PAD mob. Abhisit has not condemned the PAD's actions and now looks like an army blessed opportunist who is in bed with Newin Chidchob. I wonder how much or what ahs been promised and by who?
*******************
Available for dating: Ex-wife of ousted prime minister Thaksin Shinawatra, Khunying Potjaman, applied for a new identification card at the Dusit District Office at 8am Monday to change her surname back to Damapong.
********************
Irish pork industry is facing a massive Christmas crisis. Not much impact here in the UAE – but it must have lots of people checking the source of their sausages!
********************
Am back in Dubai. Where after two days of rain the buildings at Millennium and Falcon are all but cut off to anything smaller than a 4×4. The potholes are huge and their are lakes of standing water.
*********************
Tai was on standby last night; and heads to BKK later this week for some on the spot reporting from BKK airport.
*********************
The journey back was fairly gruesome. The Air Asia flight to and transfer at KL were particularly unpleasant.
The whole trip was improved by an expensive but very pleasant 5 hour stay at KL airport's Pan Pacific hotel.
**********************
There appears to be a new policy on EK of keeping the passengers awake all night. Aussie flight attendants have loud voices and like to congregate in the galley and entertain eachother.
No sleep at all despite the 00.30 departure time. And the old seats on the A330 are the equivalent of sitting on a hard board; the legroom taken away by the box under the seat in front for the old style video system. But it did get me back to Dubai.
6 December 2008
Heading home today – the long way – from Phuket to Kuala Lumpur – 9 hours at KL and then onto Dubai.
**********************
It is nice to just be able to walk out of the hotel and have coffee and breakfast in a local cafe. Or just to go for a walk.
In Dubai to go anywhere I have to find the car; navigate through the car park; take the dirt road, get onto Sheik Zayeed road, pay my salik toll – and then I can go out !
***********************
I dont like Phuket much. And while a walk is good the hassle is not.
You want tuk tuk. You want taxi. You want massage. I am tailor.
The tailors are the worst. Always trying to shake your hand and drag you into their shop. Where you from? etc etc. And it gets really tedious. Normally I shake hands with everyone. Not this lot. They are mainly Indian. They behave very differently to the Thais. More obstructive. And somehow they have the nerve to be offended when they are ignored.
5 December 2008
The other day I was told that – you are a farang – you know nothing about Thailand.
The problem with the whole yellow shirt/red shirt saga is that so many Thais are simply repeating what they are told without debate or question.
The potential slide from demise to fascism should be a concern to everyone who cares about Thailand – farang and Thai.
And farang have in many cases invested heavily enough in Thailand to seriously care for the country.
The current Thai conflict boils down to one central issue: How can a powerful minority, including the army, businessmen and members of the urban middle class, live with a political movement that has a strong electoral majority? Thailand is still a long way from answering that question.
And neither Thai or farang know the answer yet.
***********************
The ex Mrs Thaksin and daughter Pintongta came home last night (the picture is from a few months ago).
No arrests were made. The only arrest warrant against her, in her capacity as a defendant in the Ratchadapisek land case, has been cancelled after she was acquitted. She was sentenced to jail in a seperate case of tax evasion, but she is still technically in the process of appeal.
Expect her to sort out Newin Chidchob whose political faction appears to have been considering defection from TRT/PPP/PT to any group that gives him more. As always Thai politics has little to do with principal and far more to do with personal agendas.
I imagine Khunying Pojaman has a forceful personality!

**********************
People's Alliance for Democracy coordinator Suriyasai Katasila has denied the PAD's responsibility for alleged vandalism and theft at Government House during its occupation of the compound.
Errrrr – no one else was there – who else coudl have trashed the place!
**********************
If oil prices are now the lowest for 5 years how do airlines still have fuel surcharges ??? US$ 44 now.
**********************
Phuket is significantly hotter than Bangkok at this time of year.
5 December 2008 – continued
The airport may be open – and the authorities may be trying to say that everything is back to normal. But not all airlines and flights are operating yet and there is both a backlog of 9 days of passengers as well as already booked passengers waiting for flights from today.
Do not go to the airport without having a confirmed ticket tp travel. Or you will be badly disappointed. It will be a few days before the backlog of flights and passengers is cleared.
************************
Thailand will recover. Visitors like coming here….weather, food, friendly people; nightlife of every description; temples, beaches. Phuket is reasonably busy – not packed.
But is will be a while before business and investment trusts Bangkok. And the high end tourists; those Thailand most wants, are the ones most likely to look elsewhere. It is the backpackers that will still come to Thailand – maybe in part because of the greater sense of adventure; even danger.
**************************
The bus from Bangkok to Phuket takes 11 hours with a short 20 minute lunch stop.
Only 24 seats on the first class bus so it was comfortable enough – although the washroom facility is dire and should be used on an only if desperate basis.
And I have a cold – from too much aircon or the bus or both!
************************
As for Patong – it is reasonably busy with a decent number of western and eastern european tourists. Not so many Asian visitors. The new JungCeylon mall is huge.
The shops will be open today – it is the King's birthday – but the evening will be quiet.
4 December 2008
On the great escape from BKK. A 12 hour bus ride to Phuket.
Tai is in Gatwick after being called from standby yesterday. Only 1C in London when they landed.
In 5 nights in the CityChic hotel i had room service dinner three times. That is a bit sad.
Spent a lot of the time keeping up to date on the BKK airport occupation which ended at 10.00am yesterday.
It really is making a mockery out of Thailand's young democracy.
1 December 2008
My new hotel is nice enough – the rooms are a little small – but the price is sensible.
But one discovery this evening – the walls are thin. A girl in the next room was having a good workout. Must have been aerobics on TV !! So I had to turn up the BBC World Service to be discreet !
My route back to DXB is fully booked ! But it will be a marathon with a bus to Phuket and then flights to Kuala Lumpur and onto Dubai. Yuck! I hate the PAD!
30 November 2008
Still in BKK. Tai's flight to BXB eventually left UTapao at 8am on the 29th. It sounds like a pretty chaotic night.
Hard to know what else to say. The Showdown at BKK blog is keeping as up to date on events as I can.
But there is real hatred here now. The police are inept. The army wont take a side – at least not yet. The government has fled BKK for Chiang Mai.
It is very unclear how and when this will be resolved.
One option for getting out of BKK:
http://www.seat61.com/Thailand.htm
Best way back to Dubai looks like BKK to Phuket by bus (13 hours) and then fly to KUL and then to DXB. Painful.
28 November 2008
Tai has gotten onto an emergency EK flight operating to Dubai from U-Tapao. I am stuck in BKK. It has been a really strange week – dominated by the events at the airport.
We found out about the EK flight at 10.40pm and had Tai at the Holiday Inn on Silom to meet the other crew and passengers at 11.00pm. A packing record.
26 November 2008
Have been busy updating the website with news from BKK airport which has now been closed for over 24 hours.
The government looks powerless.
What Thais desperately want in leadership. Instead the nation is being torn apart by pro government supporters and the PAD.
***************************
Burn after Reading – perhaps the worst and most irritating film I have ever seen. Sorry I know it is the Coen brothers and that it is somehow cool to like their work. But this was crap.
***************************
There was a Citibank party downstairs in Siri Sathorn tonight. Guess they were using part of the US$300 billion bail out to pay for that!
***************************
Saladaeng Residences – tagline – Luxury through Purity. What on earth does that mean?
24 November 2008
We are outbound to Bangkok on EK 418. And the big news is that Mr. Thaksin's only son is on the airplane with us !As are three of his girlfriends.
But he got to turn left into business or first class and the girls turned right to join us at the back.
I now know who goes shopping in Dubai Duty Free !! And it is not me !
23 November 2008
EK flight news: Emirates plans to operate 2nd Daily Airbus A380 aircraft on the Dubai – London Heathrow route from 02JAN09 to 31JAN09.
The 2nd Daily A380 is slated to operate as EK003/004. The aircraft will then be assigned on to the planned Daily Dubai – Sydney – Auckland starting 01FEB09.
EK003/004 currently operates with Boeing 777-300ER aircraft.
And – Emirates is reducing its Dubai – Johannesburg route from 3 to 2 Daily from 01FEB09.
EK765/766 operates its last flight on 31JAN09
And – a crew favourite – Emirates is starting 2nd daily Dubai – Lagos flight from 01FEB09
EK783 DXB0735 – 1315LOS 77W D
EK781 DXB1415 – 1955LOS 77W D
EK784 LOS1500 – 0100+1DXB 77W D
EK782 LOS2135 – 0735+1DXB 77W D
*********************************
We are heading to Bangkok on Monday – in time for the big political showdown – the PAD seem to have declared that this is the final stand.
Many fear that three events could coincide:
Tens of thousands of PAD protesters will try once again to besiege parliament and confront police whose duty is to secure a scheduled joint meeting of the House and Senate.
Hundreds or thousands of UDD supporters will ignore pleas from their leaders and civil figures to confront the PAD in the name of keeping parliament open.
Members of parliament will force a showdown by insisting on getting into the House, setting up a violent confrontation involving all three sides.
***************************
On the other hand it may be a quiet day when everyone sees common sense and demonstrates quietly. But with the two recent grenade incidents it will only take one small spark to start a substantial confrontation. The language from the PAD has been incendiary.
***************************
Strange to say – flights to Bangkok all appear to be full – so tourism continues – despite the potential for trouble in BKK.
***************************
One of the casualties of the political stagnation in BKK – the 2008 Bangkok Jazz Festival will be held in the usual location but in March 2009.
Or not at all.
The names invited are unlikely to be be as bright and shining as years gone by.
the 2008 Bangkok Jazz Festival will be amused to know that it's to be held in the usual location but in March 2009. Our mainstream Thai media entertainment spies say it's then or not at all and the names invited may not be as bright and shining as years gone by.
************************
Sometimes UAE censorship goes to far – the Sunday Telegraph report of Watford's 3-0 win over QPR is banned – this is the url:
http://www.telegraph.co.uk/sport/football/leagues/
championship/3503008/Paulo-Sousa-watches-Queens-Park-Rangers-have-pockets-picked-by-Watford.html
What is it about that story and that source that could in any way be offensive !
20 November 2008
The Atlantis resort formally opens tonight with a ridiculously lavish opening party that will cost millions and allows the rich and (in)famous to remind us of the gap between them and the rest of the planet.
No credit crisis for these people.
**********************
England's cricketers go 0-3 down in India in a 7 game series. Has any team ever lost 0-7?  England have not been close to winning a game. And 240 today was never going to be enough and the bad light and Duckworth-Lewis calculated result just saved a more painful ending!
18 November 2008
Yahoo CEO Jerry Yang is to be replaced after about 17 months in the job.
It is only last May that Microsoft bid as much as $33 a share for Yahoo this year; Yang fought off the bid and Yahoo now trades at less than a third of that value.
Microsoft are likely to make a new offer but they may end up paying between $15 and $18. Half of their earlier offer.
There must be some very frustrated Yahoo shareholders.
17 November 2008
Tai has finished her annual safety and emergency procedures refresher – so she is all set for another year here. And she can now apply for her first class upgrade….more money and maybe some interesting people. At least they probably have jobs – or wealth !
************************
Am feeling a bit stuck at the moment. The phone is quiet. Just getting out of my apartment needs an effort. To fetch the car. To drive through the building site. If only there was somewhere to walk to. A cafe to sit in. A park to run around in.
6 November 2008
So Mr.T is in Dubai. I really would like to meet him. I could ask him why we were never able to move the potash project forward! We can cook him Thai dinner.
And I made a huge tiramisu last night (I know its not Thai!) and he is welcome to share that.
Many people will probably not agree with me, but was Thaksin really that bad? Was he any more more corrupt than many other Thai 'officials'? He had obligations to his supporters in TRT. That has been true of most Thai political leaders.
Arguably Thaksin was the most international and forward thinking PM that Thailand has had. He gave the nation a restored pride after the economic battering on 1997.
Trouble is his non elected opponents have created an angry man with many followers. After over 2 years in exile he is still the dominant force in Thai politics and remains on the front page of every newspaper every day!
*****************************
Meanwhile in the UAE it rained last night. The skies opened up early in the morning to bring in a rainy-wintry cheer with light to heavy showers accompanied in some places by loud thunder and lightning.
And the rain came after a sudden squall whipped up sands in the UAE yesterday afternoon and we had a genuine sandstorm which reduced visibility to 500m in Dubai and even lower in the open areas. The storm, with winds gusting up to 35 knots (nautical miles per hour) in Dubai, only lasted from about 3.15pm to 4pm.
We were out driving in it. Very interesting!
14 November 2008
Another day locked up in my apartment/prison cell. Tai is not talking to me (it took all day to find out why !) and is studying for her annual renewal course.
***************************
Carling Cup last eight are –  Arsenal, Blackburn Rovers, Burnley, Derby County, Manchester United, Stoke City, Tottenham Hotspur and Watford. The draw is on Saturday.
**************************
No news on the job search. Patience is a must. Persistence is a need.
**************************
Had a nice dinner on Loy Krathong at the Mango Tree Thai restaurant in Souk al Bahar. Set dinner. Lots of food. But no Krathong. So they really did not make it feel like a special occasion which was a pity. It is my favourite Thai festival.
11 November 2008
Roads to the new Dubai Mall were packed last weekend. It was taking between 2 to 3 hours to enter the Mall's car parks – which are badly signposted and are basically still building sites.
This simply leads to an outbreak of that dreadful Dubai disease – car park rage. people drive around the car parks honking horns and waving fists as they jostle for any remaining parking spot. No where in Dubai do people drive worse and with less care than in the city's car parks.
In the Dubai mall last week I saw one car trying to park – getting frustrated and backing fast and hard into a parked SUV.
As for pedestrians. Be very careful. The drivers are not looking out for you – just for themselves.
*************************
Just who is pulling the strings in Thailand and do they really have enough influence to force the hand of the British government?
Why did the Brits revoke Thaksin's visa? Who made the decision and why? He was a democratically elected leader who was overthrown in a military coup. And yet the Brits seem to have accepted the mess of rhetoric from a combination of the PAD, Thai Democrats and the courts.
The Asia Sentinel article reproduced on the today page asks all the right questions.
***********************
To my westernised thinking the PAD is like a cult led by Bangkok's chief protester, Sondhi Limthongkul.
But as reported (see the Today page) Thai politics is sinking into the realms of mockery when the PAD leader is enlisting women from his People's Alliance for Democracy to fight off evil spirits with used sanitary napkins.
Even though ritual and superstition are still a part of Thai life no one can surely think that Thailand's political mess will get resolved through witchcraft and red magic.
The government is proving resilient for now. The courts may change that. house. But the PAD is clutching at something  – and it is none too pleasant.
***********************
So will Mr. T end up in Dubai. There is a large contingent of Thai cabin crew here whose company he might enjoy ! He does fly Emirates…….
***********************
Had a bit of a migraine this afternoon. Went to bed to sleep it off. Never used to get them – now seem to have them occasionally. Maybe it is just the bad air?
************************
Not much else to tell my dear reader about. It was a very quiet day.
I have at last got rid of Orbit – a local satellite TV provider and replaced Orbit with Showtime. The only real difference is that Showtime carries Premier League Football from the UK. I do not think their shows are of the standard of ESPN out of Singapore – but that was, and is, a big budget operation.
As for the rest of Showtime – old TV series and comedy shows and even older movies!!
***************************
The new visitor car park at Millennium Tower has still not been opened – some six months after the work was completed, the gates installed and the parking bays marked out. What a waste.
10 November 2008
An early morning nine holes at the Jebel Ali Resort and Spa. It is a nice little course. Ten years old so the course is more mature than the newer courses here.
Nice cool weather. Blue sky. Good company. My golf was shocking.
Also meant that I did not pick Tai up after her Manila flight so left her to catch the crew bus. Always feel guilty when I dont pick her up !!
***********************
EK's recent focus is more on adding services to existing routes rather than opening up new routes (except LAX and the delayed SFO services).
Emirates recently announced daily flights to Cyprus from December 1st, the same day that the Malta service becomes daily. Istanbul has gone from a daily service to 11 flights per week. From December 1st, flights will serve Nice, non-stop, fives times a week, removing the current link through Rome. Meanwhile, from February 2nd next year, Emirates will go twice daily to Moscow.
8 November 2008
Tai is on her way to Manila. I could not do her job. She slept for six hours in the evening before the flight and then left at 3.45am. I would never get enough rest.
************************
Back on the Obama front there is a great collection of pics from the campaign here.
7 November 2008
I am feeling a little old. This is the first time in my life that the President of the USA is younger than me.
**************************
Strange watching a combination of McCain aides and Fox News starting to blame their election defeat on Ms Palin. They chose her as the VP running mate. Their fault. Shockingly foolish choice.
6 November 2008
Bye bye Bush. Barack took 2/3rds of American voters under the age of 30. The Democrats could be running America for a long time. The Republicans did not just lose an election. They lost a generation of voters.
***************************
Bob the Builder wants his catchphrase back:
4 November 2008
The flu bug is still making life miserable. Anything I eat, even something simple, passes straight through. Yuck.
****************************
So while America votes Dubai opened its newest mega mall – the Dubai Mall. Parking is a nightmare – but once inside this huge mega mall there is more open than I had expected. Including Dubai's first full size ice skating rink.
There is a massive aquarium. Not sure why this seems to be necessary in new malls?
There is a branch of the Hamleys Toy Store. Bloomingdales is not yet open.
The Waitrose supermarket is open and seems well priced and presented.
The gold souk is attractive….though many shops are still not open.
I did not see a Starbucks anywhere.
The place is now a cross between a building site and a shopping mall and both will inconvenience the other.
Not open yet – about 50% or more of the stores; the cinemas; Kinokuniya: restaurants – except for the food court; the Fashion Mall; access to the Old Town.
But it will still be packed this weekend.
3 November 2008
I have been struck down with a flu bug for the last 24 hours. Nasty. Still struggling today.
One thing I have not written about here is that I am no longer working; my employer and I parted ways a week ago; the day that I arrived back in the office from honeymoon.
This is not a great time to be job hunting. I committed to Tai that we would stay in Dubai for at least the three years of her employment contract so we will stay here……wish me luck !
2 November 2008
Two days before the election Sara Palin gets a phone call from a Montreal news station pretending to be Nicolas Sarkovsky, the French President – they are going to go 'unting by 'elicopter…..
Scary. How did her advisors let the prank call get to her. She is embarrassing in the extreme. She does not know the names of the Canadian Prime Minister.
The fake Sarkozy also said that "from my house I can see Belgium," before eventually letting Palin in on the joke.
The Montreal-based crank callers, Sébastien Trudel and Marc-Antoine Audette, call themselves "the Masked Avengers."
Please do not elect this woman !! No experience. Totally clueless.
***********************
If Obama wins Virginia this should be a landslide.
1 November 2008
Some golf today at Tower Links in Ras Al Kaimah. Nice cooler day – blue sky. Felt a bit lethargic.
*************************
3 days away from a US election. Americans surely want and need a change. The rest of the world seriously needs a change in the USA.
30 October 2008
There are few things more annoying that dialling a hotel long distance and being connected to their phone system to hear infomercials while you with because your call is so important to them. We value your call and will be with your shortly – sure and in the meantime I am paying a fortune for the long distance call. And this is to Bangladesh – where finding staff should not really be an issue.
29 October 2008
One week to go to the US presidential elections. Obama should win by a mile. Enough of Bush/McCain politics.
Now think how far ahead the Democrats would be if Obama was white. It is sad but race is still paying a huge part in this election. And there will be people who will never vote for Obama because of his colour.
But he has stood strong through everything that the Republicans have thrown at him and has been articulate and consistent.
I may not be the New York Times, but I also endorse Obama for President 🙂
********************************
There is a lot that I have to write about. But…not now !
27 October 2008
Home – back in Dubai – a long haul by car and plane from Tuscany.
And work in a few hours – strange to be back – it has been a fabulous two weeks.
Will write more about Italy later – and share some pics.
Nite nite!
25 October 2008
For a nation that brought us Ferrari the Italians all seem to drive very small cars, very slowly, on very narrow roads.
The roads of Tuscany must have been built by the Romans and have not been widened since. They are slow and windy – why do trains go in straight lines while roads have bends everywhere?
**************************
A diet of pasta, chianti and coffee cannot be entirely healthy ! Have not seen a Thai restaurant anywhere on our travels.
**************************
No internet connections where we are staying so my apologies for the lack of updates to this web site and to the blog.
Blogging on honeymoon is probably not the best way to start married life !
21 October 2008
After two nights in Venice we will drive to Tuscany later.
We have had lovely cold blue skies here. Great walking weather. Venice is busy but not too crowded. This city of only about 65,000 people gets an estimated 20 million visitors a year.
For the most part it is a friendly place – it needs to be to keep the tourists coming. It is not a cheap city to visit !
Tai went to her first ever classical concert last night. A chamber orchestra dressed in 18th century period costumes playing Vivaldi's Four Seasons (everyone plays that here!), and Albinoni and Pachelbel's Canon – which was Tai's wedding music.
It was a nice concert – although the double bass player looked like Mrs Doubtfire and the organ player looked like an aged robot – and played without any emotion at all.
19 October 2008
Late night back to Dubai – Tai slept almost the entire flight. And now on our way to Italy for a week!
17 October 2008
Yesterday was wonderful – a genuinely special day with family and friends…..and with Tai. And she looked wonderful all day !
A couple of pictures on the today page – more to follow in time.
To everyone who came to Hua Hin a huge thank you for sharing a very special day.
******************************
Their still may be a coup in Thailand this week. The current PM has no support from the military, air force, navy or police.
*******************************
And Black Canyon is a very nice golf course – actually Black Canyon is a chain of coffee shops – Black Mountain is the name of the golf course! They could be a little more welcoming. And the caddies may be pleasant enough – but might learn a little more about the course.
15 October 2008
The weather is beautiful in Hua Hin – a fresh breeze; clean air, blue sky and blue ocean.
Played golf today at Palm Hills – the course is in full bloom and the colours are lovely.
But I am sooooooo tired – I work at 4pm with a massive migraine and all I really want to do is sleep !!
14 October 2008
Sorry to be so quiet. Too much running around in BKK over the last few days.
We are now in Hua Hin and arrived at Worabura in time for a late afternoon swim and a run along the beach.
Our room is right by the seafront. There are few nicer places to be.
Great to see John and Leslie again from days at Asia Pacific.
****************************
Tai is a little weary tonite – the girls night out last night lasted until 4.30 this morning !
The boys night out is non existant. I dont mind much. I need the rest. The days are so busy.
*****************************
Mother and sister (and hear daughter) arrived in BKK on Sunday. Both are well. And they had a good Monday tour of Bangkok's grand palace and canals.
12 October 2008
We are in Bangkok and have a big week ahead of us.
I have not seen a soldier on the street yet ! But the newspapers are full of speculation of what happens next in Thai politics. The consensus is that the current government, perhaps the least talented in history, will not survive for long.
But expect more problems tomorrow when the PAD have summoned another rally which coincides with National Police Day.
The US Embassy sent the following warning:
This warning message is being issued to alert U.S. Citizens traveling to and residing in Thailand that media reports indicate the People's Alliance for Democracy (PAD) leaders have called for a mass rally at Police Headquarters on Monday morning, October 13, 2008.  Police Headquarters is located on Rama I road, which is the same road that Siam Paragon, Central World, and other large shopping areas are located.  We ask Americans to exercise caution if you are going to be in this vicinity or in the area of any demonstrations.
We wish to remind American citizens that even demonstrations intended to be peaceful can turn confrontational and possibly escalate into violence. American citizens are therefore urged to avoid the areas of demonstrations if possible, and to exercise caution if within the vicinity of any demonstrations. 
9 October 2008
Dubai's Emirates airline will receive its second A380 superjumbo on October 24 and hopes Airbus will stick to the timetable of further deliveries after earlier delays, its president said Thursday.
***************************
And today was my last day of work for two weeks – I dont think ever in my career have a needed a break so badly.
8 October 2008
There are few worse sights than seeing such violence between people who want the best for themselves and their families and their nation.
The fights in Bangkok may be isolated. But they are vicious and it is not clear what the end game will be.
But the PAD is as divisive as the PPP/TRT, and the latter has the benefit of having been elected.
******************************
On a rather lesser issue the police are busy issuing tickets to cars parked at the side of out car park behind Falcon Tower. It is unclear why they do this. There are no no parking signs. There is no road access that is being blocked. There are no roads. Just dirt tracks. The fine is AED200 – the tickets are in Arabic…the payment instructions are bilingual.
6 October 2008
Latest EK speculation for 2009 – The UAE and Nigeria are revising the air service agreement between the two countries. New destinations that will be added to Emirates network potentially in 2009/10 include Abuja (ABV) and Kano (KAN). Emirates will also look to operate a 2nd daily to LOS.
All good news for crew selling duty free !! Which does really well on Nigeria flights!
************************************
What is it about company tag-lines – some are so banal and non-sensical. Why are they needed. What purpose do they serve – Du ( a telecom provider in Dubai – "add life to life"….or a new hotel called The Address – "where life happens"
Back at the dentist this morning for a clean and scrape!
Tai's on standby tonite – could go anywhere at any time up til 6am ! It is a strange life!
The answer to where to is the 3.30am turnaround to Bangalore.
5 October 2008
Not a very flattering commentary on Dubai in today's UK Observer newspaper. Worth a read.
4 October 2008
Open message to the resident of apartment 1502 – Falcon Tower.
When you move furniture around your apartment you are allowed to pick it up and place it; you don't have to drag it scraping across the floor. And then when you have moved it once there really should be no need to move it on multiple additional occasions.
****************************
The Bangkok governor election is on Sunday – here is one question that should be asked of a certain candidates before deciding who to vote for: how on earth is this guy not in prison or exile !?
Apart from bribing police, beating your wife, being involved in the sex trade and sending hooligans on bulldozers to raze beer stalls, are there other things bad about you that we should know about before we vote for you?
3 October 2008
Tai brought some bread back from Singapore – I know that does not sound too exciting – but it was from Bread Talk and it was a mix of fruit and nut and it is very very good – especially with just a little plain cheddar.
**************************
There was a bird chirping outside my apartment this morning – wouldnt be worth commenting except for the fact that it is so unusual !
***************************
Always interesting to read the pax reviews of their EK flights – I assume someone at EK does this on a full time basis as part of their quality reviews;
This was a UAE expat passenger on a 25 September BKK-DXB flight – hope it was not 373 as someone was on that flight !!
"BKK-DXB in Business Class – new flat bed seats that were comfortable with a wide array of positions. The inflight entertainment system has a huge catalogue of movies and documentaries. The food was quite good. I bought the ticket at BKK airport and as my name was not mentioned on the crew manifest of passengers the FA thought I was upgraded and made it known. Once this was corrected the service improved however still offered the usual Emirates crew disdainful service."
http://www.airlinequality.com/Forum/emrts.htm
*****************************
In other EK news: Due to the Boeing machinist strike, Emirates is forced to reduce the new Dubai – Los Angeles and Dubai – San Francisco route to 3 weekly, instead of Daily.
First Dubai – Los Angeles service will operate with 777-200LR on Day 357 from 28OCT08.
First Dubai – San Francisco service will operate with 777-200LR on Day 146 on 15DEC08.
The services both go daily on 1 February 2009. In the meantime their are 2 and 3 day crew layovers to bid for!
2 October 2008
Did not get to bed until 2am. So it was a real treat to be woken at 7am by the next door building site hammering away on metal. I thought it was supposed to be a holiday but I guess giving the labourers three days holiday was just too much to hope for.
1 October 2008
Thoroughly down today – talked with Tai for ten minutes during her too short stop and rest in Melbourne. She seemed, and was, a long way away.
Did some laundry – cleaned up the apartment – did some work for the big event – two weeks away.
But I have no life here outside of work and being with Tai. Only one person knows my home phone number. No one called my mobile all day and the only sms I got was from HSBC….twice !
I came here to be with Tai – but there is nothing else here – and when she is away so much I really do wonder what am I doing with my life.
I went to the Mall of the Emirates in the evening – is was so, so busy. Parking was a nightmare and the place was packed and unwelcoming. Came home quickly.
My apartment is like a prison cell. It feels, and is, temporary until we have somewhere we can call home. But I dont invite people to visit. It is not very attractive – functional at best.
We will be married in two weeks but still unable to live together. Still apart. All this is temporary but then what next?
It is a 3 day holiday leading up to the weekend. All my golfing partners have gone away.
At my age people have family, friends, places to go. How do people live alone? It is hard. My mother gets by with a great community of friends and family around her. But today – I just got through the day and am grateful it is over. I am tired and feel alone in a city and a place that is never going to be home.
30 September 2008
EK404 was 8 hours late into Singapore this evening ! So the stopover in Melbourne is down to less than 12 hours! With an 8 hour flight before and after.
***************************
Meanwhile it is the Eid holiday and it is very quiet – even my building sites were not working today.
So I went to work. Quiet there as well.
And then went for an outdoor run and a good sweat ! Around the back of Business Bay – where there are even roads being built now.
And for old time sake: I was feeling a bit nostalgic today – a link to one of my favourite Faye Wong tunes:
29 September 2008
Today was the day of global bank failures on a level never seen before.
And the world expected the USA to lead the recovery – and it is failing miserably. Expect more uncertainty.
****************************
As of 8pm tonight tomorrow has been declared the first day of the Eid holiday and it will now be a holiday for all private companies.
So strange. How are people supposed to plan their holidays when you only know its a holiday with 4 hours notice. 1st and 2nd October are holidays so it is a three day holiday leading into the weekend. With good planning people can take a long break.
*****************************
Tai left for Singapore and Melbourne this morning.
*****************************
I was giving a talk to a local business group on Saturday on the current global financial crisis and its potential impact on the GCC countries.
Think I did an OK job. Tried to be reasonably controversial. At least to provoke a discussion!
26 September 2008
Here are the people that were drilling and hammering at 6.50am this morning: they are drilling steel girders – no wonder it was noisy.
Incidentally he is drilling without goggles, a hard hat (he is about 10 floors up) or any other protection.
*******************************
John McCain does not want a tv debate with Obama. He does not want to appear on Letterman either. He was a no show on Wednesday night and Letterman was livid. This was perhaps the strongest attack on any politician on one of the influential late night talk shows.
This will cost McCain a serious number of votes. Whether his fault or his handlers fault to be lie this brazenly 6 weeks from election day is not clever.
McCain phoned Letterman and said the economy was "about to crater" which necessitated that he get to Washington right away.
Then Letterman learned that at the very moment Mr. McCain was supposed to be on the couch next to him being interviewed, the senator was at the CBS News center three blocks away in Manhattan, getting ready to be interviewed by the CBS News anchor, Katie Couric.
Mr. Letterman ordered his director to put on a live feed from that location, which showed Mr. McCain getting made up to go on with Ms. Couric. "He doesn't seem to be racing to the airport," Mr. Letterman observed.
The Democrats got a gift last night. Letterman ad libbing was brilliant!
Watch this !
Meanwhile – "Today, John McCain made a big announcement. He said he wants to postpone Friday's presidential debate, but not because of the economic crisis. It turns out TV Land is airing a 'Golden Girls' marathon." –Conan O'Brien
And – "Sarah Palin was in New York City this week. She met with some world leaders yesterday and went to the Central Park Zoo, yeah. Took her five hours to get through the zoo, 'cause she had to keep stopping to reload." –Jay Leno
*****************************
Tai came back this morning from Bangkok – which meant 2am to bed. Which would be OK except for the neighbouring building site starting to hammer and drill at 6.50 this morning. It is a Friday in the Holy month of Ramada,. Don't these people have any respect.
Time for a rant:
Did I mention that I hate living here. I hate the constant noise, the dust and sand, the stench of sewage, the fact that there is no road to where I live, the lack of anything green, lies (your apartment will be ready in a year – well actually it is now two years), hypocrisy, lack of transparency, rules that get made up without thought, ridiculous traffic jams at 2am, and more building noise.
Access to terminal one at the airport is a disgrace at the moment. There is a single lane access way – but on airport road last night there were four lanes of traffic at a standstill trying to get into the single lane to the terminal. Any turning onto airport road from garhoud bridge and trying to get through the traffic to head south to the EK headquarters building is almost impassable. What should be a 15 minute drive was almost an hour last night  at 1am ! And there is some pretty shocking driving as people try to steal the extra yard on eachother.
24 September 2008
Tai is back in Bangkok for a couple of days.
Meanwhile I am sorry – I am so tired I cant keep my eyes open long enough to update this web site. Have been asleep really early every nite this week.
Was eating breakfast this morning – and lost part of a tooth as I chewed on some muesli. ! It is a bit sore so it will be a trip to the dentist tomorrow.
21 September 2008
Big news from Millennium Tower – the garbage heap at the front of the building has been cleared. About two days after I wrote about it and published pictures this eyesore was gone – three trucks mover in late night and removed the mess in a hurry.
Perhaps I had better start complaining more!
********************************
We had a nice weekend in BKK and Hua Hin – and everything looks ready for the big day in October ! Fingers crossed for the weather – it was raining in Hua Hin.
There is a serious shortage of tourists in Thailand – and apparently forward bookings for November and December are still very low.
********************************
The Ryder Cup singles are well under way – and Europe are struggling; for the first time Europe have had the stronger individuals but America the stronger team.
Without Tiger, the Americans have really come together. His fame and profile undermines the whole Ryder Cup team event ethos. Faldo has not been a cohesive captain.
Irrespective of captain's picks (who nearly always do well – they're under pressure to do so) the job is to bring the team together – either through cliched Teutonic efficiency (Langer) or stereotypical Welsh amity (Woosnam). Faldo has not built a team – it's been all about him.
20 September 2008
Lots to report though some of it should wait for a while.
Have been in Bangkok for two days. Flew over early morning on Thursday 18th. Heading back to Dubai this evening.
Thursday was spent in BKK and then drove to Hua Hin early on Friday afternoon for one night at the Worabura resort.
15 September 2008
Late night spent watching the last king of scotland. That should be good for a few nightmares tonight. Forrest Whitaker won the Academy Award for best actor. He is very good and Amin's madness is graphic – it was not until 1979 that Amin was overthrown and sent into exile in Saudi Arabia.
His regime killed over 300,000 of his own Ugandan people and send thousands more into exile.
*************************!
Opened the fridge this evening; and found all sorts of things that are passed their use by date. Cream cheese from April 2008; dip from August…..dare not look at the rest !
**************************
The US banking crisis is a horrible mess that is going to take the world into recession – and it may be long and deep.
The question is how do you put a value on something that no one wants to buy? That's what hit Lehman Bros. and was looming over Merrill's like a proverbial sword.
You can wait, and hope that something (a housing market recovery?) turns up.
You can hope the government and/or central banks get you out of the jam.
But if no one wants to buy something then its value diminishes towards nothing.
So who will be next in the USA and what is going to be the fall out in Europe
Expect Asian markets to open tomorrow to "sell" orders.
There is more gloom to come.
13 September 2008
Banned in the UAE : http://isearch.com/
Reviewed by PC World as one of 12 promising new web sites: the site conglomerates information from public records, social networks, white pages, news, and professional connections. And I have no idea why it would be banned here.
****************************
Golf on Friday at the Wadi course at Emirates Golf Club – considering how bad Thursday night was I played ok – and was driving the ball well. It was nice to be out for a few hours.
As for Thursday night. The builders were still hammering away at 1am. Them my neighbour (again) decide to have a booze and noise party with her friends. The wall is so thing from her living room to my bedroom that I could be lying in the middle of their party.
I banged on her door in my pyjamas. I was almost polite. It was 2.30am. It made no difference. So I went to sleep on the living room sofa. Felt like I had a bad migraine. Took tylenol; but it was still pounding when I woke at 7am.
************************
Not is a very pro – Dubai mood at the moment. Wish we were living somewhere that I enjoyed.
************************
Another big storm hits the USA – this time into Galveston and Houston. The CNN reporters and tv crews appear to be the only people left there. It makes for quite fun reality tv but if they are putting their lives in danger for some tv pictures then this is wrong. Everyone else had been ordered to evacuate Galveston.
11 September 2008
8 years ago today three hijacked Boeing airliners were targeted against the World Trade Centre in New York and the Pentagon in Washington, DC, destroying the twin towers and killing nearly 3,000 peopl. It is a day that lives in infamy and has shaped modern history and politics. It is a day that should never be forgotten.
************************
Tai has an Amman turnaround today. The last turnaround of the month – that will cheer her up!
7 September 2006
Tai had two weekend turnarounds – I had two days at work – and there, gentle reader, goes another weekend. And this will be a tough week at work.
So there really is not a lot to add to this diary. Sorry.
Plenty of news that is worth following – from the US presidential campaign which should now be a rivetting two months and a very close finish, to a new President on Pakistan who is too beholden to Washington to a battle for the future of Thailand.
5 September 2008
There is a blog I stumbled across written by another of EK's crew – she got engaged and wrote this about her fiance –
"He is my pillar, my strength, my reason for moving on through tough roads. He is my pride and joy. He is God's gift to me. What can I say. This is bliss."
Such a public affirmation of their faith in eachother is very touching.
I have been so tired recently and Tai and I seem to get little time together – I just wonder if she is as happy as I want her to be. I don't seem to be able to do much that is right for her at the moment…..little things become bigger issues…..
*************************
Convention watch: Sarah Palin looked very comfortable at the podium making her speech – after all it is not unlike Alaska: you look out on that convention floor, there is nothing but white as far as the eye can see. Sad.
*************************
Now this is scary – your VP candidate !
*************************
And a great link to what the presumptive vice son-in-law may be thinking (other than I wish I had used a condom) –
http://borowitzreport.com/article.aspx?ID=6933
From hillbilly to centre – stage at the GOP overnight. I almost feel sorry for him……
*************************
More days off for EK's underworked A380 crews; the second airplane has not arrived yet and the first plane has taken sick leave within weeks of starting work:
Scheduled engineering on the airline's only operating A380 is taking longer than expected and has forced the airline to replace today's scheduled flight of the super jumbo with a Boeing 777.
************************
Keegan quits. At last roar thousands of grateful Geordies…..
**************************
Old joke's home: A man took his dog to the cinema to see War and Peace. The dog sat beside him and the audience was amazed to see the dog and his reactions to the film. When the heroine was facing dire straits the dog would howl and when things were going well he'd bark and wag his tail.
After the film ended a woman came up to the dog's owner and said: "Wow, your dog's reactions were amazing!" The man replied: 'I know, I'm really surprised. He hated the book."

3 September 2008
Tired – really tired.
***************************
Three games into the new English football season and there are casualties already:
Curbishley resigns at West Ham. He did not appear to have much control over who arrived and who left West Ham.
****************************
Rumours that Keegan will go – six months after being appointed at Newcastle.
****************************
Meanwhile in Dubai another departure: Turkish ACMI operator KUZU Airlines Cargo, has purchased three Airbus A310 freighters from Emirates SkyCargo. That is all three of the Emirates A310 fleet and is the end of the line in Dubai for the airline's first wide body airplanes.
1 September 2008
The Republicans got a bonus – Hurricane Gustav. They can look responsible and prepared this time; and it means they dont have to get George Bush to speak at the Republican convention today – most of which ahs been cancelled.
*****************************
Phuket Airport reopened as you can see in this pic:
*******************************
Thaksin sells out Manchester City to Abu Dhabi based investors; another UAE/Thailand link!
*******************************
Who would want to live in New Orleans – a major hurricane every three years.
31 August 2008
There are certain benefits to being a gold medal winning cyclist as Britain's Chris Foy clearly discovered on Beijing!
Almost makes me want to get a bicycle!
***********************
Monday, September 1, 2008, is to be observed as the first day of the holy month of Ramadan, the committee in charge of sighting the crescent in the UAE has announced, the official WAM news agency reported on Saturday
*************************
Meanwhile in Thailand Prime Minister Samak Sundaravej has lambasted security officials of the Phuket International Airport for failing to prevent protesters from shutting down the airport. He does have a point. How on earth can a few hundred protesters gain access to an international airport and shut it down for days?
**************************
Time to end another month; this is a very strange day at work; and I am both upset and distracted.
30 August 2008
I feel sorry for the Democrats – they have to keep trying to convince Americans of their patriotism – meanwhile the general assumption is that the Republicans love America – its just that they hate half the people living there!
I am not sure about Barack Obama – there is something that feels insincere about him. He has lots of headlines; but there is little substance. No details on how he will deliver his promises.
Meanwhile McCain sounds measured and sensible and far less strident. Their debates will be interesting. At 72 he really should retire and enjoy life. Heaven knows he has seen and experienced things that would scar the rest of us for life.
If only McCain was a Democrat. Cant vote for him. Dont trust Obama. So I would probably end up like most Americans and not voting. Isn't that sad.
************************
Tai is on her way to Hong Kong and I am at work. Though I have not done much work while I have been doing a lot of reading on events in Thailand.
*************************
I forgot to mention last week that the public taxi rank at BKK airport has moved again.
The whole issue of taxis at the airport is an embarrassing shambles.  It should be a simple matter to organise a taxi rank at an international airport but Suwanabhumi has turned it into an art form.
In the terminal there are taxi touts absolutely everywhere. They will tell you they are a taxi service. They are expensive limo services. Then there are the private touts with private cars. Go with them at your peril.
But try to find the proper metered taxi rank.  Near impossible. Here's a clue, it's on level two but you can only get to it if you have just got off a plane and don't make any detours.
29 August 2008
Tai is back in BKK; not an easy flight. Flying with crew from her recent Sydney flight.
I was on the Al Hamra golf course at 7.50am. And it was so so hot. I have been suffering all afternoon. And need to sleep.
26 August 2008
Back in Dubai; working too hard – too much drama. And sleeping too little.
Was up at 5.30 to pick Tai up off her flight from BKK; and she has been to Karachi this evening. She will be back in BKK for the weekend so we have little time together this week.
********************
As I left Bangkok the Brits were performing at the Beijing Olympics closing ceremony. It looks like London with be the ultimate low cost Olympics – maybe Easy Olympics!
********************
Hilarious – all the abuse the Chinese got for having a girl mime a song at the opening ceremony. And now we discover the the whole of the Sydney Symphony Orchestra mimed the 2000 Olympic opening ceremony!
24 August 2008
Tai has learned something useful this trip – how to play pool! She has potential !
*********************
We have been running around like crazy – seen the team from Worabura who are well organised. Been back to the wedding studio – which I always find frustrating! People there talk about me – but not too me. And I really have no idea what is going on there most of the time; until its time to pay them for something.
************************
It was good to get out on Friday night – pizza, pool and a band playing 70s music.
23 August 2008
It is like home from home staying at Siri Sathorn in Bangkok this weekend.
The plot of land next to the serviced apartment used to have a dodgy Japanese restaurant and a rather nice homely Italian place called Sala Rosa. Both have been flattened.
The site is being developed into a new condminium block. Foundations are being laid as I type this. It is a very different process from Dubai. In Dubai you clear the sand and you are building on rock.
Dubai is built on clay so the foundations have to be drilled much deeper. They start early in the morning as well. It is noisy. The only good news about building on clay is that you dont create the same amount of dust in the air.
************************
19 August 2008
Had the worst of dreams last night. Some might think it was entirely appropriate.
I was to be hung in the morning. It was my last night and I was up and could not sleep and was trying to be brave, but knew that I would not see another sunrise and was worrying about the people that I love…..
And I woke and it was still dark outside – and I tried to go back to sleep thinking about something else but then the same dream repeated itself. Quite disturbing.
17 August 2008
Tai is in Munich. Scene of the 1972 Olympic Games – not that she will remember that !
Golf yesterday at the Wadi course. I really should use the summer membership while I still have it! But it was so hot !! I was dead when I got home and hardly moved in the afternoon. Which was a good excuse to sit in front of the tv.
********************
Watford won their first home league game of the season yesterday with a 1-0 win over Charlton. The club has also sold the unfortunately named Danny Shittu to Bolton for an undisclosed fee. Not the most accomplished of defenders but huge! It could be a long season.
**********************
The four yearly debate on what sports should not be in the Olympics is underway.
Eliminate Tennis – they have their grand slams – and I am sorry but the likes of Roger Federer (who did not stay in the athletes' village) make for poor Olympians.
Eliminate the horsey events. How do you judge dressage?
Change football to be an Under 21 World Cup played as part of the Olympics.
Eliminate most of the diving events – especially anything with the word synchronised in it.
15 August 2008
"Today is not my day" said Thaksin. The message is clear – he will be back. Will there be a pardon on the succession? Possible.
********************
Your average Hong Kong resident on the joys of the Olympic equestrian events: 'I expected to see horse racing. I have to say this is the most boring thing I've ever seen in my life.'
14 August 2008
The Chinese do have a sense of humour – and a lot of that is directed at the state if the Chinese football team who have not progressed beyond the group stage: one joke runs like this:
Brazil are playing China in the football. Just before kick-off, Alex Pato, the Brazilian superstar, is so confident that he says to his team: "I can handle this match by myself." So the rest of the team go to the pub for a drink. Sure enough, five minutes into the game, Pato scores. The team, watching from the bar are delighted and expected a flood of other goals. But after 90 minutes, the game ends 1-0. Pato joins up with his team-mates, looking dejected. "Cheer up," they say, "You were all alone against 11 Chinese players, yet you still won. You did a great job."
Pato refuses to be comforted. "You haven't heard the whole story. After I scored that first goal, I fouled a Chinese player and got sent off."
13 August 2008
Nice to see the Aussies in a bit of a lather as their famed swim team fails to make much of an impression in the Beijing aquadome.
After Rebecca Adlington's 400m freestyle gold set the tone for Britain in the pool here, John Coates, the head of the Australian Olympic Committee and an International Olympic Committee member since 2001, was asked for his thoughts. "It's not bad for a country that has no swimming pools and very little soap," he said.
11 August 2008
A very sleepy Tai is back from Sydney. Not a great trip back; but at least she is learning the difference between effective and poor managers and how to give useful and supportive feedback ! Even if it is by seeing first hand how not to do it !
**********************
If you had any doubt about who one of the Olympic sponsors is this Beijing picture sums up the horrible commercialism of the event:
10 August 2008
I am sitting in a Doha hotel waiting for a car to the airport; listening to the Peer Gynt suite on the hotel musack system and writing emails to Huddersfield about an event in Thailand while Argentina and Australia play football in Beijing on the TV screen in the hotel lobby. Meanwhile Tai is leaving Aussie to get home to Dubai – I am going to be very pleased to see her.
The big excitement from my golf on Saturday with one of our school principals – he took at 8 iron on the full on his head – not from me !!! Thought I was going to have to give him the kiss of life – he was poleaxed – cfo gives principal kiss of life on 17th hole – the sort of headline that would get me thrown out of the UAE!! 2 hours of checks at the hospital and they let him out with a bad headache. Dangerous sport !
9 August 2008
There are some pictures from the Beijing opening ceremony here.
Perhaps the most remarkable thing about the ceremony was that it was directed by Zhang Yimou.
8 August 2008
Tai is in Christchurch – in room number 808; on the 8th day of August 2008; she must be a very lucky girl indeed.
This long trip is hurting us a bit. We are both tired and it is hard to be able to find anytime when we are able to talk.
And talking sometimes is not because you need to talk – but you need to forget everything else that is going on and focus on what matters most…..and that is sharing your life with the person you love.
*************************
It is also (the date is critical) the opening day of the Beijing 2008 Olympics. And the opening ceremony was breathtaking. Spectacular. Wonderfully colourful. Imaginative. And Li Ning running around the inside of the stadium roof to light the flame looked like the tree running scene in the House of Flying Daggers !
China got it all right – am amazing combination of light, technology and human grace.
And Yao Ming (all 224cm of him) leading the Chinese athletes with a 9 year old boy who rescued two friends in the Sichuan earthquake. Memorable.
London in four years time can never match this.
**************************
But we are on the edge of war between Russia and Georgia and that cannot be good for Europe or for East/West relations.
Do the Russians have a long term plan to undermine Georgia and overthrow its your western leaning President?
Because if that is the case then how will the west react to an attack on Georgia. There are Russian planes flying over the Georgian capital.
Remember the name South Ossetia.
South Ossetia is a breakaway region from Georgia that the Russians have backed for years.
Europe may see its next conflict over this small 70,000 population autonomous region.
We should all be worried.
*************************
Golf today at the Dubai Creek course. Course is flat – very like a Bangkok city course. It was also an exercise in survival. 45C and hot, hot, hot.
Then as we stood by the 17th green my playing partner is hit on the head by an errant golf ball. It hit with a thud and hurt. Very scary. He is OK now.
6 August 2008
I wish I could see this – a modern Hamlet with a Time Lord as Hamlet and an Enterprise Captain (Patrick Stewart) as Claudius.
The review are summarised in the Guarian "….the hype, it seems, was justified. Months of speculation about David Tennant's Hamlet ended last night, when the Royal Shakespeare Company's production opened to the public in Stratford-upon-Avon, and this morning, the critics are largely united in their praise. The Doctor Who star makes a very good Shakespearean protagonist – but not yet great."
The RSC production continues at the Courtyard Theatre until November 15, and in London till January 10,
***********************
Tai is on her way to Sydney and Christchurch – five nights away. Too long.
4 August 2008
Cruel game cricket. South African Graeme Smith was plumb lbw on Saturday; but the excessive appealing of Panesar had worn down an umpire who said not out. Smith goes on to win the match and series.
Meanwhile Michael Vaughan, who at tea on Saturday looked likely to have led England to a win, yesterday resigned after five years as England captain.
***********************
Beware Air Canada. Their transatlantic bag policy is that no bag can weigh more than 23 kilos. But you can take two bags. Alex's bag was 30kg (he has been away a long time) and he had no second bag.
So I had to pay gbp35 for the extra weight in his only bag. With two bags he could have taken 46kg for no extra charge. Instead his 30kg bag cost an extra fee – and their UM fee is now C$100.
And all that comes with the most miserable, scowly faced, unfriendly check in dragons that you could possible meet.
2 August 2008
Back to the office to catch up on events at work. But I would rather be in Rome…..it is an unpleasant 45C outside today.
*****************************
More Olympics doping: today the IOC stripped gold medals form the US 4x400m men's relay team won at the Sydney Games in 2000, after sprinter Antonio Pettigrew admitted in June that he used banned substances between 1997 and 2003.
They should just lend the medals rather than give them out.
******************************
One football note from last week – Robbie Keane moved from Spurs to Liverpool for gbp 20 million. Crazy price.
1 August 2008
Today's best Olympic headline – Moroccan delegation head praises Beijing Olympic Village as "best … Xinhua
Good old Xinhua – always looking for the silver lining !
******************************
Have just about recovered from the Thistle hotel. What an awful place.
Busy flight back to Dubai on the 30th. A little late into a baking warm Dubai. And home to Tai….that was nice!
And 31 July was a public holiday so we had the day to ourselves; a lie in (being on UK time meant I did not wake until 10.00am) and a visit to the mall in search of somewhere cool.
Although the car was in the Falcon car park it is covered in grime. A week out in Devon and the only danger would be pidgeon dung. It just shows how bad the air is in Dubai and how much dust and dirt is in the air. It cannot be good for anyone.
And then a 4.30am wake up for Tai to catch her 7.35am flight to Rome. Rome for a summer afternoon should be very pleasant.
Me – a quiet day at home. And a needed trip to the gym
29 July 2008
If I thought the Sheraton Heathrow was bad – then try the Thistle – what a shockingly awful hotel. If this was my first night in England I would turn around and go straight home. This is a zero star, third world place. A borstal not a hotel.
28 July 2008
I used to be a member of the National Trust; and they do a great job of maintaining old british homes, castles, historical buildings and some of the more scenic land.
And Saltram House near Plymouth is a nice example of a 250 year old Georgian home with attractive gardens and staffed by volunteers who were proud of their building and happy to offer information.
**************************
It is nice not to be woken by construction noise!
**************************
The British are excited – yesterday was for many the warmest day of the year; the beaches at Burgh Island were packed. I love weather forecasts that describe 25C as hot!
26 July 2008
It was nice to wake up with the window open and not to be listening to the building sites. It is very peaceful here.
***************************
Tai is on her way to Casablanca today. Sounds exotic; but seems a long way from Newton Ferrers.
************************
I wandered around Heathrow's new terminal five yesterday while waiting for Alex's flight to come in from Geneva.
It is modern and efficient. It looks like HKG or BKK. Lots of light, metal and glass. The Costa coffee was good. There is a decent sized M&S food shop if you are hungry and the car parking is easy and access to the M25 and M4 is fast.
*******************************
The motorway was busy to Devon; not helped by too many people who seem to drive along happily in the middle lane….
25 July 2008
As Dubai gets ready to welcome the A380 one innovation on EK's new jet is that the EK A380 will have 2 new extra staff onboard, excluding the cabin crew. These 2 staff will be responsible for keeping the aircraft clean. They will clean the showers, the galleys, toilets and make sure the cabin is neat. They will not be cabin crew and will take up 2 seats that will be blocked off in economy for them at all time, so they can rest and take turns working.
How long before EK dumps this idea and gives the work to the crew?
***************************
Heathrow is such a dump – in 1978 Dennis Potter the playwright wrote:  I did not fully understand the dread term "terminal illness" until I saw Heathrow for myself. How true!
24 July 2008
I feel like I am in a breathless rush….with too little time for Tai and I.
Tai was back from London late last night – but it was almost 2.30am before we slept and my alarm went off just four hours later.
Then it was work (and not a great day there) until lunch followed by a rush home and a rush to see Alex.
I am on my way to London (EK5) and will see Alex tomorrow and we will have a few days in England visiting my Mum. But it seems so strange to be on holiday without Tai – her schedule would not let her take a few days off with me. So we are going to have a strange few days; and for once she is in Dubai and I am traveling.
***************************
In my luggage I have power chargers for my laptop, blackberry, mobile, shaver and for two cameras. Too much? Why cant the manufacturers just agree one standard electrical connection that recharges any device?
***************************
The kid behind me loves kicking my seat. I may have to turn around and strangle him. Spoiled, indulged, Indian kids.
***************************
As for the lady who threw hot coffee over me in the lounge at DXB. What goes around comes around…..
22 July 2008
Tai is heading to London today. Our timing is not quite right this month!
She is staying at a hotel where you call internationally and then get an answerphone with a whole menu to go through before you know you need to dial a certain number to get the operator. Very annoying. And then this really slow voice – I am connecting you to the operator – and then a minute ringing before the operator bothers to answer. So you have been charged two minutes of long distance call before you get a real person – and then you have to spell the guest's name a couple of times to get through to the room. Grrrrrrr….
20 July 20008
How to impress your girl – at 53 !!
"At 53, and looking increasingly like he should be skippering a marlin boat off the coast of Bermuda, Norman yesterday set up the least expected sporting victory ever as he ignored his lack of practice, the absence of any sort of real preparation, to continue to impress the hell out of his new bride Chrissie Evert. As showing off goes, this is now ridiculous."
Norman leads after 3 rounds of the Open. It would be the golf story of the decade if he wins!
19 July 2008
A day trip to Fujairah. Lunch at the Hilton with the tide in almost at our feet. Nice. And i like the drive up the coast to Dibba.
18 July 2008
It is a quiet day in Dubai – and to brighten it up here is a helpful flight attendant video from the Netherlands – no translation is necessary.
****************
Why when two airliners get too close do they call it a near miss and not a near hit?
*****************
More oil woes as Qantas announces 1,500 redundancies and grounds 22 of its older airplanes.
********************
Am trying to work out why I am having to listen to building site noise at 7.15am on a Friday morning – this is the official rest day – when no one is supposed to be working – not helped by getting up at 4.15am to go to the airport.
***********************
The British Open is underway in foul weather in NW England ad among the leaders is 53 year old Greg Norman – he credited his recent marriage to Chrissie Evert as a factor in an Open performance that rolled back the years.
'It has revitalised my life and that has had a rub-on on effect on the golf, no question,' said the two-time winner of the Claret Jug after a par 70 just behind the leaders.
Wonder if my golf game will improve from October!
*************************
More Brits behaving badly stories…..
A First Choice Boeing 767 plane, with 257 passengers and 11 crew on board, flying from Gatwick to Cuba on Wednesday had to land in Bermuda after a passenger tried to open a door in the plane at an altitude of 35,000 feet. Passengers claimed the man had been drinking and become abusive before making a lunge for one of the doors.
Why oh why do airlines and airports still insist on serving alcohol on planes and at airports?
Air-rage incidents on British planes have more than tripled in recent years. The Civil Aviation Authority received 2,219 reports of disruptive behaviour on flights in 2006-07, compared with 1,359 the previous year. Common causes included drunkenness and lighting up or getting angry when stopped from smoking. Disputes often involved couples' rows, anger over seat allocation and irritation at people reclining seats into personal space. In 42 cases passengers were restrained. Planes were diverted in 14 incidents, and on 19 occasions take-off stopped. Passengers were ordered off planes in 235 cases and police or security attended 345 times. Scary!
17 July 2008
The joys of the English language – this was the headline in the Sun earlier this week – "Boozed-up brunette banged up for bunk-up on beach in Dubai".
***************************
More crime news from Dubai: Forty cross-dressing tourists have been arrested in shopping malls and other public places and they will be deported soon, police revealed on Wednesday.
The visitors were held after police launched a campaign against transvestites in May. The 40 offenders were referred to the Public Prosecution, which issued an administrative deportation order against them.
Why would cross dressing tourists come to Dubai? A visit to Thailand would seem less risky!
************************
And sending all these visitors home may not be a great idea: Arabianbusiness.com confirms today what I wrote a few days ago; that many hoteliers in Dubai are reporting lower occupancy rates than normal this summer.
Although summer is traditionally a slow season, a number of the emirate's hoteliers say business is quieter than normal, reported UAE daily The National on Thursday.
It must be bad to get reported. I wonder how bad.
16 July 2008
7Days newspaper in Dubai on page 2 reported under the headline – "Hotel knifer gets life" – "an Egyptian man was sentenced to life in prison followed by deportation for stabbing another man to death."
Not sure he will know much about the deportation!
********************
In another police statistic over 1.3million traffic fines were issued in Dubai in the first six months of the year – about 1.1million issued automatically by radar detectors; the other 200,000 issued by traffic police.
*********************
Tai is on her way to Hong Kong today; I wish I could go – I have cabin fever and need a couple of days away.
********************
Another week without the tagboard – I miss it – and the regular updates from my Bangkok correspondent!
14 July 2008
79 people were arrested last week on Dubai beaches as part of a crackdown on indecent acts on all the open beaches. Wow! People should stick to building sand castles.
13 July 2008
The News of the World newspaper web site is actually blocked in the UAE. I did not realise that until I tried to check the newspaper's latest views on the Mosley case !
11 July 2008
Useful advice from the Sun newspaper in the UK: "Men and women who bonk three times a week can halve their risk of suffering a major heart attack or stroke, according to a University of Bristol study."
I am now planning to be very old !
10 July 2008
End of the week. Strange week. Tai is out to Beirut for the evening.
Had a couple of rough days in the middle of the week. My neighbour's birthday coincided with Tai overnighting to Ahmedabad; a night that left us both tired and out of sorts.
But we made a storming recovery. Sometimes I guess a bad day helps remind us of what really matters.
**********************
We bought our wedding rings on Tuesday night – and Tai has found her make-up artist….she may surprise one or tow of the wedding guests ! She was recommended by one of Tai's crew friends.
***********************
Both Time Magazine and The Economist carry articles on the battle for control of Thailand. The legal pressure on Thaksin is huge; and his puppet government led by the quite awful Samak is moving from one incompetent muddle to the next. And worst of all Thailand's faltering economy is getting no attention.
7 July 20008
Early morning and still awake as my neighbours want to party tonight. The trouble is that the building is so badly finished that i can hear their music and talking and smell their cigarettes.
It is apparently my neighbour's birthday – wouldn't it be nice if she had her birthday somewhere that is not blaring into my ears.
Last night I went to sleep listening to concrete being pumped  at the car park being constructed next door and this morning I woke as they were hammering away on metal pipes.
Noise pollution. Bad. I need to sleep.
5 July 2008
Advice from an aircrew friend: you may never be allowed to fly again but it might be fun ! :
HOW TO HANDLE IRRITATING SEATMATES IN AN AIRPLANE
If you are sitting next to someone who irritates you, follow these
instructions:
1.      Quietly and calmly open up your laptop case.
2.      Remove your laptop.
3.      Start up.
4.      Make sure the guy who is annoying you, can see the screen.
5.      Close your eyes and tilt your head up to the sky and move your lips like you are praying .
6.     Then hit the link below
http://boortz.com/mp3/archive/countdown.swf
4 July 2008
Tai is on her way back from a not so exciting trip to Addis Adabba and Entebbe/Kampala. She will be late into DXB tonight.
I worked most of the day until about 8pm; then made the mistake of trying to go to the Mall of the Emirates on a Friday night. The mall's car park was one large non moving traffic jam. Impossible to park so I gave up.
On TV tonight – Sean Connery in "You Only Live Twice" – I dont know this Bond film as well as others; but I like that it is set in Hong Kong and Tokyo; and the filming of Hong Kong harbour in the 1960s is fascinating. The film was made in 1967.
3 July 2008
The dream?
The reality:
(Sewage on the streets in International City)
1 July 2008
Tai came back from Bangkok on Friday night/Saturday morning; she immediately had airport standby on Sunday morning  and we have both been sleepy since – bed at 10pm the last two nights.
************************
I am feeling a bit run down and I am finding it hard to shake off…..energy and enthusiasm for everything I do has always been important for me. And it is not there at the moment. Instead there is a sense that I should be doing more….but I am not sure where to start.
************************
Lets hear it for Thailand's only female tennis star, Tamarine Tanasugarn who knocked a moaning 2nd seed Jelena Jankovic out of Wimbledon with a 6-3 6-2 fourth-round win. Tararine is now in the last eight where she meets last year's champion Venus Williams.
And while on Sport – Spain beat Germany to win the Euro2008 title. Good for them.
28 June 2008
The Dubai Mall remains on schedule for a 2008 opening. In addition to a full size Olympic ice skating rink,  the Mall will include a world-class Aquarium & Discovery Centre, the region's first SEGA indoor theme park; the world's largest indoor Gold Souk with 220 retailers; a fashion precinct with 70 flagship stores dedicated to haute couture; the Middle East's first Galeries Lafayette department store; KidZania, a children's 'edu-tainment' centre; a 22-screen Cineplex; and The Grove, an indoor-outdoor streetscape with fully retractable roof.
And a few of the inevitable food courts and maybe even an a shop or two.
Expect parking and road access to be horrible.
***********************
The hotel next door to the Worabura resort in Hua Hin is called Chom VIew. It has room rates for the Low Season and the Peek Season (their spelling). Just ofr voyeurs I guess.
Mind you their web site also hopes says the hotel "….provides your enjoyable vocation every time you come by all best services."
***********************
The US airline nightmare deepens by the day; with US$15 charged for a first checked in bag and US$25 for a second bag passengers are trying to stuff ever more into their carry on bags. Who suffers? The flight attendants and other passengers. There will be fights as passengers try to fill the limited overhead space.
**********************
I drive 6 out of the 7 Emirates of the UAE yesterday. Just needed a trip to Fujairah to do all 7. Lots of driving for one day.
27 June 2008
And for those who care the footy final is between Spain and Germany on Sunday.
***********************
I was up at 5.30am this morning to head up to the Al Hamra golf course at Ras Al Khaimah; it was very hot; but the blue sky was welcome; and it was a fun morning. We were round in less than 4 hours. Golf should always be that fast.
I was hitting the ball quite well – but after so long not playing my short game is horrible at the moment.
**************************
Tai is on her way home; but there are no seats on her airline; so she is on Etihad; and I have a late night/early morning drive to Abu Dhabi. That is going to be tough after a long drive this morning and an early start.
***************************
Here are a couple of evening views from the back of my apartment. Evening views of the under construction Burj Dubai and of Executive Towers and the building sites right behind me.
26 June 2008
Turkey had a remarkable Euro2008 – but lost last night to the Germans in a great finish……the headline writers were all prepared with their Roast Turkey and Germans gobble Turkey headlines….
25 June 2008
Too much time on my own this week. Tai was in Bangkok, Rome and then Birmingham and then has been back in BKK for a week with the family. Too many evenings at home with no one to talk to – I talk to the TV….non-interactive BBC
********************
Hard Talk is interviewing The Huffington Post.
The arrogance of this lady. Arianna Huffington.
An ex Republican – now an Obama fan. Yet she insists she is not partisan. And she insists her website presents facts only. Yet most of it is opinion blogs……
Listening to her would make me vote for McCain just because she is so self – righteous.
24 June 2008
Bye bye to NorthWest Airlines; they are merging with Delta but the new mega carrier will also be know as Delta. That sounds more like a takeover ! The first major airline loss of the year.
*********************
The collapse in US housing prices is alarming. New monthly results today.
*********************
Sorry about the tagboard. I have no idea when it will be back in action! I miss it!
**********************
Tai was back from Birmingham for long enough for me to take her on Sunday morning from the CBC to terminal 1 for the flight to BKK.
Sadly she did not arrive in BKK in time for a last visit with her grandmother who died on Saturday evening. She is at peace now. Tai will stay with her family until after the cremation later this week. It is good that she is there.
*********************
Meanwhile I had an overnight trip to Doha. Late night departure on Emirates; with one of our friend's among the crew. How they serve a meal on a 45 minute flight is a bit of a mystery. I did not eat but a glass of wine helped. A Thai purser as well.
**********************
Tough day in Doha. It is a small version of Bangkok. There is a lot of building. But it does feel like a more Arabic city than Dubai.
**********************
Flew back in Economy on Qatar Airways. Their check in staff appear to all be Russian ex KGB trainees. They have zero customer service skills. A polite request for an aisle seat did not even get a reply. ANd I am all dressed up in my best suit. So I end up in the middle of row 24. He could at least have said, sorry Sir, it is a full flight and there are no aisle seats left.
21 June 2008
George Bush was in Europe last week. He spent the last couple of days in Italy. He went to Venice, and he thought the streets were flooded…..
Meanwhile John McCain is now crisscrossing the United States campaigning. Or, as they're calling it, Antiques Roadshow.
***************************
Footie watch. Its the 2008 European Championship. Turkey have played four games – they have been in the lead for the grand total of 9 minutes in total. And they are in the semi finals! Amazing. Turkey got lucky last night. It was by all accounts a very dull game until the last 2 minutes of extra time. Croatia scores in the 119th minute and Turkey then equalises in the one minute of injury time. Turkey then eases through on penalties.
Lucky, lucky Turkey. I don't expect them to get past Germany in the semi finals.
20 June 2008
I played golf this morning at the Wadi Golf Course at the Emirates Golf Club. The course is in great condition.
It was very hot and muggy. And there is a lot of dust and sand in the air at the moment. Big headache by the time we were on the back nine. So it was a struggle.
Hit enough decent shots to know that I can still play. Just too inconsistent.
****************************
Talking of golf TIger Wood's injury defying win at the US Open was remarkable. But achieved at a cost to him, sponsors and the crowds who come to watch him.
Tiger wont play again this year as he requires further surgery on his knee.
Sponsors are already fewer in number for the remaining tournaments of the year. The last two majors, the British Open and the US PGA are devalued because he will not be there.
The only team that may benefit is the US Ryder Cup team; which may be more of a team without the world's greatest individual golfer.
****************************
I thought Dubai had gone no smoking. For some reason the rule does not seem to apply in the bar/restaurant at the Emirates Golf Club. Poor show. Guess money may have its privileges.
Nothing like allowing smoking in a sporting venue and a public club that is open to children. Very Poor.
*****************************
Tai is in Birmingham. An early departure this morning; and gone again for the weekend.
*****************************
The new Salik toll on Sheik Zayed Road is being installed right outside the Business Bay exit onto SZ Road. So every morning I will head out drive towards Dubai; pay my first toll immediately, and then do the U turn at Defence roundabout to go back towards Abu Dhabi and immediately go through the second toll. That cannot be fair.
******************************
Meanwhile just down the road from us – five workers were injured after part of an under construction bridge on the First Interchange on Shaikh Zayed Road collapsed on Monday night.
Too many buildings being built too quickly by people without the constructions skills to ensure that safety and quality are ensured.
16 June 2008
Yesterday was Fathers Day. It is not easy being an imperfect father. I have made mistakes and however much I have learned it is likely that I will continue to make more.
I will always be a little sad that I cant be with Alex watching him grow up.
I do try and talk to him most days. And the bond is still strong when I do see him. But I am not there when he is sick, I am not there to help him with his homework, to hear him play his flute or to play and laugh with him. Or to simply give him a hug and tell him that everything will be ok.
And if I am lucky enough to have another chance to be a better father then I will embrace it.
*************************
As part of the public support service that this web site espouses to the following contribution from Bangkok magazine might be helpful for some: here is the magazine's guide to an exit strategy that will ensure that you can lose your job!
Need help on an exit strategy? See below.
1. Meetings. Raise your hand every two minutes and say, "Are we almost done—if not, can we wrap this up?"
2. Lunch Breaks. When you leave for lunch, announce that you will be gone "indefinitely." Return 15 minutes before the end of the day.
3. Children & Pets. Screw the sitters, just bring them to work and hide them under your desk. When asked what that noise is, look your boss straight in the eye and say, "You hear it, too?"
4. Reviews. When asked what your goals are for the remainder of the year, reply, "Get off my back! What are YOUR goals, mister?"
5. Attire. Shower, put pajamas back on and go to work. Better yet, skip the shower, and show up to a regional meeting in your finest Pokemon PJs.
6. Company Outings. At the next barbeque in Lumpini Park, be sure to pinch the boss's wife's ass no less than two times. Make sure the big guy sees it.
7. The afternoon Dance Party. Productivity hits a low at 3pm. Why not set up your iPod speakers and invite everyone to shake their bonbons to Ricki Martin's greatest hits?
8. Personal Days. The plan is to call your boss early in the morning and explain that due to eye trouble you will not be in today. When asked what the problem is, say, "I can't see myself coming in."
9. Attitude. Punch people. Hard.
10. DEATH THREATS. Leave a "kill list" in the copy machine.
**************************
Up early this morning to take Tai to the airport for an early flight to Rome and Nice. Too early! She is not so well this morning but it was too late to call in sick. Bad enough flying when you are not well; worse still having to work.
Such a jetsetter – three countries in one day!
**************************
We have had a mixed couple of days. But it is interesting how when we have to confront issues and talk about how we feel that we become ever closer. I guess you never stop learning new things about people. We have to know our hopes and dreams and also our insecurities.
***************************
Saturday was a rest day for us both. Tai was back from Bangkok with a suitcase full of food. And she was tired after a hectic day in Bangkok seeing wedding card printers; and sorting pictures at the wedding studio. The album will take a month to prepare so it will be a while before I can show any of the pictures here.
We did go and briefly explore the new indoor souk at the Wafi Mall. Expensive to look at but thats about it. Very quiet; few people shopping and air conditioning that made the souk more like an arctic mall.
**********************
After a long day at work yesterday – why is every day a long day at the moment – we had dinner at falcon – which made a nice change. An excuse to light some candles and relax. Nice.
13 June 2008
I played golf today – the first game since January 2007. And I had a good time and played some decent golf. I was at Al Hamra golf course near Ras Al Kaimah with three colleagues. Even though it is the weekend the course was fairly quiet.
And it was hot !!!
There are no caddies. This is a long way from playing golf in Thailand.
6 pars and 2 birdies. But the card was spoiled by two ugly triple bogies ! An 87 was a decent score.
Nice blue sky. A bit too much sun. I should play more. And there should have been an audience for the 4 iron that I hit into the wind on the 16th. Very pretty
12 June 2008
I have had a perpetual headache for the last two days of the working week.
I dont normally write about work – and I dont intend to start here. But it is enough to say that work here is no fun. I have never enjoyed a job as little as this. There are some great colleagues…..but…..I give my best all day every day. But it is never enough….and I am tired…..
When Tai is away I dont have a life here – just work…..
9 June 2008
This feels like a long week. I was so tired last night.
Sunday night was Korean BBQ at Shogun restaurant. Always fun to go there; pity about the traffic. It is a one hour drive to get there.
Not much else that is new. I am going to play a round of golf on Friday. First time since January 2007.
7 June 2008
Big news; I hit some golf balls today – at the driving range at the Emirates Golf Club.
I have also signed up for the summer package which lets me play on the Wadi course, the floodlit par 3 course and use thedriving range and club facilities.
My golf bag was mouldy after being on a bathroom floor for the last 15 months. And it smells !!
I have not hit a golf ball for 16 months. And it showed for a while; but slowly the swing came back and I was hitting the ball decently.
But it is not my old BKK driving range – no caddies; no pretties seling drinks. No on site cafe. Carry and clean your own golf clubs. And AED 30 for 50 balls is about 5 times the price of Bangkok.
*************************** 
I do occasionally bake some brownies – have even tried my mother's scone recipe. But I have yet to try the artistry of robot cup cakes: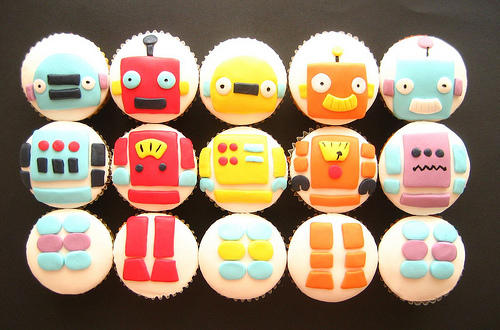 These are works of art – not just food!
6 June 2008
Its the weekend and Tai is in Tanzania – Dar Es Salaam to be precise. I dropped her at the CBC this morning and then went to work.
They were painting the office. It smelt like glue. Very unpleasant. So home mid afternoon but it is very quiet here. No one to talk with.
And it feels too hot to go out and do I really need to go out on my own to the mall. Should go to the gym but dont feel that energetic !
It was a busy week at work; never seems to let up. I dont have lunch. I work from early til late. I will be back in the office tomorrow.
**********************
Tai and I did go out for dinner on Wednesday – to the Asian restaurant at the SAS Radisson Hotel at Media City. The food tasted ok but the place has all the ambience of a bad airport terminal.
And I did not feel so good afterwards. SO dont think we will be going back there.
3 June 2008
Tai is on her way back from Beijing – and will arrive an hour early. There is not a lot else to report – all work!
************************
The RTA, or an unknown benefactor, has at least levelled the access roads to Falcon and Millennium Tower. They are not tarmaced or marked; but they do appear to have a firm base rather than a sand base.
The heavy trucks are taking their toll on the Falcon access; big potholes after less than two weeks. Still, it is better than it was.
*************************
At 7.45am this morning my car was already reporting an outside temperature of 37C. Strange that the news on the radio said it was jut 31C.
**************************
And about time to: Hillary Clinton will apparently concede tonight that Barack Obama has the delegates to secure the Democratic nomination, campaign officials have said. The time has come to try and unite the Democrats. Either way, Clinton or Obama can create history. A vote for McCain is like a third term for Bush and is a very poor idea.
I just worry that come the real election – the Democrats will find it harder to turn out and vote for Obama; rather than Mrs. Clinton.
1 June 2008
Dr Shashi Tharoor was speaking at one of our schools tonight. Interesting guy. Wonderfully articulate.
One quote – not from tonight – "How easily we Indians see the several sides to every question! That is what makes us such good bureaucrats, and such poor totalitarians. They say the new international organizations set up by the wonderfully optimistic (if oxymoronic) United Nations are full of highly successful Indian officials with quick, subtle minds and mellifluous tongues, for ever able to understand every global crisis from the point of view of each and every one of the contending parties. That is why they do so well in any situation that calls for an instinctive awareness of the subjectivity of truth, the relativity of judgement and the impossibility of action."
31 May 2008
Have been obsessing about shower caps – you have to read the "Today" page for more on this.
End of the month; Tai is off to Bejing tomorrow.
She had a round trip to Damascus yesterday – by air not by road ! Tiring as it meant a 4.20am wake up. And I was in work by 6.15am. So we were both tired by late in the day.
30 May 2008
Interesting link – a website that is tracking the construction of the Burj Dubai tower. Some interesting pictures. Follow this link.
***************************
Apparently this is a true story:
A customs test at Japan's Narita airport last week placed a quarter of a pound of cannabis in a randomly chosen suitcase on its way to the baggage hold.
Sniffer dogs failed to detect the cannabis and the officer could not remember which bag he had put it in. Anyone finding the package has been asked to contact customs officials.
*****************************
Just how hard are fuel prices hitting the airline industry: try this quote.
The approved increases reflect the soaring jet fuel prices that are posing an enormous challenge to the aviation industry. The situation is having a very serious financial impact on airlines worldwide and we are no exception. Jet fuel prices have reached an unprecedented level and the situation is likely to get worse before it gets better. The price of fuel has doubled since last year and has risen by 55% this year alone. At current prices, it costs us USD360,000 in fuel alone to fly a B747-400 to London and back.
– Tony Tyler, CEO, Cathay Pacific.
Source: Company Statement, 26-May-08.
*******************************
We celebrated my birthday on the evening of the 28th. Tai and some friends had a surprise party for me at Millennium. They went to so much trouble – it really was very nice of them all – and I think everyone had fun in the preparation and over a nice dinner ! We had pasta, chicken, soup, salad, birthday cake, silly hate (I am not sure I am really suited to a barbie hat) and balloons.
Thank you all !!
*********************************
And not forgetting people in my office as well who were very nice to me on the 27th – a big card from my finance team; thanks guys; some chocolates and lots of good wishes !
27 May 2008
Yep – it was my birthday today. 21 again ! Oops, typo!
Strange day. Feel a bit better at last. Woke with a headache but it has eased through the day. I really was not very well yesterday – but this is day 4 and I seem to be mending.
Colleagues in the office were very nice. Thank you.
I am the proud owner of a new Sony K810 mobile. Thank you sweetheart. Perfectly timed as the old phone really is falling apart.
And the sweetest message from Alex written inside a book he sent me. Pity about his handwriting !
No celebration or dinner. Instead finished work about 8pm; then to the bank and carrefour and home. Dinner from the freezer! And some laundry. An exciting birthday!
Tai is on her way back from Zurich tonight. I was able to watch her flight leave on the airport webcam. A little voyeuristic but somehow comforting as well. And here are the stills from the web cam:
26 May 2008
Interesting news feature about an incredibly detailed survey for the German Der Speigel magazine – instead of a nation that prides individuality it has grown increasingly homogeneous.
The average German…
· Has sex 117 times a year
· Wakes up at 6.23am
· Travels 24.5 miles a day
· Works 30.3 hours a week (41.4 hours in 1960)
· Drives a six-year-old silver metallic Volkswagen Golf which is washed nine times a year
· Walks towards the right when entering a shop
· Considers price to be more important than quality when shopping
· Has 971 sq ft of living space (a family of 2.2 people) which costs €408 a month in rent
· Dreams of stripping the woodchip wallpaper and laying down cherry or walnut parquet
· Takes 15 minutes to fall asleep
· Earns € 3,702 a month
The study concludes that 'after turbulent centuries and catastrophic decades we have arrived in a state of a moderate, average democracy', in which being 'lost in the crowd' and 'public order' are in fact what citizens most desire.
What comes out in the end is a portrait of a people who are well-fed, well-educated, fairly satisfied and generally modest.
And rather Dull !!! But they only work 30 hours a week !!! I do that in two days !
24 May 2008
The most tiring few days I can remember. And I have not felt well at all today. It may just be the body saying slow down for a while please !
But I did make a quick visit to Au Bon Pain Silom; our BKK correspondent is still seen there regularly.
We spent yesterday with the team from Victoria Wedding Studio for a pre wedding photo shoot. It was not a great day. We did not like the photographer and they really forgot how to treat the customer. I will rant about them later.
The Al Majlis Morrocan Tea shop was a nice place to take some of the  pictures. The studio would not let us take any pictures of our own but here are a few that we were able to take when they were not watching!Including in a taxi to the photoshoot!
Big thanks to K. Apple for spending the day with us and for taking these pics!
**********************
We did have a five star hotel bar crawl (not brawl as I originally typed!!!) on Thursday night. That was fun. The band at Spasso end their run there on Saturday and were playing to a large and happy crowd. 87+ at the Conrad was quite by comparison and the band was very average.
21 May 2008
Back from a day trip on the Gulfstream450 to Doha. Long day. Tired.
Have to pack and head to BKK on EK384 at 3.15am ! Ouch!
20 May 2008
Tai has been to Hong Kong and back; met up with Alex on Sunday – my two favourite people together again ! And is now on her way home to Bangkok for a couple of nights with her family.
I was so tired last night that we were hardly able to talk in the few hours that we could see eachother between her flights. Work is taking its toll at the moment.
*********************
Some harrowing news pictures on CNN this morning; video taken in the seconds and minutes after the China earthquake; and video taken in the Burmese Delta region where two weeks after the cyclone there are bodies still rotting on river banks and whole communities that have seen no aid.
Its bad enough the damage that nature can do; it is all the more shameful when help is refused.
17 May 2008
Portsmouth win the FA Cup. David James, ex Watford Youth, by far the best of England's current goalkeepers and Guardian newspaper correspondent picks up a winner's medal. Happy for him.
16 May 2008
There are always strange things that I see and forget to comment on here:
My apartment building elevator is fitted with an emergency landing device. What is this? A giant airbag ? Maybe it is not something that I really want to find out !
Why is the new car park at Millennium not open yet? It was marked out almost a month ago?
Why is there no road to my apartments yet?
Why did I wake up at 3.15am and not go back to sleep?
Latest Hong Kong Mall – for people flying there this weekend ! Tai !
"Causeway Bay's Delay No Mall is the latest shopping concept in a city famed for its retail nous. The exterior looks like an old-style cinema, but the entertainment inside is three floors of hip boutiques, running the gamut from toys, clothes and accessories to gifts, art and furniture.
Created by G.O.D. (Hong Kong stylemeisters, Goods of Desire), Delay No Mall presents a collection of designers "in a showcase of young thinking not afraid to push boundaries and break the mould".
12 May 2008
Time to go home. I spend 12 hours a day at work; I spend 1 hour getting ready for work. I spend 1 hour driving too and from work. I am available on my mobile until 11pm and can also check email at home, on holidays and in the evenings. I sleep for about 6 hours a night. That gives me just four tired hours each day at most that are mine. Its not enough.
**********************
Tai is away today – back to London – again. She has given away her Houston for a Hong Kong flight on Saturday which is great as she can meet up with Alex.
**********************
Man U won the Championship. One of my colleagues is far too excited by this. Meanwhile I am in mourning for Watford after a 0-2 drubbing against Hull.
10 May 2008
This cartoon is so sad – because like all the best political cartoons it is so true: the caption reads "I'll hand this lot out."
What is happening in Burma is a monumental tragedy. And frankly there is so little that the rest of the world is able to do without co-operation from the Burmese ruling military.
**************************
Tai was on a Doha turnaround in the early hours of Sunday – I have been to bed three times! Before, during and after her flight ! A strange night !
**************************
We did get out to see a movie on Friday – Iron Man – good to see Robert Downey Jnr back in a lead role and having fun with it.
6 May 2008
Sometimes I do feel like Dubai is not the city for me. This struck me at about 8.00pm last night as I was driving home and got stuck in sand. The wheels spinning – the car would not move.
An SUV was kind enough to stop and two guys helped shove me out of the sand.
This is the main access to Millennium and Falcon Towers – past the Business Bay sales office – and I had moved to eh right side to let a car (that thought it should drive down the middle in the other direction) get past me.
But this road is not a road – it is a dirt track that is heavily used by heavy trucks and cement mixers going to the Business Bay building sites. The track is now inches deep in sand and dirt that has drifted in places in the wind. And I was marooned.
Big thanks to the two guys who pushed me out. I wish I had bought an SUV. But I really never thought that a year later we would still have no road access or that the access would deteriorate as much as it has.
You don't see these conditions in Dubai's promotional marketing videos.
*****************
Forgot to report – Tai has started to eat Cornflakes!
5 May 2008
There we were having a quiet rest last night before Tai had to leave for a flight to Dhaka when crew scheduling calls up and says – sorry, change of plan, you will have to go to London on the 2.30am flight.
*******************
Otherwise we had a nice weekend not doing much ! Instead of going away for the weekend we pottered around in Dubai; we were at Deira City Center on Friday; and even had a sleep Friday evening; followed by some work on Saturday and a visit to Dubai Creek and the souks in the evening. We had not been there for a while so it was an excuse to take some fun pictures:
********************
Tai has managed to swap a flight so we will be able to go to Bangkok for 22/23 May to take some pre wedding pictures. It is also a chance for Tai to go home for a night or two assuming she is not too wasted after her trip to Houston.
2 May 2008
Another month – it really does feel as though we have only just finished Christmas.
Since my last update Tai has been to sunny Zurich and back. More fun than dusty Dubai.
*********************
Singapore Airlines has now taken delivery of its fourth Airbus A380 plane, the world's biggest passenger jet.
The aircraft will service the first commercial link between Singapore and Tokyo, and is due to start flying the route on May 20.
***********************
Cadbury Schweppes is no more – the two units being split up after 40 years together. Now this makes me feel old. Dad worked for Cadbury's for all his working life. But when he came back from Nigeria in 1975 he was thrown deep into the newly merged Cadbury Schweppes – working for the Schweppes division in St. Albans.
Splitting up the business seems risky – and likely to make both divisions a takeover target. Now Mars is acquiring Wrigley do not be surprised to see Hershey seek to buy Cadburys.
27 April 2008
Welcome home hon. Tai is back from London – I feel bad about not being at the airport to collect her. One of the problems of a 7.30 start at work is that it can be hard to meet the morning arrivals.
Up to 36C in Dubai today – almost 100F. It is beginning to get warm.
I spent yesterday at work until about 7pm. And Friday was quiet. Tai was on the afternoon departure to Heathrow. I did watch "Martian Child" on DVD. Cute movie. And by the end everyone is happy. Things do work out as long as you want them to; as long as you make the effort and as long as you always tell the people you love how much they mean to you.
24 April 2008
Rumours from Durban in South Africa are that Emirates will announce flights to this city for 2008. In South Africa the provincial Minister of Finance and Economic Development, Zweli Mkhize, finally said what everyone had been whispering, that Emirates would be flying direct to Durban – and that it will happen this year.
Discussions with the airline were said to be in their final stages and they have been granted a licence to fly to Durban this year, thereby allowing for a build-up of passengers ahead of 2010.
2009 I suspect.
Tai has a Karachi turnaround today. We are both tired this week. Sadly we wont get this weekend together as she has to go to London.
*******************
This is fun – follow this link for some fun photoshopped versions of the Burj Al Arab hotel.
23 April 2008
Not feeling great today – struggling to shake off a flu bug. Was home alone last night. We were both tired. But have not been sleeping well.
Work has been a bit crazy this week; but this is not the place to tell you all about that.
20 April 2008
Alex is 11 today !! Amazing. He has been with me and in my thoughts every day for each of those years and is a very special part of my life.
Tai meanwhile is on her way to Birmingham this morning. Her first visit to the city where I was born. They stay very centrally so she will get a look at the new Birmingham city centre – which is apparently very different from when I lived there.
19 April 2008
Came back to Dubai this morning on Etihad's morning flight out of Bangkok to Abu Dhabi. Flight was full. Food was dire.
We had a busy day yesterday arranging wedding invitations and photographers. Possibly too busy as we were tired by evening.
16 April 2008
I dont like Hanoi – and to be honest with the little holiday that we have I would be happier on a beach or somewhere green and quiet. This is a noisy, unattractive city.
**********************
Meanwhile back in Thailand a total of 677 road accidents occurred on Tuesday, killing 47 people and injuring 677 others.
Anucha Mokkhawes, director-general of the Disaster Prevention and Mitigation Department, said a total of 3,537 road accidents occurred nationwide from Friday to Tuesday, killing 276 people and injuring 3,992 people.
Crazy.
15 April 2008
Up far to early after a bad night's sleep for the 6.45am to Hanoi.
It is six years since I was last here and everyone has acquired a motorbike to replace the old bicycle.
With every motorbike comes a new horn. And the noise in the city is incessant!
14 April 2008
Am I a lousy father? I try to call Alex from Dubai whenever I can. We saw him in HKG two months ago and this weekend brought him to BKK for Songkran. A holiday that he always enjoys. But I always feel that it is not enough of me for him.
He arrived in Friday with a bandage on his arm. He did not know how he had hurt himself but his mother reported that it was infected. It actually looked to be healing; there was no irritation. So we just let it heal over the weekend rather than take him to the hospital to be checked. And then I get this not in email " I take it that you have never seen an infected wound?  Alex's arm is festering with a growing lesion. The dried scaly bit is not indication of healing, it is dried up pus."
Guess I will hear what the HKG doctor says tomorrow.
***********************
A total of 76 people were killed and 1,103 others were injured in road accidents on Sunday, the third day of the 7-dangerous-day of Songkran festival, the Road Safety Monitoring Centre announced Monday.
Jaral Phakdeethanakul, permanent secretary for Justice Minister who is an official of the road safety centre, said 1,018 road accidents happened Sunday.
He said the accumulated death toll of the three first day of the seven dangerous period rose to 180.
He said 2,238 accidents happened from Friday to Sunday, in which 2,514 people were injured.
************************
Songkran is fun for a day – but by day 2 I am less enthusiastic. It is hard to leave your room without fear of being drenched or covered in white powder. There are now larger crowds on the pavements throwing water and powder over passing motobikes. Someone help me understand why people do that. Too dangerous.
Huge crowds on Silom tonight. It would take just one fight to turn that into a riot or a stampede.  The road is best avoided for another 24 hours.
13 April 2008
Bob Geldof is not a George W Bush fan. But he is fair. And one area where Bush has not got enough recognition is for his Africa policy. Geldof wrote this piece for Time magazine and it is worth a read.
**************************
Good to be in BKK for the New Year. We were at Chatuchak market today and everyone was in a good mood there. Maybe that is not true by the end of the day as everyone tries to dry off. There was plenty of water being sprayed or thrown around. But other than one idiot it was all very good natured.
12 April 2008
From a pilots website: "Dubai sucks the life out of you."
Sad but I know what the writer means.
We are now in Bangkok for the New Year celebrations. Fairly dreadful flight from Abu Dhabi on Thursday night. No sleep at all.
Did watch the movie "PS: I love you." Pleasant movie – reminded me of Truly Madly Deepy, but without the emotional punch.
9 April 2008
Another office move – my third office in our building in 9 months. This one is a bit too quiet.
Tai left for BKK last night on Etihad. A nice evening's drive to Abu Dhabi and back.
We will be in BKK for Songkran, the Thai new year.
*******************
I feel sorry for the staff of OASIS – by all accounts they were doing a great job and providing a quality service at discount prices. Trouble is the service was at a cost and the airline was bleeding money at an unsalvageable rate.
********************
One new way of getting to South East Asia on the cheap: Low-cost carrier Air Arabia has announced the launch of daily flights between Sharjah, UAE, and Kuala Lumpur, Malaysia in a joint venture with FlyYeti.com.
Air Arabia will operate the Sharjah-Kathmandu leg of the journey, while FlyYeti.com will manage the flights between Kathmandu and Kuala Lumpur.
As part of a special inaugural promotion, fares on this route will start at AED 505, exclusive of taxes and surcharges.
***********************
One of the world's largest shopping and entertainment destinations, The Dubai Mall, will open on August 28, Emaar Malls Group has announced.
The Dubai Mall has a total internal floor area of 5.9 million square feet and leasable space of 3.77 million square feet, which is equivalent to the size of 50 football fields put together.
The mall will feature over 1,200 stores, including two anchor department stores and 120 food and beverage outlets.
Just don't expect too much to be open in the mall on opening day!
6 April 2008
Sebastian Coe on the BBC tonite optimistically called the Olympics "the largest non political gathering in the world" – which misses everything that China is seeking to achieve in the summer Olympics. It is entirely about politics to the Chinese.
Of course Britain can ill afford to upset China as England is hosting the 2012 Olympics. But I am with the protesters. China will use the Olympics to deliver a message. Maybe it is time they heard the message as well.
4 April 2008
Had a couple of strange nights – it was my turn to sleep by 8.30pm last night. Woke at 10.30pm thinking that it was the middle of the night.
Tai has airport standby at 1am tonite so that breaks up another weekend. Comes with the territory! Means being asleep by 8pm for a few hours before heading to the airport.
2 April 2008
Feel thoroughly depressed this morning. Too much work and not enough to enjoy.
Tai was sleeping by 8.30pm last night. We are both tired this week.
*********************
Best of the April Fool's stories was the BBC's discovery of flying penguins!
*********************
Emirates is now flying to its 100th destination with a daily flight to Cape Town.
1 April 2008
Busy, busy at work. Tai came home on the morning of the 30th and it is good to be able to spend some time together.
All Fools Day today. 3 months into the year already. Seems like we just had Christmas.
30 March 2008
From 7Days newspaper this morning. "Thousands of people were left seething yesterday after being forced to queue for hours to get into the Dubai World Cup. Doors to the sold out event opened at 2pm but thousands of racegoers were still queuing outside at 7pm as security staff frisked each person waiting to get in. Some people, who had all paid dhs180 for a ticket, said they had to stay in line for up to three hours and complained that no-one told them why they had to wait to get in."
It was a complete shambles.
29 March 2008
EK has moved all its Trans Tasman flights around for the day – 406 to AKL became 419 to SYD and becomes 413 to DXB – so all is well and Tai will be home in the morning!
Meanwhile I worked all day yesterday and will be back in the office this morning. What a way to spend the weekend. Another night with only a few hours sleep.
*********************
German Transport Ministry's has ruled not to allocate new landing slots to Emirates at Berlin until 2011 and at Stuttgart until 2016. The existing bilateral agreement restricts EK to four German destinations – Frankfurt, Hamburg, Munich and Dusseldorf. Presumably this is all about protecting Lufthansa.
28 March 2008
Between them BA and BAA have made a complete disaster of the new terminal 5 opening at Heathrow.
This new terminal took 20 years to build – the new terminal three at Beijing 3 years and similar for the new Shanghai terminal.
Both HKG and BKK had problems when they opened new airports – but they were opening brand new airports – not as simple as a new terminal at an existing airport.
Heads should roll – starting with Willie Walsh. Trouble is even if he is fired the settlement will mean he never needs to work again.
And then the BAA near monoploy needs to be broken apart. BAA operates Stansted and Gatwick in addition to Heathrow.
Day 1 was a sorry saga: Luggage check-ins axed. Bags lost. Escalators paralysed. 34 flights cancelled. Day 2 – over 80 flights cancelled.
There are profuse apologies on the BA website but a look at the BAA Heathrow website and it looks like business as normal. Not even a whisper of delays or problems.
********************
Thomson Corp and Reuters expressed confidence that the Canadian group's £7.8bn ($15.7bn) bid for the UK financial data group would pay off in spite of turbulent markets as shareholders overwhelmingly approved the deal yesterday.
**********************
Tai is heading back from Christchurch to Sydney today. At least she is ob her way home – but not until the end of the weekend….seems so far away.
26 March 2008
A wonderful English language page from the Thai tourist police!  I must remember to "where safety chute while boarding the ship"
************************
Dubai as a cultural hub – forgive me but the following announcement from the local news agency is something of a dream: it is a bit short on details of what this means and how it can be done.
Dubai: His Highness Shaikh Mohammad Bin Rashid Al Maktoum, Vice President and Prime Minister of the UAE and Ruler of Dubai, on Wednesday launched the Dubai Creek Cultural project, which aims to turn the city into a global cultural platform.
The project also aims to promote the UAE as a global cultural hub for dialogue among civilizations of the world.
A cultural hub requires among other things an active media – yet the latest Freedom House report ranks the UAE 137 out of 196 states worldwide in terms of freedom of the press.
25 March 2008
Tai was called out from airport standby to go away for 5 nights to Sydney and Christchurch. For some reason that has left me feeling unusually sad this morning.
********************
Meanwhile here is George Bush with an Easter Bunny !

24 March 2008
The doctor's recommendation yesterday was three days or rest. I wish. I am off to Doha tonight. Tai meanwhile has a 7am airport standby tomorrow morning. There are so many flights at that time that she could go anywhere !Fingers crossed that Tai will be in Dubai for Saturday and the Dubai World Cup – the major social event of the Dubai year! More on that later !
22 March 2008
Tai was called out of airport standby for the overnight turnaround to Trivandrum. Coincidentally this was one of her two supernumerary flights after her abinitio graduation! It will be a long night for her.
And a long sleep on Saturday. It is a very quiet day today!
**************************
Rumours of high staff turnover continue at EK. But it really is not a major issues – other than the training needs. In the year to March EK received over 66,000 cabin crew applications and selected and employed 3,000. That is just one in every 20 applications is being accepted.
21 March 2008
4am and I cant sleep. Woke up at 2am thinking about work. This is not healthy.
***************************
It was Tai's business class graduation yesterday. Her graduation as a new EK recruit seems so recent – but was almost 16 months ago. It was a good day and I was so proud of her as she was called up onto the stage,
The graduation ceremony is no fun anymore. There are so song and dance shows by the graduates. There are some boringly repetitive speeches and the video of the crew in the training center is now at the end of the ceremony and is woefully short. The whole event lacked the atmosphere of the earlier graduations.
Then and now – the top picture is March 2008 and the second picture is November 2006!
Same chair – same smile !!
There is no time for a day off. She is on airport standby tonight (Friday) – an overnight turnaround looks likely.
******************************
We had dinner last night outside at Olives restaurant at the "One and Only Royal Mirage Hotel" – it really is a very attractive, quiet, rather exclusive hotel by Palm Jumeirah. The restaurant is casual and relaxed.
********************************
At the beginning of 2006, the US dollar was worth 41.05 baht. It is currently worth about 31.00 baht.
At the beginning of 2006, the US dollar was worth 41.05 baht. It is currently worth about 31.00 baht.
18 March 2008
Secret Dubai Diary, one of the emirate's most popular blogs, has been banned in the UAE in a move that has upset the many thousands of its readers. The UAE Telecommunications Regulatory Authority (TRA) has decided to block secretdubai.blogspot.com, calling it, "a web site for slander, defamation and vilification against Dubai.
17 March 2008
Have not felt well for a few days – just a bout of flu but it is hard to shake off and leaves me feeling drained.
Tai meanwhile is on her business class upgrade course – a mere 99.5% in her first exam last Thursday. Not bad given that 2 out of 10 on the course failed.
***************************
The weekend was spend in a typical Dubai way – at work; in the supermarket and having a late lunch at the beach on Saturday.
14 March 2008
Blocked in the UAE….www.mediathai.net
This must be to stop me seeing a picture of Mr. T's gik – Lydia.
******************
A day trip to Bahrain yesterday – I have not been there since my first year with Reuters in 1985. There is much that is new there and a great deal of reclamation. But as we drove around there is still farming land; dhow builders and what looked like lobster nets for the fishing fleet.
The people are friendly; the traffic is horrible and the government offices appear closed by 2.30pm.
Our flight was on a Netjets Dassault Falcon. Very comfortable.
***************
There is a crew satisfaction survey going around Emirates at the moment; comments are apparently anonymous though not everyone believes that – and as with many organisations there no no great expectation of change.
One of the questions on the survey is "Would you recommend Emirates?"
One set of comments on a web site indicates some of the issues confronting EK:
"It depends on your priorities.
If you are less concerned with a pay packet, the abysmal exchange rates and the rampant inflation won't be a problem for you.
If you are less concerned about travel, the 24hr layovers after 14-16 hour flights won't be a problem for you.
If you are less concerned about health, the implications of sleep debt or 24hr aircon won't be a problem for you. (You MAY have a window in your apartment that opens)
If you aren't concerned about job security, the threat of immediate termination, with no representation, or support system won't be a problem for you.
If you aren't concerned about being treated like an adult, the 1am curfew for visitors, the permission letters required for family members to visit, and the condescending training won't be a problem for you.
If you aren't concerned about a professional work environment, then the endemic sexual harassment, seniors abusing their positions of power, or the demagogic methods of leadership used by many won't be a problem for you.
I joined several years ago, when it was a much different place, and there were several positive aspects to the place. It has been painful to watch these dry up, and it has drained much of my normally optimistic outlook to the point where it is no longer a place I can recommend for new crew.
Sorry if this is not what you want to hear, but it's not an uncommon outlook, and goes a long way to explain why so many leave after ever decreasing periods of employment."
The other question is how much of this is simply consistent with any Dubai based company and how much if it is specific to Emirates. The labour laws (or lack of) apply to any company here.
11 March 2008
It is an early morning – 1.30am trip to the airport to take Tai for a Hyderabad turnaround. Do you think there might be a place called Hyderagood – maybe in a parallel universe!?
*****************
The big news last night was that the last episode of Songkhram Nangfah was on teh Thai Global TV network.
Rin got her divorce and got engaged to her nice captain. Shirley got beaten up by the bad guy's mother and sister – they seem a most unpleasant family. Tai says Shirley got what she deserved but there is nothing attractive about watching a pregnant woman (however miserable she is) get beaten and left alone. I found that part of the show must unpleasant.
It was a strange show – part slapstick comedy, part romance, part gratutious violence. And no crew scenes in the final episode. SO teh uniform scandal was played down by focusing on scenes away from the airline and crew activities.
********************
For those of us who have to endure driving in Dubai the following rules of the road have recently been published and will sound sadly familiar:
top 20 driving rules in Dubai
1. There are only two speeds on Dubai roads – too fast and stationary.
2. When driving at 120km/hour ensure you are 30cm from the car in front and then furiously flash your lights at them, even though it is three solid lanes of traffic and they can't move anywhere.
3. Roundabouts are for parking/picking up/dropping off mates. Everyone knows that, stupid!
4. Never indicate at roundabouts, especially when turning left or doing a u-turn – that would just give other drivers a clue of your intentions.
5. Never choose the correct lane for your exit when going round a roundabout – drivers love it when you suddenly cut across them – it tests their brakes.
6. Never indicate when changing lanes. This also gives people a clue of your intentions.
7. If someone is courteous and lets you in, never thank them – that just shows weakness so more fool them for being nice.
8. Never let in drivers who are indicating that they need to move into your lane so they can turn right. It's fun watching them miss their turning or pull a dangerous manoeuvre.
9. If you do miss your turning, just reverse, no matter high fast the on-coming traffic – it's their duty to avoid you.
10. Always brake at the last possible moment – then you can see the whites of the other driver's eyes in their rear-view mirror as they widen.
11. When speeding in the slow lane, flash the car in front who is actually going slow. Everyone knows slow cars should be in the middle lane.
12. Slow cars – always drive in the middle lane, forcing other cars to overtake on either side of you.
13. Hard shoulders are designed to help you get past that traffic jam quickly, not for broken down cars/lorries or actual emergencies.
14. When in heavy traffic, a gap of half a car is an invitation.
15. Equally, a red light is more of a request than an order.
16. Your horn is like beautiful music to other drivers, so keep hitting it.
17. Never strap your child in – that wastes valuable seconds in getting to your destination.
18. Speeding through a petrol station as a short cut when trying to get past a traffic jam is legitimate.
19. Always open your door and spit when in traffic jams – it is big and it is clever.
20. Finally, one for the pedestrians – always cross the motorway/freeway at its busiest point, when cars are at their fastest. Drivers love the adrenaline rush as you run in front of them and they get to test their driving skills as they try to control that skid.
8 March 2008
I read the following new post in one of the aviation websites used by aircrew and people that follow the industry: this entry (made today) is alarming:
"Am I the only captain in the airline who feels really – and I mean REALLY – uncomfortable at the thought of taking my mandatory rest in the (far) aft torpedo tube with some of our latest recruits manning the fort a very long way away from where I am forced to go? EK has had some potentially distrastrous incidents in the past, and on every occasion to date, the company has been extremely lucky in having someone on the flight deck who's rescued the situation with flying skills over and above what the company seems to expect from us now with their utterly ridiculous "automation always" policy. In my opinion, it's just a matter of time and we'll see an EK tail on page 1 of the world's newspapers for all the wrong reasons."
The crew rest area on the 777 for technical and cabin crew is at the rear of the plane. Early designs used the same cabin set up as the 747-400 with the pilot rest area at the back of the cockpit.
There is one fact that is clear. With a growing pilot shortage and such a fast growing airline Emirates is having to cast the net wider to recruit and is hiring pilots with fewer flying hours and less experience than in the past.
***********************
Meanwhile the latest gossip on the A380 cabin crew recruitment is that : "NO ONE is volunteering for it , to be exact about 200 max have so far, but I don't quite think that is enough to crew the beast, so at some point 'press gangs' will go out and forcibly make cabin crew go on it."
Another rumour has large numbers (300??) Korean crew leaving EK to join their national carrier. Must be the better uniform !
7 March 2008
Tai is in Glasgow – called out this morning from standby which means that she is gone for the Dubai weekend; as she comes back late night tomorrow.
Did not sleep much last night. Slept for a while at Millennium and came back to Falcon at midnight – and awake since !
Very quiet day – bought some shoes and went to Carrefour. Not very exciting. And then spent the evening trying to find some space in my wardrobe. Did buy three suits, a jacket, trousers and shirts from Versaces tailor in Bangkok. Jut no where to store them.
************************
We went to see Celine Dion on Wednesday night; their is a report on the today page. It was a cold evening; standing room only and the show was forgettable.
5 March 2008
I woke up this morning and for two minutes felt wonderful; sleeping peacefully next to me is the most wonderful person in my world. And then I started to think about work!
3 March 2008
I did remember to call my mother last night – coincidentally it was mother's day – i guess that is something that i should have known before I called.
******************
Tai is on her way back at last – after another bad night yesterday at BKK – three flights and all full – she is taking the long way home; via Kuala Lumpur but it is a light load from KL so she had no problem getting a seat. It will be good to have her home.
And its almost 11.00pm and I am still at work.
2 March 2008
It has been a long day – a little sleep on last night's flight – and then a long day at work. I wish it was more fun to go back.
I had to leave Tai in Bangkok for the night. Both EK flights last night were packed so very few standby seats were available.
1 March 2008
Sirocco is a very nice place to have a glass of wine. Shame about the vertigo inducing bill of Baht 1,700 for two small classes. That's over US$50. Criminal.
And the service. Slow!
*******************
Last day of vacation – as ever there is not enough time in Bangkok – and it would be easy to stay here for longer.
29 February 2008
It is Leap Day – in the UK this is the one day every four years when women are supposed to propose to the man in their life !!
We are now back in BKK on a lovely sunny Friday morning. And I need to take the car back.
It has been fun driving around for a few days. It gives you that much more freedom to stop off where and how you want to.
27 February 2008
Staying at the Rock Resort in Hua Hin. This is meant to be an exclusive boutique resort:
But:
The huge bathtub is for ornamentation only – the water dribbles in.
The mosquitos are all over the place – and cos the sliding doors fit so badly they get in easily.
The rain shower is cold water only.
Breakfast is about as good as the infamous Tanawit – also in Hua Hin.
26 February 2008
We have had a busy few days in Hong Kong; been to the Peak, Causeway Bay, Cheung Chau, Nathan Road and Ocean Park.
It was good to spend time with Alex. Although I do find my trips back to HKG to be a little stressful. This was the first trip back for over 16 months – and there are many memories there. It is a little strange. The city is still so very familiar; and for the most part it appears to be prospering still.
**********************
It is Tai's birthday today. Happy birthday hon !
We are in Bangkok this morning – and heading for Hua Hin.
25 February 2008
It is so cold in HKG. Grey and cold.
23 February 2008
I have always enjoyed arriving at Hong Kong's wonderfully efficient new airport but it is alarming to see the police state mentality that seems to now prevail as you disembark.
Leaving the plane and walking down the ramp you are met by a large number of Hong Kong immigration officials. One is there with a hand held video camera filming everyone that gets off the plane. He must be the Edison Chen of immigration.
The others are there stopping anyone who looks remotely black. Sadly it appears to be as simple as that . If you are white or Asian you walk on; if you are black you are stopped for questioning. And the manner in which it is done appears particularly rude. Sad to see.
22 February 2008
We made it to Hong Kong. But it was a pretty stressful day. Up early. But really busy at Dubai airport and traffic on the terminal access roads was at a standstill.
As Tai was flying standby we did not know if she would get onto the flight until the last minute. And rather predictably although she made it to HKG her bag is still in Dubai.
So that meant shopping at 1am for something to wear and contact lens solutions.
********************
Something I did not know from Dubai: dual pricing of water and electricity based on nationality:
Expatriates pay between AED0.2/kWh and AED0.33/kWh, for both domestic and industrial users.
Water tariffs will range from AED0.03-0.04 a gallon for both domestic and industrial consumers.
Tariffs paid by local nationals will remain unchanged, at AED0.06/kWh for electricity and AED0.015 a gallon for water.
20 February 2008
One more day of work and then a week's holiday. Think I have earned it.
*****************
The Thomson acquisition of Reuters appears to have a green light from the regulators to proceed. See Today's news.
The deal gives 352.5 pence per share to shareholders together with 0.16 Thomson-Reuters PLC (the special purpose vehicle used to make the acquisition) share for each Reuters share.
Personal view; the trustees sold out. If the trustees are not trustworthy who is!?
******************
I hereby commit that I will never enter into a personal transaction with Emirates Bank. What a mess. Customer service means "we are right and you are an idiot" and "no we cannot put you in contact with another department that might be able to help as we do not have telephone numbers for other departments because we are a big and important organisation." grrrr.
19 February 2008
Tai is off to Athens for the night. The forecast is for a sunny spring day so it should be nice.
We were at Global village two nights ago, It was a nice evening with friends; though the drive home was a bit alarming through really patchy fog.
*****************
The latest fall out from the Edison Chen pictures scandals in Hong Kong:
Actress Cecilia Cheung and husband Nicholas Tse now live separately and Bobo Chan broke off an engagement with her fiance. Gillian Chung reportedly attempted suicide but failed.
According to Hong Kong's Apple Daily, the disgraced actor Edison Chen who is now staying in Boston with his girlfriend will return to Hong Kong on Sunday to be questioned by police.
16 February 2008
Tai came back from BKK this morning and I am pleased to say arrived with everything from a Valentines Card to my favourite SandP almond cakes – these by the way are really good – not too sweet!
And she brought the Thai English language newspapers. Page 2 of The Nation screams out "Panties kept as teen-sex trophies" – now there is a headline that you are unlikely to ever read in Dubai.
15 February 2008
This is the second weekend in a row that Tai has been away and I have felt a bit lost today. Did not sleep well. And have not done much today. A visit to the office and a pointless visit to the mall.
At least I got to the gym this evening. And that felt better. But too lazy to cook. I think if I was on my own permanently I would starve! Soup for dinner.
Am watching Michael Palin's New Europe – such a troubled recent past – and countries that I really know far too little about. 85% of Bulgaria's large gypsy population is unemployed; only 10% get secondary education.
The Ottaman Empire (ruled from Constantinople) used to stretch as far into Europe as Vienna. Turkey's population is bigger than any other European nation. The Semaniya mosque is beautiful. And why shouldn't modern Europe include the Islamic faith. Embracing Turkey into Europe is a must and should be sooner not later.
Palin just described Istanbul as one of the great destinations of the world. Hard to argue.
14 February 2008
Only in Germany – rugs that are designed like a large sausage – I can imagine nothing wurst !! http://www.wurstteppich.de/
********************
Valentines Day – 7.00pm and still at work. Nothing else to do. Should go to the gym.
********************
Had a nice morning – drive to Al Ain to see one of our schools there. Gave a little speech to the year 10 – 12 graduating students. It was a lovely day for a drive and Al Ain is quiet and green and rather peaceful after Dubai.
*********************
My web site is being overrun by medical – pharmaceutical spam. It seems to appear as quickly as I can delete it. I don't want to get rid of the tag board but I am having to log on a few times a day to delete the junk that is left there. I delete the message and ban the urls but they still find keep coming.
It makes me mad – and there appears to be nothing that I can do about it !
 13 February 2008
Declaring your affection in the Kingdom of Saudi Arabia is harder to do as Saudi Arabia's religious police have banned red roses ahead of Valentine's Day on February 14.
Mutawwa, the Commission for the Promotion of Virtue and Prevention of Vice, on Sunday ordered florists and gift shop owners in the capital Riyadh to remove any items coloured scarlet, widely associated with romantic love.
**********************
And to make it harder to be on time for your date in Dubai motorists are in for further traffic chaos from Wednesday night with the closure of parts of Sheikh Zayed Road. The closure will affect the fast lane in both directions of the road between Defence Interchange and the Trade Centre roundabout for the construction of a pedestrian bridge.
Expect chaos on Thursday night as people head out for the weekend.
12 February 2008
The big news – have I already mentioned this? – is that we have set a wedding date; our families know and our friends are finding out directly or through a very effective grapevine. Thursday October 16th starting at 7.29 in the morning. The times and date have been chosen as the most auspicious time for us.
Sorry to be quiet for a few days!
Lots to plan and much to arrange. It will be a very special and happy day.
*******************
We had an early Valentine's dinner last night as Tai left for a four night trip to Bangkok today. Nice evening; but as I was driving and Tai is flying it was food and water and tea!
Tai had come back from Malta very late on Saturday night – just in time for me to have a few hours sleep and head of to work on Sunday morning.
But I did keep busy at the weekend with company events. Including the staff sports day for all our schools attended by over 2,000 people. I
This meant playing some cricket for the first time in years (albeit 7 a side) and football for the first time since hanging up my boots in Hong Kong in 2002!).
Will try and see if there are any pictures to share.
8 February
Its the weekend but Tai is on her way to Malta. Pity as it is a lovely spring day in Dubai. It would be a nice day for a long walk by the creek or around the park.
All is well on the home front. Still working too hard!
Latest capacity changes from EK –
CPT – to be launched using a 3 class B 772ER instead of an A 332.
MXP – capacity upgraded to daily B 773ER from January 1st 2009.
MLE – from July, capacity will be upgraded to 10 weekly B 773s.
SYD/AKL – capacity upgraded on EK 412/413 to daily A 380s from Feb 1st 09.
Emirates A380 schedule – confirmed so far:
Effective 01OCT08
EK201/202 Dubai – New York
Effective 01DEC08
EK001/002 Dubai – London
Effective 01FEB09
EK412/413 Dubai – Sydney – Auckland
6 February
Less than 5 hours sleep. The question is whether my work, stress and uncertainty is beginning to hurt my home life?
Work is hard right now. I try not to take my work home with me. But it is hard to switch off completely – and it may be making me more defensive and less assured.
I have to go to work today – but I really feel that Tai and I need some quiet time together to take care of the present and future and to remember what really matters to us.
5 February 2008
Tai is back from what looks like a happy and fun trip to Seoul.
But I am home alone after a long, long day. And that's not how things are supposed to be.
It's late and I had better try and sleep. But all that I want feels in jeopardy tonight.
4 February 2008
Am still in the office after 8pm – second day running. Not sure I should complain as some of my colleagues worked an all nighter.
But I am drained. And there is more to do this week still.
Tai will be back in the morning. I need an early night so that I can get to the airport to meet her. Sounds like she had a good time in Seoul.
3 February 2008
Tai is in Seoul – no mobile access so we cannot sms eachother. Sad ! I am so tired after work today that I can hardly type. Sorry – no energy to write anything.
********************
KPMG rates Dubai as the most expensive place to play golf in the world – there are only 117 holes of grass golf and all are members courses. At over US$200 for a weekend round the costs are prohibitive.
2 February 2008
A typical Dubai weekend – Deira City Centre mall on Friday and Mall of the Emirates on Saturday!!!
********************
Severe internet delays in Dubai – and many sites simply not loading. There are a couple of undersea cables that have apparently broken – and the estimates are that they will take 2 or 3 weeks to fix.
The problem started with the loss of two Mediterranean cables — FLAG Telecom's FLAG Europe-Asia cable and SeaMeWe-4, a cable owned by a consortium of more than a dozen telecommunications companies — this has snarled Internet and phone traffic from Egypt to India.
Then a third undersea cable has been cut between Dubai and Oman yesterday morning, plunging the international communication systems in Middle East and Asia into chaos. FLAG telecom, a British company that own the undersea cable network, reported that its FALCON, one of its submarine data cables, had been damaged at a location that is around 35 mile from Dubai, on a stretch between UAE and Oman.
Expect things to be worse tomorrow as businesses return after the weekend.
********************
Tai leaves for her first ever trip to Seoul tonight – one of the three nights away, but two of them are overnight flights, trips. Tiring. And about -6C in Seoul. But always fun to see somewhere new for the first time.
1 February 2008
From an opinion piece in today's Guardian newspaper – the article was about the ICC and the farcical situation in the Singh/Symonds affair – but the comments on Dubai were interesting:
"The glittering tower blocks and marble facades of Dubai suggest a land of 21st-century efficiency when in fact the opposite is the case. The truth is that in Dubai mobile phones barely work and the internet runs at the same speed as its local road system, which makes the M25 look like the Hockenheimring.
The most unforgiving critic would describe the self-styled "world's greatest destination" as a giant global marketing fraud, while a kinder soul might be content with the notion that it is a place of bewildering contradiction. There is an element of truth in both, no doubt, but perhaps the most accurate thing anyone could say about Dubai is that it is the perfect place for the headquarters of a seriously incompetent outfit like the International Cricket Council."
*********************
Meanwhile near-gale force winds are expected to hit Dubai today. The shamal (desert wind) was expected to begin late last night and has been significantly upgraded as its strength grew during the week.
Wind speeds of 25 to 30 knots are expected inland and 35 knots offshore. Visibility in the city is expected to go down to 1.5km and the desert areas will be worse affected.
It looks like a good day for the mall.
*******************
EK starts daily service to Houston from today. No more 2 or 3 day layovers. After 2 months this route is apparently doing very well, both pax and freight.
29 January 2008
George Bush gave his last state of the union address last night in the USA. I almost felt sorry for him: for the last few years the White House has talked up a strong economy, but got very little credit because of struggles in Iraq. Now things are getting better in Iraq, but Bush is getting very little credit for that because …. the economy is getting worse.
28 January 2008
Home one day and gone the next – Tai left for Venice this morning where the annual two week carnival started last Friday. It is a wonderful, historical event full of history and fun. She should have a great trip…
*******************
Me – stuck in Dubai and working far too hard.
27 January 2008
Tai came home about 1am and old faithful was at the airport to meet and greet….Tai has vowed no more Glasgow flights….too many heavy drinking Scots !!
********************
The February roster is out and as top bid for the month Tai has done well.
25 January 2008
Tai and her crew ended up eating at MacDonalds – must have mistaken it for a Scottish restaurant !!
**********************
The rather unpleasant and irritatingly smug Tom Glocer was on BBC world this morning from Davos – he said that the Thomson takeover of Reuters would happen in Q1 (I suspect it is in Q2) and that in 5 years time Thomson shareholders would not be able to believe how cheaply they had acquired Reuters.
That is alarming. Did he under value Reuters to make the sale – after all he is the new CEO of the combined entity?
***********************
Producers of Thailand's splendid air crew soap opera – Songkhram Nangfah – have promised to make the crew skirts longer and to stop the catfights – at least while the crew are on duty.
rascott.com found this picture of the new uniform which will no doubt be approved of by the Thai Airways flight attendants union: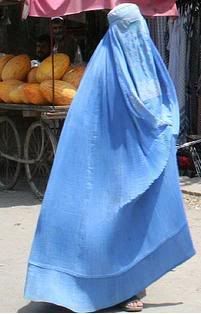 just kidding !!!
**************************
We went out for a walk around Mercato last night – it was nice to relax for a while – then to Falcon for a short night as we were up by 5am to get Tai to the airport for the 7.50am flight to bonnie Glasgow.
Her first trip to Scotland and her first UK flight for a long time.
It is the weekend here – and I am on my own – and miss her badly.
I got back from the airport and was watching "Love Actually" on one of the movie channels – and I suddenly felt really really sad…..it was quite disturbing…..
I guess it was the result of an unpleasant week at work and not enough sleep and missing someone…..
***************************
I had better go out and shop for a while or do something to keep sane!
24 January 2008
This is too good to miss – World Focus Airlines of Hungary rebranded as Ank Air – with an unfortunately located logo !
Thanks to my tag-board correspondent for spotting this gem !
23 January 2008
Lots of fuss about the Thai Channel 5 soap opera "War of Angels" – Tai cant understand all the fuss – it is only soap opera – everyone knows that it is not for real. She is right – this is entertainment; aimed at getting as many veiwers as possible to sell as much advertising as possible – and the free publicity, not just in Thailand, nut internationally, has made sure that the show is a huge hit!
I am told that there was no fighting among the crew overnight to Tehran; everyone is too tired and too busy during this turnaround.
Watched the trailer for the show – the "captain" only has three stripes – a first officer  – not worth fighting over !
And why are a Bangkok airline crew having a layover on two hours away Singapore?
**********************
It was my Mum's 75th birthday yesterday and she is strong, well and busy. Baby brother sent flowers on behalf of us all. Well done Tim. I hope she can come and see Tai and I in Dubai later in the year.
************************
Complete power failure in my building at 6am this morning. I had to shower, shave and……by candlelight. Worse still, no morning coffee.
21 January 2008
One nice email cheered up what was a thoroughly depressing day yesterday:
Hi, I am a pilot counting the days until my Emirates interview and I have been devouring "all things Emirates", including your blog, in anticipation.  I just wanted to say thanks for the blog and the great pictures!
There are people who read this web site !!!
**********************
Tai leaves Bangkok tonight to come back to Dubai – but after a day sleeping she heads off overnight to Tehran and back. And will be away in Glasgow this weekend. So if the blog is a bit depressed over the next few days you now know why!
20 January 2008
That is a long gap in this diary.
Was in Bangkok over the last three days. Left on Wednesday night (16th) and came back at 2.00am this morning. Tai is still at home for a high school reunion last night.
It was great to be home. A day or two too short to be able to do all that I wanted to do and see all that I wanted to see.
But the weather was great; warm and blue skies. I was with Tai. We ate well and we slept a lot. It was very hard to come home last night.
********************
My favourite sign in the Bangkok shops is in TOPS supermarket in Silom; "Beware of your possessions"….. I am now on the look out for shopping bags that have a vendetta and for the possible assault by my wallet. Be aware might be better advise!
*********************
It was great to be back in a city that I regard as home. Bangkok has so much more to see and do; so much more energy; so much more life and colour.
A weekend is not enough time. We landed on Thursday morning; we slept until lunch.
Dinner on Thursday night was very romantic – open air at Vertigo restaurant on the 68th floor of the Banyan Tree hotel. It is a long way down. The food really does not justify the prices which are as sky high as the restaurant. But it is a great place to be with someone very special.
We were on the River on Friday for lunch at the Deck at the Arun Residence. The sky was clear blue and it was a lovely warm day to be by the river.
Had dinner on Friday night at Kuppa with friends. It was great to see them and catch up on all their news.
And then it was Saturday – some shopping and lunch at Fuji and it was time to come home.
Another day to do the things I would like to do would have been best. I did not even get an Au Bon Pain coffee! And we were both tired so with the time difference we were sleeping until late morning.
15 January 2008
It has been two days of truly terrible traffic jams in Dubai. Yesterday GW Bush was in town leading to the 6am to 5pm of all major raods and tunnels and most of the roads in Bur Dubai.
Then it rained all night. And it has rained all day. And the roads have little or no drainage. So many roads are closed today due to standing water. It is something of a nightmare out there. It took me almost 3 hours to do a 15 minute journey to work this morning.
I have no idea whether I will be able to drive even close to Falcon tonight. The dirt roads will be a mud bath.
13 January 2008
The bad news this morning is that our Executive Towers apartment will not complete until September 2008. I am not surprised; but it is later than I was hoping. I thought a delay until summer was likely.
The account manager at Dubai Properties said he was surprised that the customer service department had not been in contact by letter or email. I am surprised that they have a customer service department The silence in the year and 2 days since we signed for the apartment has been deafening.
Now I will need to extend the Falcon Tower lease – that could be an interesting discussion.
12 January 2008
Tai left for Bangkok early this morning – it was not easy getting up today and to be honest I was not ready for her to go away for four days.
*********************
The car is at the Merc garage for servicing. Merc servicing is not going to be cheap! But has to be done by their garage to maintain the warranty and the resale under the lease.
*********************
I wonder why they dont instal seatbelts in airplane washrooms. Hygiene I guess. Revolting thought. But it must be awful if the plane hits turbulence while you are crammed into the planet's smallest room. This was prompted by stories of bad turbulence ocer Canada injuring 10 pax and crew and requiring an emergency landing for medical treatment.
**********************
It is a Saturday but traffic is horrible. Have been at work since dropping the car off this morning. But not much point in sitting in a taxi going no where.
11 January 2008
There will be a new role for Emirates crew later his year – first class shower attendant. Emirates has announced that showers will be available to refresh first-class passengers on their new Airbus A380 aircraft this year.
The A380 will carry one tonne of fresh water on its superjumbos. And a large amount of shower get.
Apparently the showers are to be cleaned after every use. Another glamorous job for the cabin crew!
10 January 2008
Negligent of me to ignore the blog for three days.
But the blog has its uses. An old friend and colleague in New York found me the other day and sent a how are you – and haven't you got older email !!!
It is a holiday in Dubai today – the last long weekend until November I think. But there is work to be done! I am so looking forward to two days in Bangkok next weekend and to being away from Dubai. It is only two days but I need the change of scenery and Tai and I get to fly together – albeit in Etihad – which is about AED1,000 cheaper than Emirates and that makes a big difference.
7 January 2008
Tai is on her way home rather late from foggy Shanghai. I did a 14 hour day at work and need a sleep.
***********************
Big grief down under where the Indians and Australian cricketers are throwing their handbags at eachother.
By all accounts the Aussies behaviour in the last test was dire. Meanwhile calling a competitor a monkey is abuse beyond the normal sledging and chat of a test match.
It is hard to imagine the famously abusive Australians making such a fuss about a simple verbal abuse.
India has now flexed its political muscle last night by suspending their tour of Australia, threatening to call its players home unless Harbhajan Singh's ban for racial abuse is overturned. With millions of dollars in revenue at stake, Cricket Australia is desperate to negotiate a truce so the remaining two Tests can proceed. The cricket will go on. The TV networks demand it.
Some very average umpiring has only made matters worse. There is talk if conspiracy theories.
But in the end it appears that India were as sore losers as Australia were graceless winners.
5 January 2008
A picture from this afternoon to cheer me up!
*****************
Not feeling like this is a great start to what should be a special year. The concerns are with work not personal. But inevitably what happens on the work front could impact my personal dreams and hopes. I committed to being with Tai in Dubai. And I need the work to support that commitment.
All I can do is persevere – that was Alex's encouragement.
4 January 2008
There is a very strange message when I try to book a Singapore Airlines flight online – "The page you are trying to access is temporarily blocked. Please try again from another window/instance of your Internet browser." Does anyone know the meaning? Who is blocking this page?
************************
Alex is safely back in Hong Kong and Tai has been to snowy Vienna and back since I last wrote here.
Work has started in earnest for the new year and will be busy. There is so much potential in the company – a great industry to be in at the right time. It is simply a matter of how we manage the growth and ensure the quality. There will be many challenges.
*****************
While Alex was here we did have a nice evening at Global Village before the new year. It does not seem as big as last year's event; the fireworks were missing. And as always it is basically another shopping mall. But we enjoyed the Indian, Thai and Vietnam pavilions. There is plenty to eat. There is now a nice water/canal feature running through the village grounds. And of course the fun fair is still there.
The Chinese pavilion had some interesting items for sale – from teletubbies to fancy dress!
There is a European pavilion – but it is entirely Turkish. The British pavilion has gone. No loss !
It is a nice way to spend an evening. Take your wallet and a sense of humour.
*****************
Construction carries on all around Falcon. It is Friday morning, They have been pumping concrete on the next door car park building site since yesterday evening. And intermittent hammering and honking of horns to make sure that I woke up twice in the night.
They really do need to have proper laws on construction here. The 24/7 building permits make residents' lives a misery.
1 January 2008
A rather strange new year – not helped by a bit of a stomach bug so I passed on a great looking Thai dinner with Tai and her friends at Millennium last night.
The good news is that Alex appeared to eat enough for both of us.
We should probably have stayed at Millennium, opened some champagne and watched the fireworks from the window.
But everyone wanted to go and see the fireworks at the creek so we crawled along in bad traffic and got to the creek just before midnight. The trouble is so did everyone else in Dubai who was not at a private party.  So our group was split up as we looked for parking.
As for the private parties – Dubai takes these to excess and the prices are similarly excessive. US$1,000 for new year with the gypsy kings being one example.
We did not see much of the fireworks, which did not appear to last long anyway. And we navigated our way back to Falcon Tower after a very sober new year.
Tai's new year's resolution – well one of – is not to be in Dubai next new year. I understand why. That's fine – as long as we can spend the new year together.
31 December 2007
The end of another year brings with it a sense of sadness and excitement. More in 2008. I hope you all have a happy and peaceful new year and that there is someone close to you at the new year to say I love you. Take care of eachother.